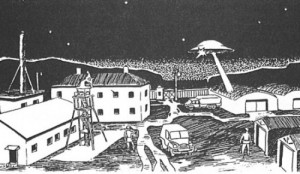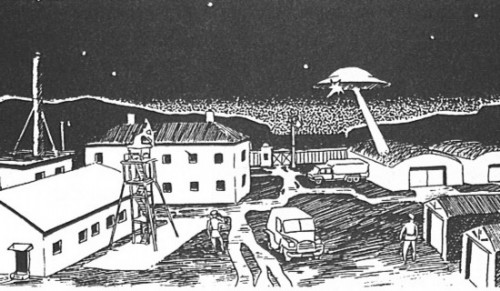 (Last Updated On: December 22, 2016)
Date: early July 1989
Location: Peña Blanca, Puerto Rico
Time: 1800
Summary: A local angler, Orlando Cataquet was returning from fishing in the beach area when he noticed a group of bright white points of light hovering and turning just above the ground nearby. The man chased the lights and suddenly lost them behind a small tree. As the witness walked behind the tree he came upon two very tall men standing next to a boulder on the ground. One held his hand on his chest and told the witness not to approach, suddenly there was a flash of light and the witness felt paralyzed unable to move. The two men were described as very tall and identical in appearance, with light skin, blue eyes and light brown shoulder length hair, they were well built and strong. They both wore brilliant white tunics with an open V-neck. They spoke to the witness and warned him of a coming catastrophe, they said that the earth was going to become a cold desolate planet once more. He was then told to turn around and remain still. He then felt a heat blast behind him and saw a bright flash. The two men had disappeared. Later at home he realized that he had lost 3 hours of time and could only remember seeing a long sleek submarine like object that used energy from the water for its propulsion.
Source: Jorge Martin, Jaime Franco, Enigma # 28
---
Date: Near Kirkuk, Taamin Province, Iraq
Location: July 1989
Time: unknown
Summary: In the mountainous region several dozens of km east of the town there was a reported UFO crash that was immediately cordoned off by Saddam Hussein's military, the craft was seized, evacuated, studied and kept hidden at a top secret location. He crashed alien spacecraft made a long trench in the ground. The vehicle was shaped like a cylinder, or more precisely, like a bullet, about 12 meters long and 2.5 meters in diameter, silver in color, reflecting the Sun. Its front section was a sharpened and cone-shaped, and the rear section was flat. There was an opening in the rear section, through which the human research personnel entered the craft. The body of one dead alien pilot was found inside. The alien was Asian in appearance, about 1.5 meters in height, with a large head, large eyes, 4 fingered hands. The second member of the craft left the object via an escape capsule that had been located at the rear of the craft. A few days later, Iraqi soldiers in the nearby mountains caught the second alien who had escaped form the crash site. The entity was obviously frightened and emitted loud squeaking sounds. Saddam's military command was afraid that other aliens would arrive to save the crew and the craft, so the recovery was made expeditiously. Elite Iraqi military units cordoned off the craft and transported it at night to nearby Erbil Province where a special underground tunnel with hangar was constructed to study and hide the craft. Natural caves existing in that region were used for that purpose. The body of the pilot was also moved there into a special cryogenic container. This area is located in a sparsely populated region in the mountains east of Erbil. The entity that survived lived in Iraqi custody at an underground base or bunker near Baghdad or Tikrit for 2 weeks, after that it died. The body of the second alien was then moved to the same location of the craft. Unfortunately for Saddam no information was given by the alien, despite persistent Iraqi attempts to interrogate it. These entities were some sort of biological robots, and their civilization apparently had no more need of them or their damaged vessel. In 1989 Saddam Hussein along with some of his most trusted allies visited the secret underground facility and inspected the crashed object and the alien body. This possibly inspired Saddam to invade Kuwait a year later. In 2003 American Special Forces teams fruitlessly searched for the crashed spaceship. Saddam had apparently given orders to blow up the entrance to the cave and to bury the spacecraft, the alien body and all the evidence, to prevent seizure of them by the Americans. The possible origin of this spacecraft is the greenish double star HD 62323 in the Canis Minoris Constellation
Source: Anton Anfalov, Lenura A Azizova
---
Date: July 1989: Sullivan County Tennessee UFO Sighting
---
Date:  July 1989
Location:  
Time:  
Summary:  
Source:  
Location. Near Vladivostok, Russia
Date:
Time: unknown
12 witnesses observed the appearance of strange entities cavorting on the seashore near the city of Vladivostok. The witness reported that the appearance of the creatures was "repugnant". The witnesses described the entities as typical "grays" about 1 meter in height, with absolutely hairless heads, and lipless mouths. At first the witnesses thought they had stumbled upon a group of circus freaks dwarfs but upon closer inspection realized that they were indeed totally alien in nature. During the next 7 years investigators for VAUFON attempted to track all 12 of the witnesses with startling grim results. 3 of the witnesses had been killed in car accidents, 5 had been diagnosed with brain tumors in which two had already required surgery. Two others were located in a mental institution, and the two remaining others had apparently disappeared without a trace.
Source: Alexander Rempel, VAUFON
---
Date:  July 1989
Location:  
Time:  
Summary:  
Source:  
Location. Near Buckhannon, West Virginia
Date: July 1989
Time: 0100A
Five persons were walking up desolate road in search of a good camp site and were on the ground of an old abandoned house when one of them decide to go ahead in front. Suddenly he ran back to the group in a hysterical state and unable to speak. They all looked past him and saw a dark human-like form about 6-foot tall standing about 3 yards away in the middle of the path. The figure was totally black and huge green eyes. The witnesses fled the area and looked back to see the figure still standing on the path staring at them.
Source: Bob Teets, West Virginia UFOs Close Encounters in the Mountain State
---
Date:  July 1989
Location:  
Time:  
Summary:  
Source:  
Location. Simferopol, Crimea, Ukraine
Date: July 1989
Time: 0400A
The 50-year old female witness living in the western part of town in a multi-storied house suddenly felt strong chest pains and walked to the balcony for a breath of fresh air. Suddenly she noticed a globe-shaped object descending from the sky to a nearby yard. The object was about 3-5 meters in diameter. Three humanoid figures stepped out of the object and walked off to different sides of the object. The aliens were tall, about 2 meters in height, dressed in tight-fitting silver suits. More details could not be seen since it was dark and the witness was dozens of meters away. Five minutes later all three aliens returned to the object, entered it and the craft zoomed up and vanished. The witness apparently woke her husband who apparently also witnessed the event.
Source: Anton Anfalov, Yuriy A Pugachyov
---
Date:  July 1989
Location:  
Time:  
Summary:  
Source:  
Location. Tule Canyon Road, Anza California
Date: July 1989
Time: 1400
The two witnesses were driving on an isolated area when a vehicle resembling a new BMW with several antennas on top and dark tinted windows approached them from behind and another vehicle resembling a new white 57 Dodge. The witnesses pulled over to let these vehicles pass. As the BMW passed slowly by, the witnesses noticed a clear spot on the driver's side and saw a man with large gray eyes staring at them. He rolled the window down and the witnesses now saw four identical "oriental" men that appeared to be wearing white makeup. The men looked at the witnesses apparently turning their heads in unison. The witnesses became frightened and disoriented and drove away quickly, as they looked back the two strange vehicles had vanished.
Source: R T Hanlyn, Anza California
---
Date:  July 1989
Location:  
Time:  
Summary:  
Source:  
Location. Semidesyatnoye, Khokholskiy area, Voronezh region Russia
Date: July 1989
Time: afternoon
Farm equipment operator Fedor Ivanovich Molokanov was out in the fields operating a tractor when suddenly and without any apparent reason the engine stalled. He exited the cab and looked under the hood to check what the problem was. Suddenly he heard a voice coming from behind him, "Your machine is Ok, I made it stop working, and I wanted to have a talk with you." Turning around he was confronted by a figure wearing silvery overalls, bronze-colored boots and a helmet on his head. The humanoid was about 3 meters in height, and looked strangely one-dimensional. The stranger spoke again, "Your planet—was the most excellent planet known to us in this part of the universe." And then he added cryptically, "However you have brought it to a disastrous state. Life on Earth will die. In 20 years an ecological disaster awaits the earth (2009?)." He told the astonished witness that if he agreed to go with them, he would be saved. The witness demurred, explaining to the stranger that he was an old sick man of 60 years. The stranger then pointed out that in his planet the average lifespan was 130 years. Terrified the witness waved his hands angrily and told the stranger to leave. Moments later the humanoid pointed a tube-like device toward the witness and then walked into a nearby landed semi-transparent bluish object, a hatch opened on the object and a hissing sound was heard, the humanoid entered the craft and sat on a chair then craft then soundlessly melted into the sky. After the encounter, Molokanov refused to leave the house for several days and was taken to the local hospital suffering from hypertension. He only told his closest associates what had occurred.
Source: S. Pylev, Genrih Silanov, Fedor Kiselyev, Yuriy Lozotsev & Alexander Mosolov, Voronezh UFO Research Group
---
Date:  July 1989
Location:  
Time:  
Summary:  
Source:  
Location. La Pitahaya, Lajas, Puerto Rico
Date: July 1989
Time: 1500
The witness was out fishing along a mangrove channel when he noticed a group of small 3 ½ foot tall figures walking among the bushes on the shore. They were all alike, very thin, with large egg-shaped heads, large elongated black eyes, and a small nose and with a very pale complexion. They wore tight-fitting silvery gray outfits. They seemed to be curious towards the witness but when he tried to approach, they ran off and disappeared into the brush.
Source: Jorge Martin, Alien Update
---
Date:  July 1989
Location:  
Time:  
Summary:  
Source:  
Location. Kohtu, Harju County Estonia
Date: July 1989
Time: evening
A woman and her adult daughter were watching TV when they heard a loud knock at the window. Looking at the window they saw the upper body of a man. They thought that the intruder must have been standing on a ladder. Both women approached the window and obtained a closer look at the man. He wore a dark gray diver's suit, which had a broad white band that ran over his shoulders and arm. The tall figure was quickly retreating from the window moving diagonally away. They could not discern any facial features. At one point the strange figure turned around with its back to the witnesses and seemed to quickly glide away from the area.
Source: Erkki Alo Kirde, Igor Volke Estonian UFO Network
---
Date:  July 1989
Location:  
Time:  
Summary:  
Source:  
Location. Irish Hills, Michigan
Date: July 1989
Time: night
The witness remembers seeing a lighted object shaped like a school bus hovering silently above her backyard. Later under hypnosis she remembered lying on a table inside a room and a small gray humanoid with big black eyes observing her. Using telepathy the humanoid told the witness that she was an "experiment."
Source: UFONS # 262
---
Date:  July 1989
Location:  
Time:  
Summary:  
Source:  
Location. Salsk, Rostov Province, Russia
Date: July 1989
Time: night
Night watchman V Surovkin saw an enormous bright green glowing sphere descend towards the shore of the River Yegorlyk, about 300 meters away. Four figures emerged from the sphere and moved along the banks of the river where several persons including children were fishing. The figures appeared to be wearing dark tight fitting diving suits. After the witnesses who were fishing on the river shore saw the figures they panicked and ran from the area, wildly shouting. At this point the giant green sphere and the humanoid figures suddenly disappeared in plain sight.
Source: X-Libri UFO, Russia
---
Date:  July 1989
Location:  
Time:  
Summary:  
Source:  
Location. Rostov-on-Don, Russia
Date: July 1989
Time: 2100
A local woman named Natalya Vladimirovna living in the Chkalova area of the city, noticed a bright green light in the sky, it was funnel shaped broader at the top and narrower at the bottom, it shed light towards the ground. Over the light she noticed a round oval-shaped or disk-shaped object, encircled by a rim, with a blue greenish circumference and several (9-10) blue lights on its surface. Natalya's 5-year old son later told her that he saw a huge disk with a cabin that landed on a nearby copse. The disk landed on 3 props, it had sloping edges and a flattened cupola on top. Several humanoids dressed in black coveralls exited the craft and were doing something near it. The boy described the humanoids as being human like, tall and with blond hair (Nordic type). Both witnesses possibly experienced abduction and missing time.
Source: Igor V. Kolomiets and Anton A. Anfalov
---
Date:  July 1989
Location:  
Time:  
Summary:  
Source:  
Location. Adelaide South Australia
Date: July 1989
Time: after 2300
During a stormy, windy night a married couple and their two children had returned home after a trip, during the drive the father had the impression that they were being watched. They went to bed soon after 2300. The father was restless and heard a metallic sound and a low pitch hum outside the window. The wife also heard the noises and also a scraping sound. The wife later recalled that a short thin being, fragile looking with an oval shaped head and large black teardrop shaped eyes, gray skin and slit-like mouth had come into the room. She felt mental communication and was told not to be afraid; she then drifted off to sleep. The husband was then floated from his bed into the hallway where he saw lights and a tall stocky figure with a normal shaped head and surrounded by a white-green glow. He then found himself cold and paralyzed in a dark "room", lying on a flat cold, black hard table. Everything was silent around him. Three identical beings were present with him. These were about 5-foot tall, with large hairless pumpkin-shaped heads, teardrop-shaped eyes deep black in color, all had small noses and mouths and were gray-white in color. They appeared to be wearing tight-fitting gray outfits. The father felt that these beings were not evil. He then recalled floating back to his bed. The next morning both the husband and wife felt disoriented and very tired.
Source: Keith Basterfield, IUR 17-5
---
Date: July 1, 1989
Location: San Cayetano, Buenos Aires province, Argentina
Time: late evening
Summary: The witness, 38-year old Juan Jose Martinez was fishing at a local lagoon with some friends when he went missing for several hours. His friends went to get the local police and upon returning to the site they found Martinez wandering around. He later reported that as he was fishing away from his friends a strange "force" attracted him away from the area. He soon arrived at a certain location where he saw 4 bizarre, short humanoids, black in color with what appeared to be suckers at the end of their fingertips. The humanoids stared at the witness and at the same emitting high-pitched shrieking sounds. The creatures apparently inspected the witness's hands and then let him return to the lagoon. There is no other information.
Source: Revista Conozca Mas, Año 1993 # 55 Proyecto CATENT Argentina
---
Date: July 2 1989
Location: Varygino, Opochetskiy area, Pskov Province, Russia
Time: unknown
Summary: Several local inhabitants reported encountering several tall robot-like humanoids moving quickly above the fields. The humanoids passed to within 600 meters of the witnesses who reported seeing a dazzling beam of light shining from the chest area of the humanoids.
Source: UFOZONE Russia
---
Date: July 2 1989
Location: BELLINGHAM, MA.
Time:  MIDNITE
Summary: CE1 Single witness Basketball sized OBOL's in woods, 5 came within 70′. No sound.
Source:
---
Date:  July 1989
Location:  
Time:  
Summary:  
Source:  
Summary: 7/03 ANZA VALLEY, CA. 11:30 PM NL Two witnesses
Enormous craft, "like sgt's stripes" sped toward lake. No sound.
Source:
---
Date: July 4 1989
Location: Kiev, Ukraine
Time: afternoon
Summary: Two women, one named Vera Ignatenko, and a young girl were walking along a canal near some woods when they saw three men approaching on a strange silvery "boat" in the canal. The beings were man-like, wore shiny collarless suits, had identical pale faces, long golden hair, and large radiant eyes. The beings approached the trio and spoke in pure ancient Slavic language (a defunct language spoken in old Russia) apparently wanting the witnesses to come with them to their "planet." The beings claimed that they took one person from earth each day. The beings then walked with the women to a nearby hovering silvery barrel-shaped craft with an antenna on top. The women attempted to run away but could not, feeling a tingling sensation and were unable to scream either. The beings apparently decided against taking the three women and released them, they then entered the object via a stepladder. Before leaving, the beings demonstrated a holographic model of the solar system with a tenth planet to the witnesses and warned that electromagnetic emissions from and radio signals being transmitted into space attracted many negative alien cultures who are arriving on earth uninvited with the aim to exploit the planet for their own interests. The craft then left quickly and silently. Ignatenko was to have further contacts.
Source: Timothy Good, UFO Report 1991
---
Date: July 4, 1989: Contact Case in Georgia (USSR)
---
Date: July 4 1989
Location: Podgortsy near Kiev, Ukraine
Time: 2240
Summary: The Iskuskovs family was out picnicking in their countryside cottage when they spotted a large silvery object briefly land on a field. Several figures wearing silvery uniforms were seen moving around the object. On the same date and possibly time the 2 above remarkable humanoid encounters took place.
Source: Timothy Good, UFO Report 1991
---
Date: July 5 1989
Location: Newark New Jersey
Time: 0215A
Summary: The witness, who was suffering from a brain tumor, was alone at home when suddenly a tall Nordic type humanoid appeared in his room. The witness recognized the being as one called "Koran." The being wore a gray uniform and communicated with the witness via telepathy advising him that they had been trying hard to find a cure for his illness. He was then transported up into a hovering craft. Inside the craft he was shown a hologram of his third hybrid child. Later the beings operated on him and apparently successfully removed his tumor. Moments later he was returned back to his home.
Source: Joseph Randazzo, Witness ET The Contactees Manuscript
---
Date:  July 1989
Location:  
Time:  
Summary:  
Source:  
Location. Kharovsk, Russia
Date: July 6 1989
Time: 1430
Six children between the age of 12 and 8 were coming from the river when one of them, noticed a kite hovering in the sky over the area. Attracted by the kite the children then saw a tiny luminous round point approaching. The object then descended increasing in size, as it got closer. The object came down and moved over some bushes, stopped and opened up. The upper and lower hemispheres parted horizontally and separated vertically as they began to pulse with light. It was possible to see background bushes between them. The edges of the hemisphere looked like saw-teeth. Soon after landing a human like figure without a head appeared between the separated hemispheres and descended to the ground. It went up the field in the direction of the countryside. After three steps, the humanoid turned and everybody noticed that the figure was tall, taller than a man, but was very thin. His arms were very long, reaching to below his knees. He wore gray coveralls and his boots were black. In the middle of his chest was a bright yellow luminous disc. The disc was pulsating bright and dim. His walk was unnatural. It moved like a robot, his knees did not bend. The light of the craft was still pulsating; it then changed its brightness and seemed to disappear. At that very instant a similar point of light appeared over the area. It too began to descend and grow in size. The humanoid figure kept walking unnaturally, turning left then right and suddenly it disappeared in plain sight as it neared a power station. The children now frightened ran away from the area.
Source: Michael Hesemann
---
Date:  July 1989
Location:  
Time:  
Summary:  
Source:  
Location. Near Rakov, Volochinsky, Belarus
Date: July 6 1989
Time: late afternoon
A group of scouts were out for a walk in a campsite when one of them, Minsk schoolboy Ruslan Lutskin went a bit further into the forest to collect bilberries. Suddenly he rushed back deadly pale and terribly frightened. He insisted he had seen a "monster". Several other curious boys and girls immediately ran in the direction he had just come from. In a few minutes they returned shouting excitedly with the same unfeigned horror in their eyes. They also mentioned a monster. The witnesses included, Vitalik Morev, Valia Borozna, Ira Straholis, and Pavel Bodyan. Some of the boys reported seeing a black disc-shaped craft hovering above where the humanoid stood. Ruslan reported that he had been eating bilberries when he heard some strange knocking sounds behind him, thinking it was the other children playing around, he told them to stop playing. Then he heard a snarling sound followed by a gurgling sound. Turning around he saw a strange creature squatting before him. It leaned forward so that its face was half a meter from the witness face. For some minutes he stared back as if paralyzed. Suddenly he was able to move and terrified and fled the area. He described the humanoid as about 3 meters in height with thick grayish hair that covered him from head to toe. Its head was huge, ugly but very much like that of a man, without a neck. It lacked a nose or ears and its eyes were very small. Neither dipsomania nor any other mental disorders were found on the children.
Source: V Ingumen, UFO Contacts
---
Date:  July 1989
Location:  
Time:  
Summary:  
Source:  
Summary: 7/09 ANZA VALLEY, CA. 12:05 AM NL Two witnesses Couple saw strange lights on rocky hill where no vehicles could go. No sound. Seven minutes duration.
Source:
---
Date:  July 1989
Location:  
Time:  
Summary:  
Source:  
Summary: 7/10 WOODLAND, CA. 2:00 AM NL Two witnesses Object flashing 2 or 3 greem & white lights. No sound.
Source:
---
Date:  July 1989
Location:  
Time:  
Summary:  
Source:  
Location. Tbilisi, Georgia (USSR)
Date: July 12 1989
Time: 2030
The witness was driving into a tunnel on the left shore of the Mtrkvari River when he saw 20 meters ahead on the road a human like figure dressed in white. Concerned he reduced speed and as he approached to within 10 meters from the figure, it began running at very high speed. The witness stopped the vehicle and the figure ran by the car door. He described it as tall, with a normal human body, but with a big egg shaped head, with a large forehead. It had a small nose, and thin slit like eyes, no eyebrows and had a wide mouth, no ears were visible. The clothing was tight fitting and covered most of his body. He ran without bending and barely swinging his arms. The figure suddenly made a 180 degree turn and ran into a door that connected to another tunnel, it slightly bend down as it entered the door. The surprised witness seemed to have lost all track of time and found himself leaning against the tunnel smoking a cigarette. After he calmed down a bit he drove away.
Source: Tamaz Bestavashvili, GUFOA
---
Date:  July 1989
Location:  
Time:  
Summary:  
Source:  
Location. Hubbard Oregon
Date: July 14 1989
Time: 0400A
UFO Contactee Bert Twiggs had been bedridden with a severe cold. With his stomach hurting and with great difficulty in breathing he went to bed. As soon as he and his wife went to bed they noticed strange lights in their room. Later Bert and his wife awoke with the memory of having being visited by aliens that night. Bert remembered the aliens arriving and being very concerned about his illness. They claimed that his condition was actually near fatal, and were in fact, saving his life. They gave him an injection on his arm, and left. The next morning, his cold was noticeably improved and within 48 hours, it was completely gone.
Source: Preston Dennett, UFO Healing
---
Date:  July 1989
Location:  
Time:  
Summary:  
Source:  
Location. Addingham West Yorkshire England
Date: July 15 1989
Time: 0315A
The same night that a witness saw a hovering metallic oval shaped craft studded with red, green and white lights lover over the area, another witness, a young girl, was at home and woke up to see a human-like figure climbing the stairs, it was described as about 5-foot tall with "angry" eyes, grim features and puffed out cheeks, white face and long thin arms. The witness went back to sleep and forgot all about the creature. The next night she saw a similar being but this time it was a female that seemed to be wearing pink lipstick, both beings wore tight fitting black tunics.
Source: Steve Gerrard, Northern UFO News # 140
---
Date:  July 1989
Location:  
Time:  
Summary:  
Source:  
Location. Solnechny Perm region, Russia
Date: middle of July 1989
Time: unknown
At a summer camp several children encountered humanoids with large eyes in a wooded area. One of the boys threw stones at one of the creatures, but was shot at by some type of beam or laser that set the surrounding fields on fire. None of the boys were apparently injured. Around the same time motorists in the same area reported seeing what appeared to be the figure of a girl walking on a road as they approached it they were horrified to see that it was a creature with a bear-like snout instead of a face. Children at nearby Kukushtane reported seeing a landed saucer-shaped type craft and several "Minotaurs" walking around it.
Source: Yaroslavl Group, FSR Vol. 35 # 3
---
Date:  July 1989
Location:  
Time:  
Summary:  
Source:  
Location. Sochi, Caucasus, Russia
Date: mid July 1989
Time: 2300-midnight
Medical nurse, D. resident of an apartment house on Vorovskogo Street couldn't sleep. She then put a mattress on the floor of her apartment, having pain on her back she found it difficult to sleep on a bed. The night was hot and sultry. After reading for a long time she finally decided to switch off the light and attempt to sleep. After she did this she was surprised by the sudden unusual darkness. She then stood up, was finally able to locate the window and looked outside, —the street appeared absolutely dark, with any street lights on which were strangely turned off. So she turned to her mattress, sat on it and suddenly saw two eyes on some type of humanoid entity, a meter from the floor. The eyes were round in shape, yellow-greenish & phosphorescent in appearance. They looked more like pupils, alone. Both eyes stared at the witness. She thought that she must have been hallucinating so she decided to close her eyes briefly and everything would go away. She did that but the strange eyes had not disappeared, and now she saw an additional pair of eyes below the first ones, only smaller in size, and also looking steadily at her. She then waved her hands and the two pair of eyes vanished in an instant.
Source: V. Bystrov in: "Chernomorskaya Zdravnitsa" newspaper Sochi 1989
---
Date: 7/15 SIOUX FALLS, S.D. 8:20 PM DD Four witnesses Dark object with flat ends. hovered. Ten minutes. No sound.
Date:  July 1989
Location:  
Time:  
Summary:  
Source:  
---
Date:  July 1989
Location:  
Time:  
Summary:  
Source:  
Location: 7/15 ITHACA, N.Y. 10:00 PM NL Multiple witness Sounds like NIGHT SIEGE all over again. 80 calls to pol. Noise. 7 min.
---
Date:  July 1989
Location:  
Time:  
Summary:  
Source:  
Time: 7/16 MIDWEST 1:15 AM Booster re-entry NORAD/On SE path & visible for approximately 30 seconds.
Summary:
Source:
---
Date:  July 1989
Location:  
Time:  
Summary:  
Source:  
Location: 7/16 MYRTLE BEACH, S.C. XXXXX NL Two witnesses Two witnesses took video of enormous ball of fire. Listed last month.
Time:
Summary:
Source:
---
Date:  July 1989
Location:  
Time:  
Summary:  
Source:  
Time: 7/16 N. CHARLESTON, N.C. 1:35 AM NL Multiple witness Many people fishing in several locations saw object. No sound.
Summary:
Source:
---
Date:  July 1989
Location:  
Time:  
Summary:  
Source:  
Summary: 7/16 CHARLESTON, S.C. 1:30 AM NL Multiple witness Dark shapeless object, 300 to 500′ long w/sparks at 1500′. No sound.
Source:
---
Date:  July 1989
Location:  
Time:  
Summary:  
Source:  
Time: 7/16 NEW HARMONY, IN. 10:15 PM CE1 Single witness Giant round object at tree-top level lit up area. hovered, then floated. No sound. 2 minutes.
Summary:
Source:
---
Date:  July 1989
Location:  
Time:  
Summary:  
Source:  
Summary: 7/16 TYBEE ISLE, S.C. 2:00 AM NL Single witness Large fireball reported by policeman. No sound. Seconds.
Source:
---
Date:  July 1989
Location:  
Time:  
Summary:  
Source:  
Summary: 7/16 HILTON HD ISLE, S.C. 1:30 AM NL Single witness Fireball, witness said not a meteor. No sound. Seconds.
Source:
---
Date:  July 1989
Location:  
Time:  
Summary:  
Source:  
Time: 7/16 SAVANNAH, S.C. 1:30 AM NL Multiple witness FAA & Charleston airport received numerous calls. No sound. Seconds.
Summary:
Source:
---
Date:  July 1989
Location:  
Time:  
Summary:  
Source:  
Time: 7/16 GEORGETOWN, S.C. 1:45 AM NL Five witnesses Swimmers saw object, bright in front, tail in back, with white lines on sides. No sound
Summary:
Source:
---
Date: July 16 1989
Location: Andronovo, Chernushinskiy area, Perm Russia
Time: 0430A
Summary: At the collective farm of Kolhoz Rassvet and Gorkogo a milkmaid, G. Sharoglazov saw a very fast approaching humanoid, described as tall, with short legs, long dangling arms, apparently headless and with broad shoulders. It passed by the witness walking at very high speed. During the same period a fireman, V. Chikodanov, saw two tall black headless beings also a groom stableman, G. Medvedev saw a tall headless figure that walked by him at very high speed.
Source: Antonio Huneeus, Mufon Symposium Proceedings 1990
---
Date:  July 1989
Location:  
Time:  
Summary:  
Source:  
Location. Marion Indiana
Date: July 17 1989
Time: 2200
The witness saw a light outside the window, looking out he saw a disc shaped object floating over a nearby pond. The object had a dome on top and bottom and emitted a bright bluish light. The lights in the house suddenly went out and there was a blinding flash of light. The witness then woke up five feet from the window, feeling pain on his side. His underwear was on backwards and he vomited. On his side he found a bright red mark that was very painful. Soon after he had dreams of someone with large eyes following him.
Source: NUFORC
---
Date:  July 1989
Location:  
Time:  
Summary:  
Source:  
Location. Vladivostok, Russia
Date: July 18 1989
Time: 0400A
Two local residents from the city, Andrey and his wife Olga (both about 35 years of age) were returning home, near their house they saw a car suddenly appear with its headlights switched on, but without any inside lights. The car had suddenly appeared out of nowhere, it was similar to a foreign (Japanese) car but it was moving absolutely soundless. The married couple stepped back and saw the strange "car" move ahead and stop. Someone walked out of the vehicle, but it was difficult to discern its features because of the darkness. The couple then walked towards the strange car and saw the strange occupant of the vehicle. It was a 2 meter tall lanky entity, its head shaped like a pear, or a skull and emanated a greenish glow from within. It had huge eyes which occupied most of its face. The witnesses became numb with fear and using great effort hurried quickly away, walking ahead and sitting on a bench to rest. Suddenly Olga stood up and as if hypnotized began walking back to the strange vehicle. Andrey rushed after her, attempting to turn her back and trying to snap her out of her somnambular state, but it did not help. So he grabbed her and held her back, as the strange alien figure floated by them entered his "car" and "drove" away. At this point Olga became hysterical. Later she explained that she had momentarily lost her will and had been paralyzed. During the next two weeks Olga could not sleep in darkened rooms and was always switching on the light.
Source: "For Communist Labor" Local newspaper, cited by Mikhail Gershtein in Anomaly newspaper, Saint Petersburg # 18 1997
---
Date:  July 1989
Location:  
Time:  
Summary:  
Source:  
Location. Dutton, Alabama
Date: July 18 1989
Time: 2350
2 observers watched a white oval shaped craft passing slowly overhead, no sound was detected. Later a cloaked figure was encountered in the bedroom of one of the witnesses. No other information.
Source: Mufon Journal # 260
---
Date:  July 1989
Location:  
Time:  
Summary:  
Source:  
Time: 7/18 DUTTON, AL. MIDNITE NL Two witnesses Light observed before thunderstorm, warned by psychic. No sound.
Summary:
Source:
---
Date:  July 1989
Location:  
Time:  
Summary:  
Source:  
Location. Perm region, Russia
Date: July 19 1989
Time: late night
As the witness slept in her apartment she suddenly awoke feeling a strange oppressive atmosphere around her. She opened her eyes and saw a humanoid figure bending down over her. The figure was short, about 130cm, and looked intently at the witness. The figure had a grayish green pale facial complexion. It had large dark pupil less eyes. Heavy skin folds covered the head and body of the creature. It had what appeared to be a thin beard and appeared to be elderly. A second humanoid now appeared next to the first one. This one was somewhat shorter and appeared younger, both resembled aged "gnomes". Both figures then floated back from the bed and vanished. At this point what appeared to be a tennis ball size sphere of light appeared in their place. The sphere disappeared into the next room and then flew out an opened window.
Source: UFOZONE Russia
---
Date: July 20 1989: Sochi, Caucasus, Russia Close Encounter

---
Date:  July 21 1989
Location:  Sochi, Caucasus, Russia
Time:  night
Summary:  Another encounter by the Goloveshko family the next night, Tatyana Vasilyevna again saw some strange humanoid silhouettes in the living room. After a short time, they disappeared, dissolving into thin air. At the same time her husband Vladimir Petrovich saw something that looked like a column of light and their daughter, Anna, saw a rectangular shaped object emitting light. After each separate encounter the witness would momentarily loose consciousness and then black out sleeping until morning. The next day Vladimir jokingly told the owner of the apartment, "Hey you have a good apartment here, aliens visit us every night!" Incredibly the woman told him about her own contact with humanoid entities which closely resembled those experienced by the vacationing family.
Source:  V. Bystrov in: "Kurortnaya Gazeta" (Resort Newspaper) Sochi, August 5 1989
---
Date:  July 1989
Location:  
Time:  
Summary:  
Source:  
Time: 7/22 TRENTON, ME. 3:00 AM DD Two witnesses Pilots of Beechcraft saw oblong UFO over Bass Harnor. Power outage on ground. No sound. 2 minutes.
---
Date:  July 1989
Location:  
Time:  
Summary:  
Source:  
Time: 7/25 SMITHTOWN, N.Y. 9:30 PM NL Three witnesses Witnesses heard helicopters, saw one chasing red/orange ball. 90 sec.
---
Date:  July 1989
Location:  
Time:  
Summary:  
Source:  
Source: Location. Solnechnogorsk, Moscow region, Russia
Date: July 25 1989
Time: unknown
The witness came upon a landed disc shaped object near the village. Two men and a woman, all very human looking came out of the object and communicated with the witness by using telepathy. He was invited onboard the object and inside he saw a giant screen with a planet with three moons. He was then returned to the ground. The object and the humanoids then suddenly vanished.
Source: Antonio Huneeus Mufon Symposium Proceedings 1990
---
Date:  July 1989
Location:  
Time:  
Summary:  
Source:  
Location. Near Vyborg, Leningrad region. Russia
Date: July 26 1989
Time: afternoon
In the outskirts of this city several schoolboys riding a moped spotted some strange black robot-like figures moving quickly over a field, the figures appeared to be headless. One of the boys threw stones at the figures and immediately a bright beam of light shot from one of the figures and hit the pavement about 10 meters from the boys, raising a cloud of dust. Immediately after that the figures disappeared from sight.
Source: UFOZONE Russia
---
Date: July 26, 1989
Location: HONEDALE, PA.
Time: 1:00 AM
Summary: CE1 Three witnesses Round object, two sightings within an hour. Sound. 1 hour.
Source:
---
Date: July 28, 1989: UFO hovers over Russian nuclear test site of Kapustin Yar
---
Date: July 29 1989
Location: Near Subbotino, Perm region Russia
Time: near midnight
Summary: A professional journalist, Pavel Mukhortov was walking along the banks of the river Silva saw a glowing hat shaped craft descend and hover near him. The witness felt paralyzed as 3 strange very tall beings emerged from the object. Their bodies appeared to glow in the dark. Some type of mental communication was conducted between the witness and humanoids. The witness asked to go with them but was told that it would be too dangerous for them since he would bring "thought bacteria". He was also told that they came from the Constellation of Libra.
Source: Yaroslavl Group, FSR Vol. 35 # 3
---
Date:  July 1989
Location:  
Time:  
Summary:  
Source:  
Related articles