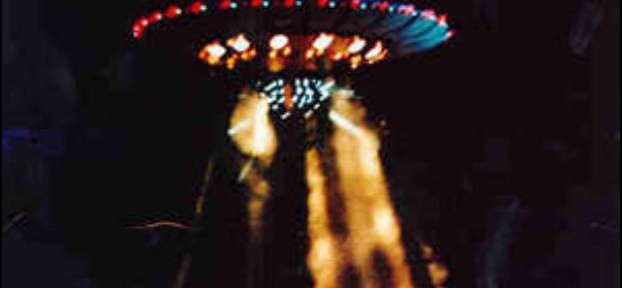 (Last Updated On: December 20, 2017)
Date: Fall 1989
Location: Elkhorn Wisconsin
Time: 0130A
Summary: The 24-year old witness was rounding a corner on a road bordering a creek when she saw what she first thought was a person hunched over on the gravel at the edge of the road. The witness slowed down, then the figure lifted its head turned and looked at the witness. The being was described as having a wolf-like appearance with a long snooty face and eyes that glowed a yellowish gold color. It had grayish brown hair, large fangs, pointed ears, and an extremely wide chest. It had very muscular upper arms and just stared at the witness seemingly unafraid. The witness drove off.
Source:Scarlett Sankey, Strange Magazine # 10
---
Date:  Autumn 1989
Location:  
Time:  
Summary:  
Source:  
Location. Riga, Latvia
Date: Autumn 1989
Time: 0400A
8th grade student Maris M. was at home, while his mother was at work and his sister slept in a nearby bedroom. Maris suddenly awoke as if obeying a telepathic impulse and opened the window, not understanding why. He entered the balcony and saw a low flying large blue colored globe-shaped object, emitting a long beam of light. This uncommon sight caused Maris to run out of his building and rush towards the UFO. He ran like a sprinter feeling a strange exaltation and bliss. Approaching the UFO he realized that it was not a globe but in fact an inverted triangle similar to a milk carton. The object maneuvered and descended without a sound. An entryway became visible on the side of the craft and a step-like ladder jutted out. Maris ran approximately 75 meters in the direction of the craft, crossing a highway, where a taxi driver passing nearby also noticed the anomalous craft and quickly applied its brakes. The sounds of the brakes attracted Maris attention and he briefly glanced at the taxi, when he turned back to the UFO, it had completely vanished. After this original incident, strange things began to occur to Maris. During the next week someone visited the sleeping boy at 0400A and touched his shoulder. One time he noticed a strange alien figure, transparent in nature, like glass. The strange figure repeated in Russian, reiterating several times, "I am robot MB-20, You will be well." After saying those words the alien robot disappeared each time. He was to have a later much more dramatic encounter.
Source: Igor Volke, Chairman of The Estonian UFO Association in" M-Skiy Triangle, Riga Latvia # 5 1990
---
Date:  Fall 1989
Location:  
Time:  
Summary:  
Source:  
Location. Boyne City, Michigan
Date: Fall 1989
Time: morning
B.R. was walking her dog "Duke" (a German shepherd/malamute/husky mix) through a track of cleared forest that went through blackberry and raspberry bushes some parts of it which were heavily wooded. Suddenly the dog uncharacteristically stopped and stared behind them. After a minute B.R. continued along and pulled a bit on Duke's chain to get him to come along, the witness even called his name. But the dog wouldn't budge. At this point B.R. thought that whatever animal he had seen hadn't run off yet so B.R. turned and looked. To the witness astonishment she spotted three white humanoid figures off in the woods. They appeared to be completely white in color, without any visible features and human in shape, and not all the same height. She watched as they simply walked and disappeared behind some trees. Strangely, the trees weren't thick enough for them to completely hide behind, but they had completely vanished as if employing some form of invisibility or something. In a state of shock B.R. immediately pulled on the chain and again urged Duke to come along. This time he immediately got up and walked along as if nothing at all had occurred out of the ordinary. B.R. made as hasty retreat constantly looking over her shoulders. The witness never again felt comfortable in that area of the woods after the incident, but felt that the humanoids were not hostile in nature.
Source: Direct from the witness, RobertsonB@michigan.gov
---
Date:  Fall 1989
Location:  
Time:  
Summary:  
Source:  
Location. Archangelsk Region, Russia
Date: Autumn 1989
Time: afternoon
Professor of Medicine Dr N. Aleutsky had flown to the local taiga to gather some herbs. He was on the bank of a river when a bear cub came up to him and yelped. He also heard the cub's mother roaring nearby. Dr Aleutsky had a knife with him, but felt it would be a poor defense against an angry beast. The doctor hastily abandoned his basket full of mushrooms and raced back to his boat. Suddenly he heard a blood-chilling scream from behind. Turning his head, the doctor saw a gorilla-like creature holding the bear in its hands. The beast was 2.5 meters tall, its body covered with thick brown fur. It was a female, and its large teeth were bared. Holding the bear by the hind legs the creature tore the animal in two without any visible effort. The whole episode lasted just a few seconds.
Source: Paul Stonehill, Parascope
---
Date:  Fall 1989
Location:  
Time:  
Summary:  
Source:  
Location. Brevard County, Florida
Date: Fall 1989
Time: 2300
The witness and his sister were driving on isolated Nova Road when he had to stop in order to relieve himself. After about 20 seconds his sister mentioned that someone was coming. After that he heard branches breaking to the side of the road in the woods. He glanced towards the direction of the sound and saw a tall dark creature running toward the car. The creature was about 7-8 feet tall. Scared the witness ran back into his car. The creature ran upright like a man, and was very dark. The witness drove away to see the creature standing in the road looking at them.
Source: Scott McNabb
---
Date:  September 1989
Location:  
Time:  
Summary:  
Source:  
Location. Rostov-on-Don Russia
Date: September 1989
Time: unknown
A silvery cylinder-shaped craft was seen hovering stationary very close to the ground. A cone-shaped beam of light came out of the bottom of the craft and shone down towards the ground. Two women and six men all very tall and wearing tight-fitting silvery outfits came down to the ground via the cone shaped light. No other information.
Source: Yaroslavl Group Bulletin # 10, FSR Vol. 35 # 3
---
Date:  September 1989
Location:  
Time:  
Summary:  
Source:  
Location. Yakutsk, East Siberia, Russia
Date: September 1989
Time: daytime
A Mr. Kartashov and his wife, Mrs. Kartashova were riding their motor scooter on an isolated forestry trail road amid the forest outside of the city on their way to gather mushrooms and berries. Suddenly they saw a very tall "man" near the road. He wore a dark colored coat that hung to the ground that completely covered his body and a dark hat on top of his head. He was walking very slowly, and straight, not turning around. The woman told her husband to use caution since the tall stranger was walking near the road. They noticed right away that the man was unnaturally tall, almost 3 meters in height. As they neared the tall stranger he suddenly disappeared in plain sight and at the same time the scooter fell to the ground, its engine suddenly cutting off. The stunned pair stood up and checked their scooter and was surprised as the scooter engine suddenly started by itself. As they drove further on the woman attentively looked on both sides of the road but did not see any more strange "men".
Source: Fourth Dimension Newspaper of Yaroslavl UFO Research Group June 1991 # 6.
---
Date:
Location:
Time:
Summary:
Source:
Location. Oak Creek Canyon, near Sedona Arizona
Date: September 1989
Time: afternoon
Four women had hiked up to Steamboat Rock to enjoy the beautiful scenic view of the area and as they were trekking down from the summit two of the women became separated from the other two as they lagged behind. They reached an area of sparse stunted pine growth and noticed a shimmering form beginning to take shape near some trees. As both watched the finely outlined features of a beautiful young woman with black hair and angelic features came into full view. She made a friendly gesture towards them, smiled warmly, and then vanished.
Source: Tom Dongo, Alien Tide
---
Date:  September 1989
Location:  
Time:  
Summary:  
Source:  
Location. West Carleton Ontario Canada
Date: September 1989
Time: evening
A bright light drew the witness to a window looking over her backyard. Concerned about the bright object hovering silently over the yard, she went to check on her two and a half year old daughter. Upon opening the bedroom door she was startled to see two beings that had dark eyes and glowed a whitish yellow color. One of the entities turned towards the witness, and the next thing she remembered was waking up on the sofa the next morning. During the same time a neighbor reported seeing a similar glowing creature that appeared to be taking ground samples from the backyard and another one in her house.
Source: Bob Oechsler, International Library UFO Magazine Oct/Nov 1993
---
Date:  September 1989
Location:  
Time:  
Summary:  
Source:  
Location. Tuymazy, Ufa region, Bashkortostan, Russia
Date: September 1989
Time: night
F. Zaiyevoy involved in a previous encounter in August sat on the kitchen facing the window when she suddenly perceived pressure on her arm, as if someone had gripped her with a hand. She grew torpid with horror and was unable to move. At this point her daughter approached from the bedroom and everything ceased. Later that month at a different apartment the witness was laying on the sofa while her husband slept in the bedroom. Suddenly a man wearing a shiny suit appeared in front of her. The man spoke, attempting to persuade her to come and "fly" with him, she refused. On the palm of his hand he carried a round yellow ball, resembling a fruit, he offered it to the witness, who tasted it. She thought the taste was like a mandarin. At this point the stranger disappeared. That same night, her husband heard a knock and walked to the kitchen, there he saw a small-multicolored luminous object floating in mid-air. He attempted to grab the object, but it floated out to the living room and then out the opened balcony doors.
Source: Gennadi Ivanov "Evening Ufa"
---
Date:  September 1989
Location:  
Time:  
Summary:  
Source:  
Location. Punta Hidalgo, Tenerife, Canary Islands, Spain
Date: September 1989
Time: 2200
For several nights in a row a witness named Aristides observed a huge yellowish sphere of light on the beach that remained static on the ground. Using a pair of binoculars he was able to see numerous tall figures inside the sphere as if in a "dance hall". In the center stood out a very tall man-like figure wearing all white. No other information.
Source: Jose Gregorio Gonzalez, "Los OVNIS en Canarias"
---
Date: September 1 1989
Location: IOWA      
Time:
Summary: . Farmer found rings in field.
Source: Seen on A CURRENT AFFAIR
---
Date:  September 1989
Location:  
Time:  
Summary:  
Source:  
Location. Island of Cos Dodecanese Greece
Date: September 1 1989
Time: unknown
Several area residents watched a large luminous barrel-shaped craft hovering very close to the ground. Later on the slopes of a nearby mountain called Xenos, others saw several giant humanoid figures with lights on their heads walking down the slopes.
Source: Thanassis Vembos, Strange Magazine # 6
---
Date: September 1 1989
Location: MT. VERNON, IN.
Time: 8:00 PM
Summary: Bright cigar-shaped fireball seen by two independent witnesses
Source:
---
Date: September 3 1989
Location: EBENSBURG, PA.
Time: Night
Summary: CE1 1 wit. No sound 15 sec.Rotating object moved at utility line height near car, no EM
Source:
---
Date:  September 1989
Location:  
Time:  
Summary:  
Source:  
Location. Near Amsterdam The Netherlands
Date: September 4 1989
Time: late night
The witness, that owns several greenhouses in this rural area, had returned home to his farm when he noticed that one of the greenhouses was glowing more brightly than usual, with a green tinge to it. He went to investigate and saw a large flat topped disc-shaped craft on the ground right behind the greenhouse. The disc gave off a soft green light. Then a man wearing a dark colored jumpsuit walked up to the witness. The man had dark reddish brown hair and was tanned with fine features. He spoke to the witness in perfect Dutch and gave him some advise on how to take care of his tulip crops then left.
Source: Diane Tessman, UFO Universe winter 1993
---
Date: September 6 1989
Location: Rock Creek Canyon, Colorado
Time: 1000A
Summary: Bow hunter Juan Maestas was quietly stalking a herd of young elks uphill in a wooded area when he heard a twig snapping to his left, he froze in his tracks. He turned his eyes to look at the source of the noise and was stunned to see "a fat ugly little guy, about 3-feet tall," who turned at the same instant and stared at him. The little man was about 50 feet away next to a tall pine tree. As they locked eyes, Maestas was able to discern the little man's wrinkled forehead, clean-shaven face, and pink hued skin. He was wearing what appeared to be green overalls with suspenders and a flat-topped floppy hat. His hair was reddish, and was sticking out from underneath the cap. He had little eyes that seemed red and bloodshot. The little man sort of gave Maestas a smile and suddenly darted behind a tree. Maestas quickly ran to the spot but the little man had totally disappeared. Two weeks earlier, very close to this same location, a family of five on a picnic had witnessed the same or very similar entity that was also dressed in green overalls and hat.
Source: Christopher O'Brien, Enter the Valley
---
Date: September 6-7 1989
Location: Russkiy (Russian) Island, Vladivostok, Russia
Time: night
Summary: A rectangular shaped UFO was seen hovering over the island, where the naval bases and units of the Russian Pacific fleet are mostly located. Half an hour later, the object, shaped like a semi-transparent globe landed on top of one of the hills near the city of Vladivostok. Witnesses then noticed 2 humanoid figures moving inside the spherical object.
Source: Valeriy Dvuzhilnyi & Alexander Rempel in "M-skiy Triangle" Riga # 1, April 1990
---
Date:  September 1989
Location:  
Time:  
Summary:  
Source:  
Location. Yazavan, Uzbekistan
Date: September 8 1989
Time: midnight
Local resident Nafisa Davronova had a strange feeling that someone was observing her that someone was "calling" for her. Soon she forgot, but the feeling returned in an hour. She walked outside the house and was suddenly paralyzed and at the same time saw a huge round object resembling two inverted plates placed together, descending slowing. The disc then hovered over the roof of her house. An elevator like door opened and something resembling a ladder was lowered. Three human looking entities came out, while the witness was still paralyzed, unable to move or yell. All three entities wore shiny white clothing; all were about 2 m in height, maybe a little taller. They had long legs, thin bodies, round or rectangular heads. They had long black hair that came down all the way to their knees. According to the witness's impression two of them were female and one male. The appearance of the male was remotely human. One of the alien women constantly kept one hand on her left breast, as she was holding some type of device and was frequently looking at it. They spoke to the witness (in her language?) mostly about family and other mundane matters. The witness asked: "Who are you, and where are you from? They answered: "You are too young to know that". Apparently she was able to move again as the aliens asked her to bring some water and she did. One of the alien women told her to "tell your people about our meeting, we will see you again". Soon after the incident, the witness apparently developed some psychic abilities.
Source: Anton Anfalov quoting Hodzhiakbar Shiy'khov, UFOs in Uzbekistan
---
Date: September 8 1989
Location: GRAND FORKS, ND. 
Time:  5:40 AM
Summary: NL 1 wit. No sound 15 sec.Air base A1C saw amber lights criss-cross. Says NOT meteor
Source:
---
Date: September 9 1989
Location: LONG ISLAND, NY..
Time:  2:30 AM 
Summary: NL 2 wit. No sound 7 min. Light observed about 40′ over water in Oyster Bay
Source:
---
Date: September 9 1989
Location: GULF BREEZE, FL
Time: Night
Summary: NL 3 wit. No sound 2 min. Dull disc-shaped object w/lites joined by 4 identical vehicles
Source:
---
Date: September 11 1989
Location: KALAMAZOO, MI.
Time: 9:15 PM
Summary:   CE2 +3 wit. No sound 15 min. Object with stubby wings near nose. Tubes and pipes seen. Hovered.
Source:
---
Date: September 12 1989
Location: PENSACOLA, FL.
Time:  7:55 PM
Summary: NL 35 wit. No sound 7 min. 35 people, 12 MUFON FIs, observed and photo'd lite that maneuvered.
Source:
---
Date: September 13 1989
Location: BANGOR, PA.
Time: 7:45 AM
Summary: DD 2 wit. No sound 7 min. Two separate sightings of odd, squarish & dark metallic object.
Source:
---
Date:  September 1989
Location:  
Time:  
Summary:  
Source:  
Location. Protvino, Moscow region, Russia
Date: September 13 1989
Time: 2100
40-year old mother of two Tatiana Mikhaylovona was walking near the town when she saw two women, 2 meters in height and wearing tight-fitting silvery suits emerged from behind some nearby boulders and approach the witness. They had light-blond hair and wore small silvery caps with two antenna-like protrusions on top. Terrified and feeling a strange torpor in her body Tatiana was unable to move as one of the women using perfect Russian but with a squeaky voice invited to go with them. She followed the two tall women along a road about 100 meters and at the curb opposite to a transformer station sat a small disc-shaped object on the ground. She could see no doors on it. A wall suddenly opened and the women entered the craft. The disc was about 4 meters in diameter, and about 2.5 meters in height; completely metallic in appearance in the center it had a transparent window or observation deck. An instrument panel encircled the entire length of the inside of the craft. Three armchairs were located at equal distance from each other. In one of them sat a man with his back to the witness. He appeared to have wide shoulders and strong arms. During the whole encounter he did not stand up or look at the witness. "Fly with us," said one of the tall women. The witness demurred telling the woman that she had many chores to do on this date, one of them was teaching her son school lessons and then prepare supper. The woman told Tatiana that they did not eat "our" bread and offered her a piece of "their" bread. The woman stretched her arm and took a piece of something solid, which she gave to the witness who without thinking immediately swallowed it. The taste reminded her of wheat bread but very sweet in nature. The disc then took off noiselessly and then a light on the ceiling began revolving rapidly. Looking out a window Tatiana could see the rooftops of Protvino as she sat on one of the armchairs. The flight was smooth and calm. Finally Tatiana asked to be returned back to earth. "Where do you live" the alien women asked. She answered, "in one of the prefabricated houses in the outskirts of Protvino." "On what floor?" She answered on the 14th floor. They then offered to drop her off on the balcony. But she refused that offer thinking that her husband and children will be scared. She was dropped off in the parking lot and the alien women then bade goodbye telling her that she would be contacted again one day. Not wishing to be contacted again Tatiana quickly left without saying goodbye. Another inhabitant of Protvino reportedly saw a disc shaped object lifting off from the ground around the same time.
Source: UFONS # 260, UFO LAB Russia
---
Date: middle of September 1989
Location: Voronezh Russia
Time: 2000
Summary: Igor Yagudin was en route to his job at the local airport had taken a shortcut through a ravine and was climbing up the path that led out of it when he noticed a bright greenish glow to his left. He went to investigate and found a hovering green-colored sphere that remained motionless just above the ground. He walk towards the sphere and heard some footsteps nearby, he looked and saw a very tall, well-proportioned man in a dark silvery suit. The humanoid's entire head was covered to the shoulders by a large helmet with a rectangular visor. The helmet appeared to contain some type of liquid and no facial features could be seen. A faint glow appeared on the humanoid's visor and something made the witness look in the direction of the sphere. On the sphere a screen had appeared and on it images of various nuclear power plants, all known to the witness, the plants all appeared to be undergoing some type of emergency and explosions were evident. After awhile the images faded and the witness lost consciousness. He later woke up with a slight headache and both the sphere and the humanoid were nowhere in sight.
Source: Nikolai Lebedev, Alien Update
---
Date: middle of September 1989
Location: Near Yablunovka, Belaya Cerkov area, Kiev region, Ukraine
Time:  daytime
Summary: A local engineer, A. Yas, was gathering mushrooms not far from the village of Yablunovka and had sat down to rest, reading a newspaper. Suddenly he saw a shadow over him of an oval-shaped cloud. He looked up and saw a parachute or chamomile-shaped object descending on a spiral trajectory. 70 meters from earth it began descending in a strictly horizontal trajectory. The object then landed on several props. It appeared to be an egg-shaped or bullet-shaped object, about 8-10 meters high, with an outer diameter of about 6-7 meters and an inner diameter of about 3-3.5 meters. It had rhombic shaped windows on its hull and was encircled by an outer ring of numerous petal-shaped plates. The petal-like ring was about 15-19 meters in diameter. A door on the landed craft opened and a humanoid wearing a spacesuit came out. The alien was carrying a red and silver colored device in his left hand. After approaching the witness the stranger bowed his head and then touched his chest and invited him to come aboard the UFO. The face of the alien was unusual, bronze colored skin, and slightly curling hair, according to the witness the alien resembled a "Hindu". An alien female of unspeakable beauty was standing near the entryway of the craft. Her figure was enveloped in a coverall, she wore a small cap on her head, with a bulging stripe and in the middle of the stripe there was something resembling a diamond or "optical eye". She had dark brown wavy hair that fell over her shoulders, her eyes were very large, dark blue and almond shaped, she had a slightly small snub-shaped nose. She had a silver chain hanging on her neck which had a similar device which the male alien was carrying. She stood outside the craft with a smile on her face, she then crossed her arms on her chest, pointed towards the open door of the UFO and disappeared inside. The witness then ascended up the rose petal plates and appeared in a small chamber resembling an air lock or a shower. The male alien then undressed him down to his underwear and placed the witness clothing in some kind of niche inside the wall. At the same moment a foamy liquid sprayed over the witness body and in the next moment a warm stream of air dried his body and next an inner door opened (it appears that the witness was deloused). The alien man then gave the witness slippers and a loose-fitting gown. The witness then sat down and the beautiful alien woman appeared. She approached him and stretched out her hand with a smile, palm down and told the witness that her name was, "Gazeliya". Then she introduced to the witness a third alien with curly hair and a dark blue face, which looked generally like a black man. The air inside the craft was fresh, apparently ionized and a soft melodic music could be heard coming from somewhere above. The alien woman still stood in front of him, apparently showing off her looks (!). Soon she changed into a semi-transparent gown, low necked. On her new skimpy dress the witness saw a lotus-shaped sign on her right breast and a rose on the left one. The symbols were light pink as well as her skin. Her face was light-colored without a trace of cosmetics. She was slightly taller than the witness, about 1.80m. The "Hindu" alien was about 1.9m in height and the other darker alien was taller, at least 2.20-2.20m in height. The voice of Gazeliya was soft, and melodic, the darker tall alien's voice had a loud bass quality. After making his acquaintance the woman began medically examining the witness. Soon a human shaped robot appeared; he was about 1.5m in height and approached the witness. The robot had rotating, chameleon-like eyes which frightened the witness. The robot then grabbed the witness by a hand and sat him on a nearby armchair and then attempted to place several small button-size plates on his forehead, but the witness resisted and punched the "robot" on his pear-shaped head. The robot then put down his arms and froze in place, at this point the tall dark humanoid erupted in thunder-like laughter. The "Hindu" alien then touched the robot on its chest area and it again began to move and rotate its eyes. Gazeliya then gathered the small plates, which had fallen down and placed them on several locations on the witness body, including his chest area. One of the plates apparently immediately extracted some blood from the witness and the robot took the plate and blood sample away. At this point Gazeliya grabbed the newspaper that the witness had been holding and attempted to read each letter and pointing at it. At this point the witness attempted to explain to the alien woman what she was reading and he tried using several languages, including German and English. But the phrases in the alien language which he heard the woman speak had nothing in common with any of the languages he spoke. At this point the witness realized that he was dealing with extraterrestrials (!). This fact stunned him. Soon Gazeliya began showing some slides to the witness and when he asked what a cross-shaped sign meant on one of the slides, she drew drafts of terrestrial vehicles, a car and a truck, and then crossed them the images out and drew something resembling a rhomb-shaped car-like vehicle but without wheels. The witness was confused and did not understand her. She then took the device from her neck, which appeared to have been a type of remote control and pressed several buttons on it. The witness then saw a panoramic image which resembled an alien city, with 2-4 story houses with rhomb-shaped and oval windows, with many towers which objects on top resembling satellite dishes, (satellite dishes were not in use in the USSR in 1989). Afar, some kind of plant was visible with pyramids on the background. A 2 story villa was visible in the foreground with a radar dish on top, in front of the villa stood Gazeliya holding what appeared to be a 2-3 year old child. Nearby stood a 2-meter tall man was standing along with a 12-15 year old boy. A "car" stood near them, it was rhomb-shaped, without wheels. A huge tree was growing nearby and also what appeared to be a streaming fountain.
The soft music began playing again, and the witness understood that his visit was coming to an end. He took a pencil and drew the Solar System—the Sun and the 7 planets, Gazeliya then drew five more planets and the witness then asked from which planet she had come from. She then drew another solar system, which consisted of 9 planets and drew a line from one of the planets in the solar system, she then drew a line to the moon and then to Earth. On the moon she drew a rhomb-shaped mother ship and about 20 lines stretching from it towards the Earth with different shaped UFOs. Then she "moved" the Earth around the Sun two times and showed the distance to their planet. She then moved the watch to 1/3 of a complete circle, moved her finger to the Moon, made one more circle and pointed to the place on Earth where they were now. At one point the witness grabbed the alien woman's hand and noticed what appeared to be a bracelet with numerous decorations and some miniature instruments. Using his finger he then felt the woman's pulse, which seemed to increase in speed. Gazeliya then said something in her language and all the aliens started laughing out loud. She removed her dressing gown and approached the witness, grabbed his head and pressed it against her chest area. Her heart seemed to beat at about 90-100 impulses per second. The temperature of her body was about 42 degrees centigrade. He moved back from her and stared fixedly at her half-naked body. Gazeliya was similar and at the same time different from terrestrial women. The witness was admiring her beauty and she seemed to realize that. Her beauty was charming and the witness noticed what appeared to be a slight halo around her head. Suddenly her eyes transformed from the blue color to a greenish-yellow color. She then began approaching the witness slowly, mesmerizing him by her stare. When she touched his hand the witness reacted and pushed her back (!), screaming "Witch". Gazeliya then jumped like a cat and yelled something in a deep tone voice, which the witness understood as "Get out!" He could not understand why she had been insulted. The witness became concerned and thought that this was "the end" for him. At this point the "Hindu" alien appeared and returned his clothing. 2 minutes later Gazeliya appeared back in the room. She tried to smile, but she had a worried look on her face. She gave the watch back to the witness. He told them that he wanted to leave his watch as a gift from him to them. But she threw the watch emphasizing that the friendly relations were now over and vanished inside the UFO, but not before nodding farewell at the witness. The double door closed and a double click was heard. The witness, now outside the UFO, heard the sound of some mechanism operating as the UFO began to ascend vertically gaining altitude. The spacecraft ascended to an altitude of about 150-170 meters and the witness then heard another double click. The "rose petals" surrounding the craft then joined together into one tube emanating a dark-red luminescence. The UFO now looked like a fiery rocket or missile. At an altitude of about 250-300 meters a dark blue cloud appeared and the UFO vanished. 30 minutes later the witness examined the landing site and found an area of matted grass and one print from the landing gear about 1 meter in diameter. The witness then boarded a bus with his mushroom basket and was approached by a man who told him that he had seen everything, but the witness ignored him. He later wrote several letters about his experience.
Source: "Mir Nepoznannogo" Moscow # 1 1994 and Rossiyskaya Gazeta March 3 1994
---
Date: September 14 1989
Location: CANTONMENT, FL.
Time: Night
Summary: CE1 2 wit. Low hum 3 min. Inverted cones hovered low over neighbor's house. Jet activity.
Source:
---
Date: September 16 1989
Location: FLUSHING, NY.
Time: 1:00 AM
Summary: NL 5 wit. No sound 3 hrs. Bright object with tiny lights 75-100′ over lake.
Source:
---
Date: September 16 1989
Location:  Nikolayev, Ukraine
Time: evening
Summary: Tamara Shurupova a female employee of a local meat packing plant was returning home from her job, walking a long a tramline to the nearest stop. She was walking very carefully since the road was wet and she was afraid to fall. When she reached the area of 6th Slobodskaya Street to her complete amazement she felt her body ascending up into the sky soon finding herself floating high over the ground. Incredibly she felt no discomfort. She felt no fear but felt euphoric as she rose higher into the air, the light rain that had been falling had suddenly stopped. She clearly remembered seeing tram wagons and a car passing below her. As was later established she had risen up to about 50 to 55 meters when she suddenly heard a heart-rending scream from below, "Extraterrestrials!" She saw many people running out of nearby factories pointing upwards; it was towards the end of their shift. She then began descending and suddenly felt the ground beneath her feet. She felt the rain falling again. Only now she raised her head and saw a hovering silver disc-shaped object from which a beam had apparently emanated from. The object was about 40-60 meters in diameter. At that moment she became afraid. She also heard a voice extolling her to "go with them". Other workers were attracted to the scene and began to scream and ran towards Tamara. This apparently caused the object to release whatever influence it had over the witness and quickly leave the scene. Tamara does not remember how she got home and incredibly none of her family members believed her.
Source: Mikhail Gershtein "Immense Invasion"
---
Date: September 16 1989:The Battle of the Flying Saucers
---
Date: September 17 1989
Location: MT. VERNON, IN.
Time: 8:43 PM
Summary:  NL 1 wit. No sound 7 min. Video taken of lite that brightened up.
Source: 
---
Date: September 20 1989
Location: OLDWICK, NJ.
Time: 7:30 AM
Summary: DD +1 wit. No sound 15 min. Box-like diamond hovered nr Rt. 78, big as full moon.
Source:
---
Date: September 21 1989
Location: MT. VERNON, IN.
Time: 8:15 PM
Summary: NL3 wit. No sound 10 min. V or wing w/red lites headed toward St. Louis. FAA couldn't ID.
Source:
---
Date:September 21 1989
Location: Voronezh Russia
Time:  2030
Summary: Several young boys watched a large sphere land on a park; two tall humanoids wearing silvery outfits and large black boots briefly emerged. A smaller robot-like entity accompanied them. Landing tracks were reportedly found.
Source: Jacques Vallee, UFO Chronicles Of The Soviet Union
---
Date: September 22 1989
Location: Conil De La Frontera, Spain
Time: 0700A
Summary: A man taking a walk near the coast by a wooded area bordering a river noticed a very tall figure on the other side of the river. The figure moved slowly and gave off a metallic sheen. The figure apparently disappeared from sight behind some sand dunes. No other information
Source: J J Benitez, La Quinta Columna
---
Date:  September 1989
Location:  
Time:  
Summary:  
Source:  
Location. Voronezh, Russia
Date: September 23 1989
Time: after 2000
5th grade schoolgirl Natasha Krylova and her friends Lena Sorokina, Natasha Voropaeva, Sveta Ryzhkova and Yulya Sholohova saw a white Moon-sized spot of light that appeared in the sky. It soon became clear that it was a globe-shaped object with black stick-like protrusions and lights around it. The object was flying towards the city park, and then it began hovering over the ground and then landed. Three tall humanoid beings appeared in the area where the UFO had landed, two were of the same height, very tall; the third was even taller than the other two. The strangest thing was that the humanoids were not see to have come out of the craft, but had suddenly appeared out of nowhere standing near the craft, right in front of the children's eyes. The aliens were dressed in blue cloaks and were walking in midair low over the ground. They did not converse among each other. After walking for some time towards a nearby road they confronted a group of about 6-8 people that were going to the park, among them the Nedosekins family. Then a boy named Alyesha Panin reported seeing the landed UFO with 4 landing legs jutting from it. The landing props were grayish or black in color and the object was light. Bright light emitted from beneath, from where the hatch had opened. 2 entities moved towards the boy, and a third alien remained behind next to the UFO apparently guarding it. The light coming from the hatch gradually died out. When the boys saw the aliens walking towards him strangely he was not afraid, but experienced a headache. Then he heard the girls screaming. However he stayed around for some more time but the aliens vanished. Later the boy and the girls returned to the location and heard a loud humming sound and then ran back home in order to obtain additional witnesses. The first part of the episode had lasted for about 15 minutes.
Soon a larger group of boys and girls returned to the UFO landing place. Then one of the creatures raised its hand and something descended on it, shaped like a shiny beak, the shiny object was emitting light and had appeared from nowhere. Then the entity pull down its hand and the shiny object remained hovering in midair and then descended towards the earth and vanished. At this point the children became afraid and began crying. The entities then moved back to the landed globe. However the object did not fly away, but disappeared in front of their eyes. Apparently many of the adults had seen nothing
Source: Voronezh UFO Research Group, Genrih Silanov, Feydor Kiselyev, Yuriy Lozotsev and Alexander Mosolov "UFOs in Voronezh" 1990
---
Date:  September 1989
Location:  
Time:  
Summary:  
Source:  
Location. Voronezh Russia
Date: September 23 1989
Time: 2100
5th grade student from school # 33, Roma Torshin was returning home through the city park when he noticed a large reddish globe with a dark hatch in the sky. Diameter of the object by his estimation was about 5 meters. Before landing, the object emitted 4 landing "legs" or props. Several seconds later the hatch opened, a stairway or ladder then moved out and a robotic entity "rolled" out of it. The "robot" was of chest-height of an adult man. The robot resembled a "large TV-set with buttons on it" with visible rigid legs and arms jutting from it. The boy discerned fingers on the robot's hands that were constantly moving. The robot was dressed in a bronze-colored suit and black boots, resembling high jack-boots with rolled tops. As appeared to Roma, the robot then noticed him, but did not have any visible reaction to his presence. Then an alien being came out of the globe, about 2 meters in height. The humanoid had an oval-shaped head with 3 eyes; a mouth and nose were not visible. The color of its face was dark brown, with very smooth skin. The humanoid was dressed in a bronze-colored tight-fitting suit. After some time the alien and the robot returned to the spacecraft, the hatch closed emitting a clasping sound and the UFO sharply zoomed up, emitting something like "sparkles" from beneath. During the whole encounter the witness experienced a very strong sense of fear but could walk or run away.
Source: Gordon Creighton, The UFO Report 1991, Voronezh UFO Research Group Genrih Silanov, Feydor Kiselyev, Yuriy Lozotsev and Alexander Mosolov in "UFOs in Voronezh" 1990
---
Date: September 24 1989
Location:  Glusskiy area, Mogilyev region, Belarus
Time: evening
Summary: 9th grade student Sergey Vezhkovets was returning home to the village of Usterhovo with his friend Dima Zubritskiy who was his classmate. A dog accompanied them. Near the village of Polstki as the boys were approaching the bridge over the River Lisa they saw a red globe-shaped craft descending from the sky. After floating low over the ground, it was enveloped in a white cloud and brightly illuminated everything around it. The boys estimated that their distance from the globe was about 2km; still the light from it totally illuminated the region. The luminous cloud with the globe-shaped object within began hovering above a nearby forest. Suddenly a beam of light was directed towards the witnesses. They found themselves unable to walk forward anymore and the bright light blinding their eyes. Dima suggested that they cut through a nearby ditch. They walked quite a while in the ditch when their dog suddenly rushed towards a nearby telephone pole and began attacking it (!) gnawing and barking at it. Dima screamed that they must run from the area but before they could they both looked up and were shocked to see two small humanoids floating in the air in front of them. Both aliens were small, with wide shoulders and wearing light colored overalls. Their eyes emitted a red beam of light as they stared at the terrified witnesses. Frightened the boys ran towards the nearby village of Polstki, the whole time the beam of light was close behind them. In the village the met Dima's older brother Volodya and a young woman named Natasha. Now feeling a bit more secure all four went out of the house and this time all four were struck by the scanning beam of light right on their eyes. Now they all saw 3-dwarf like humanoids levitating in a vertical position over the ground very close to them. The humanoids were staring at the witness and at times would move very quickly around each other but never colliding. About 30 minutes later the witnesses walked to the nearby village of Usterhovo and awoke a mechanic named M.M. Glaz and also a local forest ranger named Victor Ahryemchik. The men did not believe the terrified witnesses, but decided to check anyway and followed them towards the area where the UFO had been hovering. The UFO was emitting a very bright light, but according to Glaz it was not too large, but about the size of a Russian Jeep maybe 4-6m long. The object then temporarily dimmed and then became bright again. Several minutes later 3 alien figures suddenly appeared and began approaching the group, the witnesses could not clearly describe the aliens heads or faces but their bodies were distinctly seen. Scared all the witnesses decided to leave the area and go to the village of Usterhovo and not wait for the aliens to arrive. The witnesses ran from the area, while Glaz remained staring at the humanoids but walked quickly backwards away from the area. Later some of the witnesses decided to return to the area again but every time they approached they were overcome with fear and left. That same night similar small levitating dwarf-like aliens were seen in the village of Katki.
Source:  "Maglieusska Pravda" (local newspaper) and Vladimir G. Azhazha PhD in "Ufological Mysteria" Moscow 2002
---
Date: September 24 1989
Location: EVANSVILLE, IN
Time: 9:40 PM
Summary: NL1 wit. No sound 4 min. Security guard observed distant diffused Orange Ball of Light.
Source:
---
Date: September 25 1989
Location: ST. LOUIS, MO.
Time: Night
Summary: NL+ wit.   No sound XXXX          No soundserved dis, x-lik
Source:
---
Date: September 25 1989
Location: MT. VERNON, IN.
Time: 8:00 PM
Summary: NL3 wit.   No sound    SecondsXX   Not appl.8Two separate sightings of odd, squarish & dark metallic object.   Seconds
Source:
---
Date: September 26 1989
Location: Voronezh Russia
Time: 1900
Summary: A young witness saw an object with portholes on the ground. A figure more than 3 meters tall emerged from it. The entity had two large eyes on its head and a red light on top. On its chest it had a silvery disk with three round spots of different colors. Below that it had a rectangular box that protruded out. The being also wore large silvery boots.
Source: Gordon Creighton, UFO Report 1991
---
Date:  September 1989
Location:  
Time:  
Summary:  
Source:  
Location. Voronezh, Russia
Date: September 26 1989
Time: 2000
A young student named Sergey Goloszhapov a pupil at the local technical college # 13 after finishing playing football (soccer) was returning home with two other boys, Dima Ligachyev and Slava Kovtunov. They were walking through the park towards the local "preventive clinic" when suddenly they saw a small entity near a tree, it remotely resembled a small child and the witnesses also noticed that the tree had a broken branch. The entity was about 1 meter in height and was completely black in color; the witnesses could not see the humanoid's face. When they came closer Sergey began speaking to the humanoid, saying, "Come here". The entity seemed puzzled at first and then began climbing up the tree. The boy also began climbing up the tree after the entity but it suddenly vanished in plain sight. The boys became frightened and ran home.
Source: Voronezh UFO Research Group, Genrih Silanov, Feydor Kiselyev, Yuriy Lozotsev and Alexander Mosolov "UFOs in Voronezh" 1990
---
Date:  September 1989
Location:  
Time:  
Summary:  
Source:  
Location. Near Subbotino, Perm, Russia
Date: September 27 1989
Time: unknown
Several witnesses watched a large shiny orange-colored sphere that landed in a clearing near the village. Two tall silvery clad figures left the sphere and reportedly approached one of the local houses. No other information.
Source: X- Libri UFO Russia
---
Date: September 27, 1989
Location: Near Tillamook Oregon
Time: 1620
Summary: A woman was alerted by her granddaughter to something unusual outside. She stepped out and was confronted by an object resembling an inverted toy top hovering just above the ground. It was 20 to 30 feet in diameter and had a flat bottom and a bright yellow-white light shining at both ends. The woman approached to within 30 feet of the craft and a door opened revealing a blond human-like entity of average height with fair skin and blue eyes, wearing a silvery coverall. The woman then noticed at a window next to the door a large hairy, Bigfoot type creature apparently seated and only visible from the chest up. The woman stared at the object and beings for a few minutes, and then the object suddenly vanished from plain sight
Source: Mufon Journal # 264, April 1990
---
Date: September 27, 1989: Nashville, Tennessee Photographs
---
Date: September 27, 1989: Voronezh, Russia UFO Landing and Aliens
---
Date: September 28 1989
Location: Hartford International Airport, Long Island New York
Time: 2010
Summary: As dozens of motorists watched a huge dark object with six to eight very bright amber lights moving silently above the highway, a same or similar object was seen by several airport workers, that described it as a large boomerang shaped craft that descended and hovered above an unused tarmac area of the airfield. As the witnesses watched, a blue beam of light shone from the bottom of the object towards the ground, five humanoid figures then apparently glided down within the beam of light, the witnesses chased one of the creatures but it was taken up the blue beam of light into the craft.
Source: Tony Dodd, UFO Magazine 11-4
---
Date:  September 1989
Location:  
Time:  
Summary:  
Source:  
Location. Moriches Bay, Long Island New York
Date: September 28 1989
Time: around midnight
Following numerous sightings of a large black boomerang shaped craft in the area, government agencies using a "Star Wars" type weapon, brought down a huge object into the bay. It reportedly broke apart on striking the waters, producing a tremendous roar and a slight swell. It was reported that there had been alien bodies recovered and that the metal from the object was super strong but very light. Another version states that during the recovery operation there had been 18 military fatalities when the aliens retaliated upon the downing of the craft. The fatalities were incurred by the use of a weapon, which generates extremely low frequency sound waves, which can destroy the molecular cohesiveness of known matter. No description is given of the occupants or aliens.
Source: Leonard Stringfield, The Inner Sanctum and LIUFON
---
Date:  September 1989
Location:  
Time:  
Summary:  
Source:  
Location. Los Bateles, Conil, Spain
Date: September 29 1989
Time: 2030
Five witnesses had gone to the beach area where in the past several nights they had seen strange maneuvering lights right off the coast. On this night they saw a luminous object and a red light that appeared to be exchanging luminous signals. Later they noticed two very tall figures standing by the water edge, these figures appeared to have large white hairless heads and were wearing loose fitting white monk like outfits. The figures began walking towards the witnesses in slow clumsy movements, keeping their arms straight down on their sides constantly. The witnesses began walking away but then noticed that the two figures stopped and turned around apparently looking out to sea at the bright red light. A bright flash was seen and a small luminous sphere shot towards the figures and disappeared. The figures then sat down on the sand and began digging around them. Then a small bright blue sphere appeared and both figures seemed to pass it along to each other several times. At this point one of the witnesses briefly saw a gigantic figure wearing a black tight-fitting outfit with a large white pear shaped head standing in front of the other two beings. This figure suddenly vanished and was not seen by the others. The figures on the sand suddenly stood up but now they resembled normal humans, one man the other a woman, they both walked hurriedly away and disappeared towards town. The now confused witnesses saw a small cloud like object near the shore and suddenly they all saw the giant black clad figure with the pear shaped head appear by the water. Three of the witnesses now ran towards the giant figure that fled seemingly floating just above the ground at very high speed. The witnesses were unable to get even close to the giant, so they now turned and suddenly very frightened ran from the area. Strange tracks were found on the sand by investigators.
Source: J J Benitez, La Quinta Columna
---
Date:  September 30 1989
Location:  Lakewood Township, New Jersey
Time: 00:00:00 
Summary:  I was out walking my dog at night, late fall, in 1989. i noticed a dull light and movement overhead, but no sound. the light approached quickly from the east, hovered overhead, silently, for a matter of seconds . i looked at it, and noted its shape, and decided it was time to get inside, as i was unable to identify it as anything familiar. as soon as picked up my dog (a small sheltie) and started to move towards the house, the object stopped hovering and moved rapidly in a northwesterly direction. i quickly lost sight of it as it flew away. it was gone before i got in the door. there was no sound, no breeze, no other distinguishing feature to it, just the reflected light on it (though it mostly appeared dark, with its edges lit up). it had a smooth, quick approach over some trees, probably 300′-500′ overhead, perpendicular to flight paths usually taken by commercial planes overhead. we lived about 60 miles south of the newark (nj) airport, and planes are not that low then, and commonly had planes for the nearby air force base flying overhead. this was like neither of those things. the air force planes are loud and unmistakeable for what they are. this was much smaller than one of those, and again, totally silent, and the shape was not like anything i'd seen before. not a helicopter or plane. there were no other planes visible to me at the time, no traffic on the road in my development. i was out there alone with the dog. i told my husband about it after it occurred, and joked that the dog and i had a near miss from being abducted by aliens. i never reported it (no internet then), and who would i have called??


Source:  MUFON
---
Date: September 30 1989
Location: . Near Asyut, Egypt
Time: daytime
Summary: A young local marathon runner named Abdel Kerim Khassaneyn was training in the desert preparing for future competitions. As he ran into the desert for several kilometers he suddenly stumbled upon a landed disc-shaped object. He then saw three entities standing and performing some tasks near the circular object, probably collecting soil samples. The humanoids had 3 eyes and greenish skin and were dressed in tight fitting golden-yellowish suits, which reflected the rays of the sun. Frightened by the sight the runner attempted to leave the area but a beam of light coming from the landed object paralyzed him, freezing him in place. The aliens then took him onboard the spacecraft, removed his clothing and subjected him to a series of painful experiments. After they were finished with him the completely naked witness was left amid the desert, apparently the aliens did not care about their "specimen". The naked man wandered in the desert and was finally picked up by a passing motorist and taken to a hospital. A week after the incident, Abdel Kerim noticed amazing changes in his organism, he gained apparent telepathic abilities and experienced a strong desire to eat silicon (!) (At times eating pieces of broken glass), this indicated that something was done to his body at the genetic level. A group of Egyptian scientists headed by Salakh Arafa from the American University in Cairo reported visited the reported landing site armed with special equipment and found that the sand at the location had been subjected to a powerful energetic influence. Doctors concluded that the witness was psychically sane, however computer tomography of Abdel's brain and blood tests revealed nothing, and no traces of radiation were detected in his organism. That is why doctors Abdel Mohsen Yusri, Mohammed Sharaf and Yusef Faikh voiced doubts about the case. The incident supposedly caused a stir in Egypt.
Source: K. Sumbatyan "Soviet Trade" September 1 1990
---
Date: September 30 1989
Location: Voronezh, Russia
Time: 2045
Summary: Natasha Gladkova an 8th grade student was with some of her friends near the fence of the kindergarten near the city park when they heard a strong humming sound. At first they thought it was an airplane, but then they saw a flying globe encircled by lights on the edges. The UFO created a strong wind, flew over the park and landed on a glade. Several minutes later humanoid figures appeared near the landed UFO. Some of the aliens were dressed in black cloaks and the rest wore silver colored cloaks. In total there were 5-6 humanoids. They walked out of the landed globe. As seemed to the witnesses, the aliens had no heads. Numerous buttons were seen on their cloaks. The aliens were of average height. They began walking around the globe, apparently examining the environs. The witnesses heard no sounds and attempted to come closer but the aliens suddenly vanished, disappearing in plain sight. The globe the rose up into the air emitted sparkles and disappeared.
Source:  Voronezh UFO Research Group, Genrih Silanov, Feydor Kiselyev, Yuriy Lozotsev and Alexander Mosolov "UFOs in Voronezh" 1990
---
Date:  September 1989
Location:  
Time:  
Summary:  
Source:  
Location. Near Leicester, England
Date: late September 1989
Time: night
The witness was walking near her home when she saw a man-like figure approach, suddenly there was a flash of blue light that came out of the figure and apparently the witness blacked out. Later she woke up and found herself driving her car. Later under hypnosis the witness recalled being taken onboard a craft where she sat on a seat and watched a screen, which showed scenes of both past and future events. No other information.
Source: Paul Whitehead, FSR Vol. 36 # 1
---
Date:  September 1989
Location:  
Time:  
Summary:  
Source:  
Location. Voronezh Russia
Date: late September 1989
Time: evening
Young Denis Valyerevich Murzenko was taking a walk alone when he saw a pink egg shaped craft overhead; it was emitting bright beams of light from inside. The object descended closer and began to swing from side to side like a falling leaf. At this point two supports came out from underneath. Denis could now see the outline of a figure inside the craft. The being seemed to be about 4 ½ feet tall, and appeared to have an "elderly" looking face. As the craft kept descending lower and lower the witness became frightened and ran off. He turned to look and saw bright beams of light coming from the craft; the object was also emitting some type of strange sound resembling "electronic music."
Source: Jenny Randles, Peter Hough, The World's Best True UFO Stories
---
Date: late September 1989
Location: OLDWICK, NJ.
Time: 7:30 AM
Summary:  DD +1 wit. No sound15 min Box-like diamond hovered nr Rt. 78, big as full moon.
Source:
---
Date:  September 1989
Location:  
Time:  
Summary:  
Source:  
Related articles