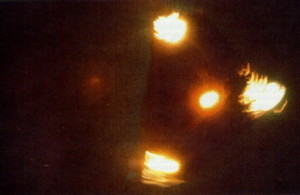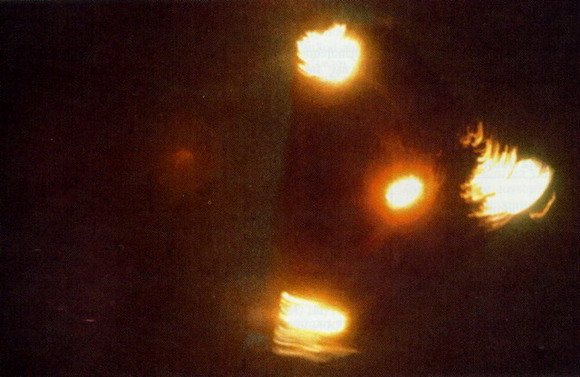 (Last Updated On: July 6, 2016)
Date: Spring 1990
Location: Graham Bell Island, Franz-Joseph Land, Artic Russia
Time: daytime
Summary: A frontier guard, a private of the air defense radar unit noticed a UFO hovering in the sky. Soon a senior officer joined in the observation. The object, which was visible in the sky hovering over the military radar installation was giving off a brilliant light and was slowly rotating. It then suddenly stopped and a yellow beam of light descended to the ground from the object. A humanoid figure wearing a silvery overall descended within the beam of light. The humanoid figure walked for some distance on the ground and then zoomed up into the object in the same manner. The object then began to rotate slowly and gaining speed quickly disappeared from sight. As a result of the distance of the object from the observers no additional details were observed.
Source: Vladimir Sinitsyn "M-ski Triangle" Anomalous News Bulletin, Riga, Latvia 1990
---
Date:  Spring 1990
Location: Krasnyie Stanki, Novgorod region, Russia
Time: 1815
Summary: A man walking along a stream in a heavily wooded area was getting ready to return back home when suddenly he heard a thin squeaky voice yell at him. He turned and saw a very tall man with light hair and a tanned face standing very close to him. The man wore gray overalls with a wire running down from his neck. The man invited the witness to come with him and were crossing a field when a strange object suddenly appeared, as if it had come out of the ground. It was a metallic whitish gray craft with windows, bright yellow lights and emitted a buzzing sound. A door opened and both entered the object. Inside he saw three other men and two women, who were all busy with instrument. The witness entered a room and sat on an armchair by a window, outside he could see the roofs of the village. The witness suddenly became frightened and had a strange feeling. He begged to be taken back to his home. The object landed and the witness was let out, he could hardly walk and was very tired, he turned around and the object had disappeared.
Source:  Sergei Bulantsev, UFO Universe October/November 1991

---
Date: March 1990
Location:  
Time:  
Summary:  
Source:  
Location. Kashkadarya region, Uzbekistan
Date: Spring 1990
Time: dawn
Awakening just before dawn the witness a Mr. Aytmatov began jogging to meet a friend at a nearby house. However he never reached his friend's house. A search party finally located him around 2300. He reported that while jogging along an asphalt road he suddenly was overcome by an unbearable light and saw a huge cylinder shaped craft of a clear red color. He suddenly was unable to move as the cylinder descended to the ground and broke up into two equal parts. A tall humanoid wearing a silvery suit emerged from the object; it had gray hair, with long arms. As it approached, the witness seemed to loose consciousness. Soon he found himself in a huge sparkling environment, sitting on a very comfortable armchair. He could see mountains shaped like stalagmites, and a sea and what appeared to be vegetation in the distance. He could not see anyone around him, and could hear a low soothing music, similar to violins. Soon he appeared to float to the road and saw the red cylinder shaped object suddenly rise up and disappeared at high speed. Soon local militia and citizens found the witness in a field under a heavy rain. Witnesses and family members were astonished to the fact that his clothing was totally dry. Other local residents reported seeing a very bright light that blinded them temporarily.
Source: UFORUM, Russia
---
Date: Spring 1990
Location:  Simferopol, Crimea, Ukraine
Time: early morning
Summary: The female witness, Natalya Shishkina was awakened by a strong sound, resembling that of a helicopter or tractor hovering over the small wooded house where she was sleeping, while she lived temporarily in her grandmother's property. The sound was more like that of farm equipment but more muffled. She looked out the window and saw a silver object, descending from the sky resembling a "big belly" barrel. The object gave off bright rainbow-colored lights. The barrel-shaped object landed softly on the ground. Then a clicking sound was heard, and the witness suddenly went into a semi-sleep, semi-awake state. Nearby a small woman suddenly appeared out of nowhere. The woman was shorter than of average height, and was dressed in a silvery tight-fitting suit. She had very long hair, light brown in color. The strange woman seemed to change her appearance on several occasions. She had unusually large eyes, very kind and clever looking. They emanated much energy and kindness. Filled with emotion Natalya began to cry while she stared at the alien woman. The alien woman then began to communicate with Natalya telepathically. Natalya asked where she was from; the answer was, "from the first planet beyond the Sun if where we live". The woman further stated that only the blond entities lived there, that they were very kind and intelligent. They always had warm conditions in their planet, unlike the earth. They enjoyed their planet immensely and took care of it. All the dark shades or colors were absent in that planet (dark hair, etc). After that the woman commented that it was very cold here but that it would get warmer in two days. Natalya asked the woman how they managed to fly by the sun without getting burned by its immense temperatures. At this point she heard the clicking sound once more and heard the question, "Would you like to fly with us? But the alien woman then added quite ominously, "But for that to happen, you must die physically, according to your terrestrial notions. We have no one like you where we live, with dark hair, but you will feel good in our planet." She added, "You will again become a human being in our planet". Natalya agreed with her (!) and the alien woman began to caress her hair on the back, saying, "What beautiful hair" Natalya had tears in her eyes, but felt very good and calm, as if she was in the hands of a loving mother. Natalya further understood that the aliens were very intelligent, full of wisdom and lacked greed or aggressiveness. But we have something, which they did not possess (it is not clear what). Soon Natalya thought about her mother and after that the clicking sound was heard in her head again, the alien woman then bade her goodbye and wished her well and hurried back to the landed UFO approaching the object in an unusually quick pace. After she entered the object it began to rotate around its axis and vanished in plain sight. At this point Natalya seemed to snap out of a trance, her eyes were still wet, tears still streaming from her eyes. At first she thought it had been all a dream but soon realized that the event had been real. The branches of a nearby plum tree appeared broken on top, near where the barrel had landed. Her brother sleeping in the next room had also heard the engine sound, but was unable to awake from a deep sleep. 2 days after the contact, the cold temperatures seemed to lift from the village and became very warm. Natalya's hair acquired a beautiful appearance for a whole year without using any shampoos or conditioners. All of her acquaintances were amazed at her hair. But her teeth began to fall out, and her immune system became weaker, as if she had been suffering from radiation poisoning. She also began to experience prophetic dreams.
Source:  Anton Anfalov, quoting "Interesnaya Gazeta" Kiev # 12

---
Date: March 1990
Location:  
Time:  
Summary:  
Source:  
Location. Ivanovo Russia
Date: Spring 1990
Time: late evening
Mr. Veniamin Kurochkin, a professional circus artist was resting in a hotel when suddenly three humanoid entities entered his room, —directly through the wall. A female entity stood in the middle of the group and the alien men were positioned to the right and left of her. All were tall, dressed in tight-fitting suits, similar to knitted sports suits. Their suits were smoky-ash in color. One of the aliens looked to be 50 years of age, the other man was about 30 years old in appearance and the woman was very young. The most amazing feature was that all three figures were transparent; Veniamin could see everything in the room through them. The alien trio silently approached the witness, who was frozen with fear. Veniamin asked who they were; "Tron" answered the 50-year old man. "Tron?" asked Kurochkin, concentrating his stare on the man. Kurochkin then asked again, "Is this your name?" The aliens answered, "No, We are Tron. We all are Tron", said the alien man. The alien woman then bends down and stretched her hands towards the witness, Kurochkin felt enveloped in a bluish fog. The next day he could not recall what happened to him inside the bluish fog. He could not remember despite all attempts. Every attempt for him to remember ended in a strong headache.
Source: Alexey K. Priyma, "Unknown Worlds" Moscow 1996
---
Date: March 1990
Location:  
Time:  
Summary:  
Source:  
Location. Shchelkovo, Moscow, Russia
Date: Spring 1990
Time: night
Earlier that evening from the fourth floor of her apartment, Petrovna Z had seen a large round object slowly flying above the houses on the west side of a forested area. It was gray on the bottom and seemed to have two pipes similar to supports sticking from the bottom. The image of the object suddenly transformed itself against the background of a cloud to that of a warship with all its attributes. Two details were memorized: the barrels of the guns and a turret, lights blinked on the mast superstructure. Afraid she ran from the window and went to her bed. Soon she felt the presence of some force in the bedroom and she covered her head with the blankets. A light suddenly flared up in the room, and through the blanket she could see reddish blue light that's was very bright. Removing her blanket she was terrified to see a humanoid figure standing by the bedroom window. It was similar to a man, but it had two long arms ending on four long fingers. Its skin appeared to be black and he wore a shiny light colored outfit and gloves. The figure was about 2.3 meters in height, and was standing inclined over the bed. The humanoid spoke in a strange monotonic and impassive manner, telling the witness that she must come with them. She was pulled by her arms, by the humanoid and the witness saw two large black eyes staring at her. She felt that the hands of the humanoid were somehow elastic and yielding. Terrified she pleaded with the humanoids telling him about her responsibilities with her husband and children. He said that they "needed" her for her mind and other reasons. Eventually the humanoid relented releasing the witness, who at this point noted that his feet ended in fin-like protrusions. At the end this time telepathic form, the humanoid told the witness that no one would believe her anyway and then vanished into thin air.
Source: UFOZONE Russia
---
Date: March 1990
Location:  
Time:  
Summary:  
Source:  
Location. Donetsk, Ukraine
Date: Spring 1990
Time: 2300
Irina Vladimirovna M. suddenly saw an opalescent cloud appear in her room, it appeared to have a "screen" on it. At first the screen was blank but the image of an alien being appeared on it. He seemed to have stepped into the screen. The alien was completely unearthly looking, with a large round head, long neck, and sloping shoulders. He resembled an aged man with brown bumpy skin. His eyes were very big, slanted, darkish and without pupils. He wore a long folded cloth, of a slightly bluish tint. He stood and gazed upon her fixedly. Afraid, she asked him "mentally" who he was but received no answer. After 20 minutes the screen blacked out. After this first "contact" Irina saw another TV-sized screen in her room, in it she could see different equipment and technical devices. After that she could see an earthly panorama showing a beautiful sunset. She then saw a "pod" with 8 figures standing on it. The pod then made a steep turn and vanished, a beautiful landscape then became visible and then she saw a huge lighted globe. One other night around 0400A Irina saw in her room 3 alien figures, one with his back to her, and the 2 others standing away from her and not clearly visible. She heard them speaking an unknown language, which resembled curt speech, abrupt, similar to birds chirping. The sound was clear and distinct. Suddenly the alien standing closest to her glanced at her and all the figures turned towards her and at that same moment she lost consciousness.
Source: Gennadiy Y. Leszshenko "At the Edge of the Unknown, or What's Behind the Curtain" Donetsk 1994
---
Date: March 1990
Location:  
Time:  
Summary:  
Source:  
Location. Makhachkala, Dagestan Republic, North Caucasus, Russia
Date: Spring 1990
Time: around midnight
The witness, M, characterized as a sober minded and respected individual after returning home saw a strange bright green coin-like circle hovering in the air above the refrigerator. At first he thought it was a portable flashlight accidentally left switched on by his wife, but when he asked her, she denied that. M looked again at the green coin-sized light and noticed that it seemed to be increasing in size, and becoming more intense. Suddenly the object began to move in the air, it made circular movements and it began flying around the witness in a complicated trajectory. The witness felt heat coming from the light and also heard a whistling sound. The green light then expanded more and transformed into a human-like head. The witness thought that he was going crazy and turned his face to the wall and began praying to Allah. However when he looked back over his shoulder, the image was still there, despite his prayers. The image had now transformed itself into a humanoid shape, with arms, legs and a body that was totally covered with dense fur, like an ape. The humanoid appeared to be a cyclopean with only one eye in the middle of the forehead which emanated a red beam of light, like that of a flashlight. The neck was absent and its head was set squarely on a pair of powerful shoulders. The entity's height was more than 2 meters and it was very muscular. The intruder began floating in midair just above the floor moving forward towards where M's children were sleeping. M. hurried and rushed ahead of the entity towards his children, covering them with his body. At this point he began to pray again asking Allah to save him and his children from the hairy monster. The creature floated towards the bed and covered M and his children briefly picked them up and then dropped them back down immediately on the bed, without harming them. The creature then stepped back as M still covered his children, his body now facing the strange entity. The entity stood motionless at some distance from the bed. The humanoid did not make any threatening moves. Trembling in horror M hid his head under the bed sheets and continued praying in earnest. Soon the doors creaked and there was a loud slamming sound, this awoke M's wife, which confirmed her husband's story, emphasizing that he had never experienced any hallucinations. After the encounter he always worried about the creature returning and abducting him and the children. In due time the family moved into another apartment.
Source: Aleksey K. Priyma, "UFO Witnesses to the Unknown" Moscow 1997
---
Date: March 1990
Location:  
Time:  
Summary:  
Source:  
Location. Es-Suveira, Syria
Date: March 1990
Time: unknown
A local boy named Mahmud Midzhor reported to the correspondent of the local "As-Saura" newspaper that he had arrived from the far "red planet" named Dizo. He stated that the aliens there were 1.5 times higher than humans, or about 2.5m in height, "they possess unnatural powers and magic capabilities". According to the boy, he had arrived in a spacecraft and awaited directions "from above" to start purifying the Earth from the bad and vicious people. Mahmud named several planets of the solar systems including numerous planets unknown on Earth that surrounded his native star system.
Source: Vadim Szennikov "Echo of the Planet" Moscow # 4-5 1990
---
Date: March 1990
Location:  
Time:  
Summary:  
Source:  
Location. Primorskiy kray, Far East Russia
Date: March 1990
Time: unknown
Two privates from military unit # 26870, Sergey Medyelyaev and Nikolay Kudryavyi spotted a UFO hovering in mid-air above the territory of the military camp. It was oval in shape and white. A violet beam of light emanated from the object and then hovered in place for about 6 seconds and then it seemed to dissolve in mid-air. Around the same time a meteorology observer from the same unit, private Kravtsov encountered a strange entity in doors while coming out of the washroom. He immediately stepped back in fear and the humanoid appeared to have done the same thing, gliding away very quickly floating just above the floor. The entity appeared to be globe-shaped, but it had a "head" and one thick "leg" beneath. The witness did not notice any arms. This incident lasted for about 20-30 seconds. After the encounter, Kravtsov had difficulty speaking and stammered.
Source: Valeriy Dvuzhilnyi, Dalnegorsk and Andrey Pavlov "Komsomolskaya Pravda" Moscow December 1 2000.
---
Date: March 1990
Location:  
Time:  
Summary:  
Source:  
Location. Elkhorn Wisconsin
Date: March 1990
Time: 0200A
A local dairy farmer saw an unusual creature in the bright moonlight sitting along the edge of the road. It was described as dark haired bigger than a wolf. It was using its front paws to hold something that it was eating. As the witness passed by, the creature lifted its head and looked at him. It had a thick and wide head and a long nose. The legs were large and thick and it had wide front paws. The witness stopped the car and looked back but the creature had gone.
Source: Scarlett Sankey, Strange Magazine # 10
---
Date: March 1990
Location:  
Time:  
Summary:  
Source:  
Location. Oktyabrskiy, Bashkortostan Republic, Russia
Date: March 1990
Time: 0300A
Mr. Andrey Mashkin, 20 years old, was sleeping in his sofa when suddenly a sudden pressure awakened him in his body, he could not move his les or hands. He tried to cry out for help but could only make a hoarse moan. He was barely able to see a giant entity standing inside his room. The entity was so tall that he did not entirely fit in the room, he was bending, his shoulder propped up against the ceiling. The witness could not see any additional details and then lost consciousness. When he awoke again the giant had vanished, but a strange glowing light appeared behind the window. He stood up and approached the window. The whole street beneath was lighted by a fluorescent unreal green light of an unknown origin. The pavement and nearby houses were shiny as if covered by phosphorus. Moments later he noticed two giant figures walking along the street. Both were dressed in tight fitting suits. Their coveralls were very bright and shiny, constantly changing colors like the colors of the rainbow. The witness became frightened and moved back from the window and hid under a blanket in his bed. Five minutes later he looked again and the strange green glow had disappeared. He then fell asleep.
Source: Aleksey K Priyma, "UFO Witnesses of the Unknown"
---
Date: March 1990
Location:  
Time:  
Summary:  
Source:  
Location. Belgorod, Russia
Date: early March 1990
Time: 2200
Two neighbors—A Tishchenko and M Taranenko, both 22 years of age saw in a field near their homes something, an object, resembling a bus, only without wheels. There was a brilliant light inside the object and it was possible to distinguish two figures with large heads. The "bus" rose noiselessly and floated away into the darkness.
Source: UFO Ukraine, quoting periodical "NLO"
---
Date: March 1990
Location:  
Time:  
Summary:  
Source:  
Location. Ontario Canada, exact location not given
Date: March 1990
Time: 1130A
An apparent bedroom visitation and missing time episode in which the witness reported encountering two "round" humanoids in his bedroom. No other information.
Source: 1990 Canadian UFO Survey
---
Date: March 1990
Location:  
Time:  
Summary:  
Source:  
Location. Rostov-on-Don, Russia
Date: March 1990
Time: late evening
30-year old Dmitriy Naumenko (involved in a previous contact in November 1985) was in his bed attempting to fall asleep when he suddenly heard someone calling his name. He jumped up in amazement, because he had been alone in the house. He then saw a beautiful young woman with a head of amazing white hair sitting on a chair near his table, while the whole room was lit in a surreal, dull bluish light. He immediately recognized her as the same woman he met back in 1985 "from another world" as she had said at that time. While in the previous encounter she had been dressed in a normal terrestrial dress and boots, this time she was dressed in a shiny seamless overall, apparently metallic in nature. "I have come to visit you again," Said the beautiful alien woman, smiling. She then added, somewhat irked, that Dmitriy had totally forgotten about her those 5 years. At this moment Dmitriy heard a male voice coming from the kitchen, the voice said, "What is this?" another male voice answered, "It is tea, lets drink." In a whisper, Dmitriy asked the alien woman who was talking in the kitchen. She answered that they were her "friends" and not to worry, "they will not cause you any harm." At this point Dmitriy felt his mind wandering, sensing a ringing sound inside his head and a strange reddish gloom in front of his eyes, like a smoky cloak, this cloak completely covered the alien woman. The alien woman then vanished, at the same time the strange dull bluish light almost disappeared. In a confused state, Dmitriy dressed and went out to his front yard. He then saw a large cigar-shaped object hovering in the sky near the Rostov City tower. The object had a greenish halo around it. Several beams of light shone down from the object and strangely the ends of the beams did not seem to reach the ground, they seemed to be cut off at about 20 meters from the ground. The cigar then started moving and slowly floated away, soon disappearing into the night sky. Two days later the local newspaper "Molot" (Hammer) published an article detailing the fact that several locals had seen a huge cigar shaped object hovering near the television tower apparently the same night of Dmitriy's encounter.
Source: Alexey K. Priyma, "Unknown Worlds" Moscow 1996
---
Date: March 1990
Location:  
Time:  
Summary:  
Source:  
Location. Rostov-on-Don, North Caucasus, Russia
Date: March 1990
Time: late evening
A young local woman named Ludmila Hmarina was sitting in her armchair and listening to music when suddenly some unknown force pulled her from the armchair and flung her against the wall, pressing her against it, face first. Naturally she attempted to resist the invisible force and then she heard a voice, "Stop struggling. Don't resist!" An invisible force pressed on her chin from below. In a painful move her head was pulled back and she was now facing the ceiling. She was then amazed to see that the ceiling and the room had apparently disappeared. Instead of the ceiling she could only see endless black sky filled with stars. She could also see the face of male humanoid looking upwards, frightened Ludmila asked the image who he was. The humanoid answered, "I am your friend. I have kept watch over you during your life". The voice sounded inside her head, "You watched over me?" Ludmila asked, he answer yes that he had been watching over her all her life. Ludmila was angry and asked the man if he had watched over her even as she was taking a shower (?). "Yes" answered the huge humanoid face, with hovered in the sky without moving. The face looked very strange; it appeared to be sharply vertically elongated, having a very narrow triangular-shaped chin. The skin was brown, seemingly covered by a layer of tanned skin. The alien's forehead and eyes totally amazed Ludmila. The forehead was 3 times larger than the face, significantly wider on its upper section. The eyes were almond-shaped, unnaturally large and slanted—like an insect. The eyes lacked pupils. Then a piquant picture appeared in front of Ludmila's, she saw herself washing under the shower, and the alien watching her. Angry from seeing this, Ludmila then asked the alien if he even watched as she sat on the lavatory pan. The alien answer in the affirmative and Ludmila asked if he felt no shame. The alien apparently did not know that "shame" was and added that when Ludmila were about to die he would help her. She said how, and the alien answered that he would take her with him. At this point the face was covered with fog and vanished. Then the image of "space" also vanished. The ceiling then returned to normal and Ludmila was deposited back on the armchair again.
Source: Aleksey K. Priyma, "UFO Witnesses to the Unknown" Moscow 1997
---
Date: March 1990
Location:  
Time:  
Summary:  
Source:  
Location. Barrio Borinquen, Atravesada Puerto Rico
Date: March 1990
Time: 2200
The witness was alone at home meditating when she suddenly found herself transported to her backyard. A silvery disc-shaped craft then approached from the mountains and began hovering nearby. From under the object a tall human-like figure emerged. The being floated towards the witness. The figure was described as having fair white skin and blond shoulder length hair. He wore a white uniform with a bright red belt and red gloves and boots. He approached the witness and extended his hand. The witness attempted to run but the being grabbed her by her arm and held her. Four needles now emerged from the man's glove and were inserted into her arm. She then felt powerless and "controlled." She was taken to where the object hovered and was told telepathically that "they" would return to contact her again. She was then taken back to the house and released.
Source: Jorge Martin, Enigma # 37
---
Date: March 1990
Location:  
Time:  
Summary:  
Source:  
Location. Kartaly, Chelyabinsk region, Ural, Russia Date: March 1990
Time: night
Assistant stationmaster Klavdiy Belozerova noticed a bright red glow on the 14km where the transportation barracks were located. He approached the area in order to investigate and immediately grew torpid with fear. At a hundred meters away moved a small white sphere. He was able to see inside the sphere what appeared to be the image of a human face. Suddenly the sphere disappeared, transforming itself into an egg-shaped object and then to the form of a double plate shaped object. A bright glow then appeared and the craft moved away and vanished. Others in the area had seen a fiery red sphere hovering over a bridge and inside the image of a human face.
Source: UFOZONE Russia
---
Date: March 1990
Location: Krivolozhaka, Uritskiy area Orenburg region, Russia
Time: 0900A
Summary: While attending his cattle 62-year old Aleksandr Kuzmich was cutting down a small oak tree by the fence when he saw something enormous similar to a cloud descending overhead. Terrified he raised his hands and screamed for God to help him. He became tired and vomited. Out of the cloud a huge sphere emerged and descended landing close to the witness. Three tall man-like figures exited the sphere. As the aliens approached and greeted him, Kuzmich's fear was unaccountably gone. He asked for permission to board the object and counted about 13 windows, 90 x 30cm rounded along the angles, along the perimeter of the sphere. As he stepped inside he heard a faint crack and the opening closed. Inside the object his body felt incredibly lighter. Frightened again he yelled that he did not want to "fly" with them, that he only wanted to have a talk. A woman about 40 to 45 years of age now approached the witness and made him sit down on a soft air inflated armchair. At this point a discourse about death and life after death began. The witness was told that when a human died he continued on into another life, until its long chain of "sins" was expiated this process normally took about 1000 years (!). The terrestrial life of man was considered an embryonic state. Kuzmich asked if after death he would meet his dead relatives, the answer was yes. He asked about his dead son who had died 12 years ago. Five minutes later a door opened and his son (or someone very similar) walked in. Overcome with emotion Kuzmich ran toward his "son" crying and embraced him. They exchanged brief greetings and comments and his son mentioned that he was fine, kissed Kuzmich and walked out the same door. Kuzmich managed to peek into the room his son has walked back to and was astonished to see a verdant meadow with grazing horses and numerous young men, his son's age attending to them. The door suddenly shut. Wiping away his tears Kuzmich then asked the woman about the operation of the ship. She explained that due to humanity's primitive state he would not be able to understand if told. She further mentioned that the people of earth do not have contact with nature, but the people from the "sky" live according to nature's laws. She then spoke about magnetic fields and the power accumulators, apparently a simple device used to power the ship. She then warned Kuzmich about future catastrophes awaiting humanity in the future. The witness then asked about the cosmos and at this point he felt a terrific acceleration and he felt fatigued. Slowly he approached a window and saw his village as the craft apparently approached it at high speed. Before leaving the object he asked permission to tell people about his encounter, the aliens said yes and pointed out to him that he would not be believed anyway. Apparently the witness had two further contacts.
(Not described).
Source:  UFOLOG Russia, UFOZONE

---
Date: March 1990
Location:  
Time:  
Summary:  
Source:  
Location. Sosnovoborsk, Krasnoyarsk region, East Siberia Russia
Date: March 1990
Time: night
Builder, Nikolai Z. reportedly encountered some strange humanoids, apparently man-like, which invited him into a very strange "automobile" they then drove away somewhere. The witness does not remember what took place; his next memory was of waking up in a field very far away from home. Three days after the encounter Nikolai experienced severe headaches and had to be taken to the doctor. After several tests it was found that Nikolai had an inordinate amount of mercury (!) under his skin. It was then extracted from the body; several balls of mercury were collected from the witness. After the removal a month path, later x-rays revealed additional accumulation of mercury in the same places and in other locations in the body. Again surgeons removed the mercury balls. It was reported that after six surgical interventions hundreds of milliliters of mercury were removed from Nikolai. By now Nikolai had become emaciated and is now disabled.
Source: X-Libri UFO Russia
---
Date: March 1990
Location:  
Time:  
Summary:  
Source:  
Location. Near Sokol subway station, Moscow, Russia
Date: March 1990
Time: night
A 34-year old man named Victor Alexandrovich Zdorov, a supplier from the "Fiolent" military-industrial plant in Simferopol Crimea had arrived in Moscow on a business trip and was staying at the Academy of Medical Sciences Hotel, located near the River Station area of the Sokol underground metro and the Khodynka airport. He was sleeping alone in the room when he suddenly awoke and saw a tall entity standing near his bed. The humanoid was about 1.9-2 meters in height, with two huge slanted almond-shaped eyes, completely black in color, 2 small openings for a nose and a thin hardly visible slit for a mouth, there were no eyelashes. The color of the entity's skin was gray-white, and apparently scaly in nature, like a reptile. The general impression of the alien's face was frightening. The humanoid was dressed in a silvery overall that completely covered its body up to his neck, it appeared seamless. The witness immediately felt paralyzed, but felt no fear, just curiosity. The entity was reading his thoughts and moments later the witness lost consciousness and later woke up lying on an examination table inside a room with matt-gray walls, which emanated an even light with no visible source, the room had rounded corners and a bright blinding light in the ceiling area. He supposed that he had either been taken onboard a spaceship or to some underground facility. Several entities performed an in depth examination on the witness and Victor remembered seeing long sharp-clawed fingers and their thin muscular bodies in their tight-fitting silvery suits. The aliens apparently had only 4 fingers in their hands, and used different types of sophisticated equipment. Most of the contact was apparently erased from his memory and then he blacked out again and woke up later lying on the bed in the hotel room. After this incident the witness reported experiencing other abductions, namely in the Simferopol area and other places that he was visiting and also reported dozens of UFO observations. He felt a constant alien presence, apparently created by some kind of implant inserted into the witness during the first abduction. At the same time his boss kept sending him to different locations the purpose, which he could not explain later. Later Victor also remembered his past lives which included ancient Sumeria, Rome, etc, where he also encountered aliens of different types and communicated with them on a regular basis. Eventually his contacts frightened Victor and in fear of loosing his family he refused to talk about them anymore. The aliens never told him who they were or where they were from and most of the time he felt like an experiment in a laboratory, like a guinea pig. Most of his memories were erased by the aliens leaving only vague memories.
Source: Anton Anfalov, Ukraine
---
Date: March 1990
Location:  
Time:  
Summary:  
Source:  
Location. Vancouver, British Columbia Canada
Date: March 1990
Time: late night
Several small gray-colored insects like beings forcibly took the witness from her bedroom. She recalled going through a number of tunnels, then entering an object. Onboard the object she saw about 20 other humanoids of both sexes. The beings communicated with the witness using telepathy and was told she and the other women were going to be used in "reproductive" experiments. The witness reportedly had a miscarriage three months later.
Source: Lorne Goldfader, UFONS # 263
---
Date: March 1990
Location:  
Time:  
Summary:  
Source:  
Location. Volos, near Thessalonica, Greece
Date: March 1990
Time: late night
Standing on her balcony late one night a woman reported seeing a large circular object hovering about 50 meters above her head. There was an apparent time lapse. The next morning she woke up feeling very ill and with several red marks on her body. Later under hypnosis she remembered finding herself inside a craft, in a white room with a round window, through which she could see stars. She felt as she was lying down and saw several small spheres circling around her and even apparently through her body causing some pain. Then she saw a small humanoid with a large round head like a "melon." Soon a tall anthropoid entered the room; she described him as tall with oblong shaped eyes, and long blond hair. He had a serious look, and started to communicate with the witness via telepathically in a language not specified. He showed her a large star map on which he pinpointed the Earth, and his own star system. She could not recall anything else.
Source: Makis Podotas, Greece
---
Date:  March, 1990: Belgium Sighting
---
Date: March 1990
Location:  
Time:  
Summary:  
Source:  
Location. Villa Devoto, Buenos Aires, Argentina
Date: March 1990
Time: late night
54-year old Maria T suddenly woke up startled at the sound of a creaking door opening. Terrified she realized that she could not move and could neither scream nor talk, no sound came out of her throat. Terrified she then observed a small figure, about 80cm in height that was looking straight at the witness. The figure was completely enveloped in a fluorescent greenish light. Maria however was able to move her eyes and noticed that the figure had a huge head, and huge black eyes that almost covered the whole face. Its body was very small, with small arms and hands also enveloped in the greenish light; it did not seem to have digits in its hands. In a moment the figure glided swiftly towards the closed window leaving behind a faint glow and seemed to dematerialize. Once that occurred the witness was able to move again, she also noticed her small pet dog, which seemed to in a state of stupor.
Source: Liliana Flotta, Eduardo Grosso, "Terror Nocturno, Historias reales de visitantes Extraterrestres"
---
Date: March 1990
Location:  
Time:  
Summary:  
Source:  
Location. Otter Tail County Minnesota
Date: March 1 1990
Time: night
The witness ran into 11 inches of snow in her front yard to see a hovering disc shaped craft, this object ascended into a larger hovering object that suddenly appeared. At this point the witness suffered a black out and was apparently abducted. She vaguely recalled being taken onboard by tall blond Nordic type beings that predicted an earthly disaster between the years 2000 and 2011. An implant was also inserted into her nostril.
Source: Don Worley, UFOS Alien Encounters 1995
---
Date: March 1990
Location:  
Time:  
Summary:  
Source:  
Location. Near Riga, Latvia
Date: March 3 1990
Time: unknown
A Russian named Oleg B. reported seeing a disk-shaped or globe-shaped object land close to his location. He approached the object and heard a voice in his head. The voice invited him onboard the craft for a short trip. The crew of the alien spacecraft consisted of three pilots—all were about 170-180cm in height, and proportionally built. They were dressed in light color tight-fitting suits. Only their large dark almond-shaped eyes could be seen through their suits, no other facial details were visible, every part of their bodies seemed to be covered by a protective suit. The aliens sat in front of what appeared to be control panels and all communication was through telepathic means.
Source: "M-Skiy Triangle" Information Bulletin, Latvia # 17
---
Date: March 1990
Location:  
Time:  
Summary:  
Source:  
Location. Capilla Del Monte, Cordoba, Argentina
Date: March 3 1990
Time: afternoon
A group of persons, including the witnesses, Carlos Perez, Hector Antonio Picco, were hiking through an area called Las Gemelas on the side of the mystic mountain Uritorco when both men went ahead of others as one of the female companions had become sick. Feeling somewhat tired and disoriented both men kept on a trail, apparently lost. Crossing a small arroyo both men suddenly were confronted by a tall man that appeared to be in perfect physical condition. He was described as 2 meters in height, with broad shoulders, with a deep tan and dark hair. Its age was very difficult to determine perhaps 40 to 45 years of age. He wore what appeared to be a black cape, what appeared to be a black sweater and black pants. He appeared to be carrying an object in one hand. The witnesses approached the stranger in order to obtain directions but he began to speak before they could ask him any information. He told the men that he had also been hiking in the area, but had twisted his ankle; both witnesses were surprised since he appeared to be in perfect physical condition. He then proceeded to direct them to a nearby waterfall where the cave they were looking for was located. They failed to locate anything and never saw the stranger again. They soon located their other friends who had not seen the strange man.
Source: Proyecto CATENT, Lista Orion
---
Date: March 1990
Location:  
Time:  
Summary:  
Source:  
Location. Near Chaszsha Station, St Petersburg region, Russia
Date: March 3 1990
Time: 2030
A local man named Fyedor Nikolaevich Valevko was preparing to go to sleep in his small wooded cabin located in plot # 50 along the 2nd row of the "Polytechnik" garden cooperative. He then attempted to plug in the night lamp into an outlet in order to read before going to sleep but suddenly to his outmost amazement, the lamp, not yet connected to the electricity, began to glow, in an uneven light. Soon, a figure appeared behind the window. Fyedor thought that it was his friend Sergey and yelled, "Why are you standing there? Come in!" The door opened and a strange "man" entered the cabin. He was about 1.80m in height, with curly blond hair, dressed in a whole thin gray overall. Strangely, Fyedor felt no fear and quietly told the stranger to sit down. The stranger then sat at the edge of the bed in total silence. Thinking that the stranger was an escaped prisoner Fyedor asked him how long ago had he "escaped"? His guest shook his head, and Fyedor then said then you are an extraterrestrial pointing his finger up. "Yes" The stranger answered. Fyedor then asked, "And where are your people" Instead of an answer the stranger pointed his hand towards the nearby village of Kremeno. Feeling angry, Fyedor asked, "What do you need?" and added that he was not afraid of him, and then told the stranger to get out; he added a couple of obscene choice words. His guest calmly rose and slowly walked out of the cabin. Fyedor then followed him. The stranger then walked about 7-8 meters and suddenly began ascending into the air in a gently sloping trajectory. Fyedor added a couple of more explicit words. The alien then turned his head slightly, looked fixedly at the witness and vanished in plain sight.
Source: Anatoliy Raitarovskiy, "Mysteries of the XX Century" St Petersburg # 13, August 2004
---
Date: March 1990
Location:  
Time:  
Summary:  
Source:  
Location. Warburton Victoria Australia
Date: March 4 1990
Time: 2300
Undocumented report describing some type of humanoid with green and orange lights that was attacked by a dog. No other information.
Source: TUFOIC UFO Report 1991
---
Date: March 1990
Location:  
Time:  
Summary:  
Source:  
Location. Szelkovo area, Moscow region, Russia
Date: March 7 1990
Time: early morning
After bidding her husband goodbye the witness that was feeling ill at the time stayed alone in the apartment. Suddenly she saw something moving diagonally outside her window. That something was alien in appearance, and was a complicated flying apparatus of purely technical shape; the strange craft remotely resembled the old steel dreadnought cruiser "Aurora" built in the beginning of the XX century. The woman felt ill and attempted to close the doors of the balcony but was unable to do so. She then lay on her bed, feeling paralyzed when she saw a strange entity that entered her apartment through the opened balcony door. The entity was about 2.5 meters in height, with brown eyes, four digit hands, it wore a strange trapezium-shaped cover on the place were the sex organs (or crotch) would have been. The entity then spoke telepathically, "I am a robot, I will take you with me, wee need your thoughts and consciousness" (!). The witness begged the entity not to take her with him and was able to move her hand and touch the alien, the alien's skin felt very soft to the touch. The alien then told her that he would then return in a year or five and then take her. There was a blinding flash and the alien vanished.
Source: Vladimir G. Azhazha, Moscow in: M-skiy Triangle Newspaper, Riga
---
Date: March 1990
Location:  
Time:  
Summary:  
Source:  
Location. Pocomoke Sound, Virginia
Date: March 7 1990
Time: 1920
Two young boys were retrieving groceries from the car when they noticed a bright light approaching at great speed emitting a jet-like sound. It also emitted fuzzy balls of blue light over a field, which then dissipated before hitting the ground. The light was now a domed metallic disc shaped object that now hovered above the witnesses. A bright white beam of light shone on one of the witnesses while the other ran and hid under the car. Multiple beams of light now circled the car. The domed disc now slid back a panel revealing two short humanoids, described as having gray wrinkled sink and claw-like hands. A third humanoid now appeared and moved with a mechanical like motion as he joined the other two. The dome then closed and the disc departed with the same jet-like roar. An unconfirmed account indicated that the nearby NASA facility at Wallops Island had lost its radar about the same time.
Source: Mark Blashak, Don Lovett Mufon Journal # 272
---
Date: March 1990
Location:  
Time:  
Summary:  
Source:  
Location. Near Nerekhta, Kostroma region, Russia
Date: March 8 1990
Time: night
Doctor Filaret Korovkin heard the air steaming over his head as he walked along a field and looked up to see a flattened sphere light gray to violet metallic in appearance. No windows, hatchways or doors were evident. From below the object a semi-transparent tube descended to earth, through this pipe he was pulled into the object. Inside he found himself in a rounded room, with two doors and escalators going up. Inside it was impossibly much larger than what appeared to be from the outside. The walls were completely covered with different signal panels, screens and some instruments. The human appearing occupants told him, that in respect of time, in the terrestrial sense, it did not exist. Furthermore they did not use "fuel" to travel; they somehow had mastered gravity and used "null space" and "zero-channels" to travel. They predicted that in the course of time the inhabitants of earth would discover such methods of energy.
Source: NLO-7-1996
---
Date: March 1990
Location:  
Time:  
Summary:  
Source:  
Location. Nikolaev region, Ukraine
Date: March 11 1990
Time: daytime
On a Sunday, three Army privates were on duty outside the city of Nikolaev when suddenly one of them, Sergey Kozyrev, a 2nd year serviceman stared fixedly at the sky and the two other soldiers heard him scream in terror, "I don't want to go. I don't want to go!" He was considered a healthy and well-balanced soldier. Sergey pointed towards the sky, then broke away and began running away. But after a few meters he fell to limp to the ground loosing consciousness. His comrades rushed to him and tried to arouse him, after about 15 minutes he woke up. According to Sergey he had seen a large egg-shaped object in the sky with a band in its middle. The others had seen nothing. Answering the question of why he had been screaming, he claimed to have heard a voice coming from the sky. The voice invited him to ascend and enter the egg-shaped object, but in fear Sergey had refused. He grabbed a piece of paper and drew the UFO, claiming that the object rotated in different directions. 2hours later Kozyrev again broke away from the others and ran towards the top of nearby hill within the military compound. His comrades rushed after him and found him lying unconscious on the other side of the hill. He was transported to a local medical facility and his pulse and blood pressure was measured, which showed abnormalities. 20 minutes later mainly due to the energetic efforts of military doctor V. Chistyakov, Kozyrev regained his senses. He was then brought to the military hospital in Nikolaev where the young soldier told the doctors about the strange visions that he had experienced. According to Kozyrev he had gone out of his body (astral travel?) at the top of the hill and zoomed up appearing inside some kind of flying apparatus. Inside he saw several corridors and a round white room. He saw numerous instruments of unknown origin in the room. Kozyrev then heard steps though he did not see the occupants of the craft. He vaguely remembered that he was order to put some type of device on his head, which contained a multitude of long wires that were connected to several instruments.
Source: "Ochnaya Stavka" (Confrontation) April 1990 and Alexey K. Priyma, "The XXTH Century Chronicle of the Unexplained"
---
Date: March 1990
Location:  
Time:  
Summary:  
Source:  
Location. Krasnodar, Russia
Date: March 11 1990
Time: evening
Student Larissa Andreeva was returning to her hostel when she met two strangers on a footpath. The figures were dressed strangely wearing tight-fitting silvery suits with opaque helmets preventing her to see their facial features. A man's voice emanated from the chest area of one of the figures, which proposed Larissa to go with them. She refused; at this point one of the men approached Larissa slowly and passed the palm of his hand over her face. At this point she smelled a caustic odor and passed out. Three hours later she woke up in the hostel where she perceived severe stomach pains. The signs of pregnancy appeared after some time and soon after that Larissa reportedly underwent an abortion.
Source: X-Libris, September 2002 UFO News
---
Date: March 1990
Location:  
Time:  
Summary:  
Source:  
Location. Marshfield Massachusetts
Date: March 12 1990
Time: 0130A
The witness had previously heard strange sounds in the house around 2330 and discovered some overturned furniture. Later she heard loud knocking sounds coming from the crawl space underneath the living room floor. She ran upstairs and woke up her husband but he went back to sleep. She then grabbed a flashlight and went to the sunroom; there she found the heavy frame door lying on the grass. A 3-1/2 foot tall humanoid that was floating above the ground then confronted her. The being had a large oval shaped head with large black almond shaped eyes, smooth gray skin, a small slit for a mouth and nostril. The humanoid wore a black loose fitting cape-like garment. The witness dropped the flashlight then ran upstairs to alert her husband. A period of missing time was reported and an abduction event was later confirmed under hypnosis.
Source: Morton Schafer, Mufon Journal # 274
---
Date: March 1990
Location:  
Time:  
Summary:  
Source:  
Location. Moscow, Russia
Date: March 16 1990
Time: evening
A huge male humanoid figure appeared on the Altufyevskoye Highway in the presence of numerous witnesses and caused a stir and chaos with the automobile traffic in this area of the highway. After the humanoid was surrounded by several patrol vehicles of the GAI (militia auto State traffic inspection) he suddenly vanished in front of the eyes of the crowd which appeared stunned at the amazing sight. According to the reports by independent witnesses the humanoid was about 2.8 to 3 meters in height, with a face of amazing beauty, with golden hair falling a little lower than his shoulders. (Nordic type). He was dressed in a tight-fitting overall of silver color with a strange symbol in the chest area. The symbol consisted of a shiny eight-point star. Representatives of the militia refused to comment on the case, and one of the militia men confessed that their bosses had forbade them to speak about the encounter.
Source: Olard Dixon in: "Mir Nepoznannogo" (World of the Unknown) Moscow # 3-4 February 1998
---
Date: March 1990
Location:  
Time:  
Summary:  
Source:  
Location. Kochkorka, Naryn Issyk-Kul region, Kirghizia (USSR)
Date: March 16 1990
Time: 1925
Kadyrbek Abdyrahmanov a local resident was working as the head of a road construction crew and was returning late to his home after a delay at his job. As he grabbed the door handle he suddenly felt a state of levitation, as he had suddenly lost weight, amazed he found himself flying through the air. Moments later he found himself in a mountainous ravine called Ukok, approximately 10-12km from Kochkorka. In a moment while he was still in a state of weightlessness he heard the following phrase, "We are not flying to lake. We return". In total puzzlement, Kadyrbek looked at his watch, the time was 1925. It was getting dark and without wasting time thinking about what had happened, Kadyrbek began to walk towards his hamlet. Again as he walked he began to feel a strange light-feeling in his body. Passing by a fence he approached a local television tower and noticed a globe-shaped object hovering near him. The upper section of the UFO was dark while the lower section emitted a matt light. In appearance the object was about 12m in diameter. Kadyrbek was seized with strong fear, he kneeled down and began praying verses from the holy Koran, but he couldn't complete the prayers out of fear. Finally he approached the home of his nephew and yelled for help. His nephew, his wife and kids ran outside and saw the UFO departing. Kadyrbek felt so weak that his nephew had to drive him home. It seemed strange that the witness clothing were completely clean, not even dusty. Remarkably on that same day numerous other UFOs were observed in different parts of the USSR including the Crimea, Ukraine.
Source: Mikhail B. Gershtein "On the other side of UFOs" Saint Petersburg 2002
---
Date: March 1990
Location:  
Time:  
Summary:  
Source:  
Location. Moscow, Russia
Date: March 17 1990
Time: 1517
A woman was ironing some linen next to a window when she casually glanced outside. She was astounded to see right outside the hovering in the air the image of a woman wearing a Greek dress with her hair combed back. She called her husband. Both now saw the profiles of a man and a child near the woman. The images appeared to be volumetric. Unexpectedly from the head of the woman a symbol resembling a semi-circle and an arrow pointed directly upwards appeared. Also the letter D from the Russian alphabet also appeared, and under the image of the child what appeared to be the Greek alphabet. The children now appeared and excitedly exclaimed that it was an animated cartoon. Having regained his composure the husband began to open the window slowly and the images suddenly turned pale, dimmed and vanished. Soon after this peculiar incident others in the area reported a series of observations of UFOs and other phenomena.
Source: Journalist V Sytenkov, Moscow
---
Date: March 1990
Location:  
Time:  
Summary:  
Source:  
Location. Krasnodar, Russia
Date: March 17 1990
Time: 1700
The witness was walking along a fenced field when he suddenly heard the unnatural barking of a dog that came running by him and dived under a concrete wall. Wandering what had frightened the dog; he looked to his right and noticed about ten meters from the road, above the grass and at about half a meter up, a huge transparent "soap bubble". It was covered with all the colors of the rainbow and it was slowly approaching the witness position. The sphere stopped about 6 meters from him and he began to grow turbid and was unable to move. The surface of the sphere resembled a cellular structure of a three-sided trihedral. The sphere stood still inches above the grass. Terrified the witness wanted to run away but could not move a muscle. Suddenly on the surface of the sphere a slot-like aperture became evident, pink light twinkled from inside. From the aperture a silvery blue "mannequin" slowly came out and approached to within a meter of the witness. It was taller then the witness and slender, wearing a seamless metallic suit. On the center of its massive head it had what appeared to be a large round "eyepiece" the witness could not see any movement inside the dull visor. The witness then heard a soft whistle and something picked him up, switched him into a horizontal position and then he floated into the sphere. Inside the sphere all the fear seemed to melt away; he experienced a feeling of ecstasy. He was surprised to see that the interior of the object was far larger than what it appeared from the outside. As the floated just above the floor a figure wearing what resembled a motorcycle helmet floated rapidly towards him. A similar helmet was placed on the witness's head. At this point he heard inside his head a squeaky voice. It said that they meant no harm that they just wanted to have a "talk" with him, if he agreed. The witness attempted to float down to the floor but was unable to reach it. At this point he was allowed to ask several questions and before him a large silvery screen appeared. He saw on it the image of our solar system; he briefly explained the earth rotation around the sun and its relationship with the other planets. He also attempted to explain earth's basic system of calculation. He also explained the purpose of societies and the role of the United Nations. After awhile the helmet was removed from the witness, he then floated out an open slot and into the road. The opening on the sphere then closed. Then it began to brighten; it acquired the tint of a shiny mother of pearl and its transparency. It then sharply shot upwards and in a matter of seconds it disappeared into the sky. He arrived home pale, and began to vomit and suffer from terrible muscle spasms. He suffered from general weakness and fainting spells for a week after the encounter. He further described the interior of the ship as having continuous rows of screens resembling small squares, similar to glazed tiles. Periodically he would see symbols or writing on them resembling Chinese. The humanoids appeared to be able to control this panels by hand movements only. He was astonished to see his thoughts also appear on the screens. Everything he spoke was duplicated by the humanoids, which never took off their diving suits or helmets. They moved by sliding just above the floor, they appeared to have one dual foot. He saw a total of 3 humanoids. Their outer appearance seemed identical.
Source: UFOZONE Russia
---
Date: March 1990
Location:  
Time:  
Summary:  
Source:  
Location. Makarov, Sakhalin, Russia
Date: March 17 1990
Time: evening
Several days before local inhabitants repeatedly had observed above the sea and dry land large red spheres. Sometimes objects of smaller size appear to separate from the larger ones and accompany them in flight. On this evening the witness was walking along a deserted street when he came upon a strange faceless figure, dressed in a long coat, blue boots and wearing a tight fitting cap over its head. The figure walked stiffly by, sharply ejecting one foot forward and the other. At this point the witness heard a voice from the "robot" that said, "stand! Stand!" It then threw out a hand on its side. Several schoolboys now approached and attempted to stab the bizarre figure on its foot. But he continued his sharp procession along the street turning sharply at 90-degree turns. They attempted to chase it but it moved rapidly. Later they saw the "robot" squatting on a street and raise one and foot and then slowly the other. Afraid, the children ran home. Later they found red spots around their elbows and suffered from achy joints.
Source: UFOZONE Russia
---
Date: March 20 1990
Location: Riga, Latvia
Time: after 1800
Summary: 8th grade student Maris M (involved in a previous encounter) disappeared on this date sometime after 1800. He could only remember going out of the house, visiting the Palace of Culture, a hobby shop and coming to his senses outside the town of Panevezhis in Lithuania. For a long time he could not understand where he was, only knowing that he was not in Riga, he was wondering outside of town alone at the edge of a forest. But soon something resembling a reddish fog unexpectedly appeared high in the sky; it seemed to become denser, getting smaller until it vanished. Moments later from the same area of the sky an alien spacecraft appeared. The craft landed in the nearby forest. After running towards the direction of the landing about 300 meters away, Maris saw the spacecraft. An illuminated entryway was open, with a stepladder reaching the ground. While walking towards the craft, Maris noticed a strange robot-like creature walking towards him. The "robot" had large eyes, and bizarre looking protrusions, which confused and frightened the boy, causing him to stop in his tracks. But the robot suddenly seemed to decrease in size and transform itself into an exact replica of Maris, even dressed in the same clothing. The "robot" now made friendly gestures and invited the boy inside the spacecraft. Inside, three aliens sat near a wall opposite to the entryway. They were sitting in deep armchairs, but all were of amazing height. A woman sat to the left, and unlike the two men she had thin lips. All aliens had round ears, 4 fingered hands, snub noses with two openings and egg shaped (elongated oval) heads. Staring at the alien female, Maris noticed a hint of eroticism in her dress. Part of her thighs and breasts were visible. Her suit was fit snugly and covered the other parts of the body. The two alien men wore had low-necked (décolleté) suits. It soon became apparent to Maris that all three aliens were "telepaths". All three smiled in a strange way. Maris could not see their teeth; there was only a slit-like opening for a mouth. The alien in the center, which was the largest and most robust of the three, did most of the talking. The stunned witness was somehow able to understand as the alien invited him to sit down. Not believing his eyes Maris touched the chair to make sure it was real. The robot then sat on the opposite chair and was fastened by two seatbelts. The robot began speaking to the young witness bragging that he knew almost half a million languages including all the languages on Earth. The robot was indeed very talkative and loquacious, telling the boy not to be afraid and trying to calm him down. The robot was now speaking in the Latvian language, and asked the boys several personal questions, age, where he lived, etc. Maris felt slightly awkward as the other three aliens glanced at him, examining him very intently. During the conversation the boy asked 3 times what was the meaning of a strange hieroglyph on the buckles of the alien's belt but did not receive an answer. In the meantime the robot told Maris that their extraterrestrial civilization selected people for contact from time to time, though the contacts were numerous. The extraterrestrial civilizations reached those people that were able to "understand" them and even named the specific declination in the physical construction of Maris's organism. Suddenly the robot asked Maris if he wanted to see how the other planets looked like. Maris promptly agreed. After that everything around Maris began to assume a strange transparency, but he could not see anything outside the spacecraft, the lights became lit in a strange matt white light, which hindered any view beyond them. There were no windows in the cabin. Soon a transparent line about 2 meters wide could be seen along the perimeter of the spherical room. Maris could see a forest outside. By the movement of the craft, Maris understood that the craft had taken off. Out of fear Maris looked at the roof, the robot apparently understood his concerns and said that everything would be corrected. Maris soon became more relaxed and became very curious about his surroundings.
One of the aliens pushed on a pedal on the floor and the speed of the craft seemed to increase. Then one more pedal was pressed and in moments everything became dark and the light inside the craft became a reddish white tint. Maris looked at his hand and it was the same color. Maris perceived the scene around him like a photonegative; the former dark spaces became light, and vise-versa. This lasted for about 5 minutes. Then in 2-3 seconds everything returned to normal. When the speed decreased the walls became transparent and the boy could see a red-blue planet afar. But the destination of their journey was not that planet as the craft was already landing on a "green" planet, which they were quickly approaching. The robot advised Maris that the landing site had been specifically select for him. At the moment of descent Maris saw a dark mountain in the distance. But the descent was swift and a foggy green atmosphere worsening the visibility. They soon landed on a meadow, amid a jungle area. A small door opened and the alien crew exited. The aliens were almost 3 meters in height, but somehow were able to exit through the small door without bending down. Maris head almost touched the top of the doorway. The plants and flora outside looked very much like the ones on earth. He saw several animals, one resembling a common dog, another a parrot and another animal resembling a four legged snake which ran by meters, about 1 meter in length. The animals or entities were not afraid of the humanoids or aliens. It was very light and easy to breathe outside. When Maris walked he felt very light almost as if floating. Strangely he saw several curved armchairs standing on a spacious glade. The humanoids then ceremoniously sat on the chairs. Maris also sat down. The complete conversation was difficult to remember but Maris remembered that the name of the planet was "Emsa". It contained three super-giant cities on its surface and the rest of the surface was virgin nature or woodlands. Besides Emsa, there were 6 other planets in that system. One, reddish-blue, which Maris had seen from the spacecraft, was lifeless. Then another huge planet called Menpluriya, which was without oxygen in its atmosphere, another planet was called Emsa-3, which was inhabited, and contained one huge city on it. Another planet was called Aires in which the aliens told Maris they used for experiments with new "life forms". The last was the smallest and remotest and was called Emsa-2 with two small towns in it, with concentrated technocratic and research facilities.
According to Maris the planet Menpluriya was the most closely resembling Earth. It was a small planet literally swarming with predators. It had once contained a city, which was abandoned because of changes in the planet's atmosphere; only one outpost or station remained there. The glass-like robot, which had visited Maris in Riga apparently, lived on that station. But the main reason that the city was abandoned was because of the growing aggressiveness and potential psychological and physical deterioration of the planet inhabitants, which was constantly changing, just like the earth's atmosphere. Further conversation revealed that the aliens were convinced that Mars was inhabited but did not give any specific information why they thought that, apparently their capabilities were also limited. The aliens mentioned that the distance between their star and our sun was about 26700 parsecs, which seemed wrong and too large. Their star is not visible even with the most powerful telescopes. Its similar to a G-class star or sun. Interested, Maris asked the aliens if there were civilizations located closer to the earth. The aliens answered that there was a star in the area of Polaris, which had 3 earth-like planets and were inhabited by living organisms. During those conversations, Maris was suddenly distracted by a strange entity that ambled out of the forest. It somehow resembled a terrestrial chicken walking on almost 1-meter long thin legs. The "chicken" looked at the aliens and the boy with large eyes and began slowly moving away on the road leaving the glade. This did not cause the slightest impression on the aliens. (Similar type creatures had been reportedly seen around 1937-1939 near Aluksne and Pechory). Soon after that a 2-meter tall giant with a bucket-like cowl on its head appeared on the glade. Maris watched as one of the aliens promptly grabbed a tube-like weapon from his belt and shot a dispersed blue ray of light towards the strange entity. The uninvited alien guest then retreated back into the thicket the robot had stood between the shot and the strange entity and had partially hindered the shot. They all looked in the direction for a long time and then the owner of the shiny tube dropped it on the grass. They then resumed the conversation with Maris, talking about the earth. They pointed out that a super-calamity would not endanger the earth until at least 200 years (that's refreshing), but added that, "planets, grow, live and die". Maris then asked the robot if everything is programmed and could be predicted. The robot then explained to Maris (already a young atheist) that a scientific "team" under the leadership of a superior entity called the "Professor" began the colonization of the earth using at first, bacterium. But the higher the civilization, the more difficult the "operations", and there was more energy consumption. Humans on earth now were sufficiently developed and at times were not under the control of those aliens who conducted the experiments or operations. Apparently humanity was at the edge of its Rubicon and was about to enter an intergalactic community as a young member or "brother", and "experimentation" on earth will resume. The term Apocalypse, which no one knows precisely when it would occur, had shifted to the distant future. With every new arrival of the "Professor" or creator humanity receives a new injection of ideological and scientific creativeness. Such visitations have been reflected in ancient epochs depicted in many ancient rock carvings and paintings. There had been a total of 40 visitations to earth. Arrivals from this specific civilization were more frequent but less significant in scale. The next arrival (41st) will be of special consequences for humans. According to the aliens, the entity called the "Professor" has been worshipped on earth as a God, and was of evasive character. Maris soon realized that the less he knew about that enigmatic character the better for him, he felt that if he knew too much about the "Professor", he would be destroyed.
The aliens then invited Maris to stay in their green planet (Emsa) but he politely refused. But he asked the aliens to show him the cities on Emsa. But apparently that would be too hazardous for him. The abundance of light, energy and radiation on the cities was very harmful on human organisms, though similar influences were experienced by humans in certain areas on earth (example, Bermuda Triangle). So they showed him the lighted cities from a remote location. The city was brightly lit, radiating all the colors of the rainbow. The city stood a mire or swamp. It contained enough residents to make it a small country. Numerous different small animals inhabited the mire. Apparently the animals were very aggressive but this did not worry the residents and tragic encounters with the animals or "monsters" were rare. There was a tall cylindrical tower in the center of the city, narrowing at the top. There was a platform with a large sign on in, the same symbol the aliens had on their belts, the symbol somewhat resembles the letter "T" with an additional line of its right side and the letter "m" beneath. Circling the air above the city, Maris noticed several blue globe-shaped objects flying in different directions. The robot, answering the boy's question, drew a picture of the inner structure of the flying object on a screen that suddenly appeared from nowhere. Their capabilities were not restricted to the atmosphere; the inhabitants of the green planet have found a way to remove gravity when traveling about. He added that similar discoveries await humans in the future. One of the components of the fuel used by the alien craft was called "mortozya" a very active and aggressive substance. The reagents of it are so-called "heavy spirits" and ionized atomic hydrogen that transforms to deuterium and tritium in a sequential manner. The energy of controlled thermo-nuclear reaction, or more exactly the energy of atomic nucleuses is transmitted to envelope the globe. Depending on the amount of transmitted energy, the top epidermis as well as the whole globe, begins to manifest outside matter (?) and the visible flight in space is just temporal movement. The necessary trajectory of the movement, depending on the energy expenditures, defines the curvature of space, necessary for the pending maneuver. Factually, the globe flies in a straight line but in a curved corridor of the host planet or "world beyond". Transition into that world occurs instantly just like turning off an energy source. (!) The upper part of the globe is the specific "accumulator" which collects the products of the radioactive decay and solar energy that then is transformed into "light stream".
Soon, Maris and the aliens were onboard the spaceship again and in 2 minutes the same sequence of red-white photonegative switch occurred again. Apparently caused by the jump "through zero space" on the other end of the Galaxy, which did not take much time at all. The walls of the craft became transparent again; he saw the sea and a small island beneath. The robot then explained to Maris that they were flying through an area known on earth as "The Bermuda Triangle" that the flight would last about 20 minutes. Maris asked the aliens to be let out in Riga and the robot explained that he knew exactly where (which proved to be wrong). They soon appeared above a large city and flew above the rooftops and then descended near an unfamiliar monument. Maris then noted that the contrast of the gamut of colors had been distorted again, but not as much as when using interstellar "jumps". Apparently, in such situations the UFO is invisible. The distance from the ground was about 2 meters and the boy jumped straight to the grass. An aged female street-cleaner that was sweeping the street saw him, jumping out of nowhere, straight in front of her eyes, an amazed look remained on her face. After walking the unfamiliar streets for a while, Maris realized that he was not in his native city. They did not understand his Latvia language and then he began to speak Russian, in which he was then clearly understood. Maris had apparently landed in Minsk the capital of Belarus. Apparently the aliens had somehow mistaken both cities. Maris had no money to return home. He then asked for help from a local militiaman. He then lied to the officer telling him that he had a friend in Lithuania and had taken the wrong train. He asked to be sent back to Riga. The policeman complied and using normal protocol logged the incident in his journal. He was then taken to an underage detention facility and a telegram was sent to his parent in Riga. Soon Maris grandmother arrived and took him home. Apparently the boy had taken a previous journey in which the aliens had originally dropped him off near the town of Panevezys in Lithuania, but those details had apparently been completely erased from his mind.
Source:  O. Burak, "I Believe in the Green Planet" In: M-Skiy Triangle, Riga, Latvia # 5 1990
---
Date: March 1990
Location:  
Time:  
Summary:  
Source:  
Location. Aleksandrov, Vladimir Province, Russia
Date: March 21 1990
Time: evening
An object about 5-6 meters in diameter shaped like a tank with an inverted plate on the bottom landed on a field about 30 meters from some playing children. Frightened, the children hid on a pit an observed two robot like entities and a woman with blond hair wearing silvery coveralls exit the object. After observing an opened door, the children approached the object, they glanced inside of it and two of them, Vitya and Tim climbed inside. Inside, Vitya touched a red button on the door and was shocked by what felt like an electric current. He then attempted to poke at with a penknife, but it became magnetized on the surface. Inside they could see many "shelves" and TV monitors, and a set of small doors on the edges, panels with multicolored buttons, and a large glass like balloon with a luminous flame inside. In the center they could see a "revolving door", which seemed to revolve when the object took off. The children began to press additional buttons and saw on a screen, the two Robots apparently collecting soil samples about 150 meters from the object, from its hand it carried what appeared to be a flashlight and with this it seemed to collect soil and insert it into a black "packet". On a metallic door they saw a hatchway and they attempted to climb up, but a voice from one of the monitors told them that they could not climb up. The returning crew found the children onboard and by using rather rough squeaky voices proposed to them to go on a brief ride. The ride took about 5 minutes. When they returned they were let out and watched the object take off emitting shiny sparks some, which, scorched one of the children on his face. The object then circled above the forest and then shot away at high speed. On the landing site an anomalous zone shaped like an ellipse was found on the ground. Magnetic disturbances were also found at the site.
Source: UFOZONE Russia
---
Date: March 1990
Location:  
Time:  
Summary:  
Source:  
Location. Khabarovsk, Russia
Date: March 21 1990
Time: night
Early in the evening several witnesses reported seeing two huge objects flying low above the Amur River. Police patrols were called and responded to the area where they saw the objects continue to move along the riverbed. Another patrol near the center of the city saw red flames shooting over the area. Later that night strange reports began to emerge. A woman named Natasha was in her apartment when suddenly a bright sphere about a meter in diameter appeared on her ceiling, it floated to the floor and inside she was able to see a man-like figure. An aperture became visible and the figure stepped out. Terrified the woman screamed and everything disappeared. She felt incredibly horror. Her daughter awoke to hear her mother screaming and ran to the room when she opened the door she felt strong heat coming from inside and at first she thought it was a fire. Her husband saw the corridor suddenly lit up in a bright light but did not see the sphere. Later 30-year Tatiana R had quarreled with a friend staying at her flat and had gone to sleep alone in a room. About an hour after going to bed she heard her cat meowing outside the balcony window. She got up and opened the balcony door to see what was wrong, when suddenly the cat shot inside the room like a bullet and directly opposite to the window the witness saw a hovering luminous orange sphere, in which something like a luminous portal she could see. Inside the portal she saw a pale face staring at her. Responding to her cries her friend ran in the room and grabbed a stick in an attempt to strike at the sphere. The sphere suddenly flared up and disappeared. In the morning the young couple found the remains of the charred stick on the balcony. A third more incredible encounter was yet to be reported. A woman named Galina was watching television when the screen began to receive uncommon interference. At this point the balcony door began to open slowly and then she saw two thin pole-like legs, looking up she saw a bizarre figure enter the room. It was very thin and tall, dressed in a dark silvery overall without either seams or fasteners. It had a large head, with a high and wide forehead, a pointed chin, no nose, and a narrow strip-like mouth. It had no hair and it had two large white pupil-less eyes. His head appeared to be planted directly on its shoulders. Stood two meters from the witness and held a small cylinder, similar to a small container in one of its hands. The witness was more astonished than frightened, and instinctively began to rise. Then as if ordering her not to move, it waved his right hand but with the beginning of the second stroke the witness lost consciousness. She awoke around 0400A, the television set still on but with stripe like interference on the screen still showing. She felt very lightheaded when she attempted to rise. When she touched the balcony door in order to shut it she received a strong seemingly electrical shock.
Source: X-UFO Russia
---
Date: March 1990
Location:  
Time:  
Summary:  
Source:  
Location. Bobruysk, Belarus
Date: March 21-22 1990
Time: midnight
A saucer-shaped object with a lighted pink band was seen hovering over the town. That same night, four humanoid figures were seen walking in the street. They were gray in color, and about 2.5 meters in height. The figures then appeared to dissolve in plain sight of the witnesses. At that same moment four more objects appeared in the sky, positioned in a horseshoe-like formation (echelon). The objects were described as saucer-shaped and not to big. But one of the objects was larger, apparently a mothership, which appeared to be scanning the ground haphazardly with a bright beam of light.
Source: Vadim Chernobrov, "Cosmopoisk" (Cosmosearch)
Chronicles of NLO (UFO) Visits, Moscow 2003
---
Date: March 1990
Location:  
Time:  
Summary:  
Source:  
Location. Donetsk, Ukraine
Date: March 22 1990
Time: 2200
A local woman, N., looked out the window of her bedroom and noticed two objects hovering in the sky. The UFOs were shaped like ellipses, and both were the same size. There were lights blinking in sequence at some intervals along the perimeters of the objects. Then N. saw a flash of light from one of the objects, the one closer to her and a strange structure jutted out, which was surrounded by numerous yellow lights. She could see the area between the yellow lights. Another flash of yellow light was seen at the center of the structure. After that, numerous supports with shiny verges appeared. There was one additional flash and a rectangular construction became visible. Three "men" jumped into the construction, which resembled an elevator and then descended towards the ground. Gradually the rectangular "construction" or elevator began approaching the ground and N. heard a voice, which "tactfully" asked her permission to descend to her balcony and communicate with her. She heard the words in her mind, apparently through telepathic communication. Thinking she was confronting an "evil spirit" she began to pray in earnest, asking God to remove this "delusion". At this moment a very bright golden light became visible in the elevator-like object, so bright that the witness could not look straight at it. Afraid of becoming blind, N. covered her eyes with her hands. Moments later when she removed her hands from her face both objects had disappeared.
Source: Gennadiy Ya. Leszshenko, "Edge of the Unknown, or What is Behind the Curtain", Donetsk 1994
---
Date: March 1990
Location:  
Time:  
Summary:  
Source:  
Location. Necochea, Buenos Aires, Argentina
Date: March 22 1990
Time: late night
A witness, D.P. reported seeing two strange white lights, one larger than the other, floating over the sea. Moments later both lights disappeared and then returned again this time larger in size, and now with a light bluish tint. In the same area of the sky the witness also sees a reddish circular object crossing the sky in the direction of Costa Bonita emitting sparkling lights. D.P. reported receiving a clear telepathic signal later while he was home. That same night another witness reported having a strange dream-like experience in which he is taken onboard a UFO by tall blond haired human-like figures. Inside the object he sees a known local Contactee, Amelia G. Also, that same night Amelia also reports being taken onboard a craft by the same or similar beings.
Source: Guillermo Daniel Gimenez, Necochea, Argentina
---
Date: March 1990
Location:  
Time:  
Summary:  
Source:  
Location. Near Heist-Op-den-Berg, Antwerp Province, Belgium
Date: March 24 1990
Time: 2105
A family driving home after visiting relatives where on a flat countryside with scattered trees when the seven-year old son points his mother to an unusual light in the sky. The mother describes it as a very clear star surrounded by several lights. She points it out to the father. He acts upon it by parking his car at the side of the road. He looks out of his left side window and sees what he calls "many enormous lights" hovering 100 meters above the car. The object or lights was hovering above some nearby trees and it was absolutely silent. The mother looked through the windshield at about 10 orange lights that appeared to be blinking in a certain set pattern. It looked like the lights were coming from an airplane cabin window. She then began to feel extremely sleepy and had no energy to leave the car. Suddenly she realizes that the twins are fast asleep, the father then enters the car and they drive home. They arrive home at 2320, realizing that the trip that usually took about an hour had taken 2 hours and 15 minutes this time. The family refused hypnotic regression on religious grounds.
Source: http://www/caus.org/pers_cpmtact/pc012601.shtml
---
Date: March 1990
Location:  
Time:  
Summary:  
Source:  
Location. Chardzhou, Turkmenistan, USSR
Date: March 24 1990
Time: night
Several locals reported encountering a tall robot like creature in the outskirts of the city. The creature was close to 2 meters in height, strongly built and possessed a bright circle of light on its chest from which, bright beams of light emanated. It walked in a strange mechanical way. And it had a huge head resembling a flattened saucer, 2 long devices jutted from the alien's head, resembling antennas or horns, which appeared to blink. The front section of the alien's head emanated a sort of greenish steam, very foul smelling. The frightened witnesses fled the area on foot.
Source: X-UFO Russia, Yaroslav Sochka, UFODOS
---
Date: March 1990
Location:  
Time:  
Summary:  
Source:  
Location. Near Iturup, Kuril Islands, Far East, Russia
Date: March 27 1990
Time: 0730A
After leaving the local meteorological station Andrey Kravtsov spotted standing on the recently fallen snow a dark colored figure. It had its body in the form of a sphere, about 1.30m in height, a head on top lacking a neck on which he could see two silvery luminous circles where they eyes would have been, he could not see any pupils. It stood on one thick "foot"; the snow around it seemed to be steaming. Upon seeing the creature, Andrey let out a scream of surprise. Apparently this startled the creature, which immediately turned and slid away over the snowy field and disappeared.
Source: "Soviet Sakhalin" April 4 1990
---
Date: March 1990
Location:  
Time:  
Summary:  
Source:  
Location. Botanicheskaya, Crimea, Ukraine
Date: March 27 1990
Time: 0740A
In this hamlet located on the coast of the Black Sea the local witness Mrs. N P Bodnar observed a narrow beam of light, red in color stretched out from the sky to the sea and towards the direction of the hamlet of Ay Danil. The beam resembled an elevator of light, apparently emanating from an unseen hovering object. A black figure, of a general human shape was seen descending within the beam of light. Unlike humans, the figure was very tall and had a big head; its hands were stretched up. The figure disappeared behind the trees, and at this point the beam of light disappeared. Due to the distance from the entity by the witness no further details were discernible.
Source: Anton Anfalov personal investigation
---
Date: March 1990
Location:  
Time:  
Summary:  
Source:  
Location. Izberbash, Dagestan, Russia
Date: March 28 1990
Time: 0430A
A local male resident, Alibek Karachev, dispatcher for the local bus service, was driving in his car on his way to work at about 35-40km per hour. Suddenly the engine of the vehicle stopped. Thinking it was the battery he stepped out of the car but was surprised to see a bright light and some "people" standing about 100-130 meters away. He thought that maybe someone else was repairing their "car" and decided to assist. However he only took three steps when he was suddenly stopped in his tracks by an unknown force. He froze in place in an awkward position, but still watching the bright light. Then he clearly saw a cigar-shaped object, hovering low above the ground, and several strangers walking under it. At first he noticed two figures and then a 3rd. They seemed to be expressively gesticulating with their hands among themselves. They were dressed in shiny tight-fitting coveralls, resembling those of deep-sea divers. After looking closely, Karachev discerned 3 windows on the craft, each one approximately 2 meters high and 1.5meters in width. The center window was lightly lit, but he could discern a silhouette inside. It seemed to be that of an alien female, because of the long wavy hair falling to her shoulders. While Alibek watched the supposed alien female, the other aliens who had been working under the craft vanished. At this moment something compelled Alibek to turn around and when he looked back again the object and aliens were now gone. Unexpectedly the headlights of his vehicle switched on again and he felt under control of his body again. He then sat behind the wheel of his car and drove to the location where the cigar-shaped object had been hovering a few minutes ago. He found nothing there, looked at the sky and saw nothing either. Alibek then continued on his way to work but suddenly noticed that his watch was 10 minutes behind, he could not remember what happened during those 10minutes. 3 days after the incident Alibek became ill and visited the hospital in Mahachkala, feeling very weak. A doctor explained to him that his weakness appears to have been as a result of radiation exposure and was told that it would soon go away. He returned home, but his health deteriorated day after day. On the 13th day after the encounter he could not get up from bed and lost his appetite. However a week after his health suddenly returned to normal as if nothing had occurred.
Source: Sergey Semenduev, "Iks" (UFO Newspaper) Mahachkala Dagestan # 10-11 1992
---
Date: March 1990
Location:  
Time:  
Summary:  
Source:  
Location. Uyarki, Krasnoyarsk Kray, Russia
Date: March 28 1990
Time: 1500
A local inhabitant living on the shores of the lake reported witnessing a bizarre episode on this date. He had momentarily left his house and looked at the forest located on the opposite side of the lake, there near the willow trees he saw bright green lights, after focusing his sight he noticed that it was a round object emitting a bright beam of green light. There were several of these objects there and numerous short figures seemed to be very busy around them. One of the objects was hovering above the top of trees but it then descended towards the earth. The little figure was of a dark purplish color and at times seemed to blend in with the willow trees. Soon some type of construction resembling a "rocket" was rolled out of the Willow Grove but immediately was rolled back into the brush. As the witness observed fascinated three figures left the wooded area. According to the witness his impression was that the figures were that of a man, a woman and a child. The man and the woman were huge in stature, their heads located level with the top of the trees. In order to draw the attention of the strangers the witness lit up a box of matches and began to swing it around. Apparently the strangers noticed him and the man began to "applaud", he then waved at the witness, and began to walk towards the direction of the witness but after a short walk the man stopped and turned back. As the strangers neared the woods they began to clap with their hands and their size seemed to decrease to the size of the other small humanoids (!), which were still located near the green lighted round objects. After this the man took the woman by her hand and began to move around in a circle, performing something like a ritual dance. Journalists accompanied the witness to the site and found thawed patches about a meter in width, and a dent with a depth of about 70-80cm.
Source: S. Strannoye "Maksimikhin Phenomenon" in "Forward" 4-12-1990
---
Date: March 1990
Location:  
Time:  
Summary:  
Source:  
Location. Kirovo, Kurgan region, Russia
Date: March 28 1990
Time: 2100
A local girl named Natasha was walking outside her home on her way to the shed when she for some unknown reason suddenly felt apprehensive. A dog began yelping nearby, a loud and harrowing yelp, Natasha then went to the kitchen garden to see what was wrong and in the sky saw a flying object that flew for a short distance and then zoomed up into the sky. That same night Natasha awoke feeling a push on her side. She looked at the window and was terrified to see the silhouetted of a strange man. "He" was silver in color, and had very broad shoulders, the width of the window. The size of his head was larger than a human's. The humanoid did not enter the bedroom and disappeared from sight. Natasha's girlfriend confirmed the encounter.
Source: "UFO Plus" # 1, Odessa Ukraine
---
Date: March 1990
Location:  
Time:  
Summary:  
Source:  
Location. Novo Nikolayevsk, Volgograd region, Russia
Date: March 29 1990
Time: 0340A-0445A
A woman named Anna and her small daughter Olya were sleeping in their bedroom when suddenly Anna awoke from an unusually bright orange light in the room. She approached the window. The powerful orange light emanated from above, from a fiery globe that was hovering above the apartment complex. Anna thought, "Wow! Finally the extraterrestrials have visited!" and at that very same moment a strong wave of fear enveloped her. She tightly closed all the windows with the blinds and hid on the bed covering her head with a blanket. Two minutes later she removed the blanket she saw a blinking light in the kitchen. She felt strange; she felt a strong electrical numbness on her body. She also sensed a strange heaviness descend over her and suddenly her apartment was submerged into darkness, the light in the kitchen died and the light from outside die not penetrate into her apartment. She then felt the presence in the room. She wanted to move and get up, but couldn't, her brain was working but her body seemed paralyzed. Off to one side she saw a humanoid figure coming towards the direction of her daughter's cot from the direction of the window. The humanoid was small in height, about 120-140 cm in height, wearing a shiny suit. Its movements were jerky, like that of a robot; he had something similar to eyes on the face and a helmet on the head with 2 little antennas. The humanoid emitted a monotone squeaky sound. It then walked towards the end of the sofa, stopped and then turned towards Anna. She felt no fear, until the alien said in a quite voice, stretching out the words in syllables, "We—will-ta—ke-your girl!" At the same time Anna heard her daughter screaming, "Mama!" Anna protested, screaming so loud that she thought that the whole neighborhood would have heard her by how. She screamed, "No, I won't give her to you! No!" The alien visitor then uttered two other phrases, "We will return her back, we will return her!" Anna continued to scream wildly. The alien then turned to the door and walked towards an exit corridor. The door closed with a loud banging sound and at the same moment the light again turned on in the apartment. Anna wanted to run to her daughter's cot, but her body was still paralyzed, though now she did not feel the numbness. With inhuman effort she slid to the floor and crawled to her daughter's cot. Her daughter was sleeping peacefully, but without her blanket. Anna later found the blanket on the floor in the corridor. Feeling very tired she fell on the sofa and her strength gradually returned to her slowly. She awoke at 0445A covered with sweat from head to toe, she felt exhausted. In fear she waited till dawn. She could not sleep in her apartment the next night and slept in her neighbors. The terrified woman then notified the local militia and an officer named N. V. Mentiy investigated the possible abduction attempt.
Source: Gennadiy S. Belimov chairman of the Volzhskiy Anomalous Phenomena Research Group and Nina Krestova reporter for "Za Communism" Local newspaper
---
Date: March 1990
Location:  
Time:  
Summary:  
Source:  
Location. Krasnokamensk, Krasnoyarsk region, Siberia, Russia
Date: end of March 1990
Time: 2200
Mrs. N. Bozyleva, a local resident had just put her children to sleep and had gone to the kitchen when she heard screams outside. She looked out the window and noticed two neighbor girls standing on their porch yelling and pointing, "Mommy, Mommy, was that!" It was very light outside, almost like daylight and the girls were pointing at the source of the light that Bozyleva could still not see. She wanted to go to the balcony in order to obtain a better view but suddenly the door of the balcony flung opened and an alien male figure suddenly appeared. His height was about 1.80m, with dark hair and a sallow complexion (pale). For some unknown reason she felt no fear (apparently caused by some type of mental influence from the alien). The alien began asking her several questions, which she promptly answered, next he asked, "Do you agree to fly with me to another planet"? The witness agreed but said jokingly that since she was quite heavy no spaceship would be able to lift her. He answered, "No spaceship is needed, we will fly this way". Bozyleva quickly went into the anteroom and put on a coat and a pair of high boots. The alien then told her to hold on to him tightly, embraced her and they rose up into the air and flew out the balcony. The witness did not feel the usual flow of air in her hair. Afraid she looked down and all she could see was a dark abyss. She then asked the alien to please return her, at first the alien said no that he was taking her for good, but she pleaded with him, telling him that she had left her young children behind. The alien then agreed and returned her back to her home. The next morning at her job the witness related the story to co-workers and amazingly one female colleague also confessed that that same night, a strange man had also entered her bedroom from the balcony and had invited her to fly out with him, but she refused. 2 days after the incident Mrs. Bozyleva heard some talk between two women and one was saying to the other that her 7 or 6-year old son had told her one morning that he was almost "taken" by an extraterrestrial that entered his room. The little boy was calling for his mother but she would not wake up.
Source: Igor Tsarev, "Trud" Newspaper Moscow
---
Date: March 1990
Location:  
Time:  
Summary:  
Source:  
Location. Starye Krasnoshory, near Chernovtsy, Ukraine
Date: end of March 1990
Time: evening
A Mrs. Shorodok was walking with her daughter to a relative's house when suddenly the sky ahead became bright and a strange craft then flew over a nearby copse. The craft resembled a rocket or a missile and was burning bright red. Both frightened women began to walk faster but soon their path was blocked by a tall figure, human in shape, and dressed in a tight-fitting silver suit. The figure moved slowly towards the women but when the headlights of an oncoming car on the road flashed, the figure disappeared in plain sight.
Source: A. Fyedorov in "Truth in Ukraine" April 24 1990
---
Date: March 31 1990
Location: Swan Lake, Kuril Islands, Far East, Russia
Time: morning
Summary: Stepan Korneychuk was fishing with some friends and his dog and after briefly detaching himself from the rest of the group; unexpectedly he saw at a distance of 30-40 meters a short dark humanoid figure with large silvery eyes, apparently looking at him. Korneychuk perceived that the creature wanted him to approach more closely. The dog suddenly stopped at this moment, perking its ears. Terrified, Stepan began to yell out for his friends; however when he looked back at the creature it was already gone. Closer examination at the location where the creature had stood revealed a hole on the snow about 80cm in diameter. Many other inhabitants in the region reported seeing bright multicolored star-like objects maneuvering over the area.
Source:  "Soviet Sakhalin" April 4 1990

---
Date: March 1990
Location:  
Time:  
Summary:  
Source:  
Related articles