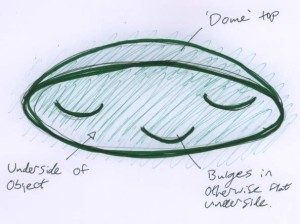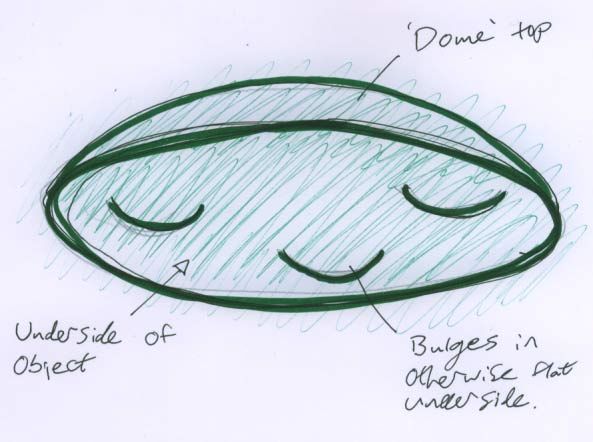 (Last Updated On: July 6, 2016)
Date: Summer 1990
Location: Sperenberg, Germany
Time: unknown
Summary: A Russian soldier, native of the Krasnodar region was on sentry duty at the staff of the main East German-Soviet military base located 40km south of Berlin, which had a large airfield when he was reported missing. His disappearance was discovered during a change of shifts. He could not have been able to leave the building unnoticed since his post was on the 2nd floor and to get out he would have had to pass 2 sentry posts and a bunker. He was found quite by accident 2 weeks later roaming through an area of disused bunkers, tanks and other equipment located about 15kms from the base. The area also contained dangerous unexploded ordinance and was cordoned off by 4 rows of barbwire and was well guarded. He was in a very confused and agitated state, he could only remember that while on guard duty he was confronted by several huge men all dressed in black. The men's head resembled that of an inverted bucket. The soldier remembered nothing else. He could not explain how he had appeared in the restricted area and where he had been for the past 2 weeks. The soldier was then sent to a rehabilitation center in Belitz. There he was hospitalized for a long time. The soldier never returned to his unit again. His story became the subject of wide circulating rumors among the military garrison at Sperenberg.
Source:   "ENIO" Research Group in: "Crossroads of Centaurs" Rostov # 2
---
Date: Summer 1990
Location: Near Riga, Latvia
Time: unknown
Summary: A local resident (Russian by nationality) Oleg B. was walking outside the Latvian capital near a forest came face to face with a strange humanoid entity. The entity was apparently a man, about 1.7-1.8m in height; he had pale wrinkled skin that appeared "crumbly", and a wrinkled forehead. His general appearance was that of a 50-year old man. He had prominent shiny round eyes that lacked eyebrows. The humanoid's nose and mouth were human-like but the most remarkable feature on the humanoid was his head, it was hairless on top, and instead of hair it had strange tube-like protrusions that jutted down to the sides of his head. The witness thought that it was rolled up braided hair but it seemed unlikely. The alien was dressed in a tight-fitting suit that completely covered his body to the top of his neck. The humanoid had a worried look on his face and quickly disappeared from sight, running away. The frightened witness also ran in the opposite direction.
Source:  "M-skiy Triangle" Information Bulletin of The Latvian Commission on Anomalous Phenomena # 19-1992

---
Date:  Summer 1990
Location:  
Time:  
Summary:  
Source:  
Location. Near Moscow, Russia
Date: Summer 1990
Time: unknown
Several individuals interested in UFOs were visiting an "anomalous" area outside of Moscow encountered a ghost-like humanoid that approached one of the men in the group. Both the witness and the entity faced each other, standing in front of each other; both were covered in a strange greenish mist. When the mist and the shadowy entity vanished, the witness informed the others that he had indeed communicated with extraterrestrials but was forbidden to talk about it.
Source: Vladimir Alexandrov engineer at the Cosmonaut Training Center, Moscow And Pavel Mukhortov in: "Rabochaya Tribune" Newspaper December 12 90
---
Date:  Summer 1990
Location:  
Time:  
Summary:  
Source:  
Location. Terrace, British Columbia, Canada
Date: Summer 1990
Time: 0500A
The seven-year old witness was sleeping in his room when he woke up to see something standing in his room. Whatever it was, it was tall, skinny and had large black eyes; it was completely hairless and had bumpy skin. He could not see it to well because of the darkness. The witness stood by his bed and looked into the creature's eyes, but he felt no fear. His next memory was of waking up lying down in bed in the morning. The witness was unusually tired, exhausted, and could not open his eyes.
Source: St Paul UFO Hotline, September 1996
---
Date:  Summer 1990
Location:  
Time:  
Summary:  
Source:  
Location. Near Kiev, Ukraine
Date: Summer 1990
Time: daytime
A local boy named Kostya Kravchenko, a fifth grade pupil, was fishing in a lake when he suddenly felt an unseen force that snatched the rod from his hands and threw it on the bank of the lake. The boy turned around and saw a blindingly white object sitting on a glade several meters from him. He could not see windows or doors. The object had what appeared to be 2 humps and had a streamlined hull with a smooth elongated front section. It lacked wheels, landing props, etc. A humanoid figure stood near the object. It was tall, without visible legs, but with long arms. Its body was also blindingly white just like the UFO. Apparently this entity had caused Kostya's fishing rod to fly out of his hands, using some unseen telekinetic force. Next Kostya felt his body becoming heavy and his legs glued to the ground. Frightened he began to scream, his friend a girl named Lesya who had been nearby came to his aid. He had fallen to the ground and was pointing in the direction of the forest. But the girl saw nothing (apparently the object and entity had cloaked themselves?). Other older boys came running to the location, at first laughing but then became concerned upon seeing Kostya's pale face. Kostya could only stutter about what had occurred. The next day Kostya had a dream in which a voice told him he would live for only five days. However the next day he had another dream in which the date of his death was changed. His relatives constantly watched over him for the next 2 weeks and nothing happened. After the incident Kostya's behavior changed noticeably and he was involved in additional UFO encounters.
Source: Leonid Brovchenko, Local Press, and Anton Anfalov
---
Date:  Summer 1990
Location:  
Time:  
Summary:  
Source:  
Location. Baikalovo, Sverdlovsk region, Urals, Russia
Date: Summer 1990
Time: daytime
38-year old local Boris Klepikov and three other men had gone to the nearby village of Pelevino in order to purchase some Vodka but instead bought several bottles of wine at a local grocery store and were returning home, in a yet completely sober state, having not opened the bottles. As they stood on the side of the road waiting for a bus they suddenly saw a globe-shaped object about 3 meters in diameter, coming from the south, from the direction of a deep and spacious swamp. The object was metallic in color. It then slowly descended nearby and landed, standing on 4 landing props. A door about 0.7 by 1.9 meters in diameter opened on the side of the hull and to male humanoids stepped out. Their height was about 1.7m and both were dressed in aluminum colored suits, apparently slightly inflated from inside. They had round helmets with a glass visor in the front part. The alien's eyes were blue, skin normal, and they had aquiline noses. One of the aliens began speaking to the witnesses in pure Russian language with a Siberian (Baikal) accent (!). He greeted the astounded witnesses asking them where they were going and inviting them to come with them. The men refused and seized with fear began running away. They ran about 8 km until they reached the village of Baikalovo. After somewhat calming down the men returned to the scene of the encounter in order to retrieve the wine, which they had left behind in their haste to escape. 
Source: Pavel Hailov, and Anton Anfalov
---
Date:  Summer 1990
Location:  
Time:  
Summary:  
Source:  
Location. Sea of Azov region, Russia
Date: Summer 1990
Time: daytime
A local 12-year old boy was wading up to his waist in the waters of the Sea of Azov, which has numerous sandbars and it's not that deep. He was wading above a sandbank which suddenly gave way and he fell into a deep pit in the water. He then dived deeper attempting to access his location and to look around when he spotted a small greenish "man". The Dwarf like entity was sitting at the bottom of the ocean. His eyes were disproportional to his face; they were very big and bulging. Both stared at each other in amazement. The alien dwarf waved his hand and accidentally scratched the boy's belly with its long nails. They both away from each other in different directions, the alien towards deeper waters and the boy to the surface, the boy then ran home fearing for his life and never returned to the water for the rest of the year. He never saw the entity again.
Source: "NLO" (UFO) Magazine, Saint Petersburg # 22 May 31 1999
---
Date:  Summer 1990
Location:  
Time:  
Summary:  
Source:  
Location. Between Demerdzhi & Northern Demerdzhi Mountain, Crimea, Ukraine
Date: summer 1990
Time: daytime
A group of tourists consisting of several young men and women arrived at this location and scattered over the area to rest. One of the young men separated from the main group and camped beyond a hill. As he laid on the grass to rest to his amazement he saw a strange "thing" which he took to be a "dancing pavilion" it was a round artificial structure flat on top and standing on something resembling props or columns emerging from the ground. The young man couldn't understand how a "dance hall" could suddenly appear there amid the mountains and rocks. He approached the strange structure and suddenly lost consciousness. Later he woke up surrounded by his friends who had been attempting to wake him. They told him that they had been looking around for him and they had found him lying on the grass and had been gone for 2 hours. He realized what he had seen and took the group to the location but to his amazement the strange "pavilion" structure had by now disappeared. Apparently the young man had been somehow abducted and his memory had been totally erased. Possibly the young man had briefly penetrated into the protective camouflaging field of an alien base reputed to be in the area.
Source: Vladimir A. Belozyerov, Crimean UFO Research Group Simferopol, Crimea Ukraine
---
Date: Summer 1990
Location: Kostroma, Russia
Time: daytime & evening
Summary: In this town located next to the Volga River a small shiny metallic looking cylinder-shaped object plummeted from the sky straight onto the roof of a twin-type elongated "Ikarus" bus (Hungarian made) with trailer, while the bus was standing at a bus stop. The object fell on the rubber pleats connecting the front section of the bus with the rear, immediately causing smoke. Apparently the object had been very hot. The driver stopped the bus, walked out of the cabin and after examining the tires and engine, found no source of the smoke or smell (he did not look up on the roof!) and continued his drive. A minute or so after that, a red ambulance van of the "Rafik" type (RAF-2203), apparently belonging to the fire brigade drove up to the bus stop. The ambulance van was equipped with radio and antenna. Two strange "men" walked out of the ambulance and examined the bus stop for several minutes, walking around the area evidently not finding what they were looking for. The returned to their "ambulance" and drove away. Both men looked very suspiciously non-human as some of the witnesses asserted. They had very pale, almost white faces, huge "remarkable" eyes and behaved strangely. Vigilant local residents phoned the town's newspaper "Severnaya Pravda" (The Northern Truth). Local journalists quickly telephone the local fire department asking them if they had sent the duty ambulance to the bus stop. The answer was negative. And then a local journalist named V. Shpanchenko continued the investigation and the evening of the same day, while returning home in his car with a colleague, pulled over and stopped on the road and to his amazement saw the red "Rafik" ambulance van, looking exactly as it was described earlier. Both reporters turned the headlights of their vehicle off and began watching the strange ambulance from a distance, hidden in the darkness. The registration number (plate?) was identical to the one reported by the witnesses at the bus stop. Two strange men again came out of the ambulance; one was dressed in a shirt the second in a grayish suit. The spoke between each other about something (the language or voices were not heard because of the distance) and then got back inside the ambulance. One in the cabin and the second next to the driver, the curtains in the cabin were closed and then van rushed suddenly away in a quick jerk. Both journalists noticed how strange the "firemen" had looked, they had very white pale faces, penetrating eyes which radiated some type of energy, their smiles appeared unnaturally forced like robots. The worried journalists phoned the local Militia. The guard on duty confirmed that people in civilian clothing did not drive ambulances. The origin of the mysterious "ambulance" remained shrouded in mystery.
Source:  Journalist V. Shpanchenko "Severnaya Pravda" Kostroma, quoted by "Anomalous Kaleidoscope" in "Yunost" Newspaper, Yaroslavl Russia April 27 1991.
---
Date: Summer 1990
Location: Erzovka, Russia
Time: 1500
Summary: 55-year old Valeriy Vasilevich Krasnov was returning from the city of Volgograd in his car and being tired, had pulled over to the side of the road to obtain some rest and a meal. As he prepared dinner he was suddenly seized by a sense of fear. He felt like he was going to die of a heart attack, but suddenly a thought appeared in his head: "No, this is not your heart. Don't be afraid…we will not harm you, only will ask you some questions and will answer your questions if you have any." The witness looked around and could not see anyone. "Who are you and what do you want from me." "Be calm, first of all. We are friends, and will not do you any harm." Krasnov replied: "So why are you not visible?" "If you relax and become ready for communication, we will appear now." Suddenly 2 figures started materializing, like a photograph being developed. It was an incredible sight. The outlines of the figures appeared, and then everything became clear and 2 entities became visible, a man and a woman. They were very much human like. Dressed in light silver overalls, with a wide white belt with strange devices hanging from them and multicolored blinking lights. Their faces and hands were bare and their skin was blindingly white. Their hair was gold and they had amazing eyes of an ultramarine color that radiated amazing light. Both were very tall about 1.90 to 2.0 meters in height and stood smiling at the witness. The woman was stunningly beautiful and shapely. Both looked to be about 20-25 years old. Their eyes were slightly slanted, had a small nose, clearly visible mouth, but immovable, as well as their faces. They had very proportional figures with long thin fingers. When they moved they did so slowly and gradually. All communication was telepathic. The aliens approached the witness and began asking mundane and private questions. It felt like a police interrogation and the witness felt uncomfortable. He felt as his brain was being scanned. After answering their questions, Krasnov was allowed to ask himself. The aliens said that they hailed from the Canis Venatici constellation, more specifically from a planet called "Tats". They had been on earth for 2 years already and that their previous visit had been 100 years ago and had lasted for about 10 years. They traveled in a star ship shaped like a disc, with 6 crewmembers. They also said that they traveled between dimensions. That is a very responsible and dangerous process that must be carefully controlled. They also said that every dimension has intelligent life and that there are some aggressive civilizations that are striving to conquer the Universe and that there were "backward" civilizations, like Earth. They said that they had a base on the moon and were concerned about constant monitoring by earthlings. They were governed by what they called a "council". They did not conduct negative experiments over people (humans), did not abduct humans by force that it was strictly forbidden by the "council". They did not recognize the human civilization because of its aggressive tendencies and behavior. They also said that humans were out of control of their "Council" and that it was now too late to do anything. This "Council" consisted of different civilizations that regulate many interstellar laws. Suddenly the belts of both aliens began radiating a bluish light and they said: "The time of contact is now over. We must return to our ship." They said that they would be back in August 1990. Both figures then disappeared.
Source:  Gennadiy S Belimov, Anton Anfalov
---
Date:  Summer 1990
Location:  
Time:  
Summary:  
Source:  
Location. Vladivostok, Russia
Date: Summer 1990
Time: 2000
Near the local cinema "Moskva" Tatiana G was returning home while her husband waited for her in the front of the house. Suddenly Tatiana began to frantically wave her hands, and shouting as if struggling with someone unseen. After hesitating for a second her husband rushed towards her. Hearing the shouts of the woman numerous witnesses had by now gathered in the windows and watched the strange spectacle, her struggling with someone unseen and her husband also battling with an unknown force. Numerous witnesses now rushed to their aid. As they approached the group suddenly saw very near Tatiana and her husband a black "machine" with darkened glass windows. Tatiana was struggling with a man wearing dark coveralls and her husband fought with two men dressed in diver's suits. Around the head of the mysterious figures there was a unique glow, resembling a shell. After seeing the people running towards them the strangers threw Tatiana and her husband on the ground and rapidly entered the black object, which after being touched instantly disappeared. Tatiana later described as the dark object suddenly landed close to her and three dark clad men exiting the object. Around their heads there was a glow. The men silently gripped her and dragged her towards the machine. She began to shout and struggle. When her husband ran up, two of the strangers turned on him, the third almost succeeding in jostling her into the black machine. She was dragged very close to the machine but was let go as the other villagers approached. The humanoids then disappeared inside the machine. She fell to the asphalt and lost sight of the object. At this point she realized that all around her there appeared to be some sort of "vacuum" that she could not see the normal sights. She could not see anything familiar. Suddenly her husband broke into the vacuum and there was a flash of light, at this point she lost consciousness. A third witness was able to see the strange black machine as it disappeared in plain sight.
Source: VAUFON, Vladivostok UFO Research
---
Date:  Summer 1990
Location:  
Time:  
Summary:  
Source:  
Location. Kramatorsk, Donetsk region, Ukraine
Date: Summer 1990
Time: 2000 or 2100
Three local boys, Vasiliy, Maksim both 5 years of age, and 7-year old Victor were playing in an abandoned opencast mine on the outskirts of town. The time was near sunset when they suddenly saw a strange white object, like a dot, then a circle of white fog or mist that was gradually increasing and finally transforming into a disk-shaped object that then hovered over a pit. The disk was hovered silently in front of the stunned boys and then all three witnesses began to feel odd, like being pierced by a thousand needles evidently as a result of an intensified electrostatic field. Next moment all three boys lost consciousness and later woke up laying on the very bottom of the opencast mine. They couldn't understand how they ended up the bottom of the pit, since it was very large and quite deep. All three boys still had been experiencing the electrostatic field. None of them could remember what happened after they saw the disk. They all returned home at 2300 or midnight, their mothers reproaching them for staying out so late. After the incident strange things began happening with Maksim, he began to sleepwalk at night and all three boys discovered strange identical marks on the backs of their heads. The marks were in the form of a trident, it looked as if they had been branded. All three boys then moved to the city of Saint Petersburg. Victor strangely died at the age of 17 of unknown causes. Unfortunately no regressive hypnosis was ever arranged to clarify the details of their evident abduction experience.
Source: Andrew Zabava (Janefarlz) Ukraine
---
Date:  Summer 1990
Location:  
Time:  
Summary:  
Source:  
Location. Novosibirsk Russia
Date: Summer 1990
Time: 2040
The witness was talking with his sister in the living room when they saw on two occasions a short yellow humanoid figure with large almond-shaped eyes and a long black slit for a mouth. The figure was peering at them from behind an open door. The figure disappeared quickly each time. It seemed to smile at one of the witnesses.
Source: Richard F Haines, Joint USA-CIS Aerial Anomaly Federation
---
Date:  Summer 1990
Location:  
Time:  
Summary:  
Source:  
Location. Murmansk, Russia
Date: Summer 1990
Time: evening
Two local girls, named Nastya and Olya were returning home from a walk when suddenly they perceived a strong ringing sound in their ears, the area around them became extremely quiet and "isolated". Suddenly they realized that in front of them there was a landed disc shaped object and standing next to it four strange humanoid figures that appeared to be collecting dirt, flowers and other organic samples from a the ground. As they stared at the figures theses noticed the witnesses and quickly walked back into the object. They began hearing the loud ringing sound in their ears again and the disc rose upward and flew away.
Source: UFOZONE Russia
---
Date:  Summer 1990
Location:  
Time:  
Summary:  
Source:  
Location. Rostov-on-Don, Russia
Date: Summer 1990
Time: late evening
The female witness, Elena, (involved in other encounters) living in a one story private house was stunned to see blinking yellow lights hovering behind her window. She looked outside and saw a small alien-appearing being approaching her house using peculiar "jumps" or steps, in an up and down fashion. When the alien stopped near the house she could see that it was a dwarf with a child-like greenish face. Telepathically the being spoke to her, "In 70 years (?) We will take you to our planet in the Constellation of Draco". No other information.
Source: Interesnaya Gazeta, Kiev Ukraine # 4, and Anton Anfalov
---
Date:  Summer 1990
Location:  
Time:  
Summary:  
Source:  
Location. Zolotoye, Leninskiy area, Crimea, Ukraine
Date: Summer 1990
Time: late evening
After a UFO landed on the border of the village, close to a large military aerodrome and reservation at Bagerovo near the Sea of Azov, local residents encountered three short humanoids walking on the street near their houses. The aliens were dwarf-like, about 1.2m in height, dressed in shiny coats of silver color, which covered their short bodies completely. One male witness was able to see the face of one of the aliens, which he described as having a sallow complexion, with green-brown-gray skin, flat protrusions in the place of noses, and slanted eyes. Their heads were most probably hairless but were covered in tight-fitting cowls. Frightened, the witnesses hid in their homes. The aliens moved quickly away and vanished behind some houses. What attracted the aliens to the area was the apparent concentration of important locations and bases, such as the construction of nuclear and solar electric power plants in the nearby hamlet of Szhelkino (which were later halted due to public outcry). Also the huge Bagerovo airbase previously used for storage of nuclear bombs, which is now abandoned, the area apparently has some residual radioactive pollution, which also attracted the aliens.
Source: Alexander Pismennyi, Anton Anfalov
---
Date:  Summer 1990
Location:  
Time:  
Summary:  
Source:  
Location. Saint Just, Puerto Rico
Date: Summer 1990
Time: night
Around the same time that the owner of some geese found several of them dead and mutilated, she saw, lurking in the nearby woods, "a four-foot tall figure, with a large head and gray in color" the figure ran and hid in the woods when it realized the witness had discovered it. It had a thin, frail, child-like body.
Source: Jorge Martin, Evidencia OVNI # 6
---
Date: Summer 1990
Location:  Sverdlovsk Region, Urals, Russia
Time: night
Summary: A 60-year old night watchman by the name of Sanin, who was also a carpenter at the local auxiliary farm, vanished from his post in the farm where he had been watching over the grain harvester combines. His gear and food were still there but he was nowhere to be found. A 5 to 6 day search was conducted for him with no results. Soon he was found wandering in an area many kilometers northwards in the area of Serov, a scarcely populated area. A timber truck driver had accidentally noticed him on the road and picked him up and delivered him to the local hospital. The man was exhausted and exhibited burns on his legs. When his daughter came to pick him up at the hospital he told her an amazing story. Being deaf, but quite articulate the witness was able to relate an incredible incident. That night amid the forest glades where the combines were stored, the area was lighted by unusual lights from above, some type of object descended from the sky and 3 "men" exited the craft. They were very tall, about 2.5 to 3 meters in height. Terrified the witness ran and hid inside of the combine's cabin, but some force pulled him out of the cabin and dragged him towards the alien craft. He attempted to resist by crawling away and managed to squat behind a tree where he lit a cigarette in order to relax, but there was a sudden flash of light and he lost consciousness. He regained consciousness in a remote unfamiliar forested area, it was already dawn. The tall entities were there, he could now see that they were dressed in tight-fitting gray-bluish suits, they were accompanied by some humans who were carrying sacks and collecting berries, plants, etc from the glades. In total he was held in the strange location for about 5 days. He reported terrible scenes at the location, he saw heaps of dead men, & children with curly red hair (!) and what appeared to be corpses freshly dug up from graves, which the aliens seemed to be experimenting with. He also saw what appeared to be, apparently human females wearing kerchiefs wrapped tightly around their heads and covering their faces. These were performing different tasks apparently under the command of the tall aliens, moving about in a typical zombie-like manner. Some of the tall aliens carried with them what appeared to be triangular-shaped communications devices with antennas, resembling portable radios. At times the tall aliens would insert "something" in their mouths and disappeared instantly, apparently teleporting to another location. There were also other types of aliens present, shorter in height, wearing dark bluish coats and cowls over their heads; these seemed to be operating some type of devices resembling silver netting. The whole area was very remote and there were burned trees all around, and in area resembling mire or bog there was a mucus-slimy and very odorous substance that covered the ground completely. (The witness boots carried the horrid smell for days afterwards). In some places the aliens had placed metal plates on the ground so the people could walk on them. But the witnesses constantly fell to the ground. For some reason the alien's mind control did not properly work on the witness and he was constantly disobeying orders (did his deafness have something to do with this?) and commands by his abductors, which first threatened him but then left him alone. Soon he managed to escape the area during a heavy downpour and wandered around until he found himself near the area of the Lobik railway station, exhausted and confused. According to the sources the aliens apparently have temporary surface bases deep in the dense forests and bogs of the Sverdlovsk region, and used abducted human "zombies" that perform different tasks. The area in question is located 15-20 kilometers southwest of the town of Serov in a huge marshy territory amid the dense forests near the Bolshaya Katasma River.
Source:  Veda UFO Research, Sverdlovsk, Pavel Hailov quoting "Uralian Worker" Newspaper and Anton Anfalov
---
Date:  Summer 1990
Location:  
Time:  
Summary:  
Source:  
Location. Remedios, Cuba
Date: Summer 1990
Time: night
Anisia Arias observed in the backyard on her house a glow resembling that of a fire, afraid she ran out and confronted around aluminum colored object encircled with a luminous glowing ring. The craft approached to within 5 meters of Anisia. At this point she apparently lost consciousness, and later woke up inside her home. Later under a hypnotic regression, she remember sitting down on an armchair surrounded by equipment, some of it resembling radios and feeling the prickling of needles on her arms and hands, she could not moved from the white armchair. Apparently she did not see any humanoids.
Source: http://www.ahora.cu
---
Date:  Summer 1990
Location:  
Time:  
Summary:  
Source:  
Location. Near Santa Clara, Las Villas, Cuba
Date: Summer 1990
Time: night
Samuel Becerra a night watchman at an agriculture complex reported seeing a large glowing object descend over one of the warehouses and hover. From the object descended a luminous figure wearing a dark diver's suit. The humanoid approached to within 50 meters from the witness who could not move a muscle since his legs felt like "lead" bend down and picked up something from the ground; it then proceeded to return to the object, which promptly left the area.
Source: http://www.ahora.cu
---
Date:  Summer 1990
Location:  
Time:  
Summary:  
Source:  
Location. Zolnoye, Samarskaya Luka peninsula, Samara region, Russia
Date: Summer 1990
Time: night
A girl named N. Bazyleva (who had a previous contact with diminutiveDwarfs in 1978) was resting on the floor with her eyes closed, but was unable to fall asleep. All the rest of the household was already asleep. Suddenly she heard a noise coming from the bathroom, despite the fact that no one was supposed to be there. Instantly a strong force lifted her body into the air from the floor and she began to float at about 30cm from the floor. She was seized by horror and screamed, awakening everyone in the house. She then lost consciousness and woke up back laying on the floor. When everyone else in the house calmed down and went back to sleep, Bazyleva again closed her eyes and again a wave of fear seemed to envelop her. When she opened her eyes she saw an alien woman wearing a silvery outfit standing over her. The woman then touched the witness's eyes with her fingers and the witness momentarily fell asleep. Soon after the encounter the witness began to experience strange phenomena all around her, she felt what appeared to be electric currents going through her body, heaviness and a ringing sound in her ears. She also began having visions of the same silvery clad woman walking in the darkness in a strange manner and moving towards her.
The area of the incident is Samarskaya Luka peninsula which is encircled by the Volga River and is know to its numerous anomalous phenomena, UFOs, interdimensional portals, alien beacons, and a vast underground cavernous system purportedly used by aliens located just south of Zolnoye. 
Source: "Vodoley" (Aquarius) Samara # 7 1995
---
Date:  Summer 1990
Location:  
Time:  
Summary:  
Source:  
Location. Klinskiy area, Moscow region, Russia
Date: Summer 1990
Time: late night
Four local female residents, Elena Ivanovna Ivanova and her 3 daughters, ages 7, 10 and 13 reported a strange episode late one night. One of the daughters, Galya awoke late at night after hearing loud knocking on the door. In a state of somnambulism she walked to the anteroom and opened the door, without even asking who it was. She was confronted by 4 entities, 2 males and 2 females dressed in shiny suits seemingly separated into "black" segments. The alien men had what appeared to be small antenna-like devices over their ears. She became very frightened and rushed to her mother. After hearing her daughter screaming Elena woke up and clasped her daughter tightly to her chest. The aliens approached them and one of the alien women then requested that they come with them. Terrified Elena screamed, refusing to go. The alien woman then said, if you don't come then we will take you by force." After that the witnesses blacked out. They vaguely remembered what happened next. They seemed to be moving around like robots obeying the alien commands. They found themselves in a round, not to high semi-dark room, where they sensed a slight vibration, like a train moving. The room began rocking to the left and right, terrifying all the witnesses. Elena held tightly to her daughters, beseeching God to help them. Next there appeared to have been a memory lapse and soon they found themselves standing in a forest meadow near some dense bushes. There was water nearby. They rushed to the water and began washing. Then a new memory lapsed ensued. They then appeared at a new glade, unlike the previous one, this one was very large. They soon noticed several groups of common looking terrestrial people standing in the field. Elena and her daughters stood within one of the groups. The aliens then led the group via a ladder to somewhere underground and requested that the humans wash themselves. There was an underground river, which the humans used to wash. An alien wearing a shiny coverall was distributing towels or rags. The witnesses had the distinct feeling that the aliens were controlling their every move. After that they ascended back to the glade and sat there for a long time, apparently waiting for something. Elena noticed another ladder on the glade with broad steps that led underground. Her daughter Galya suddenly appeared within a group of people that were standing afar (as if teleported). A stream of water suddenly appeared out of nowhere and began flowing below the group. Elena then rushed to help her daughter. She does not remember what occurred next. All four witnesses appeared back in their rooms in the morning, awaking at 0700A.
Source: Alexey K. Priyma, UFOs, Witnesses to the Unknown Moscow 1997
---
Date:  Summer 1990
Location:  Karagach, Sudak area, Crimea, Ukraine
Time:  near midnight
Summary:  Tourist guide Viktor Sikilinda was sleeping in his tent when he suddenly heard a buzzing-like sound "ta-ta-ta-ta". He awoke, opened the tent and saw a hovering globe-shaped object floating over the small wooded pyramid that he and the other members of his group had built the night before. The globe was lighted from within and inside Viktor clearly saw the figure of a huge "man" about 3 meters in height. The man was also emitting light. The strange figure was seated on a throne-like armchair and his face was covered with a heavy growth of beard, long and thick and a dense moustache, he appeared to be about 50-55 years of age. Viktor noticed that everything inside the globe appeared to be in motion and sparkling as if subjected to a powerful wind. The man's beard and hair was constantly moving as if waving in the wind. The bearded man stared at Viktor with a severe expression with a firm and solid glance somehow displaying a powerful force. But Viktor did not feel threatened and could only stare back in wonder and thought to himself, "Only Gods can stare in such manner". After fixedly studying the witness for several seconds, both the man and the spherical UFO suddenly disappeared in plain sight. Stunned by what he saw Viktor remained sitting at his position for several minutes. He finally composed himself and returned to the tent and went to sleep. The rest of the men in the camp were in a deep sleep and apparently saw nothing. But one girl approached Viktor after breakfast and asked him, "Vitya, who was that adult man that was flying and hovering last night over the wooded pyramid?" Viktor was stunned by her question and then clearly remembered what had transpired during the night. Apparently the young girl had gone to the toilet around the same time and had also seen the spherical UFO and its occupant. Viktor added that the bearded stranger emanated ancient spirituality and reminded him of an ancient Slavic God or hero from ancient Russian mythology. He feels that deep inside his subconscious he knows the bearded man well.
Source:  Viktor Sikilinda, "Mysteries and Puzzles of Crimea" # 1 Simferopol 2004, Anton A Anfalov
---
Date:  Late Summer 1990
Location: Kolva Base, Verk, Komi, Russia
Time: late night
Summary: The witness, Vasily A, was laying in bed next to his sleeping wife reading a book, when he heard a sound similar to "a cork popping." At that moment the window opened and he heard a humming sound. This sound never wavered and was constant during the encounter. He got up and smoked a cigarette and closed the window. He then placed the book aside and went back to bed, he then heard a voice that said, "Take the book," he could not see the source of the voice, it then said, "You will be able to read faster than before." He then flipped through the whole book and apparently read everything. He then heard the voice said, "We are going to examine you." He felt a strange whorl that seemed to spiral around his head moving downward. He was able to move his hands and legs but was unable to get up. He continued to hear voices and felt his teeth & jaw being "fixed." He felt his whole body being scanned including his internal organs. His little finger that he had previously injured was apparently cured by this scanning procedure. He asked to be shown more, then suddenly found himself sitting on a chair with a woman sitting to his right. He described being in a very large room, with a very high ceiling and apparently no discernible corners. Everything was gray; there was a door across from him that was very large, resembling a gate. The woman was human and appeared somehow "brighter" than they gray background. She wore a white gown similar to a bathrobe. Her face had an expression of indifference without any emotion. Her eyes were "black as coal" and her nose was small resembling a knob. She seemed to have no chin or neck. She seemed taller than six feet, and was holding an object resembling a "bar" in her left hand. The bar was dark gray in color with a cloth like texture, more like a plastic material. While sitting in the chair he noticed that a man had entered the room. He seemed to be standing on a platform and was higher than everyone else. He was described as very tall, and muscular with "a big body." Vasily had the impression that this man had "great power and was a commander." No other details of this man could be seen. The man then appeared to talk to two figures standing behind the witness and asked them if the witness was prepared for transit. He was then told that he would be going with them. At this time he experienced considerable fear and a sense of loss. Vasily disagreed and refused to go with them, he suddenly found himself on his bed. He experienced a strange sensation like breaking free from some elastic wrappings. He jumped out of bed and looked at the mirror. He described his image as not quite like him, appearing skinny and gray. He then sat down to smoke a cigarette and noticed that the humming sound was still present. He still felt a presence of beings in the in the room and heard a voice asking why he did not want to go with them. He then felt being teleported to an imaged location where two unseen beings led him over a "black" band and into a lighted area. He was shown what appeared to be engines and structures; he was able to ask numerous questions. Later he was told by the beings that they were leaving, at that point he felt a sharp pain in his solar plexus. He then finally found himself lying in bed and heard the humming sound becoming more distant. He then went back to sleep.
Source: Leigh Culver, Yuri Selenok
---
Date:  Summer 1990
Location:  
Time:  
Summary:  
Source:  
Related articles