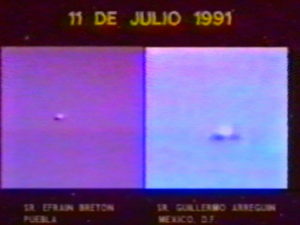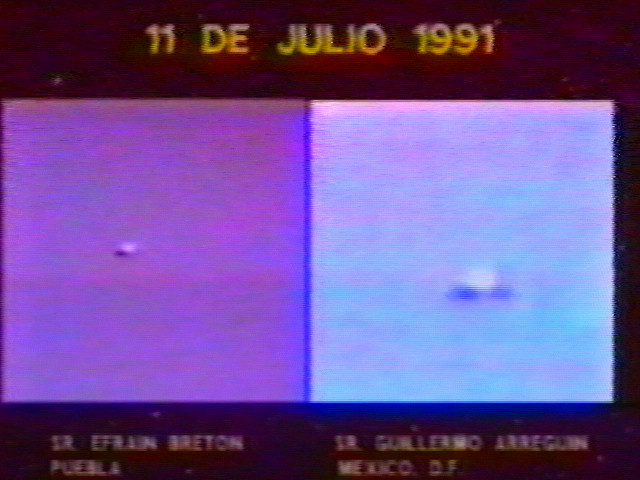 (Last Updated On: January 7, 2017)
Date:  mid 1991
Location: Sacramento, California
Time: night
Summary: During a spate of poltergeist and other phenomena at a local residence one of the investigators saw an entity called "The Black Guardian" by members of the household. He described the entity as about 7-feet tall and wearing a black hooded robe. The only features on its face were its eyes, which were almond, shaped, and glowed a faint red. 3 other people who had seen it confirmed this description.
Source: Dean Ogden, Fate May 1993
---
Date: middle of 1991
Location: Adjuntas, Puerto Rico
Time:  late night
Summary: During a period of intense UFO activity in the region, the witness was visited in her bedroom at home by a short gray-blue skinned humanoid with a large head and black oval-shaped eyes. He wore a white outfit. The entity communicated via telepathy with the witness and told her that he knew her daughter was sick in the hospital with kidney problems. He then gave her some medicinal herbs that are commonly used in the island and instructed her to have her daughter drink them.
Source:  Edwin Plaza, Jorge Martin, Luis J Marrero, Enigma # 43
---
Date: July 1991
Location: Near Brewster, New York
Time:  late evening
Summary: The main witness had been receiving telepathic messages from an unknown source that invited him to come to a certain location. Along with two of his friends he went to the isolated wooded area for the prearranged meeting. As they walked down a dark road they began noticing peculiar cool spots and a tingling sensation in their feet. Moments later as the main witness walked ahead he was suddenly illuminated by a six foot circular shaft of blue light from above. As the other two watched he appeared to become transparent and his skeleton became briefly visible. Moments later as all three walked down the road they noticed about a dozen beings about 5-foot tall and wearing dark hooded monk-like outfits moving towards them. The beings had glowing red eyes and were moving silently towards them. The witnesses then ran to their vehicle. The beings approached to within 10 feet of the car and turned sharply walking through some brush and disappearing into a rocky outcropping. Moments later the witnesses observed several red glowing eyes traveling down the other side of the road, however no forms seemed to be attached to them. At this point the witnesses decided to leave the area. (Notice similarity to previous case in May).
Source:  Anastasia Wietrzychowski, UFO Universe spring 1994
---
Date: July 1991
Location: Granollers, Spain
Time: late evening
Summary: Driving along an isolated road three witnesses onboard a vehicle watched several bright moving lights ahead and soon came upon a huge landed object that was blocking the road. One of the witnesses perceives telepathic communication from two "individuals" onboard the craft. She is then invited onboard the object. At this point there is a memory lapse. There appears to have been additional witnesses. The main witness and her little sister suffer from nightmares of being medically examined onboard a UFO by extraterrestrials.
Source:  UFO Norge, September 6 1994
---
Date: July 1991
Location: Los Angeles, California
Time: night
Summary: Melinda Leslie and two friends were driving through the Los Angeles forest when all three experienced a 2-hour long abduction into a metallic craft piloted by gray-type aliens. Once on board they were undressed, examined, separated and given separate messages. Melinda was able to recall the entire event consciously. As she was laid out and examined, she hammered the aliens with questions, none of which they answered. She saw here friend sitting in a chair with a bizarre looking headset on him and she screamed out, "What are you doing to him?" One of the aliens replied, "It's all right, we're giving him information. It's all right. We're educating him." Melinda continued to let out a stream of questions, however she was rarely answered, and then, only in an evasive manner. At one point the three friends were separated and placed into different rooms. Melinda found herself in a room with a dozen grays. One stepped up to her and said, "Now, we're going to do something. Don't be afraid, but this is very important that we do this. We're going to put this over your head." What followed was a bizarre procedure. A device placed over her head immobilized Melinda. The aliens stood in a circle around Melinda and pushed her back and forth like a punching clown. Melinda felt she was going to fall, but each time she was caught and pushed again. Finally, she relaxed. At this point, they stopped and removed the device. One of the aliens said, "You needed to learn that…you needed to learn to trust us." Meanwhile, Melinda's friend, James was receiving a different message. The aliens came over to him and they showed him a device, different items. They told him how to make a UFO detector, and they gave him the information. When sightings happen, they told him he had a mission to document them.
Source:  Preston Dennett
---
Date: July 1991
Location: Puerto Rico, exact location not given
Time: 2120
Summary: The witness had gone to bed but was having problems falling sleep, feeling edgy and apprehensive. He then felt a presence in his room and opened his eyes, standing next to him were two short thin humanoids, described as having somewhat disfigured facial features, two small holes for a nose and wide thin lips. Both beings stared intently at the witness. The witness became frightened and attempted to move but was now completely paralyzed. The beings then communicated by using telepathy, assuring the witness that he was not going to be harmed. One of the beings then proceeded to examine the witness body form head to toe, gently touching many parts of the body. The witness noticed that the beings hands were very thin with only three fingers and a thin yellow membrane in between them. One of the beings then touched the witness forehead and he suddenly felt very lethargic and lost consciousness. Later he awoke to find himself lying naked on a hard transparent table. The witness felt calm and was able to look around; he noticed some type of smoke or vapor rising slowly from the floor. Moments later two short thin beings appeared and again examined him. He was then dressed in a thin close fitting transparent outfit and was rendered unconscious again. Later he woke up in a different room, this time standing but unable to move. The same smoke that continued to rise from the floor covered the room. Suddenly a very tall being wearing a long dark flowing robe appeared. The robe covered him from feet to neck. The being then walked backwards towards the witness, apparently in an attempt to conceal his face for some unknown reason. He stood next to the witness and performed a complete brain scan on him, without communicating with him. The witness was then taken to another room where he met a tall human-like being with light skin, blond hair, bright blue eyes and wearing a white outfit and tall white boots. The being was friendly and communicated in a more open manner with the witness. The witness was eventually released and taken back to his bed by the two short humanoids.
Source:  Alfredo Colon Torres, Enigma # 72
---
Date: July  1991
Location:  
Time:  
Summary:  
Source:  
Location. Brooklyn Heights New York
Date: July 3 1991
Time: 2100
The witness was standing on a street corner waiting for the light to change when he got the sudden urge to look up to his right. A sudden bizarre stillness came over the area at the same time. He then saw a brightly lit oval shaped object descend from the sky and hover above a nearby building. There were other witnesses in the area who were seen looking up at the object. The craft had four large rectangular-shaped openings. Several human-like figures both male and female could be seen looking out from the openings. The object was smooth with a small dome on top. There were two beings behind each glass panel, one male, and one female. All appeared to emit a certain radiance. One of the male beings seemed to be holding a round red-lighted device in his right hand. The male beings were described as taller than the females with long blond shoulder length hair. Some of the beings had blue eyes and others green eyes. All had high cheekbones and had a light tanned complexion. All wore close-fitting emerald colored outfits with what appeared to be glittering crystals imbedded in them. The craft tilted down as the beings looked down at the witness. The craft then drifted slowly away disappearing behind some trees. The witness apparently perceived some type of mental communication from the beings.
# 1654
Source: Emil C Rodriguez, Unsolved UFO Sightings Summer 1994
---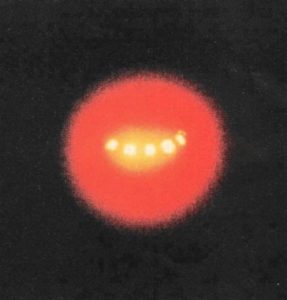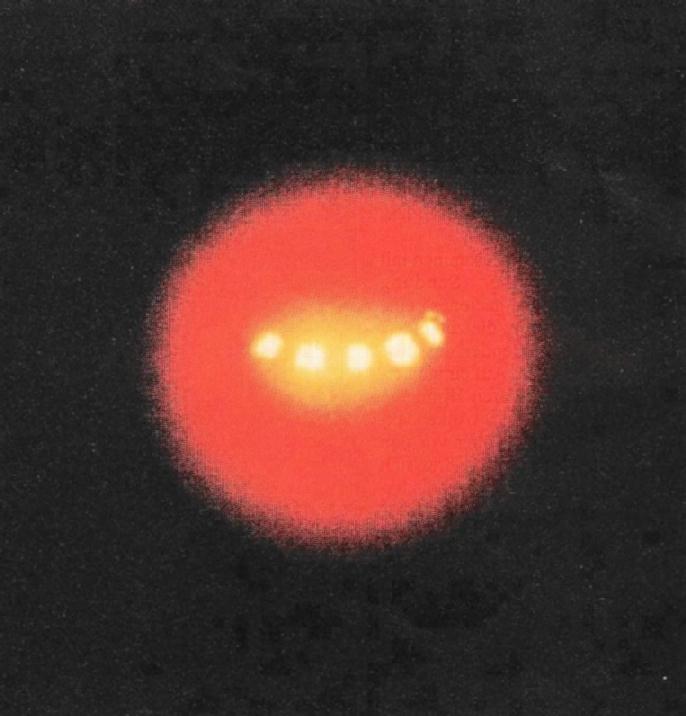 Date: July 7 1991
Location:  Atcixco Pueblo Mexico
Time:  
Summary:  
Source:  
---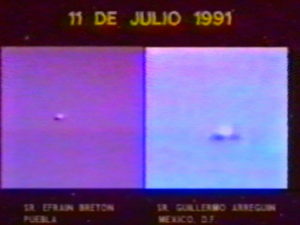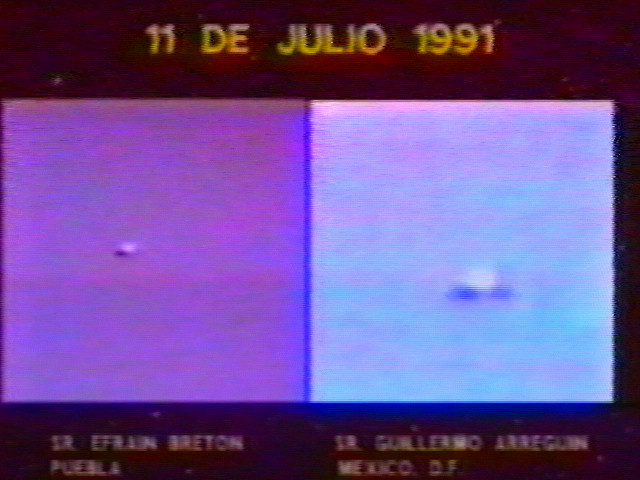 Date: July 11 1991
Location:  Mexico
Time:  0129
Summary:  
Source:  
---
Date: July 21 1991
Location:  Near Springfield Missouri
Time:  0200A
Summary:  Three young teenage girls had stayed up late to watch a TV program and had gone into the backyard to play on a trampoline when they noticed a white oval-shaped light moving rapidly from the side of the house into a corner of the backyard near a large tree. One of the girls now noticed a strange humanoid figure standing near the trampoline. It was described as completely white in color, about 4½ feet tall with thin long arms and a huge pear-shaped head with two large black almond-shaped eyes. The girls then ran back into the house and attempted to tell and older cousin of the incident, but the cousin ignored them and went back to sleep. The girls then re-entered the den and continued watching television. Moments later their cat began acting strangely and the television screen went blank. At this point all three then saw the same humanoid looking at them through a window. The humanoid moved its head in a jerking mechanical manner. The girls then ran to the basement where they stayed for the remainder of the night.
Source:   Duane & Susan Bedell, Mufon UFO Journal # 282
---
Date: July  1991
Location:  
Time:  
Summary:  
Source:  
Location. Near La Tigra, Argentina
Date: July 21 1991
Time: early morning
A lone truck driver was driving at 50 mph near the location when suddenly two very tall figures, one man and the other a woman, descended from the sky at high speed and landed on the truck's hood. The beings were described as blond haired, very pale with long hair and wearing tight-fitting white outfits. The beings remained sitting on the hood until the truck approached the outskirts of town, there they suddenly disappeared. Tracks were said to have been found on the hood of the truck.
# 2
Source: Rick Heiden
---
Date: July  1991
Location:  
Time:  
Summary:  
Source:  
Location. Buluhan, near Kota Bahru, Kelantan, Malaysia
Date: July 22 1991
Time: 1800
Two school children, Yusof Mohamad and Mohamad both 11-years of age found a tiny being about 2.5 inches tall between some stones in their school compound. Yusof immediately grabbed the tiny creature and put it on his hands. However, his friend was afraid of it and asked Yusof to let it go. The boys described the creature as resembling a man except that the body had white stripes. They were unsure whether the stripes were its clothes or part of its body.
Source: Ahmad Jamaluddin
---
Date: July 25 1991
Location:  Near Cabo Rojo, Puerto Rico
Time:  2100
Summary:  The same couple involved in an earlier case was driving in the same area, this time accompanied by their youngest daughter, when their vehicle engine suddenly stalled along a sugar cane field. They exited the vehicle and then heard some footsteps coming from the nearby brush. A human-like figure walked out of the brush and approached them. He was described as about 5-foot 9 inches tall, with long blond shoulder length hair, rosy skin, and hazel colored eyes. He wore a white uniform with a wide belt and hanging from his neck was a large round metallic medallion with a bearded face printed on it. He wore tall white boots and was very well built. The being then easily climbed over a wire fence and told the witnesses to "stop." At this point the witnesses felt a strange calm over them and were floated over the fence. They then followed the being through the sugar cane field. There they came upon a silvery metallic triangular-shaped object hovering four feet above the ground. They were all floated into the object and inside the man told them that the beings that they encountered previously were evil and were here to depopulate the earth. The witnesses were then floated out of the object and taken to their vehicle, which promptly started. They quickly drove away from the area.
Source:   Jorge Martin, Enigma # 58
---
Date: July/August  1991
Location:  Halls Creek, WA 
Time:  2000
Summary:  Dean was travelling on his motor bike when he saw an unusual object, as did the occupants of 2 cars who had stopped to watch it. At this point the engine of his bike cut out. He dismounted to look for a fault. He then remembers kick starting the bike and continuing on his way. How ever, when he arrived at his destination which had only been 10 minutes travel from his starting point, he was amazed to find that it was 2 hours later. Later that night he found a fresh scar on the back of his left ankle.
Source:  Brian Richards/UFORUM. UFORA93056
---
Date: July  1991
Location:  
Time:  
Summary:  
Source:  
Related articles