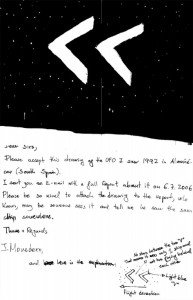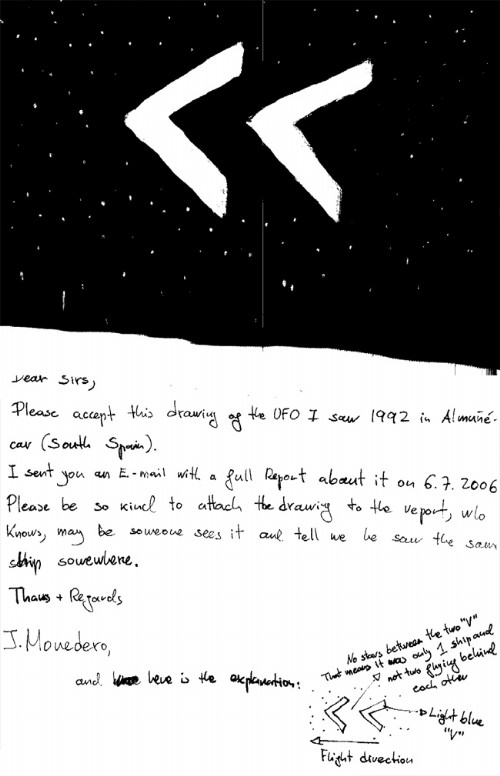 (Last Updated On: July 13, 2016)
Date: August  1992
Location:  Liverpool England
Time:  0300A
Summary:  The two witnesses had gone to bed after drinking tea. Janet woke up with a feeling of absolute terror. She felt as if she had been somewhere, and then landed back in her bed. Harry had also woken up and caught a glimpse of something more substantial than a shadow on the bed; it seemed to recede as if had gone through a doorway. Later when the pair recovered, Janet remembered what had happened. She recollected lying down with bright lights all around her. There were a number of "faceless" beings around her. She believes she was given something to "calm her down." The next thing she remembered was being in another room with several other people that were gathered around a strange man. The man was small, very pale and had huge oval eyes that were very dark. He also wore an odd black fedora type hat. When she looked into the being's eyes she felt an incredible longing to be there. They seemed to contain the whole universe. She thought the little being was not threatening and seemed to possess great knowledge. The being was apparently sharing his knowledge with the others in the room. He spoke of humanity's origin and how we had been genetically engineered. He mentioned that the spirit was separate from the body. After that she found herself in a long, cold, gray tunnel. In the tunnel she saw a man she recognized, that seemed to be deranged. She was told that the man had been pushed to far. She was then taken into a room where she saw a normal looking man that seemed to be a medical doctor. Apparently he performed some gynecological procedure on her. At that point her memory ended.
Source:  Peter Hough, Moyshe Kalman The Truth about UFO Abductions
---
Date: August, 1992: Almunécar, Granada /Andalusia, Spain Sighting
---
Date: August, 1992
Location: New Jersey, exact location not given
Time: night
Summary: In a dream like state a man reported standing shirtless in a room as a short "gray" humanoid standing in front of a "mirror" placed something resembling a cattle prod on his left shoulder blade. Behind the humanoid he noticed a woman with long dark hair watching him. When he woke up he felt a sharp pain on his left shoulder blade, he then ran to the bathroom mirror and saw a "V" shaped scar, reddish and very sore, on his left shoulder blade.
Source: S.P.A.C.E.
---
Date: August  1992
Location:  
Time:  
Summary:  
Source:  
Location. Needingworth, East Anglia, England
Date: August 1992
Time: night
The witness was walking back home and was cutting through a field. His next memory was of being in the field going in the right direction home, but the thing is although he was in the field, he did not remember leaving the road. He was then in a ditch, being prodded and spun around. It felt like tiny little hands were probing him all over. Everything is silent and he sees no lights, he feels confused and powerless to do anything. His next memory is of arriving home forgetting everything that had occurred.
Source: Alien UK, Sightings
---
Date: August  1992
Location:  
Time:  
Summary:  
Source:  
---
Date: August  1992
Location:  
Time:  
Summary:  
Source:  
Location. Not disclosed
Date: August 1992
Time: late night
The two witnesses who live in separate rooms had retired for the night. The two bedrooms faced each other, with a three-foot hallway between the entrances. Some time after going to sleep "Jake" was awakened by the feel of something pulling on his covers. He opened his eyes and saw a strange creature about two feet away from him. As the creature rushed towards him he yelled for his roommate Hal. The creature's long skinny fingers touched Jake's chest and he immediately became paralyzed falling back to bed completely unable to move. As he looked at the creature it appeared that now it was somehow above him. He then heard his roommate yelling for him. Hal recalled that as he ran to assist Jake he ran into to some type of invisible barrier that prevented him from entering Jake's bedroom. He swung at it several times to no avail. Inside the open door he could see a bluish-white light coming into Jake's window. He could also see a dark shape about two feet above Jake's bed and moving down towards it. He kept striking the invisible barrier and then noticed that Jake seemed to be levitating from his bed. His next conscious memory was of waking up at 0730A. Jake recalled that during the encounter with the strange creature the room felt completely devoid of sound as if in a vacuum. He also remembered that the creature had two very long side-to-side eyes, which were squinted and almost closed.
Source: Karla Turner PhD, Unexplained Universe # 1
---
Date: August  1992
Location:  
Time:  
Summary:  
Source:  
Location. Las Vegas, Nevada
Date: August 1992
Time: late night
The witness that had been asleep suddenly found herself floating just above her bed. A strong yellow light appeared across the room through some type of "portal." A figure than appeared in the portal. The figure was described as human-like, bluish in color, of medium built, and with dark blond haircut like a bowl that fell to his ears. His eyes were round and blue. The figure looked at the witness, motioned to her to keep quiet then disappeared.
Source: Letter in Strange Magazine # 12
---
Date: August  1992
Location:  
Time:  
Summary:  
Source:  
Location. Hockliffe, near Milton Keynes England
Date: August 8 1992
Time: morning
A family of four drove to Keynes to do some shopping. At Hockliffe they suddenly ran into a bank of mist that appeared from nowhere. The driver and his wife then recall nothing more until they were no longer in the mist and eight miles further down the road near Woburn Sands. Upon arrival in the town they had severe pains, red marks on their skin of unknown origin and a sense of unreality. (Indeed, this was so serious that the woman thought they may have had an accident and died and actually asked a relative later is she was still alive). They also experienced great problems getting back to normal reality.
Source: Jenny Randles, Alien Contacts and Abductions, the real
Story from the other side.
---
Date: August  1992
Location:  
Time:  
Summary:  
Source:  
Location. Dedestapolsanyban, Hungary
Date: August 11 1992
Time: late night
Awakened by a bright light from outside their home, several family members looked out to see an astonishing sight. A large bright spherical object was hovering over an adjacent construction site. The craft appeared to have several luminous oval shaped openings and was shining a beam of light from a circular opening on its lower half. Inside this beam the witnesses saw several small humanoid figures that flew in the air within the beam towards a nearby apple tree. The beings were described as thin, with featureless heads, long thing arms, and wearing short robe like tunics, no legs were seen. The beings carried small containers and flew around the apple tree collecting as many of the fruit as possible. Soon they flew back into the craft via the same light beam. The luminous object then left the area. No other information.
Source: Kriston Endre, Hungarian UFO Magazine 8/93
---
Date: August  1992
Location:  
Time:  
Summary:  
Source:  
Location. Salem Oregon
Date: August 13 1992
Time: 0900A
The witness was alone at home sitting in the dining room table facing the living room with the kitchen to her left when she caught sight of something outside her kitchen back door window. It was a short hairless greenish-gray figure that quickly walked into the kitchen. The witness watched the figure, as it briefly stood sideways by a storage cabinet. The witness attempted to communicate telepathically but the creature suddenly vanished. The figure had an elongated head and what appeared to be large "eyelids" drawn over the eyes. The witness dog did not seem to react to the intruder. Twenty minutes later as the witness again sat down a greenish three-fingered hand suddenly appeared from behind her quickly touching her wrist. The touch was very painful, almost like an "electric shock", and then the alien hand vanished. Two days later the witness found a round red mark on her wrist.
Source: Linda Moulton Howe Glimpses of Other Realities, Vol. I
---
Date: August  1992
Location:  
Time:  
Summary:  
Source:  
Location. Colinas Del Yunque, Puerto Rico
Date: middle of August 1992
Time: 1700
At least six independent witnesses including three children saw in broad daylight two short beings walking side by side on the middle of the roadway. The beings were described as four-foot tall with shiny light-green skin, very thin long arms, and heads somewhat larger than normal and covered with a stringy light-brown hair. They appeared to be only wearing a pair of white shorts with a red stripe on the side. The children followed the short beings for a short distance until they entered a wooded slope and disappeared. One of the witnesses claims that one of the beings gave her the two finger "peace" sign as he walked by.
Source: Jorge Martin, Enigma # 60
---
Date: middle of August  1992
Location:  Cañada Juncosa, Albacete, Spain
Time:   late night
Summary:  Jose Manuel Sanchez Cabezuelo had already experienced two previous bizarre events on the same isolated stretch of road, which included a block of ice falling on the hood of his car. On this night as he passed km3 he saw a huge light hovering above a nearby telephone pole. The bright light was oval in shape and seemed to deplete his vehicle's energy, which slowly seemed to lose velocity until it only moved a 20 mph. He noticed that inside the egg-shaped craft he was able to see a heavyset dark man-like figure, apparently standing up. The object hovered parallel to the vehicle for a few minutes and then shot away at very high speed. At this point his vehicle began to function normally again.
Source:   Iker Jimenez, Encuentros La Historia de Los Ovni en España
---
Date:  August 27, 1992: A70 Abduction Case – Revisited
---
Date: late August 1992
Location: Cannock Chase Birmingham England
Time: late afternoon
Summary: In order to escape the oppressive heat, the witness had gone on a walk in a wooded area at a local park. As he neared a small clearing he noticed what seemed to be a foggy mist in the center of the clearing. He then noticed a glowing light within the mist. Curious he approached the mist and was able to see a metallic shining object with orange, red, purple, and green pulsating lights within the mist. As he stepped closer he felt compelled to look towards the woods. Two men dressed in tight colored overalls were walking toward him; each carried an object resembling a worker's toolbox and a thin long object, which emitted a thin laser-type light. The men were described as young looking with black hair and identical to each other. The men approached the witness and asked him several questions and told him they were here to take samples. After several minutes of conversation the witness suddenly noticed a slight glow appearing around the figures and began to feel drowsy, he sat on the grass almost feeling hypnotized by the men. The two men then walked into the cloud of mist and vanished. The witness then went back to his car and fell asleep. The witness recalled that the two men had "olive" complexions and appeared very athletic. They both wore a thick belt around their waists.
Source: Tony Dodd, UFO Magazine Vol. 12 # 4
---
Date: August  1992
Location:  
Time:  
Summary:  
Source:  
Related articles