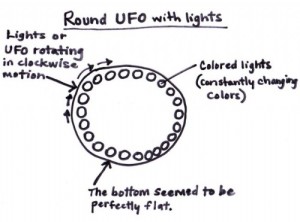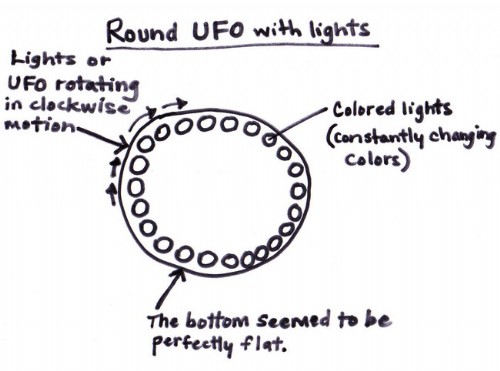 (Last Updated On: September 11, 2016)
Date: July 1993
Location: Pine Bush, New York
Time: 2000
Summary: Kori was watching TV she came screaming into her parent's bedroom and said something was at the door knocking. She said she heard it walk upstairs, walked across the deck, open the outside screen door and knocked on the door. She described the figure as over 7 ft tall, black with arms, legs, head, and hands like mittens. She could not make out a face. By the time her father looked out it had walked behind a parked van and disappeared into the woods.
Source: Bill Brann, WBS Alien Report Vol. 2 # 10
---
Date: July 1993
Location: Between Tabio & Tejo, Colombia
Time: unknown
Summary: Miriam Arce, along with 20 other people reported seeing a brightly lit disc shaped object hovering low over the area. "It projected a beam of light towards the ground, and under it a figure, crystalline in appearance moved around in slow motion." Others saw small gray figures that appeared to be holographic images. A strong energy field was felt in the area.
Source: Press Reports
---
Date:  July 1993
Location:  
Time:  
Summary:  
Source: 
Location. England, exact location not given
Date: July 1993
Time: afternoon
The witness, a repeat abductee, while taking a rest encountered a strange entity in her bedroom. Afterwards, the side of her face that she had been laying on the pillow swelled and turned red. The entity is not described.
Source: Hough, The Truth About Alien Abductions
---
Date: July 1993
Location: Cancun, Mexico
Time: 0100A
Summary: The witness was on vacation and was almost about ready to fall sleep when she looked up and saw three small green humanoids, with large heads and wearing no clothing standing next to her bed. She felt paralyzed and could not move. She went back to sleep and did not tell her family. The beings were about 3 ½ feet tall, thin, with large dark eyes.
Source:UFO PI
---
Date: July 1993: Round object with rotating lights
---
Date: July 1993
Location: South Carolina, exact location not given
Time: 0400A
Summary: The witness woke up after feeling somebody tugging at her ankles. She sat up and saw nothing then went back to sleep. She felt the tugging again and this time she got up and saw a blue light coming from her sibling's bedrooms. As she sat there she saw a figure suddenly appear in the hallway, then two more appeared. These were about 4 ½ feet tall and appeared to absorb light; they had a bluish tint to them. The beings gave the impression of being confused and uncertain. The witness then went back to sleep
Source: Bob Teets, West Virginia UFO's Close Encounters in the Mountain State
---
Date:  July 1993
Location:  
Time:  
Summary:  
Source: 
Location. Rivera, Uruguay
Date: July 1993
Time: night
Two young women reported being attacked by a "wolf-man" type entity. The first victim had her dress torn and received deep claw marks on her chest. The second was "shamed" by what had apparently been a sexual assault by a "lobizon." No other information.
Source: Brad Steiger, Out of The Dark
---
Date:  July 1993
Location:  
Time:  
Summary:  
Source: 
Location. Not given
Date: July 1993
Time: night
Katherina Wilson found herself standing outside at night near the entrance to an underground base that was situated inside a mountain. She saw official looking people and some military personnel. A tall blond being with dark brown eyes approached her and said to her: "Your government is performing cloning experiments. Men and women are being cloned and experimented on. The scientists, the government people and the military personnel use when the experiments are over the clones for prostitution. After they are "through" with them or no longer want them, the clones are killed."
The blond also told her that their technology had been stolen or taken from them, that they had been tricked by the government into believing they would use the knowledge to help the human species, but instead, they used it for their own purposes. That it was out of control, and that it was beyond their ability to stop the government without help from abductees.
Source: K Wilson, "When Nightmares come True—Human Cloning
---
Date:  July 11993
Location:  Campbellton, New Brunswick
Time:  
Summary:  In the early 90s, my sister and I were staying at my aunt for a few days as my parents were away. On one of the summer evenings, at around 7pm, It was a sunny evening and the clouds were fluffy and low. We decided to go for a walk by the wharf. here in Campbellton. Nowadays, it is a fairly busy spot, more touristy, but back then it was just an empty unused wharf, a beautiful, but quiet place to walk by the river. As we were walking I was trailing behind, but I somehow I just turned around and looked up right away. It is hard to explain but I felt there was something there, I almost felt watched. The object was hovering in the sky at a 45 degree angle to where I was standing. I could not hear a thing. My jaw dropped. I could literally not believe what I was witnessing. It was so vivid and close I could see it was metallic, I could see all the details. There was no way this would have been a balloon, a plane or a bird. It was clear as day and I was looking at a metallic hovering silent object in the sky above me. Unlike the classic saucer shaped object that I was used to seeing on TV as a kid, this one looked more rounded; almost like 2 bowls one on top of another. I could clearly see the ridges of the sides and the protruding bottom and top. I was still as a statue looking at this thing and my aunt noticed I was behind, she came up to see what I was looking at. Now, she is a very religious Christian and as soon as she saw it I felt her complete discomfort. she started laughing nervously and asked outloud, "well, what is this… it is so bizarre is it a plane? or perhaps a bird…? I could not believe she was even asking those questions, -as I mentioned earlier it was completely vivid and it would have shaken up the most skeptical person. Suddenly, we were stunned to see it maneuver, in a very organic matter, behind the fluffy cloud. It stayed there for a few seconds, then came back around and stayed stationary for another bit, then it went behind the cloud again and we never saw it again. Another bizarre thing about this, was the fact that my sister never saw it but she was standing right there behind us. we found out a little bit later that she needed glasses; this might be why she could not see, but she remembers our reactions. A couple of years later, we had a group assignment to do in school and one of our subject was the paranormal, I chose to do it on UFOs because of my experience. but another girl joined me saying she really wanted to do a project on UFOs as well because she had a picture. It had been taken by a friend who worked in a lumber yard. That person wishes to remain anonymous. When I saw that pic and I was STUNNED because it was the same style of rounded saucer that I had seen and it was at around the same period. At the time there where no scanner like we have today so we made enlarged photocopies of the picture for our project. I had lost my copy of the project over the years, and a couple of years ago I reconnected with this girl and asked her if she still had the picture. Unfortunately it belonged to her friend whom she did not have contact with. And a few days ago, she sent me this picture a copy of that project. She had found it in her mother's house.

Source: MUFON
---
Date: July 7 1993
Location: Llano de Perdiz, Granada, Spain
Time: night
Summary: Several investigators were driving around an area of previous UFO sightings when the car headlights illuminated an almost 2-meter tall man wearing a pair of shorts, a light shirt and sporting a mustache. The man apparently signaled the car to stop. Flabbergasted by the appearance of the strange man, the investigators stopped. At this point a short dark skinned man appeared. This one did all the talking and asked for a ride to a nearby location for him and his tall light haired friend. The investigators accepted and invited them inside the van. Inside both men sat in the back seat with both legs crossed, an apparent painful position. After arriving at the location both men walked out of the car and quickly vanished from sight. The investigators were stunned as to the quick manner of their disappearance.
Source:S I B Betelgeuse
---
Date: July 8 1993
Location: Lirio Italy
Time: 0800A
Summary: While working on the fields, farmer Domenico C, saw a two a meter tall humanoid. He described it as having a metallic scaly body, robot-like, & gray in color. It had a large round head and two round holes for eyes, from which it emitted a red beam of light. From two round holes on its abdomen area it emitted a beam of blue light. Its whole body appeared to be encased in a yellow glow. Frightened at the sight of the figure the witness ran home to get his rifle. Upon returning the figure was gone. But later while riding on his tractor he saw the strange figure again, which suddenly rose up into the air in a vertical flight without emitting any noise. It disappeared in 20 seconds.
Source: CISU
---
Date: July 10 1993
Location: Val Schizzola, Italy
Time: morning
Summary: A husband and wife team working in their fruit grove spotted a 2-meter tall human-like figure, very bright and shiny like metal. It had two bright red lights in the area of the eyes. Without saying a word it walked away into the brush and vanished.
Source:CUN
---
Date: July 17 1993
Location: Near Rome Italy
Time: 2040
Summary: A family saw a peculiar robot-type humanoid resembling the description given on two previous incidents. The object-robot was seen flying low over the area by the family using a pair of binoculars. While the witnesses called the airport the "robot-object" disappeared from sight.
Source: London UFO Studies, Skylink # 6 and 7
---
Date: July 24 1993
Location: West Palm Beach, Florida
Time: early morning
Summary: The witness suddenly woke up feeling very groggy and heard a peculiar low buzzing sound. Two men came into her bedroom and carried her outside into a waiting, large "military type" truck. The witness was mostly unconscious and groggy during the truck ride. The truck finally entered the side of a large mound or hill through a doorway that opened upwards. The interior was dimly lit and there a strange little being awaited her. The being was about 3-foot tall with slanted eyes and wore a black hooded cape. The being had a greenish gray complexion and seemed to hover just above the floor, sometimes poking the witness with an unseen instrument. She sensed hostility from the being, which kept circling her and trying to approach her apparently in an attempt to force her to lie down on a nearby metal table. The witness resisted and blacked out, moments later she found herself back on her bed.
Source: Karla Turner PhD. "Taken"
---
Date: July 26 1993
Location: Plymouth Scotland
Time: night
Summary: A witness reported seeing a dark object hovering close to the ground. It had four bright lights on its top and multicolored lights below. It illuminated the ground with a red glow. Several figures were seen moving around, apparently in front of the object.
Source: Vivienne Olbison, Quest UFO Magazine Vol. 12 # 3
---
Date:  July 27 1993
Location:  Calabona Beach, Sardinia, Italy
Time:  2100
Summary:  A dozen witnesses sighted a strange humanoid figure resembling a "balloon" flying over the beach area. At first it resembled a round black object that hovered, then it changed to an oblong, irregular one. The witnesses ran down and saw the object enlarging as it flew away from the area, now it looked like a helicopter with a red pulsating light. 
Source: Italian UFO Reporter 10/10/96
---
Date:  July 31 1993
Location:  Near Orihuela, Alicante, Spain
Time:  around midnight
Summary:  A man riding his motorcycle noticed a tall dark human-like figure standing next to a light pole. The figure seemed to be staring at him. The witness rode away at high speed but then noticed that the figure was now running after him at very high speed also, still staring at him. The figure then disappeared and a bright white sphere appeared and followed the witness briefly before leaving.
Source: Año Cero 1-94
---
Date:  July 1993
Location:  
Time:  
Summary:  
Source: 
Related articles