(Last Updated On: January 7, 2017)
Date: early December 1994
Location: Dade County, Florida
Time: late night
Summary: A young boy remembers waking up standing in his backyard looking up at a large hovering triangular-shaped craft. Around the object stood several men wearing military style uniforms and were armed with what appeared to be automatic rifles. One of the men kept yelling to the witness, "Hurry up! Get away there is radiation". A woman stood in front of the witness and communicated with him. Apparently by using telepathy, the woman was described as human-like with carrot red hair and piercing blue eyes. She wore what appeared to be a flowered dress like outfit and was holding a human child on each hand. A girl on one side and a boy on the other side. (As to the meaning of this, I don't know)
Source: Personal Investigation
---
Date: December 1994
Location: Anones, Naranjito, Puerto Rico
Time: afternoon
Summary: On several occasions Rosa Jimenez saw two strange flying creatures that circled overhead every time she went out to feed her chickens. The creatures were about 5 feet 3 inches tall, with large oval shaped heads & glowing red eyes. They had dark leathery membrane-like wings & large claw-like feet & a long pointy beak-like protrusion in the mouth area. Several of her chickens were found mutilated in a strange manner.
Source: Jorge Martin, in Evidencia OVNI # 8
---
Date: December 1994: Close Encounters of the 5th Kind in Monterrey, Mexico
---
Date: December 1994
Location:  Between Kilwinning & Stevenson, Scotland
Time:  late night
Summary:  A family living in an isolated cottage sometimes saw a solitary light standing stationary over to the left of the house. Sometimes the light would slowly move off from their view into the night, other times it would simply disappear as if a light had been switched off. For inexplicable reasons, each member of the family became unnerved in the cottage, especially outside, at times they all felt uneasy in the garage. One evening the husband thought he saw dark shapes running along the drive, like animals, but when he focused on them, they disappeared; the dogs at this time were also quite unnerved. His wife, Hannah, also saw dark shadows on different occasions around the garage. Sometimes while the family was outside they had the feeling of being watched or not being alone. One morning Lee, the 15-year old stepson came running to his parents bedroom quite excited, saying that there was a strange animal in the opposite side of the field. As they jumped up to look, the animal had already disappeared. He described the animal as jet black and considerably larger than a dog. He mentioned as being cat-like, maybe even like a panther. Later the family reported seeing a larger helicopter maneuvering over the area using a huge searchlight that scoured the adjoining fields. Other phenomena were reported in the house, large loud cracking noises and bright blue flashes of light.
Source:  Haunted Scotland
---
Date: December 1994
Location: Grangemouth, Scotland
Time: late night
Summary: A family of four reported seeing strange white lights maneuvering over a nearby field. Their four-year-old daughter reported encountering a strange "little man" with large slanted eyes in her bedroom. The entity apparently touched her shoulder. On one occasion, a bright blue light accompanied the little man. One night as the daughter woke up screaming, the husband & wife reported seeing a hovering white light in the distance.
Source: Eris E. Andys in Fortean Times # 81
---
Date: December 1994
Location:  Byron Bay, Australia
Time: late night
Summary: The witness, who was vacationing in the area, was sleeping in a cottage when he was awoken by a voice calling his name not in an audible manner by telepathically. Extremely frightened he did not open his eyes but was "told" that there were two of them in the room. Opening his eyes he saw two tall dark figures standing in the passageway. Suddenly a calming feeling came over him and he remained frozen in his bed until the morning.
Source: Black Vault UFO Forum
---
Date: December 1994
Location. Bahia Brazil
Date: December 1994
Time: late night
Mrs. Becker recalled under hypnotic regression waking up one late night to see two tall humanoids wearing tight-fitting blue coveralls in her bedroom. The beings insert some type of metallic objects in her ears, it seems electrical but she feels no pain. She then suffers a series of gynecological examinations by the beings and is possibly transported to another location. She describes the beings as having large protruding eyes, thin mouths and large deformed fingers. She is then taken through a red corridor and to her bed. It was already daytime.
Source: Equipe UFO Brazil
Date: December 1994
Location: 
Time: 
Summary: 
Source:  
---
Date: Dec. 11, 1994.
Location: Tiete, Sao Paolo State, Brazil
Time: 2300
Summary: Two observers watched a luminous greenish sphere land nearby them. Two humanoid figures appeared next to the object. They were described as 1.20 meters tall, with very pale skin and four-fingered hands, large staring eyes, and two small holes for a nose. One of the witnesses directed a flashlight at the figures, and a beam of light from the object immediately disabled it. The beings and the object then left. Crushed grass was found at the scene.
Source: Brazilian UFO Report Vol. 1 # 1
---
Date: December 14, 1994: The Trumbull County, Ohio, UFO Incident
---
Date: December 15 1994
Location: La Playa Guayanilla, Puerto Rico
Time: 0300A
Summary: Miss Myrna Rodriguez had been in a deep sleep, when she suddenly had the sensation that her body was lifting up, apparently floating away from the bed. She wakes up with a start and finds herself unable to move. When she looked around, she found herself surrounded by four short humanoids, 2 on each side of her body, who were apparently somehow holding her up in mid-air without any means that she could see. The beings were short & thin, with huge round hairless heads, small pointed ears, & huge dark slanted eyes. They had what appeared to be mole-like marks under their eyes & their noses & mouths were almost indistinguishable. They had thin bodies with long skinny arms. They all wore dull silvery uniforms. With their delicate hands the beings began touching the witness all around her stomach and chest area, at the same time talking to themselves in a low murmur like chatter. The witness was then startled to see that the beings had somehow opened her chest area, without her feeling any pain or discomfort, they seemed to be checking her internal organs, including the heart, which she saw it move as it pumped blood to her body. During the whole experience she felt a sense of joy and peace, and was convinced that the beings were benevolent and were here to help. Soon she floated gently back to her bed where she was able to move and immediately checked her stomach & chest area for any scars and found none. The beings had disappeared.
Source: Jorge Martin in Evidencia OVNI # 5
---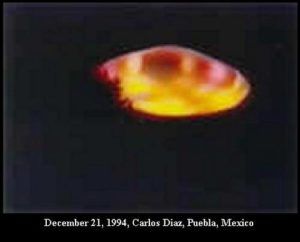 Date: December 21 1994
Location:  Puebla, Mexico
Time: 
Summary: 
Source:  
---
Date:  December 22 1994
Location: Yatzitz, Israel
Time: 2100
Summary: The same night that two young brothers videotaped a strange object over the eastern sky and strange tracks were found near their home, two men, Danny Ezra & Herzl Casatini were relaxing at the latter's home when they suddenly heard an explosion that shook the house. Herzl opened the door to investigate, and was confronted by a nine foot giant wearing metallic coveralls, standing in front of the house. A "glowing haze" blurred the giant's facial features. Herzl slammed the door and motioned his friend to the window to look. Danny stared at the giant for 15 seconds. Herzl called the police, and when they arrived the giant had vanished, but strange footprints & tracks were found in the area. Fruit trees, which were growing beside the giant tracks produced weird genetically, altered products the summer following the incident.
Source: Barry Chamish
---
Date: December 1994
Location: 
Time: 
Summary: 
Source:  
Location. West Lothian, Scotland
Date: December 23 1994
Time: night
John S was sitting watching television when suddenly the picture went haywire. Strange patterns formed across the screen before it went blank. In the kitchen, the emergency lighting, running on batteries failed. The next thing John remembers was being in a room with no windows. Looking him over was a "human looking alien." And John wasn't the only "visitor"—sitting on a bench were four young men staring blankly as if they couldn't believe what they were seeing. The entity turned to John and, though it uttered no sound, a warning echoed through his head, "Don't go and investigate." The being then spun around and walked through a door into what appeared to be a corridor. It struck John forcibly then that he might not have been in a ship, but a building. John was strongly tempted to follow the being into the corridor and open a door, one of several he could see at regular intervals along the smooth contours of the craft's walls. However he sensed that he would see something that might not be particularly pleasant. At this point John woke up to find himself back home with the room bathed in red light. He soon noticed puncture marks in his neck. Small red ones, which felt itchy and sore as if a cluster of hypodermic needles had been stuck into his skin.
Source: Ron Halliday, UFO Scotland
---
Date: December 1994
Location: 
Time: 
Summary: 
Source:  
Location. Jordanow, Poland
Date: December 26 1994
Time: 2300
The day before a citizen of nearby Siepraw noticed a strange, blue green light, which moved from NE toward SW direction at about 1700 hrs. The next night Miss Wiktoria Lesniakiewicz suddenly awoke with a start with an odd feeling. She opened her eyes and noticed a big, green shining humanoid figure, which was carrying something resembling a candle in its hand. She shouted and the figure suddenly disappeared. The same night other residents in the area reported encountering bizarre robot-like humanoid in their bedrooms.
Source: Robert K Lesniakiewicz
---
Date:  December 26 1994
Location: Siepraw, Poland
Time: 0230A
Summary: Mrs Krystyna M was suddenly awakened by a curious voice coming from the TV-set. Someone said something to her in an unknown language. She opened her eyes and saw a gray figure with a large head on the TV screen. Suddenly the gray figure stopped talking and the TV shut itself off. During the incident the bedroom had been flooded by a bright orange light, which also disappeared when the TV shut off.
Source: Robert K Lesniakiewicz
---
Date:   December 26 1994: Gosford, Australia
---
Date: December 29, 1994: Delta Shaped Craft over LaCrosse
---
Date:  late 1994
Location: Melodale, Tasmania, Australia
Time: 2200
Summary: Returning from a visit a woman saw an intense black figure pass behind the car as her husband drove past the gate. The woman reported the figure as a tall, dark elongated shape, with a fuzzy definition on the edge but otherwise very black. The shape floated just above the ground and past within 3 meters from the witness, it then disappeared up a nearby slope. The first witness husband who described it as tall very black and shaped like a milk bottle saw a second similar figure during the same time. It glided over the roadway then across the lawn in front of the startled witness. He heard a slight sound like a breeze, as the shape was closest to him, prior to disappearing around the corner of the house.
Source: Tasmanian UFO Report 1996
---
Date: December 1994
Location: 
Time: 
Summary: 
Source:  
Related articles