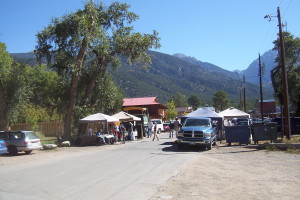 (Last Updated On: December 14, 2016)
Date: 1994
Location: Northwest Queensland Australia
Time: 0445A
Summary: Andy, a worker at an isolated drag line of an open cut mine, felt someone was watching him. He then noticed two, average sized persons dressed in silver body suits. They turned away, and about 5 minutes later, an object took off at great speed and disappeared.
Source: Keith Basterfield.
---
Date: 1994
Location: A Espenuea, La Coruna Spain
Time: evening
Summary: After receiving telepathic messages a retired technician saw in a secluded area a landed disc shaped craft, 10 meters from his position. Two beings exited the object, one a tall blond male, of Nordic appearance wearing a white robe, and a shorter creature resembling a robot. The two figures briefly approached the witness but did not communicate with him. They both walked back into the object, which took off at high speed.
Source:Jose Lesta & Miguel Pedrero
---
Date: 1994
Location:  St Paul, Minnesota
Time: evening
Summary: Janice and a friend were browsing at the local huge mega shopping center "Mall of the Americas" and Janice had stopped to look at a kiosk in a well-traveled area. Janice looked up from the kiosk to suddenly notice a strange couple standing in front of them. The couple had features that suggested a racial origin not familiar to her. She also noted that the eyes seemed to be solid black. Janice has a rather high degree of psychic sensitivity, and she felt a powerful sense of fear that seemed to emanate from these strangers. It was a sense that Janice could only describe as being "behind enemy lines." This strange couple simply stood there for a few seconds, apparently observing them. Janice brought them to her friend's attention, but her friend did not seem to sense the same strangeness about them. The mysterious couple then walked away, melting into the crowd. Two more times that day, while still at the mall, Janice noted them. She sensed that the strangers seemed to be observing them. Then the strangers would again melt away into the crowd and disappear. Once Janice and her friend had left the mall, they no longer encountered these strangers, and have not seen them since.
Source: Craig R Lang, Human Aliens—Close Encounters of the Third Kind in Our Every Day World
---
Date: 1994: Moss, Norway Oval Shaped Black Discs (Possible Abduction ?)
---
Date: 1994
Location:  Budapest Hungary
Time: night
Summary: 29 year old, Kati reported that on several occasions she was visited at night by "aliens" and they made love to her. At first the aliens visited her mother, but turned towards her when they found out she was 7 weeks pregnant. One night several short, glowing gray creatures slipped into her bed, and after several attempts took the fetus away. One of the creatures assured her by using telepathy; the baby would grow up with them and be safe. Since that night she claims she had received regular visits by different types of humanoids described as tall and human looking with red hair, which she says are passionate lovers.
Source: CAUS     
---
Date: 1994
Location: South Florida
Time: night
Summary: The eight year old witness woke up suddenly in her bedroom with the feeling that someone was with her in the room. She turned and saw a very tall, thin, humanoid with large eyes, standing next to her bed staring at her. His skin seemed to be glowing. Something told her that it was OK and she went back to sleep.
Source:  UFOs and Aliens among us
---
Date: 1994
Location: Adelaide South Australia
Time: night
Summary: A woman awoke with a vivid recollection that during the night she had been naked on a cold, metallic table, lying on her back. Her legs were drawn up, knees up, and her legs apart. Four or five beings were around her. These had huge, black almond shaped eyes, a thin slit mouth, no lips, two holes for a nose, and tiny ears. Their heads were large and the body thin. Body color had a green tinge. All the beings were looking at her with one being looking directly into her face.
Source: Keith Basterfield
---
Date: 1994
Location: Near San Juan Puerto Rico
Time: night
Summary: The elderly witness reported encountering 4 or 6 little gray humanoid figures hiding under a bed (!) then chasing them out of the house with a broom. No other information.
Source: Joyce Murphy
---
Date: 1994
Location: Near Crestone, Colorado
Time: night
Summary: A man driving on an isolated road saw something zip out in front of his car. He slammed on the brakes, but he was sure he had plowed right into it. He screeched to a stop and looked in his rearview mirror and was stunned to see a group of 15 to 20 undulating, transparent three-foot long creatures. "They were not all there, it's like they were only partially visible." He quickly drove away. (Source calls the creatures "Prairie Dragons.")
Source: Christopher O'Brien in Enter the Valley
---
Date: 1994
Location:  Near Geneva Switzerland
Time: night
Summary: Several young boys, including the 10-year old main witness and two 16-year old teenagers were playing around some thick hedges, with their bicycles and roller skates. In an area located at a small park, the witness's 12-year old cousin suddenly shouts and points at the hedges. Turning the witness saw at approximately 7 meters away, half hidden behind some shrubs a very small figure about 1.45m in height, very thin. Since it was dark, the witness saw few details. Suddenly his cousin shouted again, that the creature was hairy, as it ran from behind a shrub. At this point the witnesses noticed that the creature had long arms that almost touched the ground, and enormous eyes, very black in color, in contrast with its white-gray skin, which appeared to be covered by "blue" patches in some places. Its head was slightly larger than normal and appeared to be oval in shape. Terrified the juveniles quickly left the area, some locking themselves inside their parent's car. Apparently they did not see the creature again.
Source: GREPI site
---
Date: 1994
Location: Sydney Australia
Time:  late night
Summary: Soon after seeing several large maneuvering objects over the area, the witness was laying in bed when he felt a presence in the room & heard some shuffling noises at the foot of the bed. The he felt a sharp pain, like a pin being stuck in his toes. He felt hands around his feet then he was able to look up and see five small figures looking at him from the foot of the bed. The beings had apparently come out of the wardrobe which now looked like the inside of a large hangar which went back into the wall a considerable distance. One of the figures then proceeded to stick a long needle like implement into one of his toes. He then noticed three more figures come out of the wardrobe stand at the foot of the bed and proceed to stick something into his leg. He was then able to move again. He then lifted his leg and stared directly at the beings. They were about 3-4 feet tall, with long arms, smallish heads, dark grayish in appearance with lizard like scales the skin seemed the same color throughout the body. One seemed to be the leader as it ordered the other ones around. At one point as one of the beings grabbed his ankles he noticed that it had three long thin fingers. Soon the beings walked back into the hangar-like wardrobe and disappeared inside, the wardrobe-hangar then disappeared into a cloud of vapor.
Source:NUFORC
---
Date:  1994
Location:  Kent, Connecticut
Time:  
Summary:  We were driving along 7 into the town of Kent when we noticed a car stopped up the road and people out of the car. As we approached we saw them looking up. I was 9 but remember so clearly turning my head and seeing a large round craft hovering over the tree tops. Lights around it and a white X along the bottom. I was with my mother and grandmother who all witnessed this. We rolled the windows down and it was silent. We decided to then keep driving and not hang back to see what happened. I will never forget what I so clearly saw that night. I'd love to find anyone else who was there and saw this.
Source:  ufo.net
---
Date:  1994
Location:  Dundonald Hill, Ayrshire, Scotland
Time:  
Summary:    Josephine was walking on the hill with her two pet Labradors, when suddenly the two animals went berserk, running around in circles growling and snapping at the air before finally sinking to the ground with their tails tucked beneath them. Then Josephine saw a "huge creature" which appeared some distance to the side of her. It did not seem to be solid as Josephine could see the grass of the hill through its body, but it was covered in "longish, charcoal colored hair." It made no indentations on the grass. Its eyes were two long slits, which glowed a bright red, it had two holes where the nose should have been, and very thick lips, and it stood well over ten feet on two legs. Terrified the witness began to pray, the creature after a few moments slowly faded out of sight. She left the hill in a hurry, and not to far behind, her two whimpering dogs. 
Source: Phantoms And Monsters
---
Date:  1994
Location:  
Time:  
Summary:  
Source:  
Related articles