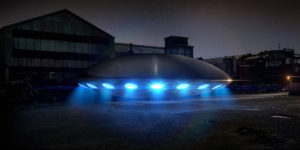 (Last Updated On: July 17, 2016)
Date:   early December 1995
Location:  West Dade County, Florida
Time:  0300A
Summary:  Awaken by the sounds of his barking dogs Rene Revilla Jr. & a farm hand ran out to see three tall blond haired men wearing gray coveralls ride away in what appeared to be 4 wheeled swamp buggy type vehicles. The men were tall & very muscular in appearance. They disappeared towards the west into an area known as the East Everglades. The farm hand fired a shot at the men, bud did not hit them. Soon after they saw a large white light descend over the nearby swamp, two smaller white lights emerged from the bigger object and shot away at high speed. The light hovered over the area for a while. The witness is quite sure that the men were somehow connected with the bright lights.
Source:  Personal Investigation
---
Date:   early December 1995
Location:  Gurabo, Puerto Rico
Time:  0400A
Summary:  Fearing additional attacks on his rabbits, Jesus Sanchez decided to mount a watch for any intruders. Using a light bulb to temporarily blind a strange creature, he caused it to seek shelter behind a tree. When the light was turned off, the creature raced past him out of the darkness allowing only enough time for a terrified Sanchez to deliver to stiff blows with his machete against the creature's skin. The blows made a sound like a hollow drum.
Source:   Scott Corrales, Chupacabras & other Mysteries
---
Date:   December 1995
Location:  Near Salamanca, New York
Time:  0800A
Summary:  The three witnesses were hunting deer in The Southern Tier, when they thought they saw a bear coming out from behind a nearby tree, but the creature ran on two feet, and was making ungodly noises as it ran after the witnesses. It nearly caught up to them as they reached their truck. Before they could leave the creature smashed out the front window of the truck. They described the creature as a mix between a gorilla and a man, and with bright yellow "evil" looking eyes. 
Source:   Western Bigfoot Society
---
Date:   December 1995
Location:  
Time:  
Summary:  
Source:  
Location. Barrio Valenciano, Puerto Rico
Date: December 1995
Time: 1900
The barking of her dog that was in the high terrace overlooking her backyard alerted Maria De Gomez. Upon investigating she was startled to see an ashen gray creature about 75 pounds and standing some 4 feet tall. It loomed over the defiant dog in silence as if trying to browbeat it into submission. The creature's eyes were somehow able to light the entire terrace with a clear, whitish light like that of a bulb. The witness eyes met those of the creature and stare it down. The gargoyle-like entity slowly covered its pointed face with its wings then moved away from its position, slinked against a wall it half hid behind a washing machine. Eventually it took a few awkward steps toward the railing surrounding the terrace, jumping on it and flew off into the dark sky. In another occasion Maria had seen two small silver suited gray colored beings hold hands and jump over a fence to escape from a watchdog.
Source: Scott Corrales, Chupacabras & other Mysteries
---
Date:   December 1995
Location:  
Time:  
Summary:  
Source:  
Location. Near Cambalache, Puerto Rico
Date: December 1995
Time: 2100
Mr. Eliezer Rivera accompanied by a second witness were on their way home from church when they both spotted a bizarre creature standing on the side of the road. It was described as being about 4 feet tall, & in a hunched over position. It had short thin curved arms. Under its arms it had what appeared to be a membrane that seemed to connect the arms with its torso. It had three fingered hands with membrane in between the fingers also; it had long sharp claws at the end of its hands. It head was oval shaped & it had large almond shaped eyes that emitted an intense red-orange luminosity. It appeared to be covered with dark coarse hair. As the creature stood there looking at the witness vehicle, Mr. Rivera became curious and exited the vehicle to approach the creature. The creature seemed to make strange sideways movements with its head. The other witness was terrified and begged Rivera to return to the vehicle. As Rivera neared the creature, this one suddenly took out a long very sharp protrusion from its mouth & moved it in & out three times very quickly. This frightened the witness who quickly returned to his vehicle. He noticed that the creature had a strange multi-colored sharp crest that ran from the top of its head down to the small of its back. As the two watched incredulously the creature suddenly shot up into the sky like a bullet quickly disappearing from sight.
Source: Jorge Martin Evidencia OVNI # 10
---
Date:   December 1995
Location:  
Time:  
Summary:  
Source:  
Location. Passa Tempo, Minas Gerais, Brazil
Date: December 1995
Time: night
Lucas Anicodemos Da Silva saw two short humanoid figures on a field that appeared to have a single luminous eye on the center of their heads and what appeared to be traces of normal "eyes" on the sides. Near the humanoids hovered a large bright white light only a few meters from the ground. Terrified the witness fired two shots into the air. At this point the silvery-garbed figures ran towards the hovering light and were apparently absorbed or sucked into it. The light then shot away at high speed.
Source: Antonio Faleiro, Brazil
---
Date:   December 1995
Location:  
Time:  
Summary:  
Source:  
Location. Bairro Camaqua, Ceara, Brazil
Date: December 1995
Time: night
Several boys walking along an empty field spotted what appeared to be a human-like figure standing in the field holding what appeared to be a luminous "pale" in one of his hands. His body emanated luminous flashes of light as it moved around. Terrified the witnesses ran from the area
Source: Revista Brasileira Ovni
---
Date:   December 1995
Location:  
Time:  
Summary:  
Source:  
Location. Near Asuncion, Paraguay
Date: December 1995
Time: night
Leoncio, an elderly cattle breeder was on his way home on his moped when suddenly the motor stopped. He stops and checks on the moped in an attempt to find out what is wrong. Suddenly from above a luminous cylinder shaped object descends to about 50 meters above the ground. Suddenly a hatchway is opened on the cylinder and the dumbfounded cattle breeder sees two human-like figures staring down at him. Leoncio suddenly floats up towards the opened hatchway but is able to react fast enough and grabs a small palm tree. Clenching the palm tree a powerful force keeps pulling on him from above. From the object a molten sticky substance resembling rubber falls on the witness in a possible attempt to make him release the palm tree. But he continues to struggle and suddenly the hatchway is slammed shut and the cylinder shaped object shoots up at incredible speed quickly disappearing from sight. For two weeks the aging cattle breeder lay semi-conscious on his bed, its body covered with abrasions and burn blisters. He no longer goes out at night. 
Source: UFO 2000 LM Corp. Moscow
---
Date:   December 1995
Location:  
Time:  
Summary:  
Source:  
Location. San German, Puerto Rico
Date: December 1 1995
Time: night
While a local farmer found dozens of his rabbits slain and some missing, other local residents reported seeing a strange 3-foot tall being, brownish-gray in color, with slanted eyes and small hands and equipped with what appeared to be wings. It was also apparently responsible for the death of a goat.
Source: Scott Corrales, Chupacabras & other Mysteries
---
Date:   December 1995
Location:  
Time:  
Summary:  
Source:  
Location. Manchester, England
Date: December 4 1995
Time: late night
The witnesses woke up to the sound of their daughter crying hysterically. They tried to move but found themselves paralyzed. At that moment the bedroom curtains lit up brightly and there was a whooshing sound from outside. The husband was able to move and got to look outside the window. He saw a glowing object on the road, and a number of men wearing boiler suits that appeared to be digging up the garden. They eventually checked their daughter's room and found that she was all right. They then went back to sleep. They then went back to sleep. The next morning there was no evidence of the events witnessed in the garden.
Source: Peter Hough & Moyshe Kalman, The Truth About UFO Abductions.
---
Date:   December 1995
Location:  
Time:  
Summary:  
Source:  
Location. Sannag Province, near Berbera Somalia
Date: December 5-7 1995
Time: unknown
A UFO was reportedly shot down. The craft however could not be recovered, so it was destroyed on site and all the witnesses killed by covert forces to simulate an ET attack according to a reliable confidential CSETI source. No other information.
Source: CSETI Crash List, Journal of the Anglo-Somali society
---
Date:   December 1995
Location:  
Time:  
Summary:  
Source:  
Location. Rodovia dos Imigrantes, Brazil
Date: December 9 1995
Time: unknown
On the outskirts of this city a bright UFO was seen on the ground. Next to the object stood a humanoid figure about 1 meter in height, with a large head and dark oval shaped eyes. No other information.
Source: GEPUC Brazil
---
Date:   December 1995
Location:  
Time:  
Summary:  
Source:  
Location. Hialeah Gardens, Florida
Date: December 9 1995
Time: 1950
An anonymous man reported seeing in the area behind 9923 W. Okeechobee Rd. a brilliant object descend from the sky and appear to land into a nearby man-made lake, behind an apartment complex. Armed with a flashlight he approached the site and reported seeing two beings in the water with large heads and bright luminous eyes that appeared to be flashing & blinking, they seemed to be swimming in the lake waters. The witness briefly illuminated the creatures with a flashlight, and reported that their eyes seemed to flare up; he then quickly ran away from the area and called the police. It is not known if the police found anything.
Source: Personal Investigation
---
Date:   December 1995
Location:  
Time:  
Summary:  
Source:  
Location. Rennes, France
Date: December 10 1995
Time: early morning
The witness suddenly woke up one early morning feeling totally paralyzed; he is only able to keep his eyes open. He feels the presence of several beings in his room, which is divided with his sister. The beings are standing around in several places in the bedroom. The beings are tall and large, the largest, which is at least 2 meters in height, they all have slim bodies with very long arms and slim legs. Their bodies appeared to be made out of one single "block", from head to toes, without any visible clothing. He counts at least 10 of these beings in the bedroom. A smaller being (1.60m) stands closer to the witness and seems to be attempting to control his mind. This being is somewhat upset at the witness resistance. The witness turns his head and sees about 4-5 of the humanoids standing around his sister's bed, the creatures seemed to be doing something to her foot and the witness hears her groan. The witness then directs all his strength in order to break the paralysis and feels it ebbing. The creatures again direct their attention towards him. The room seems to darken and a circle of light becomes visible in the ceiling and inside the circle he sees symbols resembling hieroglyphics. A beam of light now becomes visible and is directed towards the sky. The witness so far has remained conscious during the "intrusion". The witness has further vague memories of meeting other more human aliens, described as tall, fair and blond and shorter brown haired child like humanoids.
Source: GREPI, Switzerland
---
Date:   December 1995
Location:  
Time:  
Summary:  
Source:  
Location. South Dade County, Florida
Date: December 11 1995
Time: 0100A
The witness awoke to a white haze in his bedroom, it suddenly dissolved, and several dozen small "angel-like" creatures appeared. These were described as about 3 foot tall, with white wing-like protrusions and with little lights. Their faces seemed to be a gray-human combination with the pupils of the eyes larger than a normal human and the faces larger in proportion to the body. The experiences made the witness feel elated.
Source: Skyscan Vol. 3 # 1
---
Date:   December 1995
Location:  
Time:  
Summary:  
Source:  
Location. Urbanizacion Country Club, Rio Piedras, Puerto Rico
Date: December 13 1995
Time: morning
Carmen Vazquez accompanied by her 5-year old daughter was on her way home when the little girl pointed out something in the sky. Looking up she saw a shiny metallic oval shaped craft flying slowly overhead & disappearing towards the nearby El Yunque Mountain. According to the little girl, the object had numerous windows and inside she was able to see several gray colored figures with huge black eyes looking down on the car.
Source: Jorge Martin Evidencia OVNI # 9
---
Date:   December 1995
Location:  
Time:  
Summary:  
Source:  
Location. Zaragoza, Spain
Date: December 14 1995
Time: night
Three members of the Astronomical Society of Zaragoza (one involved in a very similar incident in July 1994) watched a huge winged bird-like creature covered with feathers and scales. It did not seem to move its wings as it glided silently over the area disappearing into the distance. This time the creature did not seem to emanate light.
Source: Ramon Navia, "La Verdad Oculta"
---
Date:   December 1995
Location:  
Time:  
Summary:  
Source:  
Location. Near Guanica, Puerto Rico
Date: December 21 1995
Time: 0300A
44-year old mechanic, Osvaldo Rosado was up late washing a car. As he walked toward the patio of his home to shut off the water where the hose was connected, he was suddenly grabbed from behind. When he tried to fight off the intruder, he was shocked to see a black haired "gorilla" type figure about 7 feet tall, with large luminous red eyes. The creature ran off and Rosado drove himself to a nearby hospital to treat some cuts on his abdomen. In the same area mutilated bloodless chickens had been found.
Source: Linda Moulton Howe
---
Date: December 28 1995
Location: Trinidad
Time: 17:30
Summary: Seismic ship captain reports damage to towed equip. by huge underwater obj.. Obj. rises from ocean, seen on radar for 10 min..
Source: National UFO Reporting Center
---
Date:   late December 1995
Location:  Near Harker's Island North Carolina
Time:  2245
Summary:  Rex Silverwood was out one cold winter night when he was drawn to the presence of a strange grouping of lights flying slowly, high over the property. The lights seemed to outline no discernible shape; simply 5 irregularly grouped white lights. His wife observed the lights also but went back inside the house. Two of the lights will fly repeatedly over the area back & forth making an odd vibration humming sound, which was difficult to hear. Soon the witness attempted to obtain psychic impressions of the pilot. After about a minute, he received the distinct impression of a non-human intelligence and he tried to convey a friendly mental hello. He was rewarded with a definite feeling of a mutual connection with an alien mind, which acknowledged his mental and physical presence and conveyed a feeling of friendship and a wonderful sense of peace. He lost sight of the craft and watched the second one flying back and forth as he walked further into the darkened field. Suddenly three luminous figures appeared clearly right in front o him in a V-shaped formation. Startled he stopped in his tracks and noticed that he could see right through them, yet they had definite outlines. A fourth figure seemed somewhat hazy but was also visible to the left. They appeared as short humanoid beings with two arms and two legs each, with one large bulbous head graced with two extremely large lidless black eyes and pale gray skin. Small mouths and nose less nostrils were apparently on their pale gray faces. There was no apparent visible clothing. The witness and the beings stood there regarding each other when the being closest to him lifted its arm and pointed into the darkness toward a part of the clearing. He want walking in the direction where the being had indicated, hoping to make contact with them. As he continued to walk he heard the mental command of "Stop there." He stood there for about 20 seconds then looked around realizing the images (figures) had vanished. He then heard a sound like a high-pitched electronic vibration like he had heard earlier, but louder now, came into his ear. The sound kept getting louder and seemed to come from all around him. The sound abruptly ended and the witness saw what appeared to be the possible source. A huge dark circle silhouetted against the clear sky. On the object's outer rim he could see a dim circle of red lights. Despite the cold he felt warm and experienced a feeling of well-being. Later back in the house he realized that he could not account for a period of three hours.
Source:   The Black Vault Forum
---
Date:   late December 1995
Location:  Near Sepang, Selangor, Malaysia
Time:  unknown
Summary:  Witnesses encountered three short beings with large round heads. No associated object reported.
Source:  Ahmad Jamaluddin
---
Date:   December 1995
Location:  
Time:  
Summary:  
Source:  
Related articles