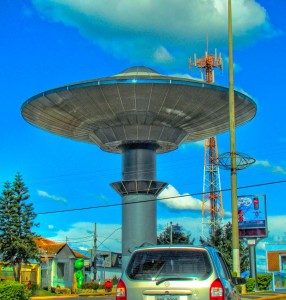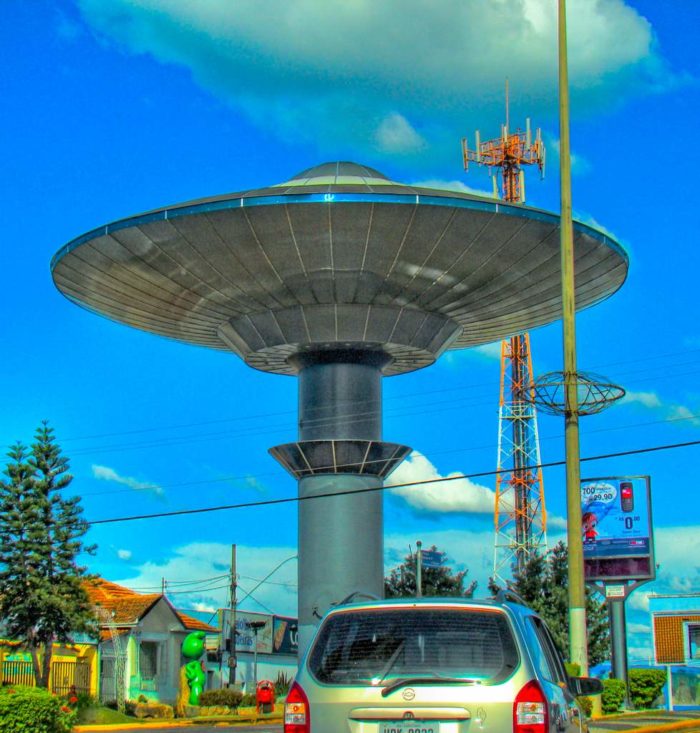 (Last Updated On: July 17, 2016)
Date: April 1996
Location: Alfonso Calderon, Sinaloa Mexico
Time: unknown
Summary: A horrifying winged creature that left tooth marks on her neck reportedly attacked 21-year-old corn farmer Juana Tizoc. She said the beast had horns and flew. At the same time livestock and other animals in the area were being found strangely mutilated.
Source:  Tucson Weekly
---
Date:  April 1996
Location:  Gota de Agua, Paraiba, Brazil
Time:  evening
Summary:  During a spate of numerous UFO encounters in the area, a woman reported seeing a landed silvery disc-shaped object and standing next to it was an undescribed "being". Others saw a silvery disc flying over the valley. 
Source:   UFO Roundup Vol. 1 # 10
---
Date:  April 1996
Location:  Varginha, Brazil
Time:  night
Summary:  A woman sitting on the verandah of the restaurant at the Varginha Zoo saw a strange creature, fitting the earlier reports of humanoids, looking at her from behind a railing a few meters away. The creature ran off, vaulting a low wall. Zoo staff reported that over the past three months there had been a rash of unexplained deaths amongst the animals in the zoo, averaging at least one animal a week, often with no signs of a cause of death.
Source:  Edson Boaventura
---
Date:  April 1996
Location:  
Time:  
Summary:  
Source:  
Location. Dresden, Germany
Date: April 1996
Time: night
The witness was sleeping in his bed when he suddenly awoke to some kind of movement at the edge of his bed, by his feet. Suddenly as if coming out of the floor, a dark shape arose and stood staring at him. He was not able to move but could now distinguish the shape to be that of a short dark skinned female, with long black curly hair, sleek human facial features, about 22 to 25 years of age, she appeared to be friendly. The witness could only see her torso. She maintained a telepathic control of the witness, as he seemed to examine and massage his feet. After a few minutes the witness hears a loud whistling noise and the figure disappears. The next morning he woke up to find his feet bloody and scarred but without any pain. The feet appeared to be covered in small cuts. On April 14 the witness saw a bright yellow-white spherical object flying over his balcony in the rear of the house.
Source: Mr. Gerd Kirvel in Greyhunter UFO Site, Germany
---
Date:  April 1996
Location:  
Time:  
Summary:  
Source:  
Location. Boyd, Alabama
Date: early April 1996
Time: night
Emma Wilson heard noises coming from the horse barn and went to investigate. In a field near the barn black hairy creature confronted her about 4 ft tall, with a crest-like protrusion on top of its head resembling that of a rooster. The creature emitted some strange noises but at no time attempted to attack Mrs. Wilson. Before it vanished into the darkness something long and sharp came out of its mouth several times. Mrs. Wilson found a dead horse and several dead rabbits they all appeared to have been drained of blood. Strange tracks were also found in the barn area.
Source: Jorge Martin, Conspiracion Chupacabras
---
Date:  April 1996
Location:  
Time:  
Summary:  
Source:  
Location. Mason Michigan
Date: April 1 1996
Time: unknown
It was reported by news media both TV and printed, that the unclothed body of a small, thin silvery skinned humanoid had been discovered in the yard of a local resident when the property owners were raking the leaves. The partially decomposed body was reported as being less than four-feet tall and having a larger than human head. The media reported that authorities to the campus of Michigan State University in East Lansing for study transported the body in question. No other information, but the date makes this report dubious.
Source: UFO Sightings in New Mexico & the World
---
Date:  April 1996
Location:  
Time:  
Summary:  
Source:  
Location. San Antonio de Los Sauces, Chiapas, Mexico
Date: April 1 1996
Time: night
Julieta Calderon awoke to discover almost 20 dead, blood-covered sheep on her property. The dead animals throats had been ripped. One of the security guards at the ranch recalled seeing a naked albino-like "person" 20 inches tall hiding among the bushes. He and his companion went after the creature without much success.
Source: Scott Corrales, Chupacabras & Other Mysteries
---
Date:  April 1996
Location:  
Time:  
Summary:  
Source:  
Location. West Dade County, Florida
Date: April 4 1996
Time: 0330A
Awaken by noises from his animal pens a farmer spotted a short yellow hairy creature running from the area, it appeared to be bipedal & seemed stooped over. The witness grabbed a stick and struck the being several times with no apparent effect. He then called the police. Dead goats with strange incision wounds on their necks were found the next morning. Also tracks were located. A month later the witness and other residents in the area saw two large white lights descend into the Everglades about a mile west of his location. These lights had been seen in at least two occasions.
Source: Personal Investigation
---
Date:  April 1996
Location:  
Time:  
Summary:  
Source:  
Location. Ciudad Juarez, Nuevo Leon, Mexico
Date: April 10 1996
Time: night
In a ranch near this city, several livestock and goats had been found mutilated and curiously devoid of blood. One night during a party, the son of the ranch owner saw a mysterious humanoid figure (not described) on top of a fence, then on the roof were others heard footsteps. Several roosters and chickens were found mutilated the next day. Also some of the neighbor's goats.
Source: Marco A Reynoso
---
Date: April 11 1996
Location: Atlantic Ocean
Time: 20:00
Summary: During a flight from Boston to Amsterdam a strange point of light could be seen for almost the whole flight. When flying from Boston to Amsterdam on a Northwest DC-10, my girlfriend and I noticed a strange light off to the lower port side of the airplane at a distance of about 2 to 3 miles. At first I thought that the light could be a reflection from one of the navigation lights of the DC-10. After watching the light for about an hour we decided that that wasn't the case. It would change position and color. We could simply tell that it was some sort of object. After a while, we would just take a look out the window every 20 minuets or so. Every time we looked out it was still out there. At one point we asked another passenger and a steward to take a look and they were amazed as well. The light disappeared when we started to overfly some shipping, probably about 200 miles from Ireland. After the flight we joked about the "UFO" that we saw, but we were still left with an unsettling feeling. I am a private pilot and I have seen nav light reflections and air traffic at night, this light was not even similar.
Source: National UFO Reporting Center
---
Date: April 11 1996
Location: Miami Florida
Time: late night
Summary: The witness, Anna Maria woke up and became aware of a little white being kneeling by her bed. At first she thought it was her sister, but soon realized that it was not. She remembers hearing the phrases, "The son," and "sleeping." Later that night she experienced a vivid dream of being in a large dome-shaped windowless room where many other people, some very tall, were talking about aliens and whether to be afraid of them or not.
Source: Skyscan Winter 1999
---
Date: April 12 1996
Location: Nikiski, AK
Time: 02:00
Summary: Household awakened by obj. that streaked overhead. Bright light in front, vapor trail left in sky. Obj. returned, hovered, turns red.
Source: National UFO Reporting Center
---
Date:  April 1996
Location:  
Time:  
Summary:  
Source:  
Location. Hialeah Gardens, Florida
Date: April 13 1996
Time: night
Rafael Moreno was on guard duty at his ranch, waiting for the blood predator or "Chupacabra." He fired at a creature and injured it for the second time, and for the second time, it escaped to the Everglades. According to Moreno, the animal was at the edge of a lake. In the darkness its eyes shone like two flashlights that reflected in the lake. He fired at it several times. "I know I hit it at least one time, because I heard a shriek," Moreno said.
Source: Virgilio Sanchez Ocejo
---
Date: April 13 1996
Location: Jardines de San Lorenzo, Puerto Rico
Time: night
Summary: Residents reported seeing something that resembled an enormous bird flying over the area. Those interviewed by the media stated that they had never seen a bird of such size before and that it emitted bizarre shrieking sounds. A smell of sulfur was also noted in the area, as well as bizarre animal mutilations.
Source: Scott Corrales, Chupacabras & other Mysteries
---
Date:  April 1996
Location:  
Time:  
Summary:  
Source:  
Location. Laguna de Chapala, Mexico
Date: April 14 1996
Time: night
Angler Jose Angel Pulido was allegedly attacked by a "dog sized creature covered with black hair." Others in the area reported a creature covered with grayish or white fur. Animal mutilations were reported in numerous locations in the same general area.
Source: Scott Corrales, Chupacabras & other Mysteries
---
Date:  April 1996
Location:  
Time:  
Summary:  
Source:  
Location. Near Gerona, Spain
Date: April 15 1996
Time: late night
Two police officers were conducting their nightly rounds on the outskirts of town when a powerful light crossed in front of them on the highway. One of the men felt mesmerized by the brilliant outburst of light, while his companion tried to keep hold of the squad car's steering wheel. The mesmerized officer told his companion that he felt the odd sensation of being pushed upward at the same time that he saw two pairs of moist, black oval shaped eyes staring at him from large pear shaped heads. The police officer had not yet been able to digest the uncanny experience when the bizarre light staged a return. According to the agents, nine lights, identical to the first, appeared out of nowhere, and were then joined by three more which came from across the Portuguese border. The twelve lights were elongated and had an intensely yellow glow. The lights remained suspended some 100 feet above the highway, prompting the police officers to flee the scene in terror.
Source: Scott Corrales, Uncensored UFO Reports # 1
---
Date:  April 1996
Location:  
Time:  
Summary:  
Source:  
Location. Tonto Hills, Arizona
Date: April 16 1996
Time: unknown
A couple that had observed a large diamond shaped craft land in the same area back in February, observed a large craft landing nearby. It was white, diamond shape, and had green and red lights around it. Three entities (not described) walked around it as if searching for something. The sighting lasted for 15 minutes.
Source: Jim Ossipov, Myron K Olson
---
Date:  April 1996
Location:  
Time:  
Summary:  
Source:  
Location. Northeast Dade County, Florida
Date: April 16 1996
Time: various
Independent observers reported seeing 2 mysterious bird-like creatures in their backyards. They described the bird as three feet tall with a face like a turkey, hopping through yards of several North Miami homes. The birds are said to be black with white flecks, with beaks similar to toucans and a seven-foot wingspan. Police tried to catch it with the help of the Fort Lauderdale based Wildlife Care Center, but it flew away. There were at least 10 sightings of such a creature in the area.
Source: Cherie Henderson, The Miami Herald
---
Date:  April 1996
Location:  
Time:  
Summary:  
Source:  
Location. Belem, Brazil
Date: April 17 1996
Time: 0100A
Alfredo de Oliveira Mendes, 27, a sacristan at a local church witnessed a UFO land in the backyard of the mission. There was a period of missing time. Under hypnosis the witness recalled being abducted by 8 beings, described as silver in color with long eyes and what looked like a fin on their foreheads. The beings wore silver coverall type outfits with an emblem containing a pyramid and a wing. A burnt circle was found on the ground at the site. No other information.
Source: Brazilian UFO Report
---
Date: April 18 1996
Location: Brisbane, Queensland, Australia
Time: 17:40
Summary: Five hours plus interaction with an "invisible entity". Four persons directly in contact. Two peripheral witnesses. Numerous physical traces left behind. Injuries to three participants. Huge Orange light observed over property. THIS IS NOT A UFO SIGHTING Nil ufo seen by four main participants. Three of the party are business people, one is a housewife. I am an ex Police Officer and currently own my own business. I employ approx. 25 staff, am a designer and work with extreme detail. The incident involved an interaction with an " invisible electrical entity" over a period of approx. 5 hours that we are aware of and possibly longer. Four tangible hard artifacts remain, many other less tangible items are also involved. Injuries to three members of the party include symptoms similar to slight radiation poisoning, burns and scarring, massive headaches, personality changes, massive tinnitus to three witnesses which commenced spontaneously and at the same approx. time. All attempts to investigate the incident have come to a dead-end in Australia. This includes approaches to the Services, C.S.I.R.O, academia generally and to many of the local UFO and Paranormal Organisations. I would appreciate any assistance forthcoming from the U.S.A. or any other reputable source to allow me to continue my investigations.
Source: National UFO Reporting Center
---
Date: April 18 1996
Location: Wamuran near Brisbane, Queensland, Australia
Time: 19:40
Summary: A 58-year old retired police officer and his wife arrived home together. On entering their house he detected a strong smell of sulfur. On investigation he found nothing visibly out of the usual. His wife went to the main bedroom and put on the lights in the hallway and in the bedroom. She then walked back along the hallway to the living room end of the house. He then walked along the hallway towards the bedroom and as he neared the end of the hallway where Jenny (his wife) had just passed, he walked into an area of extreme cold, which, as he touched it, discharged a strong electrical current, which caused him to reel backwards. He retreated back to the entry to the hall and he was filled with a feeling of revulsion and fear. He quickly recovered and Jenny then walked along the hall and suffered a similar experience. He tried again to walk along the hall and again suffered a similar electrical discharge. The witness and his wife discussed the situation for a while and tried several times to move past it along the hall, each time with the same result. During this period the object remained stationary at the southern end of the hallway. Their toy poodle was very much aware that something was wrong and he noticed that when he looked along the hall the guanine at the back of his eyes reflected a bright orange color instead of the usual bright green. The presence of the object could be determined by the feeling of an electrical discharge similar to static electricity though very strong and goose bumps appeared on the skin. Within the object it was extremely cold and quite painful. Upon direct contact one was drained of all energy for a short period and normal breathing was difficult. Later at 2030 their son Adrian and his then partner, Petra, arrived and he was invited to walk along the hallway. As he entered the hall he encountered the same discharge effect. The entity had moved eight meters and was in the northern end of the hall by this time. Petra, who was eight and a half months pregnant, encountered the object and was seemingly brushed or slapped aside but not hurt by it. Over the ensuing period all four of them had several direct contacts with the entity as it moved with apparent purpose throughout the house. Petra's contacts were much less vigorous than those of the other three witnesses. At 2130 Adrian was ejected from a chair by the entity. Jenny had a severe accidental direct contact with the entity and was caught for a moment within it. She was visibly affected, breathing labored, elevated pulse rate, weakness and disorientation. External check of the premises revealed a column of warm air at the southern end of the house but nothing else unusual. During this period there was no discernible traffic or other sounds within or around the house. Adrian had another hard encounter with the entity. Adrian and Petra returned to their home. At 2330 a ball of light energy crossed within the screen of a television set. An independent witness testified to seeing a huge orange light suspended above the house at the same time, 0020A. A neighbor reported that her house shook and trembled for a period. The telemetry from the water storage reservoir across the road crashed and then, impossibly, restored itself. Loud clicks in a cadence of three and groups of three were heard several times throughout the house. Later some of the witnesses developed symptoms similar to a form of radiation sickness with severe headaches and flu like symptoms, sore eyes and joints, etc. Three developed chronic and permanent tinnitus. The main witness developed a brown-pigmented stain on both legs and a circular mark on the top of his left foot. Several rocks in the garden were discovered to have been affected by some form of energy, one having exploded into a fine powder. A candle had been selectively melted and the stearic acid component separated and crystallized. Moss on the concrete path showed burns marks. Two small sections of the path appeared to have been melted or glazed. Presently two of the witnesses have developed substantial psychic abilities.
Source: Brad Mildern, The Aussie Connection
---
Date:  April 1996
Location:  
Time:  
Summary:  
Source:  
Location. Zapata, Texas
Date: April 20 1996
Time: night
Rachel Tolen was driving alongside a dark roadway when she stopped to see a strange creature that appeared to be eating something on the side of the road. The creature turned to look at her and she could see large glowing red eyes. She approached the creature with her car and this one suddenly flew up into the air and vanished. She described the creature as about 4 ft tall, with dark brown hairy skin, with what appeared to be feathers covering part of the body and a line of sharp spikes that ran along its back starting at the nape of the skull. Others in the vicinity reported seeing a similar creature and there were reports of bizarre goat and chicken mutilations in the area. The animals were usually found bloodless.
Source: Jorge Martin, Conspiracion Chupacabras
---
Date:  April 1996
Location:  
Time:  
Summary:  
Source:  
Location. Varginha, Brazil
Date: April 21 1996
Time: evening
Teresinha Galo, age 67, reportedly saw a strange short creature with bulging red eyes, brown skin, a large head with three oval protrusions, on the grounds of the local Jardim Zoologico. The creature apparently hid behind some bushes. It reportedly wore a golden helmet.
Source: Brazilian UFO Report Issue # 6
---
Date:  April 1996
Location:  
Time:  
Summary:  
Source:  
Location. Cornwall, England
Date: April 22 1996
Time: 0355A
Elaine woke up in the middle of the night to see a troll-like entity at the right hand foot of her bed. Only his chest and above was visible due to the height of the bed. He was wearing a dark hooded robe, resembling that of a monk. She began pulling the covers up over her head, but then decided to stare at the entity. The entity began floating towards her and reached her face level. The color of his face appeared brown and his skin was rough looking and wrinkly, like an elephants. He had a heavy protruding brow that placed his large dark eyes in shadow. He had wrinkly eyelids and a flattened spread nose. As the witness stared at the entity she felt him to be loving and gentle. After a few seconds it floated through the internal wall of the house and disappeared.
Source: CUFORG
---
Date: April 23 1996
Location: Goose Eye UK/England
Time: 19:20
Summary: I can't remember it fully, as I was six at the time. All I can remember is that I was at my friends house, and my elder brother came to get me because it was time to be getting back home. As we were walking down the lane home, we both looked up at the stars to see how clear the sky was that night, and we saw a bright light. It suddenly started moving at a considerable speed around the sky making a sort of, pattern leaving a trail. After about three or so seconds doing this it disappeared.
Source: NUFORC
---
Date:  April 25 1996
Location:  Santa Barbara, California
Time:  2130
Summary:  A man traveling on Rte. 126 sees a bright flash of light over the highway, and then experiences a period of missing time. He then experiences peculiar events, sees strange visions from history. 
Source:  NUFORC
---
Date:  April 1996
Location:  
Time:  
Summary:  
Source:  
Related articles