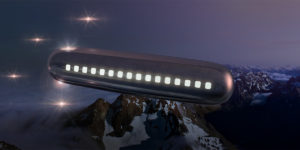 (Last Updated On: July 20, 2016)
Date:  December 1996
Location:  Surrey, British Columbia, Canada
Time:  2230
Summary:  Two witnesses were returning from a visit to the United States when the car, as it was proceeding north on 184th, suddenly came to a stop. The passenger looked up and was shocked to see a group of tall stick-like beings gliding across the road approximately 30 feet in front of the car. The group of beings glided across the road from a clearing on the right side of the road to a clearing on the left hand side of the road. The car then began moving. The two witnesses did not speak to each other until much later.
Source:  UFO BC
---
Date:  December 1996
Location:  Near Hualqui, Chile
Time:  night
Summary:  A man riding a horse in an isolated area encountered a short robotic figure, apparently humanoid, that approached the horse and apparently frightened the animal. The rider quickly left the area, thinking that the apparition had been a demon. 
Source:  UFOPR
---
Date:  December 1996
Location:  
Time:  
Summary:  
Source:  
Location. El Verde, Rio Grande, Puerto Rico
Date: December 1996
Time: night
Luis Torres Cruz reported seeing several huge cigar-shaped flying objects that appeared to release smaller disc shaped craft, which then descended towards El Yunque rain forest and disappeared. Shortly after that he saw a huge 9 ft tall black winged creature gliding over the area using gigantic bat-like wings near the area of the forest.
Source: Jorge Martin, La Conspiracion Chupacabras
---
Date: December 1996
Location: Rishon Lezion Israel
Time: 2300
Summary: A teenage boy named Alex Lemkin was walking through the local park when he saw what he thought was a little girl of six acting very strangely. Thinking the girl was lost; he approached her and was then stunned to see that the girl had albino-like skin and long hair of the same color. While he watched the girl suddenly disintegrated into dozens of small lights. At this point the witness apparently blacked out and could not remember anything else. Next thing he knew he was laying on the grass with a few unexplainable scars on his back.
Source: Barry Chamish
---
Date: December 1996
Location: Tskneti, Georgia (former USSR)
Time: 0045A
Summary: Several independent witnesses including, Koba Avsadzanishvili, her sister Marine, Cira Tsipashvili and Nunu Shubashikeli watched over the village what appeared to have been a very big "screen". On the screen they could see the images of humans and modern automobiles. The screen was yellowish in color. Next the image changed to display what appeared to be "dancing couples", moments later it changed again to show the image of a moon and a mushroom-like cloud. Later the screen changed into a cone-like shape and disappeared.
Source:GUFOA
---
Date:  December 1996
Location:  
Time:  
Summary:  
Source:  
Location. Carta Blanca, near Cuautlapan, Yucatan, Mexico
Date: December 1996
Time: 0100A-0200A
A family of four traveling in their truck on the Ixtaczoquitlan-Cuautlapam road had arrived at a curve known as "Carta Blanca" when a very tall thin being with very long thin arms suddenly jumped from the wooded side of the road into the middle of the road. The truck had its high beams on and the witnesses were able to clearly see the humanoid, which wore a one-piece red colored coverall and moved with impressive agility. The driver immediately applied the brakes of the truck as the creature took another leap into the other side of the road and into a very deep embankment, quickly disappearing from sight.
Source: http://www.eldurmientedeorizaba.com
Translated by Albert S. Rosales
---
Date:  December 1996
Location:  
Time:  
Summary:  
Source:  
Location. Tblisi, Georgia (former USSR)
Date: December 1996
Time: 0445A
The witness woke up late at night feeling very cold he then noticed a figure standing next to a wheelchair by his bed. The figure was man-like and wore a dark blue astronaut like suit. Apparently he wore a visor helmet since the witness could not see his face clearly. The witness stood up and the figure disappeared. Looking out the window he noticed a fiery moon like object hovering over the area. It then sailed away at high speed.
Source: GUFOA
---
Date:  December 1996
Location:  
Time:  
Summary:  
Source:  
Location. Americana, Brazil
Date: December 1996
Time: night
Investigators Alexandre Tomaz & Jefferson Gazano and others were checking a sugarcane field when they encountered a creature about 1.70m in height, heavy set and completely covered with hair. The creature stood very close to the witnesses, less than 10 meters. Terrified the men fled to their car and left the area.
Source: Ramon Navia, "La Verdad Oculta"
---
Date:  December 1996
Location:  
Time:  
Summary:  
Source:  
Location. Mt. Nathan, Queensland, Australia
Date: December 1996
Time: late night
A woman reported several very unusual occurrences, which had happened on her 20-acre property. One night she saw her husband go out through the windows, being levitated and floated out somehow. She had seen circles of light in the paddocks and found a flattened area of grass the next day. She also saw shadowy figures in the distance, with red lights behind; the figures seemed to move very quickly. One other morning she was woken up at 0300A to see red lights just above a shed, and a shadowy figure moving across the shed roof. The next day she found a dam half empty.
Source: Glennys Mackay, Keith Basterfield
---
Date:  December 1996
Location:  
Time:  
Summary:  
Source:  
Location. Hobart, Tasmania, Australia
Date: December 1996
Time: late night
Two similar reports. In both cases 4 to 5 year old children called for their parents in the early morning hours. One reported a white figure that tried to take him up through the roof. The second child reported a small, thin figure with large eyes that wanted to take him up a light through the roof. In the second incident the mother said she saw a flash of light in the interior corridor of the house.
Source: Keith Basterfield
---
Date:  December 1996
Location:  
Time:  
Summary:  
Source:  
Location. Miami Florida
Date: December 1996
Time: late night
A seven-year-old girl woke up in a dream like state to see a small man-like figure standing next to her bed. The being was white in color and had a large light-bulb shaped head with huge black almond shaped eyes. It wore a tight-fitting white outfit. The little girl screamed as she apparently received a mental message from the being indicating that he wanted to examine her younger sister (sleeping in the same room), the creature then vanished.
Source: Personal Investigation
---
Date:  December 1996
Location:  
Time:  
Summary:  
Source:  
Location. Grimaldi-Ventimiglia Italy
Date: December 1996
Time: near midnight
A musical producer riding his motorcycle in the area spotted a strange creature standing on the side of the road. He described it as huge and hairy, resembling a "gorilla" or a "caveman." On his way to town he reportedly saw the same or similar creature standing on the road again.
Source: CUN Genova
---
Date:  December 1996
Location:  
Time:  
Summary:  
Source:  
Location. Near Bethel, Ohio
Date: December 1 1996
Time: late night
Two hunters & their hunting dogs were parked on Leonard Road six miles south of Bethel waiting for the right time to se their dogs loose. Soon they did and followed them into a harvested cornfield. As they approached some nearby power lines the dogs got deathly quiet that was very uncommon for that type of dog. As one of the hunters stepped into a clearing he was shocked to see a silvery saucer shaped craft with a transparent cupola sitting on the ground. Nearby stood three humanoids wearing some kind of coverall uniform. The beings were described as "Grays" short with slanted black eyes; one of them was slightly taller and had a much bigger head. As both hunters and their dogs watched the three humanoids ran to their saucer and disappeared through an open hatch, then the object rose into the air straight up and vanished.
Source: UFO Roundup Vol1 # 41
---
Date:  December 1996
Location:  
Time:  
Summary:  
Source:  
Location. Governador Valadares, Minas Gerais, Brazil
Date: December 9 1996
Time: 1830
74-year old laborer, Plinio Bragatto was on his way back home after a days work when he made a brief stop to buy some beers. He proceeded on and stopped to sit on a rock in order to drink one of the beers. He then heard a loud sound coming from behind him. Turning around he saw a large metallic oval shaped craft landing on a field close to him. The object landed on several leg-like protrusions. Once the object landed a door opened, and a sort of ladder or escalator was lowered to the ground. Then a 2 meter tall humanoid figure stepped out. The humanoid approached Bragatto and in a peculiar language that sounded like Spanish invited the witness inside the object. The witness agreed and was escorted inside. Once inside he noticed that the inside of the object had a metallic bluish sheen to it. Still speaking in the peculiar language, that the witness was somehow able to understand, the humanoid told Bragatto that they were going to take him to their "native planet." He was given the impression that the planet was "Mars". Inside the object there was a total of three humanoids, 2 men and a woman. Described as closely resembling humans, wearing loose fitting gray outfits, with several golden medallions hanging around their necks. According to the witness the humanoid's hair grew from the middle of their heads back, and they had large ears and mouths, making them somewhat ugly. Before leaving, Bragatto was given a medical examination by the beings. His stomach area was probed with several needle-like instruments. On the way to the humanoid's home planet the witness was given a fruit resembling a "Mamey" (known tropical fruit) and something resembling an empanada. He was also given a bitter beverage to taste that seemed to contain alcohol. In turn he offered the humanoids a beer, which he apparently had taken inside the craft with him. They immediately accepted. Arriving, the witness was greeted by numerous similar appearing beings. He noticed that the "planet" was beautiful in appearance and saw numerous buildings that appeared to be made of a nylon-like material. One of the beings now approached him and told him that it was time to go, that 8 hours had already passed. On his was back to the object, the witness saw a huge television screen which showed strange holographic like images, that included dinosaur like animals. The witness then asked the humanoids when were they returning to Earth, he was then told "We will return when the storms are less intense, since we have already lost five of our aircraft as a result of lighting." Around 0400A the witness was returned to Earth, he found himself in an unfamiliar field. He then followed a nearby path and reached a village where he realized that the humanoids had dropped him off more than 800 kilometers from his hometown. He went to the police and told them what had happened. A police officer conducting an investigation found a circular ground mark at the field where Bragatto was dropped off by the humanoids.
Source: CIPFANI
---
Date:  December 1996
Location:  
Time:  
Summary:  
Source:  
Location. Near Itaparica Island, Bahia, Brazil
Date: December 22 1996
Time: evening
On the road leading to the Nazare salt mines an employee of the mines was driving his truck with his wife, three children and his brother in law. This stretch of road was considered a good road, in a reasonable state of conservation, but the truck reportedly catapulted mysteriously killing four of its occupants, leaving only two young girls alive to tell what happened. When the two girls had recouped they told an amazing story. According to the girls everything was going well and as they approached the stretch of road near the salt mines the driver and the passengers saw what they children curiously later described as "three dolls the height of young children" jumping up and down with open arms in the middle of the road as if desperately wanting a lift. The driver attempted to avoid the strange trio but the creatures ran in the same direction, seemingly at the same speed of the truck, blocking its passage. In a desperate act the driver of the truck attempted to coast along the embankment but the truck turned over trapping most of the victims inside. The girls do not remember seeing the strange creatures again.
Source: Alberto Romero, Brazil
---
Date:  December 1996
Location:  
Time:  
Summary:  
Source:  
Location. St Weonards, Herefordshire, England
Date: December 24 1996
Time: late night
The young witness was walking back home after an errand and had taken a short cut through an old churchyard. As he stepped through the gate something off to his left caught his eye. Feeling a strange sense of dread he stopped dead in his tracks. He noticed a very black figure about 3 ft high that was squatting over a grave; it was about 15 ft away in the shadows. All he could see was an outline but no details. Terrified the young witness beat a hasty retreat and went home.
Source: Fortean Times
---
Date: December 25 1996
Location: London England
Time: 19:00
Summary: Saw this website and decided to post what me and my wife saw in the night sky from Greenwich, London on the evening of 12.25.1996. Three round white lights (like small moons) in a fixed triangle configuration. They did not appear to be crafts. They turned together (around a central point between the three of them / not their own axis) one way (about half a turn clockwise) and then back again over some 6 or 7 seconds approx. The three then moved quite quickly (a second or 2) to the centre to form the one (same size) circle of white light. After a few moments it disappeared. These were not moving across the sky and were crystal clear. I do not know if there is any rational explanation for this and would welcome any input (on this website) from anybody who also saw this or knows what it was.
Source: National UFO Reporting Center
---
Date: December 26 1996
Location: Nur-a-Shamat Camp, Israel
Time: 0100A
Summary: Daoud Ahmad woke up feeling thirsty and attempted to get out of bed, but suddenly two short creatures jumped on him and beat him. Each only had one eye and were very strong. They wore black leathery clothes, and had Mohawk style haircuts. After they beat the witness he lost consciousness. He was taken to a local hospital where he was treated. He also recalled that the beings had only three fingers on each hand.
Source: Israeli UFO Investigation Group
---
Date: December 31 1996
Location: Netanya, Israel
Time: 1955
Summary: Shoshana Bar-on and her boyfriend Ilan Cohen were returning home from Tel Aviv by car when both spotted an orange-red disk flying over the seaside cliffs. They stopped the car and attempted to chase the object. The object then seemed to brake into three parts, one part further split into dozens of glowing plates that fell on the beach below the witnesses. Shoshana bent over the cliff and saw four small gray humanoids on the ledge below. She called over to Ilan to look but he, for some strange reason could not see them. She stood up and saw a nine foot long, clam shaped craft appear opposite to her. The opt of the object opened up and she saw four entities, three in a row and a pilot sitting forward, they were all seated in tight, tiny chairs, that had several button like controls. One of the entities floated vertically from the craft and stunned Shoshana with "white projector like beams coming from his eyes." The being approached her and rubbed her arms & neck with a stubby, soft hand. She later recalled that his touch felt good. She screamed, but Ilan could not hear her. She then collapsed to the ground. Ilan managed to drag her away from the site but in a voice "that was not hers" she insisted in being taken back. He pulled her to the side of the road where he flagged down a car that drove them to a nearby hospital. Numerous other phenomena occurred in the witness apartment the following days.
Source: Barry Chamish, UFO Universe Special Issue
---
Date: December 31 1996
Location: New Jersey, exact location not given
Time: near midnight
Summary: Bari Tutino saw a hovering disc-shaped object with amber, red and yellow lights. She stood under it for 30 minutes. At one point through an opening he saw three figures, 2 human-like and one that appeared to be luminous or "lighted". The object flew off silently. No other information.
Source: I was Abducted.com
---
Date:  December 1996
Location:  
Time:  
Summary:  
Source:  
Related articles