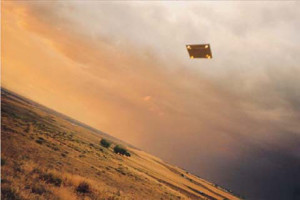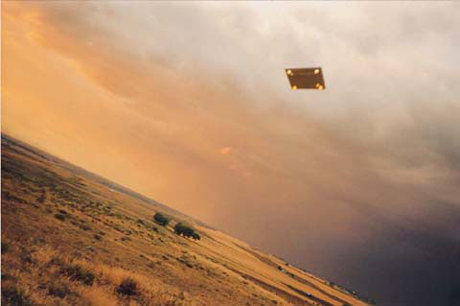 (Last Updated On: July 20, 2016)
Date: November 1996
Location: Kiara, Western Australia
Time: 0300A
Summary: A young boy reported being visited at night in his room by several tall, grayish blue, thin beings, with large hairless heads, thin arms; small mouths and holes form ears and nostrils. They apparently took him on several occasions to an "airport" where he would be introduced to a little girl with blond hair. He suffered from nosebleeds after the encounter. Two years later the family would see an orange light going over their home.
Source: ASPR/UFORUM
---
Date: November 1996
Location: Madre De Dios, Peru
Time: daytime
Summary: In the Amazon Jungle area Ricardo Gonzalez reported encountering a tall, man like figure with perfect features that communicated with him and told him he was a member of an underground civilization that thrived nearby, apparently near the famed lost Inca City "Paititi." Gonzalez was to have further encounters.
Source:Cristian Riffo, Ovni Terra
---
Date:  November 1996
Location:  
Time:  
Summary:  
Source:  
Location. Near Great Yarmouth, Lincolnshire, England
Date: November 1996
Time: night
The witness was driving down the back road on a very dark night and as he drove down the road he noticed a shape in the fields on the right hand side. As he got closer it moved nearer towards the road and he was shocked as to what he saw. He saw a creature with the body and legs of a horse but with a man's face. It was very scary and unpleasant. The witness did not hang around he drove off at high speed.
Source: Paul Deveraux, Haunted Land
---
Date: early November 1996
Location: Near Westbank, British Columbia, Canada
Time: night
Summary: 9-year old Dawn Smith, who lived on Lake Okanagan, saw a lighted object with green lights down on one side, going up and down in the sky above the lake. The object was somewhat rectangular in shape like a "shoe box" at one time it stopped briefly and a door opened, and a light went on inside. The door closed, and the object went behind a rain cloud, then it came back out and it opened the door again and then a disc shaped object with red, yellow and orange lights came out, it appeared to have a little hook on top. Dawn then added that when the door first opened she saw two dark colored figures standing in the dim light on the interior. She thought maybe the figures were wearing dark uniforms.
Source: Bill Allan
---
Date:  November 1996
Location:  
Time:  
Summary:  
Source:  
Location. Near San Antonio Texas
Date: November 1996
Time: night
A rancher woke up one night after hearing a lot of noise coming from the corral area. He got up and went out to the corral and turned on the lights of his pick up truck. What he saw was a bizarre animal trapped in his predator trap. As soon as the animal saw him the animal tried to attack him but the trap and the chain held it. In the distance the rancher saw another two of the same creatures, kind of running away from there. The creature in the trap was 2 feet long but the two others he saw in the distance were about 4 feet long. According to the rancher they really were not running but taking leaps, anywhere from 10-15 feet. The creature in the trap was described as looking like a large lizard, with a large head, disproportional large for the body. On its back coming from the spine, there were at least 13 vertical spikes that stuck up, 12 inches off the back of the creature, it had a long tongue ending in a sharp tip. Somebody from nearby Texas University picked up the creature in the trap apparently died and its body. Apparently it was never returned.
Source: Antonio Guillen, "End of the Line"
---
Date:  November 1996
Location:  
Time:  
Summary:  
Source:  
Location. Tucson, Arizona
Date: November 1996
Time: 0300A
For a month the witness, Elizabeth Wall, had been seeing dancing lights just outside her home. She would be compelled to look outside and also had the feeling of being watched. The night in question she was suddenly wide awake and was unable to move. The whole room was filled with a whitish-bluish light and she saw a tall hooded figure walk across the window in her room. At first she was frightened but then felt calm, she then apparently went to sleep. Her roommate saw a similar figure hovering over his bed that same night.
Source: Filer's Files # 40-2000
---
Date:  November 1996
Location:  
Time:  
Summary:  
Source:  
Location. Kiev, Ukraine
Date: November 1996
Time: 2100
Larissa Nikolaevna, an aged resident of the city, was playing solitaire and watching television on the 13th floor of her apartment complex. Suddenly she heard a voice in her head that repeated itself twice "Expectation, Expectation". Then the voice said, "Do not be afraid, nothing bad is going to happen". Later she went to bed watching television and soon noticed a beam of light descending to the floor on a corner of her bedroom. Three humanoid figures appeared within the beam of light. The figures wore bright yellow glowing suits. All three humanoids had long blond hair down to their shoulders. All three appeared quite solid. Moments later, to her amazement, Larissa noticed her head and hair giving off yellowish light, the light seemed to emanate directly out of her body. This lasted for only about 5 seconds, after that the figures vanished. Larissa reported further contacts with the aliens.
Source: Natalya Kurolenko in Kiev News, November 11 1996
---
Date:  November 1996
Location:  
Time:  
Summary:  
Source:  
Location. Gotherington England
Date: November 6 1996
Time: 0225A
Mike Skinner was driving home from work along the A435 when he spotted what he thought was two poles with a sack draped over the top placed at the side of the road 150 yards ahead. He estimated the overall height of the "posts" to be 4 or 5 feet. As his car approached he was surprised to see what he had assumed to be the sack drop to the ground and start to move along the grass verge at the side of the road. He slowed his car down to get a better view of the creature, but it crouched down in the long grass and he was only able to describe it as a large "animal" tan in color with large pointed ears.
Source: Gloucestershire Echo
---
Date:  November 1996
Location:  
Time:  
Summary:  
Source:  
Location. Near Isola Verde, Italy
Date: November 9 1996
Time: 2330
Alessandro Boscolo and two friends were driving back home near this location when Boscolo stopped the vehicle to perform a certain biological function. He soon noticed that the whole area around him was completely lighted, as if a full moon was overhead. Back in the vehicle with his two friends, they then noticed that the light was coming from a very bright source on a nearby field. They then noticed some movement coming from some nearby trees. Suddenly three to four short gray figures, with large oval shaped heads scampered at incredible speed towards the light source on the field. Frightened, Boscolo and his friends drove away from the area at high speed.
Source: El Dragon Invisible, CUN
---
Date:  November 1996
Location:  
Time:  
Summary:  
Source:  
Location. Katowice, Poland
Date: November 10 1996
Time: 0100A
The 2-year old witness woke up at about 0100A and saw a bright yellow ball of light outside the window. Terrified he stood unable to move staring at the light. He heard a humming sound and felt a strange "apple" like taste in his mouth while gazing at the UFO. Suddenly he decided to walk to the window. As he did he saw the object descend and it when it reached ground level he saw two creatures wearing steely gray suits. They looked at the witness; he was so scared the he closed his eyes. When he opened them again the object was taking off slowly and eventually disappeared in the southwest part of the sky.
Source: Bronislaw Rzepecki
---
Date: November 14 1996
Location: Near Swindle RAF, Wiltshire, England
Time: night
Summary: Joseph Carpenter and four other men were traveling by car when they spotted a huge black triangular shaped object descending over the road. The men appear to loose consciousness at this point. Later under hypnosis Carpenter recalled encountering a humanoid creature with a triangle-shaped head onboard the object. The creature had an olive complexion. He also recalled being exposed to a strange scenery and environment and of seeing a creature resembling a "dolphin".
Source: Denys Breysse Project Becassine
---
Date: mid November 1996
Location: Eau Claire, Wisconsin
Time: late night
Summary: The witness awoke to go to the bathroom and was on the hallway near the bathroom when she noticed, through a window, bright lights and an associated large object just above the trees on the side of the field, to the north of the house. She went to the laundry room to obtain a better look; she concluded that it must have been a "ship" of some kind. The object appeared to be the size of a house. She watched through the window as it slowly drifted to the south, low over the farm field. As the object approached the farmhouse, she became frightened. She began locking doors and windows but when she reached the kitchen window she felt it was to late. When she reached the kitchen door, it was beginning to open. She tried to force the door to close, but felt a force pushing it open. She was then pushed backwards and the door flung open. As the door opened she observed a white mist or fog roll in. she also felt at this point, that there were lights in the front of the house & assumed this were associated with the "ship". She then saw entities at the kitchen door. Looking around the door, she observed a hand reaching in from outside. The hand was long and skinny and came in very low, at the level at which a small child's hand would be. At this point, she also remembered a non-verbal scolding which seemed to say "you know better than to try to resist." The next thing she remembered was awakening in her room.
Source: Chad Lewis, Craig Lang, Minnesota Mufon
---
Date: November 15, 1996
Location: Thornton Cleveleys, Lancashire England
Time: 22:30
Summary: MANY BLACK TRIANGLE SIGHTINGS NOV 1996 AND FLASHES OF BRIGHT WHITE OR BLUE LIGHTS AT SAME TIME,LIGHTING UP ROOMS OR THE SKY.CREDIBLE ACCOUNTS FROM POLICE OFFICERS AND OTHER FRIENDS(I AM A POLICE RESERVE) VARIOUS PEOPLE HAVE SEEN THE BLACK TRIANGLE OVER THE BLACKPOOL AREA OF NW ENGLAND NOV 1996 AND I AND MANY FRIENDS HAVE ALSO SEEN THE SKY LIGHT UP,OR A ROOM LIGHT UP.I AM A SPECIAL CONSTABLE (POLICE RESERVE)AND MANY OTHER WITNESSES TO LIGHTS ARE POLICE OFFICERS SO THEIR ACCOUNTS ARE QUITE CREDIBLE. USUALLY 10.30 PM ON WARDS,WEATHER WAS COOL/COLD,STILL AND DRY,NO CLOUD OR MINIMAL CLOUD,FACING NORTH OR WEST USUALLY,SO LIGHTS APPEAR TO TRAVEL TOWARDS SOUTH OR EAST.UFOLOGISTS FOR WANT OF A BETTER DESCRIPTION SAY THERE COULD BE A CONNECTION WITH THE BLACK TRIANGLE
Source: National UFO Reporting Center
---
Date: November 16, 1996
Location: Yadkinville, North Carolina.
Time: 11:00 p.m.
Summary: It began on November 16, 1996 with an 11:00 p.m. sighting of a massive black triangle just outside of Yadkinville, North Carolina. There were four of us in our Camry and we saw this slow-moving, silent, triangular shadow, pass directly over the hood of our car, just 100 feet above us. Then vector off to our left, over a small knoll and out of sight. The sighting lasted only seven minutes in total. It made no sound yet felt oddly oppressive, if only from the gigantic size of the craft. The sky was pitch black on a moonless, cloudless, starry and very cold night. We could tell it was a triangle from the red glowing/pulsing lights on all three corners and by looking down the sides and seeing stars outside the straight line and only blackness, underneath the body of the ship. It was both eerie and awesome. We could not see the top and could not clearly see the bottom – only blackness.  We kept the sighting quiet for four months.
Source:
---
Date:  November 1996
Location:  
Time:  
Summary:  
Source:  
Location. Casablanca, Valparaiso, Chile
Date: November 16 1996
Time: various
Several local students at the basic Manuel Baquedano school reported encountering several little gnome like men about 30 cm in height. The little men wore different color clothing and usually hid in the trees and bushes. Their leader appeared to be an aged looking one, dressed in black who threw stones at the curious children and emitted strange shrieking sounds, at the same time making signs with his hands to stay back. 12-year-old Felipe Guerrero Silva reported seeing other friendlier gnomes wearing red, green, and white clothing. The entity wearing the white clothing seemed to be the friendliest at times calling the children.
Source: Paranigma Chile
---
Date:  November 1996
Location:  
Time:  
Summary:  
Source:  
Location. East Vancouver, British Columbia, Canada
Date: November 17 1996
Time: 0730A
At the same time that the area had suffered a blackout, the main witness was leaving the Skytrain Station when she noticed a large black square shaped object moving low over nearby Slocan Park. Arriving at her daughter's residence she heard a "whoo" type sound outside. The two women investigated and saw a tennis ball size blue light maneuvering over the area. At one point it dropped close to the ground near the trees. The witnesses felt a warm sensation during the sighting. Later the main witness felt compelled to go to the nearby park and found some strange marks on the ground. Upon leaving the park she saw two short old "people" wearing jeans with rolled cuffs. They had pointy ears, glassy eyes and were smiling as they stared at the witness. Apparently she then received a telepathic message related to her sighting, when she turned around to look at them the strange pair had disappeared.
Source: Graham Conway, UFO BC
---
Date:  November 1996
Location:  
Time:  
Summary:  
Source:  
Location. La Barra, Caguas, Puerto Rico
Date: November 19 1996
Time: 0100A
While investigating a loud ruckus in their chicken coop the Concepcion family found several of the animals wounded. While waiting for the police to respond one of the family members looked out the window and saw a strange creature about five feet tall. The creature had an oval shaped head with two bright red elongated eyes. The creature was dark gray in color; it had large hind legs resembling those of a kangaroo, and small arms and hands. It seemed to be searching for something, maybe the rest of the chickens. The frightened witness screamed and the creature quickly turned and appeared to jump out of sight at very high speed.
Source: Jorge Martin, Evidencia OVNI # 21
---
Date:  November 1996
Location:  
Time:  
Summary:  
Source:  
Location. Hallbankgate, Cumbria, England
Date: November 23 1996
Time: 0140A
David L, a local cab driver was taking several passengers home from a pub when he observed a large green ball of light with a white ling around it that appeared to drop from the sky and hover within some trees at a nearby farm. Later after bringing another group of passengers from the pub he came upon a hill & observed a tall figure emerging from a field gate on his right hand side. The figure wore a silver suit with "something" on his head, and what appeared to be a "white sheet" in front of him that was not holding, but seemed to be stuck to his hands. Both David and his two passengers were extremely frightened and did not stop, driving quickly away from the area.
Source: BUFORA
---
Date:  November 1996
Location:  
Time:  
Summary:  
Source:  
Location. Houston, Texas
Date: November 24 1996
Time: 0200A
During a very stormy night, the witness was having trouble falling sleep and was very restless. There was a window right above the bed. After a couple of minutes something started making her feel very strange as if she was in some sort of trance. It felt as if something was pulling her from inside. At the same time something appeared on the upper part of the closet door directly across from the window. It was a reddish figure and appeared to have wings, or something on either side of it that was moving up and down. She also saw a shadow pass by the window to the left of the bed. The creature then apparently disappeared. The witness husband did not see anything. A week after the incident, the witness suffered a nervous breakdown.
Source: UFO Sightings in New Mexico & the World
---
Date: November 25 1996
Location: Adelaide  Australia
Time: 01:25
Summary: Adelaide 1.25 am CT Monday 25th Nov. 1996. Callers report sighting a number of soft white balls of lights heading in an easterly directing then changing direction to the west before speeding off to the north west.
Source: National UFO Reporting Center
---
Date: November 25 1996
Location:  Perth (Western Australia
Time: 17:25
Summary: Perth 5.25 pm WT daylight Sunday 24th Nov. 1996. Respondent callers reported seeing a large bright cigar shaped object travelling from the north to the south. The object at arms length appeared to be about 1″ in length and 1/8 of an inch wide, about 55 deg in the sky and about 20 plus miles away. Pos. Whitmans Blimp however, their PR firm has advise that the blimp is not scheduled to visit Perth … IPP shall seeking confirmation again..
Source: National UFO Reporting Center
---
Date: November 25 1996
Location: Canberra Australia
Time: 22:30
Summary: Canberra 10:30 p.m. EST Monday 25NO96. Respondent callers report seeing a number of intense bright orange fireball lights, travelling fast over Canberra. The object/lights were last sighted northwesterly.
Source: National UFO Reporting Center
---
Date: November 25 1996
Location: Alice Springs NT, Australia
Time: 23:15
Summary: Alice Springs 11.15 pm CT Monday 25th Nov. 1996 Respondent callers report seeing up to four intense bright orange fireball lights over Alice Springs before heading off in a Westerly direction. One Respondent said they had taken up to 10 photo's.  Most on duty A.S. Police members also witnessed these events and have filed offical IPP reports.
Source: National UFO Reporting Center
---
Date:  November 1996
Location:  
Time:  
Summary:  
Source:  
Related articles