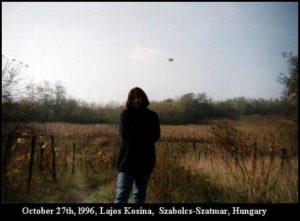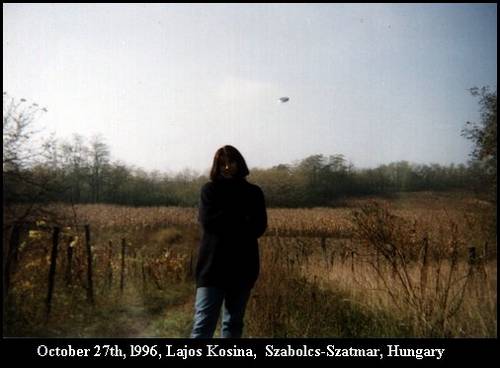 (Last Updated On: January 8, 2017)
Date: Fall of 1996
Location: Valparaiso, Florida
Time: dusk
Summary: At the edge of the Eglin AFB reservation, 5 people witness a commotion in some nearby woods. It sounded as if something large was approaching. As it got closer they saw a huge humanoid form, upright and that did not respond to yelling at. All the witnesses then fled in a panic. The location was in some dense woods.
Source: BFRO
---
Date: October 1996
Location: Cueva Honda, El Hierro Island, Canary Islands, Spain
Time: 0100A
Summary: Two men, Benicio Quintero and Onelio Gonzalez were fishing in an isolated area when they suddenly noticed some rotating multicolored lights that appeared to be approaching their location from a nearby hill. They appeared to descend slowly down the slopes towards the men. Concerned one of the men armed himself with a knife. As they lights approached their location the two men hid behind some brushes and turned off their flashlights. The lights kept descending along very difficult terrain when suddenly they changed direction and apparently disappeared, all without a sound. As the men looked around the lights came on again at a location about 20 meters from them. They could now a see a row of lights and what appeared to be some type of object behind the lights. Suddenly they saw several figures gliding over the ground coming from the object. The figures were above normal in height and appeared not to touch the ground. Curious the men shone their flashlights towards the figures and were able to see about 5 or 6 humanoids. At the same time the multicolored lights rotated behind the humanoids, which seemed to control them. The figures seemed to be wearing tight-fitting dark gray or khaki mesh-like suits. One of them carried something resembling a flashlight. At no time did the men heard any noises but did felt a slight heat or warmth coming from the figures. After the humanoids saw the witnesses they turned around and glided over to an inaccessible area known as "La Palometa." The humanoids stayed in the area for a long time and the witnesses left before they returned.
Source:  Jose Gregorio Gonzalez
---
Date:  October 1996
Location:  
Time:  
Summary:  
Source:  
Location. Taboleiro, Minas Gerais, Brazil
Date: October 1996
Time: 0500A
81-year-old Joaquim Eloi woke up to see a powerful light shining outside his hut. Looking out the window he saw a brilliant white oval shaped object on the ground nearby. The light from the object was so intense that he had to cover his face with his right arm. At the same time he could hear strange voices coming from the object that sounded foreign to him. After a few minutes the brilliant object took off towards the nearby town. There a husband and wife saw the bright white object hovering above some high-tension wires. They were able to see what appeared to be "numbers" or strange symbols on the craft. At the same time there was a power outage in the region. Eloi's right arm was numb for almost 5 months after the incident, and unknown if related, he began to slowly loose his sight and is now totally blind.
Source: CIPFANI Brazil
---
Date:  October 1996
Location:  
Time:  
Summary:  
Source:  
Location. Near Snoqualmie Pass, Washington
Date: October 1996
Time: early afternoon
Dr Jonathan Reed had been hiking for about an hour and a half when his 7-year old Golden Retriever ran ahead of him and disappeared over a rise. He began barking frantically. Dr Reed dropped his backpack and ran up the slope where the fog disappeared. He picked up a tree branch on the way, thinking that he might need it to rescue her form some kind of animal. Topping the rise he saw that Suzy (the dog) had a strange creature by the left arm. The creature was shaking violently in an attempt to dislodge the dog. The dog released the creature and backed away. At the same time the creature extended a "fleshy pseudo pod" around the dog's muzzle and severely wounded her. Suzy's tissues seemed to "flow" into this wound. She was consumed in a matter of seconds. Later, Dr Reed could find no trace of her except for a fine white powder on the ground. The creature turned to look at Reed with an expression of what seemed to be pure rage then turned its head back to look at Suzy. Reed ran forward at this point and hit the creature with the branch with all the force he could muster. He knocked the creature back about four ft. The creature lay dead on the ground covered in it's own blood. Shocked, Reed fell to the ground attempting to compose himself. Finally he remembered the camera equipment he usually carried on his frequent hikes ran back for his backpack and began taking pictures and videotape footage of the creature. A short time later, Jonathan became aware of a strange, low frequency vibration. He surveyed the area and discovered a black (craft like) device floating above the ground nearby. He approached the object and touched it. It was freezing cold and burned his hand. He took pictures of the object. After several hours, Jonathan still very sick, decided to wrap the creature in a survival blanket that he had with him. He decided to take the creature with him back to Seattle. He put the creature in a small freezer he had at home. The creature was described as about 4 ft tall that was capable of moving incredibly fast. It had large bloated eyes, which it was able to open and close, light in color. He also said that the creature emitted a horrifying scream or "shriek" as it fell to the ground. Around the fourth day Jonathan heard noises coming from within the freezer. He opened it and the creature was alive. In a panic he slammed the freezer shut, then called a friend over. Over the next few days he attempted many times to communicate with the creature and did so. He tried to feed it but it refused all food. It did, however drink water. Apparently unknown government agents broke into the house and removed the creature.
Source: World of The Strange, & Unsolved UFO Mysteries, William J Birnes & Harold Burt
---
Date:  October 1996
Location:  
Time:  
Summary:  
Source:  
Location. Near Bezhetsk, Tver Region, Russia
Date: October 1996
Time: 1600
A local boy, Dima Skvortsov was walking on a meadow when suddenly the sky was illuminated by a red color and then he noticed a bright red shining object descending and then land near the River Ostrechina on a meadow, approximately 150 meters from the witness. He hid behind some shrubs and observed the scene. After the light faded away, Dima noticed that the object was oval or egg-shaped, silver in color. It was about 8-9 m in diameter, standing on three landing props. A yellow oval light was visible in the center of the object, which was surrounded by yellow lights. It had an antenna shaped like a "Y". Two doors opened and ladders were lowered down to the ground. Two humanoids came out of the object. They were of average height, maybe 1.7 m or 1.9 m. They both wore helmets, which connected to their overalls, the helmets opened, but the boy could not discern any facial features or the color of their skin. What was visible was red lettering on their helmets. The aliens began walking towards the village. Dima then started running towards the village, while running he notices that the object became bright red again and it was making a slight buzzing sound and was rotating slowly, it then rose and zoomed away at high speed. Dima had not seen the aliens return to their craft.
Source: Pavel I Khailov, Anton Anfalov
---
Date:  October 1996
Location:  
Time:  
Summary:  
Source:  
Location. Karori, Wellington New Zealand
Date: October 1996
Time: night
That night the witness woke up feeling like something was trying to pull him out of bed, feet first. He felt cold hands. His next memory was of feeling a series of tugs on top of his blanket. Suddenly he found himself floating above his bed, he was unable to move a muscle. At the foot of his bed he then saw three four-foot tall figures wearing black monk like gowns, with hoods, the cloaks appeared to be tied together by a brown piece of string. Their faces were obscured by what appeared to be reflecting glass visor helmets. A beautiful blue light with gold sparkles accompanies the beings. The angle of the light beam is very low and seems to be coming in the window. His next memory was of yelling 'No!" as one of the beings touches him. He then passed out and woke up the next morning very frightened.
Source: Andy Page
---
Date:  October 1996
Location:  St. Mary's Tasmania, Australia
Time:  late night
Summary:  A young member of the family reported that while in the backyard she saw an oval object overhead. The object was white in color and had small red and green lights around its rim. The object then flew away towards the east. Later that night an adult member of the household reported seeing in a dream like state a tall featureless figure enter the bedroom and point something resembling a laser beam on the adult's right temple. The next day the adult had two brown marks on the temple and a burn mark on the arm. A similar object was seen that same night.
Source:  TUFOIC Newsletter Edition 84
---
Date: October 1, 1996: CSETI expedition to Scotland – Triangle craft at distance
---
Date:  October 1 1996
Location:  Rio Grande Do Norte, Brazil
Time:  1730
Summary:  Two farm workers, Silvino Augusto Medeiros, 71, and Bianor Alves dos Santos, aged 49 had just come back from the fields and were at Silvino's farm when they heard a weird "hissing" sound and suddenly a craft they seemed to think as hexagonal in shape appeared overhead, coming from the east and rotating cables came down upon the head and shoulders of the younger man, Bianor. Like tentacles, these cables, black in color, began to wrap themselves around his head and shoulders and his entire body felt a sensation of intense cold and seemed to be "lighter". He felt the ground slipping away from beneath him and he was going up, but he managed to shake himself free and escape with Silvino into the farmhouse nearby. Neither of the men got a good view of the UFO, but it remained around for a half an hour or more, for they heard its continued hiss. Then at 1930 hours Silvino slipped out of the house briefly to see to a tap he had left running. There was at first no sign of the UFO, but almost at once the hissing noise was back and it remained around a long time. When Silvino's son came home, he asked if anybody had heard it. He had heard it from 4kms away. The following day Bianor felt weak and powerless, aching in all his joints and limbs and nauseated.
Source:  Jorge Lucio De Macedo, FSR Vol. 45 # 2  attempted abduction
---
Date:  October 2 1996
Location:  Barrio Saltos Cabra, Puerto Rico
Time:  night
Summary:  A number of witnesses claimed to have seen a creature described as about 3 feet tall, with a crest on its back, large wings and three fingered hands. Witnesses included two police officers that were patrolling the area when they saw the creature jump out from a tree line. Other local residents also reported seeing small gray silver clad humanoids.
Source:  Scott Corrales, Chupacabras & other Mysteries
---
Date: October 5, 1996: Mothership viewed at close range by Brazilian pilot 
---
Date:  October 1996
Location:  
Time:  
Summary:  
Source:  
Location. Rostov-on-Don, Russia
Date: October 5 1996
Time: 0300A-0400A
A local young man named Igor V. Kolomiets (involved in other encounters) claimed that he had been abducted onboard a UFO from his bedroom late at night. He felt paralyzed and was then beamed up from his bedroom into a hovering disk-shaped object outside his bedroom window in his apartment located on Aviamotornaya Street tenement house # 26. While floating in the air towards the object, he succeeded in looking at the object; it was not exactly disk-shaped from the top and only similar to a disk, looking at it from its side. In fact it appeared more oblong in shaped, narrow at the tail, streamlined with a gradual dome on top and a flat bottom. The dome was not even and was more elongated towards the front section. It looked like a perfect aerodynamic structure and was matt-black in color. A number of hieroglyphs or symbols resembling Egyptian scripture were visible alongside the outer rim of the craft encircling the dome, but Igor only remembered the one hieroglyph that was shaped as two horizontal lines, concaved and crossed by 3 vertical lines. He then floated into the opening of the craft. Inside, the object was segmented into several compartments positioned in a radial structure. His body was placed on some type of "operation table" and he noticed several alien beings in the room. He heard their voices even though their mouths were closed (evidently through telepathy). The humanoids were short, about 1.2-1.5 m in height, with beige colored skin, very frail body built, with thin narrow long arms and short legs, the arms were much longer than the legs, they had disproportionably very large heads over their small bodies. The aliens had very large, dark slanted eyes, without visible eyelashes and eyelids (maybe they were wearing some type of protective lid over their eyes), beak-shaped noses like those of birds and small thin mouths. On top of their huge heads they had a small amount of very short black hair, like the bristle or small fluff. They were dressed in tight-fitting overalls, dark in color. According to his impression the humanoids were very aggressive. They conducted a number of painful medical procedures on the witness, apparently studying his body and his mind. Igor understood that they had scanned all of his memory, which included his whole life and even his previous life (!). During the examination Igor could see vivid images from his past. The witness understood that the aliens originated from a star cluster in the constellation of Taurus or Pleiades, he received several mental impulses mentioning the world Pleiades in his mind. Unexpectedly one of the aliens stared in amazement and communicated that the witness had previously incarnated into an extraterrestrial civilization in the Orion constellation. The humanoids appeared shocked since apparently that civilization had been their foe in a distant past and had attempted to enslave them. Immediately after that he lost consciousness and awoke later back on his bed and could not remember anything else.
Source: Anton A. Anfalov Crimea Ukraine
---
Date:  October 1996
Location:  
Time:  
Summary:  
Source:  
Location. Near Sao Paulo, Brazil
Date: October 7 1996
Time: night
Two witnesses sighted a creature that resembled a large dog walking on its hind legs. The beast had large black eyes, long fangs, and a body covered by dense yellow fur. A local farmer found strange claw-shaped footprints, 13 inches long, "deeply edged into dry, hardened soil." Subsequent analysis of the footprints indicated that the beast "weighed some 440 pounds."
Source: Brad Steiger, Out of The Dark
---
Date:  October 1996
Location:  
Time:  
Summary:  
Source:  
Location. Armant, Egypt
Date: October 7 1996
Time: night
Egypt's Interior Ministry announced that police officers and citizen hunters had shot and killed "two unknown animals" in this city on the east bank of the Nile 500 km south of Cairo. The local people called the creatures "salaawa," a colloquial name meaning "female ghouls." Folklore has it that these ghouls inhabit ancient tombs in the nearby Valley of the Kings. The creatures, which resembled large hyenas or wild dogs, have killed three people and injured dozens in a series of nocturnal attacks around Armant.
Source: UFO Roundup Vol. 1 # 33
---
Date:  October 1996
Location:  
Time:  
Summary:  
Source:  
Location. Prudnik, Poland
Date: October 8 1996
Time: 2200
The 13-year old witness reported seeing a strange object with red, yellow, and green lights over her block of flats. That same night in a dream like state she found herself onboard the craft with several undescribed beings that performed medical experiments on her. Other reports sate that her dog was also taken onboard and was petted by the aliens. No other information.
Source: Uforaport Poland
---
Date: October 8, 1996: Father and Sons witness UFO
---
Date:  October 1996
Location:  
Time:  
Summary:  
Source:  
Location. Near Ventura California
Date: October 8 1996
Time: night
Around the same time that a green fireball flew from New Mexico to Ventura, several people reported encountering a strange humanoid. It was described as about 4-feet tall, its face egg shaped with a small nose. The mouth was small and circular with long thin fangs. It had multi-faceted eyes which when reflecting light, glowed red. The body was covered with short fur, like a hyena, and was colored gray with dark gray spots. Porcupine like quills ran from its head down its back. Its legs were powerful looking and shaped like a rabbit or kangaroo. One witness reported an attack on his pet pig, stated that the creature easily outran his dogs. It leaped over a three and a half foot chicken wire fence. In another instance it cleared a five-foot hedge. Tracks with three clawed toes were found. All encounters were near the San Andrea Fault line.
Source: Jerry Glass, Mufon
---
Date:  October 1996
Location:  
Time:  
Summary:  
Source:  
Location. Banabuiu, Brazil
Date: October 9 1996
Time: unknown
A tall humanoid about 1.90 meters in height, with long blond flowing hair and wearing tight fitting gray coveralls was seen in a street in a local neighborhood. On October 15 in Bandeirantes a glowing red object landed near a local gas station, ground marks were located afterwards.
Source: GEPUC Brazil
---
Date:  October 1996
Location:  
Time:  
Summary:  
Source:  
Location. Not given
Date: Around October 10 1996
Time: night
In a dream like state the witness found himself in a room with about 6 human men who were very official looking and had an air of authority about them. There were also two or three "alien" figures present. There was a sense of movement and the scene shifted to a "living room". The witness found himself sitting on a couch next to an alien. The human men were still in the room. One of the men was standing and lighting a cigarette and told the witness in a joking manner, "Well, go ahead and ask him a question, hybrid." The alien was not wearing any clothing, had large eyes, was thin, but had human skin tone, bright pink like a baby, and spoke with his mouth. The witness asked the alien a question about hybrids and received a very complicated and bizarre answer. (Not described)
Source: UFO Experiencers Support Group
---
Date:  October 10 1996
Location:  Lake Macquarie NSW, Australia
Time:  20:00
Summary:  5 OBJECTS, SOME MOVING FASTER THAN OTHERS SOME STOPPING BRIEFLY, MOVING AS THOUGH IN A LARGE LINE TO COVER A LARGE AREA, NO NOISE, APPEARANCE AS A CONSTANT RED LIGHT WITH SECONDARY FLASHING LIGHT, NO OBVIOUS SHAPE VISIBLE, POSSIBLY 3 TO 5 METRES IN SIZE. OCCURRENCES WERE ABOUT THREE OCCASIONS OVER A FEW MONTHS.HAVE ALSO SEEN FAST YELLOWISH CONSTANT LIGHT OBJECT APPEARING ROUND MOVING VERY FAST. A FLASHING WHITE LIGHT ONCE FOLLOWED ME TRAVELLING IN A MOTOR VEHICLE, WHEN I STOPPED THE CAR IT ALSO STOPPED. IT STAYED A DISTANCE OF ABOUT 2000 METRES. I DROVE AWAY. I RETURNED A FEW MINUTES LATER WITH FRIENDS BUT IT HAD MOVED AWAY BEING JUST VISIBLE.
Source:  National UFO Reporting Center
---
Date:  October 1996
Location:  
Time:  
Summary:  
Source:  
Location. Eastern Michigan
Date: October 12 1996
Time: 2130
The witness who had been driving along I-75 pulled off onto one of the roadside restrooms. After parking his car in an empty lot, he got out and felt something strange in the air. He felt some type of intense heat coming from above him. The parking lot suddenly flooded with an intense blinding white light, the witness felt paralyzed. It felt like being in some type of solid see through gel. He then saw a shadowy figure in front of him. It looked like the outline of a tiny man standing behind a floodlight. Its arms were extremely long and its legs very short. The witness suddenly blacks out as he feels somebody touching him. The next thing he remembered was standing in front of the urinal, staring at the mirror. He noticed that his eyes were swollen and he was suffering from a terrible headache. This experience was followed by intense graphic dreams.
Source: Internet Sightings Page
---
Date:  October 1996
Location:  
Time:  
Summary:  
Source:  
Location. Jenin, West Bank, Israel
Date: October 14 1996
Time: night
Abdul Alhazrad was driving towards the Jewish settlement of Dotan when he noticed what appeared to be a hitchhiker standing on the side of the road. The man asked for a lift. As he drove away, Abdul glanced at the man and was stunned to see him change his appearance in seconds as he watched. Instead of a normal human, Abdul found himself seated next to a tall humanoid in dark clothing with a head like a dog. The entity had floppy, dangling ears and a single Cyclopean eye at the top of its long canine snout. Afraid, the witness braked hard causing the car to fishtail off the road. Fleeing the car the watched the weird entity emerge from the passenger side. The being then took several steps towards the witness direction then vanished in plain sight.
Source: Dr. Leon Liebknecht
---
Date:  October 1996
Location:  
Time:  
Summary:  
Source:  
Location. Near Beersheba Israel
Date: October 14 1996
Time: night
On the same night of the previous bizarre encounter, two local Bedouin Arabs were driving on a darkened desert highway, when they saw a man standing beside the asphalt roadway. Surprised to see someone in such a remote location they slowed to a stop. One of the witnesses rolled down his window and asked the stranger if he needed any help. Instead of answering the entity slapped his palm against the car door. The hand seemed to adhered itself to the car. The witnesses then got a good look at the stranger's face and reported its features as a horrible "mutated" face. The driver then stepped down hard on the gas pedal. As the car zoomed away, the entity leaped at it covering an incredible distance, over 20 feet. It then crouched on the side door, clinging to the metal like a "Spider Man", even as the car sped down the highway at over 75 mph. After half a mile the entity seemed to dissolve itself into thin air.
Source: Dr. Leon Liebknecht
---
Date:  October 1996
Location:  
Time:  
Summary:  
Source:  
Location. Gainesville, Florida
Date: October 14 1996
Time: 0300A
Witnesses, brother & sister, in a dream like state found themselves looking at a round object with blue and gold lights. They then found themselves inside the object, surrounded by several small gray colored humanoids. Inside they could see gold lights all around them and on a corner what appeared to be two examination tables. Soon they found themselves back home. Others in the city reported seeing blue gold objects flying over the area around the same time.
Source: NUFORC
---
Date:  October 1996
Location:  
Time:  
Summary:  
Source:  
Location. Petach Tikveh, Israel
Date: October 14 1996
Time: 0330A
Again on that same night (!), Doctor Harav Ibn Bari was returning home with his cousin at the wheel and after passing the bridge to Tel Aviv they saw a strange figure on the opposite side of the road. They did a U-turn and stopped the car. The figure came out of the shadows into the light. It was described as small, light in color with huge bulging round black eyes. He seemed to lift his right leg and approached the vehicle at terrific speed. Both witnesses stared at the creature's eyes in a trance like state. The creature suddenly lifted his right hand and the witnesses drove off at high speed. They did not see the creature's departure
Source: Ano Cero 7-99
---
Date:  October 1996
Location:  
Time:  
Summary:  
Source:  
Location. Cazadero, California
Date: October 15 1996
Time: 0300A
The witness had been hiking with his best friend in an isolated area and was sleeping in a cabin when suddenly he awakened in the middle of the night. He was sitting upright in the bed totally paralyzed. He could only move his head back and forth and up and down. His friend was sleeping peacefully about 7 ft away from him. The witness then saw a being standing in front of him holding what appeared to be an electric thermometer with his right hand very close to the left side of the witness head. He believes that this device was rendering him in such a state. The being was slim and had beautiful skin in a gray, green and tan pattern. There was no hair on his body. It appeared to have "normal" eyes. The witness apparently communicated with the being by means of telepathy. It was apparently curious about the witness and briefly "tolerated" the witness questions. The witness soon lost consciousness and woke up the next morning.
Source: NUFORC
---
Date: October 16, 1996: Orlando, Florida Sighting
---
Date:  October 1996
Location:  
Time:  
Summary:  
Source:  
Location. Near Isabela Puerto Rico
Date: October 18 1996
Time: 0530A
Norberto Del Valle was driving on state road # 2 and approaching the Experimental Agricultural Labs of the University of Puerto Rico, when he noticed three strange silhouettes crossing the road in front of him. Slamming on the brakes in order to avoid hitting the figures he noticed that these were not human in appearance. They were described as short, with large heads, large round dark eyes, long thin arms, and fingers. Their skin was described as pinkish-white and very rough textured resembling a salamander; large protruding veins could be seen on the cranial area. The one in the middle appeared to be somewhat taller than the other two. The creatures appeared to be disoriented and seemed to have not noticed the witness vehicle. They seemed very fragile in appearance. The witness drove slowly way and upon looking back saw a fourth similar creature join the other three. He did not notice any type of clothing on them. At the moment he saw the creatures he felt a strange sensation in his mind, and panicked. The witness drove away from the area and did not see the creatures leave.
Source: Jorge Martin Evidencia OVNI # 13
---
Date:  October 1996
Location:  
Time:  
Summary:  
Source:  
Location. Pilozinhas, Paraiba, Brazil
Date: October 18 1996
Time: 1845
During a night of intense UFO activity in the area a local peasant woman, 92 year old Julia Monteiro de Cabral saw an unusual silver object come down from the sky vertically and land besides some nearby eucalyptus trees. A group of small humanoids emerged from the object. These beings were only described as "ugly" and spoke in a high-pitched unintelligible language. The humanoids surrounded the witness home and apparently stole some of her chickens.
Source: UFO Roundup Vol. 1 # 35
---
Date:  October 1996
Location:  
Time:  
Summary:  
Source:  
Location. Near Al-Arian, Israel
Date: October 19 1996
Time: night
Arab cab driver Khaj Muhmad-Jamal was going to meet his cousin Ataf at a road junction to drive to a dinner party. He saw the vehicle pull up but stopped to relieve himself. As he approached the car he saw a figure in a shiny suit sitting inside the vehicle. He bend down to look in and did not see his cousin but saw that the creature in the shiny suit had long dark hair and an enormous purplish black nose. Stunned he began walking backwards away from the vehicle. But felt something holding back in place. After 15 minutes his cousin appeared totally confused wondering why Khaj had not entered the vehicle. Apparently Ataf had not seen the weird creature.
Source: Ano Cero 7-99
---
Date:  October 1996
Location:  
Time:  
Summary:  
Source:  
Location. Kfar Hawald, Israel
Date: October 20 1996
Time: 2300
Eli Hawald had gone outside his home when suddenly out of nowhere he saw a gigantic green light descend from the sky. He ran into the house locked the door and watched from a window. When the light was ten meters above the ground, it dimmed and three figures descended towards the ground from the light. The figures were human-like but very dark in appearance. They acted oddly, fanning out, and then quickly returning to the same place. Their speed was fantastic and they seemed to emit a siren like sound. At this point the witness alerted his wife and children and they ran out the back door. They did not see the entities and light depart.
Source: Israeli UFO Investigation Group
---
Date:  October 1996
Location:  
Time:  
Summary:  
Source:  
Location. Fife Scotland
Date: October 20 1996
Time: night
Two young boys were playing in the bedroom when suddenly one of them, Peter, looked out the window and was surprised to see a small "white being" with lots of "jagged teeth" looking straight at him. The being was free floating and was not standing on top of the kitchen roof. After a few seconds the being just simply floated straight upwards with ease, and was gone from sight in seconds. The other boy also saw the strange being. Later that night Peter entered the bathroom and saw a small white being standing next to the wash hand basin and bath. This being also had a row of "jagged teeth." He was small and thin and looked very pale. Peter screamed and the being simply vanished. The family had been involved in a spectacular UFO incident the month before.
Source: Malcolm Robinson in FSR
---
Date:  October 1996
Location:  
Time:  
Summary:  
Source:  
Location. Near Harare Zimbabwe
Date: October 20 1996
Time: night
A man named Paul was driving on the Bulawayo Road near the Lilfordia School when he saw a bright light descending silently from the sky. As the object neared him he became aware that it was a disc shaped craft. As the object landed on a large open field to his left, Paul pulled over and stopped the car. As he watched, a door opened—moving upwards—on the side of the object, and two men wearing shiny black coveralls climbed out of a dome at the top of the craft. At this point coming from the opposite direction came another vehicle, which also stopped, on the right hand side of the road. The entities must have then become aware of being watched, and the men went quickly back inside the object. Then the door closed, moving downwards. At this point the occupant from the other vehicle ran across the road and yelled at the witness to leave the area quickly. Both men then drove off very fast.
Source: Cynthia Hind
---
Date:  October 1996
Location:  
Time:  
Summary:  
Source:  
Location. Isabela, Puerto Rico
Date: October 21 1996
Time: night
The same night that a trio of goats were found gravely wounded, a local resident encountered a plump, hairy, three-foot tall creature on a highway. The creature eluded him with great agility, in spite of its weight.
Source: Scott Corrales, Chupacabras and Other Mysteries
---
Date:  October 1996
Location:  
Time:  
Summary:  
Source:  
Location. Ahuzat Bayit, Tel Aviv, Israel
Date: October 23 1996
Time: 0200A
Rachel & Leah Gorovitz were driving their Jeep on a side street in a deserted neighborhood, when suddenly Leah noticed a short 5-foot tall man-like figure dressed in a bright red jumpsuit. There appeared to be a bag on his back that looked like part of the clothing. The humanoid had a non-human mechanical way of moving. It had a waxy face with a blunt expression on it. The android-like creature took steps towards the witness direction. Then Rachel put the Jeep into reverse and backed up at high speed driving quickly away. A short while later, the same witnesses took the street again in order to go home they saw the same android-like creature move from behind a building's shadow, & step into the street, it came towards the witnesses again and suddenly disappeared.
Source: Dr. Leon Liebknecht
---
Date: October 27, 1996: Hungarian UFO Photo
---
Date:  October 28 1996
Location:  Ligatne, Latvia
Time:  2200
Summary:  Nikolai X and his wife hand been camping along the banks of the River Amata during a light snow, at sundown they kindled a bonfire and both were squatting near the fire in order to warm up. Near the river they noticed a strange haze, which appeared to approach their location, suddenly near the bonfire about 10 meters away, they saw two figures looking at them. They were a man and woman, very tall, blond haired and with beautiful features. The woman had long curly hair and the man long straight hair. Their facial features were without emotion. They simply stared at the witnesses silently. Their clothing was extraordinary; it appeared to be illuminated, like a cobweb, made out of a very beautiful material that covered their bodies. Their features were strict and imperturbable. Frightened Nikolai heard a mental message from the woman telling him not to fear, that they had visited the same area previously. Suddenly the figures seemed to dissipate in plain sight, with numerous luminous particles scattering into the wind.
Source:  UFO LATS, Latvia
---
Date:  October 1996
Location:  
Time:  
Summary:  
Source:  
Related articles