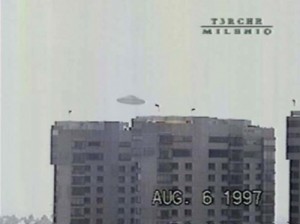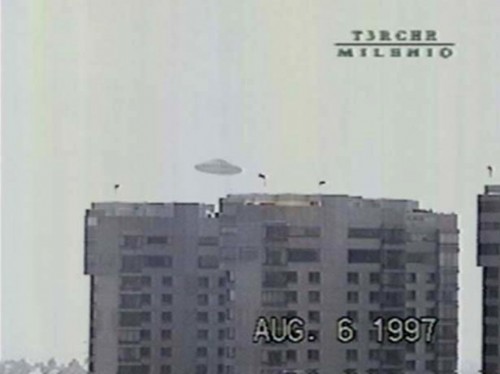 (Last Updated On: August 24, 2016)
Date: August 1997
Location: Glinik, Poland
Time: 0010A
Summary: Zdzislaw Komorek was walking back to the village among some low hills on a warm cloudless night when he suddenly noticed a strange human like figure which seemed to be made out of bright light, at a distance of 50 meters away. The figure was about 1.5 meters in height, white in color and with a large head and human like hands. However, Komorek was unable to see any facial features. The figure was gliding silently above the ground. Terrified the witness quickly left the area, and noticed that the figure was following him always keeping a distance of about 50 meters. At one point he looked back and the figure had mysteriously vanished.
Source: Arkadiusz Miazga, MCBUFOIZA
---
Date: August 1997
Location: Quebec, Canada, exact location not given
Time: late night
Summary: The witness was in the bedroom when he saw a green humanoid head come out of the wall. It stared at the witness who felt a very icy feeling. No other information.
Source: Canadian UFO Survey 1997
---
Date: August 1997
Location: Wilkowa Poland
Time: night
Summary: Asia X, 27 years old, was lying in bed when she suddenly saw through a window opposite to her bed a large yellow ball hovering in mid-air. Suddenly, a beam of yellow light hit the witness who felt paralyzed. She was not able to scream or move. During the time that she was unable to move "she felt as if something or someone was trying to remove her soul from her body." After about 2-3 minutes she suddenly noticed two figures in the room. One figure had a large oval shaped head and had big oval slanted black eyes stood by her bed. It was very thin and was not wearing any clothing. Its skin color was similar to a human. The other similar figure hovered above her. It was somewhat shorter than the other humanoid and wore something similar to a dark cloak. One of the figures spoke in Polish to the other one, "I don't want her to know "something" about her female anatomy." "She was chosen" the other humanoid spoke. Her next memory was of waking up and the figures were gone.
Source: Arkadiusz Miazga, MCBUFOIZA
---
Location. Guidonia Montecello, Rome, Italy
Date: August 1997
Time: night
A married couple, consisting of a 40-year old man and a 37-year old woman suddenly felt a constant and nagging "sound" in their heads. It resembled an incomprehensible language that just rambled on. The sound became louder and almost intolerable, causing them extreme difficulty in moving around, they both managed to stumble over to the window and look outside. They soon noticed two luminous objects oscillating in the sky above them, always maintaining the same position. The light from the objects remained the same and illuminated the area like daytime. At this point they saw at the end of a nearby alley a tall human like figure that was shouting in the same strange language in the direction of the objects. Then the couple briefly stepped back from the window and upon returning to the window everything appeared normal and the figure and objects were gone. The strange murmuring in their heads had also stopped.
Source: UFO Italia
Date:   August 1997
Location:  
Time:  
Summary:  
Source:  
---
Date:   August 1997
Location:  Between Poyarkino & Kozlovka, Penza Province, Russia
Time:  2100
Summary:  Several local truck drivers carrying agricultural products between villages repeatedly observed a strange humanoid figure dressed in a coverall. The encountering was almost occurring on a regular basis and around the same place. Several trucks approached the humanoid to within 70-80 meters, and after that the drivers were stunned to see the humanoid slowly fade away in plain sight of them. Details on the entity's facial features could not be seen because it was dark and the distance from the witnesses. This area is known for the numerous observations of oval and disc-shaped objects.
Source:  Sergey Volkov, President of Logos, Penza Association of Untraditional Researchers in "NLO" Magazine Saint Petersburg # 44 October 30 2000
---
Location. Brooksville, Florida
Date: August 1997
Time: midnight
Two witnesses encountered a dark being with glowing red eyes that approached their beds as they slept. One witness was frightened and hid under the covers; he then heard a telepathic message. The other witness reported that the being approached and scratched him with a blade like instrument. He saw the being walked away then apparently stumble, he then went to sleep. One of the witnesses woke up the next morning with deep scratches on his chest.
Source: UFO Sightings in New Mexico & The World
Date:   August 1997
Location:  
Time:  
Summary:  
Source:  
---
Location. Near Amado, Arizona
Date: first week of August 1997
Time: late afternoon
A man driving down a narrow desolated two-lane road was going through an area of eight to ten foot embankments on both sides of the road. Suddenly something leaped from the top of the embankment on the left side and landed in the middle of the road about 30 yards ahead of the vehicle. Its legs were scrambling to get a grip and it then leaped or flew to the top of the embankment on the right side of the road. Then it disappeared. The creature was described as about four feet tall and bipedal. Its legs were large and muscular with big thighs. Its feet were round, but the witness did not see if they were clawed or hoofed. It had a narrow waist area with a much larger round chest. It had two slims arms with claws for hands with bat type wings that went from underneath the arms to about the waist area. Its neck was skinny, but the witness did not get to see its head as the sun glare blocked his view. The color of the creature was deep brown with a dark green tone under the wings. It was leathery with no fur and it had no spikes or anything from its spine noticeable.
Source: Nick Wyatt
Date:   August 1997
Location:  
Time:  
Summary:  
Source:  
---
Date:   August 1 1997
Location:  Tampa, Florida
Time:  
Summary:  I was working in Tampa FL at an International Trucking Company. A gentleman was brought into the office and was introduced as the new V.P. of the Southeast Division. I can only remember his first name as "Joe". He was very tall – I'm guessing 6 feet or taller. My head came up to his shoulder, and I was 5ft 5in at the time, and very slender. There was no one else in the office at the time that he walked in and looked around. I noticed that he seemed very pale in color, had silver-grey hair, wore a white shirt with a grey necktie, and wore a light grey suit. I walked over to introduce myself. As I told him my name, I held out my hand to shake hands with him. At first touch his hand was ice cold and his fingers were long, and as he grasped my hand a "vibrating" electrical shock went from my right hand up to my elbow. We released hands and I glanced up at him. His eyes were dark and he had a slight smirk on his face. It immediately went through my mind that he knew that I knew he was not human. I just slowly walked away and he walked back out onto the dock where the freight was. He never spoke a word the whole time. I was shaken by this occurrence, but I never told anyone. This "happening" bothered me for many months. I never told anyone for many years, except that one day my husband and I were watching a television program and the host asked "Have you ever met an E.T.?" Without thinking I said "Yup, I shook hands with one." As soon as I said it, I got up and went into the kitchen. I couldn't believe I said that out loud. My husband said "What? Why didn't you say anything?" and I replied "Because I knew no one would ever believe me." I never told my husband anymore about it, and never spoke of it again. Until now. I have always believed in outer-space beings since I was a child. The only reason I'm telling MUFON is that my health is starting to decline and I feel that I must tell someone. Over the years I've thought of it and how unnerving it was. I'm sorry that I cannot remember the exact date or time, I think it happened in the very late 1990s or very early 2000s. I can't remember the time of year because they have no weather seasons to speak of in Florida. I just remembered that within the next 3 – 4 months, it was mentioned that he abruptly left the company with no specific reason. 
Source:  MUFON CMS
---
Location. Bocaiuva do Sul, Brazil
Date: August 3 1997
Time: night
Edsom da Silva heard some shots coming from a nearby wooded area and ran over to investigate. Hiding behind a tree and carrying a bright lantern he pointed the light at a nearby "form" on the ground. He saw it was a strange creature with two huge reddish eyes, and a bizarre crest on its back. Frightened he ran from the area and did not see the creature depart.
Source: Carlos Albert Machado
Date:   August 1997
Location:  
Time:  
Summary:  
Source:  
---
Date:   August 4 1997
Location:  Calgary Canada, AB
Time:  05:00
Summary:  There were three of them, they were heading south, it was early morning and the sky was clear. two of them were flying side by side as the other one was flying below the second one. they were round or oval shaped and they seemed to shine really bright. the color was almost between a yellow orangey. It was morning and I had gotten up to go to the bathroom, I always look out the back window as this is my habit of doing. as I came back from the bathroom, I took a second glance and thought that it was a airplane with bright lights on, when it was flying side ways I knew it wasn't of that sort. I opened my back door to get a better glimpse so as not to make a mistake about what I saw. There was no sound. I watched as it stopped and then move again. if only I could of gotten closer wow. I'm sorry as I don't have a picture to show you only what I've experienced. but this is how they flew information; o o o this is the best I can do for you. Duration: morning
Source:  National UFO Reporting Center
---
Date: August 5 1997
Location: San Luis Potosi Mexico
Time: 0045A
Summary: Taxi driver Ramon Velazquez Luna had just dropped off a fare and was on the Villa de Reyes highway when he began to see white-orange lights following him. The lights suddenly turned off and then appeared this time in front of the vehicle. The lights then disappeared into a nearby field. Approaching the village of Chirimoya he noticed what appeared to be a "power plant" well lighted on the side of the road. Confused he stopped the vehicle and noticed that the lights were oval shaped and mercurial in nature. Suddenly a fog-like smoke approached the vehicle causing the witness to become frightened and drive away. Nearby as he drove away he saw "a strange vehicle" on the side of the road and several huge dark humanoid figures that appeared to have no heads milling around it. The figures seemed to be signaling Luna to stop his vehicle. Finally after arriving at his destination Luna noticed that there was almost 3 hours that he could not account for.
Source: Ruben Manrique, Contacto Ovni

---
HOAX
Date: August 6 1997
Location: Ciudad Mexico
Time:
Summary: Famous video, saucer passes tall buildings.   Video experts signal obvious fake. Photo Above
Source:
---
Date: August 7 1997
Location: Monte Alto, Brazil
Time: 0300A
Summary: Upon hearing his dog barking the witness looked out the kitchen window from where he observed a 2-meter tall creature completely covered in black hair. The creature stood about 3 meters from the window. It was struggling with the dogs and was trying to push them away. A few minutes later it turned around and headed to some nearby trees. The witness noticed that as it moved it seemed to do so in a slow "wobbly" fashion almost as if intoxicated. The witness found strange prints on the ground.
Source:Carlos Alberto Machado
---
Date:   August 7 1997
Location:  Near Sioux City Iowa
Time:  2130
Summary:  A 22-year old man and an 11-year old relative were driving home when the younger one spotted a triangular shaped object in the sky. The craft was about 500 feet away at about 200 feet altitude and seemed to be moving parallel to the road. It appeared to be about 60 feet in length. As the witness drove through a heavily wooded area of hills, deep ravines and winding roads, the craft crossed the road just behind their vehicle and disappeared toward the west. When they turned onto the road leading to their farmhouse, a "strange animal" bumped into the car's passenger door. It was described as something resembling a snarling hyena, with big red lights in place of eyes and huge teeth offset a short, pointed nose and small ears. The fur was tan, striped, and spotted with black; it had taut, bulging muscles all over its body. Arriving home the witnesses and other family members watched a larger triangular shaped craft moving very slowly at about 300 feet altitude. Then it hovered for 15 minutes before leaving. Since the sighting, the younger boy has had repeated dreams featuring "large heads with no faces", he felt lots of hands touching him, and he couldn't move, and he was being carried and laid on a "couch". The previous night the Sioux City police dept received numerous calls about a hairy Bigfoot type creature in the area of 17th street in the city's Northside section. On September 19 the man again saw a similar or same creature. The Family has been involved in numerous other bizarre phenomena and other encounters.
Source:  Beverly Trout Mufon Iowa
---
Location: Villa Grove, Saguache County, Colorado
Date: August 8 1997
Time: 1100A
A Texas tourist sees a black unmarked Blazer "skidding up" to a store where he was getting gas. Two camouflage-clad individuals "stared" at him and one took off his "wrap around shades" revealing "he had no eyelids." No other information.
Source: Christopher O'Brien, San Luis Event Log
Date:   August 1997
Location:  
Time:  
Summary:  
Source:  
---
Date:   August 9 1997
Location:  Smerwick, County Kerry, Ireland
Time:  1600
Summary:  Kathleen O'Shea was walking during a dark rainy day, when it began to pour, as she ran for shelter, a giant black bat-like creature few up in front of her. She screamed and fell forward. When she opened her eyes the creature was gone.
Source:  Doc Shiels in: Blather
---
Date: August 9, 1997: Swissair Jet Has Near Miss With UFO
---
Date: August 15 1997
Location: West Palm Beach, Florida
Time: 2000
Summary: June (involved in other encounters) had been visiting a friend and upon leaving noticed a "heavy" darkness. The streetlights seemed diffused and dimmer than normal. As June continued to drive, the streetlights seemed even dimmer. As she approached the traffic light by the railroad crossing on the corner of A1A and Park Ave. in Lake Park three cars stopped at the intersection as though the light were red on both sides. While waiting for the traffic signal, June looked down Park Ave. and saw what appeared to be a tunnel. The streetlights were only pinpricks of light. After a long time the light turned green and June proceeded into the "eye" of the tunnel. The road seemed black and she could not see the street or even the instrument panel on her car. She down shifted and drove slowly. The 15-minute drive from her friend's house took 45 minutes. June arrived home badly frightened. Later June was hypnotically regressed to the time she was at the intersection where she waited for the light to turn green. June recalled seeing a bright light all around her she was not able to move and did not know where she was. She then found herself in a room with "shadows" all around her, across the room she sees little people looking at her. One is touching her all over. This being was holding something bright—shiny in his hand, about a foot long. It resembled a rod with a light on the end. He puts it in her body as she yells to her to stop; she is still unable to move. There is a very disagreeable odor in the room. The small creature resembles an insect, something like a praying Mantis. The room is very cold and has a very bad odor. The being with the rod is further described as about 4 ft tall, with four fingers that he wiggled slowly. He had antennae as well as a beak-like protrusion on his face. The bed in which she was lying on was low and close to the floor. The room was described as curved and platinum in color but with a greenish light that came from the walls, ceiling and floor. She did not remember being hurt by the being. June further remembered that as she drove through the "tunnel" she remembered opening the car door to try to see the centerline on the street, but did not see it. She took her foot off the clutch. She remembered that the car didn't sway as it normally did and she didn't feel the road beneath her. The streetlights were dim and tiny. She also had a hard time breathing.
Source:Miami Skyscan March 10 2000
---
Date: August 16 1997
Location: Rutherfordton, North Carolina
Time: midnight
Summary: Three men reported that as they stood out in a mountainous area admiring the night sky they watched a glowing green cigar shaped object descend and land on a nearby field. As curiosity overcame fear they walked towards the landing zone. As they approached an opening became visible on the craft and two 6 ft tall creatures, grayish-blue in color and wearing what appeared to be armor-like suits stepped out. At this point two of the men ran away but the third was caught by the creatures and was taken onboard the object. Inside the object he was put into what appeared to be a "cage". The creatures apparently used telepathy in order to communicate amongst each other but somehow the witness was able to hear their thoughts, as they could hear his. The aliens told the witness that if the humans attempted to capture or injured their kind in any way, they would be forced to retaliate. Upon being asked about their point of origin they told the witness that they came from "beyond 300 million light years away". Asked how could they travel so far they pointed out that they used the speed of gravity, which was faster then light. After awhile the witness reported that something apparently went terrible wrong onboard the object and that it crash-landed in the mountains outside Lake Lure. At this point he lost consciousness. He woke up about an hour later without finding any signs of wreckage or other visible proof of what had occurred.
Source: NUFORC
---
Date: August 16, 1997: Lausanne, Switzerland Sighting
---
Date: August 17 1997
Location: Serra Do Mar, Brazil
Time: night
Summary: Night watchman, Miguel Goncalves was looking after construction equipment at a work site, when he was startled by the sudden appearance of a ghostly female figure with long dark hair and skin standing about 10 meters away. The figure was about 1.65m in height, with a small round face, long black hair and wearing a loose fitting brown outfit that was tight-fitting around her waist. The guard challenged her and then asked where she came from; the woman simply pointed at the full moon and slowly faded away.
Source: Scott Corrales, Fate December 2001
---
Date: August 18 1997
Location: Countryside/rural England
Time: 20:30
Summary: myself, husband and daughter had come from Penzance in far south west Cornwall in the evening about september. About the time of new term starting at schools daughters said. it was a moonlit night and the clouds were buoyant but plenty of clear sky between them- as if it was fairly windy high up. WE had to take a country road for about 11 or 12 miles through some small hamlets and one or two small villages but very quiet. The road was well lit by the moon despite the fast moving clouds which did not except sporadically obscure any significant part of the sky. WE had I think it was when we had the Audi with a sunroof but it might have been a Renault car I am not much good about cars. The point is we had a tinted glass sunroof. My daughter and I had been commenting on the lively night and sky when something caught my attention. WE must have travelled perhaps three miles out of the town. First behind a cloud then unshielded were three green or grey green faded but clearly there, green spheres. They would have been pretty big, I suppose if we estimated them to be er!!! flying below the clouds sometimes I don't really know what height the clouds are at!!! But at that height they would seem to measure about I would guess half the size of football pitch!! maybe a third. If I measured them as an artist using my thumb down a pencil- the tip of the pencil being put at the visual edge of one of the spheres and my thumb moving down until my eyes sees it as recording the opposite edge and my arm straight ( if you know this methods used to measure distant objects bye artists!!!I would say they would be about three to four inches across at that distance. At first we thought there were some kind of laser show, (we had seen one which had given us a scare when the images appeared over our fields,) But these interchanged positions altering height slightly as the way a car does on and uneven road. Also of the road tured they altered their path to follow us blatantly drawing close to one another to take the turn. At first watching them partly through the sunroof and partly by craning our necks was just interesting then we became disconcerted when we saw they were following us and it became more urgent to get home fast. In fact they trailed us for all but th last mile home when we reached a village and took the sharp turn left they swung around and went into the distance growing smaller as they went. we didn't know what to think we were sure they were some kind of spacecraft. There were no separate lights as I have heard described though, just a continuous ring (pale green) each of them had and the middle was obscured somehow. we are used to seeing helicopters as we lived on their flight path from a military base some 12 miles in another direction, and also planes and air balloon but none like this and theses were moving fact and had great propulsion faster than a jet plane when they went off but not a sound. My husband met a neighbour( about a mile away) a week later and when he went to mention it the neighbour said' that is odd we were also followed by those 'exactly the same'. Then in the local paper for Cornwall (and I have a picture someone took) was a report (up near bodmin I think it was) of this Ufo 'one only' but very like the ones we had been followed by, but this was taken in the day at sun set!!!! Around the same time ( and this may be accountable any other way, I do not know, may be unconnected but those were very real no question) I was awakened in the night by a very bright white light blue white. The road ran next to the house, so I thought at first and so did hubby it must be a car!! I actually had made little shutter fo this side window but they didnt fit very well so they let light in along the edges and it shone straight on my face. I opened up the shutter to see and there was no car and the moon was not visable or at least I could not find it and also the light was much much brighter and very white with a bue eliment to it. I could not see its course, it lasted a while um! maybe twenty minutes half an hour and went. I had often told people about these sightings and they came back with amazing stories but I never found anywhere to report it and find out what it was, then I was reading the uninvited lately having got it in a pile of books i got at charity shop[ before we left england two years ago. and when I mentioned the light it reminded me and fankly gave me the willies. Now I am wondering exactly how far that encounter actually went!!!! at least if you have this information you can look into it yourselves and it isnt lost forever which I hated because I think anything like this should be recorded otherwise how can we knwo waht is happening or to what extent?
Source: 
---
Date:   August 19 1997
Location:  South Normanton, Derbys England
Time:  22:45
Summary:  NOTICED ODD CLOUD SAW BRIGHT LIGHT MOVING LEFT TO RIGHT AND BACK. SOMETHING DROPPED OUT OF BASE SHIFTED OVERHEAD OF US. SHAPE OF CANDLE BULB GLOWED BLUE FASHED MAGNESIUM WENT BACK UP, AND BOTH CRAFT BEAMED OUT.LIKE A SMALL CRAFET TAKING PICTURES OF US AS I TRIED TO TAKE PICTURES OF IT.SAME SKY AREA SEEN SEVERAL USOS WITH WITNESSES.NOV 95 OBJECT SHOT UP BEAM AND SEVERAL ELECTRICAL FAULTS. SEVERAL WITNESSES TO TRIANGLE OVER MY HOUSE 26.1.95 FROM MILES AROUND . FRIEND TOKK VIDEO FOOTAGE IN AUG 94 OF TWO JETS INTERCEPTING A UFO IN MANSFIELD NOTTSFILM LASTS 12 MINUTES. SEVERAL WITNESSES.VERY ODD I SEEM TO KNOW WHEN SOMETHING WILL APPEAR BUZZING IN HEAD AND HIGH PITCHED NOISES..
Source:  National UFO Reporting Center
---
Date: August 19 1997
Location: London England
Time: 23:00
Summary: small circular flashing object emitting different colors, seemingly shaking, plus another circular object separating and parallel to, occasionally joining each other with beams of light. At approximately 11.00 pm on Tuesday 19th August 1997 I witnessed a strange event for about half an hour. What can only be described as a circle of lights changing colour rapidly, from yellow to orange to blue to green to red to yellow and repeating. The circle seemed to be shaking and moving in the air. It then split into two identical objects as previously mentioned. Then flying parallel to each other they became joined by beams of light as if they were one large object. I continued to watch until I realized I had never seen an object such as this in the sky before. It wasn't a plane or a satellite, I can say this with confidence as I live in a very tall building and frequently look at the sky at night through a pair of binoculars; and the cloud cover was too low to see any stars.
Source: NUFORC
---
Date:  August 20?, 1997(?): Coimbra, Portugal Sighting
---
Date: August 20 1997
Location: Gull Lake, Manitoba, Canada
Time: unknown
Summary: Several witnesses claimed they saw a green luminous craft crash into the woods. Upon investigating they saw a huge hairy man-like figure apparently standing guard next to a crashed object. The witnesses then apparently left the area. 
Source: UFOROM
---
Date: August 20 1997
Location: Camrose 1.5 km north, Canada, AB
Time: 22:30
Summary: 3 satellite looking objects very high altitude.flying in a triangle formation, watched for about … 5 hour when they changed direction. another 10 min went by when the first craft disappeared. continue night 2. night 2. 22:30 one much lower object,same location,flying very slowly west.i watched the object for about 15 min. when it dropped to a lower altitude very quickly,headed north from there. i watched for about 20 min when it made 3 quick up and down movements and disappeared. object didn't look like much lust white lights , they just acted strange.
Source: National UFO Reporting Center
---
Date:   August 1997
Location:  
Time:  
Summary:  
Source:  
Location. Near Red Wing, Colorado
Date: August 22 or 23 1997
Time: unknown
Witnesses reported a C-131 transport plane dropping a "huge box" just north of the Atlantic Richfield CO2 plant in Huerfano County. Several locals set off to investigate. Several of them then saw two men wearing "jet-packs" on their backs flying up and down, around and between Sheep and Little Sheep Mountain, apparently looking for something. Other witnesses saw a craft that had the appearance of a large clear bubble. From the bottom of the bubble sparks were being emitted with a "clattering sound." A witness evidently fired a gun at the strange object as it passed overhead, and later that evening he was confronted and then accosted by three men (not described). The men wrestled him to the ground and one of them grabbed his neck and he was immediately rendered unconscious.
Source: Christopher O'Brien
---
Date:   August 1997
Location:  
Time:  
Summary:  
Source:  
---
Date: August 22 1997
Location: Mesita, Colorado
Time: night
Summary: After watching a huge golden colored light hovering over the area, witness Thomas Peay claimed to have then experienced three concurrent nights of lucid dreams featuring "aliens" and being taken out through the window and into a small object then taken into a larger object. The aliens are not described.
Source:Christopher O'Brien
---
Date:   August 23 1997
Location:  Hermosillo, Sonora Mexico
Time:   22:00
Summary:  I lived in Hermosillo Sonora Mexico in Aug. of 97. I was working as VP of an English school, and freelancing to the Mexican Govt.'s tv station. After supper one evening about 10'clock, In the back yard I sit and watch the sky as I do every night. Now, I've seen things almost every night, stars that would fall for a couple of minutes then streak to the right or left and so on. But this one night I was looking towards the sky where the airplanes would fly to the Hermosillo's airport. Then it happened! A large white boomerang spaceship (three times the size of a passenger jet) decloaked (like in Star Trek) floated down a few seconds, stopped (no sound), and then … warped to the north, just like on Star Trek! Now the hair stood up on skin, where do you hide? ( I'm supposed to be a tough guy). I couldn't tell any one what happen because I couldn't speak Spanish enough to explain what had happened, so a week later a Mexican-American was visiting his relatives and I told him. He said his cousins (3) saw it to. Same time and same place in the sky. Then a few days later the owner of a computer cafe house told me the same story but it appeared to him while he was driving. Three days later I picked up an am station at night on my radio that was the Art Bell Show Coast to Coast. Believe me, my life has changed 100% since I saw the space ship. My beliefs and everything has been challenged!!
Source:  National UFO Reporting Center
---
Date: August 23 1997
Location: Vegas de Diuca, Chile
Time: afternoon
Summary: Several locals, including Jose Estrada & Nicolasa Estrada witnessed near a local hill a small robotic figure that moved in quick jerky jumps, it seemed to be reddish yellow in color. It would take quick short flights over the fields then fall down and land. It seemed to have a rounded head with a hole like eye on the center. It had a "tail" like protrusion on its rear and two antennas like protrusions on top. Two of the witnesses, one armed with a shotgun approached to within 10 meters of the figures. Around the same time other locals reported seeing slow moving lights low over the area.
Source:UFOPR
---
Date:   August 1997
Location:  
Time:  
Summary:  
Source:  
Location. Uintah County, Utah
Date: August 28 1997
Time: 0200A
In the middle of his isolated ranch in Northeastern Utah, Tom Gorman saw a dull white light appearing out of nowhere, researcher Chad Deetken also saw the light. Gorman and Deetken were out in the pasture as part of an ongoing effort to document unusual activity on the property. Both men watched intently as the light grew brighter. It was as if someone had opened a window or doorway. Gorman grabbed his night vision binoculars to get a better look but could hardly believe what he was seeing. The dull light began to resemble a bright portal, and at one end of the portal, a large, black humanoid figure seemed to be struggling to crawl through the tunnel of light. After a few minutes, the humanoid figure wriggled out of the light and took off into the darkness. As it did, the window of light snapped shut, as if someone had flicked the "off" switch. Deetken had the presence of mind to snap a few photos of the event but would later learn that the film had recorded little of what the two men had witnessed.
Source: Las Vegas Mercury, NIDS
---
Date:   August 1997
Location:  
Time:  
Summary:  
Source:  
Location. Moscow region, Russia
Date: August 31 1997
Time: 0400A
Valentina Belyayev Ustyuzhanka awoke in the middle of the night with a severe thirst. As she entered the kitchen she found it flooded by a very strong light. Looking out the window he saw hovering directly opposite to the house a very luminous sphere and inside a circular section of the sphere was the very clear image of a man's face. The man appeared to be about 60 years of age with a high forehead, wrinkled skin and a "wise" countenance. He appeared to be looking around, sideways, upwards and downwards. The sphere seemed to be revolving slowly. Very excited Valentina rushed to the bedroom to wake his husband. Her husband did not believe her and remained in bed, when she ran to the kitchen she looked out and the sphere was gradually fading away.
Source: Mikhail Gershteyn, X-Libri UFO
---
Location. Orudievo, Moscow Region, Russia
Date: end of August 1997
Time: 0100A-0300A
Moscow resident Mrs. R P Ziborova was visiting her mother in law and had stayed over to sleep in the small village. She was sleeping in the same room as her husband, but in different beds. She remembers standing up around 0100A walking outside and returning around 0300A. She remembers the times clearly since she was wearing a digital watch. She had inexplicably lost two hours of time. The next morning, she discovered a strange scar on her body shaped like the letter "L" about 3 cm in dimensions. It resembled a cattle brand; her skin became reddish around the edges of this scar, resembling a fresh burn. That same night several residents of the village reported numerous UFOs over the area.
Source: Anton Anfalov, quoting "Stamp of the Extraterrestrials" in Taynaya Vlast Newspaper, Moscow 2000
Date:   August 1997
Location:  
Time:  
Summary:  
Source:  
---
Date:    late summer 1997
Location:  Near Flint, Michigan
Time:  0300A
Summary:  The witness was working in a fabrication shop that made modified parts for snowmobiles. The shop was located in an area that was virtually surrounded by endless miles of farmland. After finishing his shift he decided to drive home with the top down of his convertible. As he came up to a long stretch of road he had to take in order to get home he saw something crawling on all fours coming out of the culvert on the corner of the road. The creature was huge, it was about 2 quarters the size of his car with appeared to be black matted fur that almost looked like a shadow as it moved toward the house that was in the corner. It never dawned on the witness that he had completely stopped his car in order to look at the creature. As the witness stared at it trying to make sense of what it was it suddenly turned its head and looked at him. He then saw two almond-shaped blood red eyes that seemed to illuminate out of the black void as they peered at him. The creature then turned away and slowly moved toward the back of the house where it vanished.
Source:  Paranormal about.com, your true tales November 03
---
Date:   August 1997
Location:  
Time:  
Summary:  
Source:  
Related articles