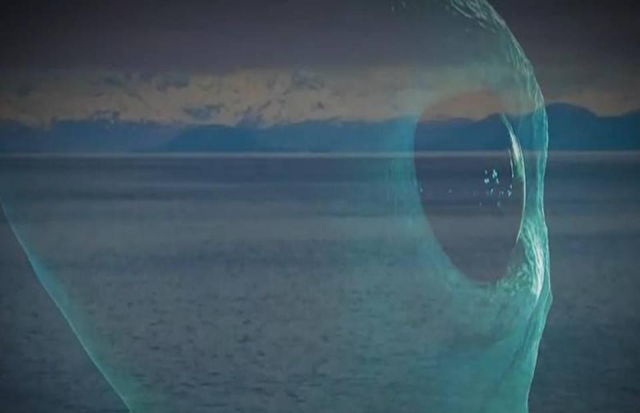 (Last Updated On: August 24, 2016)
Date:  early winter 1997
Location:   La Grange George
Time:   0200A
Summary:   A man reported three silvery dark beings about 4 1/2 feet tall entered his home by coming through his bedroom wall. He suddenly became paralyzed. The entities then took him through his bedroom wall. The entities seemed to have had ceramic like skin with no seams or wrinkles. The witness thought they might have been some type of solid form of energy. Most of his glimpses of the humanoids were distorted "like looking at coins in a deep pool of water." He was unable to discern any facial features, but the beings were humanoid in shape. They had arms and legs but strangely their hands seemed club-like except when they sometimes showed "webbed" digits. On coming outside into his backyard, he saw the outlines of a huge saucer shaped object. It seemed to be hovering above some nearby trees. A portion of the dark craft hung down immediately behind his house. Behind this portion of the craft a light emerged and in an instant the witness and the entities were inside the craft. The interior of the craft was brilliantly lit, and the witness could see humanoids everywhere. He was put on an examination table. He was able to see dozens of other people on similar tables. Machines with long arms, similar to x-ray machines were moving around the tables. A probe thumped his right front calf. He was then flipped over and something thumped his buttocks. A mechanical arm also grabbed the crown of his head. The beings around him seemed to be speaking in a low unintelligible language. He woke up late the next morning with several painful marks on his body.
Source:   John C Thompson ISUR
---
Date:  November 1997
Location:   Near Dallas, Texas
Time:   night
Summary:   A large egg shaped or oval shaped craft exploded and crashed over the area. It was apparently involved in dogfight with another UFO. The craft broke into two parts and some wreckage and debris was removed (in boxes) by convoy to Grand Prairie NAS. Later the debris was removed to possibly Wright Patterson AFB and some of it was taken to Fort Hood underground laboratory. Nothing is known about the occupants onboard the craft. Both parts of the craft were mirror-like, reflecting everything, the grass, etc.
Source:   Anton Anfalov UFO Crash list
---
Date:  November 1997
Location:   
Time:   
Summary:   
Source:   
Location. Near Peebles Ohio
Date: November 1997
Time: mid day
Two hunters (using bow & arrow) observed what appeared to be a large dark figure "walking or running" across a field. The creature traversed the area at an "astonishing speed." At other times strange "yelping" sounds have been heard in the area.
Source: Mike Stevens
---
Date:  November 1997
Location:   
Time:   
Summary:   
Source:   
Location. Arizona, desert area
Date: November 1997
Time: night
22-year old Duane Berger and a friend Mark were camping in an isolated area and as daylight faded they had build a campfire and were sitting around eating. Soon they began to hear "terrible screams" that seemed to be coming from an old mine nearby. After a few moments of nervous discussions and assessment of the very eerie situation the two young men decided to investigate the matter. Armed with a tire iron the two friends entered the mineshaft. They had walked a dozen yards when they saw a greenish glow ahead of them. As they got closer they could make out the dark figures of two men in hooded robes. It was clear that they intended to block their progress farther into the mine. But as the two young men drew nearer to the light, they noticed that the two figures were barely five ft in height. They then boldly demanded that the hooded figures release the women or whoever they were hurting. Then a deep, mechanical voice boomed out of the cowled figures in unison and told them, "The women are beyond your help! Leave at once or perish! Leave at once—or you shall join them in the caves." The robed figures then produced some type of wand-like instruments and directed a yellow light at the two young men that held them both immobile. Next, they aimed a greenish beam against a wall of the mineshaft. The wall of solid rock seemed to melt away, allowing them to walk into the wall and disappear. Within seconds, the wall was once again nothing but hard rock. After a few moments the two men were able to move again and fled the area quickly, knowing that there was nothing they could do to help whoever was being detained in the caves.
Source: Brad Steiger, Out of The Dark
---
Date: November 1997
Location: St Phillips, Newfoundland, Canada
Time: night
Summary: A large solid red saucer shaped object that was seen over the area in 1995 was again seen hovering above some trees. That same night the witness began seeing "moving shadows" in the room. Then one night he woke up to see "a human like figure moving in the room." It was too dark to see any details other than it was small. Over time the witness found strange cuts, bruises and marks on his body, which were not there before he went to bed. A "raw" smell permeated his nose, which lasted for two weeks.
Source: Haunted Hike.com
---
Date:  November 1 1997
Location:   Hua Hin, Prachuap Kirikhan Thailand
Time:   23:00
Summary:   My wife and I were lying on our backs on the top of our condo watching the stars and satellites. We both saw this object, with the shape of a foot-long ruler heading directly north up the coast. It seemed to be semi-transparent, that is it appeared to be a bit fuzzy, although the edges were sharp. There were 4 glowing spots (not blinking) arranged evenly across bottom. I say glowing spots, rather than lights, because they appeared similar to glow-in-the-dark luminescent spots. The object was either very high and extremely fast or else low and with a reasonable speed, but totally silent. It completely and suddenly vanished after about 15 seconds. We couldn't sleep that night;-) I have e-mailed a PhotoShop reconstruction of the object. Duration:15 Seconds
Source:   National UFO Reporting Center
---
Date: November 7 1997
Location: Maybrook, New York<
Time: night
Summary: The young witness woke up to see three strange glowing white bowling pin shaped figures hovering over the floor in front of the bathroom door. For five minutes he watched the glowing figures then hid under the covers. He did not see the creatures depart.
Source: NUFORC
---
Date:  November 10, 1997: Abduction in Wales
---
Date: November 12 1997
Location: Sodus, New York
Time: 0003A
Summary: The two witnesses saw some lights outside and went out to investigate, they then saw two figures about 6'5″ in height, reptilian in appearance with red and blue lights on their bodies. The figures were picking garbage or something from a nearby neighbor's dumpster. The humanoids spotted the witness and attempted to chase and grab them. As the figures chased them, they appeared to grow in size. The next day, both witnesses found the dumpster in a mangled state.
Source: NUFORC
---
Date:  November 1997
Location:   
Time:   
Summary:   
Source:   
Location. Near Wanneroo Western Australia
Date: November 12 1997
Time: 2015
The two witnesses were driving through a very isolated area just past the Yanchep National Park and had the high beams on since it was a very dark & cold night. Suddenly the witnesses had to come to a an abrupt stop when a kangaroo jumped into the street right in front of their vehicle, it then scurried away. As they were getting ready to drive away both heard a pig-like squeal. Curious one the witnesses grabbed a flashlight and went into the brush to investigate. As he got to the edge of the brush about 2 meters from the car he was stunned to see a bizarre creature standing five meters from him next to a gum tree. The witness crouched down to see a creature with two huge red piercing eyes. He then heard the pig like squeal sound again & the creature moved sideways becoming illuminated by the vehicle's high beams, the witness could now hear his friend yelling at him from inside the car. As the creature emerged from the brush the witness could see that it had a hairy body, a large head & large teeth. The creature gave out very strong sulfur like smell. It kind of half walked, bobbing up and down as if sniffing the air. It had no tail & large pointy ears, a pug-like nose & was about 5-feet tall. It made horrible snorting & squealing sounds. As the witnesses drove away the creature leaped up into the air and into a nearby gum tree.
Source: Sightings Homepage
---
Date:  November 1997
Location:   
Time:   
Summary:   
Source:   
Location. Claudio, Minas Gerais, Brazil
Date: November 15 1997
Time: 0200A
After finding several of his farm fowl dead under bizarre circumstances, apparently killed by an unknown predator, sometimes completely drained of blood, farmer Romeu Takeda, 54, was standing guard near the henhouse when he spotted a strange hairy figure approximately 1.50 meters in height, that suddenly rose from the ground about three meters away. It had his hairy arms outstretched. Frightened Takeda shot at it with a 28-caliber gun apparently striking it on the stomach area. The entity did not fall or cry out but it staggered to a nearby river about 70 meters away, without running but walking slowly. He described the creature as being covered with short dark brown hair with large round yellow eyes. He did not find any trace of blood or hair on the ground.
Source: Revista Brasileira de Ufologia
---
Date:  November 1997
Location:   
Time:   
Summary:   
Source:   
Location. Caladesi Island, Clearwater Beach, Florida
Date: November 17 1997
Time: 0300A
The witness was watching the Leonid meteor shower when he saw 2 glowing amber-colored lights hovering to the west over the Gulf of Mexico. He pointed them out to his friends but they all dismissed them as being just planes. Suddenly one of the craft began to get closer while the second one remained behind. The craft seemed to glide towards where the witness stood. He told his friends about it and they all became scared and all four of them took off running towards the pier. The craft hovered about 500 ft offshore when it sent down some kind of light beam that lit up a boat that was anchored right in front of the witness location. The beam of light was shaped like a cylinder. The craft then hovered above the witness and he tilted his head back looking on in astonishment. He felt mesmerized, and then he felt as he was given a telepathic message or image of the occupants of the craft. In his mind he saw two beings facing each other. They were very tall and dark. His memory of this part of the event is not to clear but he thought that the beings were somehow reptilian in nature, dark green in scaly. After the encounter ended the craft disappeared silently over the area flying over some nearby houses. The witness has been involved in further sightings.
Source: NUFORC
---
Date:  November 1997
Location:   
Time:   
Summary:   
Source:   
Location. Falconara, Italy
Date: November 19 1997
Time: 1930
A woman walking along a deserted road spotted a bizarre humanoid figure standing still about 3-4 meters from her. She described the figure as about 1.70 meters in height, and very thin. Its head was directly set on the shoulders, completely lacking a neck. The witness could hear that it emitted a strange sound. Approaching the figure she noticed that the sound emanated from a strange round facial orifice that seemed to be moving in an undulating fashion. It wore some type of dark habit with a type of cape hanging from its left side of the body. The stunned witness reported that the figure appeared to be bi-dimensional, "like a photo." At one point the figure put one hand on his mouth, extracting a strange tiny object. The witness felt dizzy and briefly turned away from the creature, upon looking back the strange humanoid had vanished.
Source: Notizieufo, Italy
---
Date:  November 1997
Location:   
Time:   
Summary:   
Source:   
Location. Near Attica, Indiana
Date: November 22 1997
Time: 0550A
A deer hunter was standing in his tree stand holding a 12 gauge rifled barrel shotgun, when suddenly he heard a deep evil-sounding voice. It sounded like a "demon" taking deep breaths, amplified in comparison to anything he had ever heard. After two deep exhales it started to snort and bellow. He looked in the direction in which the sound was coming from and caught a glimpse of a dark figure about 7 to 9 feet tall, standing upright. As he looked at it through his riflescope it bellowed even louder. The hunter quickly left the area but heard similar sounds 20 minutes later.
Source: BFRO
---
Date:  November 22 1997
Location:   Miami Florida
Time:   2325
Summary:   The witness was in bed with her eyes open facing a window with mini-blinds that were 3/4 opened. She saw a fog form outside and rolls into her room. Inside the fog she could see three beings with large eyes, floating above the floor. She also saw a face near her head at about shoulder level. The head was oval shaped, with small shoulders & almond shaped eyes. Suddenly the beings disappeared & the witness got up, went to the bathroom then back to sleep forgetting the entire episode until the next day.
Source:   Skyscan January 1998
---
Date:  November 23 1997
Location:   Burnaby, British Columbia, Canada
Time:   1920
Summary:   Two witnesses were standing outside their basement apartment when a black 5-foot tall figure passed about 15 feet before them, "at very high speed" along a concrete driveway after coming out of the bushes of a park. There was no sound or odors. It was dark, and the figure was determined by the way it blocked out the light behind it. One of the witnesses had recently lost 3 cats in the area that had been apparently mutilated.
Source:   UFO BC Canada
---
Date:  November 1997
Location:   
Time:   
Summary:   
Source:   
Related articles