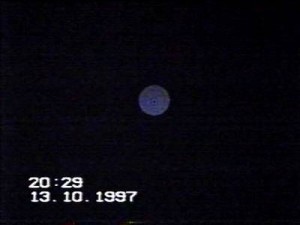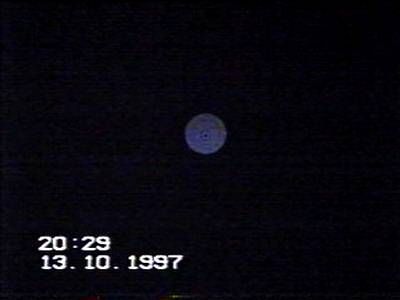 (Last Updated On: July 20, 2016)
Date: October 1997
Location: Not given
Time: 0245A
Summary: The witness woke up in the middle of the night when suddenly she heard a buzzing sound coming from outside. As she laid there the sound got louder and louder until it was in her bedroom. She sat up but as she did, she instantly fell asleep, but as she was lying down she saw six figures, three on each side of the bed. She described them as about 3-4-feet tall with large heads and very large eyes; they appeared to be grayish green in color. They also had very thin bodies and long fingers. Before she totally went to sleep she felt something touch her leg and arm.
Source: CAUS
---
Date: October 1997
Location: San Jose, California
Time: early morning
Summary: Joseph Firmage woke up to see a bizarre man-like being surrounded in a brilliant white light. The being had black hair and a beard. Telepathic communication ensued between the witness and the visitor. At the end of their brief communication the witness expressed the fact that he wanted to "travel in space." The visitor then stared at him firmly and suddenly a small blue electrical sphere emerged form the visitor and shot towards the witness who upon being struck by the sphere felt an extraordinary sense of ecstasy and pleasure. The being apparently then disappeared. The witness felt as if had received some type of gift.
Source: Enrique De Vicente, Año Cero 7-99
---
Date:  October 1997
Location:   Elorrio, Alava, Spain
Time:   1600
Summary:   Ivan Lopez was walking alone in a totally deserted street when he spotted a bizarre tall humanoid figure wearing a luminous suit. As he walked by the figure, he noticed that it had a human face with a cold severe and defiant expression. The then figure turned a corner and glided towards a nearby Potter's field. He followed it at a safe distance but the figure soon disappeared in plain sight.
Source:   Iker Jimenez, Encuentros La Historia de Los Ovni En España
---
Date:  October 1997
Location:   
Time:   
Summary:   
Source:   
Location. Vitoria, Alava, Spain
Date: October 1997
Time: night
Several witnesses reported to the police that they had seen a giant humanoid figure dressed in black, loitering behind a stairwell of a local apartment building. The witnesses reported the figure as somewhat opaque and without any apparent facial features, it walked up and down the stairs very slowly. Police did not find anything.
Source: Iker Jimenez, Encuentros La Historia de Los Ovni En España
---
Date:  October 1997
Location:   
Time:   
Summary:   
Source:   
Location. San Jose de Pinhais, Brazil
Date: October 2 1997
Time: night
The day after loosing several newborn kittens to an unknown predator the witness heard the adult mother cat screaming and a noise resembling somebody bouncing a rubber ball off the wall of the outdoors bathroom where the cat was now. The witness armed herself with a broom and entered the bathroom and found the cat lying limp on the ground, she also felt a presence in the room. Looking around she saw a strange creature of about 1 meter in height, with dark hair and a lighter tinted area on its side. The creature suddenly took a high jump, resembling that of a kangaroo, and bounded over an orange tree then a wire fence. It quickly disappeared from sight.
Source: Carlos Alberto Machado
---
Date:  October 1997
Location:   
Time:   
Summary:   
Source:   
Location. Raahe, Finland
Date: October 3 1997
Time: 1600
Osmo Kurkela was walking home from school when he saw a red light in the sky that was coming straight down towards him. It stopped ten meters from the witness then landed. The object was 5 meters long & 10 meters wide. Three human-like beings came out, one of them apparently a woman. Osmo ran home and attempted to hide. Next he recalled being taken from his home and into the object. Apparently sperm samples were taken from the witness.
Source: UFO Sightings in New Mexico & the World
---
Date:  October 1997
Location:   
Time:   
Summary:   
Source:   
Location. Tulkarm, Israel
Date: October 10 1997
Time: afternoon
Muhand Faras, 16, was walking home from school when he came upon a strange man-sized figure, dark green in color, with a strange growth on its face. The figure had two tiny hands with 3 fingers on each with long fingernails. It made a threatening gesture towards Muhand screamed in an unintelligible language then flew up into the sky and vanished.
Source: UFO Roundup, unknown number
---
Date:  October 1997
Location:   
Time:   
Summary:   
Source:   
Location. Tulkarm, Israel
Date: October 10 1997
Time: sundown
Local engineer, Raid A'anam saw a black creature in the sky. He told police investigators, that he saw the outline of the figure and that it was human with two arms and two legs. It flew fast over the area, quickly disappearing from sight.
Source: Israeli UFO Research
---
Date: October 10 or 11 1997
Location: Eslö, Scania Sweden
Time: 23:30
Summary: During an IYCW (International Youth Camp Weekend), when we were sitting in groups of different campfires in an area of a quarter of one square mile, this happened: <p> A green spot(possible UFO) in the black sky appeared, and as it got bigger and bigger there evolved a very oppressive and unbearable sound; just as if it was about to crash into our camp.. All of the present people could clearly hear this and everyone got severely hurt in their ears from the sound. This lasted for about five minutes. <p> After this there was an enormous bang and
Source: National UFO Reporting Center
---
Date:  October 1997
Location:   
Time:   
Summary:   
Source:   
Location. Duncan, Oklahoma
Date: October 15 1997
Time: 0215A
The witness suddenly woke up in the middle of the night feeling a strange presence in the room. An odd feeling swept through his body forcing him to close his eyelids. His next memory was of being awake at 0515A, with a strange presence still in the room, once again he was forced to close his eyelids. He then woke up in the morning and was able to recall standing naked in an oval shaped metal room with small windows in the top right hand corner. Directly behind him there was a large door where the two oval walls met. In the middle of the room there was an odd looking operating table with two needle devices on robotic arms sticking out of the side. This was apparently the only object in the room. Afraid he began banging on the large door, demanding to be let out. He could hear voices in the background in his head. He was then told by an angry male voice in his head to either lay down on the table or someone he loves would get hurt. He did as he was told. He was asked to lay down in such a manner that his left hand lower back was exposed to the two needles like objects. One of the objects had a clear window on it and he could see, some clear liquid inside. At the base of the needle there was a triangle shaped piece of metal and two rectangle designs on both sides of the objects. He was then told by a more friendly female voice that he will feel no pain but would feel his legs go numb and would feel paralyzed and unable to move. Suddenly the robotic arm moved closer to his back and suddenly plunged into his lower left hand side of his back. He felt the clear liquid being pushed into his body. He then felt paralyzed, after a minute the needle began sucking instead of injecting. It then moved back and the second needle then approached and performed the same operation. He woke up the next morning feeling some pain in his lower back with a triangular shaped imprint on it.
Source: NUFORC
---
Date:  October 1997
Location:   
Time:   
Summary:   
Source:   
Location. Dir Al Awsan, Israel
Date: October 16 1997
Time: night
A young girl, Suha A'anam was standing on her second floor balcony when suddenly an unknown alien figure, (not described) began pulling on her left arm. She screamed hysterically, alerting neighbors to the scene. She was taken to nearby Tulkarem hospital with scratches to her arm. A neighbor told the police that she heard a noise like a helicopter, looked out her window and saw "a whirlpool in the air, spreading ash everywhere" opposite to the witness balcony.
Source: Israeli UFO Research
---
Date:  October 1997
Location:   
Time:   
Summary:   
Source:   
Location. Near Huntsville Texas
Date: October 18 1997
Time: midnight
15-year old Joanna Alice Stevenson was awoken in the middle of the night to find several strange beings standing over her bed. They were human like but with large craniums, small mouths, and two slits for a nose. She was terrified, she then looked out her window to see a UFO hovering right outside her window. The strange creatures that were examining her, talked or communicated by using grunts that sounded like some language from another country. Her conscious memory suddenly ended at this point, she could only vaguely remember being poked and probed by the aliens. They took blood samples, then let her go dropping her off on a large field, not far away from her rural home
Source: I was abducted.com
---
Date:  October 1997
Location:   
Time:   
Summary:   
Source:   
Location. Crofton Maryland
Date: October 19 1997
Time: 0200A
The witness heard a strange noise in the kitchen, thinking it was the cat she went to investigate. At the entrance to the kitchen she encountered several humanoids, described as about 5-foot tall, with pale grayish skin, and large black eyes. As the startled witness watched, the humanoids seemed to inspect the silverware tray, sliding it back & forth. Suddenly one of the humanoids turned and saw the witness who promptly fainted. After a few moments she came to lying on the floor of the kitchen, she looked up and saw three humanoids apparently huddled together. Feeling a surge of terror the witness fainted again, not before seeing a silvery flashing sphere hovering over her.
Source: NUFORC
---
Date:  October 24 1997
Location:   New Jersey, exact location not given
Time:   0400A
Summary:   The witness, who for more than a month had been seeing, three dimensionally solid but transparent, boomerang shaped objects flying at very low altitudes over her house and yard, had invited investigator Harold Egeln over to discuss the matter. Around 0330A they retired to bed. Soon her 5-year-old daughter abruptly woke up from a sound sleep, frightened by mysterious knocking sounds she heard in her bedroom. She went to sleep again at 0400A, when the witness heard her scream again. She ran to her bedroom nearly colliding with her, apparently the lights in her bedroom kept turning on and off. As the witness reached for the light switch everything turned deep, dark velvet black, there was an apparent power outage in the neighboring area. At this point Harold had woken up and was looking out the window where they noticed a beam of white light that emanated directly from above the house. After several minutes the witness and her daughter went back to bed. Soon a bright white light appeared in the bedroom window, and she noticed that her daughter was fast asleep. Turning back towards the light she was startled to see a tall, thin grayish yellow being, standing beside the bed. She then heard the following words in her head: "I am Dralov, I come as representative of the Sirian Arcturian Coalition for Interplanetary Defense." The witness felt her body become very light and saw her sleeping daughter being levitated from her bed. In a trance like state they were escorted toward the hallway. In the living room they met Harold. Soon they left the house with a group of people all seemingly human, who waited in the corner, clearly illuminated by a bright white light from above the house. Someone in the crowd waved at Harold, and the three of them were led around the back of the house to a nearby vacant lot where a blue beam of light enveloped them and transported them up to a large craft that hovered just above the roof top. Onboard the craft Harold was surrounded by a group of small "little gray humanoids" who apparently knew him, and he walked off with them smiling. A tall gray being in a silvery white robe took the witness daughter hand and led her away, The witness stood with Dralov, and he pointed to an arched doorway that suddenly became visible as it opened. Telepathically Dralov told the witness that an Elder would like to see her, before the presentation. The Elder was a short being with large blue eyes and a black robe. He sat near a small, half circle table in a white, domed room and gestured for the witness to sit next to him on a white step like seat that protruded from the wall. The Elder touched the witness on her right hand and she noticed that he had a small thumb and three fingers of nearly equal length. He communicated with her telepathically. She was later taken into a large auditorium type room, in a diamond shaped transparent elevator. In the large room she saw other humans, including one that resembled Whitley Strieber (!). Among other revelations she was told that she was onboard a starship called Ashalum and there were many different races of "extraterrestrials" visiting the Earth and that there was a struggle among certain groups for control.
Source:   UFO PI, SPACE
---
Date: October 27 1997
Location: Funafuti Tuvalu
Time: 21:42
Summary: dawn arrives ahead of schedule [from the West] over a remote Pacific Island. 27 October 1997, 9:42pm A black night, low cloud, light drizzle. From the west, below the horizon a light lifts steadily and quickly, like dawn, but much faster. Lights up the entire sky but no object discernable because of the cloud. Lagoon waters turn blue, like day. Birds fly startled from the trees. Roosters crow. The light passes overhead then up and away (rather than bending over the opposite horizon}. At least 200 witnesses, including the Director of ((deleted)) ever read of, never mind seen, anything similar. Like dawn breaking at high speed in the middle of the night. Some say they saw a blue light. A group of football players, resting after a practise match, say they felt a strong rush of wind as it flew past. One guy saw it while out in the ocean fishing and jumped for cover under his boat. Seasoned merchant navy sailors, home on vacation, had never witnessed or heard of anything like it before. To this day no one has a clue as to what it could have been. Footage on tv of meteorites entering the atmosphere, while spectacular, were nothing at all like this. Here the entire sky lit up, not just a portion of it. As the source of the light passed overhead there was a reddening low on the Western horizon, like explosions, things dropping into the ocean, burning, then blackness. Funafuti is a coral atoll, extremely flat, making visibility of all horizons very clear. The event took maybe 15 seconds it total. There was no noise. Tuvalu is 700 km north of Fiji, remote, and on no airline flightpath. Nothing like this had been seen [in Tuvalu] before, or since, at least not in living memory. If photographed, which it wasn't, it would probably look something like an artists impression of the 'second coming', Watchtower style, but without the figures and trumpets
Source: National UFO Reporting Center
---
Date:  October 1997
Location:   
Time:   
Summary:   
Source:   
Related articles