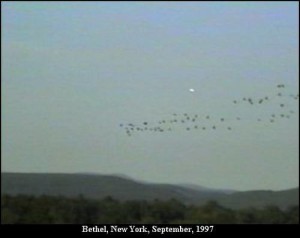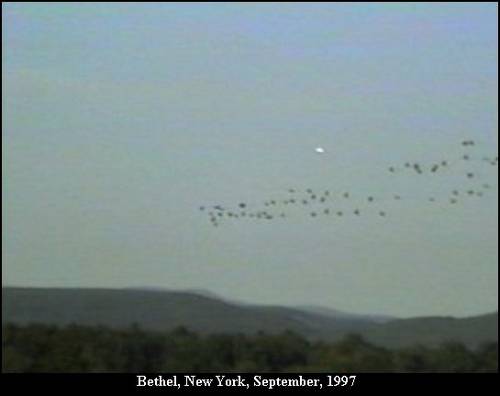 (Last Updated On: August 24, 2016)
Date: Fall 1997
Location: Moscow Region, Russia
Time: 1800
Summary: The witness was riding a public trolley when he suddenly felt a strong presence around him. Looking around he saw three young women, who stood in a semicircle. All three were dressed in identical black raincoats and black gloves. They are very similar to each other, with identical length black hair that fellow below their elbows. They stood silently staring fixedly ahead. Curious, the witness began to slowly approach the strange trio he touched one of them pulling one of the gloves revealing grayish skin. The women did not react and continue to stare fixedly ahead. When the trolley stopped all three women left the bus and walked into a nearby forest. He briefly lost sight of them but when he looked again they had already vanished.
Source: Vasily Kosinov "They are among us"
---
Date: Autumn 1997
Location: Port Cartier Park, France
Time: midnight
Summary: The witness was camping along a river and was reading a book and had decided to go to sleep when suddenly he heard the sound of the zipper to his sleeping bag being opened. He could not move or speak. He felt several hands touching his shoulder and thighs. The hands felt very cold, with long fingers. He felt the presence of three beings; one holding his thigh without any pressure, and one holding his shoulder and another one leaning over his head. He then blacked out waking up the next morning around 0430A
Source: GREPI
---
Date:  September 1997
Location:  
Time:  
Summary:  
Source:  
---
Date: September 1997: South Africa UFO Encounter
---
Date: September 1997
Location: Saki, Crimea, Ukraine
Time: 0230A-0300A
Summary: A Mrs. Sosedenko, who was very ill at the time, reported seeing the shadow of a cigar-shaped object hovering near the balcony of her apartment. Soon after that a strange man entered her bedroom through the balcony. He was dressed in a tight-fitting gray overall. He seemed to have normal arms and legs and head but his face seemed to be a blank spot. The alien then approached her bed, and the witness whispered, " I am afraid". The "man" then stopped and began communicating with the witness telepathically. He said to her, "We will help you, we will cure you, but you would need to come with us". The witness then asked him if she would be brought back. "No" was his answer. She then refused the help proposed by the alien and told him that she had a deaf daughter, which she could not leave. The alien the proposed to take her daughter also but she again refused telling the alien that her daughter had a large family that she would refuse to leave behind. The alien then went out the balcony disappearing into the hovering cigar shaped craft. Her daughter Viktoria Sosedenko also reported anomalous activity in her flat. Apparently she was also confronted by another alien (no details on that).
Source: Letter by Viktoria Sosedenko in "The Secret Doctrine" Newspaper Number 20/2002
---
Date: September 1997
Location:  Sealza, Italy
Time: 0430A
Summary: The Swiss music producer involved in a previous encounter again was driving near the same previous location when he came upon three strange hair covered creatures on the road. One had huge eyes and long dark hair and had an elderly appearance. It stared at the witness with its large dark eyes, before disappearing into the woods.
Source:CUN Genova
---
Date:  September 1997
Location:  
Time:  
Summary:  
Source:  
Location. Fife, Scotland
Date: September 1997
Time: night
An anonymous witness was lying in her bed when the head of a dog appeared. (!) The face, which looked solid, floated in mid air directly in front of her wardrobe. For some reasons its mouth was opening and closing although no sound seemed to be coming out. No other information.
Source: Ron Halliday, UFO Scotland
---
Date:  September 1997
Location:  
Time:  
Summary:  
Source:  
Location. Kalmykia region, North Caucasus, Russia
Date: September 1997
Time: night
The now president of that Russian autonomous region, Kirsan Ilyumzhinov, reported that he came upon a huge landed disc-shaped craft the size of a football field, ringed with windows around its circumference. Several human like extraterrestrials wearing tight-fitting yellowish suits exited the craft and invited him onboard. Inside he felt a shortage of air. He was then given a suit to wear on the breast area there was a plate that apparently regulated the oxygen intake, he was shown how to operate that. While inside the craft the other crewmembers ignored Kirsan. They apparently landed on a planet and the aliens brought in some equipment onboard and quickly returned to Earth. He is planning to write about his experience.
Source: "Svoboda" (Freedom) live radio broadcast July 22 2001 Anton Anfalov
---
Date: September 2 1997
Location: Zurich Switzerland
Time: 15:00
Summary: fast moving object merging from in back of swiss clock tower at train station from Zurich to Rinsehorn Switzerland. Object moves real fast. Family of 3 and 1 friend took trip to Germany. Landed in Zurich Switzerland took train from air port to take a ferry from Rinsehorn to Friedrichshafen Germany to meet with Families relatives. Armed with a Sharp HI 8 view cam took video every step of the way and during entire duration of 2 week trip in Europe. I took video out train window while at a station in Switzerland. Seen in video: birds flying about a Swiss Clock tower… Then some object (metallic looking)* emerges from in back of the Swiss Tower and stops for one half second then dips down at a 45 degree slope…. and disappeared! I did not see object during the video taping… but after playing it back on tv I saw something strange so I rewound the tape and played it back in slow motion and frame by frame, and it appears to have reflective properties suggesting it might be metallic. *Under further amature analysis I ran it through my computer using SNAPY 3.0 Deluxe and enlarged it, and it appears to be a somewhat oval disk shape metallic and blueish in color and white glare on top, and a super dark (black) shadow on bottom. I played the rest of the tape and saw some other strange fast flying objects flying in the sky including one emerging from lake Constance, near an old Cassel. That is all. PS please excuse my spelling.
Source: National UFO Reporting Center
---
Location. Cordenons, Friuli, Italy
Date: September 4 1997
Time: 2215
Two young boys, 13-year old Giovanni and 15-year old Alessandro were walking alone on the Via Vittorio when they suddenly noticed a dazzling light emitting intermittent flashes. This flashing was immediately followed by a strange whistling sound. After walking for about 100 meters the two boys noticed a bizarre creature standing next to a light pole. It was described as short and white in color. The creature then moved very rapidly in a strange zigzagging motion disappearing into a nearby wooded area.
Source: Moreno Tambellini, SHADO
Date:  September 1997
Location:  
Time:  
Summary:  
Source:  
---
Date:  September 5 1997
Location:  Cordenons, Friuli, Italy
Time:  morning
Summary:  The next day the same two boys along with two other friends entered the wooded area in search for the strange creature. Soon about 50 meters away among some bushes the boys saw a round whitish head, hairless and extremely wrinkled in appearance. Terrified the boys left the area but soon returned to the site armed with a camera and a pair of binoculars. Soon they were overcome by a strange malaise and headache. They again saw the humanoid, which they described as about 90 cm in height, dirty white in color and with very long arms. It had three digit hands that ended in ball shaped tips. Its head was oval shaped devoid of any facial expression, it was pointed at the top and it had a very pointed chin. Its most prominent features were its huge black oval shaped eyes. Its mouth was but a thin line and its nose, two small round holes. Its skin appeared to be gelatinous and was very corrugated. It appeared devoid of any sexual organs. The boys left the scene. The creature was apparently seen on the next day in the same woods, but it scurried away into the brush when a witness approached it and disappeared.
Source:  Moreno Tambellini, SHADO
---
Date:  September 7, 1997: Large triangular object observed over Paris, France
---
Date:  September 7 1997
Location:  Illinois, exact location not given
Time:  unknown
Summary:  A cylinder-shaped craft exploded into small debris over the area. A special recovery team recovered these, mutilated small parts of several alien bodies were found. This craft was possibly shot down by another alien craft or suffered a technical malfunction. The debris and body parts were taken to an unknown location.
Source:  Anton Anfalov, quoting Ex-KGB Source, Moscow
---
Date:  September 9 1997
Location: Marshalltown, Iowa
Time: 2300
Summary: The witness stepped out of her mobile home to get a breath of fresh air on her lattice-enclosed patio. As she did, she saw an object which had either landed or hovered very close to her nearby neighbor's mobile home roof and was facing her. She could see a large curved window with a thin strip down the middle, and there was a bright spotlight shining from the lower front of the object. No sound was heard. She then noticed a "pilot" with something fitted over his head, like a form fitting mask, which was motionless. She could not distinguish any features. Then, two doors swung open and several small entities exited. She could not see their shapes or how they moved. The bright light was directed at her and she thought she was being watched. Frightened she went back into the house and noticed that the beam of light was now illuminated its interior. The witness continued to watch the object as it moved around the trailer court, occasionally stopping, hovering, and shining its light on various mobile homes.
Source: Beverly Trout, Mufon
---
Date:  September 10 1997
Location:  Lierskogen Norway
Time:  16:00
Summary:  It looked as a pointed horseshoe. It was full daylight, and it had a lighter shade than the rest of the sky. There was no clouds at all, and it lasted for about one minute. Then it disappeared, and reappeared after a while for another minute at the same spot. We drove a car when it appeared. It would surprise me if no one else noticed it. Duration:3 min.
Source:  National UFO Reporting Center
---
Date: September 11 1997
Location: Colonia Revolucion Mexicana, Mexico
Time: night
Summary: Ines Valdivieza and her 6-year old daughter observed a small creature, brown in color with large red eyes, run away from a pigpen area using high bounding motions disappearing into the dark. Five hogs were found dead completely drained of blood with strange scars on their necks.
Source:Pascual Rolando Pacheco Herrera OJIO
---
Date:  September 1997
Location:  
Time:  
Summary:  
Source:  
Location. West Palm Beach, Florida
Date: September 12 1997
Time: 2200
June (involved in previous encounters) had gone to bed early because she kept falling asleep while lying in her couch watching television. She awoke to find a gray humanoid standing over her in her bedroom. She was trying to fight him off by hitting him, but her hand seemed to be swatting thin air. However she could see her hand go right through the alien's body. She screamed out loud to him telling him to go away. All the time she kept trying to hit the creature, nothing seemed to work. The alien stayed right beside her. Then suddenly another voice came from out of nowhere and it said, "Go away!" This voice sounded like it was spoken in slow motion. It was very deep and masculine voice. Miraculously the being vanished, she was paralyzed from her waist down. Her brain seemed as if it was drugged. All she wanted to do was go back to sleep, but somehow she knew if she did something terrible would happen. Finally after much struggle she was able to move and sat up in bed. It took several more minutes before she could actually get to her feet and stagger into her living room. She stayed up until 0330A.
Source: Miami Skyscan March 2000
---
Date: September 17, 1997
Location: Moscow
Time:
Summary: Russian politician and chess guru Kirsan Ilyumzhinov claimed he was abducted by aliens wearing yellow suits on September 17, 1997. According to Ilyumzhinov, the creatures took him from his apartment in Moscow, and placed him aboard a transparent spaceship. The spaceship took him to "some star" in outer space, and Ilyumzhinov claims he was able to communicate with the creatures because "they have the same mind, the same vision."
Source:
---
Date:  September 1997
Location:  
Time:  
Summary:  
Source:  
Location. Meduno Italy
Date: September 21 1997
Time: 0705A
Several bright lights approached the witness who apparently blacked out, but remembered seeing a smiling human like figure standing before her. No other information.
Source: CUN
---
Date:  September 1997
Location:  
Time:  
Summary:  
Source:  
Location. Rancho Alegre, Minas Gerais, Brazil
Date: September 21 1997
Time: evening
On September 20 caretaker of the ranch, Jose Rodrigues Correa found that there were 17 missing chickens from the henhouse and also found the body of one of the chickens with a small hole in its throat. The next evening he heard noises coming from the henhouse. Armed with a revolver he went to investigate and caught a glimpse of an obscure shape that seemed to be on two legs, and about 1.3 meters in height. When about 10 ft from it he fired at shot at it. It fell heavily to the ground and he heard it rolling away over the dead leaves.
Source: Professor Hulvio Brant Alexio, FSR Vol. 44 # 4
---
Date:  September 1997
Location:  
Time:  
Summary:  
Source:  
Location. Rancho Alegre, Minas Gerais, Brazil
Date: September 22 1997
Time: 1500
The next day Correa was working down in the valley when he "got a feeling" that something was going to happen so he went and got his gun. When he was near the henhouse he saw coming out of a nearby ditch, a dark colored creature that stood and stared at him with its arm raised, the palm open. He could only see the creature from the waist upward, the rest of it being hidden by the vegetation around the ditch. Correa was just at the verge on firing at it when a thought came to him, "Maybe if I fire my revolver the thing will make it explode in my face." During this moment of hesitation he heard the creature dive back into the ditch again. And then he smelt a powerful odor resembling crush garlic mixed with sulfur. Correa promptly searched the entire ditch and scythed away all the vegetation, but found not the slightest trace of the creature. He described the creature as "ugly" with the top of its head flatter. The eyes were bigger than humans, with yellowish spots on them. The face was wrinkled and the skin was dark. The eyes were big and round and unblinking. It had a short goatee of the same shade as its hair, which was reddish brown. The mouth was half closed, and was very wide and a bit squarish. It had two big, broad, very white teeth.
Source: Professor Hulvio Brant Alexio FSR Vol. 44 # 4
---
Date:  September 1997
Location:  
Time:  
Summary:  
Source:  
Location. Near Punta Arenas, Chile
Date: September 22 1997
Time: 2300
Enriquez Bermudez Sosa had parked his car in a wooded area to do some sky watching, when suddenly he heard a skittering noise and saw several small humanoid figures running around his car. The beings were 3-feet 4 inches tall, had long arms, short legs, and big heads. No facial features could be seen. He saw eight in all. The beings surrounded the vehicle for 40 minutes, then vanished into the woods. The witness then drove away at high speed from the area.
Source: UFO Roundup Vol. 2 # 3
Date:  September 1997
Location:  
Time:  
Summary:  
Source:  
---
Date: September 26 1997
Location: Penuelas, Puerto Rico
Time: 2200
Summary: Ivan Rivero Morales and several other witnesses watched an object flying around a nearby mountaintop for about an hour and then land on the summit. The intensity of its light dwindled to a soft amber glow, which it retained during the duration of its landing. To the witnesses surprise that were watching the object with binoculars and telescopes, a number of tall beings, described as greenish with large oval shaped heads, black eyes, pointed ears and a protruding belly descended from the object and walked around the summit for one hour. After this length of time had elapsed, the beings re-entered the craft and its brilliance increased to previous levels, it then vanished in a matter of seconds.
Source:Federico Alvarez Frank
---
Date: September 27 1997
Location: Penuelas, Puerto Rico
Time: night
Summary: Local residents again watched an object land on the summit of a nearby mountain, but this time it was accompanied by another, smaller object. The large object landed on the same spot it had occupied on the previous evening, and its tall greenish occupants descended once more from within. On this occasion, the beings, described again as having protruding bellies, long thin arms, large oval shaped heads, with pointed ears, remained outside for two hours, while the smaller object remained motionless over the location. After two hours both objects rose into the air and vanished from the location. The only means of access to the mountain top its by helicopter.
Source:Federico Alvarez Frank
---
Date: September 30 1997
Location: Near Punta Arenas, Chile
Time: 2330
Summary: Dr. Carlos Munoz and Enrique Bermudez were parked in an isolated wooded area and had stepped out of the car when they suddenly heard something moving close to them. They could perceive small shadows nearby. Then they saw about 30 meters away a fluorescent tube like light in a vertical position suspended about 1 meter from the ground. It appeared to be pulsating and was red & white in color. They ran to the car and grabbed the camcorder in a futile attempt to film the object. Both then entered the vehicle and drove away. Suddenly they heard a loud engine sound and a black sports vehicle with tinted windows drove past them at high speed. At the same time their vehicle's instruments malfunctioned.
Source:UFO Roundup Vol. 2 # 38
---
Date:  September 1997
Location:  
Time:  
Summary:  
Source:  
Related articles