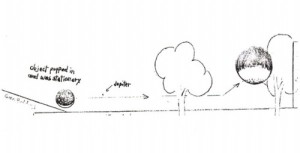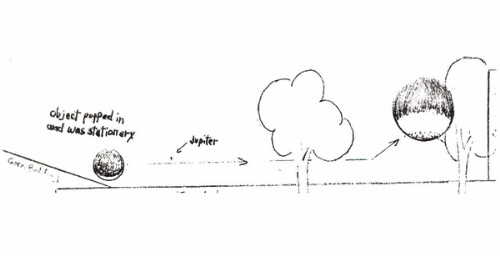 (Last Updated On: July 16, 2017)
Date: August 1998
Location: Vieste, Puglia, Italy
Time: 0200A
Summary: Six friends were walking along the waterfront after attending a party watched a luminous object in a descending trajectory. It continued on a horizontal flight and then descended vertically over a small nearby islet. The object hovered changing colors from blue to yellow and then red. 30 minutes later one of the witnesses confronted a strange figure standing behind the automobile. He described it as a black humanoid, lacking eyes, nose, or mouth. It had long arms ending in a point. He did not see hands or feet. The figure suddenly ran away in the opposite direction of the witness at very high speed.
Source: CISU Puglia
---
Date:  August   1998
Location:  Near Brainerd, Minnesota
Time:  evening
Summary:  Axel S. was in his car driving on his way to his cabin on the Pequot Lakes when out of his window he noticed a large black, brown shape. He looked again and gave out a little yelp when he realized that it was a very large bird-like creature. It looked almost like the mythical "Mothman" except that it's red eyes where on a vulture like head and neck and appeared very wide. The witness was overcome with an incredible fear and had trouble getting to sleep that night. The creature was perched on a large tree about 17ft off the ground and was over 4 ft wide and 6ft tall (wings tucked in). The red eyes weren't as prominent as those reported with the "Mothmen".
Source:  http://www.guardianteales.freewebspace.com
---
Date:  August   1998
Location:  Highbridge, Bronx, New York
Time:  midnight
Summary:  A teenage boy claimed he came upon a grisly scene while walking home around midnight: a classic chupacabra type entity apparently sucking blood from a dog on the corner of Grand Concourse and 172nd Street. As the witness watched from behind a mailbox, the creature reportedly proceeded to spread a pair of wings and fly away.
Source:  Phillip L Rife, America's Nightmare Monsters
---
Date:  August   1998
Location:  Chicago, Illinois
Time:  03:00 a.m.
Summary:  A light came in through the window early morning on a Sunday, which woke the witness up. The window was covered almost all the way except for an opening at the very top in which the bright light came through. Next as the witness wondered what it could be, a being came right through the covered window like a ghost would go through walls. The witness was beginning to think "act frightened" when this being told him in his own voice, "don't worry everything going to be ok", all of the sudden the witness became calm. The being then began to walk around the bed and that's when the witness realized that he couldn't move his body, only his eyes. He followed the being with his eyes and had the impression that it was a female. This being had long dirty blond hair, big eyes, a slit for a mouth, and two little holes for a nose; its skin was a bluish-greenish color. It stood next to the bed and again in the witness's voice told him that everything was going to be ok. It sat down on the bed, reached over and began to massage the witness's bad knee in which he had problems walking up and down stairs and pain. Next thing the witness knew was waking up not realizing what had happened over night and started walking to the bathroom and that's when he realized that the pain was gone. He began to jump up and down very happy when he suddenly remembered the "dream" or event from the night before. The knee pain never returned to this day.
Source:  NUFORC
---
Location. Szyelkino, Kazantip peninsula, Sea of Azov, Crimea, Ukraine
Date: August 1998
Time: evening
Traffic police captain, Vasiliy had been fishing for bullhead at a small bay near Tatarskaya bay on a Sunday evening and satisfied with his catch, he began collecting his fishing gear, intending to prepare some fish soup, at that same moment he saw a strange creature at a distance of 30-40 meters away, straight across from him, coming out of the waters of the Sea of Azov. The creature was humanoid in appearance, looking evidently like a woman. Her body was completely white and he estimated her age to be around 30 years old. She had huge inhuman blue eyes on an incredibly beautiful face. She stared intently at the witness. The strange woman was not walking but rather floating over the surface of the water and her arms were stretched forward. Vasiliy crossed himself, but the female figure did not vanish. She had long black hair falling down below her waist. The woman raised her arms and said in a tender voice, "Vasya, come to me, I have everything in here" The witness felt paralyzed, unable to move any part of his body. Like hypnotized and under total control, his body began slowly approaching the strange woman. When the distance from her was only several meters, Vasiliy finally snapped out of his stupor and reacted fiercely, screaming obscenities at the woman, who slowly turned around and disappeared under the surface of the water, Vasiliy then regained control of his body and he was able to move on his own accord. Terribly frightened he ran home not remembering how he got there. Upon arriving home he realized that he had left his fishing rod and catch behind. He never told anybody about what occurred until 2004.
Source: Vladimir Zheleznyak in: "Secrets & Mysteries of the Crimea" 2004
Date:  August   1998
Location:  
Time:  
Summary:  
Source:  
---
Location. Sabana Grande, Venezuela
Date: August 1998
Time: night
In an isolated jungle region a woman accompanied by a friend and a couple, who were the owners of the local springs were taking a night splash in the warm waters when her friend noticed movement in the nearby jungle. The witness looked and did not see anything at first, but then she looked again and saw a meter tall figure with long dangling arms staring at the group. The being seemed to have a sarcastic smile on his face. At this point her friend also noticed the being that walked into the forest and vanished. The spring's owner told her that these beings were common around these parts and they were called forest gnomes or elves.
Source: Contacto # 8
Date:  August   1998
Location:  
Time:  
Summary:  
Source:  
---
Location. Kuusamo, Finland
Date: August 1 1998
Time: 2330
Two couples were in their summer cottage chatting and waiting for the bath in the sauna. The owner of the cottage, Pekka, went to the terrace to smoke a cigarette. Suddenly he noticed a man who he at first thought was his guest, Teemu, come to his left side. He was a little surprised since the door had made no sound whatsoever, but ignored it. Pekka began to talk to Teemu about events in the cottage last winter and wonder why did Teemu did not say anything and just smiled. He then noticed that the other man was not Teemu, but only someone that resembled him. Pekka said, "But you are not Teemu" The man just smiled and walked to his right side. Pekka now noticed that there were three other persons in the cottage sitting in the living room talking. He was going to ask the man a question, but this one answered before he did, apparently reading his mind. The stranger said, "You know very well who I am, Pekka." The man now seemed to be having difficulty in keeping his disguised appearance. His jaw fell down wax-like, but he manages to reconstitute himself after some facial "gymnastic". When his jaw fell down his mouth was very thin and the jaw pointed. Pekka now began to think that the man was not from this planet and began to feel uneasy. He kept asking the man who he was, to which the stranger answered, "You are one of us Pekka. You are chosen". Pekka began to walk indoor and asked, "Why me"? To which the stranger answered, "You are a good man". Once at the door Pekka asked, "How long did the journey last?" The stranger said 11 months. Pekka resisted the urge to get closer to stranger and walked inside. The others noticed right away that something had occurred but Pekka did not tell them about the incident until the next morning. In spite of what the stranger had said Pekka did not recognize him and he had never been interested in UFOs. He was badly shaken after the experience.
Source: Mervi Virtanen, Finland
Date:  August   1998
Location:  
Time:  
Summary:  
Source:  
---
Date: August 2 1998
Location: Perth Australia
Time: 20:45
Summary: blue light from se to nw at high speed
Source: National UFO Reporting Center
---
Location. Le Cernois, Jura, France
Date: August 4 1998
Time: 2345
Julien Tehoryk & Fabian Mussillon, 13 and 14 years old as well as Fabien's father were vacationing in an isolated area at the foot of the Jura Mountains. That night Julien and Fabian could were unable to go to sleep in their room located in the basement of the chalet. Looking out a window they suddenly saw three egg-shaped heads. They seemed to pass by the window as if floating without making any noise, since the ground below was mostly gravel and pieces of logs. The young boys noticed the profiles of the heads, which appeared to be flat, without a nose, but large noticeable ears. The heads kept passing back and forth in front of the window. Julien looked out and said "good morning" and the heads suddenly stopped. At this point the boys panicked and ran out of the room. As they ran out they heard noises behind them as if something was striking the ceramic. They came back later but nothing was now visible. Later they called their father and he went outside to see a white light shaped like a circle that was spinning, left to right in a circular motion. The light was at some woods about 20 meters away. He then closed the curtains, stayed awhile with the kids, and then went back to bed.
Source: LDLN # 350
Date:  August   1998
Location:  
Time:  
Summary:  
Source:  
---
Date: August 7 1998
Location: Bunmahon County Waterford Republic of Ireland
Time: 23:30
Summary: we stood on a cliff and watched the skies when a blue fireball crossed the skies at a very high speed. This was seen again 3 days later. It was about 11.30 pm and we were all going home. I was watching the skies with my girlfriend and spotted the object pass across the sky at an unbelievable speed. It sped across the sky covering as far as I could see before disappearing. It was blue in colour and left a trail behind it. 2 of my friends also saw it and thats when I knew I wasnt seeing things. This was also seen again 3 days later at the same place. We havent seen it since but then again we havent been to that area since the summer.
Source: National UFO Reporting Center
---
Location. Claut, Pordenone, Italy
Date: August 8 1998
Time: 0530A
Five witnesses spotted a UFO and a flying humanoid over a soccer field. Two farmers, the groundskeeper, and a pair of tourists watched the flying humanoid overhead and rejoin the hovering object. The craft then shot straight up into the sky. One of the farmers, Angelo F, was having breakfast when he saw an object of many colors. Angelo the groundskeeper saw the object as it flew overhead and hovered over the field. The witnesses described the humanoid as having a large head and a small body "like a puppet." It was about 4-feet tall, wearing what appeared to be V-shaped body armor equipped with a luminous backpack.
Source: Antonio Chiumento
Date:  August   1998
Location:  
Time:  
Summary:  
Source:  
---
Date: August 9 1998
Location: Singapore
Time: 19:20
Summary: I were on the expressway when i saw an object in the sky about 200 meter far looks like the Stealth floating in the sky. Many people have seen the object and also made many photos
Source: National UFO Reporting Center
---
Date:  August 11 1998
Location:  Jacksonville Beach, FL
Time:  
Summary:  I was driving and I felt something weird was about to happen to me. Then it happened, my hand on the top of the skin, for one minute, I saw and felt a branding. It was red, the shape of a circle, within the red circle on my hand were letters, there were a lot of letters, I never seen any letters like these before. The letters were perfect on there edges and curves. The letters were like an alien language, they were so perfect. The letters looked like advanced alien hieroglyphs writing. it hurt and for one minute the brand was there, and then the brand vanished off my skin on my hand, and the pain left. A couple years went by, then I knew something strange was about to happen to me. Then it happened. My forehead felt like it opened and out of the opening were English numbers and English letters . The numbers were zeros and ones and the letters were a's and b's. The letters and numbers looked like a code, like this : 00000001111111 00000000aaaaaaaa 0000000000bbbbbbbbb 0000000000aaaaaaaa 00000000000111111111 000000000bbbbbbbb 00000000011111111, etc., at a fast speed this code of numbers and letters were coming out of my forehead into thin air. Thank you for reading. What happened to me? I believe with no doubt extra terrestrials are observing me.
Source:  MUFON
---
Location. Near Massape, Ceara Brazil
Date: August 12 1998
Time: evening
Five local youths reported seeing a huge object land near the Mondubim lagoon. Three humanoids resembling robots exited the object and proceeded to collect shrubs and rocks. The youths fled the area and notified some nearby military units, however they failed to locate anything. Later one, one of the witnesses Joao Lira decided to return to the scene and saw the same object on the ground. As he approached it, he suddenly felt dizzy and passed out. He was found 3 hours later next to the lagoon, shirtless, sweating and with partial amnesia.
Source: Revista Brasileira de Ufologia
Date:  August   1998
Location:  
Time:  
Summary:  
Source:  
---
Location. Deshler, Ohio
Date: August 15 1998
Time: unknown
The witnesses were on a country road when they saw silvery flash overhead. All of the sudden a huge metallic rectangular shaped craft became visible. It had several windows and inside those, several figures could be seen moving around. There was another flash and the craft disappeared. One witness suggested that the craft must have been using some type of "cloaking" device.
Source: NUFORC
Date:  August   1998
Location:  
Time:  
Summary:  
Source:  
---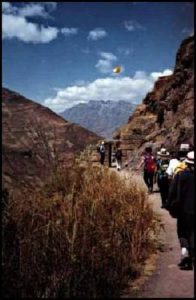 Date:  August   1998
Location:  Pisaq, Peru
Time:  
Summary:  
Source:  
---
Date: August 16 1998
Location: Rijeka, Croatia
Time: 2400-0300A
Summary: An elderly woman reported being visited at night by several little green beings that poked her in the middle of her chest area with some type of instrument, a small circular wound was clearly evident for a few days and was photographed. No further description of the humanoids is available.
Source: DUAP Polaris
---
Date: August 20 1998
Location: Chechauoene, Morocco
Time: 22:00
Summary: Clearly saw a flying boomarang-shaped object that made no noise and had no running lights in Morocco.
I was backpacking in Europe and Africa in 1998 and met two other backpackers at a hotel in a town in Morocco. I was 23, male, American; others were early 20's Scottish and Canadian, both male. Other witnesses had been smoking hash, I was completely sober. We were on the roof of the hotel watching a meteor shower. There was a (wedding?) party a few blocks away from us with big flood lights that were periodically blowing out all the lights in our section of the town, and there were few street lights. While I/we were looking up, the object flew directly over us, and I watched it travel from almost directly over us where I first noticed it to the horizon. With no reference objects in the sky I can only guess at the size and speed. If I held my hand above me at arm's length my thumbnail would have almost covered it. It took 5-6 seconds to travel about 60 degrees across my field of vision. It seemed much lower than the stars, and I could clearly see the edges, so my guess is it was between the size of a single prop plane and an airliner, flying at about 10,000 feet (higher than a prop plane but much lower than an airliner). The shape was perfectly geometric: draw a circle, cut it in half, then remove two half circles with the "corners" touching from the straight line where the original cut was made and that would be the exact shape. The result if you were drawing it should be something like a rounded boomerang with a point coming out of the back. It made no noise at all, and had no running lights. It appeared to have a dull orange glow; the closest thing I can compare the color/glow to is the coil of an electric stove when the coil is just starting to heat up. I cannot say if the glow was coming from the object or was a reflection from the lights from the party. In any case, it was not very bright and since it made no noise, I do not think I would have seen it if I had not already been looking up. I discussed the sighting with the other witness from Scotland and it was evident he saw what I did; the witness from Canada said he was "not sure what he saw" and would not discuss it. It didn't really have a "haze or aura around the object" so I didn't check that box, the light was more like "on" the object and didn't extend from it.
Source: NUFORC
---
Date:  August 21 1998
Location:  Citta Di Castello, Italy
Time:  afternoon
Summary:  In the outskirts of the city witnesses spotted a small humanoid in a field. It was crouched down like an old woman gathering weeds. When it failed to respond to shouts from the witnesses they approached to about 200 meters from it. Suddenly a silvery cylinder shaped object appeared and hovered about 2 meters above the small figure. The small humanoid then levitated into the craft, which then quickly accelerated out of sight.
Source:   UFO Roundup September 16 1998
---
Location. Mazagon, Extremadura, SpainDate: August 24 1998
Time: 2030
Luis Cuesta Trinidad and a woman friend were camping near the water's edge on the beach when they noticed a strange figure coming out of the water nearby. The figure came out and began moving its arms in a strange fashion. It was standing with his back to then witnesses when it suddenly turned around to look at them. When the figure noticed the flashlight carried by Luis it took off running in a strange fashion, apparently not bending its knees. Its head was hairless, but his body was covered with ample hair, it had round slightly oriental eyes, orange in color. It was almost 2 meters in height, with long dangling arms and legs that were apparently deformed. It was very pale in color, its head was shaped like an inverted pear, it had no nose, and they could not see a mouth. It was totally silent. The witnesses felt nervous during the incident
Source: OVNIS En Extremadura, El Dragon Invisible
Date:  August   1998
Location:  
Time:  
Summary:  
Source:  
---
Date: August 26 1998
Location:  Near Naunton, England
Time: 2200
Summary: Hospital anesthetist Guy Routh was driving along the road when his headlights illuminated a woman in a cream-colored dress standing on the verge. He slowed in case she was in trouble, and she smiled at him and gave a slight wave. He stopped to make sure she was all right, but she had vanished when he looked back. A smell of wood smoke suddenly filled his car, and he got out to find the smell was not perceptible outside. He looked around for the woman in the pale dress but she was nowhere in sight.
Source:  Paul Deveraux, Haunted Land
---
Date: August 27 1998: Cross-shaped object hovers above car
---
Date: August 28 1998
Location: Near Mt. Rainier, Washington
Time: 0330 A
Summary: The witness woke up in the middle of the night to hear a humming sound and a bright light coming in through the window that filled her apartment located on the 3rd floor of her building. She remembered saying "Oh they're here" for some reason she seemed to have been talking to somebody else in the room. When she awoke she was paralyzed and was unable to move her body. She turned her eyes to her left and there stood a small being dressed in a foiled, silvery suit with a scaly look to it. The being was very short but she could not see his face. She noticed the being's gloved hand moved to his belt. The terrified witness began praying and apparently passed out. She woke up later and lying in a peculiar position in bed. That same morning she suffered from excessive vaginal discharges. Electrical appliances and equipment at work malfunctioned when she was around them
Source:  I was abducted.com
---
Date:  August   1998
Location:  
Time:  
Summary:  
Source:  
Related articles