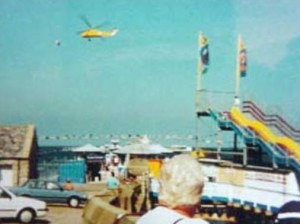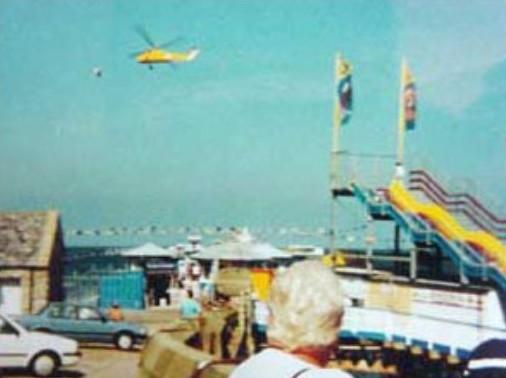 (Last Updated On: February 15, 2017)
Date: early July 1998
Location: Between Petro-Svistunovo & Orlovskoye, Zaporozhye region, Ukraine
Time: night
Summary: A group of fishermen and their families including Sergey Kalinichenko were camped out on the banks of the River Dnepr. One late night, Sergey and his oldest daughter, Tatyana spotted a pulsating light between the trees. The pulsating light was located somewhere on the right side of the wooded area; it seemed to pulsate at intervals of about 5-10 seconds. They observed the light for quite a long time and others in the camp also woke up to see the light. 30-40 minutes later the witnesses noticed several humanoid figures moving in between the trees. The humanoids were dressed in white overalls and were moving in a strange manner, apparently floating just above the ground. In total the witnesses counted 4 humanoids. The witnesses debated as to what the figures were, some thought they were hunters and went back to sleep. However about an hour later Sergey was awakened by his daughter Tatyana and younger daughter Irina. The witnesses again saw the strange pulsating light in the trees. The male campers were awakened, and armed themselves with axes and sticks and rushed towards the pulsating light. As they approached the light grew dimmer until it was totally dark. When the men reached the clearing where the light was emanating from they saw a strange triangular shape craft flying from east to west at an altitude of a five story building. The triangular craft was sharply positioned downward, and multicolored lights flashed on the top section. The craft was moving slowly and disappeared behind some trees. The men then returned to the camp. The same or similar object was seen again on July 10 1998 at 2330.
Source: Zaporozhye UFO Research group
---
Date: July 1998
Location: Queensland, Australia, exact location not given
Time: 0300 A
Summary: The witness suddenly woke up, keenly alert. The room was filled with a very bright flashing light that was coming from outside the bedroom window. The curtain was closed and yet the light filled the room. A tall, thin male being walked straight through the wall or the window and stood at the end of the witness bed. The witness felt mental communication from the being as he stared at the creature. Then a very white female gray type being entered the bedroom through the wall. Frightened the witness rolled to his right and grabbed his hunting knife he kept under the pillow. He turned around and saw the white female being retreat through the wall with a scared look on her face. The tall thin male being and the white light also disappeared. Later that night the witness felt telepathic communication from a female voice.
Source:  Glennys Mackay, Queensland UFO Network
---
Date: July 1998
Location: Near Ponta Grossa, Parana, Brazil
Time: afternoon
Summary: Two explorers reported entering a tunnel in an isolated area and spending five days in a subterranean city of more or less 50 inhabitants. During the tour the men were provided with fruits grown hydroponically underground. The men also claimed to have entered another tunnel in Rincano and discovered a staircase underground leading to four different levels. In another case a mountain guide in nearby Joinville said that many times luminous flying discs have been seen around the opening of the tunnel and that he had heard a chorus of men and women singing underground near the tunnel entrance. Then he encountered a group of subterraneans who were standing near the tunnel. They were white with red beards and long hair, very muscular. As he approached them they fled. Another explorer claims he encountered a beautiful young woman in a tunnel who did not appeared more than 20-years old. She spoke to him Portuguese and said she was more than 2,500 years old. Another man encountered a similar tunnel in the Serra do Mar mountains, and sampled a mysterious fruit from an orchid. He also saw several "subterraneans" talking to each other in high-pitched voices in an unknown language.
Source: SOCEX Brazil
---
Date:  July 1998
Location:  
Time:  
Summary:  
Source:  
Location. Oregon, exact location not given
Date: July 1998
Time: night
As the witness laid down to rest, she suddenly found herself transported to an underground kingdom. The ruler a huge reptilian-like creature was standing in front of her and initiated a conversation. He told her that originally the reptilian race had been the dinosaurs. Among other things she said was that she could call him "King Leo."
Source: Jerome Clark, Extraordinary Encounters
---
Date:  July 1998
Location:  
Time:  
Summary:  
Source:  
Location. Cambridge, Ontario, Canada
Date: July 1998
Time: late night
The witness (involved in a previous encounter along with her young daughter) was sleeping upstairs at an uncle's house when suddenly she awoke to see a strange figure, the same identical figure from the previous encounter (short with shiny star-like lights on its body) slid towards her and at the same time communicating, telepathically, asking the witness where her daughter was. The amused witness replied that her daughter was back home, that they should know, since they were "aliens" at this point the figure vanished. Her daughter did not report any unusual incidents that same night.
Source: Mystical Universe
---
Date: July 1 1998
Location: Lithgow NSW, Australia
Time: 17:40
Summary: star light appeared travelled a short distance then faded away 1st a bright light appeared high in the south sky. travelling down at a approx 45deg angle passing behind a mountain range in the north .the light appeared to be burning with a bright long tail .the second light i witnessed was in the south eastern sky it appeared travelled north a short distance then disappeared but it did this twice with no bright tail it was just like a star but definitely was not a satellite
Source: National UFO Reporting Center
---
Date:  July 1998
Location:  
Time:  
Summary:  
Source:  
Location. Aguas de Pau, San Miguel, Azores Islands
Date: July 8 1998
Time: morning
During a peregrination to the shrine of Aguas de Pau a nun announced that she had been "contacted" by a 'beautiful maiden" dressed in a beautiful flowing white dress. The maiden spoke of the chaotic situation facing the planet. Immediately after the encounter dozens saw a bizarre luminous oval-shaped phenomenon that seemed to cover the sun, it occurred repeatedly giving the strange effect of the sun appearing to "blink" intermittently, however with virtually no luminosity, somehow eclipsing the rays of the sun. This phenomenon lasted for about 6 minutes; one of the witnesses included the local parish priest and was filmed by a local resident.
Source: Apovni, Portugal
---
Date: July 10 1998
Location: Scotland
Time: 01:05
Summary: Several light's reported seen in the Sky over Scotland,on the West Coast According to a local radio ( Century Radio )of Sunderland England. A vast amount of reports were made from many people in Scotland right to the North East of England, that lot's of lights were seen on the West coast,no reports of meteors were made. An RAF Pilot also reported an explosion over the isle of Man.
Source: National UFO Reporting Center
---
Date:  July 1998
Location:  
Time:  
Summary:  
Source:  
Location. Ames, Iowa
Date: July 10 1998
Time: late night
The witness suddenly woke up in the middle of the night to see a 7 plus foot tall alien individual enter her bedroom, stooping to get through the bathroom doorway. He had very long thin limbs, a large head, slanted dark almond eyes. He was also very pale, almost creamy in color. He took two steps to reach the end of the king size bed. He reached out and gently strokes the witness husband's leg that was exposed. His very gentle touch seemed to impart knowledge or information as well as check on something. As the humanoid attempted to touch the witness, she sat up in bed and demanded to know very loudly what was he doing there. The tall humanoid seemed stunned that she was aware of him and immediately turned and bolted to his left, straight out of the room through her bedroom wall next to the large bedroom window.
Source: Su Walker
---
Date:  July 1998
Location:  
Time:  
Summary:  
Source:  
Location. Puerto Rico, exact location not given
Date: July 11 1998
Time: after midnight
The witness was sleeping when she suddenly heard a masculine voice that woke her up. She then began to float towards the ceiling. A tall human like figure with black hair (previously encountered) accompanied her, holding her by the hand. Somehow they went through the ceiling and she saw something resembling a "cloud" floating overhead. They entered this "cloud" and she found herself in a large room with windows and bench-like seats all around it. The room was dull silver in color and there wasn't anybody else present. The man then took into a semi-dark room and told her to wait there. The room suddenly became hot and then cold in a matter of seconds. The man then returned and they exited the room. She was able to look out one of the windows and saw a view resembling that of "Alaska" (snow covered mountains). She also saw a sea that had something like a waterspout in the middle and within the waterspout she could see, trees, rivers, vegetation, etc. She was then taken to a wall and a door suddenly appeared, she entered the door and found herself in a metallic room with a metallic "table" floating in the mid-air. In the room where three of the short gray creatures, this time wearing the white coveralls with a red star-like insignia on their chests. Another tall human was present; he wore a tight-fitting light blue metallic coverall, with a silvery belt with a buckle with what appeared to be glistening quartz like stone. He wore gloves, but his shoes seemed to be part of the one-piece metallic uniform. Only his face was visible on his body. She remembered encountering this man before. He told her that they were going to remove a cyst from her body, and promised not to leave any scars. She then apparently fell asleep and woke up later on her bed.
Source: Lucy Guzman Pla
---
Date:  July 1998
Location:  
Time:  
Summary:  
Source:  
Location. Lake Worth Florida
Date: July 12 1998
Time: evening
A female security guard spotted a strange "alien" entity standing on the corner of Dixie Highway and Lucern Road. The entity had pasty white skin, reddish blond hair, and black button eyes. His nose was small, his lips were very thin, and his eyes were black in color with almost no white area. He had neither eyelashes nor other facial nor body hair, his head was unusually large, while his ears were very small. He moved very slowly with short little steps and was apparently wearing normal human clothing. The next evening the same or similar entity appeared outside the security guard work place over 12 miles away. In a soft voice he said, "Could I come in and sit down and talk with you?" Terrified she said no. When a third party approached the entity it mysteriously disappeared. The police was notified. The witness further describes the being as about 30 years of age, at least 6 ft tall, with a large head, pasty white skin, and flat black eyes with almost no whites, small nose, and mouth, and ears, slow body movement and precise speech. There was an unreadable logo on his shirt. Her feeling of fear in his presence was intense.
Source: UFO Magazine Volume 14 # 1, Miami Skyscan Mach 2000
---
Date:  July 1998
Location:  
Time:  
Summary:  
Source:  
Location. Juruaia, Minas Gerais Brazil
Date: July 14 1998
Time: 2245
Local rancher, J. S. C. had been noticing that some of his hogs were turning up missing. One night as he stood watch he heard sounds coming from behind the bush and a bright yellow light came shining through. Thinking that it was a tractor he went to investigate. There a disc shaped object on the ground confronted him. Next to the craft he saw a small humanoid that appeared to be collecting vegetation from the ground and putting it inside a luminous blue sphere. The witness hid behind a tree and observed the scene. The small humanoid had a huge head in comparison to the rest of its body, a dark thin body, and long thin arms with three fingered hands. The craft was disc shaped and emitted a strong heat wave. Suddenly a bright beam of blue light shone on the witness temporarily blinding him. After about six minutes he was able to see again but the figure and the object were now gone.
Source: Revista Brasileira de Ufologia
---
Date:  July 1998
Location:  
Time:  
Summary:  
Source:  
Location. Valentin Letelier Chile
Date: July 16 1998
Time: night
Several locals had reported encountering a strange little creature about 50 cm in height, with abundant hair walking around the local plaza at night. Two of the witnesses have reported talking to the dwarf-like being, which spoke in a gruff like voice and told one of the witnesses that he was hungry.
Source: Paranigma Chile
---
Date:  July 1998
Location:  
Time:  
Summary:  
Source:  
Location. Brisbane, Queensland, Australia
Date: July 17 1998
Time: 0300A
A man named Peter suddenly woke up feeling keenly alert. The bedroom was filled with a very bright flashing light that was coming from outside of the bedroom window. The curtains were closed yet the light filled the room. Moments later a tall thin male being walked straight through the wall or the window and stood at the end of the bed. As the witness stared at him, the being said, "Hello old friend." The witness laid there on his back staring at the being for a few seconds and then a very white female gray type being entered the bedroom through the wall on his left-hand side. The witness looked at her and thought about getting his hunting knife from under the pillow, which he kept there in a scabbard. He rolled over to his right and pulled the knife out. He turned back to the female being and noticed that she had a scared look on her face and immediately retreated back through the wall. The tall male figure had by now also left the room and the flashing light went out. Peter laid there for a few minutes hanging onto the knife and straining his ears and eyes trying to figure out what was going to happen next. Peter reports that he was apparently "scanned" for the next 3 hours right up to 0600A by something that felt like mild static electricity. Sometimes over his waist area or his torso or from the top of his head down to his feet. During this time he heard a female voice talking to him. She spoke gently and continually without stopping to take a breath or to start a new sentence, so the witness thought that she was communicating to him telepathically. At no time did he felt scared but did feel concerned. In the morning he could not remember what the female was saying to him. During that time he also heard sounds like groups of little feet running on his roof. He thought that if they came in he would attack them and the running stopped. At exactly 0600A he heard a male voice say, "Good…good." The scanning ceased and all appeared normal again, the witness then drifted off to sleep. His computer wouldn't work the next day.
Source: Glennys Mackay QUFON
---
Date: July 18 1998
Location: Ames, Iowa
Time: late night
Summary: The witness recalls seeing two 4 ft tall small gray beings, (classic grays, no clothing) enter her room and with a very large (2.5") needle, inject her right calf, right down to the bone. It hurt a lot but somehow her scream was stifled. Her next memory was of the beings gone and seeing a small spot the size of a quarter on her right calf that ached down deep to the bone. It continued to hurt very strongly for the next several days.
Source: Su Walker
---
Date: July 19 1998
Location: Calgary and Black Diamond Canada, AB
Time: 16:40
Summary: The two white saucers were flying parallel for most of the time. For approximately 5 seconds they became one then they were parallel again. The left craft was spinning and disappeared for a moment. They flew parallel for the rest of the time then split apart, one went east and the other one flew on a diagonal to the west. At the time of the sighting there was a severe wind storm in the city of Calgary and a tornado touched down to the norhteast of Calgary. Also, the international airport was shut down temporarily. No small aircraft would have been cleared to fly at that time. The observers have never seen a ufo and were very skeptical before this event.
Source: National UFO Reporting Center
---
Date:  July 19 1998
Location:  Kippax Leeds yorkshire
Time:  11 pm
Summary:  Saw a beam of light going on and off from left to right going across the window it very bright almost like a torch was been switched on and off but a brilliant light.We had the curtains open as it had been a hot day and window slightly open.i jumped out of bed which took me approx three seconds as I went to push open the window a disc which was only twenty feet from me was rotating in a clockwise direction it looked like a Catherine wheel and bright red as though it was on fire. I would estimate it to be about fifteen feet in diameter no sound and I was seeing the underneath of it.it sped off in about two seconds leaving a vapour trail.i looked at the night sky and saw very high up a triangular craft which looked like a Christmas tree shape with lights at the end of each section going on and off intermittently. I had never believed in ufos but whatever It was it was not man made.
Source:  MUFON
---
Date: July 20 1998
Location: East Finchley London, England
Time: 01:35
Summary: A Triangular shape with a slightly concave back edge flew across the sky. It was glowing gold. I was lying on my back looking at the stars peacefully. I do this often as I am interested in cosmology, astrology, ufology etc… I then saw a triangle come into my vision in the east centre of the sky. It was glowing gold all over. The object, while essentially triangular had a back edge that came into the craft, Concave, with the back edge actually being two sides that came into a point about one sixth of the way from the furthest back edge to the front point. The object then flew silenty and very fast right across the sky in a straight line as if it were travelling past earth and this seemed more likely as when the object went west it stopped moving across the sky but rather started to just get more distant. The light got fainter and then it disappeared into space.
Source: National UFO Reporting Center
---
Date: July 20 1998
Location:
Time:
Summary:
Source:
Location. Palau, Italy
Date: July 20 1998
Time: evening
Two young men walking in a wooded area reported seeing the large head of a gray type humanoid with large dark oval shaped eyes, staring at them from an opening in the woods. At the same time they noticed a cigar shaped craft hovering over the woods. Two hours later in the same woods witnesses saw four men-like figures totally dressed in black that appeared to be looking or searching for something.
Source: CUN Milano
---
Date:  July 1998
Location:  
Time:  
Summary:  
Source:  
Location. East Midlands, Derbyshire, England
Date: July 20 1998
Time: late night
A 15-year old girl woke up in the middle of the night to see three very small "people" standing around her bed. No other information. The father of the witness refused to cooperate with the investigator.
Source: Omar Fowler, FSR Vol. 43 # 3
---
Date:  July 1998
Location:  
Time:  
Summary:  
Source:  
Location. East London, England
Date: July 23 1998
Time: 0300A
The witness woke up early one morning to see a dark anorexic figure, with a large head, peering at him. He felt that there were other figures around the bed, but he couldn't move. Without trying to panic, he gritted his teeth and managed to blurt out "Hello," with this the figure moved away and disappeared through the wall.
Source: Omar Fowler, FSR Vol. 43 # 3
---
Date: July 23 1998
Location: Kirkby in Ashfield UK/England
Time: 23:45
Summary: It's taken a long time for me to find a way to report this & the date is not accurate as it was a few years ago. I was living in the town of Kirkby in Ashfield in Nottinghamshire England UK. My wife & i were walking home from a night out & the sky was very clear & full os stars. It was the time of the Halle-Bopp comet which could be seen with the naked eye. My wife asked me if we could see the comet & i pointed it out to her. After observing the comet she commented on 2 objects that looked like stars but they were circling each other. Two other women stood by us to see what we were looking at & they also saw this display in the sky. After circling each other for a few minutes they stopped then one of them flew in a straight line to the left of us & the other went the opposite direction. It was like they knew we were watching them or whatever it was. The one that flew in the opposite direction (to the right) suddenly stopped. I didn't take my eye off it for the rest of the walk home. When i got home i asked my mother to come out as she was child minding but it was not their when we went back out. Very strange but this is a true statement & i swear to God & on my own life that is what we saw.
Source:  National UFO Reporting Center
---
Date: July 24 1998
Location: Plymouth, Devon England
Time:
Summary: we saw some lights in the sky in the shape of a cigar' no sound was heard and no jetstream trailed behind. It went in a straight line across our heads. one ufo flew across normal flight paths of usual aircraft. my daughter who is eleven and myself stood and watched it go.very clear early dusk. the lights looked as though they had no outer covering i.e not in one of our aircraft.afterwards my daughter and i talked and the conversation echoed.
Source:  National UFO Reporting Center
---
Date: July 24 1998
Location:  Townsville QLD, Australia
Time: 01:30
Summary: I was watching television at 01:30 when I heard a loud boom sound.The power then blacked out.I thought that the cut off switch had went off again so I walked outside to my power box.I walked to the front lawn and to the east side of my house where the power box was.I checked it but it was fine.There was no sighn that anything had happened To cause the boom.But then as I turned right to go back in side I seen a large bright white circlier object coming from the direction of the sea,east.I watched it as it moved closer slowly in a strait line and as it got closer I realised it was three objects.I turned as they came closer when I got to the point of facing south they stoped.They stayed there motionless for about 15 seconds then they moved very quickly in a zig zag movement to the west.After about 10 seconds they were out of sight leaving once again with the loud boom.The next day I asked other residents if they had seen or heard anything strange,some of them explained to me a similar experience to my own. There were three objects.At first they seemed to be one till I got a closer look.They were bright white,no other colour or changes.Each object would have been at least 100 feet from the ground.My guess is around 25 feet in diametre.A loud boom which I belied they emited happened a short time before I noticed them.They moved in a perfect strait formation from the east for around 2 and a half minutes,stoped completly as I faced south for 15 seconds then moved extreamly fast in a zig zag formation to the east.I witnesed this for at least 10 before they completly disapeared.I am a Diversional therapist and a redident of the suburb of Annandale estate,Townsville for Three years.One other witness who I know as a friend is and ex soldier for the Australian Army and also a computer expert.Other Witnesses who I do not know personly are Full time Military personal at the Lavarac Barracs in Townsville.
Source:  National UFO Reporting Center
---
Date: July 26 1998
Location:  Cold Lake (Canada), AB
Time: 0130
Summary: Large Manoeuvring Light which quickly accelerated out of sight Took Dog to lake for a swim, wife in Tow. At about six inches (at arms length) above the N.E. Horizon N54 28 30 W110 16 06 observed a large Bright Light travelling N.W. it's speed varied somewhat, then stopped, changed direction and proceeded out of sight quickly, becoming smaller until it was completely gone. this all happened within 2 minutes. I hold a Private pilots licence with a Night rating/endorsement and can comfortably state, "It wasn't an aircraft, Boy's!"
Source:  National UFO Reporting Center
---
Date: July 28 1998: Sighting in Tindouf Algeria
---
Date: July 31 1998
Location:  Tularosa, New Mexico
Time:  
Summary:  I was on my way to the store in Alamogordo NM. While stopped at the corner of Rattlesnake Rd.to enter US 54-70, I saw the ignition of the first booster of the start of a test at Holloman AFB.Hi speed test track. Almost at the point where the sled started to move, an object popped up from the left flank of the test,but behind slightly. The object exploded to a larger magenta like coronal ball. This was from a distance of 13 miles. The plume of the test sled formed a cone of about the size of a pencil eraser at arms length the ball of the corona was proportionally as large. The ball followed the sled down the track for a couple of moments and then followed it on the side for a moment or two then as the sled second thrust came on, the ball followed in front of the sled for a few moments. By the time the sled got to what is known as the midway (data collection site) the object changed direction from paralleling the track, to a direction aiming almost directly at where my intersection was. At this point of its path it was slightly faster than the test sled, but on changing direction it also accelerated to a velocity that was faster than a bullet. I had really wanted to see what the core of the object looked like. All that was left were the heat risers off of the pavement in front of me. I equate that to a stream of water moving gently and having a stone thrown in or looking at an image in a mirror and having the glass of the mirror tapped and the image breaks up. This was late in the afternoon and I was looking to the west and the heat risers were quite pronounced. the object passed so fast that when I turned to look to the north north east, I saw nothing. It was almost a year later that a friend passed along a report from an investigator from Alamogordo that fit both in time and situation. He explained that a disc had been seen behind a place called Round mountain east of Tularosa NM, where people coming from the race track in Ruidoso pulled over to the side of the road to watch the disc. suddenly a bunch of probes or drones from all over the Tularosa basin came together and attached to the disc. At this point the disc departed. This filled in a lot of blanks for me. They were spying on the test.

Source:  MUFON
---
Date: July  1998
Location:  
Time:  
Summary:  
Source:  
Related articles