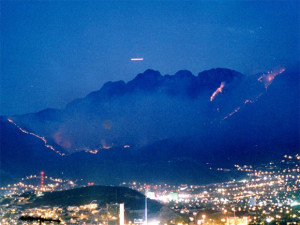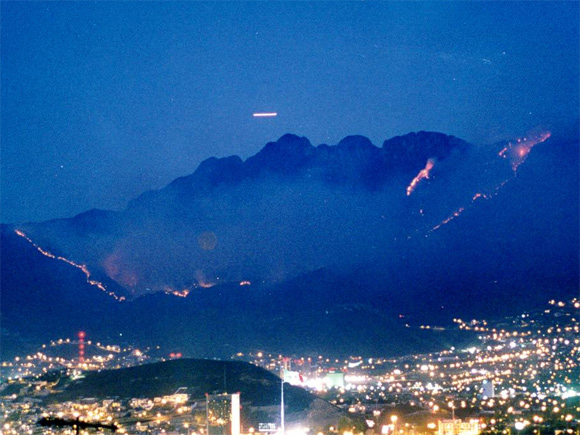 (Last Updated On: August 23, 2016)
Date: November 1998
Location: Sodermalm, Stockholm, Sweden
Time: unknown
Summary: A man reported being visited and communicating telepathically with a 1 meter tall being, with whitish porous skin. He reported several contacts and feels that the alien being was "preparing" him for something. According to the witness the alien was able to change form into anything at will.
Source:  Michael Sjoberg, UFO Sweden
---
Date:  November 1998
Location:  Rio de Janeiro, Brazil
Time:  night
Summary:  The witness was laying down alone in his bed (he was staying with his parents in their villa), he always kept the light on, since he did not sleep in the dark. There was then a light in the bathroom and the door was open. But he did not remember leaving the door open. He looked towards the bathroom and thought "My God, what happened? The door is opened. I did not leave it open. Strange." And then he blinked his eyes. After he blinked he opened his eyes again, he was standing beside his bed. The room seemed much larger, as if it stretched. He then looked around and saw two beings beside him. They were tall, much taller than he was. They were dressed in a strange glowing jumpsuit. They were two men with red hair, they then hold his hands and he freezes. He then hears a message inside his head, "Don't worry. We are going to do something and you will relax. This is for your good." Then he started to move, leaning forward, but floating. He was now floating with his face towards the floor. He could see their legs, and then they said, "We are going to put something in you, then we are going to make you sleep now because it is going to hurt a little bit." And then he blacked out and woke up the next day with a little pain in his back. He could not sleep for the next month.
Source:  Earthfiles.com
---
Location. Near Bologna Italy
Date: November 1 1998
Time: night
A truck driver saw a bright light approach his vehicle suddenly his engine stalled. A period of missing time ensued. A second witness in the area remembered being struck by a beam of light and not accounting for two hours. A third man reported seeing two "gray" beings enter his bedroom and perform some type of operation on one of his wife's knees, apparently inserting some kind of implant.
Source: CUN On-Line
Date:  November 1998
Location:  
Time:  
Summary:  
Source:  
---
Date: November 6 1998
Location: Bath England
Time: 19:00
Summary: 6 lights all in a row, behind each other, all white, 2nd light was brighter than the rest and the last 2 were close together. Observed it for about 10 seconds then it faded away.  I dont think it was an aircraft as I have observed many types of aircraft in the night sky and i have never seen anything like this, I contacted sciencenet who said it was not a satellite. It was approx 19:00 and I was standing outside my work in Bath UK. I often watch the sky as i am interested in the stars and I also like aircraft. I looked up at the sky and saw what i could only describe as a line of lights, there were 6 of them and the 2nd light was brighter than the rest, they were spaced out unequally behind each other and the last 2 were very close together, all of them had a varying brightness, there was no noise. I immediately thought that these were 6 satellites. But after talking to someone they told me it couldn't have been satellites. This was definitely not an aircraft, the lights were too far apart and of a different colour and brightness. they were moving in a South to North heading.
After watching them for about 10 seconds they faded and disappeared. Both my colleagues saw exactly what i have described. Could anyone possibly offer an explanation to what this could have been.
Source: National UFO Reporting Center
---
Location. Monte Briton, Puerto Rico
Date: November 7 1998
Time: night
Fifteen persons, including members of a Puerto Rican UFO investigation group were on a night vigil, when one of the group began to feel ill. Seven of the group then accompanied their ill friend down to the nearby road. As they reached the road they were stunned to see seven short gray large headed humanoids staring at them. Terrified one of the group managed to blurt out over the cell phone what they were watching. The humanoids then apparently by using telepathy told the group not to approach any further. At the same time they all became paralyzed and unable to move. After three minutes the beings walked into the woods and disappeared. The group was then able to move again.
Source: Federico Alvarez, UFOSICPR
Date:  November 1998
Location:  
Time:  
Summary:  
Source:  

---
Date: November 8 1998
Location: Kaiapoi Christchurch New Zealand
Time: 00:05
Summary: Traveling south about 3 times faster than an aircraft Light blue glow about 10000ft Size of 737 eastern sky 45deg travelling due south One object Very light blue glow about as long as a 737 but twice as high. Sighted for 8 to 10 seconds not as fast as a meteor no trail. Definate shape moving through the air, at one stage thought it was going to change direction I am 53 Company owner not prone to seeing little green men
Source: National UFO Reporting Center
---
Date:  November 10 1998
Location:  Belair South Australia
Time:  00:30
Summary:  The disc was accompanied by two other craft before it flew off at high speed and it was a reflective silver with lights around the rim. My friend said he was woken at about 1:30 by a loud humming noise looking out the window he saw a silver disc shaped craft hovering about half a mile away from the house it had a ring of flashing lights around the rim of the craft it it hovered there for about 3 min then 2 black helicopters flew over the house towards the disc. the disc accelerated rapidly northwards from the helicopters and and disappeared over the horizon. Duration: 6 min
Source:  National UFO Reporting Center
---
Date: November 11 1998
Location: Derby, Derbyshire England
Time: 00:45
Summary: We both were stood at my front door, and we both looked up at the same time to see an egg shaped object travel above the gap between the two houses. My friend was just leaving my house and he was stood outside my front door and I was stood inside. We were talking looking at the sky saying how clear it was. Then looked up at the sky again and saw an object travelling above the houses. I said something like "Woah!" and my friend looked up to catch it just as it was going past. It seemed to be an egg shaped thing, travelling very very fast and it was glowing green/yellow in colour. It appeared to leave a trail behind it which was also green/yellow. The trail didn't remain fo any length of time so it may have been just the light from the craft leaving a trail because of its speed. There was no noise at all. It appeared to be quite high in the sky, but not high enough to be any sort of plane or shooting star. It travelled in a very straight line, unlike shooting stars which fall rather than fly. Its difficult to judge how big it was. It looked a bit smaller than a rugby ball. That's about it. Cynthia AND MY SISTER NAME IS LAUREN BULLARD
Source: National UFO Reporting Center
---
Location. Maybrook New York
Date: November 13 1998
Time: 0130A
The 11-year old witness woke up and saw three bizarre figures in the shape of bowling pins standing in the hallway bout 5 ft from his bedroom doorway. They stood there staring at the witness. The figures glowed a white color, but did not illuminate anything around them. No eyes or mouths could be seen. The witness apparently encountered similar aliens the year before.
Source: NUFORC
Date:  November 1998
Location:  
Time:  
Summary:  
Source:  
---
Location. Samoryadkovo, Moscow region, Russia
Date: November 13 1998
Time: morning
Anatoliy Dobrenko, watchman at a local children's sanatorium had gone out for a morning walk 4km from the Savelovskaya railroad tracks. He was surprised to see his dog behaving in a strange manner. After sniffing fresh tracks on the snow, the dog didn't bark as usual but with his tail in between his legs began retreating from the area. Looking up, Dobrenko spotted the hairy back of a bizarre humanoid entity. The entity was evidently "nude", without clothing, its body totally covered by dense hair. The humanoid then ran very quickly and vanished behind some trees. Only footprints of huge naked feet remained behind.
Source: Mikhail Burleshin "Taynaya Vlast" (The Secret Power) newspaper
Moscow # 25 2001
Date:  November 1998
Location:  
Time:  
Summary:  
Source:  
---
Location. Near Helsinki Finland
Date: November 13 1998
Time: 1910
North of the city a witness heard and saw something resembling a bolt of lighting come from the sky. Strange vibrations lasting 5 minutes followed it, and then all became calm and silent. After two minutes, the witnesses heard a very loud noise with nothing in sight, which would cause such a sound. Then the sound diminished before stopping completely. Then from their first floor balcony the witnesses saw 3 strange beings (not described) enter their yard. The beings moved around in all directions. One of them carried a purple blinking light, and another one of the beings apparently climbed up one of the trees, the witness then made some noises and the being on the tree came down and then they all left.
Source: Chucara Quebec Canada
Date:  November 1998
Location:  
Time:  
Summary:  
Source:  
---
Location. Guadalajara, Jalisco, Mexico
Date: November 15 1998
Time: midnight
The witness was outside when he heard voices coming from above; looking up he saw 2 cylindrical silvery objects hovering overhead. The objects then moved quickly away. No other information.
Source: NUFORC
Date:  November 1998
Location:  
Time:  
Summary:  
Source:  
---
Date: November 15 1998
Location: Sunderland England
Time: 20:15
Summary: The ufos appeared above the north sea and started to flash in an erratically The two ufos appeared above the North sea and flashed for a number of minutes. whilst they were flashing they were moving not like any aircraft I had ever seen and at on point the two craft seemed to merge for several minutes then they split up again. Then they disappeared towards the east and came back 3 minutes later and did the same
Source: NUFORC
---
Location. Dalekoye, Crimea, Ukraine
Date: November 18 1998
Time: daytime
Four boys from the local "elementary" school, Eldar Islamov, Anton Kireichev, Server Devlyatov, and Alyesha Alyabyev had gone out of the school building to use the toilet. On their way there they heard a strange guttural sound coming from behind them, and looking back they saw a strange humanoid entity climbing over the fence. The entity was approximately 1.7m in height. The boys froze in terror as the entity began approaching them. The alien had a large head, not in proportion to its body, two huge red eyes and a square flat body. Its long arms touched the ground and ended in three clawed black fingers. The legs of the entity were black and straight. The rest of its body was semi-transparent, smoke in color. The boys noticed neither hair, nor mouth, ears nor nose. The boys named the entity "the slug". The alien approached one of the boys and put its hand on his shoulder. The boy felt neither heaviness nor pain and tried to push it away. The boys noticed that the entity had some type of device with a button attached to its elbow. The alien then pressed the button with its clawed finger and immediately the alien was "sucked" through the wall of the school building. Only the entity's red eyes could still be seen on the wall. The boy's skin turned red on the place where the entity had touched him, but he felt no pain or burning sensation. Soon it disappeared and the screaming boys rushed to their classroom. The teacher was unable to calm them and one of the boys stuttered uncontrollably. They feared going to the toilet alone after the incident. A number of UFO observations were reported around the area in 1998.
Source: Galina Neiman, "Krymskaya Pravda", Anton Anfalov
Date:  November 1998
Location:  
Time:  
Summary:  
Source:  
---
Location. Dalekoye, Crimea, Ukraine
Date: November 20 1998
Time: daytime
Two days later the same boys reported seeing the entity's red eyes again glittering on top of a tree and one boy saw the entity again looking into the window of the school canteen. A number of UFO observations were reported in the area at the same time.
Source: Galina Neiman "Krymskaya Pravda", Anton Anfalov
Date:  November 1998
Location:  
Time:  
Summary:  
Source:  
---
Location. Moron de la Frontera AFB, Sevilla, Spain
Date: November 25 1998
Time: 0500A
A soldier was on guard duty near special hangars 1, 5, 6 and 9 accompanied by his German shepherd guard dog when he heard a sort of metallic scraping sound coming from nearby. He let his dog loose to check, then loaded his weapon, and fired two shots into the air. Suddenly from out of some nearby woods a 2-meter tall humanoid figure appeared. Since it was dark the soldier was not able to see any features except that the humanoid had glowing green-colored eyes. The witness challenged the figure but it did not move, he then fired once at it without any apparent effect. He ordered the dog to attack, but as the animal approached the figure it suddenly backed away, howling as if in pain. He then fired at the humanoid again, but it just stood there staring at him. He then walked towards the figure, which suddenly raised one hand up, crouched down, and disappeared into the brush. The witness conducted a search but failed to find anything.
Source: Jose Manuel Garcia Bautista
Date:  November 1998
Location:  
Time:  
Summary:  
Source:  
---
Location. Belgrade, Serbia (former Yugoslavia)
Date: November 26 1998
Time: before 0600A
The witness was staying as a guest in his aunt's house when he suddenly woke up to see a young woman with red medium length hair standing at the foot of his bed and emitting a brilliant glare. When she noticed that the witness had woken up, she looked at him right in the eyes and shocked he watched her float away through the closed window and disappear. It wore some sort of shiny "pale" dress or outfit.
Source: http://www.forteantimes.com/forum
Date:  November 1998
Location:  
Time:  
Summary:  
Source:  
---
Date:  November 27 1998
Location:  Gulf of California camping, Baja (Mexico
Time:  
Summary:  Red, white, green flashing light in two bright objects on opposite sides of ORION'S BELT in night sky. Geosynchronous satellites? On each side of Orion's Belt stars there are two objects of brighter magnitude. With naked eye they flicker, with binoculars they demonstrate red, white and green colors at regular intervals as if rotating like a search light. They were there all night and are still there 26 December 1998. There was another one seen in November however more difficult to describe where it is. Seems to be further west from the other two. It also flickered with those colors. Question is do many of those satellites up there have any red and green flashing lights like airplanes do and boats do to tell left from right? If so why in space? How many of those satellites up there have flashing red and green lights? Duration: all night
Source:  National UFO Reporting Center
---
Date:  November 29 1998
Location:  San Fernando Cebu Island, Philippines
Time:  0300A
Summary:  The witness noticed a strange small object hovering above a dead tree in a wooded area, there was a sudden flash at the witness, and large balloon shaped object with three illuminated triangular shaped windows became visible. Inside the window he could see the head of a being with bright crystal blue eyes. He heard a loud thundering voice speaking at him in an unknown language, some of it sounded like: "arc-ha-an rha-ehn-raxh ehn." 
Source:  UFO Sightings in New Mexico and The World
---
Date:  November 1998
Location:  
Time:  
Summary:  
Source:  
Related articles