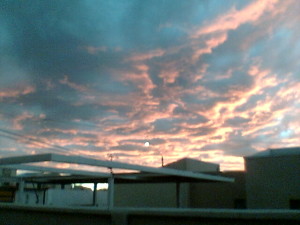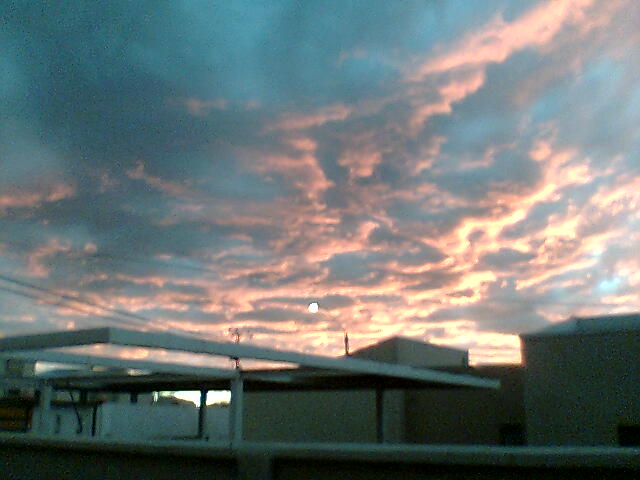 (Last Updated On: September 5, 2017)
Date: August 2000
Location: Blue Mountains, Australia
Time: 0200A
Summary: In an isolated area known as the "Blue Labyrinth" Sue O'Connor woke from a disturbing dream which was accompanied by a weird "electric" feeling, looked up at the window behind their bed and saw a large animal staring back at her. The creature had a human-sized head, which looked disproportionately small as it was set low into a pair of absolutely huge shoulders. As it was illuminated by a streetlight and a full moon; Sue could see the creature had a slim nose, a very wide mouth and a rounded clump of tan colored hair on top of its head. Soon Sue and her husband Jerry experienced six similar sightings, always preceded by the strange "electric" dreams, cold chills and fear. To look through the bedroom window the creature must have been over eight feet tall. A strange fact was that the visits always occurred just before or during Sue's monthly periods.
Source: Tony Healy "High Strangeness in Yowie Reports"
---
Date:  August 2000 Hamlton , Ontario, Canada Sighting
---
Date:  August 2000
Location: Calama, Chile
Time: 0300A
Summary: Felipe an employee at a local disco reported that one night there was a loud pounding on the outside door, in the back of the building. Thinking that it was a robbery attempt, he armed himself with a club, opened the door, and was confronted by an upright four-foot tall creature with glowing yellow eyes. The creature breathed out a strong substance, which stunned Felipe, who then saw the being silently glide away. Around the same time other local residents reported seeing metallic bell shaped craft flying over the area.
Source:  Dr. Virgilio Sanchez Ocejo
---
Date:  August  2000
Location:  Colchester, Utah
Time:  afternoon
Summary:   The witness was having a BBQ in the garden when suddenly the sky went pitch black. They all looked up at the sky in surprise. Everyone gasped as they saw several, skinny, bony, black creatures with wings flying at a rapid pace over the city. Around the same time another witness was parked in her driveway when she saw about five weird skinny, black creatures with round, big eyes. She screamed as they kept trying to get in. One of the weird creatures had broken the window and had bitten into her arm. After an hour the creatures gave up and left. When she got out of the car her arm was covered in blood. The police told her that it must have been a pack of dogs.
Source:   Ghost Source.com, True Encounters Archive
---
Date:  August  2000
Location:  215 freeway from Orange County to San Bernardino, California
Time:  
Summary:   It was in the summer of 2000, probably around August. I was driving home from work with my ex-husband on the 215 freeway from Orange County to San Bernardino, California. Whatever it was, it flew straight at us, going up over the top of the car. We thought we were going to crash. It happened so fast, we didn't see a head or glowing red eyes, just the lower body and wings that were wider than the car. I remember the legs. They were solid black and looked skeletal. The feet also appeared skeletal and had claws. We sat in our car in our driveway for about an hour. Too scared to get out. At the time, we told a few friends who wrote it off as a bat. I've never brought it up since but I think about it every so often. Last night was one of those times, so I Googled the description and ran into your site. AB
Source:  MUFON
---
Date:  August  2000
Location:  
Time:  
Summary:   
Source:  
Location. Mt. Crawford, South Australia
Date: August 2000
Time: late night
16-year old J Pettina and some friends were camping in an isolated area filming for a web page they were working on. It was getting dark and Pettina decided to go for a walk. It got darker and darker when he realized he was lost. Soon he heard footsteps about 10 meters behind him. He turned and saw in the distance a figure dressed in black clothing, as it got closer, it started whispering. It was a male voice. It said he was going to take the witness back to its lair in the mountains and eat his flesh (!) and see what his body was made of. The terrified witness was frozen to the spot and wanted to run but could not. As it came closer the witness could see that its face was red and that it had a long nose. His eyebrows were thick and he talked without moving his lips. Then he heard his friends scream out his name, he turned to see where they were for a split second, and when he looked back the strange creature was gone. The witness rushed back to his friends and told them what had happened but he was not believed. That night he was awoken by footsteps again. He did not want to move. He curled up in a ball and closed his eyes tight. The whispering started again and the witness heard it say that he would return when he was alone. None of his friends heard it. 
Source: Paranormal Story Archive, August 2002
---
Date:  August  2000
Location:  
Time:  
Summary:   
Source:  
Location. Chicago, Illinois
Date: August 2000
Time: late night
Adrian D woke up and needed to use the bathroom. He turned on his bedroom light as not to step on anything. After opening the door he turned on another light, and looked up. Something wearing green was standing on the other side of the room with his back to the witness. It was wearing a weird helmet and looked definitely human. It left a cloud of grayish purple dust when it suddenly disappeared in plain sight.
Source: Paranormal Story Archive, August 2002
---
Date:  August  2000
Location:  
Time:  
Summary:   
Source:  
Location. Capilla del Monte, Cordoba, Argentina
Date: August 2 2000
Time: 1845
The witness had gone outside to empty the trash and was returning back to the house when she noticed something floating over the ground above some nearby laurel bushes. It appeared to be an amorphous transparent figure with large bright yellowish almond shaped eyes. The figure floated towards a nearby tree knocking itself against it, a branch was seen to fall down. At the same time it seemed to disappear and the witness heard a loud humming sound. There seemed to be an invisible energy in the air. The frightened witness ran inside the house and summoned her husband but the figure had already vanished. In the following days the witness suffered from headaches and heard metallic voices calling her name.
Source: Proyecto CATENT, Buenos Aires
---
Date:  August  2000
Location:  
Time:  
Summary:   
Source:  
Location. Uniontown, Pennsylvania
Date: August 3 2000
Time: 2200
Five witnesses observed what they described as an alien "glide" across a field. The witnesses described the being as about 5 feet tall with long slender extremities. It carried a brown "staff" about 5 feet long. It was observed for about a minute from a distance of about 250 feet. No apparent disturbances to the area around the being were reported. The creature appeared to glide about 6 inches above the ground, according to the witnesses. Weather conditions were cool and clear with no wind. No sounds were reported and witnesses commented on it seeming abnormally quiet at the time. Crickets and other normal background noises were absent. The witnesses lost sight of the being when they drove a short distance up the road to an area which they thought would offer a better view, only about 75 to 100 ft from where the being was seen. A small knoll obstructed their view as they drove. When they got to the closer location, the being was gone. The witnesses returned home after the encounter. They reported no serious effects from their sighting, although three of them did claim to be very tired the next day.
Source: Stan Gordon, PASU, J Brown
---
Date:  August  2000
Location:  
Time:  
Summary:   
Source:  
Location. Falkirk, Scotland
Date: August 10 2000
Time: 0010A
Scott Jarvie was walking home after visiting his girlfriend when he suddenly became drowsy and very sleepy. He suddenly found himself inside a very bright place but "dark" at the same time, it was hard to describe. Inside he briefly met a short humanoid, with sunken green eyes, sandy colored skin, and no mouth. It had short stubby fingers on one hand. A most peculiar feature was that it had a hole where the neck area joined the spine. Jarvie has no other memories.
Source: UFO Abduction Raw Data Page, UFO Watch
---
Date:  August  2000
Location:  
Time:  
Summary:   
Source:  
Location. Oklahoma, exact location not given
Date: August 11 2000
Time: 0445A
A man had run out of gas and had started walking towards some nearby lights. As he was walking, a car drove around him, pulling ahead of him quite a distance and stopped. A man exited the vehicle and looked at him. He described the man as having glowing green eyes. Then he looked behind him and saw two other men. One on each side. One had green glowing eyes also and the other had eyes that glowed like diamonds. The men did not say anything, but the witness felt they were telling him to trust them. He felt an electrical current going through his body and was unable to move. His memory ends about this time. He was later found unconscious by a police officer in the middle of the road, apparently unharmed. 
Source: NUFORC
---
Date:  August  2000
Location:  
Time:  
Summary:   
Source:  
Location. Pokrovka, Russia
Date: August 15 2000
Time: 0440A
In this village west of Moscow several campers observed a small disc shaped object fall to earth in a field east of the hamlet emitting a humming sound resembling that of an electric engine the sound of a hard impact was also heard. The disk was shiny and smoke was observed at the place of impact. It was about 3.5 m in diameter, with a big dome and a dark "belt" on the rim. It had a flat finish with gradual rising dome. One part of the object was damage as a result of the impact. In about 15-20 minutes a military team was observed arriving in a truck. The military quickly loaded the disk on the truck covered it with a tarpaulin and drove away. The military had apparently tracked the object on radar. It was established later that the disk was transported to a military base near Moscow where a team of experts examined it. The team succeeded in opening the disk and the bodies of two small humanoids were found inside the alien craft. Both aliens were dead, obviously killed by the hard impact. They were of the typical "gray" type, Dwarf ike, with large hairless heads, huge black eyes, webbed fingers and hoofed feet. The beings were taken out of the disk; autopsied and hidden in a top secret underground facility north of Moscow near Solnechnogorsk.
Source: Anton Anfalov list, Larissa Chora, and Lenura Azizova
---
Date:  August  2000
Location:  
Time:  
Summary:   
Source:  
Location. Carozzo, La Spezia, Italy
Date: August 17 2000
Time: afternoon
Several witnesses spotted a flying humanoid careening through the clear blue sky over the area. It was described as resembling the "Batman" character, including boots and a cape. It flew very fast away from the area.
Source: UFO Roundup Vol. 5 # 38
---
Date:  August  2000
Location:  
Time:  
Summary:   
Source:  
Location. Millis Massachusetts
Date: August 17 2000
Time: night
Two witnesses reportedly saw a silhouette or a figure in the window. Behind it there was a very bright white light. The dog became frightened during the incident and their satellite TV scrambled and showed square symbols. A circular area of matted down grass was found in the yard.
Source: UFOs in Massachusetts
---
Date:  August 19 2000
Location:  Pichoy, Chile
Time:  1000
Summary:   Ten hens, including a rooster fell victims to a strange creature that roamed at will inside a chicken pen in a farmer's house. One of the hens was found decapitated and all showed signs of having bitten and sucked completely dry of blood. The incident occurred in the house of a farm couple, Alejandro Rivas and Leonor Zuñiga. Leonor reported hearing noises and seeing a strange creature, which she described as small with a round hairless head, small shiny eyes, long fang-like teeth and large mouth. However she did not see any legs, hair or feathers on the creature. It was shiny yellow in color. As she open the gate to the chicken pen some of the animals managed to fly out obviously terrified. At that moment she noticed the bizarre creature, which seemed to rear up on a corner and emit a huffing sound as if preparing to attack the witness. However it disappeared through a hole in the pen and towards a nearby swampy area near the river, only a few meters from the farmhouse. The terrified witness reported that she had never seen such an animal in the farm before.
Source:  Revista Investigación, "El Chupacabra, en Pichoy?
---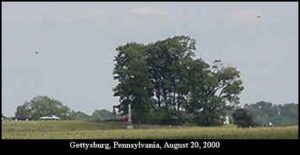 Date:  August 20 2000
Location:  Gettysburg Pennsylvania
Time:  
Summary:   
Source:  
---
Date:  August 22 2000
Location:   Miami Florida
Time:  0130A
Summary:   The night after the witness had seen a green fireball moving horizontally over the area, she was sitting on her couch watching TV when she heard a bumping noise on the porch. Looking out through the vertical blinds, she saw a whitish shape of a head with large dark eyes. Immediately she ran out, but the creature had already disappeared. She felt "drained" after the encounter.
Source:  Miami Skyscan
---
Date:  August 25 2000
Location:   Malpaisillo, Nicaragua
Time:  night
Summary:   After six weeks of mysterious sheep slayings in the region, rancher Jorge Luis Talavera shot and wounded a yellow furred creature that made rapid movements near the sheep pen. The creature disappeared into the brush. Days later a security guard found the decomposed body of a strange creature near the ranch. It appeared to be some type of hybrid creature, thin and tall, large eye sockets, over sized fangs and with several protuberances on the upper vertebrae, shaped like a crocodile's crest, it also had very small ears. Others had reported similar creatures in the nearby cordillera, one with white or silver fur, and two with black fur. The remains were taken to a local University forensic lab in Leon state, where the decomposed body was apparently switched with that of a normal domesticated dog. The controversy still lingers.
Source:   UFO Roundup Vol. 5 # 38
---
Date:  August 30 2000
Location:  Bakersfield, California
Time:  0003A
Summary:   Gary Lowery was awakened by the sound of his bedroom closet doors creaking. As he looked towards the door, he was able to observe a "silver colored object" which slowly retracted. He then noticed a cone shaped beam causing the closet doors to become transparent and he was able to see into the closet where the light was shining. Shortly thereafter, a "purple bubbling object" began to form. He looked away to see if he was hallucinating but when he looked back it was still there and getting progressively larger. He then saw "a bright white blue structure" forming which resembled the number 7. Gary further noted that when he awoke later that morning he noticed that an implant which had been in his body for 3 years was now gone. The nine-year-old daughter of Gary Lowery reported encountering strange creatures in her bedroom for the past two years. She also found marks on her chest. Lowery found under his bed a slipper white powder that was "gross" in nature. He also found claw-like prints, possible footprints and an unusual tube and also a watch with a strange substance on it.
Source:  UFO Resource Center
---
Date:  August  2000
Location:  
Time:  
Summary:   
Source:  
Related articles