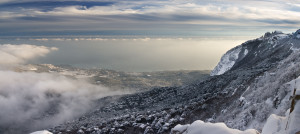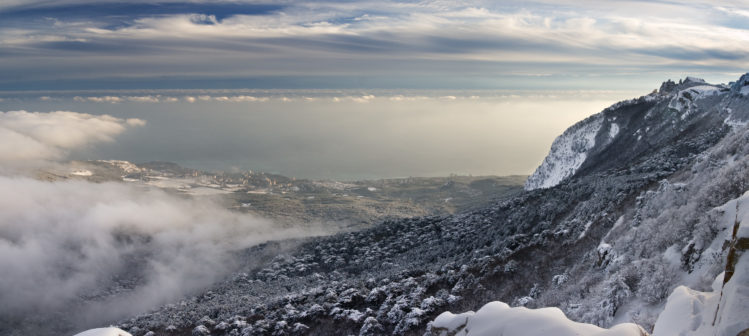 (Last Updated On: May 17, 2017)
Date: Summer 2000
Location: Sevastopol, Crimea, Ukraine
Time: 0500A
Summary: A female witness, G. Pogorelova was sleeping in her loggia (cabin) during the summer heat when suddenly she awoke feeling a hairy hand touching the fingers of her right palm. She felt that the hand touching her had only four fingers, two on top and two beneath. Immediately she opened her eyes and since the room was strangely illuminated she saw an alien figure standing near her sofa, holding her hand. The entity had its right hand stretched forward. The witness jerked her hand back and jumped up. The entity then stepped back. The entity was generally shaped like a brown bear, standing on two hind legs, with its two hands stretched towards her. However his figure was slender, with a head much similar to a dog with the same nose. Its whole body was covered with long (approximately 6-7 cm) fur, in small curls. She was able to see the entity clearly. The entity stood close to her for about 10 seconds and then it began to fade away beginning with its head and soon vanished. The witness then went back to sleep.
Source:   "The Secret Doctrine" Newspaper, Simferopol # 12, 2002
---
Date: Summer 2000: A Large Bright Green Round Shaped Object
---
Date: Summer 2000
Location: Svetly, Kaliningrad region, Russia
Time: evening
Summary: A man named Vasiliy was returning from a day of fishing accompanied by several friends and was passing by a local purification plant for the tinned-fish food factory when suddenly the fishermen saw a silvery disk at about 50 meters from them. The disk was resting on the ground on three metallic leg-like structures and had blinking red-pink lights spaced around its circumference. Several meters from the disk three entities appeared to be taking soil samples. One of the aliens who was apparently the leader was about 2 meters in height and was standing apart from the other two, which were much shorter than he was and were actually collecting the samples. The humanoids were bending down in ways utterly impossible for normal humans; their bodies appear to be much flexible. At first Vasiliy's dog rushed towards the landed disk but several meters from the object it stopped and began to whine and whimper wildly, running away in fear. At this point Vasiliy and his friends became scared so they hurried home following the dog. After this incident, Vasiliy began to see the same or similar UFO very often, a silver disc encircled with red-pinkish lights and usually during the summer and late at night. The UFOs seemed to be inspecting the sewage facilities and other areas apparently monitoring the ecological impact in the area.
Source: Denis Rozhnov, "Komsomolskaya Pravda in Kaliningrad" February 27 2004 # 37.
---
Date: Summer 2000: Three black triangles hovering over Los Angeles
---
Date: Summer 2000
Location: Safonovo, Smolensk region, Russia
Time: 2330
Summary: Valentina Lychkova had returned home late one night when suddenly from somewhere on top a beam of luminous light shone on her. The area around her became unnaturally dense; she could not move her arms or legs. She suddenly perceived something dense penetrate her inside, filling her completely. At first the feeling was awful but then it changed into bliss. But she could neither shout nor laugh. Soon the beam of light disappeared into the darkness and the atmosphere around her became normal, she was again able to move.
Source: SKYZONE, Russia
---
Date:  Summer 2000
Location:  
Time:  evening
Summary:  In the summer of 2000, my cousin and his friend, both 11 years old at the time, were riding their bicycles. It was in the evening on a Sunday night; they live in a very small town so it's safe for children to be outside at night. Anyway, they were by the town park where they saw a figure seated beneath the pavilion. This was highly unusual as the park was usually empty at this time. Curious, they drew closer and saw that it was a woman who looked to be in her thirties, seated at a bench with a painting and an arts easel. She called out to them in a monotone voice, like an automated voice one would hear on an answering machine. As they biked closer, they saw that she was wearing what my cousin describes as "gypsy clothing," colorful and mismatched thrift store attire. Her expression was entirely blank; she stared through, rather than at them, as if they weren't even there. She began to ask them generic questions like "Who are you?" "Where are you from?" What are you doing?" etc., in her monotone voice. Her movements were stiff and awkward, her eyebrows and lips appeared painted on, and her skin was like plastic; in short, she was like a mannequin come to life. The painting she was working on portrayed the night sky, occupied by the moon and stars, each with faces showing different expressions. The two kids felt a sense dread that grew and grew, their instincts telling them to depart as soon as possible. So, they did. They rode their bicycles a brief distance away and then returned shortly thereafter, to see if she was still there. She and her art set were gone without a trace. Looking through the surrounding sidewalks revealed no trace of her either. This is odd for a number of reasons. First, she was barefoot, with no automobile or bicycle nearby. If one had come by to pick her up, they would have seen and heard it. Second, she had a large and cumbersome art set with her, which would have been an awkward impediment to carry by hand. Third, they were gone for less than a minute, scarcely enough time for her to depart the park.
Source:  Visionary Living…Two Strange Encounters: Ultraterrestrials, Djinn, or A Time Slip?
---
Date: June-July 2000
Location: Near Peredovoye, Baidarka valley, Crimea, Ukraine
Time: evening
Summary: A security guard at the "Atlantica" tourist camp observed a strange humanoid on the banks of Lake Mulovskoye northeast of the village. The entity was reported to have been gray in color or wearing a grayish tight-fitting overall. Facial details could not be clearly seen, because of the distance. The entity appeared to have been examining something on the banks of the lake. Other observations of similar entities have been frequently reported in this area.
Source:  Anton A. Anfalov, Ukraine, an@crimea.com
---
Date: June 2000
Location: Baquedano, Chile
Time: night
Summary: Upon hearing the frenetic barking of his dogs, security guard (involved in a previous encounter) Luis Alberto Calivar armed himself with a flashlight and a knife and went outside to investigate, as he did the dogs suddenly became very still. Soon his lights illuminated a dark greenish form that ran very quickly climbing up a Wasintonia palm. As he shone the flashlight at the figure he felt his arm become "cold" and the knife and watch dropped out of his hand, at the same time the dogs stood very quiet and still. A feeling of numbness overcame his body and he ran back inside his security shack, he was followed by the dogs that hid under the room and began to shake in fear. He could only describe the creature as having large flopping ears, fluid in nature, apparently without a bone structure (!), it gave the appearance of being a flexible mass that moved around like a Kangaroo. It moved silently and was about 1.30m in height. When he first spotted the creature it seemed to have been crouching down, behind a bush. It seemed to twist its body around and never looked straight at the witness, which never dropped his flashlight. Incredibly despite the reactions the witness felt no fear and did not notice any odors coming from the creature. The encounter lasted about 5 minutes and the creature was about 9 meters away from the witness. He further described the creature as having greenish hairs about 5 to 6cm in length. Soon after the encounter Calivar had too see a doctor and lost about 20 pounds.
Source:  Ramon Navia, "La Verdad Oculta"
---
Date:  June 2000
Location:  Aurora, Illinois
Time:  Around 11:45 at night
Summary:  "My buddy and I were on our way to Peoria which is about an hour and a half away. No one is around. It's one of those real clear nights. Warm summer night. Happened in June. Anyway, we're going along. Nobody around us. Around 11:45 at night, if I remember right. We're driving. Going about 55 miles per hour. We're in the right hand lane. In the left hand lane appears out of its own mist, a green figure about 7 feet tall. You know what it had on? A cape! With no face. Can't tell if it's fat or skinny. And it's standing still in the left hand lane and it doesn't budge. With its arms draped out side to side. It was the Grim Reaper! It was the only thing I could think of. I used to laugh at people who would tell me about the Grim Reaper. Right when I was thinking, that was the Grim Reaper and kept it to myself, my buddy says, What was that? And I thought Grim Reaper in my mind and he said it out loud. And I looked at him with a straight face and I said, Yeah, it was. That was the summer time in June and I'll never forget it like it happened yesterday. That thing was at least seven feet tall. Never saw it again. Never want to see it again. But it was as real as you and I talking right now."
Source:  Coast to Coast – October 31, 2000
---
Date:  June 2000
Location:  
Time:  
Summary:  
Source:  
Location. Miami Florida
Date: June 2000
Time: night
A local man involved in other encounters reported that a strange ape-like creature had appeared in his room and had told him, apparently by using telepathy, that the tall blond Nordic humanoids were now only visiting South America, and had huge triangular shaped ships that hovered over the Earth at very high altitude.
Source: Miami Skyscan
---
Date:  June 2000
Location:  
Time:  
Summary:  
Source:  
Location. Near Stockbridge, Georgia
Date: June 2000
Time: 2100
A woman was standing on her front porch, shaking out a rug when she suddenly noticed an object hovering over some woods by the neighbor's fence line. She stepped back inside her house and called her husband but continued to watch. The object was saucer shaped, similar to the ones she had seen on the television. It was emitting a blue light from its bottom and that the blue light turned into a little creature that ran into the woods and disappeared. Her husband also saw the object. They phoned the police but they refused to come to the scene.
Source: Paranormal about Com June 2003
---
Date:  June 2000
Location:  
Time:  
Summary:  
Source:  
Location. Pordenone region Italy
Date: June 4 2000
Time: 2030
The father of the main witness had earlier noticed some crop circle formations in a nearby wheat field. He took several photos. Later on that same day 12-year old Christian was outside his home when he felt a shiver and then heard a loud whistle. A hole appeared in the clouds above and a ray of light shone down on a nearby wooded shelf. A being with black oval eyes then appeared, he had gray skin, long feet, hands with three fingers and was wearing a yellow and red overalls. The being communicated with the witness via telepathy. The being then apparently followed the witness along a street, then climbed a ladder. The being then pointed to the nearby field, waved at the witness and disappeared in the field. The witness then felt the shiver again and the clouds appeared to close again. Mysterious helicopters were seen in the area during the same time period.
Source: CISU
---
Date: June 5 2000
Location: Manchester UK/England
Time: 01:30
Summary: I WAS ON MY COMPUTER AT AROUND 01:30AM ON THE 05/06/00 WHEN I OPENED THE WINDOW I NOTICED A BRIGHT LIGHT MOVING SLOWLY TOWARDS MY HOUSE. I WATCH THE OBJECT FOR A FEW SECONDS AND NOTICED THAT THERE WAS NO SOUND COMING FROM THE OBJECT AS IT PAST OVER THE HOUSES OPPOSITE.I THEN WENT AND WOKE MY GIRLFRIEND TO LOOK AT THE OBJECT AS WE BOTH LOOKED OUT OF THE WINDOW IT MUST OF ONLY BEEN ABOUT 10 OR 15 FEET OFF THE TOP OF THE HOUSES IT WAS LITE UP LIKE A PASSENGER PLANE,BUT LOOKED LIKE NO OTHER AIRCRAFT THAT WE HAD SEEN.THERE WAS A GLOW FROM THE BACK OF THE AIRCRAFT WHAT LOOKED LIKE WINDOWS,THIS OBJECT MOVED FAR TO SLOW AND WAS FAR TO LOW TO BE ANY TYPE OF AIRCRAFT THAT WE HAVE GOT.THIS IS THE FIRST TIME I HAVE BEEN ON YOUR WEB SITE,NOTICED A REPORT OF A JET LIKE PLANE AND I HAD TO SEND YOU THIS REPORT OF WHAT SEEMS TO BE SAME OBJECT THAT MYSELF AND MY PARTNER HAVE SEEN,WE ARE GLAD THAT SOMEONE ELSE AS SEEN IT AS FAMILY & FRIENDS DID NOT BELIEVE US THEY THOUGHT WE WERE MAD.
Source:  National UFO Reporting Center
---
Date:  June 2000
Location:  
Time:  
Summary:  
Source:  
Location. Villa Nonguen, Concepcion Chile
Date: June 7 2000 Time: 0400A
Julio Reyes and wife Carmen Andrade were awaken by noises coming from the backyard, which contained a hen house and a garden. Looking out they saw bizarre humanoid flapping a pair of large wings. The creature was described as white in color. It ran towards the rear of the house. The guard dog refused to follow it out. Several hens were found dead and strange footprints were also located.
Source: UFO Roundup Vol. 5 # 24
---
Date:  June 2000
Location:  
Time:  
Summary:  
Source:  
Location. Devils Swamp, Louisiana
Date: June 8 2000
Time: 0630A
41-year old Roger Mixon was out hunting in an isolated and aptly named area when he came across a bizarre dark-purple color object the size of an 18-wheeler and shaped like a bat wing sitting on the ground. He could see a drawbridge type door that was opened and nearby saw three creatures attempting to capture an alligator. The beings wore what appeared to be crowns of gold had human-like faces and had long hair and sharp teeth like those of lions. They had breastplates resembling cast iron. One of the most bizarre features was the 4 wing-like protrusions and scorpion-like tail that each creature had. They did not see Mixon at first but when one spotted him he fired his 12-gauge shotgun hitting one in the chest knocking him down, but the creature quickly was on his feet again and apparently fired back with some type of implement that dangled from his waist. A beam like light struck the witness on his wrist leaving a scar. According to the witness he has lost most of the use of that arm as a result of the incident. He fired once more and the humanoids then rose up in the air and flew back inside the object. The door closed and it took off at lighting speed. The witness never hunted in those woods again.
Source: UFO Watch, UFO Reports
---
Date:  June 2000
Location:  
Time:  
Summary:  
Source:  
Location. Antofagasta Chile
Date: June 9 2000
Time: night
The witness woke up after the cat started making noises. He looked out the window and saw a strange creature attacking the feline. The creature, described as resembling an ape with humanoid features and with very large eyes moved away quickly in a zig zagging manner. The witness found his cat dead and deep claw like scratches on his vehicle.
Source: UFO Roundup Vol. 5 # 24
---
Date:  June 2000
Location:  
Time:  
Summary:  
Source:  
Location. Cali Colombia
Date: June 10 2000
Time: 1515
In a hill near this city the 21-year old witness spotted a small object hovering close to the ground, about 150 meters away. It made a soft engine sound. He saw a humanoid with antenna like protuberances on it head enter the object, which then took off toward the south.
Source: UFO Database
---
Date:  June 2000
Location:  
Time:  
Summary:  
Source:  
Location. La Cruz, Chile
Date: June 11 2000
Time: 2045
The witness was alone at her home when she heard loud noises on the roof. She went out and noticed that two dogs were looking up at the roof. She approached and looked; there she saw a strange creature, ape like, brown in color, and with shiny eyes. Frightened she ran inside and grabbed her children, and then ran outside where she again saw the creature that apparently briefly followed her. She suffered a nervous breakdown as a result of the encounter.
Source: Paranigma Chile
---
Date:  June 2000
Location:  
Time:  
Summary:  
Source:  
Location. Antofagasta Chile
Date: June 13 2000
Time: night
A local homemaker reported being attacked and scratched on the face by a strange creature that jumped at her from out of the darkness. In the same area several animals were found dead, all with holes in their throat area and apparently bloodless.
Source: Paranigma Chile
---
Date:  June 2000
Location:  
Time:  
Summary:  
Source:  
Location. Tocopilla, Chile
Date: June 18 2000
Time: midnight
A group of young people was on the beach sitting by a bonfire. Suddenly, a large creature came out of the water. They were all astonished as they saw the strange being getting closer. The creature approached one of them making several guttural sounds, as if was trying to communicate with the young man. Moments later, it placed its right hand on the young man's left shoulder, leaving a green stain on his sweater, which they described as the same color as marine algae. The Bigfoot-like creature soon left, as it got back in the water and disappeared in the dark. The eyewitnesses, whom they preferred to remain anonymous, described the creature as 8 feet tall, with long dark furry hair, long arms with hands below the knees, big round eyes, with a long nose and mouth shaped like an animal muzzle.
Source: Virgilio Sanchez Ocejo, Miami UFO Center
---
Date:  June 2000
Location:  
Time:  
Summary:  
Source:  
Location. El Escorial, Extremadura, Spain
Date: June 20 2000
Time: 0600A
Farmer, Samuel Cosme was laboring in his tomato field when he noticed something in one of the nearby shallow trenches. Thinking it was an animal he approached it in an attempt to trap it. When he got to about 15 meters from the figure he noticed that it was not really a dog that it was some sort of small humanoid. It was yellowish in color, with a large head, very short arms, and huge shiny black eyes. Too scared he did not notice any clothing. He ran to the house to obtain additional witnesses. Returning to the tomato patch with his two sons they also saw it. The humanoid was floating over the tomato patch. They drove by the field and the humanoid stared at them intently, at the same time making a strange noise resembling a propeller. The witness then drove to the nearby town to obtain further witnesses but upon returning the strange floating figure had vanished.
Source: Bitacora 2-01
---
Date:  June 2000
Location:  
Time:  
Summary:  
Source:  
Location. Concepción del Bermejo, Argentina
Date: June 22 2000
Time: unknown
A strange creature described as half wolf and half human chased 11-year old Marcelino Gomez, who escaped from it by hopping onto a flatbed truck. Immediately his relatives rushed to his rescue. They cornered the creature in the house and beat it senseless with sticks, bricks, and garden hoses. Thinking it was dead, they left it tied up to a tree. But the creature recovered consciousness and escaped. An hour later it was seen near a gas station. Others in the region had also seen the creature.
Source: UFO Roundup Vol. 5 # 2
---
Date:  June 2000
Location:  
Time:  
Summary:  
Source:  
Location. Tacoma, Washington
Date: June 23 2000
Time: 1830
Chris Martinez reportedly was taken inside an object by several six-foot tall humanoids with bluish hazy skin that illuminated the area around them for about 3 feet. They carried with them a small container with a red liquid inside. Inside the object it was pale white, and misty. There were several strange black cabinets that appeared to be transparent. The cabinet's contained assorted items from around the witness house, one of them appeared to have some type of living creature (not described). An odor resembling burning hair permeated the room. The humanoids motioned for Martinez to sit on something resembling a block of concrete, but when he sat on it, it felt soft like a pillow. Suddenly he felt a whoosh of air and became light headed. His ears popped for about 10 minutes. One of the humanoids approached him with a metal syringe and jabbed it into the witness skin. At that point he felt an adrenaline rush. After awhile he could her humming sounds emanating from the humanoid's stomach section. He though they might have been communicating with each other. He was given something resembling food he bit into it and passed out. He woke up later in a wooded area near his house.
Source: UFO Abduction Raw Data Page, UFO Watch
---
Date:  June 2000
Location:  
Time:  
Summary:  
Source:  
Location. Huntington Beach, California
Date: June 23 2000
Time: midnight
The witness was walking on the beach on a pitch-black night when suddenly he heard a loud humming sound. Terrified he felt the humming sound vibrating inside him. Then he noticed several tall dark figures standing ahead of him. His last recollection was of turning around and running away from the area. He could vaguely recalled talking to a human-looking entity that spoke to him very smartly. He has no further memory.
Source: NUFORC
---
Date:  June 24 2000
Location:  Las Piscinas, Argentina
Time:  night
Summary:  Jorge C Cariaga was exiting his car when he saw a strange creature climbing over a nearby fence. The creature was described as ape like and large. It also gave off a nauseating odor similar to a decomposing animal. Before fleeing the creature uttered a horrifying scream. Numerous animal mutilations had been reported in that region during the time of the encounter
Source:  UFO Roundup Vol. 5 # 28
---
Date:  June 28 2000
Location:  Maria Elena, Chile
Time:  evening
Summary:  Several witnesses including investigator Jaime Ferrer were leaving a local restaurant through the back door when they all saw a strange looking bird-like creature in the sky. It was flying at an altitude of about 40 meters directly above the group. It was gray in color and it passed by so rapidly that they did not have time to take a photograph of it. Its body was shape like a duck, but it was at least five times bigger. It had a long neck and the strangest thing about it was that if it would have been compared to an ordinary bird, this one had a much larger body in relation to its wings. Nevertheless, it seemed to fly like an ordinary bird; it glided smoothly and it flapped its wings every so often to gain momentum.
Source:  Dr. Virgilio Sanchez Ocejo, Miami UFO Center
---
Date:  June 2000
Location:  
Time:  
Summary:  
Source:  
Related articles