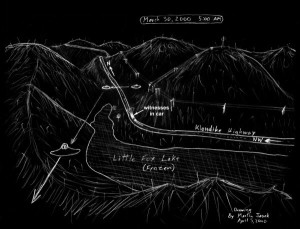 (Last Updated On: July 25, 2016)
Date:  Spring 2000
Location:  Newton New Jersey
Time:  afternoon
Summary:  A young boy reported seeing a "green man" walking through the Glen of his family backyard. He reported that the figure was tall and somewhat translucent, as though made more of energy than matter.
Source:  Life Spirit Center
---
Date:  March 2000
Location:  La Pampa, Argentina
Time:  afternoon
Summary:  Several witnesses working at a local marble mine saw large truck-sized object sitting on the ground nearby. Near the object stood two, 2 meter tall, human like figures wearing tight fitting white colored outfits. The figures began moving around the field in quick jumps and bounds. 
Source:  CEUFO
---
Date:  March 2000
Location:  
Time:  
Summary:  
Source:  
Location. Colonia Agricola Oriental, Mexico City, Mexico
Date: March 2000
Time: evening
While doing his regular skywatch on the roof of his home, respected skywatcher Salvador Guerrero encountered something so bizarre, it has opened an entirely new chapter in the history of Mexican UFO Research. At first, Salvador thought the object could be a dark UFO high in the sky, so he started videotaping as usual. When he pressed the camera's zoom, he couldn't believe what he saw through the viewfinder. It was a dark, solid object which was almost static in the sky, spinning slowly on its axis…featuring what looked to be a human form with 'arms' and 'legs' perfectly visible—giving the impression that "he" or "it" was floating freely in the air. Needless to say, Salvador was shocked. The dark humanoid figure was floating at a high altitude but Salvador's years of experience in skywatching allowed him to track this dark object in the sky and he was able to make an excellent recording of the incredibly mysterious experience. The dark humanoid creature remained stationary in the same spot for several minutes, spinning slowly with arms and legs 'outstretched' all the time. The object then began to move, disappearing behind a building.
Source: "Mysterious Flying Humanoids" Santiago Yturria 2005
---
Date:  March 2000
Location:  
Time:  
Summary:  
Source:  
Location. Las Cascadas, Chile
Date: March 2000
Time: night
For several nights in a row witnesses at a local residence spotted large red blinking lights land on a nearby field. Soon after tall man like figures, bald headed, wearing white tunics and dark goggles approach the house and look inside, and they then ran back to the field without making any noise. Their bodies appear to emit electric discharges as they move.
Source: Caroline Uribe Assef, Diario Llanquille Chile
---
Date:  March 2000
Location:  
Time:  
Summary:  
Source:  
Location. Gershoj, Denmark
Date: March 6 2000
Time: noon
The witness was outside working on his garden when he looked up to see a "black" beam of light focusing on a grassy area in a nearby field. He walked towards the light and 80 meters from it he could smell something burning, he then looked up and saw a white light from which the black beam seem to come from. Looking at the ground again he noticed several "objects" that appeared to be searching for something on the ground. The objects looked more like small robots with mechanical claw-like hands, with oval-shaped bodies and all looked identical to each other. After about 4 minutes suddenly the black beam and the robots disappeared. The witness looked up and now noticed that the white light was now blue and after about 1 minute the blue light flew away at incredible speed.
Source: NUFORC
---
Date: March 11 2000
Location: Traralgon, Victoria, Australia
Time: 2010
Summary: Shaun Boer saw a bright star like object that was moving very fast. It turned at a 45-degree angle and faded. Later he remembered being in a round room with a high ceiling. There were several pillars coming down the side of the walls. The "room" seemed to be dirty. In the middle of the room there was a sort of table, resembling a half cylinder, made out of what appeared to be corrugating iron. He encountered two types of creatures, some short, with black blue skin, perfectly round eyes that wore coveralls with hoods. The others were gray with large black almond shaped eyes. Later he found a triangle shaped scar on his upper arm.
Source: UFO Abductions Raw Data Page, UFO Watch
---
Date:  March 2000
Location:  
Time:  
Summary:  
Source:  
Location. Manila Philippines
Date: March 12 2000
Time: 1800
Three employees of the San Miguel Corporation were walking to their car in the parking lot when they noticed a strange glow emanating from a large tree to their left. It was a pale blue, rather relaxing light. Thinking that it was some sort of decorative lighting, they ignored it and kept walking. Then they heard a low grumbling noise that sounded like: "Anong balita, Anong balita." Looking back they caught a glimpse of a naked, human like creature with white hair and glowing rings imbedded in its wrists like shiny cufflinks. It leapt away with incredible speed and with a blur disappeared into the bushes.
Source: Mystical Universe
---
Date:  March 2000
Location:  
Time:  
Summary:  
Source:  
Location. Cajon del Maipo, Chile
Date: middle of March 2000
Time: 0100A
Four men were out camping in an isolated area, when they suddenly began to feel very hot inside the tent. Going out they saw a colossal luminous object approaching overhead. Frightened they ran towards their vehicle as the craft descended to less than 50 meters above them. Before they ran to the car they all saw a luminous man-shaped figure standing near the tent. The panicked witnesses apparently quickly fled the scene.
Source: AION 2000, Chile
---
Date:  March 2000
Location:  
Time:  
Summary:  
Source:  
Location. Toronto, Ontario, Canada
Date: March 18 2000
Time: 1106A
The 36-year old witness had been suffering from headaches and nausea and was out for a walk in a field when he saw flashing lights and everything turned dark. He briefly remembered seeing a humanoid with an oval shaped head, black eyes, and light colored skin. He later woke up and found strange scars but they disappeared soon. No other information.
Source: UFO Abduction Raw Data Page, UFO Watch
---
Date:  March 2000
Location:  
Time:  
Summary:  
Source:  
Location. Tetney Lock, England
Date: March 19 2000
Time: 0930A
40-year old Elaine King was lying in bed when she suddenly found herself in a metallic corridor of some sort. In a room she encountered two types of beings who communicated with her by using telepathy. She entered a room where she saw a human male lying on a table; the room had white mesh metallic walls, with curved white supports. There appeared to be some wires coming from the ceiling into the man's body. In that room she communicated with a female being that wore a robe, and had wig-like hair. The other humanoids were about 5-feet tall, totally bald. The female being was taller and strongly build. Back in the corridor Elaine became weaker and weaker and almost collapsed. Soon the witness found herself back in her bed and only eleven and half minutes had passed.
Source: UFO Roundup Vol. 5 # 18
---
Date:  March 2000
Location:  
Time:  
Summary:  
Source:  
Location. Mt Pocono Pennsylvania
Date: March 20 2000
Time: 2245
The witness, Tom H, was in the bedroom watching TV when he heard a light knocking at the back door, he got up from the couch and as he got closer to the door he noticed a 6 to 7 feet tall figure with bright green colored diamond shaped eyes and very wide apart, staring at him through his back door window. When the witness went to obtain a closer look the being moved to its left then moved at very high speed into the woods. 
Source: NUFORC, Also direct information from witness
---
Date:  March 2000
Location:  
Time:  
Summary:  
Source:  
Location. Dublin, Ireland
Date: March 21 2000
Time: night
A man reported seeing an object then somehow being transported inside; he could only recall being examined by several small "blue" humanoids, which at one point apparently took one of his eyeballs out of his socket, then put it back in. No other information.
Source: Conor McLaughlin, Belfast UFO Network
---
Date:  March 23 2000
Location:  West Belfast, County Antrim, Northern Ireland
Time:  late night
Summary:  An Ulster man claims that a UFO lifted his car off the ground and he experienced six hours of "missing time" as a result. John H, employed at a factory in West Belfast was on his way home from work. He had pulled into a petrol station to fill up the tank and noticed to his right a large light in the sky. It had the shape of an egg. Concerned he drove away from the petrol station without paying. The object followed John on a road that lead to Dublin, which surprised him since he did not want to go to Dublin. Without knowing why, he stopped the car on a hillside road that leads to a farming area northbound on the M-3. The car, it seemed was lifting off the ground. John felt it but for some reason he felt confused and was not sure what was really happening. His next memory was of driving on the Donegall Road on his way home. There was a six-hour period of missing time. As far as I know no hypnotic regression has been attempted.
Source:  UFO Roundup Vol. 5 # 14, April 2000
---
Date: March 30, 2000: UFO Encounter at Little Fox Lake, Yukon
---
Date:  March 2000
Location:  
Time:  
Summary:  
Source:  
Related articles