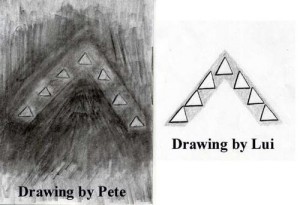 (Last Updated On: February 15, 2017)
Date:  May  2000
Location:  Ohio, exact location not given
Time:  morning
Summary:  A woman working on her garden one Sunday morning when all of a sudden a strange little man appeared about 200 ft away. Having poor eyesight, the woman edged closer for a better look, what she saw was a bizarre little man with long pointed ears, a shaggy hair-dew, beaver-like teeth and wearing something that looked like bib overalls. The little man ignored her and instead began to dig on the ground and take soil samples, which he put into a strange container. The woman tried to speak to the creature, which startled it, and it ran off into the woods. The woman followed in pursuit to a nearby clearing, there she saw a tiny disk shaped object, which took off into the sky quickly disappearing from sight.
Source:  Unsolved Mysteries.com
---
Date:  May  2000
Location:  Waretown New Jersey
Time:  night
Summary:  Two girls woke up in their bedroom to see a ball of light floating around their room. They ran downstairs screaming as they saw the ball of light transform itself into three short gray colored figures. After the incident the younger girl began suffering from severe headaches.
Source:  New Jersey Mufon
---
Date:  May  2000
Location:  
Time:  
Summary:  
Source:  
Location. Laguna Redonda, Concepcion Chile
Date: May 3 2000
Time: 0130A
The barking of five stray puppies shed had picked up some time earlier suddenly awakened Professor Liliana Romero Castillo. The puppies were living in the courtyard with her fierce mastiff. She looked through the window to see the back of what appeared to be an immense man, standing more than 6-feet 8 inches tall. The shoulder blades were split, as if he had wings. He appeared to be hunched over as if choking somebody. After attempting to wake up her husband without success, she looked out the window again but the tall winged creature was gone. The next day some of the children found a dead dog in the alleyway. It appeared to have puncture marks on the throat area.
Source: UFO Roundup Vol. 5 # 19
---
Date:  May  2000
Location:  
Time:  
Summary:  
Source:  
Location. Orlando, Florida
Date: May 3 2000
Time: 0254A
55-year old Rene Ruiz found himself inside a huge object, surrounded by blinding lights. He saw something resembling an X-ray machine. He also encountered several 6-foot tall humanoids, with large oval shaped heads, gray in color. There as also one humanoid that was different, described as short with a huge head and light blue in color. After awhile Ruiz found himself back home, his body turned as sickly tinge of yellow and he vomited continuously.
Source: UFO Abduction Raw Data Page, UFO Watch
---
Date:  May 5 2000
Location:  Longford, England
Time:  00:00:00
Summary: With two other 'living' witnesses i saw a triangular ufo with lights in each corner of the craft – we watched it fying over heathrow airport then dissapear rapidly into space!!!! it was directly above the airport – the craft was silent, it flew from one end of airport to the other – i worked at the airport years after and the runways are very long – the craft was at low level at one end of the runway/ airport and then back to middle of the airport and then within a split second it flew up into the stars / space at a speed in excess of 10,000mph + in a blink of an eye it was gone 
Source:  MUFON
---
Date:  May  2000
Location:  
Time:  
Summary:  
Source:  
Location. Maria Elena, Chile
Date: May 6 2000
Time: 0500A
Three men that had been driving a refrigerated truck had stopped at a local truck stop in order to obtain some rest. As the driver turned off the truck's engine and lights, they all noticed that the truck seem to tilt slightly to the right, and its lights began blinking on and off. Stunned they now saw behind the right side passenger window a strange figure, described as having abundant hair; an elongated oval shaped head, with several protruding fangs in his mouth, and with large yellowish slanted eyes. It also had large pointy ears and what appeared to be pig-like whiskers. The creature remained a few moments at the window, then left. The terrified witnesses quickly drove away from the area. Strange marks were found on the truck's cabin.
Source: La Estrella de Loa, Newspaper
---
Date:  May  2000
Location:  
Time:  
Summary:  
Source:  
Location. Santa Elena de Codao, Chile
Date: May 7 2000
Time: 2300
33-year old, G Alejandro Canales was returning back to his home after guarding his rabbit pens. As he took a short cut through an unlit alley he felt something fall on his back. He struggled with the "thing" and managed to shine a flashlight on it. He was stunned to see a short simian looking creature, with large pointy fangs, black fingernails, large golden luminous eyes, and dark leathery wings on its back. He also felt a strong musty odor during the encounter. The creature quickly scurried away disappearing into the darkness. Others found the witness in a state of shock upon hearing his screams. Deep scratches were found on Canales body.
Source: OVNIS Chile
---
Date:  May  2000
Location:  
Time:  
Summary:  
Source:  
Location. Near Calama, Chile
Date: May 8 2000
Time: unknown
According to various sources, Chilean military units in an area near the desert captured three strange creatures, reported to be blood predators or the unfortunately named "Chupacabra." On May 12 at 0627A a Boeing 767 arrived from Miami at Arturo Merino Benitez Airport. It was flight number 501, later a Boeing 767 from Air Lan also arrived at the airport. These supposedly brought special containers clearly marked NASA. Both aircraft then left enroute to Calama at 0800A. The captured creatures were then transferred to special flights that left towards an unknown destination.
Source: Patricio Borlone Rojas, Paranigma Chile
---
Date:  May  2000
Location:  
Time:  
Summary:  
Source:  
Location. Near Calama Chile
Date: May 10 2000
Time: night
A soldier stationed near the city reported seeing a strange creature that was able to make incredible leaps and bounds at times seemingly suspended in mid-air. He described the entity as about 1.20m tall, kind of hairy, and sort of hunchbacked. A patrol was supposedly sent after it. Supposedly the patrol found some strange "eggs" that they brought back to the barracks. Later another patrol reportedly killed two of the creatures and captured a third. It is said that NASA personnel retrieved all three creatures.
Source: Paranigma Chile
---
Date:  May  2000
Location:  
Time:  
Summary:  
Source:  
Location. Gatineau, Quebec, Canada
Date: May 12 2000
Time: evening
The witness, a cab driver, had picked up a fare going to an address out of the city limits and when he arrived at the destination, she paid, shook his hand, and that is when the witness noticed a strange symbol etched on the back of her hand. At that moment, he saw flashes of a huge hangar filled with various UFOs, he also saw his lady passenger speaking to him and to a much older man, resembling a priest or preacher. When she let go of his hand he felt very weak, after 5 seconds he suddenly realized the strange woman had vanished. He suffered from migraines after the incident.
Source: GREPI
---
Date:  May  2000
Location:  
Time:  
Summary:  
Source:  
Location. Sierra Gorda, Calama, Chile
Date: May 14 2000
Time: 0500A
Several security guards posted at the entrance to La Minera El Tesoro spotted several moving figures in the nearby brush. Upon shining their flashlight at the creatures they could tell that they were simian in appearance and moved using incredible leaps and bounds at very high speed. One of the creatures stood up on two legs and it measured about 1.60m in height. It had large glowing yellow eyes and its body was covered with thick hair. The next day the men found a dead dog, which was missing all its organs.
Source: Ramon Navia, "La Verdad Oculta"
---
Date:  May  2000
Location:  
Time:  
Summary:  
Source:  
Location. Miami Florida
Date: May 14 2000
Time: 1107A
June (involved in other encounters) awoke from a weird dream in which in it there were mountains, hills, trees, streams and on the ground below her (she was flying) there stood five or six groups of people, 25 to 30 people in all. All of them seemed to be whispering things, just out of her hearing. As she soared over their heads they would look quietly up at her and then resume their whispering. These people looked normal in every way, right down to their shoes. Suddenly she awoke and was instantly aware of a kind of silver mesh net undulating throughout her entire bedroom and just above her body. It reminded her somewhat of a fish net drying in the breeze, only horizontally or like a sail on a mast puffing in and out. She closed her eyes tightly to dispel what she thought had to be a dream. But when she opened them again six or 7 seconds later, it (the net) was still there. It remained where it was for at least 30 seconds more, then it began to scrunch up and it sort of oozed down her hallway toward the living room, disappearing as it passed by the kitchen. She instantly thought of "dimensions in time and space." She doesn't know why but she felt like she had been enclosed inside the "net" and taken somewhere strange.
Source: http://www.skyscan.org/june1b.htm
---
Date: May 14 2000
Location: Baquedano, Chile
Time: 1930
Summary: Municipal employee Luis Alberto Calivar spotted a very strong white light hovering in the sky to the west of his house, which suddenly disappeared. He remained outside hoping that the light would return. Several neighborhood children soon joined him. Suddenly the light reappeared, this time it seemed to be elongated in shape, emitting a bright yellow light at one end and a bright white light in the middle, while on the other end a soft reddish glow. The strange object rotated from left to right and then descended and flying towards the horizon. At this time a small figure suddenly ran across the street in front of the witnesses, leaving behind a cloud of dust. Neighborhood dogs began to howl around the same time.
Source: Ramon Navia, "La Verdad Oculta
---
Date: May 15, 2000: Boomerang-Shaped Craft Over North Vancouver, BC
---
Date: May 17 2000
Location: Independence Missouri
Time: 0300A
Summary: In a dream like state a local woman remembered seeing a bright light overhead, through her bedroom skylight. She remembered lying down on a table and a figure was at her head on the right side over her shoulder, and another figure was at her feet on her fight side. They seemed to be pulling and tugging at something that felt like a rope going through her body from her right shoulder to her right hip area. She felt very uncomfortable and her chest was hurting. She suddenly woke up and noticed a bright light shining in the skylight, and what appeared to at first to be a plane that was traveling south to North. The object had a tail with a red flashing light and two wings with red and green lights on the ends. The wings were very thin, and right next to the tail, unlike a normal airplane. The body of the object was long with a squared off nose. The strange craft had two very bright large white lights underneath it at the front, shining directly towards the ground. Apparently no noise was heard.
Source: Missouri Mufon
---
Date:  May  2000
Location:  
Time:  
Summary:  
Source:  
Location. Sorrento, British Columbia Canada
Date: May 18 2000
Time: 2230
The witness was walking his dog along Mackenzie Road when he noticed an orange/red glow just at the end of the road. He shone his flashlight at it and an object started to rise. The object was described as spherical, only about 1.5 feet to 2 feet across, and about 1 foot to 1.5 feet high. The orange glow was a band around the middle extending to the outside edges of the sphere. The sphere appeared to have two black or dark half moons on the top and bottom. There were two connecting sections between the top and the bottom. The craft rose quickly at a sharp angle. When it was almost past the witness he shone the flashlight at it but it disappeared. As the witness arrived home his dog barked continuously and ran back and forth, the witness looked around but did not see anything. Two days later the witness was to remember that when he first shone the flashlight at the sphere, he saw a pair of green eyes, set fairly far apart and below the sphere. Then he remembered seeing a dark figure that appeared to be crawling away from the glowing sphere. It seemed to be on its knees and elbows and appeared to have difficulty moving, almost dragging the feet area. The head was above the arms but the witness did not have its light on it and did not see any features.
Source: UFO BC
---
Date:  May  2000
Location:  
Time:  
Summary:  
Source:  
Location. Tocopilla, Chile
Date: May 26 2000
Time: night
Local residents heard strange howling and screeching noises in the area, at the same time that several domesticated rabbits were found dead and completely bloodless. Another resident in Magallanes street saw a strange humanoid, with large bright yellowish eyes, that seemed to have a kind of hypnotic affect on him. Another resident saw a similar being standing on top of some rocks.
Source: Paranigma Chile
---
Date:  May  2000
Location:  
Time:  
Summary:  
Source:  
Location. Los Arenales, Sierra Gorda, Chile
Date: late May 2000
Time: night
A young couple was parked in an isolated area making out, when suddenly a humanoid figure, covered with hair and with large luminous reddish yellowish eyes appeared in front of the vehicle. The young woman then received an apparently telepathic message from the creature, telling her to open the car door and step outside. She was about ready to open to door when she suddenly realized what she was doing. The panicked couple attempted to start the vehicle in order to leave, but could no move their legs. Finally they were able to move and drove away from the area.
Source: Paranigma Chile
---
Date:  May 30 2000
Location:  Tocopilla, Chile
Time:  0200A
Summary:  Local residents living next to the Tocopilla hills were suddenly awaken by strange loud noises. At first they thought it was a person climbing the hill, but after observing it in greater detail, they realized that, whatever they were seeing, not only was not human; it was something they have never seen before. It was a creature that was climbing the hill very rapidly despite the seventy to eighty degrees steep. They described the being as very agile and fast, making reptilian like movements like a small lizard. The creature appeared to be much bigger than a condor, brown in color, with bright red eyes and what appeared to be feathers throughout its body. It emitted loud quack like noises that were heard every night for a couple of weeks, causing dogs to bark and howl at night.
Source:   Dr. Virgilio Sanchez Ocejo, Miami UFO Center
---
Date:  May  2000
Location:  Baquedano Chile
Time:  0600A
Summary:  37-year old Evelyn Esbry woke up early in the morning in order to use the toilet facilities located outside in the terrace. On her way there she heard sounds coming from the patio area. Suddenly an entity jumped on her back, paralyzed with fear she turned around to see a bizarre hairy creature, with a large nozzle, about 4-feet tall, and with large luminous orange, oval shaped eyes. Terrified, Evelyn fainted and did not see the creature depart. She suffered from shock and was treated at the local hospital for deep scratches. The victim told local paramedics that the creature seemed to communicate with her, using telepathy telling her not to scream.
Source:   Paranigma Chile
---
Date:  May  2000
Location:  Quillota, Chile
Time:  midnight
Summary:  A local villager heard a loud commotion on the roof of his house. Upon investigating he was confronted by a strange creature that was standing on the roof. He described it as looking like a centaur without a nose, about 90 cm in height. The creature then jumped to a nearby ravine and vanished. The next day the body of a completely bloodless dog was found.
Source:   Paranigma Chile
---
Date:  May  2000
Location:  
Time:  
Summary:  
Source:  
Related articles