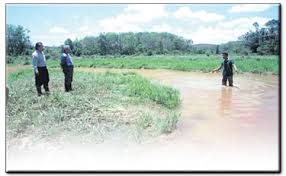 (Last Updated On: May 25, 2015)
THINK ABOUTIT LANDING REPORT
Date: March 3, 2000
Sighting Time: 3 am.
Day/Night: Night
Location:   Kampung Gobek, Malaysia
Urban or Rural: -Rural
Hynek Classification: CE-II (Close Encounter II) Observation of an object in close proximity to the witness, where physical traces (impression, burn, medical effect, etc.) are left or (electrical effect, heat) are felt
Duration:  several minutes
No. of Object(s): 1
Height & Speed:
Size of Object(s): large – 15m by 5m
Distance to Object(s):
Shape of Object(s): A large object emitting rays of light
Color of Object(s):
Number of Witnesses:  some 1,000 people
Source: http://thestar.com.my/online/newsreport.asp?file=/2000/3/6/nation/0603ktbu.asp&newspage=nation
Summary/Description: TANAH MERAH, KELANTAN: A large object emitting rays of light was reported to have landed on a piece of marshland here three days ago, holding some 1,000 people of Kampung Gobek in a state of high suspense. The residents said yesterday they saw the shining object land at 3am. "The lights from the object came in intervals, similar to lightning, but there was no sign of rain," Mohamad Mat Diah, 51, said. "The light from the object was very bright and the rays bathed the inside of my house. "I suspected something was happening outside and looked out and saw the object hovering over the marshland for several minutes," he added. Mohamad said at daybreak he went over to the area some 100m from his house and saw a 'Y' shaped depression measuring 15m by 5m which could have been caused by the unidentified flying object (UFO).
Near the depression was another crescent shaped 3m deep hollow and three holes, one metre apart and each one metre in diameter, he said. "I was accompanied to the area by two others who initially were afraid to come with me," he said. Another resident Saupi Salleh, 28, said he was awakened by the bright light. "I clearly saw the light from the object," he said. "I thought it was lightning but when it prevailed I realised it was something else." He went to see the depression and concluded it must have been a heavy object. Many residents were seen inspecting the landing site of the UFO.–Bernama
Related articles