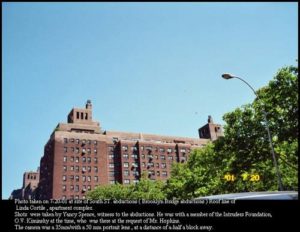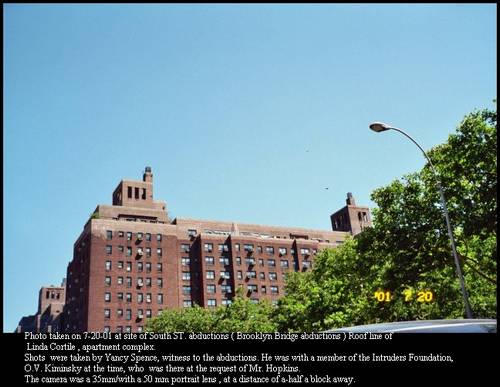 (Last Updated On: July 27, 2016)
Date: July 2001
Location: West Weber, Utah
Time: 0400A
Summary: The witness was delivering newspapers as usual and had her son along with her to help out. It was still very dark. After dropping a paper into the box she began to driver forward to the next house and noted a late model white pick up truck coming up behind her. She pulled out onto the side of the road and waited for the truck to pass. She claims that everything seemed to be in slow motion at that point. As the truck passed there did not seem to be a driver. The passenger turned to look into the car. She says it was not a natural movement, it seemed to turn its entire body to watch them as it passed instead of just turning its head. The movement was so unnatural it was like it was wearing a full body scuba suit or a suit of armor that was difficult to move about in. Silhouetted in the street light a few yards up she saw no sign of hair on its head that seemed larger than normal, but at the same time it was darker than the darkness around it. Even as the truck passed under the streetlight the figure was still dark. The truck then turned onto a road that she claimed to be a dead end or a long road with no turn off. All this happened within a time space of about 30 seconds. She dropped a paper into the next box and then hesitantly turned down the same street to find that the truck had disappeared.
Source:Kyra Greenleaf in Utah UFO Hunters
---
Date:  July 2001
Location:
Time: night
Summary: A bizarre creature, called the Popobawa by locals, reportedly attacked several men as they slept. The creature was described as a Cyclops wharf with bat-like wings and ears, and sharp talons. It apparently has a nasty habit of sodomizing men while they sleep in their beds. The presence of the often-invisible creature can be detected by an acrid smell or a puff of smoke. Sometimes it is reportedly invisible to everyone except the terrified victim. It is believed to take human form by day, but with pointed fingers.
Source:  Davy Russell
---
Date: July 1 2001
Location: Near Palmerston Ontario Canada
Time: evening
Summary: A couple riding bikes in a wooded area observed a group of tall humanoid-shaped beings covered with brown hair. They seemed to be holding or carrying unusual devices. The beings fled into the woods upon noticing the witnesses. Around the same time there were numerous reports of low flying glowing orange discs over the area.
Source:  Unknown Country & CAUS
---
Date:  July 2001
Location:  
Time:  
Summary:  
Source:  
Location. Paracambi, Rio De Janeiro, Brazil
Date: July 1 2001
Time: night
Odete Fortini was standing in the verandah of her house when she observed a sphere of light approach and land about 200 meters from her location. As the light dimmed she could see that it was a round object with a cupola on top and several small windows around its edge. On the center of the object a door opened and two humanoids about 1 meter in height stepped out. They seemed to be interested on the vegetation around the object. After a few minutes of investigating the area they re-entered the object, which became bright again and left at high speed.
Source: Thiago Luiz Ticchetti EBE-ET
---
Date:  July 2001
Location:  
Time:  
Summary:  
Source:  
Location. Guajara-Mirim, Para Brazil
Date: July 1 2001
Time: night
8-year old Zeca Borba reported encountering and communicating with a short humanoid with a large head and eyes and bluish skin. The humanoid carried a cane-like object and wore a silvery helmet. After 30 minutes the humanoid boarded a triangular shaped object, which quickly disappeared.
Source: Thiago Luiz Ticchetti EBE-ET
---
Date:  July 2001
Location:  
Time:  
Summary:  
Source:  
Location. Canutama, Amazonas, Brazil
Date: July 2 2001
Time: night
Jose Da Silva saw a large disc shaped object with several windows and a small door-like opening in which two 2-meter tall humanoids were seen to enter. Immediately the object began to spin very rapidly and rose slowly. It suddenly emitted a bright flash of light from the top section and disappeared in front of the witness.
Source: Thiago Luiz Ticchetti, EBE-ET
---
Date:  July 2001
Location:  
Time:  
Summary:  
Source:  
Location. Costa Paradiso, Sardinia, Italy
Date: July 9 2001
Time: 0130A
A young boy was listening to music next to the verandah in his home when he noticed a sort of luminous "window" or portal about 2 meters in height at the end of the garden. Inside he could see an "animated" dark gray figure with large dark eyes, which began moving towards the witness at a slow pace. At this point, the young man, panic stricken, ran into his room and hid under the bed; he did not see the figure depart.
Source: CISU Sardegna
---
Date:  July 2001
Location:  
Time:  
Summary:  
Source:  
Location. Rosario, Argentina
Date: July 9 2001
Time: midnight
M, (involved in other encounters) woke up in the middle of the night feeling extreme thirst and very hot. She then felt very cold as she traveled up into space a hand reached forward and pulled her into a zigzagging tunnel filled with curves and very sinewy. She heard a constant monotonous hum during her trip through the tunnel. At the end of the tunnel there was a bright light. After the light she found herself in a rocky valley surrounded by high, corroded cliffs, she felt very cold in this totally desolate environment, soon she found herself among many different humans from different parts of the planet. Some appeared to have just arrived others were apparently leaving. After walking through a rocky tunnel she found herself inside a beautiful glowing apparently subterranean city. The buildings were apparently constructed of some type of transparent crystal. The place appeared to be empty and she did not see any moving vehicles. At this point she noticed that she and the other humans were wearing some type of type fitting silvery clothing that seemed to adjust to the contours of the body. She saw an underground river that traversed the city. Again the now familiar humanoid figure appeared and told her to relax that everything was going to be fine. He told her that she was a unique specimen and that's why she had been contacted. He also said that planet earth was in danger of extinction due to the lack of care and love among humans between themselves. The humanoid said that they came from a planet that had been recently discovered by earth scientists. And that their planet was dying and they needed to reproduce with the help of humans (a familiar theme). At this point she noticed other humans apparently in a trance and from different parts of the world, many just stood around and stared. Soon she found herself back in her bedroom.
Source: Horacio Roberto, Nuevos Tiempos, Argentina
---
Date:  July 2001
Location:  
Time:  
Summary:  
Source:  
Location. Near Fergus Ontario Canada
Date: July 20 2001
Time: night
Four teenagers saw a glow in the forest and upon investigation they observed several beings with short, curly dark hair and strange ears, but otherwise human appearing, that seemed to be taking soil samples. They wore white robes. The teens reported their observation to the police, who found a circular hole on the ground four inches in diameter and five feet deep.
Source: Unknown Country & CAUS
---
Date:  July 2001
Location:  
Time:  
Summary:  
Source:  
Location. Mineral Point, Pennsylvania
Date: July 20 2001
Time: 2330
A man was building a fire behind his house near a wooded area when he heard a noise in the woods and shined his flashlight in that direction. In the distance he saw a large dark "animal" which was then down on all fours, and was assumed to be a bear. The animal then looked at him, then stood upright on two legs. It began to move into the woods keeping a good distance from the witness who was now following it. The man could never hit the creature with his light; he could only see a silhouette of its body, which gave the impression of being about 8 to 9 ft tall, furry, and blackish-brown in color. It appeared to be moving on two legs, and they kept quite a distance apart, yet moving at a relatively slow pace. During the time that the man followed the creature, it appeared to be moving in an upright position until he lost sight of it in the thicker woods. After losing sight of the creature the witness backtracked, and looking upward was startled to see something quite strange in the sky. About 500 ft away, he saw a large solid luminous triangular object with no individual lights. He estimated the object to be the size of a two-story house. It appeared to be longer than wide. The object, which was silent, was first observed at approximately 50 ft above the ground in a clearing. It then moved down slowly to about 20 ft, where it disappeared behind a thick part of the woods, and was no longer seen.
Source: Stan Gordon's Anomalies Zone
---
Date:  July 2001
Location:  
Time:  
Summary:  
Source:  
Location. Amsterdam, New York
Date: July 23 2001
Time: 2100
After hearing a loud ruckus coming from outside the witness grabbed a broom and stepped out to see what it was. When he opened the door his cat ran in with half its ear torn off and dripping blood. He ran outside and saw at first what he thought were two raccoons tearing apart what appeared to be a cat. As he got closer he realized that the beings were about two and a half feet tall standing on two legs. They had brownish green hair and pointy-heads; they also had claw-like hands with long black nails. The witness shouted at them and both creatures froze and turned to look at him with huge greenish-yellow eyes. After they saw him they ran into the woods, one dragging the dead animal with it. Other families in the area had reported their pet cats missing.
Source: Chupacabra Sightings Page
---
Date:  July 2001
Location:  
Time:  
Summary:  
Source:  
Location. Amasya Turkey
Date: July 23 2001
Time: 2130
The witness, a young mother, was breastfeeding her baby in her fourth floor apartment when she turned her head and saw a strange humanoid in front of the balcony door and curtain. After a few seconds the humanoid suddenly disappeared. She described it as about 1.05 meters in height, with very big jet-black eyes, slanting up. His head was oval shaped and bald. His color was gray, like smoke. No other details were noted because of the witness state of panic and the short duration of the encounter. There were unconfirmed reports of UFO's seen in the area that night.
Source: TUVPO
---
Date:  July 2001
Location:  
Time:  
Summary:  
Source:  
Location. Near Gerena, Sevilla, Spain
Date: July 26 2001
Time: 2150
Two anonymous witnesses while driving on the Gerena road saw a luminous figure walking on the side of the road. It seemed to move clumsily about in an attempt to enter the nearby field. The frightened witnesses accelerated away from the area. They described the figure as about 2 meters to 2.15 meters in height, strongly build and robust looking. It emitted a bluish-white light.
Source: Jose Manuel Garcia Bautista & Rafael Cabello Herrero
---
Date:  July 2001
Location:  
Time:  
Summary:  
Source:  
Location. Acquappesa, Italy
Date: July 27 2001
Time: night
Several witnesses at different locations reported seeing a dog rising up into the air from near the ocean and apparently entering a hovering lighted spherical object. The object had a large lighted window and a tall man-figure could be seen apparently looking out. It then flew away. The dog was apparently taken.
Source: Leonard Da Vinci, Research Group
---
Date:  July 29 2001
Location:  Quedas do Iguacu, Parana, Brazil
Time:  0300A
Summary:  An object larger than 10 meters in diameter was seen on the grounds of a local football field. The two witnesses including Rubem Bastos de Brito reported seeing several short bizarre creatures moving around the object. After about 20 minutes the object shot away into the sky.
Source:  Thiago Luiz Ticchetti EBE-ET
---
Date:  July 2001
Location:  
Time:  
Summary:  
Source:  
Related articles