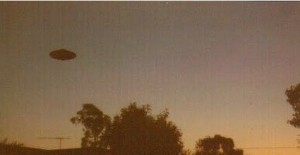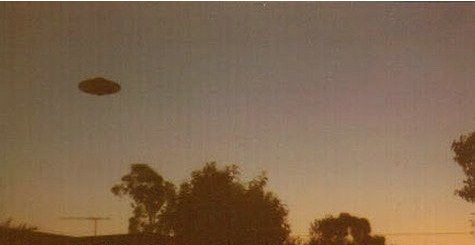 (Last Updated On: January 9, 2017)
Date: May 2001
Location: Dolby Forest, Yorkshire, England
Time: mid afternoon
Summary: On a beautiful sunny day John Peterson, his wife Jean, and their two children, Peter 9-years old and Laura 7 years old were picnicking in an isolated area among the trees. As they prepared the table with food and drinks the children were busy playing nearby, John and his wife became aware of two figures approaching them from across the field. As the figures got closer they saw a man and woman who both appeared to be naked. John and Jean were furious and John unable to contain himself shouted to them to cover themselves up in the presence of the children. The two figures did not acknowledge the man shouting at them and did not alter their pace, but walked past the front of the two angry parents about 30 ft away. At this time John and Jean realized that the two figures were not normal people; they looked strange and almost transparent. John shouted to his wife, "I must get a picture of this" and ran to the nearby car where he hurriedly grabbed his camera. He ran back just in time to see the two figures walk into the open side of a derelict barn. John ran into the barn, camera in hand, but was startled to find that there was no sign of the couple, but to his amazement he saw a perfect picture of them etched onto the wall of the barn. He immediately took some photographs and then the family hastily left the area because his wife and children were terrified. Strange occurrences have been reported in the forest before, including animal mutilations.
Source:  Tony Dodd
---
Date: May 2001
Location: Limache Chile
Time: night
Summary: The 18-year old witness was in his parked car waiting for his brother when he felt compelled to look to his left. Looking, he was startled to see a 1-meter tall figure that was walking away from his position. The strange figure seemed to be transparent and left behind a dim luminous trail. The figure disappeared round a corner and the witness's two dogs chased after it but both returned in a state of confusion. Moments after the encounter the witness suffered from a severe rash on his hands.
Source: Lo Inexplicable
---
Date: May 1 2001
Location: Anand Vihar, India
Time: night
Summary: A bizarre hairy creature was sighted in this village. Hundreds of people with weapons searched for hours to kill, but nothing was found. On the same night three workers were woken and attacked by the "masked man", who reportedly threatened to kill them in the Bhojpuri language.
Source:  Mystery Magazine.com
---
Date:  May 2001
Location:  
Time:  
Summary:  
Source:  
Location. Rosario, Argentina
Date: May 2 2001
Time: 0200A
M suddenly found herself being lifted up in a vertical position in what appeared to be some kind of whirlwind. She floated up moving her arms and able to look around. She is attracted to a powerful light that seems to emanate from a hole in the sky. She notices that three humanoids floating next to her accompany her into the hole. As she looked down she could see the roof of the house, then the house become smaller and then the city of Rosario itself. As she continued to rise up into the sky she fell asleep again. An intense cold wave woke her up and she heard what sounded like a metallic hatch closing. She noticed that she had entered this location through a hexagonal shaped opening. Everything was dark around her but as her eyesight adjusted to the light she noticed that she was in an immense room with about 20 floating cots all with a human figure on them. The room was extremely cold and she received the impression that she did not want to be there. To her right she noticed her 45-year old sister sleeping on one of the cots she also remembered seeing a black skinned man lying about 4 cots away. All the people lying on the cots appeared to be in a state of animated suspension. All the time in the background she could hear a low steady snoring sound that seemed to be part of some type of mind control procedure. At that point she began to hear what appeared to be low "voices" that spoke very quickly among themselves. Almost at the same time three humanoids approached her, these were about 1.60 meters in height, very thin, with elongated heads, cat-like eyes, two small holes for noses, hairless, the eyes glowed a blue-gray color. They had three large fingers that appeared to be connected by a membrane and separate finger on the other end. Their bodies were of a beige-pale color and appeared very flexible or gelatinous. They possessed small mouths and what appeared to be a small protuberance on top of their heads. She sensed there were both females and males present but could not see any sexual features. At this point she sensed desperation from the beings as if their time was short and they were unable to reproduce. One of the beings seemed to measure her cranium with a thin tube about 30 cm in length that emitted a beam of light from the tip. As the tube or bar was passed over her head she felt a slight sensation of warmth. She also sensed that the aliens had somehow chosen planet earth for a reproduction staging area, acquiring the necessary materials, which were human bodies of both genders. She could hear other thoughts or speech in her mind and felt that the beings talked about her and about her knowledge. At this point another one of the beings seemed to measure her face from ear to ear at the same time telling her via telepathy that everything was going to be fine. The witness sensed that the aliens needed human bodies as some kind of breeding "container" for their own purposes of survival. Soon the witness became terrified as the three humanoids approached her in an attempt to touch her. She asks them if they are spiritual beings and they answer yes, but she feels it was only an attempt to manipulate her mind. One of the humanoids attempts to touch her breasts but she pushes his arm aside and notices that it has a gummy texture with no bone structure. She learned that the beings were looking for humans that would be good "sperm carriers" or Sementhalers. She also learned that these beings were able to manipulate light in a way that they could use it as a solid matter. On her descend back to her home she remembers seeing images of famous persons flashing around her, including John F Kennedy, Adolph Hitler, Judy Garland, etc. She woke up in her bed with her concerned husband attempting to calm her down.
Source: Horacio Roberto, Nuevos Tiempos, Argentina
---
Date:  May 2001
Location:  
Time:  
Summary:  
Source:  
Location. Villa San Rafael, Chile
Date: May 4 2001
Time: 1900
A village resident stepped out to his patio to find his two dogs barking at a very strange creature. The animal was very small; it measured no more than 40cm tall. He described the creature as very shy, the dogs tried to bite it, but it defended itself with loud screeches, also by opening its mouth, which showed two long teeth in the upper part of the mouth and two smaller ones on the lower jaw. It also stretched out a long tongue of about 25 cm of length. The tongue had two tips very similar to the tongue of a snake. The inside of the mouth was dark green in color. The creature had very little hair, as if it was a newborn. He was not able to determine if it was a male or female, but he saw a small scrotum that appeared to be filled with liquid. The small creature had a strong scent, resembling that of sewage. The creature was fighting for its life and was completely filled with panic. As one of the dogs tried to bite its leg, it was able to defend itself by raising its paws to avoid the fatal bite. Shortly afterwards the small creature began to violently jump from side to side, almost hurting itself by hitting a metallic fruit container on the kitchen sink. Suddenly when seeing that the patio-kitchen door was open, the little creature rushed to the patio, the witness attempted to close the door but it was to late. He was only able to grab its leg and pull some hair from it. He then saw it running away towards a neighbor's house until he lost sight of it. The witness mother says that a couple of days earlier the same or similar being was spotted on the roof of the laundry room in the back, and that she saw it jump on a mesh that they use for shading, which collapsed notably when the creature landed on top of it. She thought that the creature was walking with a certain level of disorientation and clumsiness. A quantity of hair was recovered from the mesh.
Source: Jaime Ferrer, Calama UFO Center
---
Date:  May 2001
Location:  
Time:  
Summary:  
Source:  
Location. Formosa do Oeste, Parana, Brazil
Date: May 4 2001
Time: night
Edson Machado de Souza reported to police encountering a landed metallic round object encircled in blue, green, and yellow lights. Next to the object stood an undescribed humanoid. He could also see three other humanoids inside the object that appeared to be looking out some round windows.
Source: Thiago Luiz Ticchetti, EBE-ET
---
Date:  May 2001
Location:  
Time:  
Summary:  
Source:  
Location. Calama, Chile
Date: May 5 2001
Time: 1100A
On the day following his encounter with a bizarre creature, a local farmer saw three strange looking but very well dressed men that showed up as he spoke to a friend who had also seen the creature. They stood some 30 meters away from a group of acquaintances who were busy sharing a side of flame-roasted beef. They approached the farmer and informed him that they were police officers and were going to arrest him. Surprised he asked why, since he had not done anything wrong. They told him he could not discuss what he saw the day before with anybody. He asked the strangers to show some badges but they refused. He described the men as being almost 2 meters tall, very thin and closely resembling one another, especially in their bearing and constitution. They wore sunglasses that concealed their eyes. One of them had eyes that reminded the witness of "Spiderman." They always kept their left hands in their pockets. They surveyed the entire area, and never once did they call out to one another. All three wore a type of glove, which left their ring and smallest fingers exposed, with the rest of the fingers occupying a single space. Their shirt cuffs covered part of this "pseudo-mitten" over which they wore a thin, shiny metal bracelet. He also described a 'prosthetic" covering the nail of the smallest finger, and a ring placed at the tip of the ring finger. Their Spanish was very strange, sloppy as if they were drunk. They spoke a language among themselves that the farmer was unable to understand, he was sure that it was not English. After they left the witnesses realized that the men had not moved their mouths to speak. The farmer further noticed that the group leader wore a hat "similar to a bullfighter's" which barely covered one of his ears, in which he could see a "V" shaped cut and a darker shade of color. He also recalled the following details: a very sharp vocal tone, short blond hair, broad forehead, high cheekbones, straight nose, thin neck, small mouth (except for the leader, who had thick lips and was wearing a safari-type jacket), a mechanized walk, similar gestures, line eyebrows, black ties and tie clips the same color as the stones on their rings. One of the men engaged in roasting the side of beef remarked: "They approached us at one point and looked us up and down, but said nothing at all. They appeared to walk and spin on the tips of their feet. They gave the impression of weighing less than a normal person." They did not accept any water from the witnesses and threatened the farmer once again. They boarded an ivory-lead colored pickup truck which made no noise whatsoever and vanished after a certain distance.
Source: Jaime Ferrer, Calama UFO Center
---
Date:  May 2001
Location:  
Time:  
Summary:  
Source:  
Location. Peterborough, Ontario, Canada
Date: May 7 2001
Time: 2210
A witness reported seeing a huge black triangular shaped craft flying overhead. He reportedly heard a "message" in his head. Also some "missing time" was reported. No other information.
Source: NUFORC
---
Date: May 9 2001
Location: Cerro Uritorco, Argentina
Time: night
Summary: The night before, the witnessed experienced unexplained and severe pain on the tip of her fingers, and later while meditating with a guide and others at the Cerro she felt a strong feminine presence among the group. The night in question while meditating alone in front of her cabin a tall female figure suddenly appeared about 20 meters from the cabin on a field. The woman was of striking appearance, wearing a dark tunic, with large beautiful eyes and long brown hair. The female figure began moving towards the witness, who scared, begged her to stop. The figure smiled and disappeared. After the encounter, the witness reported that her nails grew at an unusual rate and were very thick.
Source: Ciudad Futura.com, Encuentros en Uritorco
---
Date:  May 2001
Location:  
Time:  
Summary:  
Source:  
Location. New Delhi, India
Date: May 10 2001
Time: night
Vineet Sharma, 18, and his family were sleeping outside on the veranda of their grandmother's house when a strange creature leaped onto the veranda. It jumped up and punched the grandmother on the stomach. Two of the younger family members ran to their grandmother's assistance and the strange monkey-like creature scratched them on their hands and faces. Then it jumped across the courtyard to the roof of a neighbor and attacked the residents of that house. The creature was described as about four and a half feet tall, with the face of rhesus monkey, well-developed shoulders, and two eyes with bright light emanating from them.
Source: UFO Roundup Vol. 6 # 21
---
Date:  May 2001
Location:  
Time:  
Summary:  
Source:  
Location. Dadri area, India
Date: May 11 2001
Time: 0230A
Dr. Saroj Bala Sharma and other villagers began patrolling the area after another sighting of the "monkey man." Soon after she caught sight of the creature which she describes as around 4 and a half ft tall and jumping like a monkey. "He looked like a black shadow with monkey like face with red lights emitting from his eyes."
Source: Mystery Magazine.com
---
Date:  May 2001
Location:  
Time:  
Summary:  
Source:  
Location. Rosario, Argentina
Date: May 11 2001
Time: 0300A
M suddenly finds herself standing in front of an alien on the ground not inside a ship. This place is apparently located between the cities of Roldan and Funes in a field near some trees. The beings tells her that the "vibrations" emitted by the concrete of the cities is very harmful for them that is why this location was chosen. Then she sees numerous images of cities and locations in Argentina and Brazil that appear in front of her in a sort of holographic screen. Soon her and the being sat on the ground next to a eucalyptus tree, despite the cold night, M fell very comfortable. She was told by this being that various civilizations were visiting the earth. She was also told that there had been a titanic explosion in an area of the Universe that created hundreds of asteroids that destroyed several planets. Many of the survivors were now migrating to different points. She was told that some of the "visitors" lived and had extensive underground installations in several locations on earth. The alien explained that they were following a "Universal Cosmic Plan" here on Earth that the humans were not following to well. They were here on a mission and they were not going to be deterred. (Involved in previous encounters).
Source: Horacio Roberto, Nuevos Tiempos Argentina
---
Date:  May 2001
Location:  
Time:  
Summary:  
Source:  
Location. New Delhi, India
Date: May 11 2000
Time: night
Several residents were chasing a strange ape like creature that appeared to be have "wires sticking out" of its head and temples on Grand Trunk Road near the Samtel factory. When a powerful flashlight suddenly blinded them. Then they saw three persons getting away in a Maruti car. The men were carrying large sacks filled with equipment. They waved at the villagers as they drove away.
Source: UFO Roundup Vol. 6 # 21
---
Date:  May 2001
Location:  
Time:  
Summary:  
Source:  
Location. Chhaprola, New Delhi, India
Date: May 11 2001
Time: night
An ape like creature covered with fur but with human facial features confronted several local villagers. It screeched at the witnesses and jumped around. Later near the Samtel factory Ganesh Jha Paraparam and his relatives came face to face with the monkey-like creature that suddenly jumped 20 feet from a crouching position and caught the branches of the trees. It soon lost itself in the thick foliage. Another witness in Islamnagar area, Shamir Begun saw the monkey-man walking on her rooftop. Nearby another resident reported "two" creatures jumped on him and scratched his face.
Source: UFO Roundup Vol. 6 # 21
---
Date:  May 2001
Location:  
Time:  
Summary:  
Source:  
Location. Ghaziabad, India
Date: May 11 2001
Time: night
A bizarre monkey-man like creature jumped onto a rooftop in this city and began biting and scratching people who had been sleeping on the roof. While fleeing the black furred creature, one man slipped on the gutter and fell off the roof. He plummeted to his death four stories below.
Source: UFO Roundup Vol. 6 # 21
---
Date:  May 2001
Location:  
Time:  
Summary:  
Source:  
Location. Dadei Town, India
Date: May 12 2001
Time: 0100A
A masked humanoid reportedly entered the house of a homeopath in sector 22. He attacked Dr. M P Singh's wife and sister, injuring them in the shoulder and ankle respectively. Singh's wife described it as dressed in white, seemingly covered in bandages like a mummy. "Only the large frightening eyes were visible."
Source: Mystery Magazine.com
---
Date:  May 2001
Location:  
Time:  
Summary:  
Source:  
Location. Chhapraula, India
Date: May 12 2001
Time: night
Ganesh Jha claimed he came face to face with the "huge man-monkey", and saw him jump 20 ft in the air. He said, "We were taking an evening walk when we walked into this huge man-monkey." The monster sprang up 20 ft from a crouching position and grabbed the branches of a tree and vanished before the witness had a chance to scream.
Source: Mystery Magazine.com
---
Date:  May 2001
Location:  
Time:  
Summary:  
Source:  
Location. Shilton Warwickshire England
Date: May 12 2001
Time: night
A man saw a strange cross-shaped object over the village; he then felt a strange burning sensation in his eyes. As he stood there a blond, white clothed figure approached and touched his face, then disappeared. The witness then collapsed on the floor in shock.
Source: UK Abductions Page
---
Date: May 13 2001
Location: Bangalore India
Time: 23:15
Summary: On The night of Sunday, 13th May 2001, I was with my friend who is an amateur astronomer. All evening he had been explaining to me about constellations. It was a clear moonless night. There were no clouds and the stars were very clear. At about 23.00 hrs we went up to the roof of my house to see the sky. My friend was showing me the constellations Scorpio and the Great Bear. We were facing North at around 23.15 hrs when suddenly we saw an object in the sky right above our heads. It was as huge as as an aeroplane as normally viewed from the ground. We do not know when it actually appeared in the sky before we saw it. The object was brown in colour, moving gently and steadily across the sky from south to north. It seemed like it was sailing in the sky. There was no sound or lights emanating from it. What was clearly visible was that it had a honeycomb like structure (as if it was made up of many similar cell like components). It was almost T-shaped with a long tail. The horizontal of the 'T' formed the front of the object. There was a haze around it. It seemed to be surrounded by some form of energy field or flux which looked like the object was in a fluid like state. The whole object and the surrounding flux was shimmering as it sailed past (the shimmering was similar to the view one gets when looking at something through the gases emanating from the exhaust of an aircraft just before take of or when one looks at the horizon on a hot day). Within about 5 secs from when we first saw it, the object suddenly faded out of view as if went into an invisible mode. The size of the object was the same visually when it faded away as when we first saw. It did not diminish in size. My friend and I then sat down to explore all possible explanations for the phenomenon and when we were convinced that it was a alien craft, we decided to call the office of the city's largest daily on the night of Monday, 14th May to inform them about the sighting. They were least interested in the sighting. We immediately sat down to record all that we could remember about the sighting. I have tried my best to give a graphic representation of the sighting. The .jpg file shows what the object looked like. In the gif animation I have tried to show the shimmering nature. The flash file shows how it looked as it sailed past and how it faded away right before our eyes. Also enclosed is a map of Bangalore city and its location in the Southern India. What was really surprising was on the morning of 15th May, the dailies all over India carried news articles about this strange mysterious ape like creature with robotic features that was sighted in Delhi. This creature has apparently attacked and injured more than hundred people over the last few days. (The first of these attacks started on April 8th, 2001 at Ghaziabad, India). Though none of the victims have been fatally wounded, there have been two deaths reported where one the victims reportedly jumped off the building while trying to escape the creature and the other, a pregnant woman tripped on the stairs and sustained fatal injuries on her head in the fall. All other victims carry abrasions on their hands, face and legs. Some have even complained of their toes being bitten off. Reports of the appearance and capabilities of the creature vary slightly from person to person. Some have reported that the creature can jump to great heights when chased. It has been able to move at phenomenal speeds. There are also reports that simultaneous attacks have occurred at different places giving rise to the suspicion that there may be more than one of its kind around. The latest sighting of the creature as of May 22nd, 2001 is that it has been spotted in the sate of Rajasthan to the west of India. The police initially suspected aliens but for some reason known only to them the stopped giving those versions and went on to propound other theories. I am very sure that there is a connection between the our sighting and what is happening at Delhi. That is why we have taken pains to carefully reconstruct the sighting in as detailed a manner as possible. Our Backgrounds: My friend is an Engineer by qualification who works in Quality Control in an engineering company. He is also an amateur astronomer who spends a lot of time with his telescope. I am also an Engineer by qualification working as head of Content Production in a software company providing web enabling services.
Source: National UFO Reporting Center
---
Date:  May 2001
Location:  
Time:  
Summary:  
Source:  
Location. Noida, India
Date: May 14 2001
Time: night
Several witnesses reported encountering a man-like figure "painted all in silver" and about 4 ft 6 inches tall, that attacked them. Others described him as masked and dressed in black.
Source: Mystery Magazine.com
---
Date:  May 2001
Location:  
Time:  
Summary:  
Source:  
Location. Edinburgh, Scotland
Date: middle of May 2001
Time: daytime
In broad daylight Paul McDonald reported seeing three small "gray figures" sitting inside a glass bubble, which sat on top of metallic rim. The craft flew low over the area. Another two friends were in bed, one woke up to see her boyfriend astrally projecting his body by sitting up—and there—his features appeared like a mask on a 3.5 foot tall gray being. The witness screamed and the gray screamed too and her boyfriend returned to normal.
Source: Andrew Hennessey in Et Reality News
---
Date:  May 2001
Location:  
Time:  
Summary:  
Source:  
Location. Ghaziabad, India
Date: May 15 2001
Time: night
A local resident named Chander struggle with a man-like furred creature "for about 10 minutes" before it jumped down from the balcony. Chander described the creature as four and a half feet tall, with a body shaped like a monkey but with human like legs. It lifted Chander over its head and threw him into some trash barrels.
Source: UFO Roundup Vol. 6 # 21
---
Date:  May 2001
Location:  
Time:  
Summary:  
Source:  
Location. Ashok Nagar, India
Date: May 15 2001
Time: 0230A
A 20-year-old homemaker, Soman, who was six months pregnant, was on her veranda at her apartment house when suddenly a strange monkey like creature swung down from the roof and attacked sleeping members of her family. Soman stumbled while fleeing down the stairs and then tumbled all the way to the first floor. She died at the hospital a few hours later.
Source: UFO Roundup Vol. 6 # 21
---
Date:  May 2001
Location:  
Time:  
Summary:  
Source:  
Location. Olds, Alberta, Canada
Date: May 16 2001
Time: 0212A
Hearing noises the witness saw in an alley behind his house a short figure that was glowing"lavender" color. It was wearing what resembled a "potato sack". It had large black eyes. Soon the lights of his house went out and he found himself paralyzed in bed and floated outside into the alley. He had vague memories of being inside a place with blue walls and without windows. He saw a door that appeared to be guarded by a figure. There was a table in the middle of the room.
Source: UFO Watch
---
Date:  May 2001
Location:  
Time:  
Summary:  
Source:  
Location. Northeast Delhi, India
Date: May 16 2001
Time: night
An 18-year old man reported being attacked in his home by a brown furred creature, which when he hit it with a water bottle, "flew out" of the verandah hit the building opposite and disappeared. Later that same night, four people in Bhajanpura were attacked by a shadowy figure with "red and blue bulbs on his body." The panic claimed the third fatality that night when a 19 year old jumped to his death from the roof of his house in northwest Delhi.
Source: Fortean Times, August 2001
---
Date:  May 2001
Location:  
Time:  
Summary:  
Source:  
Location. Ghaziabad, India
Date: May 18 2001
Time: night
A railway worker and a homeless man were both killed within six hours of one another in this city. Both men were found with punctures of 2-3 inches deep and 5-6 inches long in their skulls and abrasions to other parts of their bodies. Witnesses in both cases reported seeing "a shadow" attacking each of the men.
Source: Fortean Times, August 2001
---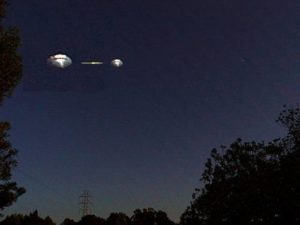 Date:  May 18 2001
Location:  Foster City California
Time:  
Summary:  
Source:  
---
Date:  May 2001
Location:  
Time:  
Summary:  
Source:  
Location. San Luis del Palmar, Corrientes, Argentina
Date: May 19 2001
Time: 0200A
Martin Velazquez was awakened by the barking of his dog, he opened a window to the rear patio area, which was lighted. He then observed all his dogs gathered on a corner barking and looking at a bizarre creature standing nearby. It was described as hairy, larger than a dog, with a disproportionably "small" head as compared to its body. The creature seemed to propel itself by using its elbows and disappeared quickly into a nearby field. Other dogs in the neighborhood were also barking.
Source: FECOVNI, Argentina
---
Date:  May 2001
Location:  
Time:  
Summary:  
Source:  
Location. Rodolp Mountain, Bulgaria
Date: May 20 2001
Time: night
A local villager reported encountering in a dream-like state five human-like figures wearing yellow-metallic clothing. They told the villager to go to an area near the village. When he went there he found an unusual skull and a small elliptical metal object. The skull reportedly weighed 250 grams and has six holes in it. It also had no mouth hole. No other information.
Source: UFO Roundup Vol. 7 # 4
---
Date:  May 2001
Location:  
Time:  
Summary:  
Source:  
Location. Glenwood Alabama
Date: May 24 2001
Time: 0100A
The witness was unable to sleep and got up and looked out the window. He saw approximately 10 objects, hovering, and changing shape & color. The objects emitted blinding beams of light, blue in color. The witness quickly got back into bed but still could not sleep because of the bright beams of light coming in through the windows. Soon he felt a presence in the room; he looked up and saw approximately 4 "beings" in the room. He tried to scream but could not, tried to move but was paralyzed. He woke up the next morning and remembered some of the events that occurred. He remembered seeing a beam of light and floating out the window towards the objects floating in the air. His next memory was of lying on a cold, metal like surface with several "aliens" looking down on him. He was still paralyzed as the beings apparently probed his body.
Source: Mystical Universe
---
Date:  May 2001
Location:  
Time:  
Summary:  
Source:  
Location. Heber Arizona
Date: May 26 2001
Time: 2230
29-year old Chris Magras remembers lying on a very cold steel table. He was unable to move his body or his head; he could only shift his eyes. Everything around him was shiny and almost blinding. He remembered seeing several short figures moving around. He also heard a continuous hum. The figures were about 4-feet ½ in height, slender built with huge heads, no hair and were apparently naked. The witness suffered from vivid dreams after the incident. No other information.
Source: UFO Watch
---
Date:  May 27 2001
Location:  Assam, India
Time:  various
Summary:  Villagers in the area were reportedly terrorized by a wolf-like. More than a dozen people claimed they were attacked by it. The creature was alleged to make itself invisible before its attacks. And it was said to vanish when trapped in a ray of light.
Source:  Strange Magazine On-Line, quoting Indian News sources
---
Date: May 31st 2001: Large Orange Object Spotted
---
Date:  May 2001
Location:  
Time:  
Summary:  
Source:  
Related articles