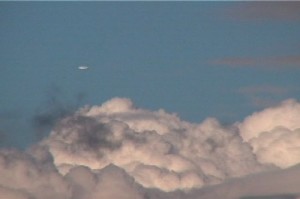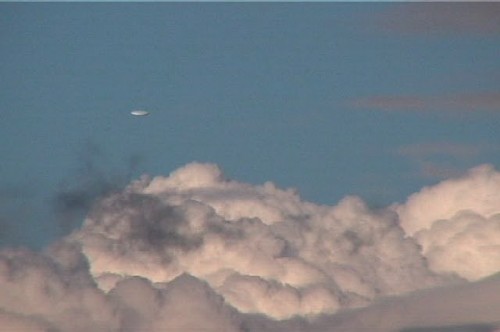 (Last Updated On: July 27, 2016)
Date: September, 2001: Black triangle with glowing red portholes in the Arizona desert
---
Date:  September 1 2001
Location:  Tres Pontas, Minas Gerais, Brazil
Time:  night
Summary:  Several witnesses including Jussar Vandri watched a disc shaped object land on a nearby field. It was about 5 meters in diameter and emitted multicolored lights. It landed on a small tripod landing gear. Several of the witnesses reported seeing small humanoids inside the object through transparent windows. After a few minutes the craft left.
Source:  Thiago Luiz Ticchetti EBE-ET
---
Date:  September 2001
Location:  
Time:  
Summary:  
Source:  
Location. La Joya, Guanica, Puerto Rico
Date: September 2 2001
Time: 0130A
A teenager living on the second story of Mr. Sepulveda's house saw a strange creature. She was nursing a baby when she heard a rattling in the carport. Looking out she saw a shadow waddling like a penguin at the site, since the smoked glass door allowed her to see if there was someone there. Going out to check she saw a black shadow some 3 to 4 ft tall. She screamed for her mother but the figure had already gone when her mother arrived.
Source: Jose A Martinez Echevarria, PRRG
---
Date:  September 2001
Location:  
Time:  
Summary:  
Source:  
Location. La Joya, Guanica, Puerto Rico
Date: September 5 2001
Time: 1936
Mrs. Gloria Carballo saw in her yard a short large headed creature that upon being seen sped up, leaving a wake of sparks behind it in what appeared to have been a soundless explosion. No other information.
Source: Jose A Martinez Echevarria, PRRG
---
Date:  September 2001
Location:  
Time:  
Summary:  
Source:  
Location. Bremerton, Washington
Date: September 6 2001
Time: evening
Lisa Wooley walked into a local bar called "Golden Mum" and sat on the bar feeling a bit distressed as a result of personal situations. She immediately became aware of two persons directly behind her. One was a man of about 43, wearing a bandana, blue sweatshirt, and jeans. The other was a woman around 35 with short dark hair, thin with fairly light skin, wearing a blue skirt and top. She had elfish features and the man looked and acted as if he could have had some military background. For some unknown reason she became interested in their conversation. The woman seemed to be receptive to her observation. Suddenly the conversation switched and she began interpreting the witness thoughts for the man. Whatever the witness thought in her head she would repeat to the man. The woman began "talking" about the witness and felt the witness was a nice person but the man said that her energy level was low. The witness then told them (mentally) that she had been out the night before and that's why she was tired. The woman seemed to had wanted the witness to go somewhere with them, but the man was opposed to the idea. She said she wanted to take the witness with her, but the man said, "The star base at the North Star wouldn't be to pleased with the idea. The man seemed to be not too fond of the human race and seemed to have zero tolerance or interest in humans. He said about the humans just being toys or boring creatures. This psychic conversation lasted for about 20 minutes until the strange pair left. The witness felt that towards the end the man was a little more impressed with humans.
Source: UFOs and Aliens Among us
---
Date:  September 2001
Location:  
Time:  
Summary:  
Source:  
Location. Sierra Norte de Sevilla, Spain
Date: September 8 2001
Time: 2330
On the Carretera de Palma Del Rio, 3 witnesses spotted a huge luminous man like figure standing on a field. It was at least 3 & half meters in height, heavy set in appearance and was moving away from the road with considerable agility, using large leaps and bounds. The luminous figure jumped over a fence and then crossed the road in front of the witnesses vehicle, only about 2 meters away from the car. The figure jumped another fence and disappeared into the fields. The witnesses briefly stopped the car but then a bit frightened continued on and left the area.
Source: Jose Manuel Garcia Bautista, & Rafael Cabello Herrero
---
Date:  September 2001
Location:  
Time:  
Summary:  
Source:  
Location. England, exact location not given
Date: September 9 2001
Time: 0230A
The witness suddenly woke up paralyzed and feeling terrified. There was a shadowy figure moving towards his bed from the right side. The witness was fully awake from the fear. He could see everything in his room and the TV was on. The shadow thing came right up to the bed and leaned over to his face. He heard a loud growling sound, then it just straightened up and moved off and disappeared through the closed window.
Source: Nightwatch 2001
---
Date:  September 2001
Location:  
Time:  
Summary:  
Source:  
Location. Poland, exact location not given
Date: September 15 2001
Time: late night
A young girl name Justine was sleeping in her room when she suddenly woke up with a feeling that someone was staring at her. She looked around and saw a strange man-like figure standing by the window looking at her. The witness attempted to scream but could not say a word and was not able to move either. The witness suddenly felt tired and was approached by the figure that wrapped some type of cloth around her face, she then blacked out and does not remember anything else.
Source: Uforaport Poland
---
Date:  September 2001
Location:  
Time:  
Summary:  
Source:  
Location. Massachusetts, exact location not given
Date: September 25 2001
Time: 0200A
The witness suddenly woke up facing the northeast part of her bedroom when a black tunnel appeared through an old hope chest on the wall. It was large enough so a person could walk through. All of the sudden a human figure made out of light appeared, it appeared to be running desperately through the tunnel towards the witness. The witness sat up quickly in bed. The figure stopped running as it got to her bed. The witness began screaming, waking her husband up who was next to her. As all this was happening her husband could not see anything and was attempting to get information on what was going on from the witness. The figure was described as a woman with blond curly hair, about 5 ft, 5″ tall. Attractive with very dark Oriental looking eyes, and a lean face. It had a normal female body; its hands were very feminine and dainty looking with long and slender fingers. It was apparently trying to grab the witness. The witness kept screaming yelling at the figure to leave her alone. The strange figure appeared to be composed of a solid pale white light. The figure reached right into the middle of the bed trying desperately to take hold of the witness, it touched the witness's hands, but she could not feel anything. It finally stopped reaching for her and gave her a perplexing look. For about a minute or so it just kind of stared at her and faded away.
Source: Angels On-Line, and witness communication
---
Date: September 25 2001
Location: South Greensburg, Pennsylvania
Time: unknown
Summary: Eyewitness Mike Felice saw a giant bird-like creature flying over the area.  19-year-old driving along Pennsylvania's Route 119 reported what he described as "flags flapping in a thunderstorm" coming from above his car. When he looked up, he was astounded to see what looked like a bird with a 3–4.5 meter (10–15 ft) wingspan and a strange, elongated head flying above him.
Source: Researcher Stan Gordon and Craig Heinselman noted that local Thunderbird sightings had occurred frequently in Westmoreland County. 
---
Date:  September 27 2001
Location:  Natal, Rio Grande do Norte, Brazil
Time:  0040A
Summary:  More than a thousand witnesses reported seeing a cylinder shaped object with windows cruising slowly above the city. Around the same time several other witnesses including Bernardo Vilela watched a similar object land on a beach and saw several humanoids exit the craft. 
Source:  Thiago Luiz Ticchetti EBE-ET
---
Date: September 29, 2001: Disk-Shaped Object Photographed by Military Pilot in Hungary
---
Date:  September 2001
Location:  
Time:  
Summary:  
Source:  
Related articles