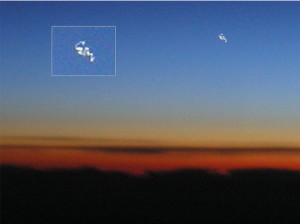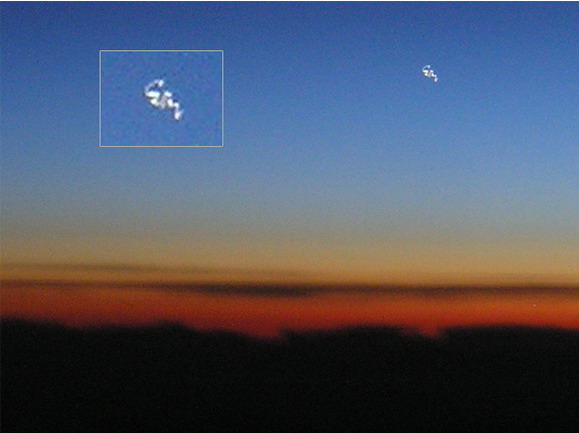 (Last Updated On: July 22, 2017)
Date: December 2003
Location: Constanza, Dominican Republic
Time: evening
Summary: Sixto Paz Wells along with about 37 other persons had gathered in a mountainous area in order to meditate, during the so call "Worldwide Moment of Contact" the first one held in the Dominican Republic. After performing numerous breathing and meditating exercises the group noticed a strange fog or mist approaching their position at about 300 meters away. The strange fog seemed to move at ground level. As it approached their location the fog seemed to rise up into the air acquiring a half-moon shape, turning a pale blue or silvery color. Wells immediately decided to approach the strange fog with the intention to verify what the group was witnessing. As he approached the luminous dome-shaped fog it seemed to approach his location, surrounding him in a sort of luminous whirlwind. At that same moment Wells noticed the figure of a very tall man, dressed in a dark outfit that walked towards him, the others in the nearby camp also saw the strange tall figure. As Wells watched he noticed a luminous golden sphere floating among the bushes ahead of him, and to his right a silvery disc-shaped object hovering above the trees. Suddenly Wells rose into the air and felt being "sucked" towards the hovering disc in an oblique trajectory, he entered the hovering object at very high speed. Apparently the tall humanoid had accompanied in his flight towards the hovering object. Once inside he found himself in a round dim room, not to large. Above him he could see what appeared to be a constellation of stars. Suddenly he noticed four "persons" standing in front of him. Three of them were very similar to each other, including the outfits they wore, only the fourth figure appeared different, he seemed to be a giant of a man, somewhat uncomfortable as he stood slightly inclined looking at the witness. The giant wore a dark outfit, with a silvery plate-like object on his chest. He had long silvery hair. The other three were of average height, and wore tight-fitting blue coveralls; their faces were slightly triangular in shape, orange in color with large slanted eyes. They had large pointy ears, which drooped over their shoulders. They had thick dark hair. Wells (involved in other encounters) recognized some of the aliens, since he had met them before. One of the beings, the one called "Sampiac" then communicated with Wells. Soon the others joined in a dialogue with Wells. The beings spoke about their ancestors from Lemuria and Mu and the destruction of Atlantis. They warned Wells of the approaching earth changes and warned that humanity must be informed. Soon he was told to return to the rest of the group. At that moment a beam of light descended from a triangular shaped crystal-like object on the ceiling of the craft completely covering Wells in some sort of "soft energy". A sort of hatch opened under his feet and Wells descended slowly towards the forest, at very high speed, accompanied by one of the tall beings. The being landed about 20 meters from Wells, in a very excited state Wells noticed that he was accompanied by the very tall being, about 2 1/2 meters in height. He asked the giant humanoid if he could approach him but was told that it was not necessary, that he was tell the others about what had transpired. Wells then bade farewell and walked back to the camp to join the others.
Source: Sixto Paz Wells, Los Esenios de los Andes
---
Date:   December 2003
Location:  
Time:  
Summary:  
Source:  
Location. Longbridge, England
Date: December 2003
Time: midnight
The 25-year old man was walking back from his girlfriend's house one and the route he was taking took him pass the Land-Rover Kalamazoo plant, which has a large park in the rear. He heard strange noises emanating from the park. At first he thought it was a car but upon investigating further he saw some moving lights behind the trees. Not certain what it could be he glanced behind the trees and saw a large round object, hovering about five ft above the ground. It had a strange metallic sheen and was making a noise like a low pitch hum. In the distance, he could make out some thin, shadowy figures, with long arms and large heads. He could hardly move and suddenly as if they knew he was there, the figures turned around and looked directly at him. They had huge eyes. They then started to make their way towards the witness, who then made a break for and ran. When he reached the boundary of the park, where it meets the road a black car pulled up and the driver motioned for the witness to come over. Although, terrified, he went over to the car, and the driver asked him if he had seen anything. Somewhat confused and wandering how the driver knew, the witness mentioned that there was something in the park. The driver who was wearing a black suit then said, "You didn't see anything did you"? By this time the witness was really scared and said that he had not seen anything. He then went straight home and called the police but they said that nothing out of the ordinary had been reported in the area.
Source: The UFO Casebook, UFO and Alien Newsletter Issue # 83
---
Date: December 1 2003
Location: Melbourne VIC, Australia
Time: 16:24
Summary: i was having a party at my house, i had invited some frends over, we all decided to go for a walk down the foreshore nature trail. we were about 10 minutes into the trip and we were thinking about heading back because we were getting bored, we began to turn around when one of my freinds yelled out "hey, what the hell is that", there were a few screams from the females, but then we settled down and stood there in amazement as these nimble crafts floated approx 800-900m above our heads. the crafts flew about in a pattern, they were disc shaped objects that seemed to be able to move in any direction, they had no reliance on the winds like the planes of today. we were all frightened we admitted afterwards. a terrifying experience.
Source:  National UFO Reporting Center
---
Date: December 2 2003
Location: Edmonton Canada, AB
Time: 18:00
Summary: Lots of lights – about 5 mins. hovered there didn't move until i look up at it. Roundish/ Ovalish – bright light like on shows- scary There was a bright light in the sky. I put on my glasses and i seen some lights on top. It just hovered up there in that spot. We looked at it at and it moved really fast. Too fast to be a plane. it finally went behind us, I looked backed and the lights like burnt out and then it was gone. It had blue and red lights on top and bright lights at the bottom. I cannot remember the other bit because to spoked now. It had a sound but did not sound like a plane or man made air crafts. Have no pictures or clips
Source: National UFO Reporting Center
---
Date: December 2 2003
Location: Cochin India
Time: 20:00
Summary: The UFO I saw was very high up.At first I thought it was a star but when i looked closer I could make out that it was changing its colour.It was first white in colour but then it changed to red and then to green and back.
Source:  National UFO Reporting Center
---
Date: December 2 2003
Location: Los Mochis Mexico
Time: 20:30
Summary: Large circular object with lights on top My wife's grandmother, aunt, uncle, and cousin all saw this craft this evening. It was described as a large metallic circular object that had lights on the edges and had a lot of light coming from the top described as being almost like fire (this was not translated very well.) It moved quickly over them and past their location until it was out of sight. There didn't seem to be any noise associated with this object. This occurred in the state of Sinaloa of Mexico.
Source:  National UFO Reporting Center
---
Date: December 2 2003
Location: Tulum Mexico
Time: 21:00
Summary: Bright multi-colored, pulsating cigar shaped object observed near Tulum,. Mexico Four of us were staying at the El Dorado Beach Resort on the Mayan Riveria and saw what we thought to be a very bright star. With binoculars we could that it was cigar shaped with what appeared to look like stadium lights that wre various colors, purple, red, green, indigo, yellow and white that were all pulsating. After about two hours into the watch, we noticed that the cigar shape would periodically change into a cirlce with all the same colored lights.
Source:  National UFO Reporting Center
---
Date: December 2 2003
Location: Liverpool UK/England
Time: 23:00
Summary: It was approximately eleven in the evening of the 2nd of DEC, in Hunts Cross, Liverpool. When a friend went outside and a man pointed out a row of three orange lights high in the sky, Our friend came back in and told us so, we went outside to see. As we looked up we saw a row of three orange lights close together, followed by another three (two side by side and one slightly behind). Then another three followed in a triangle formation (two in front and one behind). The three in front seemed to stop and wait, then the second three stopped until the back three caught up. then they were obscured by the clouds
Source:  National UFO Reporting Center
---
Date: December 3 2003
Location: Valley Forge National Park, Pennsylvania
Time: 1651
Summary: The 36-year old witness was apparently abducted into a UFO and into a pitch-black room. He could only remembered entering the craft through a pure white entryway. Inside he was placed in a tube-like container that was made out of some bronzed color metal that felt soft like cotton. He described the aliens as having human shaped heads, slightly larger than normal, large oval shaped eyes. Pale greenish-gray skin, their eyes glowed slightly in the darkness. They had skinny, bony fingers. Whenever they touched him it left a slightly painful feeling where they touched leaving behind a brownish film of an unknown substance. They had small slanted mouths but he never saw their mouths move when they communicated with each other. After the encounter the witness experienced slight headaches, numerous nose bleeds. He also found numerous dead squirrels in his back yard. He also reported finding a strange mole-like protrusion at the tip of his spinal cord, the morning after the encounter. It oozed pus-like substance metallic silver in color.
Source:  UFO Watch site
---
Date: December 4 2003
Location: Sydney NSW, Australia
Time: 03:00
Summary: Around 3am on Thursday morning, a huge explosion that lasted about 30 seconds was heard over north eastern Sydney and could also be heard as far north as the lower central coast of NSW. Radio stations confirm that there were no fires or lightning. It was an overcast night.
Source:  National UFO Reporting Center
---
Date: December 4 2003
Location: Leisure City, Dade County, Florida
Time: 2300
Summary: A lone window, Mrs. Alsbury suddenly woke up to see three figures staring at her from outside her bedroom window. The figures appeared to be tall feminine characters or women, with blond hair and dressed in black tight-fitting outfits. After a few minutes the figures disappeared. The next morning close to noontime the same witness noticed the same or similar figures lounging around her patio area, they were the same tall blond haired characters wearing all black. Afraid she called a neighbor, a Mrs. List who immediately notified the police. A police cruiser responded about 20 minutes later but apparently nothing was located. However a police report was written. (Case # 646787b).
Source: Personal investigation
---
Date: December 5 2003
Location: Northland/Moerewa Bay (New Zealand
Time: 21:45
Summary: my name is ((name deleted)) of ((street name deleted)) road moerewa bay of islands northland new zealand this happened 9:45 pm friday night 2003 there was a very super bright light appeared in the sky to the west of where we live and got even brighter for half an hour. just sitting in the one spot then it got very dim. then this massive light brightened up brighter than it appeared and just disappeared in a flash so fast.
Source:   National UFO Reporting Center
---
Date: December 6 2003
Location: Muenster Germany
Time: 13:00
Summary: An odd object was seen in daylight. My brother in law grabbed his digital camera and photographed it. Very strange object! My brother in law in Muenster saw, and photographed, an unidentifiable object in day light with his 3.3 mega pixel digital. Altitude undetermined, the object "drifted slowly across the sky"…..I'll get more info…He sent me the photo. Both of us zoomed, cropped and enhanced it. I have never seen anything like this. I am a licensed pilot, and aerial photographer. This is not a balloon, and it is not something that would be capable of flight as I know it. I'll send you the photos, it is too difficult to describe. A "misshapen balloon, with a black hole pointing to the front and down, and a large "gouge" out of it's side.
Source: National UFO Reporting Center
---
Date: December 7 2003
Location: Papendrecht Netherlands
Time: 17:00
Summary: I was sitting on my couch watching the sky I live on the 4th floor of an apartment building, Sun was going under and sky was excellent clear… (no clouds) Than all off a sudden i saw a light going up….. I thought 'thats is strange, did i saw that right? Than today (wednesday 10. I was listening to the radio, and i heard that some people had sightings. That message got my interest, cause i saw something to. Than i heared where the sightings were reported….. There was a report in the city DORDRECHT (netherlands). That is the sky i see from my apartment………………….. I needed to do something with this…….. While i write this, i feel very strange, sleepy, and emotional and a cold back,as we call it in holland, chicken-skin , I hope you got something about this ……… This is my first report of a ufo
Source: National UFO Reporting Center
---
Date: December 7 2003
Location: Yokohama Japan
Time: 20:10 
Summary: It was moving slowly around in the sky and after maybe 4 min it sped of at high speeds The object was bright and we saw a yellow flash before it disappeared. It hurt our eyes and when it flew away our eyes had bright spots as if we had been staring at a light for a few minutes. There was a yellow trail in the sky. We think that maybe some other people may have seen it.
Source:   National UFO Reporting Center
---
Date: December 7 2003
Location: Cairns QLD, Australia
Time: 21:00
Summary: Red Star like object that changes color flies at intense high speed in zigzag direction and circular motion. I was at a friends place playing computer games when her parents yelled out from the balcony outside that there's a UFO outside. The sky looked really weird and eeria as it was cloudy and the clouds were sort of reddish in color. That was when i saw a red starlike object flying at tremendous speed in a zigzag direction. It was kind of pulsating and changing its color to white and yellow. It flew toward our direction and when it was finally over us it kinda stopped and started moving in a circular/spiral motion right on top of us as if it was looking down on us until it got covered up by clouds. It wouldn't be an aircraft as it seemed to be outside the atmosphere like a big red star. And no planes can fly that fast (like a speed of a shooting star in zigzag direction). I had goosebumps all over my body all the time I was watching it with a few friends. What could it be?
Source:   National UFO Reporting Center
---
Date: December 8 2003
Location: Hoofddorp Netherlands
Time: 21:15
Summary: i was walking the dog when suddenly i looked up at the sky and there it was a big neon pink delta shape, it had a light tail and it moved very fast and was silent, had constant speed and it lasted 5 seconds and suddenly disappeared
Source: National UFO Reporting Center
---
Date: December 9 2003
Location: Chaffee, Missouri
Time: 1250
Summary: The eyewitness was driving about 55 mph when he saw a dull aluminum colored bent up creature running on the road and slowed down to 40 mph. The creature looked like a huge aluminum colored "cockroach man" with very long legs that looked like he was running on his knees. It was at least seven feet tall, but he saw no face or eyes and it was hunched over as it ran. At first it looked like a deer, until it ran by the truck so fast that the witness could not see its legs moving, it was more like scurrying. It looked like it had some sort of arms; the witness did not see any wings but it was moving as if it had some. The creature zoomed ten feet by the passenger side door up to thirty feet in front of the truck. The witness then sped up to 65 mph and passed the creature he then looked over his shoulder and watched the creature running behind them. The creature then caught up to the truck then ran alongside of it for a good four seconds and then zoomed past the truck again, to about 20 feet in front of it and then jumped straight into the air and disappeared.
Source: Peter Davenport, NUFORC
---
Date: December 9 2003
Location: Emmen Netherlands
Time: 20:00
Summary: 4 bright lights moving fast and slow , making circles, sometimes above and sometimes next to each other. First I thought I saw a plane, but there where two. The lights were sometimes flashing and sometimes very bright. Then also sometimes you could almost not see them anymore and then suddenly they where very bright again. First there were two, but after about 50 minutes I saw 4 lights. They were going round in wide circles and left and right, sometimes they were above each other and then they were next to each other. Sometimes I thought I saw a red light (thats why I thought I saw just a plane), but the way these ufo's were flying was to stranges for a normal plane. And the light which flashed so bright was very stranges to. And when suddenly there were 4 of them (which I never saw before) and it looked like they were dancing in the sky. Sometimes they moved fast and sometimes very slow and sometimes it looked as if they stood stil in the sky.
Source: NUFORC
---
Date: December 11 2003
Location: Cardiff UK/Wales
Time: 16:00
Summary: bright object noticed to north west of cardiff about 45 degrees above horizon first sighted at 10 minutes before dusk, clearly visible and brighter than the moon and nearby street lights during fading daylight. it continued to shine brightly into nighttime. The object did not move for around 45 mins to an hour then just disappeared. The object was not a plane as no movement. The object was not a star or planet as I have been avidly watching this part of the sky recently to see mars approach to earth. I have therefore become very familiar with that part of the night sky. at one point some clouds went in front of the object and it was obscured and therefore had to be some distance away. The object did vary in size and intensity once or twice. It was a bright circular light that seemed to be the sort of light emitted when you burn tungsten. The only explanation I could think of was a helicopter as it didi not move though I have observed one (the police one) locally at night on many occasions and saw nothing in its appearance similar. I have no idea of size or distance did seem to be far away, over the areas of local towns- maybe Barry or Cowbridge. I am only reporting this as I know if it was as it appeared I am sure there will be many more detailed reports from those areas and just wanted to corroborate any reports that came in. It was very unusual and I am at a loss to explain it. PS I am sceptical of all this but I did watch it for an hour. No camera at home though!!
Source: NUFORC
---
Date: December 11 2003
Location: Near Marietta, Ohio
Time: evening
Summary: Two witnesses were driving to a nearby town in West Virginia on a well-traveled highway when they spotted a strange creature off to the side of the highway looking away from them. The "animal" looked like a strange mix between a deer and a bear. It stood about six and a half feet high in total. It had very long, extremely thin legs that looked almost unstable and its entire torso, neck and head was covered in very long black fur. Its legs were not however. They were unable to see its feet due to the 2-inch tall grass. The creature turned to look at them before they drove off. It had large eyes that were red in color. The muzzle/snout was long and slender with a cat-like nose, they couldn't see any ears.
Source: Cryptozoology.com, Sightings
---
Date: December 12 2003
Location: Saudi Arabia
Time: 04:05
Summary: Actual location of sighting: Saudi Arabia, by the gulf, 200 km south of Kuwait It was Friday morning ,me and my son 15 years old in the desert coming from a friend's camp which was off road. We saw an airplane from one mile and my son said oh, air plane. I said yes this is a Saudi Aramco air plane. They have a few of them to shuttle there staff and also helicopters using same route on a daily bases. While we were driving, traveling 30 miles speed we saw a plane and it did not move. We came close to it, it was on our right side not far away, maybe 300 meter in the air. So we stopped to see it. I thought it is going to land or had a problem, but Savannah is 40 km away so we came to complete stop. The plane still in the same place. I thought it was Harrier fighter plane (saw them during gulf war) but this one is white and so beautiful. The minute we stopped, I asked my son to make right turn towards it and this thing started moving north. We both said oh it is moving now, good but moving at a high rate of speed. May be 10 seconds and it is gone. Nothing else in the sky as it was a clear day too. By the way my son was driving off road and only under my supervision. It was capsule in shape, no windows.
Source: National UFO Reporting Center
---
Date:   December 12 2003
Location:  Ross County, Ohio 
Time:  
Summary:  On December 12, 2003, about an hour before it got dark, I decided to go look for pieces of wood to make Xmas gifts. Along with me was my 12 year old nephew, a girl his age, and my mom's dog. We first went to an abandoned house nearby, about a quarter mile from our home, then to an old graveyard called "Penniston cemetery" on Nipgen road, in Ross County Ohio. As we were leaving the graveyard I noticed a very bright light had appeared hovering over it, and mentioned to my nephew that maybe this was the same star that appeared when Jesus was born (I am not a devout religious person, it was just a joke). As we walked down the road towards the house, we observed that the light was "following" us , moving very slowly, and hovering over a nearby hilltop that runs the length of the road. When we got to our lane, the girl left to go home because it was now dark outside, and I think the light may have frightened her. Walking towards our home, I noticed that the light had stopped moving along the hill, and was now hovering stationary, directly behind our house. I decided to go investigate it further, having an interest in this subject, and hoping to get a closer look. We went inside first and put on warmer clothes on (there was snow on the ground, and it was very cold outside) and we also grabbed flashlights. When we walked outside, the first thing I noticed was that all the dogs in the neighborhood were barking. We had to walk through a wooded area and up the hill to get to the spot where the light was located-which was on top of the hill and over a large open field. Our dog followed us, as it was accustomed to do. When we got to the clearing of the field, we saw that the light was hovering just over the trees on the opposite side of the field-which is rather large. It had gotten much brighter since we first saw it, I would estimate it to be about the size of a full moon. It was a bright white light, and was not moving at all. I suggested to my nephew that we should signal it with our flashlights, just to see what would happen. So we began blinking our lights off and on, and moving them around in a circular fashion. To our astonishment, the light began to signal back to us, by first blinking, then moving around as we had done with our own lights. Then it did something I was not expecting, it started changing shape. It took many different forms, some that I recall was a pyramid, and a five pointed star. These shapes were made in a grid like pattern, three dimensional, like something you might see at a laser show. Then it returned to its original shape which was round and it began to glow with a purple light. The color of it was that of a black-light, like the fluorescent lights used to make posters glow. Then, the whole field became enveloped in the same purple colored light. But it did not make our clothes glow, or our skin change colors, as I recall the lights from the 70's doing. We stood looking at this latest development, and I remember telling my nephew that something very strange was about to happen, and I also warned him that if things got out of hand, I wanted him to run home (being quite aware of alien abductions, and not wanting him to get hurt). Well, as I stated, we stood gazing up at the purple globe, when the strangest thing occurred. We noticed human-like figures appearing on the top of it, as if they were coming out of the globe, and were standing on its top. They began to wave and gesture at us. I estimated about 4-5 of these figures, so the globe had to be bigger than an automobile in size, and was much closer than I had imagined. I had thought that it was very high in the sky-but after seeing the figures, it was obvious that the globe was actually hovering directly over the trees on the other side of the field! As if this wasn't weird enough, we then noticed that one of the figures had detached itself from the globe, and was "floating" down from it, and coming slowly in our direction. We were so intrigued and fascinated by what was happening, that it didn't occur to either of us to leave. But I noticed that the dog had run off into the woods to hide as soon as the entity got closer to us. Soon it was right in front of us, and was standing within arms length from us. This entity was made of the same purple light as the globe, and it seemed to me to be a hologram of sorts. It had a dimension to it (it wasn't a flat image, like a projection) and appeared solid, although it was made completely of this purple light. It's appearance was odd looking. It was humanoid, but it had no facial features (no eyes, nose, mouth, ears, etc). It had arms, but I saw no fingers, and it appeared to be wearing a long robe which covered its body completely, except for its head and hands. We attempted to communicate with this strange being, we spoke to it, and my nephew tried to offer it a book he had found earlier in the old house, but it just stood very still and silently before us. We did not feel afraid of it at all, in fact, I felt very calm considering what was happening. I then got an idea,and reached my hand out to it, hoping it would see it as a friendly gesture. The entity then reached its hand out and put it on mine! I did not feel any pressure on my hand, it was as if it was not even touching me. As I stood there holding my arm and hand out, my attention was broken when I noticed some smaller red lights approach the field and encircle it. These were blinking lights, and there was four of them, one at each side of the field. I noticed one light move from the formation, and go to the purple globe, then it went back to its position. When I looked back at the being in front of us, it had disappeared while I had been watching the red lights . (I later asked my nephew if he noticed what had happened to the being, and he said that it had suddenly floated back up to the globe when the one red light moved over us. I do not remember this happening at all, and can only figure that I lost a few moments of time, a memory lapse once the entity touched me.) The light which had enveloped the field had now also gone and the globe had lost it's purple glow and was white again, and slowly began to sink down behind the trees, as if it was landing in the woods on the other side. We both began to get this strange feeling, as if there was "something else" in the field with us that we could not see. I felt as if something was watching me from the now darkened area, and we both became very cold. We had not noticed the coldness of the night while everything was happening, but now we were freezing, and scared. So I told my nephew that now would be a good time to run home, and we both ran into the woods, down the hill, and into the house locking the doors. We discussed what had just happened for awhile and I decided that it was best that we didn't tell anyone about it, because no one would believe us, and my sister would probably be very angry at me for allowing him to go into the woods at night to investigate a UFO, let alone finding out that we actually came into contact with its occupant! The next day we hiked back to the area, looking for evidence of our previous experience, but I didn't see anything unusual. But that night, something strange did happen. I stepped outside to do my business, and I noticed a large, dark figure crouching down in front of the house. I thought it was a person trying to hide, so I reached inside to turn the outside light on. When I did , there was nothing there. I turned the light back off, and there was the same black figure, in the same spot, crouching closer to the ground. It then stood up, and appeared to be some kind of animal, like a panther or something. It suddenly leaped into the air, and landed about 20 feet away, behind a nearby building. The following night I was sitting in the dark watching TV, when I noticed out of the corner of my eye that somebody was sitting beside me on the couch. It was a small figure, about the size of a five year old child (about 3 foot?), but when I turned to look directly at it, nothing was there. The night after that I was in the kitchen and I saw this face peering in the window at me. It was the face of a grotesque looking woman, and this time I was looking right at it. It vanished as I stood staring at it. I have never seen anything that resembled a ghost before in my whole life (except once, as a small child which I will tell you about when I write to you about the Mothman figure I encountered in the early 60's) but since my encounter with the entity made of purple light, its as if I have developed a very acute psychic ability, and I am now able to sense if a person's house or an area is haunted, and have actually seen several ghost like images in them. It's as if when the alien touched my hand it gave me some kind of psychic "powers" that I didn't possess before then. For instance, my other sister had just recently moved into a house in a nearby town called Knockemstiff, and one night I saw an old man's reflection on the front storm door. It looked like the man was standing in an archway behind me. Another time I saw a "ghost dog" in her house, I sat on her couch and watched it walking behind people, wagging its tail, it laid down in front of her furnace, and when I reached my hand out to it, it got up and sniff me, just like any real dog would do. We later learned that her house had once been the site of the local bar, that the town actually got it's name because of this bar's reputation of violence, and that people had died there. A friend of hers was taking a bath one night and was dragged under the water several times before he managed to get out of the tub. Beside her house is the site of an old covered bridge, where a girl and boy were murdered one night in the 1800's. You can verify this by looking up "Haunted Ohio" on the internet, and then looking under ghost towns where you will find Knockemstiff listed along with its ghost tales. The guy who investigated these stories said he went to find the bar where alot of the stories were centered around, but he couldn't find it because it is now my sister's garage! (Someday soon I'm going to try to contact him and send him photos and such. If he would have just stopped and asked someone who lives there, most of them are aware of this fact.)
Source:  HBCC UFO Research
---
Date: December 13 2003
Location: Burnham-on-Crouch UK/England
Time: 20:30
Summary: I was in my back garden when i looked up and saw 2 objects, shaped like curved edge arrow heads, flying straight in direction although they were performing maneuvers – crossing each others paths in an almost DNA like spiral. They were illuminated by a dull light underneath, and were approximately the size of planes, but i am convinced they were not planes. There was no noise from them, and they were flying at approximately 250 ft. I watched them until they flew out of sight over my house. The light was soft – fuzzy and pale yellow. I am not given to flights of fancy, but I like to keep an open mind on things. Oh, and if it matters, they were coming from the south, heading north.
Source: National UFO Reporting Center
---
Date: December 13 2003
Location: Guanica, Puerto Rico
Time: near midnight
Summary: A group of persons headed by Reinaldo Rios were conducting a night vigil at the old "Fort Capron" which was built by the US in 1898 during the Spanish-American war and is a known site for different types of paranormal manifestations. One moonless night during a meditation exercise they heard strange noises around them. Soon Rios and his cousin noticed behind one of the windows a strange thin creature wearing a strange shiny gold suit. The figure stood for some time at the window. Frightened both men left the area and joined the rest of the group, which were at a different location. Later they returned with additional witnesses but the creature had vanished. Others reported seeing mysterious lights in the area.
Source: Reinaldo Rios, El Dragon Invisible
---
Date: December 15 2003
Location: Newport UK/Wales
Time: 23:00
Summary: i had been outside in back garden,at 23:00 and glanced up at the sky and noticed a enlarged star in the sky, size approx, if you place your little finger up in the air and look through one eye it was the size of the your little fingernail. as i watched it receded very fast, too fast for any type of aircraft we possess, until it disappeared, definitely moving away from earth. i have thought of the possibility of a star dying, but have checked the net for sightings or confirmation of this and found nothing. its easy to say it was a reflection of a car headlight or some other rational explanation, but then i thought i wanted to leave the explanation open to other possibilities? i,m not sure what i saw but its made me think and consider that there may be more to life than we think there is.
Source: National UFO Reporting Center
---
Date: December 15 2003
Location: Oslo Norway
Time: 02:55
Summary: I was looking out of my window when i saw three white lights which formed a triangular shape hovering just over a hill about 1 mi. away. "It" stood still for about 15 sec, then "ducked" behind the hill. No sound
Source: National UFO Reporting Center
---
Date: December 15 2003
Location: Dublin Ireland
Time: 07:45
Summary: on my way to college this morning i was in a bus, i looked out the window and seen this rectangle of bright blue light high up in the sky i was startled because it didn't make sense it was way too low in the sky to be a star and was very bright and was obviously not a conventional aircraft, then as i looked at it the light faded into nothing, then this delta shaped thing started flying from where the light had been quite fast to the right of my view at about 20 degrees east, i was in disbelief i lost view of it then because i was in the bus this thing was dark and delta shaped and had a light on three ends and one was blinking it was undeniably not a plane it was at about 2000ft, way to low for a commercial aircraft in an urban area, then about 10 mins later i noticed that rectangle of light in the sky to my left where i had seen it the first time i noticed it was moving as we were not gaining any ground on it as the bus was driving along i kept looking at it and then the light faded in a flash. i really couldn't believe this as i have studied the subject a bit and believe that they exist, you only really here of this in the states so i'm still numb that i've witnessed it first hand. believe me this is a genuine report and what i seen this morning just doesn't add up with regards to normal aircraft.
Source: National UFO Reporting Center
---
Date:  December 15 2003
Location: Baling Malaysia
Time: 18:00
Summary: I read an Indonesian magazine quoted from Malaysian newspaper, The New Straits Times, wrote a kid saw the UFO flying over the coconut trees in a calm, village of north Malaysia around the border line of Thailand. Blue light coming out of the car size flying object on the air. See the Indonesian GATRA magazine of the December 16
Source: National UFO Reporting Center, www.gatra.com
---
Date:  December 15 2003
Location: Dunstable UK/England
Time: 23:00
Summary: i was taking an evening constitution around the area of the park walking my cockaspanul when my attention was draw upwards to the sky and i saw 1 large shape in the sky the shape was unknown to me but my dog snapped off of it lead and hide behind a tree the event only lasted 15 mins but it will not be something that scars me forever.
Source: National UFO Reporting Center
---
Date:  December 15 2003
Location: Coventry UK/England
Time: 23:50
Summary: 1 Spherical shaped bright white/yellow light travelling horizontally at a short range with no apparent noise. After my line of sight was broken (by house's) i saw what looked like a shooting star travelling vertically and away from me, but it looked to small to be the same object, despite it occurring about 5 seconds or so after loosing a visual contact. Never saw it again after this.
Source: National UFO Reporting Center
---
Date: December 16 2003
Location: Tin Tin, Salta, Argentina
Time: near midnight
Summary: Julio Espinoza his 5-year old daughter Tamara and 5 other witnesses were traveling by truck near the entrance to the Los Cardones National Park when the driver call out that there was a strange object on the ground about 400 meters away on the right of the road. Espinosa managed to climb on top of the truck in order to obtain a better look as the truck approached the strange object. As the truck drove very close to the object Espinoza saw an object about 100 meters in width, which was resting on the ground on what appeared to be several leg-like supports that rose to about 10-12 meters from the ground. Several hose-like protrusions with lights on the end emerged from the supports. Curious Espinoza left the truck and hid behind a boulder to get a closer look. Suddenly the lights dimmed and Espinoza saw several strange figures, which walked as if suspended animation. He was only able to describe the humanoids as tall and thin wearing very bright outfits that obscured any other features. Hiding behind the boulder he saw one of the figures jumped on top of an outcrop and appear to collect ground samples. After about 20 minutes, Espinoza decided to return to the truck in order to notify the rest of the people. They saw the object but were unable to see the humanoids, because of the distance.
Source: Lista Espacio Compartido January 4 2004
---
Date: December 16 2003
Location: Moree Australia
Time: 22:30
Summary: we were out watching a large lightning storm to the west of us, when we noticed 3 lights moving in a triangular formation across the sky (southwest-northeast) the two front lights were brighter than the last as the formation was a reverse triangle (.:) we watched as the formation moved across the sky, they never stayed in perfect formation as the last was falling back and catching up, they were approximately north of our location when they disappeared, there was no cloud obstructing our view of these lights, we thought it was awesome!
Source:  National UFO Reporting Center
---
Date: December 18 2003
Location: Napier New Zealand
Time: 22:00
Summary: all objects were moving until they all stopped 2 shot away so fast i took a photo of a stationary 1 all were bright with red and blue flashing lights. we reported it to the wellington airbase and they had said they had seen it and a carrier jet pilot was up there at that moment that would explain the white object flying towards the object at slow speed
Source:  National UFO Reporting Center
---
Date: December 18 2003
Location: Hastings New Zealand
Time: 21:42
Summary: 2 were first seen heading towards each other 1 mile off hitting each other both were moving one going from E to W the other W to E They Nearly Hit 1 stopped and the other kept going. there were other "Object"in the sky each arraying an assortment of flashing lights Red and Blue Mostly then others were moving toward us from the north and south. all were to high to be airplanes
Source:  National UFO Reporting Center
---
Date:   December 2003
Location:  
Time:  
Summary:  
Source:  
Location. Antofagasta, Chile
Date: December 23 2003
Time: 0200A
Student Max Hidalgo was having dinner with family and friends when Hidalgo and two of his cousins heard strange screeching sounds coming from outside. Minutes later armed with a flashlight and accompanied by a group of friends and family he went outside to check to see what was emitting the strange sounds. A short distance from the group the men sighted a strange creature, described as tall and black, bipedal but somewhat hunched over and with a hairy snout. The stranger creature quickly disappeared into the darkness. The next day the witnesses found strange footprint close to a nearby canal.
Source: Erick Bellido, Ovnis Terra
---
Date:   December 26 2003
Location:  Eatonville, California
Time:  midnight
Summary:  D. H. age 41 was awakened in his travel trailer and clearly saw a red orb three inches in diameter floating around. The baseball size red ball had a two inch red mist around it, so its total diameter was about five inches. Although the red light was "hazy" it lit up the entire interior compartment of the trailer. It was an extremely bright light hovering in the same spot, said the witness. He leaned up on his right elbow very slowly and the light moved about a half an inch further inside the trailer and then bolted out the door. D H was unaware until that moment that the trailer door was open. He always closes and locks that door. The door slammed behind the light. He awoke that morning with a good-sized bump on the back of his head. Yet, he felt better than he had in months. The door trim on the floor had a one-and-a-half inch outward dent in it. The next night he closed his eyes for a minute and had a flashback of someone pulling him by his ankles out of his bed. All of the covers had been removed from his body and he was terrified as he was being dragged feet-first by two hands from his bed and through the trailer door. His head striking the rim probably caused the dent. Later he remembered a large dark gray face about two feet away with thin arms, he saw no ears, mouth, hair or nose.
Source:  Filer's Files # 13-2004, quoting William Puckett & Joe Ryan UFOs Northwest California
---
Date:   December 28 2003
Location:  Elizabeth, New Jersey
Time:  night
Summary:  Enrique Rodriguez and a group of friends were outdoors in their hometown located just across Newark Bay from the New York City borough of Staten Island when they spotted something very strange. "An alien ran to the left behind some trees and disappeared". Enrique reported, describing the entity as a tall grayish figure with long, large black-brownish eyes, long arms and fingers. It had no mouth, either, just the eyes. Rodriguez was at his friend's backyard when he saw it. The others became frightened and ran, but he just stood there looking and the creature was looking back at him until it disappeared from sight. Enrique said the entity had gray colored skin resembling that of a baby dinosaur, very shiny and was 6 to 8 ft tall. He called the police who scoffed at him but did check the yards. Apparently nothing was found.
Source:  UFO Roundup Vol. 9 # 3
---
Date:   December 2003
Location:  
Time:  
Summary:  
Source:  
Related articles