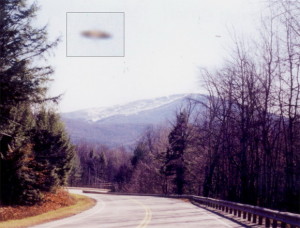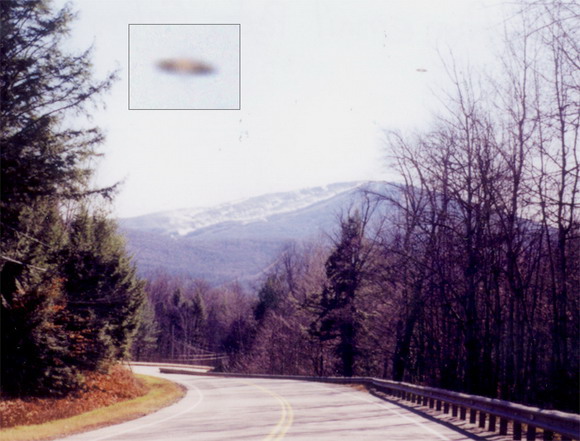 (Last Updated On: July 31, 2016)
Date: October 2003
Location: Beshtau Mountain, near Lermontova Russia
Time: daytime
Summary: Boris Sinitzin, his wife Tatiana and several friends were relaxing at the hydrogen sulfide springs not far from the "Second Athos Monastery". When suddenly the woman focused her attention on three figures, standing about 400 meters away on the slopes of the mountain. The figures were about 2 meters in height, yellow, silvery and blue in color. They stood motionlessly, emitting noticeable radiance from their bodies. For some reason the witnesses felt no fear and somehow knew immediately that these were "aliens". The strange trio stared at the witnesses from the slopes and one of them pointed a finger at the group. As soon as the aliens realized they were being watched they seemed to vanish in plain sight. Everyone in the group felt a strange harmony within and could not speak about what they had seen. Later on as the witnesses drove away from the area they again saw the three strange figures on the slops, these disappeared in the same manner as before.
Source: Yuri Protasov, 11-25-2003
---
Date: October 2003
Location: Krasnoarmeysk, Ukraine
Time: night
Summary: Engineer Vladimir Prosyanikov was suddenly awakened in the middle of then night by a strange impulse. Near the sofa was his television set, which was at the time disconnected from the socket. Suddenly, color images began appearing on the screen, first he saw a star with stars, Ursa Major constellation and the Polaris star at the center, and Cassiopeia to the right. He saw what appeared to be a white arrow pointer; it approached Ursa Major and pointed to the place between the second and third stars of the Ursa Major (Big Bear). After that, everything vanished and images of animals and birds began appearing on the screen, bears, rabbits, wolfs and very beautiful birds. Following that, humanoid images appeared on the screen, and man and a woman and what appeared to be a projector-type device to the right of them, that began to slowly signaling, 3 short white flashes and one long bright red light. The humanoids on the screen were dressed in silvery tight-fitting suits, nothing out of the ordinary was noted about their faces, but their eyes seemed to cause a strange sensation on the witness. Seized by an awful fear he humped from his sofa, and covered the television set with a sheet of cloth. Filled with curiosity 2 hours later he lifted the cloth and the room was suddenly filled with holographic images of animals, including a cat that seemed to float towards the kitchen. After that the television screen showed images of dinosaurs, mammoths and other bizarre and "ugly" looking animals. Afraid that the animals might somehow penetrate into the room he again covered the set with the cloth and ran out into his front yard.
Source:  "Mir Zazerkalya" (World Behind the Mirror) Nr 9 (160) 2004
---
Date: October 3 2003
Location: West Central, Minnesota
Time: late afternoon
Summary: A husband and wife were relaxing and talking about the day when they noticed the sky turning a strange pink color. They were on a small hill on the east side of their house when both suddenly and almost at the same time said, "What the hell is that? The wife ran for her camera and began to take pictures. They both saw a strange vertical cloud that seemed to be walking up the hill. It had started out toward the bottom but by the time she got the camera it was almost to the rise. It seemed to be "body-like" in form. It also seemed to emit some kind of "mental energy". It gave off very scary energy or vibes. It continued out of view. The sky then returned to normal.
Source: Brian Vike, HBCC UFO Research
---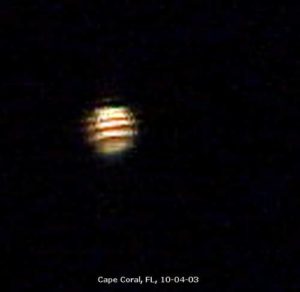 Date:   October 4 2003
Location:  Cape Coral Florida
Time:  
Summary:  
Source:  
---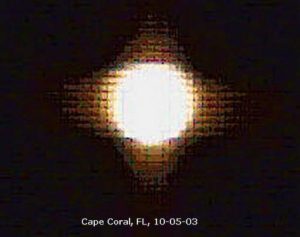 Date:   October 5 2003
Location:  Cape Coral Florida
Time:  
Summary:  
Source:  
---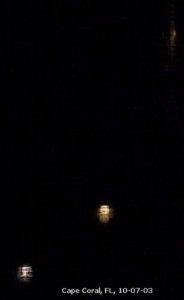 Date:   October 7 2003
Location:  Cape Coral Florida
Time:  
Summary:  
Source:  
---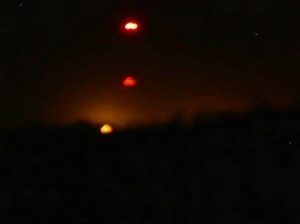 Date:   October 8 2003
Location:  USA
Time:  
Summary:  
Source:  
---
Date:   October 8 2003
Location:  Casilda, Rosario, Argentina
Time:  night
Summary:  Upon hearing his dogs barking furiously a local resident stepped out of his home armed with a flashlight. At first he did not see anything but upon directing the beam of light to another direction he saw a mall dark hairy figure apparently attempting to climb up the side of the nearby Candelaria Canal. She could not see many details because it was really dark, but was able to detect a sort of sound coming from the creature similar to a hiccup. Terrified she ran home. Another man reported seeing reported seeing the same or similar creature this time in the canal standing on top of some rocks, "its body was totally covered with dark hair". Others reported seeing the creature and calling the police who failed to locate anything. The creature was reported to be the size of a 4-year old child.
Source:  Newspaper, Cuña de Bandera, Argentina
---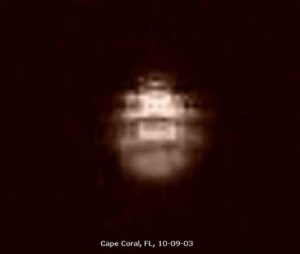 Date:   October 9 2003
Location:  Cape Coral Florida
Time:  
Summary:  
Source:  
---
Date:   October 17 2003
Location:  Cliff Cave, St Louis, Missouri
Time:  2140
Summary:  Two witnesses had gone to the local park after sundown, which was considered trespassing since the park was closed before sundown. As they walked by the trees guarding the field they noticed that the grass had a sort of shroud or clear like fog hovering about two feet above it. As they walked to the center of the field one of the men noticed something moving in front of the trees on the other end of the field about 500 ft away. As he crept closer he could see a sort of white figure about 5-6 ft tall, moving slowly. It wasn't exactly walking and it didn't have any real definition to it. It sort look like an apparition the closer they got. The first witness quickened his pace, closely followed by his friend. He could not start to make it out. On completion of a step, there was a loud screech, like the creature forced the air out of its lungs and made an "eee-uuuungh" sound. The witness then saw a half erect, two-foot tall, gray creature fling up about 10-15 ft in the air right in front of the white figure. It reminded him of a monkey in shape and movement. It made the noise again. Both witnesses yell in shock and bolted from the area, the first witness tripped over a divot on the field, his friend ran back to help him as he did this both men watched the now very white figure or "shroud" above the ground move around. They then watched a serpent like formation of fog crawling across the field in front of them. One of the witnesses walked a few feet and again heard the strange screeching sound coming from the middle of the field. At this point both witnesses ran out the field as they did they heard the screeching sound several times again from behind the tree line.
Source:  Paranormal about.com, your true tales, November 03
---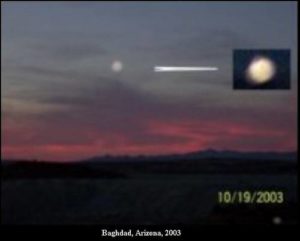 Date:   October 19 2003
Location:  Arizona
Time:  
Summary:  
Source:  
---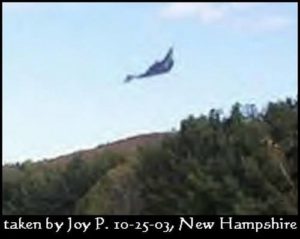 Date:   October 25 2003
Location:  Plymouth New Hampshire
Time:  
Summary:  
Source:  
---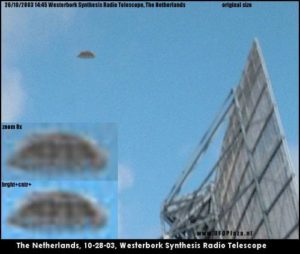 Date:   October 26 2003
Location:  Westerbork, The Netherlands
Time:  
Summary:  
Source:  
---
Date: October 26 2003
Location: Bristol UK/England
Time: 21:30
Summary: Okay, this is a new one on me, maybe someone else has seen these too. Towards the end of October 2003, around 9:30 pm with a clear sky, i saw something which looked like an m flying north at speed. It was dark grey in colour, no lights and no sound not even when it passed almost overhead at around 4000ft at a guess. About a week later i seen another one, around 11:15 pm, cloudy and dry, light winds. This one was flying south but had three arches, this too showing no light or making any sound as it passed overhead. I knew the height was around 4000ft as the aircraft from the local airport turn at 3000ft on to their new headings, and a minute later were going in to cloud which put them at around 4000ft+- This one however was reflecting the glow of the town lights making it stand out against the clouds above it, and was about the size of a 737 and again, traveling at a fast speed which i couldn't even guess at, except to say it was out of sight in roughly three seconds max, my view being vertical ish an down to the horizon. Since then i have seen another twin arch again in early December around 1:am, clear sky and flying northeast, as before, dark grey, unlit, silent and fast.
Source: National UFO Reporting Center
---
Date:   October 2003
Location:  
Time:  
Summary:  
Source:  
Location. Near San Andres Tenejapan, Veracruz, Mexico
Date: October 28 2003
Time: 0515A
Several passengers' onboard bus # 35 of "Adelas" transport services including Gaudencio Lopez reported seeing an incredible looking creature just as the bus rounded a corner known as "El Piojo". They reported seeing a creature larger than an elephant somewhat reptilian in appearance crossing the road just ahead of the bus. Terrified the passengers yelled at the driver to turn the headlights off, afraid that the creature would charge the bus. The strange creature reached the embankment on the other side of the road and disappeared down into a gully. Other passengers reported seeing the same or similar creature around the same curve at other times.
Source: Emilio González G, El Durmiente De Orizaba
---
Date:   October 2003
Location:  
Time:  
Summary:  
Source:  
Related articles