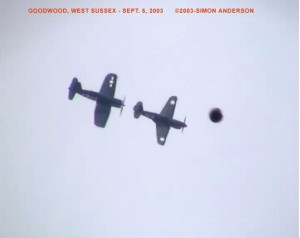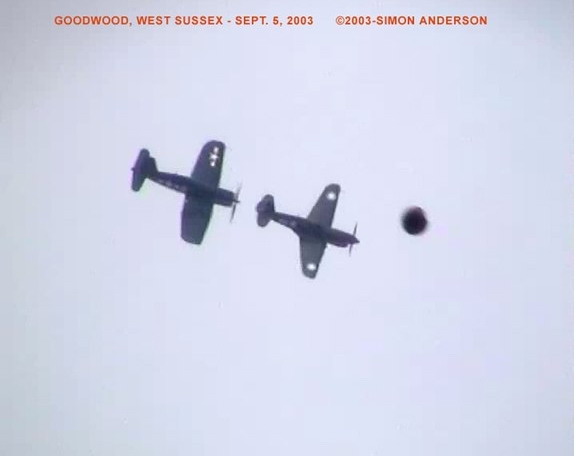 (Last Updated On: July 31, 2016)
Date: September 2003
Location: Near Arivaca, Arizona
Time: sundown
Summary: The witness was scouting for deer on horseback in the Cerro Colorado Mountains about 1.5 miles from his camp and as twilight approached he found a dead bighorn sheep lamb. It looked like it had been killed within the hour. It had a gory looking bloody hole in its throat, just above the chest area. It appeared that the predator had eaten the heart and drank the blood, nothing else. There was some blood on the ground. The witness looked around and picked up the trail of a three—possibly four-toed animal with each toe about the length of a human finger with a claw or nail on the end of each one. He had never seen a track such as this one in all the years he had spent in the wild. He followed the tracks to a draw and looking down he saw a "thing" about 50 feet below him headed down hill. The witness followed it and after a while it apparently sensed the horse was there and turned around to face it, it saw the witness and then moved more rapidly down hill, but it couldn't outrun the horse. Its stride was about 1.5 ft walking upright and 5-8 ft when moving on three or four limbs and possibly 12-20 ft when making a funny sort of hop. It had a funny gait, almost a lope, but little jumps and sometimes bounds were involved. It only looked back at the witness three times. It finally got down to a steep rocky area full of cracks, crevasses and holes between the boulders. It disappeared into the rocks. The witness described the creature as a cross between the creature of the black lagoon and a rhesus monkey. It moved on two, three and four legs/arms. It stood about 3.5-4 ft tall when standing and weighed maybe about 50-60 lbs. It had large lemur like eyes, brown skin, possibly fine fur, a large bald or hairless head, enlarged buttocks and thick hind limbs. It had some spike-like protrusions along its back that appeared flexible and moved as it ran. It had claws or long gray nails on at least three of the digits on the left front and rear. It had more of a snout than a nose. The witness did not see any teeth. It had a "dead meat" smell, but not rotten meat, no doubt because it just fed. The next morning the witness was surprised to find the dead lamb still there, apparently not touched by any of the area's predators.
Source: Paranormal about.com October 2003 stories
---
Date:   September 2003
Location:  Taiwan, China
Time:  
Summary:  
Source:  
---
Date:   early September 2003
Location:  Ciudad Juarez, Chihuahua, Mexico
Time:  night
Summary:  The cousin of 16-year old "Samahil" had gone outside her home and observed a strange short thin humanoid moving among the brushes. Soon the humanoid approached the house and stood about 2 meters away from the front door, standing behind a tree. It had long dangling arms, a round head and round bluish eyes. It appeared to be wearing a tight-fitting silvery gray suit. A photograph was allegedly taken of the alien.
Source:  Guillermo D Gimenez, OVNI Vision Chile, quoting Los OVNIS TV Mexico
---
Date:   September 2003
Location:  
Time:  
Summary:  
Source:  
Location. Marietta, Georgia
Date: September 1 2003
Time: late night
The witness, Paul Blackstone, was attempting to wake up after some unusual dreams but could not quite wake up. He felt someone feeling his face and he thought at first that it was his mother or sister attempting to wake him up, but then he remembered that he was alone at home that night. He felt a hand palpate his upper eye orbital region and then his cheekbones and then tilt his head back. He felt paralyzed but struggled to awake fully. He began to notice that he felt rubbery and clammy and also began hearing a pulsating high-pitched frequency sound. He then attempted to mentally communicate with what he felt was an alien presence in his room. He told "it" his name and let them know that he was not afraid. He then felt a hand on his forehead; soon the sound and the hand went away. He then felt his right arm being lifted and then another hand grip his wrist. He then felt some caressing on his hand. He continued to struggle and soon felt what seemed to be a large needle driven into his wrist perhaps drawing blood or injecting something. He then felt what seemed like a powerful electrical shock on his wrist, up his arm and then up his back and neck. He then felt the needle come out. Somebody then held his arm and the witness began to regain the ability to use his right arm and the use of his facial muscles and began to whisper "Hello, hello". But soon he lost the ability to speak again and felt a hand on the back of his neck. He felt himself drifting away to sleep but managed to struggle with the unseen intruder. Soon he was able to open his eyes but his body was frozen from the neck down. His room was very dark but there was a light blue glow coming from outside. Right by his bed he then saw a tall 7 ft figure with a large head and slender arms, but it was to dark to see the face, eyes or color. It was looking down at the witness and then turned around and walked towards the door. The witness heard silent footsteps but could not turn his head and did not hear the door open. Soon the witness regained his ability to move. He searched around the room and noticed that the door of his room was locked. He also checked his arm but could not find any evidence of an injection.
Source: UFO Casebook, Alien Newsletter Issue # 69
---
Date: September 3 2003
Location: Near Kelowna, British Columbia, Canada
Time: 0230A
Summary: During the wee hours of the morning the witness's 12-year old son woke her husband and herself telling them that he had a nosebleed. They did not think much about it since the boy usually gets a bleed once a year and it was not a heavy bleed, but rather a persistent trickle. He then came to their bed with them and the witness suddenly went to sleep very rapidly and went immediately into an extremely vivid lucid dream. In the dream her son and her were outside of a house and they ran to the other side to see a UFO in the sky. The UFO was not lit, but rather a dark shadow in the night sky, huge and in two parts that were connected. They somehow "knew" that this was something to be afraid of and hid in the deep shadows of the house as the UFO came down with very little noise and transformed itself into a vast robot, which started walking across the countryside. Again they "knew" this had something to do with power, as in electrical power and that they would be forced to use some power they didn't want to use. In fact they "knew" that if they used the power they were bringing it would be a trick ultimately used to imprison them. They ran inside the house and there the phone was ringing and they again "knew" it was the power company calling them to force them to use this new power. For this reason they did not answer the phone. There was a glassed in room in the house, which had a number of people seated in it. These people were important to the witness, although they were not familiar to her. She ran into the room to warn them of what she had seen. One of the people was a brown haired girl about 20 whom the witness recognized as her daughter (not her real life daughter). She also recognized her as her mother. She was crying, although the witness was not sure why. What was remarkable about her was that she was half human and half "android" or robotic. At one point the witness could see some of the skin on her back and you could see that the skin was living tissue stretched over a metallic frame. The skin was red and sore like burned scar tissue. She was also pregnant and made a comment to the witness about how she had been to "animal control" (the witness could not quite recall the phrase but it was like going to a veterinarian instead of a human doctor), where she had been impregnated. The father of her child was also there, another predominantly robotic person who looked like a human face had been grafted on. He was a sympathetic figure and he understood what the witness was telling him. There were others in the room that were similar but the witness did not have a chance to speak to them. The dream went blank for a bit and then the witness found herself outside in a "neighborhood". There was a huge wind blowing and the witness "knew" that this was about earth's changes. She also "knew" that after the earth changes the alien beings will come for us and that it would be terrible. The power company had set up a steel building that looked like the only thing that could withstand the wind. Everyone crowded inside and the witness "knew" that it was trap. She point out to the father of her daughter's baby that the heave stainless steel door only opened from the outside, and that if they would let them go they would all be imprisoned. Between them they managed to keep the doors from closing. The dream went on with dire predictions for humanity and coming earth changes; a collapse of society was coming. The witness woke up around 0600A with a severe nosebleed, stiff arms and legs and total physical exhaustion. Other family members reported strange scratches and marks on their bodies.
Source: Brian Vike, Director HBCC UFO Research
---
Date: September 6 2003
Location: Airdrie Canada, AB
Time: 16:00
Summary: Hello Vike, I have been reading in the paper about recent UFO??? sightings seen around Airdrie. I would like to tell you about what I saw back on September 6, 2003. I had just arrived home after attending the Fall Classic Show & Shine at the Nose Creek Park. It was 4:00 p.m. in the afternoon. I was looking out my livingroom window, which faces east. My home is situated (deleted) of the tracks, in (deleted by HBCC UFO). I noticed a white, completely perfect round sphere going in a northerly direction. It was definitely NOT a balloon. There was no string attached and it was perfectly round, as balloons are not. It stayed at a constant speed and was completely unaffected by wind currents. It may have been going about 30-50km./hr. It stayed at the exact same height. I watched it until it disappeared out of sight. I felt like it may have been following along main street, however it may not have been. It was also difficult to tell the size at that distance, but it may have been larger that a beach ball. I have never seen anything like it in my life. Has anyone else mentioned this to you? I would be curious to know if I was the only one who saw it. Thank you, Thank you to the witness for the report. Brian Vike, Director HBCC UFO Research Canadian Toll Free UFO Hotline 1 866 262 1989 – Free call
Source: HBCC UFO Research Canadian
---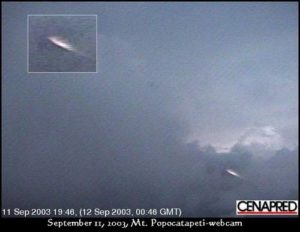 Date:   September 11 2003
Location:  Mt Popocatepetl, Mexico.
Time:  
Summary:  
Source:  
---
Date: September 12 2003
Location: Hawkesbury Shire Australia
Time: 14:00
Summary: Giant Silver Sphere…….just appeared and then disappeared. We were travelling south along the Putty Rd, we were just starting to climb up Melong Rck ,when I noticed a large Silver sphere hovering just above the tree line.I pointed out to My husband and son…..it was a large silver…almost liquid sphere, it looked like it was glowing or like mercury. We watched it for a few minutes and then it went out of sight behind some trees…when we reached the top of the mountain , we looked every where around us but it was nowhere to be seen.
Source:  National UFO Reporting Center
---
Date: September 13 2003 and September 17 2003
Location: Kennerdell, PA
Time:
Summary: Curious to know if any sightings reported near Kennerdell, PA 9/13/03 and 9/17/03. I viewed along with seven other witnesses a large object approx 300 yards away changing colors (pulsing) from white, green, to red for approx 20 minutes just over tree tops. Object moved slowly to left then to right and eventually drifted away from us. Following Wednesday object viewed in a different area. There were no strobe lights or sound so we assumed it was not a chopper. This was very peculiar and on my mind ever since. Sincerely, ((name deleted))
Source:  National UFO Reporting Center
---
Date: September 15 2003
Location: Airdrie Canada, AB
Time: 23:20
Summary: Large ring of white lights. Witnesses email below: I also called the witness in Airdrie, Alberta to gather more information on this sighting. My report after talking to her is below also. Hi there, A week before the first article came out in the Airdrie Echo newspaper about sightings, I came home from work about 11:20 pm, and I let the dogs out side and I was also watching a few northern lights off my deck , I live on the east side of Airdrie, the (deleted by HBCC UFO) are right behind my house. So we have a hill behind my place with a walk way on that goes towards the highway, and I looked over to my left toward the west, and I know what I saw, and it was big circle of lights twirling around and hovering on the walk way and then it just went down, not up. I grabbed my dogs and headed into the house. The next week, I read the article in the paper.
HBCC UFO Report after talking with the witness. The first thing the witness said was, "I know what I saw" and it was really bizarre. The lady let the dogs out onto the deck of her home and then followed them out, stood there and looked to her left and just above a walk way she spotted the lights hovering. The walk way runs a good distance and eventually runs across the highway. The witness said it could not have been children twirling lights as for one thing the circle of lights was very large in size, plus she could not see anyone in the area. She also compared the size to a 10 or 12 foot old C-Band satellite dish. She explained that it looked to her as if it was a ring shaped object with a lot of white lights running all around the outside of it. She also said it appeared that there was not just one set of lights, but layers of them. As she stood and watched this strange display of lights, they started to move down over the hill which would have crossed over Highway #2 until she finally lost sight of the lights. She mentioned that it was approx: a half block away from her location and very bright. Also the lights were moving quickly, but there was no distortion, or the lights appearing to be one long string. She was able to view the individual lights and she told me there was many of them. No sound was heard and the dogs did not react in anyway to the strange lights. The witness said she wasn't frightened at what she saw, but her senses told her it was time to head back into her home. It was visible for approx: 30 seconds before it vanished. I asked if she was able to see anything in the center of the object, she said no, just a ring of lights.
Source:  National UFO Reporting Center
---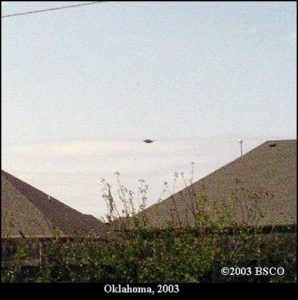 Date:   September 20 2003
Location:  Oklahoma
Time:  
Summary:  
Source:  
---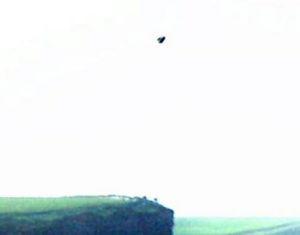 Date:   September 21 2003
Location:  Cliffs of Moher, Ireland
Time:  
Summary:  
Source:  
---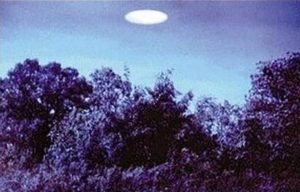 Date:   September 23 2003
Location:  Elsberry Kentucky,
Time:  
Summary:  
Source:  
---
Date:   September 2003
Location:  
Time:  
Summary:  
Source:  
Related articles