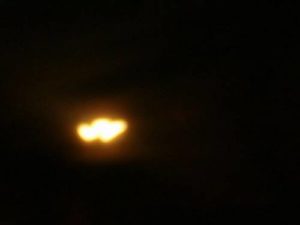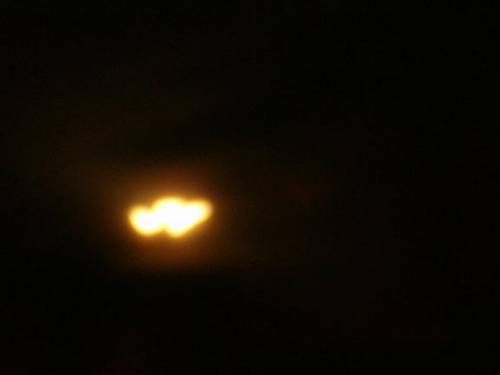 (Last Updated On: June 8, 2016)
Date:  February  2004
Location:  Piaui, Northeastern Brazil
Time:  night
Summary:  A woman accompanied by another family member was washing clothing at the edge of a river when they noticed movement amongst the thick foliage across from their location. They were then stunned to see two strange hairy humanoids about 1.50m in height come out of the woods. The humanoids had long dangling arms and were covered from head to two by thick black hair. Both had red glowing eyes. Terrified both witnesses fled the area.
Source:   UFO Genesis, Brazil
---
Date:  February  2004
Location:  Maryland Heights, Missouri
Time:  0600A
Summary:  The witness was awakened by a large dark green creature pinning him to the bed by his chest. His body felt as if was being shocked and he could not move, he tried to look at his girlfriend sleeping next to him but could not. The entity had a fairly large head and a vivid scary large ear to ear grin as leaned over the witness. He believes the eyes were black and it reminded him more like a picture of a demon instead of that of an alien. The witness then jumped up of bed and the entity had disappeared. (The witness and several of his family members have reported other different encounters, mostly with craft and anomalous lights).
Source:  jvillecountryboy@yahoo.com
---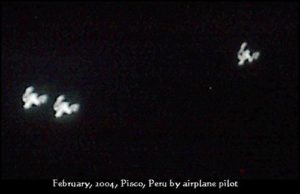 Date:  February  2004
Location:  Pisco, Peru
Time:  
Summary:  
Source:  
---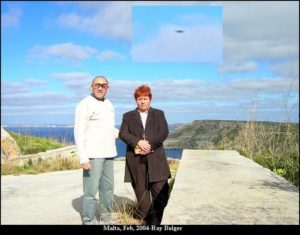 Date:  February 1 2004
Location:  Bahrija, Malta
Time:  
Summary:  
Source:  
---
Date:  February 6 2004
Location:  Lake Downy Park near Orlando, Florida
Time:  2045
Summary:  The witness was cat fishing in a lake just east of downtown Orlando when he had the feeling that something was watching him for about 5 minutes. He kept looking around but saw nothing. It was very dark but there was some moonlight present. He heard footsteps in the marsh on the side of the lake near the dock he was fishing from and then he saw and heard a ripple of water near the shore. Then he saw two stork-like legs and a head watching him. It looked right at him, feeling very scared the witness yelled out. The figure then stood up, like a man the witness size or so and stared him dead in the eyes. He went to run off the dock but when he did so, the figure walked at a slow pace toward the end of the dock apparently in an effort to cut him off. He dialed 911 (apparently on his cell phone) and they told him to stay put that the police were on the way. The creature or figure apparently then disappeared. He is convinced that what he saw was not human and not a native animal.
Source:  Peter Davenport UFO Center
---
Date:  February  2004
Location:  
Time:  
Summary:  
Source:  
Location. Maryland, exact location not given
Date: February 12 2004
Time: afternoon
Virginia and her husband had retired and purchased a home near the Maryland coast; the house was 85 years old and needed some major repairs. Most of the repairs involved an interior facelift. A small room with an old desk and empty file cabinets on the second floor of the two-story home was slated to become a part of a larger room next to it with the removal of a wall. Some old suitcases, empty packing crates and other debris had been left in there as well. With contractor work scheduled to begin within a few days, Virginia, her husband and two friends went to work removing everything from the small room. They moved the desk and file cabinets out first, and then began bundling up the old suitcases and various pieces of debris left in the corners, of the small room. While the four worked, Virginia began to feel a bit sick to her stomach. Her husband and friends complained of similar feelings over the next few moments. Before any of them had time to consider their sudden, unexplained illness, an odd green mist filled one corner of the room. As all present were focused on the green mist, they could see a human form taking shape. It looked like a man dressed in what all agreed later was a sailor's white uniform. It did not appear to be a modern uniform, but one that might have been worn 50 or 60 years ago. None were familiar with naval uniforms, but the group came to this conclusion after viewing photos of US sailors from the 40's. Within seconds, the man became solid and started to move a bit. Virginia's husband had been an electrician for years before he retired and noted t hat he smelled the odor of over-heated circuitry in conjunction with the sailor's appearing. Before anyone could say or do anything, the sailor looked at the group and said, "2005. Watch out for 2005! They're playing with your future!" After that, the sailor faded into the wall and the green mist dissipated in less than ten seconds. All agreed later that they had heard his voice and everyone heard the same thing. They described the sailor's voice as deep and full, but sounding a bit muffled.
Source: Bill Knell, May 1 2004
---
Date:  February  2004
Location:  
Time:  
Summary:  
Source:  
Location. Jordanow, Poland
Date: February 13 2004
Time: 0100A
77-year old Mrs. K J woke up late at night and went to the lavatory and back to her bedroom, as she passed through the kitchen she was surprised to see a strong flame-orange light, which floated in the sky. She quickly realized that it couldn't be the moon. The light had the shape of a hemisphere, the upper part was rounded and its bottom was flat. The light was 2-3 times bigger than the full moon. The witness states that the light hung above the forest over Hajdowka hill, which was 1.5 km from her house. She watched for about 5 minutes and felt dizzy and then she went to bed. During the night she had a disturbing "dream" about a strange meeting with a huge shiny "thing". She awoke feeling very frightened around 0630A.
Source: Robert K Lesniakiewicz, Poland
---
Date:  February  2004
Location:  
Time:  
Summary:  
Source:  
Location. Not given
Date: February 14 2004
Time: night
Zeig Bowers was sleeping in his room when he suddenly woke up. Standing at the foot of his bed were two gray-type figures. One gray held his arm and a voice in his mind told him not to be afraid. The other gray took a "weapon" and cut a small portion of skin off the witness's arm. He then heard noises outside his room and one of the grays then opened the door. Standing at the door was a reptoid type being. It was dark but he was able to describe it. The grays were both around 4 ft tall and the reptilian towered over them at around 6 ft. Somehow he heard the reptilian talking even though his lips never moved, by now the two gray humanoids had disappeared. The reptilian told the witness that he was in no danger unless he attacked him. He allowed the witness to touch him. Bowers compared the reptilian's skin to an alligator's. The reptilian also had snake-like eyes and a very long tail. The reptilian stayed in the room for a few hours and then told the witness that he had to leave. Bowers then saw a purple light outside his bedroom, but before leaving the reptilian bit Bowers arm with his sharp teeth, telling him that it was the only way he would not forget him (!). He then vanished in plain sight.
Source: http://www.alien-ufos/forum
---
Date:  February  2004
Location:  
Time:  
Summary:  
Source:  
Location. Elkader, Iowa
Date: February 15 2004
Time: 2300
The witness was returning to her house after finishing a late night farm chore when something caught her eye as she almost reached her door. To her left she saw a "thing" running very fast about 30 yards away from her, not comprehending what she was seeing, she could only describe the entity as looking like a "stick man." It seemed to turn its head over his left shoulder and look straight at her, and then it took off in a sprint towards her front door. Very upset the witness ran inside and locked all the doors. It took her 2 hours to calm down; she began to sob so hard that she started to hyperventilate. She never told anyone, including her family about what she had seen. She felt that the "thing" wanted her to see it, for some unknown reason.
Source: NUFORC
---
Date:  February  2004
Location:  
Time:  
Summary:  
Source:  
Location. Spokane, Washington
Date: February 16 2004
Time: 0300A
The witness was in bed when he was awoken by a sound at his window. He tried to move but couldn't. A shadowy figure shaped somewhat like a human but all black like a shadow loomed over him and grabbed him. He felt that he could not breathe and then passed out. Later he awoke to the words "he has (unintelligible) send him back". It felt like he had an IV in his arm. His next memory was of being back in his bedroom at 0500A. He has no other memories of the event.
Source: NUFORC
---
Date:  February  2004
Location:  
Time:  
Summary:  
Source:  
Location. Katesbridge, County Down, Northern Ireland
Date: February 19 2004
Time: unknown
A local student reported seeing two female alien figures dressed in brown one-piece outfits apparently carrying out some kind of experiments. The figures seemed to have dressed in brown one-piece suits, they had either glass or plastic tubes in their hands and were bending down and putting items into them, apparently ground or grass samples. The two females were human like and very beautiful in appearance. The witness at first thought that they were neighbors but soon realized he was wrong. Two days later his television signal went out at every house in the village while the electricity was still on and the radio signals were cracking and full of static. (The witness claims previous encounters).
Source: http://ufoorganisation.com/Reports/
---
Date:  February  2004
Location:  
Time:  
Summary:  
Source:  
Location. Near Tucson, Arizona
Date: February 20 2004
Time: late night
Late one night two brothers were sitting outside their mobile home located in the outskirts of Tucson enjoying a few beers (they insist that they were not intoxicated). When they suddenly saw a coyote followed by several others running out of the forest as if being pursued by something or someone. Both men then armed themselves with rifles afraid that coyotes might raid their chicken pens. Hidden from view of the animals the men soon noticed what appeared to be figures walking swiftly among the trees and rocks nearby, apparently the motive for the coyotes to flee out of the woods. Soon the men climbed on top of two large trees in order to view the area more clearly, thinking that the figures were really illegal immigrants that had recently crossed the border. Soon they realized that they were looking at numerous man-shaped shadowy silhouettes that were moving steadily among the trees. To their terror it soon became apparent that the original silhouettes or figures were just the head of what the brothers could only describe as a "wave" of shadowy figures that suddenly emerged from out of the forest. The terrified men watched the quick moving mass of figures march out the forest and into the distance totally ignoring their presence (to their relief). The men did not see the bizarre figures again.
Source: Scott Corrales, "El Fuego Del Dragon" # 71, July 2004
---
Date:  February  2004
Location:  
Time:  
Summary:  
Source:  
Location. Chaco, Saenz Peña, Argentina
Date: February 21 2004
Time: late night
26-year old Liliana Nievas was sitting in her patio with her boyfriend when suddenly several "cascotazos" (a sort of rock or brick abundant in the area) fell on the two apparently coming from an area behind the patio. Liliana went alone to investigate when she came upon a short dark "man", which began to pummel her and attempted to drag her away. She could only describe the entity as short, dark and shadowy, which covered her mouth and began to drag her on the ground. Hearing her screams, several neighbors, family members, and her boyfriend ran to find the woman lying on the ground suffering facial injuries. She kept screaming that "he is trying to drag me away" as the astounded group watched as a mysterious force indeed seemed to pull her away, however they did not see anybody. Finally with the help of her boyfriend and others they managed to hold Liliana down and the force seemed to release her. She was taken to a local hospital suffering from grievous injuries. Others in the area reported being pelted by bricks and another witness reported seeing a shadowy entity stealing fruit from his backyard.
Source: Planeta UFO Groups, quoting "Norte Edicion Digital" Sunday February 22 2004, Chaco, Argentina
---
Date:  February  2004
Location:  
Time:  
Summary:  
Source:  
Location. Hampshire, England
Date: February 21 2004
Time: 2300
Emily Parkinson was lying in bed when a bright white light suddenly was reflected in her mirror. Instantly she sat up terrified and went to the window to see whether it was her husband coming home. She then saw a figure of approximately 6 ft in height standing on her lawn. It seemed to have huge eye on its stomach (?) resembling huge black circles that seemed to pierce the witness head with an incredibly high-pitched sound. She was fixed to the spot with terror, as the strange creature seemed to slowly dissolve from view.
Source: I was abducted.com, UFO Reports
---
Date:  February  2004
Location:  
Time:  
Summary:  
Source:  
Location. Boca de Chila, Nayarit, Mexico
Date: February 26 2004
Time: 0130A
Several local inhabitants reported hearing a very loud booming noise over the area and what appeared to be a metallic object falling into the beach area. For a while they did not approach the supposed crash site because of fear. However others reported that the object was huge and disc-shaped, apparently metallic, without windows or wings. Soon after the "crash" members of the Mexican Territorial Army cordoned off the area and warned local inhabitants not to approach the area. Others have reported seeing similar disc-shaped craft flying at a high altitude over the area.
Source: Ovnis Mexico Forums
---
Date: February 26 2004
Location: Chann Kalan, Pakistan
Time: evening
Summary: Constable Jagdish Parishad who on Thursday was keeping vigil on the international border had seen a flying object like a hot balloon carrying three persons who disembarked after landing in Pakistani territory. Since the constable had never seen a Para-glider, fan glider or even a hot air balloon during his service tenure, it is difficult to ascertain the authenticity of the matter. Just prior to the UFO sighting Pakistani troops backed by helicopter gunships and artillery detained 20 people in raids against suspected Al-Qaeda hideouts in a tribal region bordering Afghanistan.
Source: UFO Roundup Vol. 9 # 9.
---
Date:  February  2004
Location:  
Time:  
Summary:  
Source:  
Related articles