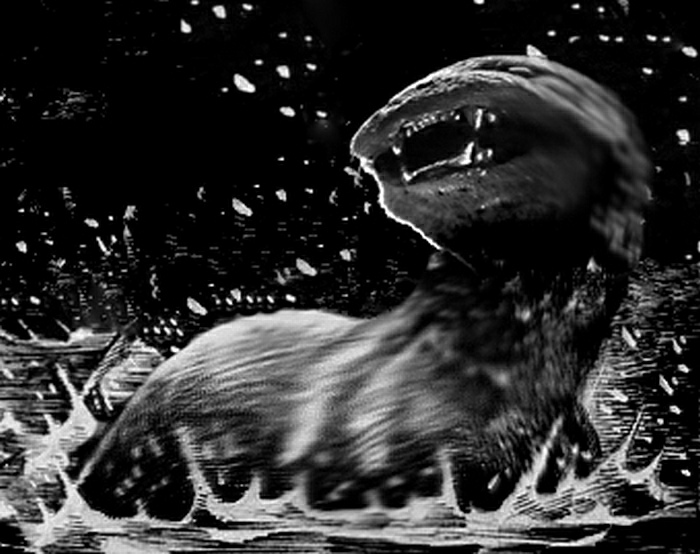 (Last Updated On: June 8, 2016)
Date:  2004
Location:  New York City, New York
Time:  afternoon
Summary:  I was reading these cases about black eyed kids when I realized I had an encounter myself. The year was around 2004 and I lived in NYC at the time. I believe I was walking down near Rockefeller Center. It was around the afternoon and there were crowds of people around in broad day light. I was lost in my thoughts when all of a sudden a very tall black man in what I'm recalling a gray suit said excuse me as I was walking past him, where as he had his back facing me as I was passing him on his left I didn't see is face. As he was angling to face me he asked if I could fill out a questionnaire form and the form immediately was held so I can see it. My eyes looked directly to the form without seeing his face. The form asked for my name, my telephone number, my address and a couple other questions that I didn't bother to take heed to because as soon as I saw the personal info I wasn't interested. And as I turned to say 'no thanks' to him that's when I saw his eyes were completely black, no whites at all. He was polite when he asked me just like all cases with other people's, and I distinctly remember he had clean impeccable shoes. He wasn't completely black he looked lighter skinned mixed and he was probably over 6 feet tall around 28 or younger. When I saw his eyes my instinct was 'oh he must have some sort of disease that made his eyes turn completely black' and for a second I felt sorry for the poor fella who had to do this line of work looking the way he does. He didn't give off any dark vibe probably because I see others around me which made me feel safe, but like most people in NYC he seemed sterile and unemotional. I never told anyone because I thought he had an illness and forgot about it over the years.
Source:  gods-and-monsters.com/black-eye-people.html, Black eye people, by Cat, NYC
---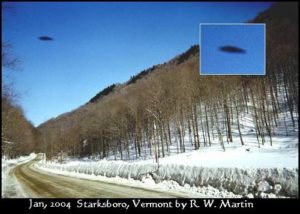 Date:  January  2004
Location:  Starksboro Vermont
Time:  
Summary:  
Source:  
---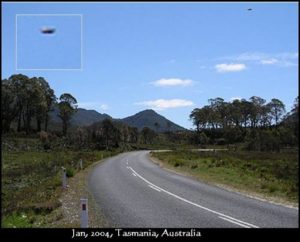 Date:  January  2004
Location:  Tasmania, Australia
Time:  
Summary:  
Source:  
---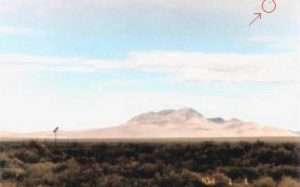 Date:  January 1 2004
Location:  Red Mountain California
Time:  
Summary:  
Source:  
---
Date: January 1 2004
Location: Ivanovo, Russia
Time: 0100A
Summary: The main witness and two friends were celebrating the advent of a new year, but had only drunk a little bit of champagne and were out walking the streets. The men suddenly noticed a large orange sphere that seemed to descend and approach their position. The sphere then hovered above some nearby fir trees. As the men stared at it, the main witness looked around and spotted a strange "person" some meters away, which immediately he realized that it was not normal or human. It had what appeared to be a "snout" and was staring at the witness in a mocking grin. It then turned sideways and the witness was stunned to see that completely flat in appearance, like it had been run over by an asphalt roller. At this time the witness felt a strong invisible wave that struck him and knocked him down against the icy ground. As he got up the sphere and the strange humanoid had disappeared he turned to his friends, who apparently had not seen the humanoid but saw the orange sphere.
Source: X-Libri UFO Russia, quoting "Chronometer" Magazine 1-13-2004.
---
Date: January 1 2004
Location: Rome Italy
Time: 1600
Summary: A public servant on his way back home sighted a strange object resembling a wedge without wings emitting different tones of orange light. The object remained suspended overhead briefly before moving away at high speed. Later that same day as the witness was laying in bed he suddenly felt himself totally immobile, although totally aware of his surroundings. He was able to open his eyes and saw standing before him a humanoid face, green in color with large black eyes staring at him. During the incident he heard a strong "metallic" buzzing sound. When he was suddenly able to move he attempted to strike the figure in front of him but it suddenly vanished in plain sight.
Source: Roberto Malini, Italy
---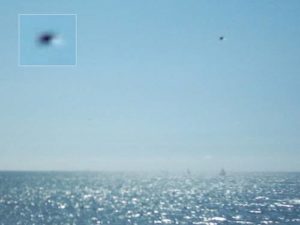 Date:  January 3 2004
Location:  Santa Monica California
Time:  
Summary:  
Source:  
---
Date: January 3 2004
Location: Near Naugatuck, Connecticut
Time: 2230
Summary: The witness was driving on state road 68-west, up a lonely hill when his headlights caught sight of a strange creature running into the woods. The stopped his car and looked at the creature, which resembled a walking tree, two shades of brown, its head had a beak like a bird with many protruding teeth, and a strange crest-like protrusion on top of its head. Terrified the witness drove home. The following week driving on the same hill the witness saw another strange creature, thin in color and glowing green, the head was like a lizard and on its back it carried something resembling a backpack, which had a transparent canister filled with the glowing green liquid, the creature briefly walked towards the witness up an embankment but stopped and disappeared into the woods, as it did the strange creature appeared to turn transparent. Soon after that the witness was driving up the same hill when his windshield went dark, something was on the hood obstructing his sight, whatever it was it was a creature with many white square teeth, he also saw the creature's feet, which appeared sinewy and gray in color. The creature then jumped from the hood and started walking alongside the road, it had extremely long arms, and seemed to drag them on the ground, the creature stopped and began gesticulating with its long arms, at this point the witness noticed a similar creature sitting on the ground staring at the witness, the eyes of the creatures were black the size of a grapefruit, and both had large pointy ears. The witness thought that another creature was coming up behind him and looked back when suddenly the area was illuminated by a strong white light, he drove on for about 50 ft and then looked back, and again saw the bizarre bird-like creature standing on the road looking at him, it was six ft tall, with square patches of red and yellow on it. The witness eventually drove away without looking back.
Source: NUFORC
---
Date:  January  2004
Location:  
Time:  
Summary:  
Source:  
Location. Viluco, Chile
Date: January 5 2004
Time: 0515A
40-year old driver Juan Berrios was on his on an errand on Santa Filomena Street on his way to Las Vertientes terminal when at about 70 meters in front of his car he noticed a strange figure standing on the middle of the road. He rubbed his eyes and then saw nothing and kept on driving, at about 5 meters away the bizarre figure again appeared. Stunned at what he was seeing Berrios almost lost control of his vehicle as he swerved around the figure almost upending the vehicle. The strange creature had what appeared to be the carcass of a bloodied dog clutched in his jaws. The creature suddenly jumped and disappeared into the brush. Berrios described the creature as about 1.50m in height, with large hind legs like a kangaroo, small curved front arms that ended in claw like protrusions, a spiky dorsal fin on its back, and a tail resembling that of a rattler on a snake. The facial features were also bizarre; it had a wolf-like snout, several sharp rows of teeth, and fierce-looking red eyes. It jumped a height of about 5 meters and disappeared from sight.
Source: Juan Maulen, quoting La Cuarta Newspaper January 29 2004
---
Date:  January  2004
Location:  
Time:  
Summary:  
Source:  
Location. London, England
Date: January 8 2004
Time: night
On a very clear night the witness was sitting on his garden when he saw a light streaking overhead, he reportedly filmed it. The next night he was sleeping in his front room when he suddenly woke up to see something, which he described as a short gray figure leaning over him. The witness claims he took a photo of the humanoid. No other information.
Source: NUFORC
---
Date:  January  2004
Location:  
Time:  
Summary:  
Source:  
Location. Amelia, Clermont County Ohio
Date: January 12 2004
Time: 0258A
21-year old student, Susan T and her neighbor Jeff F. were in Susan's driveway when they spotted an object in the sky. Susan stated that the object was hard to describe but it was disc-shaped with a hump on top. Susan said that at one point the object stopped and began to "drop". She thought it was going to hit the ground. However it suddenly stopped and hovered and then it began to drop again. For several minutes this object "stopped and dropped". She finally lost sight of it as it went below roof top level of her house. Susan went on to say that this object must have been "covered in a million lights" and also said there was a rotating light on the top of the hump and white lights on what she described as the belly or bottom of the craft. She claims that the object seemed to turn on its side so that she could see the bottom part. This turning and flipping caused the object to look like it was changing shapes and getting bigger. Susan explained that she felt she was being watched and grew very frightened. Both she and her neighbor sat in the truck and watched this object for over an hour. It was 0415A when it finally slowly went behind her house. Susan then stated that something very strange happened. Right after the object went behind her house what appeared to be a "shadow" dropped on her roof and turned into a ball and rolled down the roof. Her neighbor also saw this "shadow". Being very frightened neither person went behind the house to see where the object went. Susan feels that it landed or almost landed. She reported that the dogs were going wild when the object came down close to the ground.
Source: Donnie Blessing, Southern Ohio MUFON
---
Date:  January  2004
Location:  
Time:  
Summary:  
Source:  
Location. Wise County, Texas
Date: January 12 2004
Time: night
A young girl reported encountering a large black bird-like creature outside a schoolyard in Wise County. No other information.
Source: Ericca Cordier, Dean Stermer, Conspiracy Café
---
Date:  January  2004
Location:  
Time:  
Summary:  
Source:  
Location. Jordanow, Poland
Date: January 13 2004
Time: 0258A
48-year old, L K was lying in bed with his face turned towards the window. Suddenly he woke up with a strange feeling that something odd was happening in the street. He opened his eyes and noticed a ball, which was hanging in the sky. It shone with a white-blue silvery light—like the moon—but it was 2-3 times bigger than the moon. He immediately looked at the clock and noticed the time. He looked around the bedroom and saw his wife and dog sleeping calmly. The witness then felt very dizzy and went to sleep again. That same night he had another strange experience. While in a half-awake state in his bed he heard a strange female voice, which repeated a passage read in an unknown language (the witness is an interpreter and speaks five foreign languages fluently). Feeling afraid he covered his head with a pillow. He immediately checked all the electrical devices in the room but they were all turned off, except for the icebox. His wife and dog again slept calmly. The witness also heard the strange voice the next night.
Source: Robert K Lesniakiewicz, Poland
---
Date:  January  2004
Location:  
Time:  
Summary:  
Source:  
Location. Capilla Del Monte, Cordoba, Argentina
Date: January 14 2004
Time: 2230
A 14-year old boy, Juan Pablo, was standing in his garden when suddenly he spotted a short humanoid, wearing a red jumpsuit, red cap and carrying a staff, walking along the Avenida Las Gemelas towards a place called "Aguas de los Palos". The lighted road allowed Juan Pablo to observe as the short figure briskly walked away and disappeared from sight. The witness became afraid and ran into his home.
Source: Proyecto CATENT, Argentina
---
Date:  January  2004
Location:  
Time:  
Summary:  
Source:  
Location. Buenos Aires, Argentina
Date: January 15 2004
Time: 0420A
On a beach near this city A.G and a companion were taking a walk along the seashore when they suddenly noticed a very tall, totally naked and totally hairless man standing nearby. The bizarre figure suddenly took off in a dead run towards the water however as he neared the shore there was a bright flash of light resembling lighting and the man disappeared. A large hole was found in the sand. No other information.
Source: NUFORC 
Translated by Albert S Rosales
---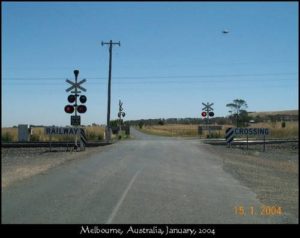 Date:  January 15 2004
Location:  Beveridge, Australia
Time:  
Summary:  
Source:  
---
Date:  January  2004
Location:  
Time:  
Summary:  
Source:  
Location. Valles de la Silla, Monterrey, Nuevo Leon, Mexico
Date: January 16 2004
Time: 0315A
21-year old police officer Leonardo Samaniego Gallegos was patrolling a section of Alamo Street when he observed what appeared to be the figure of a woman totally dressed in a black cloak-like outfit descends from a nearby tree towards his patrol car. She appeared to float towards the car at very high speed. She had large black eyes without any pupils. Terrified he drove away from the area but was chased by the flying apparition. He called for assistance over his police radio. The tree the strange figure descended from was about 6 meters high. The strange flying creature approached the police car and impacted onto the front windshield pushing it inward, apparently trying to get in using what appeared to be large pointy claws at this point Gallegos lost consciousness. In the videotaped interview officer Gallegos describes the eyes and black gown as in the news article but adds the description of a "helmet" or headpiece it was wearing that curved downward to a point at the back of the creature's head. Also, a police officer from Santa Catarina, Jorge Contreras declared that he and two more policemen from the Regia police saw exactly the same flying being that officer Samaniego saw, but three days before. They saw it flying and decided not to say anything—until they heard about Samaniego's case. Norma Alicia Herrera who lives in Colonia La Playa declared in a TV interview that she and her brother also saw the flying humanoid at daytime and that it looked weird. She said that her brother was so stunned by the sighting that he was sick for almost a week afterwards. Another neighbor in that sector also videotaped several days before, a strange flying humanoid and gave the video to the TV station.
Source: John Velez, Abduction Information Center quoting Newspaper sources and Santiago Yturria
---
Date:  January  2004
Location:  
Time:  
Summary:  
Source:  
Location. Iloilo, Philippines
Date: January 16 2004
Time: early afternoon
At the Rizal Elementary School grade 4-faculty advisor Hermie Orieno asked her students to clean the grounds. As the students cleaned around an acacia, some of them saw two dwarves in green and blue clothes near the trunk of a tree. Later, other students also saw dwarves in nearby shrubs. The dwarves talked to the children and said their names were Wendy and Wendell. They asked the children not to hurt them because they didn't mean them harm. In fact, they helped the children clean the place. As other children, like Divine Grace Castillo, 9, Myrna Salaver, 9, Charmaine Clarin, 10, and Sandy approached, they also saw the dwarves. Sandy even gave them a biscuit, which the dwarves ate. The children saw the biscuit become smaller as the dwarves ate. Then along came another student, Kent Grey, 10, who couldn't see the dwarves. He was angry that the others could see them but he could not. In his frustration, he got a stick, asked the girls where the dwarves were. He started hitting the ground with the stick, accidentally hitting one of the dwarves, breaking his leg. When the other children saw what happened to the dwarf, they reported it to Ms. Orieno. She rushed out but could not see the dwarf. Then one of the girls pointed to a leaf that was moving while the others around it remained still and told her teacher that the dwarves were by that leaf. In the meantime, Kent was taken by his parents to a local "albulario" or witch doctor to prevent him from being harmed by the dwarf. According to Ms. Orieno, almost half of her class saw the dwarves. Some students in another section also did. The dwarves were described as wearing pointed hats and colorful clothes of blue, green and red. The children also saw a mother dwarf with a male child. She wore a red dress. According to Sandy who seemed to be the one who saw the creatures most clearly, there were at first only two dwarves. After Kent hit one of them and it fell to the ground, others came out of hiding and surrounded the victim. The head dwarf, who had a long beard and wore black clothes, was very angry. Ms. Orieno although she could not see anything, apologized to the dwarves for what happened and asked them not to retaliate because Kent could not see them. Charmaine, who saw what happened, cried when she saw the other dwarves crying. The dwarves told the girls not to tell others that they saw them. They didn't explain why. Other children, especially the boys said they also saw what appeared to be "angels" coming down from the sky. They described the creatures as beautiful, with wings and very curly hair reaching down to their shoulders. The angels were naked except for a piece of cloth covering their hips down. They said nothing to the children, who estimated their size to be three feet.
Source: Jaime Licauco, Inquirer News Service, Philippines http://www.inq7.net/lif/2004/feb/17/lif 22-1.htm
---
Date:  January  2004
Location:  
Time:  
Summary:  
Source:  
Location. London, Ontario, Canada
Date: January 16 2004
Time: late night
In the middle of the night the witness, Jim, (involved in previous encounters) suddenly found himself wide-awake. A loud buzzing sound filled his ears. He was curled up on his bed in a fetal position facing the closest wall. He felt a force push on the back of his head. It did not hurt but felt extremely uncomfortable. Again he heard the now familiar "clicking" sound in his head. This time it panned from his right ear to the left. He looked at his arm and it was covered in a bluish purplish pulsating energy. He could not move his legs and arms; he could just move his head. Somehow he managed to break free and used all his effort to turn around. Standing before him in the center of the bedroom was some kind of short humanoid creature, with a large mantis/fly looking head. A beam of energy seemed to be shooting from the alien to the witness. Thousands of thoughts entered his head at the same time. Strangely he felt no fear and felt as he had known the strange being all his life, but also felt that he had been somehow manipulated into feeling this. He then heard a slow deep voice, almost overwriting all his other thoughts. It seemed to be communicating telepathically. It said in an abrupt manner, "Now do you understand?" "Yes" the witness found himself answering, but he had no idea why he said that. "Good" It replied. The witness then turned his head back to the wall and shut his eyes. The buzzing sound stopped and he felt extremely tired. He then collapsed and lost consciousness. He described the creature as humanoid, 5 ft 5 inches in height. Its head was huge in relation to its body. Its eyes were extremely large, shiny, and insect-like and were supported by big sockets. His first impression was that it looked like a cross between a praying mantis and a fly. The being appeared to have been surrounded by a bluish purplish field of energy. In the center of its cloak was a golden badge, there was definitely a design or symbol on it, but the witness could not make it out. He looked closer at the head and it had two protrusions between the eyes and a mass of protrusions was in the area where a mouth would normally be. The witness woke up the next day feeling very tired.
Source: Martin Jasek, UFO BC
---
Date:  January  2004
Location:  
Time:  
Summary:  
Source:  
Location. Manchester, Dearborn County, Indiana
Date: January 24 2004
Time: 1930
A 17-year old motorist traveling almost 10 miles north of Aurora Indiana on Saturday night claims to have encountered an unusual figure on the road. While driving his black Chevrolet Cavalier southbound along North Hogan Road a "figure" was spotted in the headlights of the automobile as it was crouched down near a puddle of water. From the driver's perspective the figure was spotted out the windshield on the right of the car. After passing the frail-looking figure, the driver looked into his rear view mirror and again observed—illuminated by the taillights of his car—what he described as a tall, abnormal figure that moved strangely with pointed joints that "buckled out". He estimated the figure stood around 6 feet, seven inches. "It had protruding joints and moved very strangely." The driver said he was able to ascertain the figure, alleged to be dark gray or black and "pencil thin" stand up and take several steps toward the woods along the roadside. The figure definitely walked on two legs and was thought somehow, to be a male, although no clothing was noted. No face or eyes could be seen, but the witness had the impression that the figure was looking straight at him. The figure was immediately thought to be something out of the ordinary, not a human being. The duration of the sighting was "hurried" and possibly within the 3 to 4 second range. The driver continued on for a small distance after passing the figure and finally put on his brakes, coming to a stop at an estimated 2 minute walking distance on the road from the location of the sighting. He looked back to further observe the entity. At that point, a second car came into view and approached from the opposite direction, passed and then reached the spot on the road where the figure was thought to be. The 17-year old motorist reportedly watched closely and observed the second car undertake what he thought to be an evasive maneuver near the vicinity of where he thought the figure would be situated, and then the car turned around at that spot and shortly pulled up behind him, somewhat in the grass. There was an elderly couple in the car, both in their late 60s or early 70s and both with gray hair. The driver, who wore glasses said, "Boy, did you see something back there? I'll tell you right now, that was no person." The passenger, an elderly female said, "It was no human being. It was no man." The elderly couple was reportedly "spooked" but offered to follow the first witness the remainder of the trip down North Hogan Road, clearly in the opposite direction of their intended destination route. It was thought that the elderly couple observed this same figure on the opposite side of the road, and possibly had observed it more closely. Later, the 17-year old witness was said to have become hysterical, and within an hour was describing the figure as an "alien".
Source: Kenny Young, Florence Kentucky, UFO Research, Bob Leibold, Natural Light Productions Cincinnati
---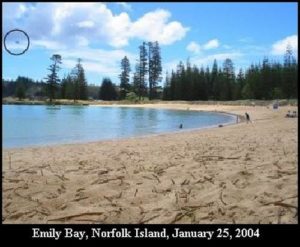 Date:  January 25 2004
Location:  Norfolk Island, Australia
Time:  
Summary:  
Source:  
---
Date:  January 27 2004
Location:  Salisbury East, South Australia
Time:  0230A
Summary:  The witness (involved in other encounters) had gone into his bedroom to get ready for bed and had the immediate feeling that he was not alone in his bedroom. It was a warm night so he slept on top of the bedding. At 0230A he woke up for no apparent reason and all of the sudden a strange feeling overcame him as if time had stopped. (He had felt the same in the previous encounters). There was no sound anywhere and not a bit of movement in the room. As he laid on his bed feeling very relaxed he was grabbed by the left and right arms between the elbows and shoulders and pulled down into his bed. It was as if something was under his bed and its arms were coming through the bed. At this stage he was not worried but his legs started to rise together and he could not stop them. He attempted to break the grip but was grasped even tighter. He began to struggle and to yell obscenities. The witness then yelled "go to the light" "go beneath the earth" until he was set free. He now felt calm. Then all of the sudden he was grabbed in the same way and he felt an electric current travel through his body, his legs began to rise up again. He then saw lots of movement in his room and saw a hand similar to a "frog's foot" or a gecko lizard foot, apparently reptilian in nature. His legs went right over and he seemed to have passed out. He woke up at 0700A feeling ill and with terrible back pain. He felt drained and could not eat breakfast. His eyes were red and later he found bruises on his stomach and chest. On all the encounters the witness feels like his bedroom has somehow been "detached" from the house and taken somewhere else.
Source:  Paranormal Australia, investigations
---
Date:  January  2004
Location:  
Time:  
Summary:  
Source:  
Location. Leona Vicario, Yucatan, Mexico
Date: January 28 2004
Time: midnight
Maria Luisa Fernandez Morales a residents living in the outskirts of the city reported that an unknown creature killed at least 50 of her hens, which she kept in her backyard. The witness, who sold chickens for a living heard a loud ruckus coming from the pen and ran out only to confront a very strange creature similar to a "tiger" but bipedal in nature and emitting loud grunting sounds. According to the witness the mysterious creature jumped over a wire fence and ran from the area leaving a trail of blood behind. It only took several minutes for the creature to kill the chickens. Also residents from the town of Texan Palomeque have reported seeing what they describe as a "wolf-woman", which has also killed and decapitated hundreds of chickens in area.
Source: Martin Morita, Grupo Reforma, Mexico
Date:  January  2004
Location:  
Time:  
Summary:  
Source:  
Location. Texan Palomeque, Yucatan, Mexico
Date: January 29 2004
Time: night
Numerous locals have seen a bizarre creature dubbed the "wolfwoman" and it is said to be responsible for the slaying of hundreds of farm birds. Some who has seen it describe it as about 5 ft tall, walking on two legs, hairy and with glowing red eyes. About 100 people armed with rifles and flashlights searched the area for the alleged humanoid. Benito Canul a 45-year old worker living outside the city of Uman said he managed to fire at the strange being outside his house on the way to the cemetery, he is unsure if he hit it. "The creature was dog shaped but with glowing red eyes" Benito said.
Source: Scott Corrales, Gloria Coluchi
---
Date:  January  2004
Location:  
Time:  
Summary:  
Source:  
Location. Chicxulub, Yucatan, Mexico
Date: January 29 2004
Time: late night
Local residents have reported seeing a creature described as resembling a huge creature with horse-like legs, and covered in gray colored hair. It is said that from the waist up the creature resembles a woman and emits a loud chirping sound like that of a bat. Numerous mutilated dog carcasses have been found in the area, also that of chickens and cats. 16-year old Patricia Figueroa Ponce was watching television one night when she heard loud "chirping" noises coming from the backyard, she ran to the kitchen after hearing her farm animals shriek in an agitated manner, and her dogs acted afraid and nervous. She looked out the window and saw a bizarre creature resembling a huge dog, but with half of its body human in appearance. Terrified she yelled for her mother but when both ran outside the strange creature had disappeared. Some of the local residents claim that the creature is actually a witch from the nearby city of Conkal who had been practicing black magic and had somehow transformed itself.
Source: Alberto Arias Colli, "Diario de Yucatan-Merida" Mexico February 1 2004
---
Date:  January  2004
Location:  
Time:  
Summary:  
Source:  
Location. Mexico City, Mexico
Date: January 31 2004
Time: 1850
On the eastern section of the city Mexican photographer Salvador Guerrero videotaped a strange dark flying humanoid shaped that flew at an estimated 3,000 meters altitude over the area, moving from west to east. It flew at a speed considerable lower than an airplane. He could clearly see that the humanoid was moving its arms and was wearing a very dark outfit. He was in the company of Enrique Yonka when he took the video. Compare with the encounter of the Mexican police officer that was attacked by a flying humanoid earlier on the month.
Source: Prof. Ana Luisa Cid Fernandez, "El Durmiente de Orizaba"
---
Date:  January 31 2004
Location:  Near Joao Pessoa, Paraiba, Brazil
Time:  night
Summary:  23-year old Alan Flavio was visiting the farm of his girlfriend's cousin and late one evening he and the cousin were rounding up some stray cattle in the outer areas of the farm. Soon they had stopped to rest when Flavio noticed that the horses were a little restless he looked around and saw movement in the nearby brush. He caught a quick glimpse of a figure, he described as "graphite" in color with long thin but strong legs. It quickly scurried behind some trees and disappeared from sight. Later that night sometime after midnight as he slept in the farmhouse he suddenly woke up feeling a strong hand pushing on his chest. He was paralyzed and could not move or speak. He then noticed a dark figure, human in shape standing over him. It seemed to emit a strong influence over the witness, which totally controlled him. The whole time his girlfriend and cousin slept in the next room and were not in any way disturbed. Soon the dark human-shaped figure vanished and he was able to move again.
Source:  UFO Genesis, Brazil
---
Date:  late January  2004
Location:  Near Romeral, Chile
Time:  0600A
Summary:  Roberto Ayar Rojas, Maribel Arnaiz Cazaux and their daughter, Daphane were driving on an isolated road surrounded by woods when suddenly a bizarre creature appeared on the road ahead on them. The creature stood on two feet; it was totally covered with hair, and had bright red eyes. The creature stood bent forward on two large hind legs similar to a kangaroo. It had two small "hands" which it moved very rapidly. Once the creature spotted the witness car it seemed afraid, it suddenly jumped at incredible speed into the woods. The husband and wife pair had meanwhile stopped the car and after recovering from the shock it drove quickly away from the area. They later reported that what scared them the most was the two large protruding fangs from the creature's upper mandible. The witnesses felt that the creature bounded away in an "unnatural" manner. Thankfully their daughter slept during the encounter. In the nearby town of Buin another motorist struck a similar creature apparently without hurting it and hairs possibly belonging to creature were found on the scene.
Source:  Liliana Nuñez, Hector Cossio L
---
Date:  January  2004
Location:  
Time:  
Summary:  
Source:  
Related articles