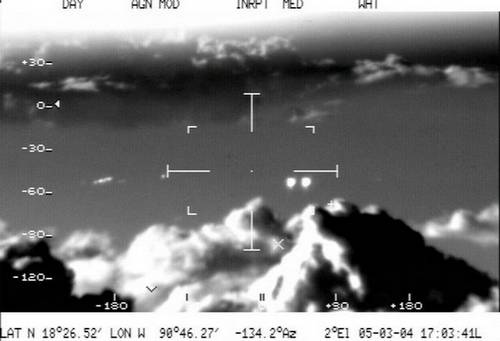 (Last Updated On: February 14, 2016)
Date: early March 2004
Location: Araraquara, Brazil
Time: late night
Summary: On a very cold night, the witness, Marina was in her room reading a book when she heard loud scratching noises on her window. Startled she looked at the window and saw a bizarre entity with a very large head and strange red eyes. The entity stared at Marina and mumbled some words, which Marina thought it meant for her to come and open the window because he wanted to talk to her. In a trance-like state she opened the window and the entity then spoke the following words, "Humans less and less value their planet, and each day that goes by they destroy the planet a little more, humans do not realize that they are destroying themselves also." Moments later the entity vanished
Source: www.sobrenatural.org
---
Date: March 2004
Location: Monte Maiz, Cordoba, Argentina
Time: various
Summary: A silhouette of a man, who walks on rooftops, drags heavy chains and makes strange noises turned into a disquieting "phantom" that has made residents of Monte Maiz restless. Opinions on the "phantom" are diametrically opposed, since some claim having see "a figure standing over 2 meters tall, dressed in black and with spectacular agility" while others say its all imagination. The local residents call it "the phantom". Those who have seen it say that it is a young person, very tall and slim, with red eye. It dresses in white, sometimes black and others gray. Always wear a hat and covers its face with a mask or hood. The sounds on the rooftops begin after 2100 hours, as do the calls to the police. Residents claim that it walks on the roof, shuffles and runs, drags chains, scratches at windows and bangs at doors. It doesn't speak or yell—it has only been heard to laugh in the dark or whistle, some claimed having heard it imitate the howling of a dog. Locals say that it runs swiftly and jumps over barbed wire fencing and walls without touching them, according to concerned neighbors. Some eyewitness accounts follow:
Ivana Molina had gone out to her yard and saw a man dancing, whistling and slapping his hands. The neighbors heard similar noises. The next day, she went out and the same man tried to grab her. She ran into the house and phoned the police. It then banged on her bathroom window and wrote "mueres" (you'll die) with its finger. Oscar Gonzalez reported standing in the yard when he saw a shadow walking along. He could see its red eyes. He then went out with another fellow to find it and the "phantom" jumped the neighbor's yard. It was dressed in white. The following day it whistled at the men again. They went out to chase it and it vanished. Veronica Bertrando reported that her husband saw it as it crossed the patio; he said it was dressed in gray with a hood over its head. When it went by the dog barked, her husband then went outside and it took off running. He searched for it but could not find it. Local police offered the following additional details on the stranger (or strangers?), 1.8 to 1.9 meters tall, dresses in black, a white face (possibly a mask) wears a black hat, its movements are generally silent and possesses extreme agility, it jumps over fences, walls and climbs up trees with ease. It normally appears between 2130 to 0300 hours.
Source: Scott Corrales, Institute Of Hispanic Ufology, Christian
Quintero, Planeta UFO.
---
Date: March 2004
Location: Ryan, Oklahoma
Time: 0200A
Summary: A 20-year old man named Chance and a friend were camping on the Red River, which borders Oklahoma and Texas when he awoke to a humming sound and saw 2 small "men" standing about 5 or 10 yards from the campfire. They appeared to be saying something to one another in a faint voice, not understandable to the witness. His friend woke up after he shook him, he looked at them and then they walked near the fire and stared at both witnesses. He wanted to run but he seemed to be paralyzed, he also found out that he could not speak either. He then seemed to black out and wake up the next morning with no other recollection of what had occurred, as did his friend. He could only describe the short humanoids as being small, gray, with large eyes with dark retinas, small flat noses and hair lipped mouths.
Source: UFO Evidence, http://www.etcontact.net/newsite
---
Date:
Location:
Time:
Summary:
Source: .
Location. Oregon, exact location not given
Date: March 2004
Time: afternoon
The witness was alone in her room sitting and holding her baby when suddenly she closed her eyes and immediately an alien face came into her vision. She didn't even see the whole body, but it seemed she knew what it looked like. The alien seemed very familiar for some reason. The witness received an acute impression that the (female alien) was smiling, even though her face didn't look like a smile. What struck her was the color of her skin and the warmth radiating off her. She had vanilla colored skin, not white, not brown, but more of a blend between it leaning on the corn colored side, like maize. Her eyes were the most striking feature about the female alien. She could see lips, but very small lips in a straight line. Her nose was small, if noticeable at all. She could see a pinkish glow coming from the alien. The witness smiled back at her inside. They remained like that for a moment, while the baby slept. The witness could feel joy in the center of her chest, it was actually very enjoyable. It lasted perhaps 50 seconds and then someone came into the room and she was interrupted. (The witness has been involved in other experiences).
Source: direct from witness, laptopv@msn.com
---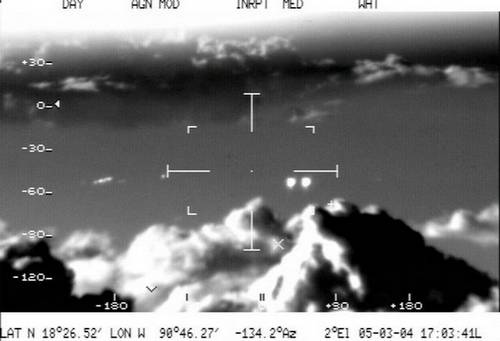 Date: March 2004
Location: Campeche state, Mexico.
Time:
Summary:
Source:
---
Date:
Location:
Time:
Summary:
Source:
Location. Washakie County, Wyoming
Date: March 2004
Time: 1830
John Lind reported that a large brown colored creature had been chasing his cows. Lind described the creature as having very shiny hair and a huge head; it also had 2 very small horns right above the eyes. The creature probably weighed about 600 pounds and was at least 8 feet tall. There were a lot of trees and the ground was very muddy but Lind apparently did not find any footprints.
Source: http://www.n2.net/prey/bigfoot
---
Date:
Location:
Time:
Summary:
Source:
Location. Johannesburg, South Africa
Date: March 2 2004
Time: 1900
A sort of "inner voice" told the witness to get his camera and go outside. He waited for about 5 minutes then a bright white light shone on his eyes and then he saw three disc-shaped craft surrounding a large cigar-shaped object maneuvering overhead. The discs kept circling around the cigar. He took three photographs then he was again illuminated by a bright white light and suddenly found himself on his bed the next morning. He suffered from nosebleeds after the incident and had strange lucid "dreams" of seeing a little "black man" who enters his bedroom and tells him that they are taking him. He remembers running and then being shot in the arm by a laser-like light. He woke up the next morning shivering and with his arm sore.
Source: NUFORC
---
Date:
Location:
Time:
Summary:
Source:
Location. Near Carthage, Missouri
Date: March 7 2004
Time: afternoon
The two witnesses had gone riding ATV's (all terrain vehicles) in a place called "The Underground" which is a public and private storage facility near the town. The facility is miles and miles of carved out caves and also stores thousands of dehydrated food containers for the Navy. It is also a fallout shelter and can hold up to 40,000 to 50,000 people. They had gone about 8 miles deep into to the caves when they turned into an area that was marked, "Naval Authoritative Zone." The walls became more defined as in polished or finished, and this was striking because this was supposed to be a newly blasted area. Both witnesses just kept on going, increasing their speed since the floor was paved now. They then came upon an unusual painted pattern on the floor, which they thought it was graffiti. The road then dipped down and took a 90-degree turn to the left. They were going to fast and knew they were going to hit it but they didn't. They passed through some kind of holographic projection of the cave wall. Now they had come upon a whole new road system, this one large and much older than the one they had come from. They began to notice an odor, that was musty and damp that grew stronger as they went deeper into the area. The lighting had changed as well. It was now 60% darker than the other area from which they had come. They turned on their headlights and slowed down also noticing that it was getting cooler. They made a right turn and started to come up on what they thought was a rest area about 40 ft away. One of the witnesses then saw something that at first he thought were a pair of fountains until they moved. They both stopped immediately. About 30 ft away they saw two creatures, one was very tall (at least 7 ft, maybe more) and very powerfully built, it was reddish in color. The other was smaller (about 6 ft tall) and was a pale, almost albino color. This one was not as powerfully built as the other. They resembled large reptiles. They said nothing the witnesses did get a strong malevolent feeling, an evil presence of some kind from the taller one. One of the men screamed and they turned around and started back. One of the men looked back and saw that the taller entity was following them. He received an overwhelming feeling that if it caught them, harm would come to them, they passed through the wall projection again, and looked back and saw the tall entity raise its arm and it had a weapon of some sort, it fired and hit one of the ATV's, which apparently killed the engine causing it to stop. The rider ran to the other ATV and jumped on it. They drove away and looked back to see that the tall reptilian had now stopped at the graffiti area on the cave floor. It was obvious that the creature would not cross the strange marked area. It seemed to have been some type of barrier for the creature. The witnesses now slowed down and were now about 75 ft away from the creature. The two men and the reptilian stared at each other for about 15 seconds, and then they left. The creature remained standing without moving. One of the witnesses called the police on his cell phone but he was told that the security at the facility would handle the matter. Indeed security waited for the men and threatened to arrest them if they did not leave.
Source: http://forums.about.com
---
Date:
Location:
Time:
Summary:
Source:
Location. Wolverhampton, West Midlands, England
Date: March 8 2004
Time: 2130
Steven Nicklin and a friend were walking across Northicote Farm near an old Tudor farmhouse when both men saw a humanoid grayish figure with a human-type head standing on a tree, which formed part of the many trees that bordered the farm, these were tall pine trees, and the figure stood on the top branches. They estimated the size of the figure as being about 2.1 meters in height. It had two legs and two arms connected to membrane-type wings. Its clawed hands seemed connected to the wings, somehow resembling a pterosaur. It moved its head and looked directly at the witnesses, since the moon was full and there was a streetlight not farm away. It turned its head from the witnesses and then took one giant leap and glided to the next tree. The tree bent under the creature's weight as it took the impact. It then turned its head to look at them once more. Its gaze felt that "it could look into their very being (soul)". Both men felt quite scared and both fled the area quickly. The men said that it was a creature they had never seen before nor wanted to see again.
Source: UFO Roundup March 16 2004
---
Date:
Location:
Time:
Summary:
Source:
Location. Near Carlsbad California
Date: March 9 2004
Time: 0320A
The witness was on his paper route and was driving at about 25-30 mph when he saw a real bright light in the sky about the size of the moon. He pulled up to the side to catch a better glimpse of the object. About 1 minute passed when all of the sudden it disappeared. Then after 10 seconds of dead silence a round bright object landed right in front of the witness. It was circular and glowed very brightly. It was probably about 25 ft in height and about 100 ft in diameter. Stunned the witness heard a voice as if someone was talking to him gently in his ear. He looked around and did not see anybody. All of the sudden the craft didn't glow anymore and on the side of the craft it said, "Future". The voice then said, "nobody else can see this but you, we are from the future, you are a representative now of the future for this mass (sic), please lead or there will be dire consequences." The voice talked very slowly and clearly in perfect English. He still couldn't see anybody but after the voice stopped talking he shouted, "Who the hell are you"! And then everything disappeared. After about 10 minutes of reflecting on what had occurred, the witness drove home.
Source: NUFORC
---
Date:
Location:
Time:
Summary:
Source:
Location. Jordanow, Poland
Date: March 11 2004
Time: 2330
44-year old Miss Wiktoria Lesniakiewicz was in her bedroom when she suddenly noticed her cat, which had died several days ago. She followed the animal. The cat walked out of the bedroom through the closed door, but feeling very tired Wiktoria went to sleep. That same night she had a strange "dream" about her cat. She woke up feeling the cat's hot body on her legs. At the same time she sensed and heard strange voices and music. Three separate voices were discussing something, speaking in a strange language. The music resembled classical music, very similar to the Mozart symphonies, but it was definitely not a Mozart composition. Afraid, Wiktoria turned the lamp on. The voices and the music then slowly faded away. She was unable to sleep the rest of the night.
Source: Robert Lesniakiewicz, Poland
---
Date:
Location:
Time:
Summary:
Source:
Location. Sault Sainte Marie, Ontario, Canada
Date: March 12 2004
Time: 0400A
The witness, M N, was driving eastward on Wellington Street on the southeastern end of Lake Superior and as he came to the central part of the city (known to locals of the Lake Superior region as Soo, Canada). He noticed a straight beam of light hovering in the early morning sky, from the top of the hill that was on his northern side. His vehicle came to a complete stop at a cross street and he looked all the way down to the end of the street (about 7 blocks away) because the street ended at the base of the hill and has a metal stairwell leading to McDonald Avenue. Although being 7 blocks away his eyes were able to focus on a little dark figure that was standing very still. This caught his curiosity as he slowly drove towards it, and then started moving from side to side using fluid movements as if it was hovering in mid-air. It moved as if it was confused or afraid and didn't know what to do. As he got closer, the figure's appearance seemed to have metamorphosed into a transparent, shadow like entity that very swiftly flew up the stairs. To his astonishment, the beam of light that he had seen in the sky a few minutes before and a couple of miles away was now at the top of the hill, only about 100 ft away. With his heart racing, he drove as fast as he could eastward along the base of the hill until he came to the nearest hilled street and drove up McDonald Avenue to see what was happening. In a matter of seconds, traveling from the bottom to the top of the hill, he arrived at the top of the steps only to find three circle-shaped burn markings on the pavement of the street. Approximately 10 seconds later he heard a very weird kind of gunshot sound, looked up to the sky and saw a bright light shooting up into the stars. As he watched the spectacle a surreal kind of peaceful feeling came upon him and he felt as if every hair on his body was standing on end. The feeling only lasted for what felt like 30 seconds, but when he looked at his watch it was a good 40 minutes later.
Source: UFO Roundup Vol. 9 # 13
---
Date:
Location:
Time:
Summary:
Source:
Location. London, Ontario, Canada
Date: March 13 2004
Time: night
The witness (involved in previous encounters) woke up Saturday night to see a cloaked being standing in the center of his bedroom. It had the same shape as the short fly-head/mantis being (but he could not be certain). He heard a "popping" sound and the being quickly disappeared.
Source: Martin Jasek, UFO BC
---
Date:
Location:
Time:
Summary:
Source:
Location. London, Ontario, Canada
Date: March 14 2004
Time: late night
On Sunday night the witness (involved in previous encounters) woke up to see two tall praying mantis type beings standing in the middle of his bedroom. They looked as if they were engaged in a conversation, making high-pitched (almost digital) clicking sounds at each other. The witness was too tired to be afraid so he just concentrated on making a mental description, cross checking it with the ones he'd seen before. Both were extremely thin and tall, well over seven feet high. One was slightly taller than the other. Their necks were long, flexible and tube-like and didn't look strong enough to support their triangular heads. The neck and the head moved in a way that reminded the witness of the old-stop motion monster films or like a lizard. Both were wearing long black robes that again looked like liquid oil. On the side of the face he could clearly see a small round hole just below their eyes. He felt completely drained and couldn't move. He then slipped back into unconsciousness.
Source: Martin Jasek, UFO BC
---
Date:
Location:
Time:
Summary:
Source:
Location. San Juan de San Ramon, Ajuela Province, Costa Rica
Date: March 18 2004
Time: late night
Late at night Gonzalo Rodriguez heard strange noises and a ruckus coming from the henhouse on his property—a commotion that was far from being normal. He decided to send his son to check with a flashlight to make sure thieves weren't at work. The youth obeyed his father and flashlight in hand approached the large henhouse stealthily, becoming terrified upon seeing a strange black animal, standing some 40cm, tall and resembling a small dog with a long tail and standing on two legs. He recalls, among what little he was able to see through the flashlight's beam, that the animal had a very long tongue. Upon seeing the light, the creature fled into the vegetation, skillfully leaping over a wall. An inspection of the henhouse revealed that 20 hens had been slain. Police authorities of the nearby town of San Ramon were notified and Officer Marcos Hernandez reported to the scene to corroborate not only Gonzalo Rodriguez's account, but also the testimony of frightened neighbors. The birds were whole and the only sign of damage to them were the two small orifices on their backs, through which it is presumed that the strange assailant drove its fangs to remove or suck the blood. Several days before several dead sheep had been found with the same characteristics; twin puncture marks on their necks or back and not a single drop of blood.
Source: Scott Corrales, INEXPLICATA. The Journal of Hispanic Ufology, Gloria Coluchi
---
Date:
Location:
Time:
Summary:
Source:
Location. Hamilton, New Zealand
Date: March 23 2004
Time: 0200A
Jason McIntosh and two friends were had stopped at the end of a road to watch a light in the sky when one of the girls pointed out some orange lights moving in a field. To their left in a fenced yard they saw an image of two people in white "dancing". About 20 minutes later the car was filled with green glowing lights moving around at high speed. They could feel massive charges of static electricity and one of the girls got out and wanted to see the aliens. She came back to the car saying that she had seen strange little men. At the same time the others felt sensations of a craft flying slowly overhead and felt downdrafts of air. Then they saw a bright white light above the house in the field and occasionally smaller lights shooting into it from the sky. They could also see a group of figures in white standing in front of a house. One of the girls and Jason walked up the path to investigate and they stood 15 ft from them and Jason waved at one and it waved back. Suddenly they had an overwhelming sense of danger and went back to the car. Soon they could see gray colored creatures, 4 ft tall leaning in the passenger window. They then drove to the end of a driveway then drove back to the front. They could see that from where the strangers in white were standing what appeared to be large black charges of electricity were being pushed up towards the white light in the sky. Then a big black fog came in and left. The creatures were gone but the little green lights stayed in the car for 2 or 3 hours afterwards.
Source: I was abducted.com, UFO Reports
---
Date:
Location:
Time:
Summary:
Source:
Related articles