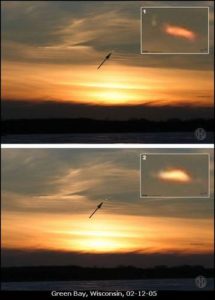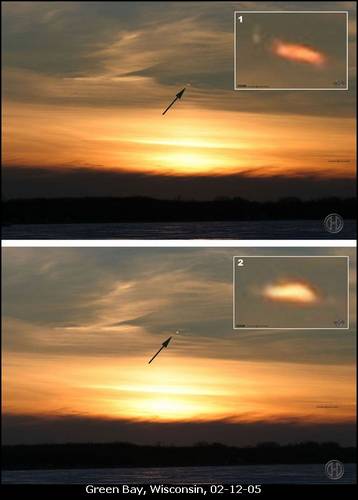 (Last Updated On: August 17, 2016)
Date: December 2 2005
Location:  Green Bay Wisconsin
Time:  
Summary:  
Source:  
---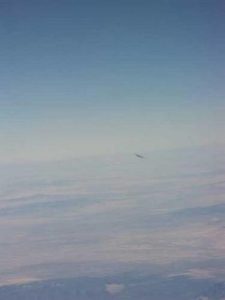 Date: December 7 2005
Location:  Over California from aircraft
Time:  
Summary:  
Source:  
---
Date: December 8 2005
Location: Chehalis, Washington
Time: 05:30
Summary: Clear early morning (0530), noticed a bright light in a direction southwest of my location that appeared to be a star or planet. Observed object for 20 minutes after noticing it was randomly moving up to 5 degrees on the horizon at a high rate of speed. Object omitted green and orange lights at a distance of several miles. Went inside and informed 2nd witness who saw exactly what I saw. After observing it for 40 minutes, went in and got the video camera. When I came outside again the object was no longer there. Did not reappear last night. Freaked us out.
Source:NUFORC
---
Date: December  2005
Location:  
Time:  
Summary:  
Source:  
---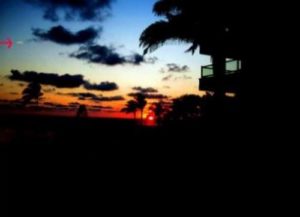 Date: December 13 2005
Location:  Acapulco, Mexico
Time:  
Summary:  
Source:  
---
Date: December 15 2005
Location: San Juan Puerto Rico
Time: 1900-2000
Summary: Mr. Palacios was in front of a local Walgreen's store at the "Los Pascos" shopping center. He was standing outside with his son while the rest of his family shopped inside. Suddenly his son noticed who he thought was a well known local "Ufologist" Andrew Alvarez accompanied by a woman coming out of the Drugstore and walked towards the area of the food court, he immediately told his father since both had recently attended a conference given by Mr. Alvarez. Palacios looked and confirmed it was indeed Alvarez. Moments later Palacios stepped out into the parking lot in order to smoke a cigarette. Having finished he went back to Walgreen in order to look for his wife, coming out of the store he again noticed the supposed "Alvarez" now wearing a pair of dark sunglasses and alone standing outside. He walked towards Alvarez and as he stood in front of Alvarez this one takes off his sunglasses and stares at him intently. Stunned, Palacios suddenly found himself unable to move, when he realized that Alvarez's eyes were totally out of the ordinary, they were all black with double lids somehow resembling those of certain reptiles and sharks. Alvarez (or whoever the imposter was) continues to stare at Palacios intently and without saying a word he put on his sunglasses again, turned his head backwards like canines are able to do and walked towards the parking lot. Immediately, and now able to move, Palacios followed him, but to his surprise Alvarez had now completely vanished from sight. Despite the fact that Alvarez's "double" had not spoken a word, Palacios was convinced that the meaning had been obvious and direct, the imposter had conveyed to Palacios the fact that "he was not the person that he seemed to be". Why he was chosen to see this apparent "shape shifting" demonstration, Palacios does not know, but thinks it was for the purpose to know that there were other "types" of sentient life that were capable of doing that. Palacios and his family have experienced other apparently unrelated paranormal events.
Source: Lucy Guzman, Orlando Pla www.ovni.net Puerto Rico
Additional information: On January 14 2006 the real Andrew Alvarez was himself at the "Los Pascos" shopping center waiting for the start of his radio program. He then decided to go into one of the stores to buy his girlfriend a gift. The surprised cashier told Alvarez that she had seen him the previous week at the shopping center and he had been acting strangely, his eyes were red and he was unfriendly. (He is usually very outgoing). Andrew pointed out that he had not been at the shopping center recently. The next day Alvarez learned about the Palacios incident from investigator Guzman.
---
Date: December 17 2005
Location:  Norwalk, California
Time:  around noon
Summary:  The witness had gone to the front porch with his sister-in-law to smoke a cigarette and talk and while he was looking at her talk, an object came into view behind her, up in the sky. It couldn't have been too far because he could see its feet dangling in the air. The sky was clear and this black object stood out. It had no lights as both witnesses waited for it to come down, so that as it came closer they could clearly tell what it was. It resembled the figure of a man in a parachute, it followed a horizontal path and then it went upward until it just became a dot in the sky and disappeared into the clouds. It had clearly looked like a person on some type of parachute. It was clearly not a balloon, it followed a horizontal path at first and then it went horizontally for a while. The "legs" were pedaling as if were trying to balance itself.
Source:  http://www.etcontact.net/newsite
---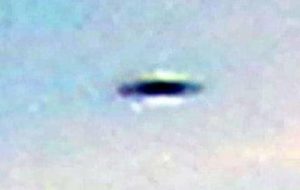 Date: December 18 2005
Location:  Unknown Location
Time:  
Summary:  
Source:  
---
Date: December 19 2005
Location:  Burlington, Ontario, Canada
Time:  0300A
Summary:  The witness woke up to some noises early in the morning and went to the guest room where he had heard the noises and there he saw three bronze-colored creatures with very large torsos and heads and small limbs. They seemed unaffected by the witness presence and then suddenly one latched onto his leg and he felt a tingling sensation throughout his body. He apparently passed out and woke up again exactly at 0311A. He found a strange mark on his chest resembling a rectangle divided into three sections; he couldn't walk for a couple of hours and later discovered triangular marks on his back. He showed them to his roommate who seemed very upset and left.
Source:  NUFORC
---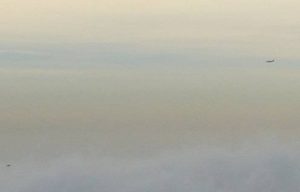 Date: December 23 2005
Location:  California
Time:  
Summary:  
Source:  
---
Date: December 29 2005
Location:  Barrio Antartida, Parana, Entre Rios, Argentina
Time:  2000-0200A
Summary:  Numerous local residents in an area near the local dump, including dozens of children have reported seeing what they termed as "small white gnomes" who climbed a makeshift Christmas tree and threw stones at the startled children who also threw stones back. Their stones were quickly fired back by the gnomes at very high speed and with great accuracy. It apparently all started when several residents attempted to dismantled the Christmas tree; this apparently angered the "gnomes" who began hurling stones at those present. A large crowd gathered including police who shone a floodlight at the tree and was reflected back at them like a mirror. Several of the police officers fired their weapons at the tree and in turn were showered with rocks, strangely the rocks only struck the police officers and none of the others gathered around. Several of the children who were interviewed by a local news channel described the "gnomes" as tiny and man-like, wearing all white, with small hands, who stuck their tongues out at the children. Some of the witnesses believe that there were about 7 gnomes; a girl claimed she saw one of the gnomes jumped from a roof into the tree. Some of the children suffered minor cuts and abrasions when they were also hit with stones. (Apparently this has been going on for several days, maybe into 2006).
Source:  chrisq@infovia.com.ar quoting Diario Parana @ http://www.diarioparana.com.ar January 3 2006
---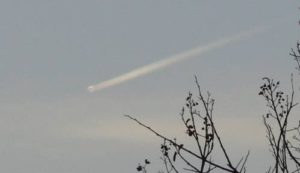 Date: December 31 2005
Location:  Kaufman Texas
Time:  
Summary:  
Source:  
---
Date: December  2005
Location:  
Time:  
Summary:  
Source:  
Related articles