(Last Updated On: August 17, 2016)
Date: summer 2005
Location: Poltava region, Ukraine
Time: daytime
Summary: A young woman named Irina B, was living in a countryside cottage and was visiting a secluded beach on the banks of the great River Dnepr. She frequented the area often and knew it well. Her favorite area was an isolated small inlet covered with sandy beaches and bushes, the area had numerous gaping holes or crevices all around, some of them quite large, and possibly artificially made by locals. On this day she was lying by the beach sunning herself, and dozing off when she suddenly awoke with the feeling that someone staring at her. She opened her eyes and was terrified to see a huge bipedal lizard-like being about 2meters in height and covered with greenish scales standing very close to her. Terrified she wasn't able to scream and waited for the worse to happen. But suddenly she heard a voice inside her head, "Don't be afraid, my rations do not include albumen (protein) I am not going to eat you". The witness was not sure if the mysterious voice spoke in Russian but she distinctly understood everything that was said; the voice seemed to have correctly anticipated her apprehension. "How is this possible?" was her only short thought, and the voice calmly answered her immediately, "Nothing unusual, simple telepathy". She sat on her towel looking at the huge lizard like being standing over her. The voice inside her head then again reacted to her thoughts and said, "You are afraid of my appearance. That can be corrected". Then in a blink of an eye she saw the most beautiful young man she had ever seen in her life. "How did you do that?" she asked in amazement, now feeling more curious than afraid, in a moment she received the answer, "Easily. You see what you want to see. I simply compel you to see what you want". So now both began communicating by using telepathically. The lizard being told an amazing story, apparently he was a 'criminal' in his planet and other species in his planet had wanted to punish him (execute him?) but he had succeeded in escaping and had been wondering all over the Galaxy for a long time, hiding from "bounty hunters" that were chasing him. For some time now one of these holes at the beach had become his shelter. But he was now tiring of hiding and wanted to be found and "executed". Apparently he had been observing her every time she had come to beach for a while now. She reminded him of his home planet where the creatures also liked the sun and the water. He just wanted to chat with her since he had been an outcast in his planet for so long. At the end of the conversation the "lizard man" told Irina that he would erase her memory, or her brain would not sustain such huge volumes of new information and would "explode". He promised that it wouldn't be painful, suddenly everything around her was encased in a bluish light, and horrified she watched the body of the lizard being dissolved into nothingness. And next she lost consciousness. She was briefly reported missing and a search was organized to find her, her parents and neighbors found her the next day on the beach. She was found lying on the sand bleeding from her nose and one ear. The doctors at the hospital were puzzled thinking that she might have had a brain hemorrhage. She was considered to be alive only by a miracle. The witness insists that she did not invent the story even though she is aware that it sounds like the ravings of a lunatic.
Source:  Letter from the witness in: "Interesnaya Gazeta" (Interesting Newspaper) D block, Kiev Ukraine # 4, March 2006
---
Date: summer 2005
Location: Near Novolokti, Ishim area, Tyumen region, West Siberia, Russia
Time: between 1600 & 1800
Summary: While driving a very reliable "Zil" truck in this remote area on his way to the village of Novolokti on a dense pine forest road, covered with low hills and mires the engine suddenly stopped. Surprised the elderly driver exited the truck and looked under the bonnet. He was even more surprised to find that the engine was perfectly fine apparently the engine had stopped for some unknown reason. At the same a crow (bird) had by now approached the man and began harassing him, at times pecking at his legs. By now very upset and disturbed the witness cursed loudly and looked up at the sky and was stunned to see a large cone-shaped object which was emitting a buzzing sound descending towards the ground very close to where the witness and his truck were located. The object hovered low over a hill for about a minute and a half, then several landing props jutted out and the UFO then slowly landed. The object's hull was covered with numerous blinking red and white flashing lights. Not knowing how a ladder appeared on the craft and descended towards the ground then a door became visible. The witness felt mesmerized and could not stop staring at the bizarre spectacle. Soon after a small humanoid entity appeared at the door, no more than 1.20m in height, with huge black eyes, without ears, the entity's skin was gray in color, its clothing was snow white in color and very tight-fitting on his body. Then a second entity of the same type appeared, looking exactly like the first one, the witness thought they looked like "twins". The second alien was holding a silver-like stick in his hands, resembling a narrow silver-colored tube. The witness watched still mesmerized as the aliens performed some kind of incomprehensible activity around the craft, both pulling clumps of grass from the soil and spreading it about on the ground. This activity lasted for about an hour, the whole time the alien held the silver colored stick positioned downward. The witness is absolutely sure that both aliens saw him, while he stood amidst the dense bushes, only at about 30 meters from the craft. After finishing their bizarre task both creatures then walked back up the ladder and the door closed. The object then rose up and then emitted a piercing whistling sound and vanished into the sky. The crow now appeared again but it was now behaving normally, totally ignoring the witness. The engine of the 'Zil" quickly started without any problems and soon the witness continued on his way to the village.
Source: Letter by witness grandson in: "NLO" Magazine, Saint Petersburg Russia # 44, October 31 2005
---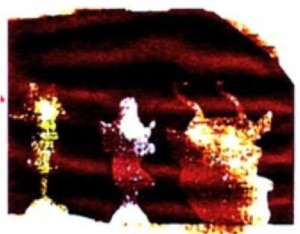 Date: Summer 2005
Location: Texas
Time:
Summary: On October 2, 2009, this website posted three web pages headlined "UFO Photographed By World's Leading Imaging Scientist Reveals Extraterrestrials", signed Ronald Nussbeck. The article claimed that Ron S. Stewart, inventor and imaging scientist, traveled east in Texas on Highway 59 towards Wharton in the late summer of 2005, as usual with a Fujica model ST-605 35 mm-camera using SLR type film and a Hanimex 200 mm telephoto lens, as photography is his passion. The Sun was just setting, there was a storm looming overhead, when he noticed a bright flashing red and white light in the midst of a large dark black cloud just over head. He pulled his car to the side of the road, climbed out with his camera, because he knew it was "not a jet or a plane" since "it" stood perfectly still in the sky. He saw a smaller UFO emerging beneath the UFO and speeding off to a clearing in the sky just a short distance away from "the Mother ship" and stopped. He then snapped the remaining pictures left in his camera in rapid succession as the small UFO stood wobbled for more than 15 seconds before speeding off into the clouds. The website says Ron S. Stewart has for some time now been the most sought after scientist by Fortune 500 companies, "one company has twice requested Technical Presentations on his Imaging process for possible Partnership/Alliance" as well as by the International UFO community, and that his "work will be displayed at the 19th Annual International UFO Congress Convention and Film Festival, Saturday February 27, 2010 at 8:30 am to 11:45 am at the Aquarius Resort in Laughlin, Nevada." The website shows images they said to be "produced by APEP, (Advanced Photographic Extraction Process)" and to be "shocking to say the least", "but very telling."
Source: Ronald Nussbeck
---
Date:  Summer 2005
Location:  
Time:  
Summary:  
Source:  
Location. Omsk region, West Siberia, Russia
Date: summer 2005
Time: evening
Reportedly a 12-year old boy was playing with some friends near the children's "Ecocenter" (Ecological center) in or near the large Siberian city of Omsk was abducted by a UFO. At first he encountered several humanoid figures standing next to a landed craft on a field. Unfortunately there is no description on the humanoids available. According to the story later told by the boy the humanoids compelled him to open his mouth and placed some sort of paste in his mouth, like toothpaste, explaining that this would help him "sustain the overloads during the space flight". After doing that the humanoids "deactivated him" probably paralyzing his will to resist as well as his body and then they placed him on some type of stretcher and carried him onboard the craft. During the whole time the boy was kept inside the ship, at first in some type of circular or oval room and then moved probably to an alien outpost in space. After being brought there the aliens conducted numerous experiments and biomedical tests on the boy's body, subjecting him to various procedures. After the tests and the series of extensive experiments were over, the boy was returned to the same place from where he had been abducted. Unfortunately not much more information could be obtained on this case since the aliens had apparently effectively blocked most of the boy's memory, and the few amounts of data was obtained using regressive hypnosis.
Source: "Mir Zazerkalya" newspaper Moscow (Worlds beyond the Mirror) # 23 November 2005
---
Date:  Summer 2005
Location:  
Time:  
Summary:  
Source:  
Location. Near Kingston, Ontario, Canada
Date: summer 2005
Time: late night
The witness, 23-year old Mike, was reportedly having trouble getting to sleep one night and was on the threshold of falling asleep, but was scatter-brained and almost compulsively thinking. Suddenly he heard two quick, quite consecutive "thumps" as if a person hopping of a 6" step, placing their dominant foot first. About as fast as he heard the second thump his eyes were open. Normally when he wakes up he is a little "pissy" and that's exactly how he felt, except that he realized that he was staring at an orange L.E.D. style light about the size of the end of a finger. But because he had just opened his eyes he couldn't see past the light (bright, although kid of dim it didn't hurt his eyes), he quickly felt into a state of confusion. But in the split second after opening his eyes he felt that he had startled whatever was in his room (the light had been 6' from the side of his bed, the light was 2 and a half to three feet off the ground). Whatever it was it made a buzz like a bee but without a "B" and a multi tonal sound. Right after the sound is when he realized that he could not move, except for his eyes (barely). Within the count of five 5 thousands he was forced to sleep, and immediately woke up the next morning, and he recalled everything as it had happened a second ago.
Source: whalef_hucker@yahoo.ca
---
Date:  Summer 2005
Location:  
Time:  
Summary:  
Source:  
Location. Indianapolis, Indiana
Date: summer 2005
Time: 2200
Two sisters were walking back home on Kessler Boulevard eating some ice cream and talking about something when they suddenly glanced to their left on 19th street and were horrified to see a bizarre hairy 8foot tall creature that resembled a dog walking on two feet. It was walking on its hind legs towards the stunned pair. The creature was only 20ft away and had red glowing eyes, and very hairy. A very bizarre detail which they noticed was that it legs appeared to be backwards or turned back. They briefly looked at each other and when they looked back it had disappeared. It had nowhere to go and they couldn't figure out where it had gone.
Source: direct from prada4945@aol.com
---
Date:  June 2005
Location:  
Time:  
Summary:  
Source:  
Location. Dorado, Puerto Rico
Date: early June 2005
Time: midnight
Marta Santos (pseudonym) took two photographs in her home, one in the kitchen and the second one in the patio. The kitchen photo shows two luminous orbs hovering near the ceiling and a flash of light, the patio photograph has a blurred image of a short humanoid with large pointy ears. The body is not seen completely. The main witness and her 9-year old niece had been hearing strange noises, voices and doors slamming in the house. The drawers on her bedroom set had also been moved by an unknown force. The main witness is apparently endowed with "paranormal powers".
Source: Lucy Guzman Ovni.net http://www.ovni.net
---
Date:  June 2005
Location:  
Time:  
Summary:  
Source:  
Location. Fyedorovka, Maryanovskiy area, Kharkov region, Ukraine
Date: June 2005
Time: morning
Residents of the local village reported to UFO investigators that UFOs had often visited the environs of their village for the last 50 years. They consider that this location was somehow attracted to UFOs that have frequently landed there. According to local UFO investigators, alien spacecrafts had made at least 30 landings in the area. After each landing locals had discovered circles of burned soil, later, incredibly the grass now seems to grow with more strength within the burned circles. During the last several years 8 cows and 2 horses have disappeared without a trace in the area. The most disturbing incident to date was on June 2005 when two 18-year olds, Stepan S, and Oksana D, from the city of Kiev who had arrived for holidays with their relatives didn't return home one day. They had gone for a morning walk to a nearby field but they never came back. Amazingly their rucksacks filled with water and foods were found intact. Three days of intensive search brought no result.
Source: German Nikolenko in: "Interesnaya Gazeta" (Interesting Newspaper) D-block Kiev Ukraine # 225, 2005
---
Date:  June 2005
Location:  
Time:  
Summary:  
Source:  
Location. Near San Diego, California
Date: June 2005
Time: evening
The witness (involved in other experiences) heard some noises in her garage and upon investigating encountered two small "light beings" composed of bright multi-colored patterns of colors. She established telepathic contact with the intruders and among several subjects discussed they mentioned "planetary grids", they also mentioned that "Atlantis was coming back" and incredibly (I am not joking, this is what she told me) they told her that they somehow knew about my work and wanted me to continue on my research. (!)
Source: Confidential source request (phone interview)
---
Date:  June 2005
Location:  
Time:  
Summary:  
Source:  
Location. Near Tulsa, Oklahoma
Date: June 2005 Time: afternoon
The witness was heading south on Highway 169 and was in a suburb just north of Tulsa when suddenly a strange creature darted across the road directly in front of his pickup. The witness was able to obtain a clear look at the creature and could only describe it as resembling a small dinosaur, perhaps a velociraptor (of Jurassic Park fame). It ran upright on two large hind legs, with the smaller front legs carried close to the torso rather like a human sprinter would do. Its head was tilted back and the mouth slightly opened exposing a set of fearsome fangs while the eyes had a wild, fixed expression and were so wide open as to be slightly bug-eyed in appearance. It was shockingly fast and appeared and disappeared in a moment. (The witness hopes to see the creature again!).
Source: Your True Tales – January 2006
---
Date:  June 2005
Location:  
Time:  
Summary:  
Source:  
Location. Near Big Springs, Texas
Date: June 2005
Time: afternoon
The 13-year old witness was out hunting with his grandfather and had briefly separated from his grandfather following a flock of quail. He strode up a mountain, carrying his shotgun and a bag of shells. He scratched his leg with a rock and tended the wound for a few minutes; he then heard ducks nearby and knew there had to be a pond to wash his cut. After arriving at the pond he began to splash water on his leg when he suddenly heard a splashing sound. He looked up and saw a man leaning over, drinking from the pond. It only took him a few seconds to realize that this was no ordinary man. This man had scales and a lizard's head. The witness was petrified—he couldn't move a muscle. He stood there watching the strange creature drink, when all of the sudden he saw it jerk its head up. It eyed the witness for what seemed like hours, it then jumped in the water and began swimming toward the witness. The witness managed to shoot three shells at it and then ran from the area as fast a he could. After telling his grandfather he was not believed.
Source: Your True Tales—June 2006
---
Date:  June 2005
Location:  Near Oolitic, Indiana
Time:  2045-2100
Summary:  The witness a man named Jonathon twice encountered a self-luminescent humanoid shape on the side of the roadway on Highway 37S. In both instances he described the entity as having a slender torso area and a "big round head." The entity glowed with a brilliant white light, obscuring any detailed features. Because of the brightness of the entity, Jonathon was unable to get a good look at the lower portion of its body on either occasion. The first encounter occurred near Highway 50W exit. The entity was standing on the west shoulder about ten feet from the pavement. In the second encounter, just south of Tapp Road, the entity was standing in the median of the four-lane highway. In both instances Jonathon looked into his rear view mirror to see the entity still standing there, still glowing. That fact would seem to eliminate the possibility of reflected light from his headlights and on his return through the area, the entity was gone.
Source:  Lynn Taylor AAARC in Filer's Files
---
Date: June 2 2005: Rural Alabama Ex-coal mine Sighting
---
Date:  June 2 2005
Location:  Duisburg, Belgium
Time:  0305A
Summary:  The witness recalls hearing strange noises outside and the cows mooing violently, then remembers blacking out at 0305A and waking up drenched with sweat, and blood on his shoes, cuts across his back and black marks across his penis. Later he was able to remember that he had been in his room and hearing his dog barking and Beverly (his mate's mom) trying to get out of her room but it was locked. Soon a tall figure in a black type hooded cloth ducked under his door and came into his room. His dog Meg tried attacking it but instead it was pushed aside. He could see that the figure was extremely tall, with large black eyes, and long dangling arms with spiked hairy fingers. Somehow, resembling a tall skinny gorilla with a slumped walk. Instead of being afraid the witness came at it with his fists, and a struggle ensued. In the end somehow he was taken through the window and carried defenselessly across the farm and over the barbed wire. He passed out, and next woke up on a rotating wall-like object where he was strapped, they were putting something under his toenails and stabbed something into his penis. They also had some sort of "wire gun" that they shot behind his left ear where he now has a sort of lump, which he is going to see the doctor about. He looked to the side and saw his mate in the same position. He was still sleeping but they were taking bits of hair off him and he had some kind of object resembling an eggshell covering one ear. His ear bled the next morning. No other memories were described.
Source:  http://www.alien-ufos.com/forum
---
Date:  June 2005
Location:  
Time:  
Summary:  
Source:  
Location. Mercer County, Pennsylvania
Date: June 4 2005
Time: 0900A
This event occurred in a very rural area of western Mercer County, in western Pennsylvania. The main witness, a 14-year old boy was visiting his friend on a farm and the two boys were taking an early morning walk through a field some distance behind the farm house. The weather was clear, sunny and hot. They had stopped momentarily to discuss their direction when the main witness noticed something stand up from the tall grass less than 25 ft from them. It was a humanoid-looking figure, 5foot 5inches tall. A dull white in color, no obvious clothing, a large head, no noticeable eyes, nose or mouth, described as gaunt and gangly looking. The main witness yelled at the second witness to look, and at that moment the humanoid began running on 2 legs toward some nearby woods. Its speed was unusually fast for a 2 legged creature. The woods were about 40 ft away, and when it reached them, it crouched down to go under a strand of barbed wire and lifted its hands to part the brush under the wire. The boys could see it attempting to hide behind some heavier brush and in doing so caused the brush to shake violently. They waited about 10 minutes, being very curious but also very afraid. They cautiously crept up to where the being had hidden, but found nothing. They searched around for a while but then began to feel very "creepy" so they went back to the house and obtained a .22 rifle and went for a further search of the woods. While searching the area they found peculiar footprints in the area where they had seen the being. The footprints were very difficult to describe according to the witness and the source. The night following the event the main witness had a very long, strange and vivid dream about the death of a close friend of his, which disturbed him. The following day in the late afternoon on the same farm, the second witness older brother and his girlfriend were alone in the farmhouse. Both area bout 18 years of age and had been arguing when the girl walked out of the house into the backyard to calm down. She was a good distance from the house when a young deer (perhaps a fawn) walked out of the field towards her. It came so close to her that she could almost touch it. She watched the deer for about 10minutes and then went back inside the house. The argument started up again so the girl walked out of the house again and saw the young deer lying in the yard. It was badly clawed or cut, bloody and obviously dead. Terrified she ran back into the house, got her boyfriend and went back out very quickly only to find the deer was now gone. The grass in the lawn and the field was flattened as if a large animal had attacked the deer and dragged it away. There were footprints on the lawn, and the original 14year old witness seems to think they were similar to the footprints he had found at the time of his humanoid encounter.
Source: Jason Van Hoose Artbake777@aol.com
---
HOAX
Date: June 5 2005
Location: SW PHOENIX, AZ:  
Well known video of several nite-lites in circular formation.   Brian Bessent made a complete if semi-coherent video- hoax confession on his ufotheatre.com website, now taken down. 
---
Date:  June 2005
Location:  
Time:  
Summary:  
Source:  
Location. Istebna, Poland
Date: June 8-10 2005
Time: evening
The witness claimed he was walking with his girlfriend through a forest path when they noticed a strange light within the woods. After walking for about 2 meters the man decided to go back and investigate the light source. He then saw a strange entity that looked like a man holding what appeared to be a luminous stick or baton on one hand. The figure was shaped like a man. The man and his girlfriend then left the area.
Source: woe_vp@pl.com
---
Date:  June 2005
Location:  
Time:  
Summary:  
Source:  
Location. Near Bundaberg, Queensland, Australia
Date: June 10 2005
Time: 1000A
22-year old Catherine R. was driving on a country road on the outskirts of Bundaberg when she saw a strange figure "standing in a meadow beside the road." While driving on a one and a half hour drive on a country road through mostly bush-land she saw through her window a large dark figure about 7 or 8 ft tall. It had the appearance of a man but was far more muscular with wide shoulders and a torso like a "god". It was like nothing she had ever seen before. It was dark and scaly looking. Its color was ash, its head insect-like. She felt very scared during the encounter. "It was just staring at me. I was extremely uncomfortable. I was shocked and 'floored' it. It stood still. I drove at 100km per hour when I saw it. I sped away from it at 120km per hour. I had never seen anything so strange."
Source: UFO Roundup Vol. 10 # 26
---
Date:  June 2005
Location:  
Time:  
Summary:  
Source:  
Location. Los Angeles, California
Date: June 11 2005
Time: 1500
38-year old Jaime O was driving on 103rd street from west to east when suddenly on his left side; he saw a kind of flying man, robot or something similar. His first thought that it was a remote control toy. He didn't stop because he couldn't. The silvery figure was flying above the trees; the witness did not see anybody around that would have been operating some type of control remote device. Its head, arm-like protrusions and legs were different from that of humans. It was flying standing up in a vertical position.
Source: http://www.etcontact.net/newsite
---
Date:  June 11 2005
Location:  El Yunque Forest Reserve, Puerto Rico
Time:  2200
Summary:  Prof. Reinaldo Rios was on a visit to the local rain forest, a place highly identified as one of one with many UFO sightings and other anomalous encounters. During the trip one of the assistants of a UFO group that visited the area on Saturday took a photo that was apparently taken randomly. The photo reveals an unknown entity, which could be an extraterrestrial being, or another strange creature. When the witness took the photo it was very dark and nothing was originally but after viewing the digital film, it impressed all those that were present.
Source:  Prof. Reinaldo Rios, Puerto Rico
---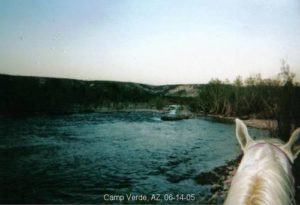 Date:  June 14 2005
Location:  Camp Verde Arizona
Time:  
Summary:  
Source:  
---
Date:  June 14 2005
Location:  Cagayan de Oro, Misamis Oriental, Philippines
Time:  2120
Summary:  The main witness June Mark M. Sepe and some friends decided to camp out near the woods at a small clearing next to Lake Nice Francisco. After dinner they sat around the campfire planning their next day activities. Soon they were surprised to see a car-headlight-like light glowing behind some trees. Upon investigating the source of the light they came upon a landed cone-cylindrical shaped craft, with no visible doors or windows. It stood about 8-10ft high and was resting on top of what appeared to be tripods, no sound from the craft was heard only the rustling of the grass and leaves which was made by 3-human like beings wearing metallic silver jumpsuits and black "bonnet-like helmets", they appeared to be making some type of repairs on the craft. The witnesses hid in the bushes and observed the scene for about 15-20 minutes when a voice from within the craft called out, they could not understand the language, but the quality of the voice was soft, metallic-like and was heard to only say a certain phrase. After a while the three beings went back into the craft entering under the bottom of the craft, they appeared to quickly float upwards (just like being sucked by a vacuum cleaner). There was a high-pitched swooshing and humming noise then the craft lifted upwards and bolted out of the forest, at the same time the witnesses felt a gust of cool wind. One of the witnesses attempted to photograph the object with a cellphone but the picture was totally blurry and nothing could be seen on it. The names of the other witnesses were, Rodel Rulona, William Gomez, John Rabuyo, Jude Igar, and Rolly de Gracia.
Source:  http://www.ufoevidence.org/sightings
---
Date:  June 2005
Location:  
Time:  
Summary:  
Source:  
Location. Cordoba, Argentina
Date: mid June 2005
Time: night
Cristian Howard Godoy an operator for a factory located on Route 13 claims he encountered a bizarre apparition. It occurred some 7 meters from the factory bathroom. It wore black clothing and a hood. The face was aged and white as chalk, and it had something quite huge inside its gown. He took a quick look and left the area immediately.
Source: Joseph Trainor, UFO Roundup quoting Scott Corrales and Christian Quintero Planeta UFO Group
---
Date:  June 2005
Location:  
Time:  
Summary:  
Source:  
Location. Unidad Habitacional Lomas de Platero, Mexico City, Mexico
Date: June 17 2005
Time: 0700A
Horacio Roquet left his apartment ready to go to work when something strange attracted his attention. The morning was clear and Horacio noticed a dark suspicious object just above the front building's roof—not moving but static and looking like if it was floating. Horacio's first reaction was to go inside his home and grab his video-camera, so he ran inside shouting to his sister to come outside with him to see this bizarre thing over the building. Both of them went outside and the "thing" was still there, floating just a few feet above the front building's roof and Horacio's sister reacted by saying, "What is that?" Horacio immediately began taping the "thing" with his video camera. When Horacio applied the camera's zoom and got a closer look through the viewfinder he received a major surprise which left a profound impression on him. According to Roquet, "It looked like a human-shaped body, 'standing vertical and just floating over the roof. I was shocked. The figure was not facing me…I was looking straight at its right side. It was tall. No sound was heard and we both stood still, watching, while I continued recording." Then the dark body started moving to the right slowly, and rose several feet in the sky and then hovered again, completely still. Horacio kept recording all the time, even though he was very nervous and was attempting to control himself. After several minutes the dark figure moved again to the left, disappearing behind the building's roof. The sighting lasted about ten minutes. The video clearly shows that the figure was wearing a dark loose fitting outfit and had a red light around its waist.
Source: Santiago Yturria, Mexico
---
Date:  June 2005
Location:  
Time:  
Summary:  
Source:  
Location. Indiana (location unspecified)
Date: June 19 2005
Time: midnight
The witness was asleep in his bed when he woke up suddenly, he saw that the door was opened a little bit and knew right away that something wasn't right since he always slept with the door shut. He was the only one home at the time. He lay there frozen, afraid to get up and see what was going on and then he looked over to his left and there were two beings standing at the side of his bed. Stunned, he stared, not believing what he was seeing. The beings were sort of whitish in color and had a sort of glow around them. He then looked over to the door and there was and there was one there also apparently standing guard or something. Then the one closest to the witness reached out and touched his ribs on the left side. All the while the other two were just sort of standing around watching. The one touching his ribs looked at him straight in the eyes and told him not to be afraid, that they did not want to harm him. He was so scared that he couldn't even yell or talk. It was like he was in some sort of a coma where he was aware of everything around him but couldn't speak or move. This lasted for about 2 or 3 minutes and the next thing he knew he woke up on the other side of his room on the floor, naked. The side of his torso (ribs) where he had been touched felt very cold and his door was now closed. He looked at his clock and it was 0400A. He couldn't swallow because his mouth and throat were very dry and he was curled up in a little ball. He further described the beings as having large black eyes and really large heads with no ears. He was also able to notice that they had really long fingers.
Source: NUFORC
---
Date:  June 2005
Location:  
Time:  
Summary:  
Source:  
Location. Rimersburg, Pennsylvania
Date: June 21 2005
Time: 2313
Four youths watched a round red object with pulsing red and yellow lights hovering over the area. The yellow only showed after it moved but it was red most of the other time. And then it hovered over the area for at least one hour. Two of the witnesses that had seen the object also saw a white light similar to a "ghost-like" apparition descend from the object into the woods right below the object. The witnesses were amazed and scared at the same time.
Source: UFOs Northwest
---
Date:  June 22 2005
Location:  Seberang Jaya, Malaysia
Time:  1930
Summary:  Mohamad Amirudin, 34, stepped out of his house with his 3-year old son after hearing a commotion from the children playing outside. He glance skywards and saw a large bird-like creature flying over the area. According to the witness it looked like an ordinary bird, flapping its wings but was much larger. However, he was unable to give an estimate of its height. The bird was black in color but there was red light on its front portion. The adult folks said that it was a mythological bird but the children said that it was a ghost. After looking at the strange bird for a few minutes, the witness went indoors since it was already sunset. Several minutes later he glanced out the window and saw the children still looking at the bird
Source:   Ahmad Jamaluddin aj404my@yahoo.com
---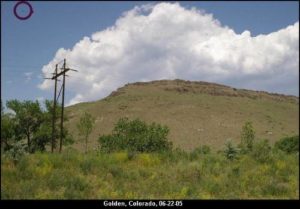 Date:  June 22 2005
Location:  Golden Colorado
Time:  
Summary:  
Source:  
---
Date:  June 22 2005
Location: Bishkek Kyrgyzstan
Time: 22:40
Summary: It was in mountain Tyan-Shan. There was a circle in the sky like jet airplane that moving very fast by curve trajectory but-and-ben during 1 min. That object cannot be an terrestrial-born, couse the Earth pilot might have killed by accelerative forces.
Source: National UFO Reporting Center
---
Date:  June 2005
Location:  
Time:  
Summary:  
Source:  
Location. El Yunque, Puerto Rico
Date: June 24 2005
Time: 1124A
Ruben Parrilla and three family members were visiting the rain forest on that day and around 1124A took several photos of the scenery. Later upon downloading the photos in their computer they noticed that in the area of La Coca Waterfall there is an image of a landed metallic blue pyramidal-disc shaped object on the ground, around 10ft in diameter. Next to the object they could see two entities standing. The two figures appear to be "self luminous", with humanoid features, a nose, large mouth and teeth, no ears are visible and it appeared to be winged and according to the witnesses the humanoid appears to possess mammary glands and it is obviously a hermaphrodite (!). The humanoids seem to be able to blend in with the surrounding vegetation. The witness promised to submit the photo to the source but as of December 2005 he hasn't done so. Apparently there has been new coverage of the event.
Source: Lucy Guzman Ovni.Net http://www.ovni.net
---
Date:  June 2005
Location:  
Time:  
Summary:  
Source:  
Location. Pitcairn, Pennsylvania
Date: June 26 2005
Time: 0100A
The witness was coming home from work when he saw a light in the sky right above him. It was bright green and red, it shone a light on him and he seemed to black out. He does not remember much as to what happened next but woke up 2 hours later. No other information.
Source: UFOs Northwest
---
Date:  June 2005
Location:  
Time:  
Summary:  
Source:  
Location. Denver, Colorado
Date: late June 2005
Time: night
The witness (involved in other encounters) felt that something was around him and holding him back. He remembers being really angry. He remembered thinking that he wanted to go on a crusade to be the "Night slayer" and get rid of whatever it was. For 2 or 3 weeks throughout the day, he had visions of seeing some type of sophisticated beings dressed in an interesting jeweled suit. He called a friend and asked her if she knew anything about them (she didn't). He wanted to draw or pain them because he was fascinated; unfortunately "he is not an artist". He had never seen them before and he also felt connected to them in some way. Again there was no direct communication, just impressions that he received about them. The main individual was a commander or general. This individual had a jeweled skullcap that fit tightly around the "hairline". The witness could not tell by the material if it was a hard or soft helmet or what it was covering. The outfit was layered somewhat like the ancient Chinese emperors use to wear, however, the material was metallic like and also crystal jeweled. Their outfits are a type of spacesuit. A weapon was visible in its "sword case" similar to the "life saver" sword in Star Wars. This group was of a benevolent nature, but if pushed to defend themselves, they would strike with quick precision. They are identified with a pink/gold aura or a light blue or green/purple aura. The witness does not think that this group had a planet anymore and could have been lost through a battle of some sort. They travel by a spaceship throughout different galaxies.
Source:
---
Date:  late June 2005
Location:  Palmer Lake, Colorado
Time:  night
Summary:  Javier Ramirez and a friend had been skywatching for the past several nights and soon Javier began to feel as if "he was being watched from the sky". One night after leaving his friend's house he noticed up in the sky a star-like object high up and moving in his direction, what was peculiar was that this "star" seemed directed toward him as if he was being watched by it. He ran into his yard and hid behind the house, but when he looked up again it was again. The witness reported attaining a connection with it, which seemed like telepathy, he tried to tune it out but couldn't. The "star" apparently communicated with him. He heard a voice in his head say, "You must not destroy yourselves, for we need your kinetic energy or we will suffer."
Source:  Your True Tales May 2006
---
Date:  June 2005
Location:  
Time:  
Summary:  
Source:  
Related articles