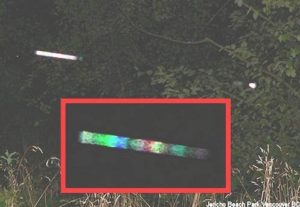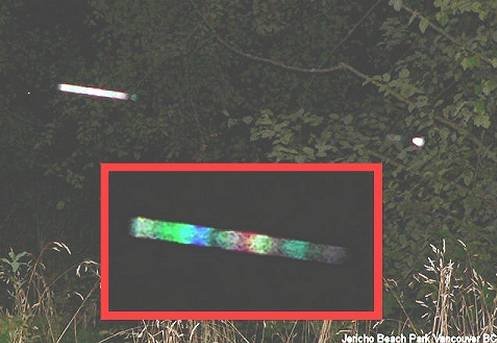 (Last Updated On: August 17, 2016)
Date:  September 2005
Location:  Lexington Park, Maryland
Time:  late night
Summary:  The 37-year old witness was sleeping when she suddenly found herself standing on a street corner—no cars were around. It was late at night and there was another girl standing near her, to her left side. She did not know her. She felt as if she was waiting for something but did not know what exactly. The intersection reminded her of one in North Dakota where she had lived a few years ago…because the surroundings were flat unlike her current residence where there are lots of trees and hills. She looked to the sky and saw a dark object resembling a dark sphere without lights. She soon realized that it had been far away because it suddenly grew in size as if approaching. She had to tilt her head back to see the object completely. It was black underneath; she never saw the top of it. She remembers noticing light around her but does not recall seeing actual light bulbs or lights on the underside. She couldn't tell the exact shape because the thing high over her head and it was dark. Her next memory was being in a small room. The lights were dimmed and it all seemed to in muted tones. She then realized that the other girl was not with her anymore and she then asked this female creature where the other girl went. The female alien let her know without speaking, obviously using mental communication. She described the female alien as very thin, and not much shorter than her, maybe about 5'2" in height. She appeared to have been wearing a blond wig with a style of that of the 60's. The humanoid attempted to calm the witness letting her know that she was not dreaming. The witness got the feeling that the humanoid was very pleased and was almost laughing, but her expression never changed. The alien then asked the witness if she "was now ready for the tour". She followed "her" out of the room into a hallway. She remembers that the hall was a silver gray maybe a metallic color. It was much brighter in the hallway, again she saw no lights but there was light all around her. They walked for a little bit and she has a vague memory of seeing some sort of elevator in the center of this large open room when they walked around a corner. It just opened up and it was huge and beautiful resembling the center of a mall, she thinks that there were plants around. She continued to follow the alien female and then entered a room which was also enormous. It had hundreds of chairs in it. They appeared similar to those chairs that have the metal on the outside in the shape of an "S" and then the seats were plastic. The seats were located in the center of this very large room. There appeared to be glass windows or shiny metals to her sides. The alien then communicated with her telling her that she hoped that she was pleased. The witness got the impression that she was being rewarded and she felt that the alien was going to let her see her "grandparents"…which were dead. She had noticed when she first entered the room that there had been photos with peoples faces on them sitting on the chairs. There were hundreds of them, of all races and varying ages. Towards the rear of the back rows they stopped and then the alien motioned with her hand for the witness to go into the row of chairs. The witness felt that the alien was "proud" of her. The witness was feeling happy but at the same time confused when the alien told her to stop. She stopped and looked at the photos on the chairs. The alien seemed to sense her confusion and the witness felt her mood change. That scared and concerned her. The alien asked her if she knew those people but they were Indian…not Native American but Indian. She said no. And then the alien female's mood went icy cold, the witness felt nothing from her and worried that she had somehow displeased her. Suddenly several shorter, twig like gray beings were around her, encircling her and they were kind of pushing her down to the floor. As she lay on her right side she saw a needle coming toward her with what appeared to be orange liquid inside. They inserted the needle in her arm and she was suddenly awake on her bed with a sore left upper shoulder. There was a small bruise and a pin prick mark on her shoulder.
Source:  http://www.etcontact.net/newsite
---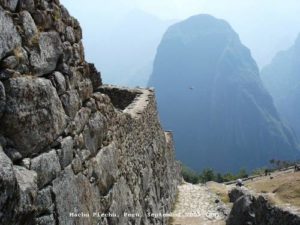 Date:  September 2005
Location:  Machu Picchu, Peru
Time:  
Summary:  
Source:  
---
Date:  September 1 2005
Location:  Greensburg, Pennsylvania
Time:  1530
Summary:  Some people traveling in a vehicle and were approaching the Pleasant Unity exit when suddenly a huge dark shadow in the shape of huge wings appeared over the right side hood of the car. This happened in a matter of seconds, and no sound was heard. The witnesses were under the impression that possibly a huge bird had passed over the car.
Source:  http://www.westol/com/~paufo/sightings
---
Date:  September 2005
Location:  
Time:  
Summary:  
Source:  
Location. Warsaw, Poland
Date: September 2 2005
Time: 0500A
A 57-year old man living in an apartment went to his balcony and on the other side of the street at balcony height he witnessed a bizarre sight. A glowing white object was hovering 10meters away. The object was shaped like a jellyfish and was waving and moving like this animal in the water. After a while the object went away and when it was about 100m from the witness it stood motionless for a minute and in a second it suddenly shot up into the sky and disappeared from sight. In July 2005 the witness had been sitting on the balcony when he saw a purple light that approached him. The witness is deemed reliable. The source is of the opinion that this "flying jellyfish" is probably some kind of "space animal". Similar objects or "creatures" have been reported before.
Source: NPN ORG Poland
---
Date:  September 2005
Location:  
Time:  
Summary:  
Source:  
Location. Lajas, Puerto Rico
Date: September 3 2005
Time: 1600
On this date a group of investigators where at the home of Enrique Ortiz waiting for the rest of the group to show up in order to initiate an investigation at La Parguera. The witness, Cindia Medina, reported that between the house and the gazebo where the group was sitting she saw a shadowy figure, thin with a large head, and pointed chin. Later she saw towards the east at about 20degrees altitude a "shadow" in front of a cloud. Cindia then began taping the "cloud" with Andrew Alvarez's video camera. Later while checking the video they noticed that the "shadow" seemed to go in and out of the cloud in different occasions, and it was shaped like a diamond. Later, the rest of the investigators arrived and they all headed to La Parguera.
Source: Andrew Alvarez http://www.andrewalvarez.net & Ovni.Net http://www.ovni.net 
---
Date:  September 4 2005
Location:  Sao Paulo, Sao Paulo Brazil
Time:  night
Summary:  The 11-year old witness woke after hearing a loud noise coming from his backyard patio. Looking out a window he was stunned to see a gigantic figure about 3.50m in height that apparently attempted to communicate with the witness with hand signals. The witness looked up and saw an object ringed with bright lights hovering above the backyard. He briefly had looked away from the humanoid and when he looked back at it, it had vanished. The object then left.
Source:  Portal Genesis UFO, Brazil
---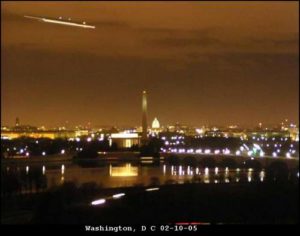 Date:  September 6 2005
Location:  Washington DC
Time:  
Summary:  
Source:  
---
Date:  September 8-9 2005
Location:  Huay Nam Rak, Chiang Mai Province, Thailand
Time:  unknown
Summary:  Thai television reported that an entity was seen on a rice farm by four or five people. It had a large head and a yellow body. The "phantasm" then stretched into the sky and disappeared. The new anchor called this a "jahn binh" or flying saucer. Others added that it had a small body, a large head and didn't leave any footprints. It is reported that the creature wandered around in the field for about an hour without taking notice of the villagers. Sawaeng Boonyalak, 35, who was among who rush to see it, reported that the humanoid was about 70cm high and had yellow skin and a flat chest. Its mouth was very tiny; it had a large bald head with big eyes and big ears. The humanoid then suddenly floated to a treetop and after more villagers came to see it, it floated into the sky and into a bright light. District chief, Wisit Sitthisombat who interviewed the ten residents said they were consistent in their testimonies.
Source:  Terry W. Colvin fortean1@mindspring.com in UFO Updates
---
Date:  September 2005
Location:  
Time:  
Summary:  
Source:  
Location. Peterborough, Ontario, Canada
Date: September 11 2005
Time: early morning
While suffering from an episode of ASP (awareness during sleep paralysis) the witness, Kelly, saw a little man, a perfectly formed little man about a foot tall and dressed in clothes like those of the American Revolutionary era but not military. A black tricot hat, a green suit jacket, green pants to the knees and greens stockings and wearing black shoes with buckles in them. He was standing on top of a lampshade (one of the tall floor lamps). Shocked, the witness said to her mother, "Who is that" She responded, "That's Mr. LaCourt". (?). Apparently her mother saw the enigmatic figure and likened him to someone familiar to her. The little man beckoned Kelly forward and said the name of a friend of her and then he said, "Over the next five days four things will come true". According to the witness the little man seemed happy and had a "twinkle" in his eyes. The witness is convinced that the apparition or the encounter was obviously a message for her friend.
Source: tpeterpark@erols.com
---
Date:  September 13 2005
Location:   Banora Point, Australia
Time:  early morning
Summary:  The witness remembers waking up and seeing a shadow. He woke up and he was already sweating. He saw a shadow on the wall in front of his bed that resembled the figure of an alien creature. He was completely shocked. The shadow was not moving, and was very detailed. He could see contours of its body very clearly, but in his sleep deprived state he quickly assumed it was just a shadow from a curtain or some object. Suddenly he felt back to sleep again. Another strange thing to add was that next day after blowing his nose; he noticed a lot of blood in his left nostril. His right nostril had no blood whatsoever. Also when he woke up he noticed that the joining part between his face and nose was "torn" but not bleeding. He also noticed a few bruises on his arms. For some reason now he can breathe easier through his left nostril and his right. He believes a sort of implant was apparently inserted into his nose cavity. The witness has seen a number of UFOs in the past years.
Source:  Brian Vike, Director HBCC UFO Research
---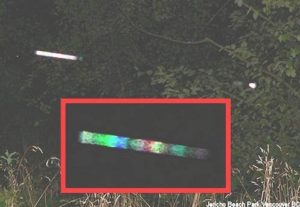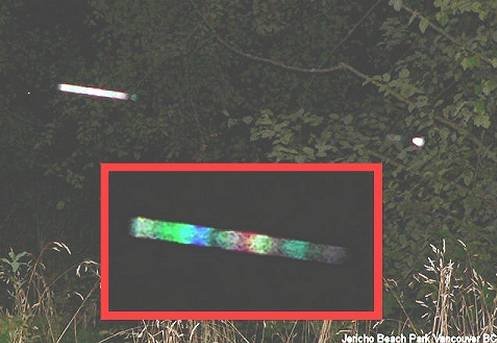 Date:  September 14 2005
Location:  Jericho Beach Vancouver, Canada
Time:  
Summary:  
Source:  
---
Date: September 15 2005
Location: Lower Hells Gate Dutch Antilles
Time: 18:30
Summary: 2 lights the size & brightness of Venus appeared in the NE sky from 17 38 N, 63 13 W. Lights lasted about 2 minutes, disappeared.
Source:  National UFO Reporting Center
---
Date: September 18 2005
Location: United Kingdom Southern coast
Time: 13:00
Summary: On sunday 18th September, my girlfriend returned to Edinburgh from the Czech Republic. As soon as we met at the airport at 2pm, she excitedly told me, she saw something very dodgy from the plane as her flight was coming into the north eastern coastline of the UK at approx 1pm (she landed at the airport at 13:41). Just out at sea she spotted between 5 to 7 orange round objects…I have below the story in her own words… When she told me, I checked on the Net to see if there were any other similar reports in the same region and around the same time…Needless to say, I was excited to read of the reports also coming from the east of England of multiple orange discs on the 17th, the previous day to my girlfriend's sighting. Do you know if anyone else also witnessed her sighting on the 18th September? My Girlfriend's report…… "On 18th September I was flying from Prague to Edinburgh. The sky got cloudy somewhere over the Netherlands. Over the Channel the clouds were a bit torn. I felt sleepy as I had to get up at 4am that morning and didn't get to sleep too well at night. And seeing just clouds became a bit boring after a while. Also my seat was at the window but near the wing, so the wing and the engine took a lot of my view. If I wanted to see something, I had to lean forward and look out of the farther window. So only occasionaly I looked out to see if we are still over the continent or over the sea or approaching Britain. Then around 1pm (GST) I looked out again and saw we were still over the sea. There was a gap between clouds so I could see the sea. Down, deep under me I could see some round orange things. They looked like round rubber life boats on the sea. There were 7 of them. They seemed to be floating on the sea surface. They were moving slowly and then when the left most circle got into its position, I noticed that they created a perfect boomerang shaped formation. That attracted my attention. Creating the formation, they were moving quite fast for something that big on the sea. I could swear that at the beginning they were a bit scattered but now they were very much giving an impression of a single body. That perfect the formation was. I started thinking of an invisible delta aircraft and really, apart from the orange spots I couldn't see anything between them. Was it a military training? I tried to have a better look to identify what it was but suddenly there were two white clouds bursting out of two of the circles like an explosion and all the formation, like one body, moved forward with great acceleration leaving just two short white double lines behind. The lines were short, just about double the height of the triangle. As a space craft getting enough speed just from a short fire. At high speed all the formation disappeared under the cloud and I had the feeling that it wanted to hide, not to be seen. I hoped that it would come out on the other side of the large cloud before the engine and the wing cover my view, but it didn't. After the cloud I saw a ship, looked big, at least like a ferry, maybe bigger. And still the length of the ship would make only about two thirds of the side of the boomerang. And the circles were slightly bigger in diameter than the width of the ship. So the object must have been huge. Soon after we approached the East coast of Britain and 1.40pm we were landing at the Edinburgh airport."
Source:  National UFO Reporting Center
---
Date:  September 2005
Location:  
Time:  
Summary:  
Source:  
Location. Collings Lakes, New Jersey
Date: September 18 2005
Time: 2130
The witness was running back home to grab something for her husband when she saw a "thing" that started to quickly shuffle from one side of her house to the end of her garage, and back into the woods. She thinks it was about 15ft away from her. In mid-walk it turned to look at her. She described it as resembling the so-called "gray" alien type, short. She felt a sense of fear from it. It had quite a wrinkled forehead, black eyes, with very small whites of his eyes showing, "he" seemed to have wrinkles or "bags" in other places, its head was somewhat large, the eyes were very large, the nose was small and somewhat flare out, it was grayish white in color and it wore a gray hooded robe that covered most of its body. It made a quite sound. The witness's brother claims he saw the exact same creature in the backyard. Later the whole family heard the strange noise again, but a little louder coming from a different direction.
Source: NUFORC
---
Date: September 20 2005
Location: San Juan Puerto Rico
Time: 13:39
Summary: My brother and I were on the deck of our departing cruise ship when I noticed the object "bouncing" in the sky near a distant building. I shot two pictures of it with an Olympus C-750. I couldn't discern any physical features other than it looked white and round. However, when zooming in the pictures on my computer, more detail is revealed. Balloon-plane-kite- I have no idea.
Source:  NUFORC
---
Date:  September 2005
Location:  
Time:  
Summary:  
Source:  
Location. Juarez, Nuevo Leon, Mexico
Date: September 22 2005
Time: 2203
The owner of the Rancho El Cadillo, Mr. Jesus Gel Gonzalez reported to the municipal police that six of his animals had been found dead from very strange wounds to their bodies. Police officers and Dr. Oscar Sanchez, director of the department of health for Juarez, reported to the scene and found the carcasses of six goats presenting very deep wounds on their necks. The injuries appeared to be bite of some predatory animal, although what most surprised the officials was the fact that there wasn't a drop of blood to be found in any of the bodies. The rancher stated having seen a creature standing 1.20m tall, gray in color and with a 4-meter wingspan, which he suspects it the culprit in the goat slayings. He added that this is not the first time that animals have been killed in such a way on his property, and that even some of his dogs have disappeared. Policemen reporting to the scene found some prints resembling large, four-fingered claws were unable to determine the type of beast they corresponded to. Dr. Sanchez said that these deaths are not normal, given that a predator such as a puma or coyote would have ripped into the goat's abdomen to feet on their organs. The creature responsible for the goat deaths only sucked their blood, but what type of animal could have caused this, remains a mystery.
Source: Scott Corrales, IHU (Institute of Hispanic Ufology) quoting "Mundo Misterioso"
---
Date:  September 2005
Location:  
Time:  
Summary:  
Source:  
Location. Orizaba, Veracruz, Mexico
Date: September 22 2005
Time: 2330
The witness Rossana Tejeda Lopez had gone to bed early on that night feeling strangely tired and sleepy. Around 2330 she abruptly awoke feeling as if water was falling on her right hand, half asleep she saw on her left side of the bed the head of a gray humanoid figure, with huge very black eyes. She couldn't see ears, nose or a mouth and could not make out the humanoid's body; it only seemed to be the head and two huge black staring eyes. She could clearly see the alien's face through the mosquito netting. It seemed to be looking at her with curiosity, happiness and at the same time tenderness, she felt as if the visitor enjoyed the fact that she had seen it. The witness then spoke to the alien, "You have woken me up and I have to wake up early tomorrow and you don't, now go away and let me sleep". At that same time her mother came into room (according to her mother she had heard her daughter yelling for her, something she couldn't remember doing). The strange alien face and both women then felt a strange cold in the room. She told her mother what she had seen and her mother also spoke to the now unseen alien, again telling him to go away and to leave her daughter alone. In an instant the strange cold went away and then there was tremendous heat, afraid her mother began to pray feverishly. She then leaves the room and Rossana becomes sleepy and tired again and did not wake up until 0500A.
Source: UFOs Plaza, Netherlands also "El Durmiente de Orizaba"
---
Date: September 23 2005
Location: Phoenix, Arizona
Time: morning
Summary: Rich Giordano saw something unusual in the sky almost directly above his head. It was a dark blood red object barely moving north. He grabbed a pair of binoculars and saw that it was definitely not a balloon. The object looked red but when looking at it through the binoculars the object had a golden-yellowish top (head?) and a black jet pack looking thing on the left side along with two leg-like appendages hanging down with round "shoes". The golden-yellowish head looked like an octagon shaped helmet through binoculars. The jet pack looked just like a jet pack from Buck Rogers with two oxygen tanks. Its shoes seem to direct the object. When the object moved the legs moved also. The object never wobbled or reflected the sun like a balloon. It was flying north then stopped and headed west in a perfectly straight line. The object was obviously heading on a straight line trajectory. It was moving at a snail's pace and at one point came to a complete stop and changed course going in the opposite direction. There were no winds at ground level and it was around 90degrees and partly sunny.
Source:  Filer's Files # 44-2005 also direct from Rich Giordano Cnufos.com, Phoenix Arizona
---
Date:  September 30 2005
Location: Waterford Ireland
Time: 21:35
Summary: TWO SITINGS 28/9 30/9/05 TOO STAR LIKE OBJECTS MOVING NORTH TO SOUTH IN TANDEM 30 SECONDS. NO 2 THREE STARS MOVING IN TANDEM SAME AS ABOVE 1 MIN
Source: National UFO Reporting Center
---
Date:  September 2005
Location:  
Time:  
Summary:  
Source:  
Related articles