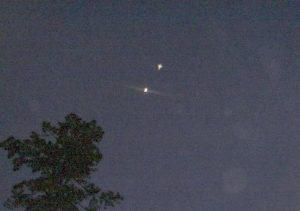 (Last Updated On: August 19, 2016)
Date:  June 2006
Location:  
Time:  
Summary:  
Source:  
Location. Gatchina area, Saint Petersburg region, Russia
Date: summer 2006
Time: morning
48-year old Antonina was driving with her family on their way to their country cottage which was located near Gatchina and close to a military missile installation. Suddenly, Antonina fell into a strong dream-like state and apparently lost consciousness, incredibly everybody else in the vehicle also "fell asleep". The family returned back to their senses sitting in a ditch on the side of the road, thankfully they were unhurt as this road was usually heavily traveled. No one remembered what had happened, but Antonina remembered having seen UFOs before, once in 1991 and again in 2004 when she saw a green rotating light flying around the house. She suspected that they all had been victims of an alien abduction and later had vague memories of being onboard a UFO and being examined by several humanoid creatures (not described). She also suspects that she has been probably abducted several times before while driving the car alone, since she had suffered several blackouts while driving.
Source: "Crossroads of the Centaurs" # 4 2007, Rostov
---
Date:  June 2006
Location:  
Time:  
Summary:  
Source:  
Location. Near Marlborough, Wiltshire, England
Date: summer 2006
Time: daytime
A woman driving on the A4 motorway (which runs east-west next to Silbury Hill) on the east side of Marlborough saw an estimated 7-8 foot tall being come out of a gateway from a field and jumped back as the car passed. His head appeared to be triangular in shape. No other information.
Source: Colin Andrews July 11 2008
---
Date:  June 2006
Location:  
Time:  
Summary:  
Source:  
Location. Temascalcingo, Mexico State, Mexico
Date: summer 2006
Time: night
Armando Ruiz was home alone watching television when he heard a strange sound coming from the wooded area in front of his house. He thought something had occurred outside and he looked out to see a giant creature that appeared to be "striking a tree". The bizarre creature appeared to be ducking an intentionally hitting the tree. Ruiz estimated the height of the creature to have been 23ft tall (!). The terrified witness quickly turned off the lights so the creature wouldn't see him, but apparently it did. It seemed to turn towards the house so the witness grabbed his father's gun and pointed at the creature. The witness was on the upper floors of the house and could se the creature's face. It didn't seem to have a nose and had pure red eyes without whites. Its mouth was filled with very sharp teeth that had 'blood' on them. The witness fired at the creature and it screamed and immediately ran into the forest disappearing from sight. The witness could not describe the eerie sound that the creature emitted.
Source: Your True Tales—July 2007
---
Date:  June 2006
Location:  
Time:  
Summary:  
Source:  
Location. Moscow, Russia
Date: summer 2006
Time: night
Olga, a local resident, (involved in other encounters) again woke with a strange feeling of unexplained worry and again saw a strange humanoid entity standing near her bed. The entity had a large head and large black eyes. Olga did not feel afraid, since she had already encountered a similar alien before. She understands that the aliens have been visiting her for a purpose, however that purpose remains unclear. She distinctly felt that the entity was reading her thoughts and communicated with her using mental impulses or thoughts. However Olga could not understand the meaning of the impulses or communication. She could not remember much more of the encounter but clearly recalls the alien in her bedroom and the communication.
Source: "Territory of Ghosts" TV program, Dar'yal TV, Moscow 2006
---
Date:  June 2006
Location:  
Time:  
Summary:  
Source:  
Location. Sparta, New Jersey
Date: summer 2006
Time: 2245
The witness, D.W. (involved in a previous encounter in 2005) was beginning to fall asleep and then had a strange dream in which he saw a lot of darkness and he believes he was running. He then heard a voice that sounded extremely urgent telling him to wake up. When he awoke he was lying on his right side and as soon as he opened his eyes he had a feeling of extreme panic. He knew there was something in the room with him and it almost felt like an instinctual feeling of self preservation. Without even looking he shot up in bed and saw a tall figure which shot fear through his body. It looked like it was wearing a dark cloak and because of the contrast, he could see the figure had an extremely pale looking face. Its face was long and it had very penetrating dark eyes. As soon as their eyes met it felt as if he was almost paralyzed but he was fighting it. The figure then seemed to dematerialize and vanished. The witness was not able to rest the rest of the night.
Source: Direct from witness
---
Date:  June 2006
Location:  
Time:  
Summary:  
Source:  
Location. La Higuerita, Capilla del Monte, Cordoba, Argentina
Date: June 2006
Time: evening
Several ranch hands had set up camp in the area when at night they heard what sounded like small stones falling on their tents. Upon investigating the witnesses saw three tall white luminous figures running upstream on the nearby river at very high speed with great agility. They were quickly lost from sight.
Source: catent2002@arent.com.ar
---
Date:  June 2006
Location:  
Time:  
Summary:  
Source:  
Location. Guaratuba, Parana, Brazil
Date: June 2006
Time: 200a-0240a
The witness was up working late at night in his home when he suddenly felt a strange fear and knew that something was not right. Immediately he ran out of his office and went to check on his mother and sister who were sleeping in their room, they were sleeping peacefully. He then went into the living room and felt a strange 'cold' invade his body. He took out a cigarette and looked out the window, he checked the roof and it was clear, and the street looked calm, however as he looked to the rear of the house he felt his body tremble and was momentarily paralyzed at the sight of a strange creature about 1.20m in height, large eyes and dark body that was staring intently at the witness. Unable to move the witness and the creature stared at each other for about 5 minutes when suddenly the creature ran with incredibly speed towards the front of the house disappearing into the darkness. The witness would have later encounters and in August of the same year he witnessed 2 hovering bluish spheres near his home.
Source: http://www.vigilia.com.br
---
Date:  June 2006
Location:  
Time:  
Summary:  
Source:  
Location. Between Los Angeles & Mulchen, Chile
Date: June 2006
Time: midnight
The witness a truck driver named Luis was traveling on a straight road between both towns when suddenly he spotted on the side of the road what appeared to be some type of strange "animal". The animal or creature resembled an ape, with very short arms and long legs, very straight. The witness stopped his truck at about 10 meters from this creature. The ape like creature did not move and remained very still but turned its head towards the truck. At this point the witness noticed that it had bright reddish eyes and that its skin was covered with what appeared to be short whitish "feathers". The witness suddenly felt a powerful "wave of fear". Seconds later the strange creature walked slowly and crossed the road, always looking in the direction of the witness and disappeared into the brush on the side of the road. The witness further described the creature as very corpulent, more than a meter in height, and a proportional head with a large "snout". It was completely silent. It maintained an erect posture at all times. The witness felt that the creature was defiant but "passive" at the same time.
Source: Raul Guajardo & Sigrid Grothe
---
Date:  June 2006
Location:  
Time:  
Summary:  
Source:  
Location. Tel Aviv, Israel
Date: June 2 2006
Time: various
During the Shavuot Holiday eyewitnesses at the Knesset (The House of Parliament House in Israel) reported that the building and areas around it were visited by a luminous white body or figure. Eyewitnesses assert that the luminous white body "strolled" for several minutes along the court at the entrance into the building and disappeared. A commotion was caused among the numerous guards and security personnel in the building, who some assert that the luminous figure also visited during the day and was seen inside the legislative assembly. Some claim that it was seen coming from the direction of a "cave" located at the old cemetery next to the House of Parliament. Another guard on duty reported that at around 0200A he saw a shiny white cloud which entered the Parliament, assumed a shape of a "body" and strolled along the court. Security cameras capture a strange "halo" or afterglow in the video. However later the chief of Security at the Knesset one Itshak Shadar denied that nothing "mystical" was seen, but in the same breath directed experts to study the video film since according to other sources "he was not entirely convinced of a mundane explanation to the event".
Source: http://www.d-pils.lv/news/2/212143
Quoting Israeli publication "Maariv"
June 6 2006
---
Date:  June 2006
Location:  
Time:  
Summary:  
Source:  
Location. Aguada, Puerto Rico
Date: Jun 5 2006
Time: 0300a
After watching television the witness (involved in other encounters) proceeded to the kitchen to get a glass of milk before going to bed. As she walked through the living room on her way to the bedroom, she observed an "alien" peeping through the glass-pane window on the main entrance door. Outside that door there is a balcony and obviously, he was standing on top of a patio chair next to the door, because being a short creature he shouldn't reach the high window on the door. This one really scared the witness a lot because he looked older, meaner and had a mark on his forehead. The two other aliens she had seen before in her backyard looked like little kids with a serene look on their face. But not this one, he had a sinister evil look on his face. She hurried to her husband's bedroom, woke him up and he grabbed a machete in case it was an intruder, and proceeded out to the balcony but no one was around. (The main witness believes that this alien could be a "leader").
Source: http://www.uforc.com/ace/PuertoRico
---
Date:  June 2006
Location:  
Time:  
Summary:  
Source:  
Location. Near Reed City, Michigan
Date: June 7 2006
Time: 0230A
Several college students were hanging out a building were a reputed "monster" had been seen before when something caught their eye. About 50 yards to the right of them they saw something moving. At first they didn't think anything of it until they heard large twigs begin to snap. One of them took out a Mag-light and pointed it at the area. The crickets suddenly stopped chirping as the witness with the light saw something moving out of a wooded area, kind of a silhouette. Shining the light right on it, they saw a huge 6' 9" figure, apparently humanoid and bipedal. The hair was either dark brown or black, probably dark brown, and it must had covered most of the body, and was maybe an inch long. It stood un-moving partly exposed behind a tree not moving at all while the light was on it. Its arms were longer than a human and appeared a bit hunched over. The face was human like but hairy, the mouth seemed to be narrow but the witnesses didn't see a nose at the end of the "snout" or ears. The eyes were yellow and slanted; it had a very large forehead. The frightened students then left in their vehicle but about ½ mile away decided to return to figure out what it was. They pulled back by the building and sat there for about 5 minutes before strange things began to happen. First of all they all heard noises around them, they couldn't explain the noises but they "put shivers down their spines". Then as soon as the noise stopped a motion light on the building turned on and they heard something run very fast. Suddenly they see something behind them; the driver pushes the clutch and slowly rolls back to get a closer view. One of them shines the light on the figure and two yellow eyes stare at them. They felt that the creature whatever it was "wanted to harm them". The driver floors it and going at about 40 mph sees in his break-lights that something was chasing them on 4 legs. Eventually they lost the creature and had to pull over the side of the road to calm down.
Source: Weird Michigan.com
---
Date: June 7 2006
Location: Monterrey Mexico
Time: 14:36
Summary: i see the sphere cross the sky north go south 
Source: National UFO Reporting Center
---
Date:  June 2006
Location:  
Time:  
Summary:  
Source:  
Location. Montreal, Quebec, Canada
Date: June 12 2006
Time: 0100A
The witness was sleeping but had the feeling that there was someone else in the bedroom, he finally got up and checked around the room and the house. Finding nothing he went back to bed, only to be woken up again by someone knocking on the window. He went to the window slowly and when he got there he could hear someone he could not see telling him to come outside. Once outside he was surrounded by several "unfamiliar species" or humanoids (unfortunately not described). When he tried to run back to the house one of the aliens came right in front and grabbed him. The witness apparently blacked out and later woke up again surrounded by the humanoids staring at him. The room was very dark and cold. The aliens seemed to be very pleased and not eager to harm the witness. For some reason he could understand what the aliens were saying but felt that they couldn't understand him (!). They told him to relax that they meant no harm that he was going to be safe and then mentioned something about a mission with NASA (?). They held him for 3 hours and then took him back to earth. He woke up in his backyard and found a stone that he believes is from another planet.
Source: NUFORC
---
Date:  June 2006
Location:  
Time:  
Summary:  
Source:  
Location. Fullerton, California
Date: June 19 2006
Time: 2030
A 6-year old child reported seeing a flat bottom, lenticular, domed disk in a straight level flight from North to South over the west end of Fullerton. He described the craft as "a flat tire with lights spinning and bumps on top." He reported that the craft made a quiet noise that he described as "kind of like a rocket and motorcycle" and imitated it with a muted whoosh. He described the craft as having legs underneath the flat white bottom. He described the sides as having a long string of lights that were blinking rapidly and spinning faster clockwise. He reported that the lights were in a repeating pattern from right to left of white, red, blue and purple. He said that the craft was black except where it was lit. He also reported that it had two "bumps"; a small bump that did nothing was on top of a big bump. He could see a pilot visible inside the larger dome because there was a blinking light behind the pilot's head. He described the interior light as a "green fish light". He said the pilot had "dots" for eyes and a big or normal nose. The pilot never turned his head and kept his face towards the direction of travel.
Source: NUFORC
---
Date:  June 2006
Location:  
Time:  
Summary:  
Source:  
Location. Northwest River, Labrador, Canada
Date: June 24 2006
Time: afternoon
As an 11-year old girl and several friends waited to be picked up by her mother down by the river where the town had erected a monument to honor the trappers of the town she saw what she claimed to have been "little people". One, she said, was next to the monument, another was peeping at her from parked trucks that belonged to people who went down the bay by boat to camp out for the weekend. She another one up the hill a bit to the town office, he was just standing there looking at her and her friends. He had his hands on his hips, legs split apart, not moving. He was dressed in black, like all the others he wore a pointed hat. Across from the monument is the old Grenfell hospital that used to be the main location to go for the whole coast of Labrador. There in the path amongst the trees she spotted a little person. He was marching back and forth under the trees. Another one came out from amongst the trees and marched happily across the road toward the monument, arms swaying back and forth. As she kept walking toward the main road, one went and sat down on a resident's step, legs crossed he just sat there. Straight across from this resident's home at the Community Center, she spotted a little person sitting on the ground, his knees folded in front of him while he wrapped his hands around them. While she kept walking she saw yet another one dressed in blue clothing that hung down to his ankles. He was dancing upon a rock, going around in circles, happily dancing. She then walked up the path toward her friend's house. There were two more little people sitting in the tree, staring down at them. From there she called her mother again to be picked up, she was frightened. She began to cry, wondering what she had seen. She thought they were trying to get her, and that they might come to where she lived. 
Source: Your True Tales—July 2006
---
Date:  June 2006
Location:  
Time:  
Summary:  
Source:  
Location. Emlichheim, Germany
Date: June 26 2006
Time: early morning
The witness had gone to bed late after surfing the web and fell asleep around 0315A. Something woke him and he opened the light curtain and could see an object hovering over his neighbor's rear garden farm. Their house is about 175meters away and in the early morning sun the object was clear and sharp. The craft was about ten to twelve meters long and round like a trash can. It was metallic silver in color with a dome. On that dome was a much smaller black half dome and it had a beam under it almost as wide as the ship, with a white light that was not shining. The witness tried to scream, and the craft started to fly towards him and flew real close and he could see that the underside was dark with three domes. He does not remember what happened next and then woke up in his bed with a feeling of panic.
Source: http://www.ufocenter.com
---
Date: June 30 2006
Location: New York City Bronx
Time:
Summary: I HAD A FRIEND WHO SEEN IT AS WELL. WE'VE SEEN A FLEET OF UFO'S TO A BRIGHT GLOWING OBJECT FALLING FROM THE SKY. AT FIRST WE THOUGHT IT WAS A SHOOTING STAR BUT IT STOPPED AND HOVERED FOR COUPLE OF SECONDS. SUDDENLY, IT CHARGED UP FROM A SMALL BRIGHT SPHERE SHAPE TO A HUGE BRIGHT OVAL OBJECT. THEN IT ZOOMED INTO THE SKY WITHIN SECONDS, SOMETHING LIKE STAR TREK WHEN IT BLAST OFF. IT WAS SOMETHING WE KNOW THE GOVERNMENT DOESN'T HAVE. ON MAY 31,2007 MY FRIEND AND I WAS REPAIRING MY ROOF THEN OUT OF NOWHERE CAME THIS OVAL SHAPE OBJECT. THE OBJECT WAS SMOKY BLACK COLOR WITH A BIG RED LIGHT ON THE BOTTOM OF THE SHIP. IT WAS VERY CLOSE TO US, MAYBE 600 FEET IN THE SKY AWAY FROM US. IT WAS 60 FEET IN LENGHTH, 30 FEET IN WIDTH AND 20 FEET IN HEIGHT. MY FRIEND AND I WAS SHOCKED AS WE WATCH, THEN THE OBJECT STARTED TO COME IN OUR DIRECTION BUT WE LEFT THE ROOF QUICKLY. WE ARE NOT BELIEVERS IN UFO'S BUT WE ARE NOW.
Source: NUFORC
---
Date:  June 2006
Location:  
Time:  
Summary:  
Source:  
Location. Nabada Kotahena, Sri Lanka
Date: June 30 2006
Time: various
A young girl named Piyumi Kaushalya went outside of her house in the evening and saw a 2ft tall humanoid figure standing near the well. "It seemed to write something and when I talked it ran away and got down to a paddy field. It disappeared after yellow, blue lights flashed on top of its head" Kaushalya says. Two weeks prior to this incident her mother had seen 3 bright red colored objects in the eastern sky. Later D.D. Kusumawathi and six other people went to a jungle, marsh land sort of area in the evening in order to see the creatures. "Other people were about 20ft behind me and suddenly I smelled something burning…when I looked around I saw a brownish reddish face with red glowing eyes looking at me…the red color in its eyes was rotating. I was looking at it for a while and screamed. I felt like my head was going to explode and I fainted" reported Kusumawathi. Chamila Prashadini and two of her friends walked into the wooded area hoping to see the creatures. She had a similar experience as D.D. Kusumawathi and also says she heard a humming sound. Also people have heard a humming sound in the evenings from marshy wooded areas near the village. 
Source: MUFON UFO reports
---
Date:  June 2006
Location:  
Time:  
Summary:  
Source:  
Location. Nabada, near Kalutara, western Sri Lanka
Date: late June 2006
Time: various
Numerous witnesses reported bizarre events in the area, an elderly man reported seeing 2 small beings in the woods and then a 9-year old girl came upon a small being sitting under a tree. The being spoke to her in a squeaky, bird like noise. Then that same night she says she was "taken up" and transported away in limbo to "a rock" and then back to her bed. Others saw a bright pinkish light in the sky. The beings were described as very small, about 2.0' to 2'.6" in height, faded gold in color and with human like faces.
Source: http://ufoinfo.com/sightings quoting local TV and press
---
Date:  June 2006
Location:  
Time:  
Summary:  
Source:  
Related articles