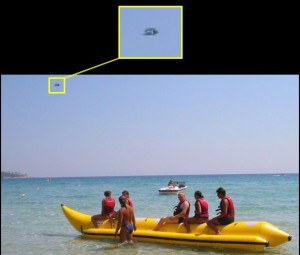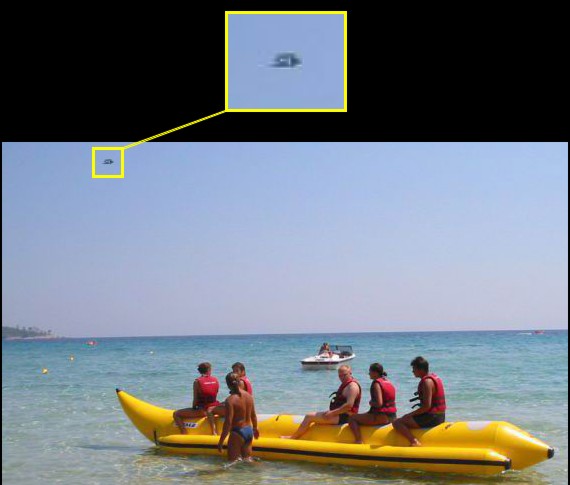 (Last Updated On: August 19, 2016)
Date: May 2006
Location: Nittedal, Oslo, Norway
Time: daytime
Summary: The 17-year old witness was on his way to a local cinema named 'El Dorado' located in central Oslo with two of his friends. He was feeling kind of tired from not sleeping but otherwise felt fine. At about 500meters away from the cinema the streets suddenly went quiet, and it was a very busy Saturday. He looked around him and did not see a single person around him even his friends were gone. When he turned around he saw a 2 meter tall "person" dressed in a blood red in front of him, it had no face or hair. The only thing on its head was a round shaped metal object on what would have been its forehead, except from this the figure looked like a middle age male. The suit was seamless and the texture looked like wool. It started to walk towards the witness and the suddenly all the people in the street returned and red dressed entity was gone. Shocked the witness again saw his friends and asked them what had happened, they thought he was crazy since at no time had they noticed anything strange. A few days later the witness was awakened by his cell phone ringing, he answered the phone and got no reply. He said hello once more and heard strange unexplainable noises. It was a sound he had never heard before that he is unable to describe in detail, when the mysterious sounds ceased he turned off his phone and dozed off again. When he woke up that morning he noticed that his cellphone was still on. He checked the incoming and outgoing calls and saw nothing. 2 weeks later he had almost forgotten the incidents and he was now on the subway (T-Bane) on his way to see a friend. Suddenly the eerie quiet returned, and the same strange entity was now sitting in the opposite seat from him, a half meter from him. It was wearing the same red suit, he still could not see a face, and he could see the metallic disc on its forehead, he then heard the sounds he had heard on the cellphone previously, they had no distinct direction or origin so he assumed they were telepathic, then the disc opened and revealed an eye, a human eye, but in a shade of red and violet. This scared the witness and he cried and screamed. The being seemed to ignore the witness's terrified state, until it took his hand with an incredibly strong grip, but soft. The witness tried to pull out of his grip but to his surprise he touched his hand with his other hand in an attempt to calm the witness, who stopped crying but was still terrified. Suddenly the entity uttered in Norwegian "Rod er morgenen" which directly translates to "Red is the morning" or "The morning is red". His voice sounded kind of neutral, not masculine or feminine. Then in a flash everything went back to normal, the witness looked around him, too afraid to do anything. He decided not to tell his friend about the encounter. He has not encountered the strange entity again.
Source:  http://www.ufoevidence.org/sightings
---
Date: May 2006
Location:  Saki, Crimea, Ukraine
Time: night
Summary: Tatyana Victorovna (involved in a previous encounter) was sleeping in her room when she suddenly woke up and opened her eyes. Amazed she saw a female humanoid figure standing near her bed. Tatyana couldn't understand how the alien had entered her locked room. The female humanoid's skin appeared to be greenish in color and she appeared to be wearing a chemise with short sleeves. Seconds later the tall female humanoid disappeared in plain sight of the stunned witness who had felt terrible fear during the encounter.
Source:  Dr. Anton A. Anfalov PhD.
---
Date:  May 2006
Location:  
Time:  
Summary:  
Source:  
Location. Wroclaw, Dolnoslaskie, Poland
Date: May 2006
Time: night
A witness named Eliza reported waking up in several occasions feeling a strange breeze and seeing on each of her bed 3 strange figures. She described the figures as similar to "vultures" —they had pointed ears and narrow muzzles. "It seemed that they were made of stone, black and matt or tough suede." She said that they somehow resembled the stature of the Egyptian God Anubis. Their eyes were "living" and gazed at the witness intently. Afraid she would turn on the lights but the figures would then vanish.
Source: Piotr Cielebia Piotr.cielebias@gmail.com quoting NPN www.npn.org.pl
---
Date:  May 2006
Location:  
Time:  
Summary:  
Source:  
Location. Blackpool, Lancashire, England
Date: May 2006
Time: 2200
Dan was walking home from work late but it was fairly light out because of the time of year. He was walking down the main road where there were only three other people close by and they all saw the same thing he did. A very large gray dog ran from one of the neighboring streets, it ran into the middle of the road and stopped still. Dan was close to it and was scared by what he was seeing. The creature reared onto its back legs and howled. It was not like any dog howl he had ever heard before. It was frightening and high pitched, almost like a scream, but not a scream. Dan wanted to run but he was intrigued. The creature was at least six feet tall when it was standing and its fangs were three inches long. It looked around at the other three people, and then at Dan. It growled and took off on all fours back down the street that it had come from. Dan ran over to the other people, who like him, were mesmerized by they had just witnesses. None of them knew what animal it was. They all agreed that it didn't even run like a dog, it sort of loped in a weird way.
Source: Your True Tales—August 2007
---
Date:  May 2006
Location:  
Time:  
Summary:  
Source:  
Location. Monterrey, Mexico
Date: May 2006
Time: night
Policeman Gerardo Garza Carbajal was stationed at a guardhouse near the Panteon Municipal cemetery a short distance from the road leading to Villa Garcia when he heard the sound of 'pebbles' being thrown against the door. He went outside to see what was going on and it was then that he saw two 'witches' with faces like old women, with red eyes and black hats tipped backward; they had feathered wings and claws on the ends of those extremities. They began laughing horribly and he got back into the guardhouse and saw what they were doing through a peephole. They were flying in circles, so he reported the situation to his fellow officers. Garza said that he immediately requested backup, and in a matter of minutes was surrounded by several municipal police cars, even some from the Ministerial police. "The witches flew off, but the police officers who came to his aid saw what he saw. They can attest to the fact that I didn't imagine anything. What I saw was real, I'd never been so scared before," said the officer. He was subsequently taken to a medical center since his blood pressure had dropped excessively. He soon recovered from the powerful shock.
Source: Scott Corrales Fate June 2007
---
Date:  May 2006
Location:  
Time:  
Summary:  
Source:  
Location. Portsmouth Harbor, England
Date: May 2 2006
Time: 1357
The above image was captured by "George" over Portsmouth Harbor. It appears to be a "flying man" similar to those seen over Mexico and was photographed very close to the MOD Portsmouth Naval base. The source has been unable to come up with an explanation as of May 2006 and there is an on-going investigation as to the source of the image.
Source: http://www.sufog.freeserve.co.uk
---
Date:  May 2006
Location:  
Time:  
Summary:  
Source:  
Location. Przemysl, Poland
Date: May 2 2006
Time: 1530
The witness, Mrs. Anna was hanging out the laundry on the balcony of her house when all of the sudden she heard something resembling the buzzing of a swarm of bees and she noticed out of the corner of her eye a shiny sphere that had stopped perhaps 2 or 3 meters away moving in a constant up and down motion and vibrating. Suddenly she felt "a total emptiness in her head" she could not hear any sounds around her and she lived on a busy street with heavy traffic. She was enveloped in silence. Scared she ran into her house and grabbed her son's camera that was lying on a desk. She managed to snap a couple of photos and then the camera shut down. She then heard a low cracking sound and the shiny sphere vanished in plain sight.
Source: NPN http//:www.npn.ehost.pl
---
Date:  May 2006
Location:  
Time:  
Summary:  
Source:  
Location. Galway, Ireland
Date: May 2 2006
Time: 1900
A mother and father were putting their 2 young children to bed and the mother was sitting in the armchair when she caught a glimpse of something stride past the living room door. She says stride, because the figure was about 6ft tall and had very long legs. Terrified she told her fiancé what she saw. He did not believe her, so she switched places and sat in the other armchair beside the window. A few moments later she turned to speak to her fiancé and as she turned the entity was standing right beside her. Her fiancé did not see it at this time but knew that something was very wrong and that she was not imagining it. Then the father/fiancée caught a glimpse of the figure while he sat on the sofa by the living room door changing the baby's diaper. They decided that they could not stay in the house and went to her mother's house nearby. She described the being as at least 6ft tall without hair, no facial features were visible although somehow she knew it had facial features, it was naked only there was no actual genitalia and was what she describes as the most ugliest color of yellow she had ever seen. Soon after the incident the couple went abroad to Portugal and she was taken into a Portuguese hospital complaining of feeling extremely weak and with pains all over the body.
Source: UFO Casebook Newsletter May 7 2006
---
Date:  May 2006
Location:  
Time:  
Summary:  
Source:  
Location. Newark, Ohio
Date: May 3 2006
Time: 0200A
The main witness her husband and a friend were heading west on Purity Road when they spotted a creature about 6ft tall hunched with its arms pulled up like one would if they were hopping like a bunny. It had big feet, it was thin, and moved very fast. It took only about five steps to cross the road. It was nude color but the witnesses could not recall any facial details. When they got back to their house they discussed the incident with their friend. They thought that it wasn't human but it was not an animal.
Source: http://www.ufoinfo.com/news/creature3.shtml
---
Date:  May 2006
Location:  
Time:  
Summary:  
Source:  
Location. Near Lansing, Michigan
Date: May 6 2006
Time: night
The witness was driving to his girlfriend's house that lives out in the country completely isolated and the only way to get there is to go down dirt roads that are surrounded by fields. As he drove he saw something moving on a little hill that was right on the side of the road. So he stopped because if it was a deer he didn't want to hit it. Suddenly a human-like hand (except much larger than a normal hand) reached over the edge of the hill and this huge silhouette came into view. It was much larger than a normal man and it had a wolf-like face and its eyes reflected on the witness headlights. It just sat there and looked across the field on the other side of the road and then just very calmly turned its head and looked directly at the witness. The witness froze out of fear and sat staring at the creature for about 20 seconds. The creature then started to move down the hill, so he hit the gas and flew past it. When he got to the stop sign he looked in the rearview mirror and saw it sitting in the middle of the road just looking at his car, so he took off again. Looking again he saw calmly move onto the adjacent field and out of sight.
Source: Linda Godfrey
---
Date:  May 2006
Location:  
Time:  
Summary:  
Source:  
Location. Colorado (exact location not given)
Date: May 7 2006
Time: night
The witness happened to glance out her bedroom window and saw a "landed starship". The object was a "seaweed green" color. Sort of silvery with white lights, the ship had as set steps built into the hatch that lowered down to exit the ship. The ship was round with an "octagon dome". The lights were turn down and went to a "dark blue" color. She said three entities walked across the street and stood by a tree and street lamp. They seemed to be talking to each other. She isn't sure all three were actually from the "starship." The number of entities varied as the witness reported her story, sometimes 3 and sometimes 5.
One male was approximately 5'7", he had dark hair, and wore a sort of "Count Dracula" type cape, with a pointed collar, and he wore all black with a red sash across the front. He had black boots which came up almost to the thigh. There was a female with a pink sequence type jumpsuit, with shorter boots. Another male had a bad case of skin rash or sunburn; he had "worry" lines on his forehead. One side of his face was covered with an eye-patch of some sort. He was dressed in tan colors with tan thigh length boots. He wore a chocolate vest with pins on it. The witness became frightened and closed the curtains and apparently did not see the object and its occupants depart.
Source: MUFON reports
---
Date:  May 2006
Location:  
Time:  
Summary:  
Source:  
Location. Priorato de Nuestra Señora de Duero, Tudela, Valladolid, Spain
Date: May 12 2006
Time: 0325A
From a distance a 25-year old anonymous woman observed a huge humanoid figure standing on a wooded field, its body emanated luminous light and it appeared to have a sort of helmet on its head. It had thin legs and long arms; she could not tell if it wore any clothing. Near the figure floated a large luminous bluish-gray sphere just above the ground, it was about 3m in height and 7m in width. She thought that the whole experience had been "pleasant". She claims the area is known for other paranormal events and encounters and it is rumored to be a kind of portal to another reality.
Source: lucy@ovni.net
---
Date:  May 2006
Location:  
Time:  
Summary:  
Source:  
Location. Cincinnati, Ohio
Date: May 12 2006
Time: 1300
The witness was in his grandfather's car returning from a Boy Scout meeting when he saw something strange in the sky. He saw two saucers moving back and forth in the sky. They would stay still for a few seconds and then move really fast. One of them shot off into the sky and then came shooting back. He tried to tell his grandfather but by the time he looked the objects were gone. When he got home he grabbed a pair of binoculars and looked up at the sky. He then saw the objects again and in one of the objects he saw a small figure with two big black eyes that were staring at him. Both objects then flew away.
Source: NUFORC
---
Date:  May 2006
Location:  
Time:  
Summary:  
Source:  
Location. San Antonio, Texas
Date: May 13 2006
Time: night
The main witness had been invited along with some other friends by another friend to his house who was having a family celebration. They had dinner and decided to spend the night in a tent. The tent had five windows, one right about where the witness was going to sleep. About 50 yards from their tent was a chicken coop filled with about two dozen chickens. They fell asleep around midnight then one of the men woke the rest of them with a scream. The witness continued to lie down listening to his story about why he screamed, with his head leaning slightly against the side of the tent. Then unexpectedly, he was hit in the head with three sharp nails. Each of these objects were outside the tent, so he got up and looked out the small tent window only to see a small creature running on two feet away from the tent, it ran up to a tree and hid behind it. Then it poked its head out from behind the tree and the witness saw two large yellow-reddish eyes staring directly at him, which made him feel stunned and dazed, like he was in a dream or something. After a couple of minutes of listening to the creature run by the tent over and over again, he realized that it appeared to be stalking them. He told his friends what he saw and they decided to make a run for their trucks. One of the guys slowly unzipped the tent, but when it was nearly open, he yelled and fell backwards on top of the witness. He said the creature was standing in front of him staring at him, and then he said, "The quills on its back went straight up when it saw me." They tried it again and this time they all darted out of the tent, running full speed. But when they neared the trucks, the witness slipped and fell in some grass. Everyone else ran by him, leaving him behind. He got up and started running again, but this time he could hear the creature charging after him, directly behind him, but he managed to jump in the bed of the truck and they drove off. The next day they came back for their stuff and found 14 dead chickens, all mutilated with no blood. They also found footprints with three toes and claws. Where he got hit on the head up against the tent they found more claw marks that slashed through the tent and left gashes on the witness's head.
Source: Your True Tales—April 2008
---
Date:  May 2006
Location:  
Time:  
Summary:  
Source:  
Location. Cerro de las Mitras, Nuevo Leon, Mexico
Date: May 17 2006
Time: evening
Renowned Mexican research group Ovni Club Nuevo Leon was holding a meeting in the northern area of Cerro de las Mitras when they had the chance to witness a strange figure crossing the skies. The image was captured by the camera of Diana Perla Chapa. The alleged entity flew at constant speed, always at the same altitude making a sudden 90 degree movement heading toward Cerro de la Silla, flying from north to south and subsequently from south to east. During a close up of the image, researchers noted that it appears to have a "dog" or sheep in its hands, according to Diana Perla Chapa's report. Witnesses stated that total silence reigned over the area, not even crickets were audible.
Source: http://ufoinfo.com/news
---
Date:  May 2006
Location:  
Time:  
Summary:  
Source:  
Location. Greenwater Lake Provincial Park, Saskatchewan, Canada
Date: May 18 2006
Time: 0100A-0700A
Two witnesses reportedly experienced a 6-hour encounter with a disk, two other white "things" (on the lake) and approximately four camouflaged humanoid beings. The beings appeared not to be breathing. One witness recalled hearing "clicking" sounds coming from the beings themselves. The disk spent most of the time over the lake and then landed on the lake, creating a vortex, or fog formation around itself. The beings were seeing on the water and on the land. The beings would not move until the witnesses left, which they did but then they returned again. Additional details indicate that the beings in the water were wearing something that looked like "hip waders". The beings on land blended in really well with their surroundings. A witness said one being stood 50 yards off in the willows and was almost impossible to see. The beings saw the witnesses and the witnesses felt they were being stalked. The disk came close to the shore at one time and then back to the lake again. The lights on the disk were in the shape of a peace sign "V". The lights flashed red and green. It followed the witnesses at times and then took off again. The lake is reportedly very shallow. The case is still being investigated by source.
Source: Barb Campbell "Saskatchewan Paranormal Research Center"
---
Date:  May 2006
Location:  
Time:  
Summary:  
Source:  
Location. Port Shepstone, Cape Town, South Africa Date: May 20 2006
Time: afternoon
Port Shepstone rescuers are monitoring a mysterious situation in which "numerous" eye-witnesses reported an unidentified object crashing into the sea, the National Sea Rescue Institute (NSRI) said on Sunday. Eddie Noyons, NSRI Shelley Beach Station Commander, said eye-witnesses reported that an unidentified object, possibly an aircraft, had crashed into the sea behind the breaker line off-shore of the Port Shepstone High School. Police, rescue craft and a fixed wing aircraft were alerted to the scene to investigate. "Following a full scale search of the area covering 12 square nautical miles nothing has been found." "There are no reports of activity in the area that may be related to this incident and there are no aircraft reported to be overdue or missing," said Noyons. 
He said numerous eye witnesses—including teachers and pupils attending a sports event at the high school and other by-standers including local fishermen—were convinced they had seen an aircraft go into the water, including seeing smoke and water exploding. Interviews with the witnesses revealed that some also reported seeing flames. "Some reported seeing something, an unidentified object, splash into the sea causing a ripple effect of waves," Noyons said. Due to the number of eye-witnesses with similar reports, it was presumed that weather activity in the area at the time might have given the impression of something falling into the sea. "We will continue to monitor the situation which remains a mystery," he said. 
Source: http://iafrica.com/news/sa/694256.htm
---
Date:  May 2006
Location:  
Time:  
Summary:  
Source:  
Location. Centerville, Massachusetts
Date: May 22 2006
Time: 1846
Seven witnesses watched a large triangular-shaped craft flying very slow over the area. Underneath it was one large dome that emitted light. The craft was black and then approached in a steep descend. At one point they could see what appeared to be two rods protruding from the object. Inside the dome there were shadows of people-like figures. The craft moved slowly. They could see it for a long time over an open field. As the craft moved it emitted a hazy trail that remained in the air for about 15 minutes. The whole craft also had a gray haze around it. 
Source: NUFORC
---
Date: May 23 2006
Location: Palm Coast, Florida
Time: 20:43
Summary: i was walking home from a party when i heard a whirring sound i thought someone had there generator on but it was coming from the south where there was just fields i looked up and there was a sort of disk it was about 50 yards in diameter all around and about 400 feet in the air i started sending a morse code in it's direction and it sent back the same signal i was coming closer now it was only about 120 feet in the air i was feeling hotter the closer it got and i had a prickling sensation all over it landed near the side of the road in the sports complex i had the urge to get a closer look when i got closer i started feeling light headed and i passed out i woke up and i was in my room and i felt very sore i also have a scar on my back now and i had burns all over me i was out for 5 1/2 hours
Source: Davenport, Peter
---
Date: May 25 2006
Location: England
Time: 00:55
Summary: Multiple luminous objects sighted in night sky
(Note to receiver: I am sending this again because I saw in the confirmation page that my apostrophes didn't display correctly as I copied and pasted the report from Microsoft Word. Please accept my apologies.)
I would like to report a series of object sightings that took place in the early hours of this past Thursday morning. I would have reported it on Thursday, but unfortunately did not have the time to do so. I observed multiple luminous objects again this (Friday) morning, and will fill out a separate report for this. As I mentioned in the one previous report I sent to your website (2/19/05), as I was an astronomy student for many years, and still enjoy it as a hobby, I am familiar with the sky and the phenomena it can present, and also know about optical illusions like the one that occurs when you stare at a star for a few seconds and it appears to jump around in place. I also have very good eyesight (20/10). I say these things merely to let you know the type of observer I am. The sightings began at 0055 on Thursday morning, when I was settling into bed. I sleep with my curtains open, and as my bed is right next to my window, I sometimes look at the sky before I go to sleep. I live out in the Scottish countryside, where there is little light pollution, so we get some fantastic nights when the clouds stay off. This night was a totally clear night and remained so until sunrise, which is very early here in the summer (about 0430 right now, so my viewing window is short). A bright object moving in a southeast-northwesterly direction caught my eye. It was simply a white light the size of a star with no other light on or around it, and it moved slightly faster than an airplane would have at that estimated altitude. It then gave off a bright flash the size of a pinkie fingernail held at arm's length that was about twice the magnitude of Sirius. This lasted 1 second, then it continued on its course until it flew over my house and out of sight. I could hear no noise coming from the sky at this time.
I immediately jumped up and grabbed a pen and paper from the table in my room in case any other objects appeared and I could write down anything noteworthy. Approximately 1 minute later, I saw two other objects heading in the same direction as this previous object. They were also both the size of a star and consisted of nothing but a point of white light, however, these 2 were lower in magnitude than the first. They flew very close to one another, a distance of 2 dimes held at arm's length. I continued to watch them until they disappeared out of sight. I did not have my digital camera or my binoculars in my room at this point, but I was so riveted by this that I could not bear to turn my eyes away. I started to need to use the toilet halfway through the night, but did not dare leave then, either. In any case, I knew that my camera's memory was full and its battery was not charged (though its video feature does not produce good video of the night sky anyway).  From this point on, these objects continued to appear, one after the other, again and again that night. Their altitudes and magnitudes varied, but they were all simply points of white light with no position lights that an aircraft would have (I confirmed this the following night with my binoculars). I jotted down details as I went along, but I was working in almost no light, except the light that was coming from outside, so my notes are not as thorough as the next night, when I had an Indiglo light that I turned on whenever I needed to write something, and was able to record the exact time and heading of each object.  After one object had disappeared from view, I would stare at the center of the sky, let everything fall out of focus, and wait for any moving points of light to appear. When one appeared, I would then follow that one until it disappeared, and so on.
The headings of the objects were mainly southeast-northwest and west-east. In total, I counted 14 of these objects and up to 3 unusual (what appeared to be) conventional aircraft. After the 2nd and 3rd objects I mentioned that appeared together, a new object would appear approximately every 5 minutes for the first half of the group or so (the intervals grew as time went on), and travel in one of the headings mentioned above until it was out of sight. Their movements were straight and precise, though faster than a passenger airplane. Their speeds and magnitudes would vary. One object, the 11th object, was particularly noteworthy. It seemed to appear very low in the sky, at about 10 degrees elevation, then began moving vertically upwards. It did not move straight up, but in a sort of side to side aberrant motion, even one time moving down a little before moving up. After it had reached about 30 degrees in the sky, it travelled straight down again at tremendous speed accompanied by a streak of bright white light, brighter than Sirius. It disappeared after this. It travelled a distance of about from the tip of my thumb to my wrist held at arm's length in less than 1 second. There was another white object after this, same in appearance as the previous, then I noticed what appeared to be an aircraft flying towards my direction (southeast-northwest) from where the bright object was. As it approached I could hear it, and it had green and red position lights on its right and left wings, respectively. It also had a very large (the size of the head of a tack held at arm's length), pulsating white light on the underside of its fuselage. I have not seen this type of light on an aircraft before, but I am not an expert on aircraft lighting. It flew over my house at an altitude of at least 10,000 feet, I would estimate. I could hear it in the sky after it flew past my house, until its noise faded out of range.
I should note that passenger aircraft are not that common in our area as others, perhaps due to our location relative to the airports in the country as well as the path of other flight routes passing over the country. Our sky never seems to have any contrails in it. An aircraft of any type is uncommon, save for the fighter jets from the nearby air force base, especially at night (I hear the occasional passenger aircraft during the day when they do pass, but almost never night for some reason, even when I am up very late), and therefore one of this appearance was even more bizarre. I was to see what was either the same aircraft making more passes, or 1 or 2 other aircraft of the same type making passes, twice later on that night. It is impossible to say if it was the same craft as the first time I saw it, it passed over my house and I did not have visual contact with it the entire time. I happened to note the time of this craft, and that was at 0204. The second and third planes, the last objects I saw that night, appeared at 0253 and 0258 respectively, both heading west-east. The last white object I saw was at 0235, and I went to bed shortly after 0300. The number and behaviour of these objects is what astounded me. I have watched meteor showers before and knew they weren't meteors. The fact that the two white objects that in particular displayed remarkable characteristics were identical to the myriad of other white objects makes it hard for me to accept at the present moment that these other objects were conventional aircraft. I should note that there is an air force base, RAF Leuchars, approximately 10 km to the northeast of here. Their fighter jets can be seen and heard flying in the skies here every day, but never at night, and make a considerable noise even when at high altitudes. The average altitude of the objects was hard to determine. They could have been small objects quite close, or large objects considerably far away. My best estimate would be between 20,000 and 30,000 feet.
I am not here to report conclusively what the objects were, as I cannot say this, but only to pass on this information. I will continue to monitor the sky here and report any other activity.
Source:  National UFO Reporting Center
---
Date: May 28 2006
Location: St. Johns, Newfoundland, Canada
Time: 1100A
Summary: The young witness was in his classroom sitting in the front very close to the window and while his teacher read a poem to the class he suddenly saw a strange object outside the window. It descended and then went up on a slant and then straight up. Soon a small light blue colored figure came out of the top of the craft and began moving around it. Suddenly the craft disappeared leaving just a "black dot" in the sky. The witness sat in a daze for the rest of the class.
Source: www.nuforc.org
---
Date:  May 2006
Location:  
Time:  
Summary:  
Source:  
Location. Camyazi, Usak, Turkey
Date: May 30 2006
Time: 0730A
Two shepherds reported seeing a flying robot-like entity. According to the witnesses the being briefly walked on the ground and then flew off into the sky. Yasar Yildirim, one of the witnesses, said he saw the humanoid at about 150meters away. It was approximately 1meter in height, and seemed to be "rotating". The humanoid bent over several times when walking. As it ascended into the sky it seemed to be revolving. Later both witnesses checked the ground for any traces and found about 10-15 "unnatural" tracks very similar to each other.
Source: Murat Aksoy, UFO Turkey quoting Zaman Gazetesi (Newspaper) May 30 2006
---
Date:  May 2006
Location:  
Time:  
Summary:  
Source:  
Location. Bellingham, Washington
Date: late May 2006
Time: 2050
Michael A. Foytek was on his way to pick his son Alan up from taking him to the Max Higbee Center where he plays with other disabled people his age, when he looked up into the sky he saw a man with a long white robe and long flowing white hair and beard to match standing on a podium like platform where he was looking down into the town center. He was just hovering there over the bay under a cloud, a big white cloud, looking down as he was watching someone in the town center doing something they were not suppose to do. Just as he got these feeling and thoughts coming to him, as if he knew he was there the man turned towards him. He looked at Foytek and looked into his eyes and gave him a look like he was not worried about him knowing he was there, or seeing him doing what he was doing. Just as Foytek got that impression from the floating man, this one turned the podium-platform slowly around and climbed up into the cloud until he could no longer see him. When the figure turned and slowly rose into the big white cloud Foytek could see the robe he was wearing and the long flowing white hair. The witness feels that he had seen "an angel or God, doing his job".
Source: maf1955@comcast.net in http://ufotimes.com/index
---
Date:  May 2006
Location:  
Time:  
Summary:  
Source:  
Location. Brantford, Ontario, Canada
Date: May-June 2006
Time: late night
The main witness was in a deep sleep one night when suddenly she was woken up by her baby's monitor and heard strange sounds. They were various clicking sounds that gave her the chills. She wanted to check on the baby when suddenly heard an "overwhelming" sound right outside her bedroom window and it sounded like the engine of a transport truck with wheels turning. At the same time her husband started to look like his body was going into some uncontrollable shaking/convulsion and he was in a full deep sleep. She felt like there was someone in the room with her and she wanted to get out of bed and check on her baby. However she was prevented from getting out of bed by an unseen force and thoughts of not entering her child's room were in her mind and very overwhelming. She was very frightened but remained calm as she managed to wake up her husband and told him of what had happened. They ended up talking about the incident but by the time he woke up there were no more sounds that were evident. When she woke up in the morning she realized one very important thing, she never actually checked on her baby and she clearly recalled actually getting out of bed. Another incident from that night that she remember was that as she tried to get up and check on her baby a tall figure stood in the doorway and as she opened it they both flew up into the air. She then remembers asking questions and telling "this force" that she would not resist, but she needed to see and was going willingly. This was all done through the thought process. She felt pressure for a brief second on her chest and stomach like a roller coaster and the rest is very unclear as everything turned very bright and luminescent. She doesn't recall ever seeing or holding her baby that night. She does remember seeing another universe, and it looked like fireworks falling in the black sky at the time. When she realized that they were all planets that she was "passing" by, she knew exactly what was happening to her. When she checked up on her son that morning he had very strange marks on his spine right above the crack of his buttocks. (The witness believes that other members of her family including her husband and daughter have been involved in encounters).
Source: Brian Vike, Director HBCC UFO Research @ hbccufo@telus.net
---
Date:  May 2006
Location:  
Time:  
Summary:  
Source:  
Related articles