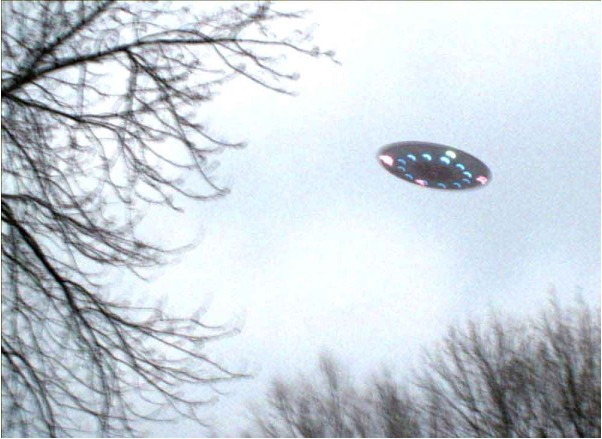 (Last Updated On: August 25, 2016)
Date: January 2007
Location:  Baltimore Maryland
Time: night
Summary: The witness was in her room watching television as her son played across the room and as she was enjoying her movie, a black figure without a face appeared in front of her, pushed her down, and held her in place for ten minutes. During this time period, while she couldn't move any part of her body but her eyes, she saw something running back and forth to her bedroom door, chuckling as she struggled to get whatever it was off of her. She said that whatever it was laughing at her came in the form of her eldest son, who is eight. Right away she knew it was not him. As soon as the shadow figure released her, she ran to her son's room where he was sound asleep. She also says that her baby son never seemed to notice what was going on.
Source:  Paranormal Florida Forum
---
Date: January 2007
Location: North Devon, England
Time: night
Summary: The witness, whose bedroom window faced toward a huge cornfield which had a large wood surrounding it and the house, was dozing off in and out of sleep when he noticed that his room was brightly lit up. He had his cell phone with him so he decided to send his mother a text message to urgently come up to his room. She did come in and asked what was wrong. Shaken, he asked her if she had seen a light in his room and she said no, and to go back to sleep that it had been probably a dream. He then managed to go to sleep for about two hours or so until he awoke to a cold hand touching his face. He wasn't really that scared because he was still in a daze. He opened his eyes and was shocked at what he saw. It was a human-alien creature kneeling down staring at him with two huge black eyes. It was grinning at him and was continually opening its mouth slightly and then slowly closing it. It had wispy bits of hair and it skin looked as if it had been burnt in a fire. He tried to scream but could not do anything. For about 2-3 minutes this went on and it then slowly stood up and casually walked away past his bed in a human-like manner. It was weird because there was no light and there was no smell. The witness was not exactly sure how he managed to see it because his room was pitch black. He never slept in that room again and has not seen the creature again.
Source: Your True Tales—June 2007
---
Date:  January 2007
Location:  Green Bay Wisconsin
Time:  
Summary:  Above
Source:  
---
Date: early January 2007
Location: Summerfield, North Carolina
Time: 0100A-0300A
Summary: The witness (involved in other experiences) was sleeping in the guest room at her boyfriend's house and is not sure if she was wide awake when she saw a tall "gray-type" alien entering the room. The moon was out and she was able to see the being in the dark. She is not sure how the being entered the room, but she feels that it may have come in through the window. The being seemed non-threatening and proceeded to gaze and stroke the witness's face, her next memory is of waking up at 0700A, terrified she ran into her boyfriend's room. She found it extremely difficult to sleep the rest of the week.
Source:  http://www.alien-ufos.com/forum
---
Date:  January 2007
Location:  
Time:  
Summary:  
Source:  
Location. Santa Rosa, La Pampa, Argentina
Date: first days of January 2007
Time: 0230A
The witness, a 31-year old female was in her home in a neighborhood located on the southern outskirts of Santa Rosa. She was lying in bed with her 12-year old son. There is a window at the foot of the bed, facing west, measuring 1m wide by 0.80m tall, located one meter above floor level. She was sleeping on her left side with her legs outstretched facing south. Half awake at this point, she was alarmed to see a person walking past the window, which was open and let through the moonlight. It was an intensely warm night. Feigning sleep and remaining in the position she was in—that is to say, she did not left her head from the pillow—she reached for her cell phone, which she always keeps near her headboard. Now, looking more clearly at the window, she noticed two very tall, lean creatures that were looking lack at her from outside her house. At that moment a reddish purple light flooded the room and she was unable to move. Suddenly in a matter of two seconds—very quickly, the first of the two beings lifted its legs one by one and stepped into the room, followed by its companion. One of the beings stood beside her and the other by her son, performing a lying of hands on the boy, who was sound asleep. The witness feels that this last entity was female. Meanwhile, the red light, which had no visible source, dimmed and went out. Only moonlight poured into the room. The female like entity now stood at the foot of the bed, and the other entity, which the witness felt to be male despite the absence of any genitals, stood behind the witness who felt that two "little tubes" or straws were arranged symmetrically on her back, above the kidneys. These objects began boring into her back "like two drills" making a spiral motion. These drilling objects moved from her back to the front of her body, towards her ovaries. Feeling intense pain, she was only able to shrink into a fetal position. Gradually, these elements, after what seemed to her like a very long time, began slowing down. The intense pain lessened. At this point the entity standing behind her placed its hand over her right breast. She noticed that the creature's hand had grayish green skin with very long fingers, delicate phalanges and very thick joints, like those of a frog. The entity began rubbing its hairless head slowly from the witness's right shoulder down to her hip. She still could not move. To this day she finds remarkable that the entity closed its eyes as it did this. No manner of communication occurred, but she sensed a sort of infatuation toward her. Like the caress of a retreating lover, a sensation of tenderness issued from the being. After this, the two beings—the male first, then the female—left the room. Her mobility was restored after some minutes, seeing no apparent lights or noises. Only the moonlight continued to stream into the room. She got up, shut the window and looked around the house as she shouted for her son to wake up, as he remained "deeply asleep". At no time did she touch her son. Meanwhile, she continued trying to contact her mother over the cell phone. The device was inoperative, had no signal and not even the emergency call mode was working. Later she went into the bathroom and her son noticed that she had strange marks on her body, a scratch or rash under her shoulders and above her kidneys. She had a pain in her internal genital region which went away the next day.
Date: Salvatore V. Carta, La Pampa Argentina
---
Date: January 1 2007
Location: Miami Lakes, Florida
Time: 1630
Summary: On a clear and beautiful sunny day while outside barbecuing the witnesses looked up to see a round black object with a silvery lining floating above their house. It floated for about 10-15 minutes and then slowly went up into the clouds and disappeared. Five minutes later another object appeared, this one was first round and silver, but suddenly changed into a tube shape, gold in color, it then went back to being round and silver with four round spinning objects around its circumference. The object kept changing back and forth and sat there for about 10 minutes. Neither one of the objects ever made a sound. Suddenly several military jets began going over the house and the object floated up and disappeared in plain sight. Soon after that the witnesses spotted a black object dropping straight down from the sky into a field across the street. It came down really fast and sort of resembled the figure of a man parachuting, but without an actual parachute. It looked like a tall black figure with two legs, but the upper body was indistinct. The witness then apparently lost sight of the figure. Military jets continued to fly around for about half an hour and then left.
Source: NUFORC
---
Date: January 1 2007
Location: Larne Ireland
Time: 13:00
Summary: Myself and i keep having reoccurring memories about a sighting we both believe it is true and we always put it down to a dream, thing is it cant be a dream about the same thing on the same night.. every time we see something about ufo sightings it gives us weird feelings.. a programme on national geo channel TV has us worried. it tells of a sighting in Arizona in 1997 about a v shape craft.. we don't remember a shape as such but when it told of glowing red orbs moving too and from the big thing we just looked at each other in shock.. this is something about what we had both experienced but failed to remember.. this is very real.. what we both agree on is we cannot remember the date, we both agree it was from our back garden at our last address, we looked out over our fence it was dark but not pitch dark more like late dusk or early dawn, a little pink or red tinge to the sky.. i recall to her come here quick what the hell is this come quick some shape about! my 1 o'clock position and about 45 degrees.. by the time she came to see a lot of other red orb lights moving into its area and out from it there where lots i remember shouting woooh did you see that!!! i cant remember what i saw now, i somehow think it was two orbs colliding and becoming one, but as we speak about it now Michele remembers this also.. I also remember saying quick we better check the news, there was a fear of we where being invaded.. there is something chilling about this encounter and as time goes on we are constantly reminded of things, little pieces of this puzzle come back to us with startling reality.. we also have had another dream at the same time as we slept and when we woke in morning we told the same thing to each other that there was something with long fingers coming to get us, we both put it down to Freddy crougar type nightmare.. this Freddy crougar dream happened in my fiancée's house five years ago. this airborne vision was only 3years a! go .. there was no sound we can remember.. I think 1'm going m! ad.. I u sed to have a good memory , now I feel my short time memory has had something done to it and also I find facial recognition hard in my short term memory ..I am beginning to think I've been brain washed. I periodically have dreams that something is at me or coming for me and I cannot open my eyes, I keep fighting this to no avail . eventually I can open my eyes . these dreams come on for no reason, I feel helpless and I cannot move no matter how hard I try, its like my eyes are glued shut but I am conscious and aware of something being there. Please let me know if anyone else has experienced these things as we have and I still do.. I was an auto technician until I hurt myself in an accident, I have an average education, I have all these things in my head about stuff I should know nothing about, I have emailed professor Stephen Hawking about these things,, I am yet to have a satisfactory answer, I have also emailed Ronald Mallett, Professor at the University of Connecticut.. I have yet to get a reply. I do not know why I know this stuff or at least know how to question the things I do, I am no physicist.
Source: National UFO Reporting Center
---
Date:  January 2007
Location:  
Time:  
Summary:  
Source:  
Location. West Alexander, Ohio
Date: January 2 2007
Time: 0700A
The main witness (mother) who lived in an isolated horse farm was driving her daughters to the entrance to the farm to wait for the school bus. The 17yr old daughter sat on the backseat, but inclined between the two front seats in order to participate in the conversation while the 16yr old daughter sat on the front passenger seat. The radio was on. Upon arriving to the main road the mother stopped the car but the left the radio on. Suddenly the rear of the car began to bounce up and down at least 4-5 times, this lasted about 6 seconds. A very loud noise was heard, described as a very intense "vacuum type" sound that was definitely deafening. While the car was bouncing up and down the witnesses heard a noise resembling a metal plate being violently twisted to produce a sound resembling "thunder". This singular appeared to emanate from the rear bumper and then from the backseat itself. The 16-year old girl sitting at the front passenger seat reported seeing an "arm" that was banging on the window behind the driver's seat. Terrified the mother turned off the radio and pushed on the brakes and turned on the car in the hope of seeing anything with the reddish brake lights, however none of them see anything behind the car. At this point the mother drove the car forward and turned around. As she did this she claims to have seen two huge "yellow-cinnamon phosphorescent eyes at about 100ft away in between some pine trees. She thought the eyes were at an above average height from the ground and were staring directly at the vehicle (a Toyota) without blinking. Later upon examining the vehicle no damage was found. The wild deer and geese who had disappeared from the area on the night of the first returned 2 days later after the incident.
Source: Alan Zerla Ohio MUFON State Director In: Arcana Mundi July 2 2007
---
Date:  January 2007
Location:  
Time:  
Summary:  
Source:  
Location. Berlin area, Germany
Date: January 2 2007
Time: unknown
A man had stepped outside his home to smoke a cigarette when a strange entity dressed like a "monk" and levitating about 6meters above the ground approached him. The witness then a telepathic message "We will find you, wherever you area" then the entity rose into the air and disappeared. 
Source: http://afdp_ufologie.diseutforum.com
---
Date:  January 2007
Location:  
Time:  
Summary:  
Source:  
Location. Freetown, Massachusetts 
Date: January 3 2007
Time: midnight
The witness (involved in other encounters) had lain down in bed around midnight when suddenly she got the now familiar uneasy feeling. Very scared he tucked himself tightly under the covers. He had his window opened a crack because his room got really hot. Suddenly the shade started making a noise as if wind was coming through briskly. He was terrified and ran to the window and slammed it closed, then jumped back under the covers and hid. Suddenly he snapped up as if awoken, his legs were tingling and going numb, he could now hear the familiar steady buzzing sound, like a generator sounds in the distance. His room began to fill with a pale blue/white light, and what appeared to be vapors of the same color. He could no longer move a muscle except for his eyeballs and was terrified. He then closed his eyes tightly in fear and started to feel the familiar touches on his bed and blankets. He then reopened his eyes to find 2 hooded beings to his left by the bedroom door, another at his right shoulder and one at the end of his bed. He panicked; his heart felt like it was going to explode. Somehow he managed to move and was able to grab the being on his right by the throat. When he touched the being he heard in his mind, "watch out for the mother". It was then that he let go and actually made it for the door, fighting the paralysis and trying to scream. He opened the bedroom door to find one waiting on the other side. That's when they swarmed him. He felt pain like an electrocution. The next thing he felt were touches all over his body and the feeling of being lifted up. Then he awoke in bed with the buzzing numbness feeling taking longer than usual to fade from his body.
Source: http://aliensthetruth.com
---
Date:  January 3 2007
Location:  Fairlee, Vermont
Time:  midnight
Summary:  The witness reported seeing a long wing-shaped craft in the sky with two lights on each side. As soon as he looked up it began to fly "backwards" and then flew in his direction. Five minutes later it had arrived at the witness's location and it was now low enough for the witness to see the wingspan but he could not detect any aircraft outline. It emitted a strange sound resembling a very low one-propeller airplane. It then briefly hovered near the witness and then took off in the opposite direction going over the mountains. His normally active dogs failed to react to the object. That same night as the witness was getting ready to take out the dogs he saw the figure of a man on the porch and as soon as he opened the door the figure left quickly, silently, the witness only heard the brush rustling in the field.
Source:  NUFORC
---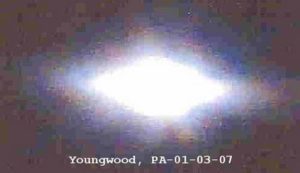 Date:  January 3 2007
Location:  Youngwood, Pa
Time:  
Summary:  
Source:  
---
Date:  2nd week of January 2007
Location:  New Orleans, Louisiana
Time:  2130
Summary:  The witness, a defense contractor, had stepped outside his work place to smoke a cigarette when he started to get a beeping sensation in his ear. His first thought was that he was listening to a forklift and he tried to ignore it. Right after that an overwhelming fear came over him and he started looking around. He looked up and saw a gray being hovering about 20feet in the air. The being was wearing a dark cloak, almost like a long trench coat. He couldn't see its body but could see its head. The rest of it was just this cloak floating up in the air. The witness began to panic since he didn't know what to do. His first feeling was that "he couldn't run or hide". Suddenly the strange humanoid floated up and disappeared. He described the being as about 4 to 4.5 feet tall; wearing what resembled a dark monk's cloak. Its head was clearly bigger that the rest of it. It had large black almond shaped eyes, kind of slanted, he didn't see a nose and it had a slit for a mouth. Before the creature departed the witness heard this telepathic message in his mind, "We can find you whenever we want to."
Source:  http://www.earthfiles.com/news
---
Date:  January 2007
Location:  
Time:  
Summary:  
Source:  
Location. Area of Cape Fear River Wilderness, North Carolina
Date: January 8 2007
Time: night
In a somewhat confused sequence of events, Chris Bledsoe, his 17-year old son, and three friends, Donnie Akerman, David McDonald and a man named Gene were hunting in this isolated area and had set up a fire by the river for the night. Chris at one point was walking along a nearby road or trail when he heard loud scurrying sounds from both sides of the trail. Somewhat unnerved and discarding the possibility that it could have been deer, Bledsoe ended up in a large field near the main road when he suddenly saw 3 large orange spheres moving down towards the ground and then stop to hover just above the trees, less than a mile from his location. He watched for about 10 to 15 minutes and then joined the other men by the river. Aft first Chris could not locate his son and ran frantically into the woods looking for him. Suddenly his son came stumbling out of the woods saying that he had seen some strange beings, he seemed terrified and very serious. Around the same time the other men saw what appeared to be 6-8 "stars" fly from different parts in the sky and converge in a group and then all of the sudden three of the objects flew side by side and flew over their heads and landed or went out of sight on the other side of the river about 400 yards away. All three lights were round bright white and blinding and about 100 yards in diameter. This terrified the group and they all decided to go home. Most left their fishing gear behind and jumped into Bledsoe's truck. When they made it up the top of a hill Chris slammed on the brakes and was shocked to see a brilliant white egg-shaped object with a tail with long spikes all around the middle of the front section hovering 20 feet over the main road, about 200 yards from them. It looked like the spiked area was making slow revolutions. As the men stared in fear the object seemed to rise up and shot off just over the trees out of sight. Chris, the driver, then dropped his friends at their homes (all lived generally in the same area). Chris and his son finally got home (he lived on 6 acres of land) and about 4 hours after arriving there was a noise around the house which sounded like a prop jet flying at tree top level right over the house. He ran out but could see nothing. Within 30 to 45 minutes all his dogs in the kennel were barking frantically, in a manner which usually meant that there was something there that was not supposed to be. His Chesapeake Bay retriever was also barking and looking towards the kennel area. His son was scared but he convinced him to come with to see why the dogs were so stirred up. When he opened the door his retriever took off, running just behind the kennels. She stood there with her hairs standing up barking at something in the bushes behind the kennel. The dog then took off again after whatever it was, followed closely by Chris and his son. They ran down the roads that lead to the kennel to the backyard and the very rear of his property trying to cut off whatever the dog was chasing. When Chris arrived at the Blue Berry Hedge Row at the rear of the property the dog had stopped and was barking in a panic. Chris stopped also staring dumbfounded at a 4 foot tall creature that was also staring at him. The creature looked as if it had a clear glass like covering around it and appeared to have a faint glow of red and "black". He could not see the face what it looked like it had a pair of goggles and a black or dark covering over the lower part of its face sort of like a mask. The whole body appeared to glow. It then disappeared just as the dog and Chris's son got right up on it. His son then explained to Chris that it had been the same kind of creature he encountered during the hunting trip earlier.
Source: http://mufoncms.com
---
Date: January 8 2007
Location: Joao Pessoa Brazil
Time: 23:50
Summary: After having a long nap from 7:00 until 10:30 p.m., I got up and stayed awake, while my husband and daughter went to bed. I was searching the Internet for maps to locate McNaught comet (C/2006 P1) in my place (Latitude: 7° 06′, South. Longitude: 34° 53′, West), Joao Pessoa, Brazil. I was upset because I realized it wouldn't be easy to see the comet from here. I went to bed thinking about the comet and stayed observing the nice spot of clear sky I have trough my large bedroom's window (6th floor) which is always kept open during the warm summer season. I have a nice view from here since there are no buildings around and we are only 100 m from the beach – in fact, from my window, I am facing the sea and "Ponta do Seixas" – the eastern most point of the Americas. There were no clouds neither the moon and I was observing the sky and the constellations (The Southern Cross, The Great Dog, Orion…) when I suddenly spotted what, at a first sight, looked like a tiny cloud blown by the wind – I felt strange because it was moving quite fast. When I observed it properly, I have noticed its triangular shape without a clear contour made up of some faint points of white light (I could not count how many points – may be six or seven…). The delta shaped "thing" was traveling soundless from southeast to northwest in a peculiar way with its wider angle pointing sideway (even a delta shaped airplane would not fly with one of the wings heading!). I then realized that could be a formation of orbs. It was difficult to guess the altitude but it could be compared to a commercial plane flying at 3000 m or more. It soon went of my visual field (passing over my roof) – I run to another room, facing north, and in a second I could spot the triangular shape again. I observed it until it faded into the light sky of the city (away from the sea) I doubt a person who was not intentionally watching the night sky would ever have noticed that "thing" – I had the impression it was traveling camouflaged…  I must add to this report that I have an engineering background and a considerable experience in observing the sky (I was an amateurs junior astronomer while at the university). Since then I have made a lot of suppositions and calculations: I have taken a time average of many repetitions of my movements again and I found time of observation=20 seconds. 
Altitude (h): I had to guess – my first impression is (h > 3000 m) = 3 km . Reason: I am used to observe things closer than 3 km by just looking out from my window, boats, people at the beach, cars, planes – at smaller distances I see more details even at night.
Length (L): since the thing's longer side comprised approximately a 2º angle (2 full moon size), which equals 0.255 rd and then, L = 3000 x 0.255 = 76.5 m
By estimating angles I could also calculate the speed (s) of the "thing":
1. Supposing h = 3 km, then v = 954 km/h !
2. Supposing h = 6 km, then v = 1908 km/h !!! (In this case the length would be L = 6000 x 0.524 = 153 m !)
3. I don't want to suppose any higher because that would mean faster and bigger!
In fact, they looked like faint stars (+6 magnitude) (as I can see Pleyads M45 with the naked eye) – I was not able to count them but they were more than 5 and less then 8 points of light spread over the triangular area. At that time my street and the region around is always completely silent – just the sea at a distance, no restaurants are open and everyone else at home (2 more people) were asleep. I would have heard the sound of a plane or anything like if closer. Clear glass windows measuring 1.50 x 1.20 (half of them open), no wind blowing (it is terrible warm by this time of the year) – 6th floor without any other apartment building around (only houses). Good visibility! There are only 4 commercial flights per day arriving at Joao Pessoa since the main airports in the region are in neighbor cities (Recife and Natal) and even though, the local airport is 30 km to the west away from here. I don't think this direction (Southeast to Northwest) is a flight corridor – I see some planes from South to North (over the sea) and the ones arriving here, I see at a distance East to West. I will observe more carefully from now on! As I have estimated, the "thing" was really faster then a plane at cruise altitude. The additional impression I can tell is that at first I thought it was a tiny cloud… when I realized it was to fast and had points of light I was really frightened because I found strange, what appeared to me like a "flying blade". I have even said to me – "Oh my God, what is that? I just calmed down when I thought it could be transparent, or, less frightening, a formation of smaller points of light. I have made a simple drawn of what it looked like. The blue shade is just an illustration as it was in the same color as the dark sky.
Source: National UFO Reporting Center
---
Date: January 15 2007
Location: Sydney Australia
Time: 22:00
Summary: a circle UFO with green,red, blue light, about 2 miles away in sky Duration: 30 seconds
Source: National UFO Reporting Center
---
Date:  January 2007
Location:  
Time:  
Summary:  
Source:  
Location. Mesa, Arizona
Date: middle of January 2007
Time: sunset
The witness was walking home at night because his car had broken down. She tried to call his wife with his cell phone but she didn't answer. As he walked he saw two abandoned buildings that had been in that condition since he was a child. He was walking between them and it was already quite dark. Strangely as soon as he got between the buildings it was freezing and then he saw right in front of him near a wall, a "shadow". It was the figure of a man, but it was all black, like a living shadow. It had two fiery-yellow glowing eyes. It looked at the witness who could not scream and the only thing that came out of his mouth was, "Who are you?" He stood there for several seconds and then it answered. It was like a "dark whisper" it said, 'Dark eyes" or "Dark ice" she witness could not be sure. A car passed behind him and the lights of the car lit up the alley in front of him. As soon as the light hit the shadow, it was still a dark black shadow, but when the lights faded it was gone, the witness then felt warm again.
Source: Your True Tales—August 2007
---
Date:  January 2007
Location:  
Time:  
Summary:  
Source:  
Location. Freetown, Massachusetts
Date: January 20 2007
Time: night
The witness (involved in previous encounters) was again lying in bed when the usual sensation begins and his room is filled again with blue white light and vapors (smoke?). This time he wanted to see how they came in. He could feel a presence and concentrated on the energy. It was at this time that he noticed that they were "in" the energy somehow, waiting in the shadows, sneaking around. They noticed that he saw them and would quickly move out of his vision disappearing back into the energy field as if trying to remain invisible to him. He was on to them and chased them around the room with his mind and his eyes, soon to find out they frown on this. Suddenly the same being, he grabbed by the throat last time came out of nowhere and hit him on the right side of his head. Then after an extra "juicing of energy, he was being lifted again. This time when he awoke in bed he was not neatly and nicely tucked in. He was naked above the covers upside down as if tossed back to bed. He could remember a field of long yellow grass, with ships every where, dropping and picking up people. There is an abandoned farmhouse in the distance, boarded up, and the porch collapsing. He saw a little boy being lifted and grabbed his leg but could not hang on to him.
Source: http://www.aliensthetruth.com
---
Date:  January 2007
Location:  
Time:  
Summary:  
Source:  
Location. Kannapolis, North Carolina
Date: January 20 2007
Time: 2031
The witnesses spotted two rectangular-shaped objects that had a reddish light resembling a spotlight. The objects were totally silent and flew at about 200m in the air. While the witnesses watched seven more similar objects appeared and seconds later they saw a human-like figure wearing what appeared to be a long black coat hovering near the objects.
Source: NUFORC
---
Date:  January 2007
Location:  
Time:  
Summary:  
Source:  
Location. Hampton, Virginia
Date: January 22 2007
Time: night
The witness was at his computer chatting with a friend when he noticed a figure to his left; it was gray/brown/black about 2 and a half to 3 feet tall, slightly round body and a narrow head with two pointed ears on top. He saw it only for a few moments and then it disappeared. On January 26 or 27 he saw an object resembling the full moon and later heard a strange sound of high winds around his house, later he heard another sound resembling high pitched bells or chimes. His family pets were also acting weird. The witness also experienced strange dreams and possible telepathic messages. On another night he saw orbs of light floating in his room and was overcome by a strong feeling of gravity. (Sleep paralysis?).
Source: webmaster@ufoinfo.com
---
Date:  January 2007
Location:  
Time:  
Summary:  
Source:  
Location. Blacktown, Sydney, New South Wales, Australia
Date: January 27 2007
Time: 2054
At around 2200, Tyson and his brother Brett were traveling near the M7 motorway network connecting to Blacktown, a suburb of Sydney. As they looked skyward, they saw an object that was white/blue and star like hovering above the motorway. After stopping to observe it for some 10 seconds of hovering, this object then "shot off straight upwards and disappeared." On the above date the brothers were playing football in their back yard when the ball went over the back fence. This is in the vicinity of the first sighting. Having scaled the fence to look for it amongst the gardens of their neighbor's hen house Brett was alarmed by the sight of a strange, small figure standing by the chicken house doors. He described his exit as instantaneous, leaping the fence back home and racing inside. Brett had enough of a look to describe a small creature with large almond like eyes. Brett noted that his watch had stopped at 2054.
Source: Dominic McNamara AUFORN NSW
---
Date:  January 30 2007
Location:  Svartbytrasket, Boden, Sweden
Time:  night
Summary:  The witness (involved in other encounters and strange virtual dreams) claimed he was contacted by two extraterrestrial females about 20-25 years of age. He awoke that night because someone had turned on the light of his dinner table and he saw a girl sitting in front of the dinner table and another girl approaching him to shake hands. The woman at the dinner table also arose to shake hands. They had a conversation with the witness but he does not remember what it was about. He then went into a deep sleep and later when he woke up the dinner table light was still on. The women had long black hair, tanned skin and beautiful facial features.
Source:  http://www.algonet.se/~hermesat/first.htm
---
Date:  January 2007
Location:  
Time:  
Summary:  
Source:  
Related articles