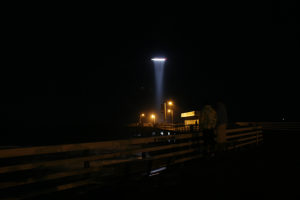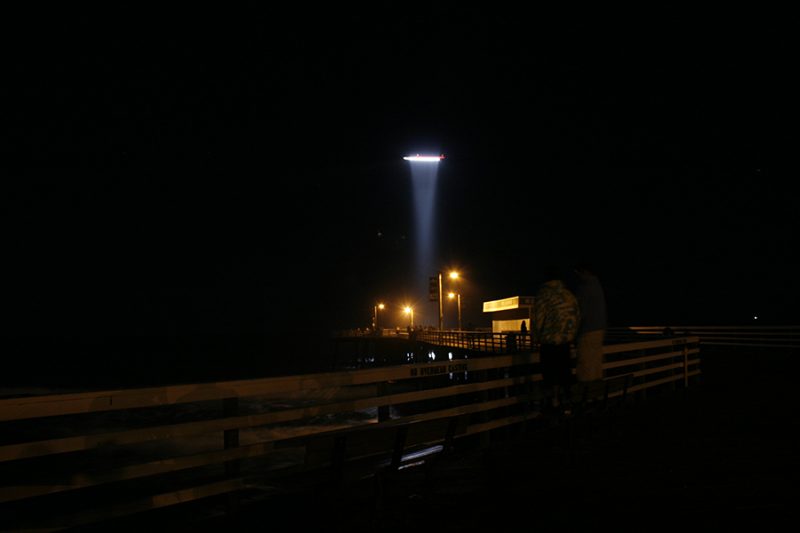 (Last Updated On: December 20, 2017)
Date:  April  2009
Location:  Puerto Huarmey, Peru
Time:  various
Summary:  A strange looking "animal" which resembles a small bear and leaps with great agility has reportedly mutilated numerous farm animals, including ducks, pigs, and even dogs, causing great alarm among the locals. The men have organized nightly "hunting parties" in order to look for the animal. According to different testimonies the bizarre creature resembles a bear but the size of a dog, perhaps 45cm in height, with a yellow chest, and large fangs protruding out of its mouth. It apparently has the ability to leap over tall hedges and animals pens. Madeleine Flores, a community leader reports that so far about 14 households have been affected, they have asked for assistance from the Agricultural Ministry.
Source:  http://perumisterio.blogspot.com
---
Date:  April  2009
Location:  Exact location not provided
Time:  0130a
Summary:  The witness, a dog breeder, was outside with his newest addition to his kennel, a German shepherd puppy. He was in the process of housebreaking the young pet. He lives in a largish corner lot with lots of trees, shrubs and bushes, and many things—animal noises, distant traffic and sudden rain fall—would really get the dog's attention. Before day one morning, they were both out there doing the dog's business, and the witness was off in his semi-wakeful zone, still in his pajamas and hoping for the best. They were both facing away from the house when he noticed the dog sitting alertly, watching something with complete interest. The witness glanced in the direction he was facing, sort of south-westerly and looking a bit scornful. At first h thought he saw a white plastic bag or some kind of cloth stuck up high in the last of the tall privet hedge that runs from east to west along his property line. He chuckled at his puppy and quickly told him it was nothing, "Get busy!" he said with semi-urgency. However the puppy never moved, but continued to stare fixedly at the 'thing'. He was about to urge him again, but something about his attitude urged me to really look. Something was just odd about what he was seeing. The 'thing' was up about 10 feet or so near the end of the property, maybe about 15 feet from where they both were standing, and it was oddly and continuously moving. What made it so odd was how fluidly it moved, like nothing that would make any kind of sense in nature. He noticed it was square and very white, waving from the bottom parts, left to right and up and downward in a weird, unnatural way.At first he thought the wind was making it move, but as he watched the thing, he realized there wasn't much in the way of wind or even breeze to keep that thing moving so smoothly all the time. And he could not hear the tell-tale sound of plastic (what he first thought it was). In fact, he could hear no sound at all in his yard. Not one insect or frog made its presence known. His puppy continued staring at this thing. The witness points out that all young puppies and kittens will do this, but this dog would have lost interest if the thing wasn't threatening or didn't change its behavior, which it hadn't. The more he watched the thing, the more he knew something was odd about it. The liquid movement was all wrong. Something told him he needed to go inside, now. He called his puppy, which was not quite ready to leave. He had to pull him away, calling his name quietly to coax him along. He kept stopping to look back. At the patio doors he turned back to watch the thing in a way that totally scared the witness. He wanted to hear like a plastic bag would make in that kind of quiet; he need to see it was only a fragment of white fabric stuck in his hedge, but he was getting nothing like that…nor was his dog.Finally he got his dog on the stoop and urged him into the house. He couldn't wait to be behind a locked door. He talked to the puppy, trying to encourage him. The dog looked at him and back at the now locked patio doors. Then he kept staring at the witness, as if he didn't recognize him for some time. He behaved sort of lethargically, as he was coming out of a trance, and that scared the witness more than seeing the thing in the shrubs. Once he had gotten the puppy in his crate, he went to the bedroom window that looked lout into the back to see if the thing was still there. It was, it continued where it was in the hedge, flowing in its languid, spooky way. His roommate asked him what was wrong, and as he watched the waving object he related what had happened. If the puppy hadn't been staring at the thing so intently, the witness doesn't know if he would have ever noticed it. In fact he thinks that if the puppy hadn't been staring at it for so long, he would never have even been bothered by it, especially since he probably would have never noticed it in the first place. Later when early daylight had come he was heading out there with his puppy again, he looked for the thing first. He fully expected it to be there, since the wind hadn't picked up to dislodge it from its hold in the hedge. Naturally, he looked for it, but it was nowhere to be seen. He looked in the side yards, in the shrubs, in his neighbor's yards and into the street but it had apparently moved on. The weird part was that his puppy kept looking for it afterward, he knew exactly what he was searching for whenever he pulled him in that direction, where he would sit and wait expectantly for a while. After about 3 days the puppy forgot about it. The witness could not.
Source:   Your True Tales—September 2009
---
Date:  April  2009
Location:  
Time:  
Summary:  
Source:  
 Location. Death Valley, California
Date: early April 2009
Time: 0030a
Four teenagers were out camping in the desert when they decided to turn in for the night. They got into the RV and got ready for sleep and turned all the lights out at about 2130. At 0030a they woke up after hearing several metallic clangs. They turned the lights on and anything metal that wasn't secured stuck to the roof of the RV for about 10-15 seconds, after that the four of them simultaneously felt a strong static shock and everything fell to the floor again. Although we were half asleep they sort of disregarded the event as some 'freak something' they turned the lights off once more and about 30 minutes later the motion detection light outside went off and one of them looked out for about a minute assuming that it was a coyote or another animal. When the light went off again he woke up his girlfriend sister. She asked him what was going on outside, and immediately after that she screamed and there was a bizarre creature at the window looking in with very long skinny hands, its neck was about an inch and a half thick which made it obvious that it wasn't human, and its skin was bluish and somewhat translucent and as for its large oval shaped head, it had no discernible features except a faintly glowing blue light. There was a gun under the bed so the male witness picked it up and shot at the creature. The creature held its hands to its head and stumbled back setting off the light detector once more. At this point they estimated its height to have been about 7 feet 5 inches with long arms that almost touched the ground and extremely thin with very long legs also. Then it just vanished. The next morning they found a huge burn mark on the left side of the top of the RV and 3 trees that were there the previous day just vanished, with no sigh of them being chopped down.
Source: http://mufonmembers.proboards.com
---
Date:  April  2009
Location:  
Time:  
Summary:  
Source:  
 Location. Fergus Falls, Minnesota
Date: April 2009
Time: 1845
The witness had left the house in order to meet some family members at the theatre. About 2 miles from the house on a country road known as the Wendel Road along the Mistinka River he saw 3 white tail deer. Two of the deer were rather small probably just yearlings and a larger doe who he assumed was the mother. Being an avid hunter and future wildlife biologist he stopped to look at the deer. He normally hunts in the area and has spent his whole life in the Fergus Falls area. The deer were following a small creek bed which is a fact the Mistinka River so there were hardly any trees except for one. At this point the witness noticed something crouching behind the tree on his side of the road looking at the deer and to his belief hunting them. It just sat there looking at the deer taking no notice of the witness, even though the witness was in a truck no more than 40 yards away with nothing obstructing his view of it. It had one 'hand' on the tree that it was bracing itself. What struck the witness as shocking was the fact that it seemed to be a 2 legged creature not a 4 legged one. Its hands appeared to have opposable thumbs and were rather slender and long very unlike a wolf. The creature looked like if it stood up it would be over 7 feet tall, with a protruding muzzle, broad shoulders, slender waist, thick muscular legs; he could not see its feet. It was dark brown in color throughout the body. After several seconds of looking at the creature in shock the deer ran off, then something amazing happened, it looked directly at the witness, as though blaming him for losing its meal. It just sat there looking at the witness and blinking but not moving. The frightened witness then hit the gas pedal and drove off. The next day the witness found some strange 4 toe looking marks in the snow.
Source: http://www.unexplained-mysteries.com/forum
---
Date:  April  2009
Location:  
Time:  
Summary:  
Source:  
 Location. Agua Prieta, Sonora, Mexico
Date: April 2009
Time: 2200
Ramon Perez and several other young friends were returning home on Calle 22 Av Industrial when a bright blue flash of light attracted and a strong rush of wind attracted their attention towards a nearby building. Next to the building they saw a short dark hairy figure, child-like, which appeared to be stretching itself going up and down, and stretching its arms high above its head. They could not see any eyes or ears, and the head was round and hairless. The figure was at about 80meters away from the witnesses and they watched it for about 5 minutes. At one point the witnesses decided to approach to see what it was and at about 10 meters away, the creature ran behind the building in a hunch-like position.
Source: http://enigma900.blogspot.com
---
Date: April 5 2009
Location: Taunton Somerset England
Time: 19:00
Summary: The weather at the time of my observation was cloudy and overcast with some light rain and a slight breeze. I observed a single bright orange orb, very fast moving, it was faster than a modern jet but not as fast as a satellite. The object made no sound. The object was moving North to East just below cloud level, The proximity of this object in relation to myself would have meant that if it was an aircraft I would have been able to hear it but there was definitely no sound. The object illuminated the clouds when it travelled through them. The brightness of the object would be approximately magnitude 2. No flashing lights or strobes. This object was not an aircraft, satellite, balloon or lantern. I observed this object through my binoculars until it disappeared into the clouds. I am a keen aviation enthusiast with thirty years experience of observing aircraft. I have a responsible job and I consider myself to be a perfectly rational person. This is the first! report that I have made and I have made this report because I am absolutely convinced that what I have seen cannot be identified, although I am aware that this object or others like it have been seen in other parts of the UK.
Source: National UFO Reporting Center
---
Date: April 10 2009
Location: Boydsville, Arkansas
Time: night
Summary: A local farmer and his wife were driving on a gravel road near the above community when they sighted a beam of light slowly moving through the wooded area near the road. He stopped the truck and watched as an object shining the light came into view slowly moving just above the trees. He asked his wife if she was seeing what he was seeing. He described the object as over 400 foot long with large windows about 8 foot in size. The object then traveled slowly away. At the rear were large glowing blue lights. He described the color of the lights as being welding arc blue and just as bright. The object moved away to the west and was lost from sight near a large ditch. Another local resident complained about "people" looking into her windows late at night. Oddly she described the "peeping toms" as very tall and very skinny with egg-shaped heads. She stated that her border collie hid under the bed at the time of the incident  Animals tend to sense danger much more acutely than humans.
Source: http://mufoncms.com
---
Date:  April 14 2009
Location:  San Antonio, Texas
Time:  evening
Summary:   I was talking on my cell at the end of my sidewalk by the street when I turned around facing my house and saw this huge black human-like bird thing gliding without a noise coming from the east maybe the distance would be like three streets over but about maybe five blocks down. When I saw this I was stunned and stared at it trying to figure out what it was and then I realized it wasn't anything I've ever seen. I ran into the house and yelled at my husband and my grown son to get out here quick. They came but seemed like forever and they looked and saw it too. When they saw it the thing was like the a few streets over and then disappeared behind the big trees. When we saw it we all said that no one would believe us; but I have recently been talking about it because it has bothered me so much. I've lived in this neighborhood all my life and I can remember three UFO sightings since I was five and all the sightings were in this neighborhood or around Stinson Field airport. I never came forward about them because people think you've lost your ever loving mind until recently when others I've spoke with shared their experiences. I have other stories but this one is the most recent and I was wondering if anyone has ever seen this thing. It is silent like it was a glider but I could see the body was exactly like a man a very large man. 
Source:  PHANTOMS & MONSTERS
---
Date:  April 15 2009
Location:  San Luis Obispo, California 
Time:   21:30:00
Summary:  At the time i was living in a camper at the end of a road about 1\3 mile from the food store. me and a girl were walking to my place .She was talking and i suddenly noticed 3 lights in a triangular shape appear and i stopped. the object went up, down, up, down, up and then straight.I blinked and it was gone. i asked her if she saw it and she said she didn't know. the lights kind of were a green, orange, pink mix. and they spun in one direction as going down, and spun in the opposite direction when going upwards. i could see something behind the lights. it bothers me because i don't know what it was that i saw.


Source:  MUFON
---
Date: April 25 2009
Location: Denver, Colorado
Time: 0415 am
Summary: The witness, who suffers chronic pain due to a degenerative joint disease, was experiencing pain and was in bed accompanied by her dog trying to sleep. At that point her eyes were closed and she was embracing her dog when she felt a strong wind in her room that moved her hair and left some papers on the floor. She stated that she is a Christian and that the papers contained prayers she'd been reading. She described the wind as strong and stated the nature reminded her of a 30-40mph wind. She reported no open windows or doors to the outside were open at the time. She described the experience as terrifying and that she heard a voice in her head she associated with having a telepathic source. She stated that the voice instructed her not to be afraid. She also reported sensing a presence that she felt was physically close to her face and that she did not want to open her eyes due to fear but not due to any physical effect. She also reported being unable to talk. Her next memory is of the wind returning and with it her impression is that she was returned to bed. She noted the time to be 530am. She and her dog did not go back to sleep afterward and remained upset for some period of time afterward.
Source: Ethan Rich in http://mufoncms.com & tpeay@centurytel.net 
---
Date:  April  2009
Location:  
Time:  
Summary:  
Source:  
Location. Mesa Arizona
Date: April 25-26 2009
Time: 2115-7am
At around 2115 the witness's mother called him outside in their backyard where she claimed to see several objects in the sky. She never gave him any other descriptions of the objects except for that they gyrated. He looked up and saw a quick white flash in the sky. It occurred again one minute later. Since nothing else happened, he went back inside and went to bed. The next morning, it was around 7am when he woke up on his right side and was paralyzed in all parts of his body. Suddenly he felt a gentle poke on his lower back and he received a vibrating sensation throughout his body. He could not speak and was able to breathe out "Who are you?" He felt tension release of his neck and he turned around to see a 7-8 ft tall male humanoid with pale white skin and long blond hair. He had no eye pupils, just pure white eyes and was wearing s silvery jumpsuit. The witness noticed that the humanoid had four fingers instead of five on his hands. It was then that the witness began struggling to get free. This lasted for about 2 minutes until the vibrating sensation stopped and he was able to move. The figure was gone and the strange thing was that he had locked his door from the inside the night before and it was still locked the next morning. His sister told him that his room just had a weird feeling afterwards and this lasted for about two hours. The witness feels that the being was not trying to hurt him and was just trying to tell him something.
Source: John Hayes webmaster@ufoinfo.com
---
Date: April 26 2009
Location: Basalt, Colorado
Time: 0230 am
Summary: The 18-year old witness was walking back home from a friend's house when he saw a large bright light hovering low over the area which began to follow him. Afraid he ran the rest of the way home and went into through his bedroom window. Suddenly while inside a sort of "force" took control of the witness and he was unable to move. He felt communication from the "beings" and saw images of what was apparently future events in his life (no details yet). He was able to see several entities which he vaguely described as 4feet tall, with very skinny "reversed chicken legs"; he did not describe the facial features. Apparently the entities told him that he was "a good person" and let him go. The experience lasted about 15 minutes. During the encounter, his parents were in their room and heard a strange sound resembling a "tornado" outside the house. They did not investigate.
Source: UFOs Northwest
---
Date: April 28 2009
Location: Thompson, Connecticut
Time: 2115
Summary: The witness (involved in a previous incident in 2007) heard some noises outside the back of the house, so she told her brother to shut off all the lights. Looking out she saw a glowing person run very fast through the yard. Her boyfriend reported seeing a similar figure standing in the woods by the dog's house a few weeks ago, another glowing figure was seeing coming out of the woods around the same time about 7-8 houses down from the witness.
Source: mjessypiex@aim.com
---
Date: April 30 2009
Location: Edenvale Johannesburg South Africa
Time: 18:15
Summary: saw a low-flying glowing orange/flame colored ball. Flying very slowly over the horizon , it appeared to die down (like a meteor) but then changed direction and continued glowing until it was over the horizon.
Source: National UFO Reporting Center
---
Date: April-May 2009
Location: North Port near Ft Myers, Florida
Time: various
Summary: A young boy watched two aliens from his bedroom window, a gray and a reptilian. His parents found it difficult to believe him but he was very sincere. He saw them several times thru the month of April and May. His father was nervous about it and kept the door locked. However around 1am on the 16 of May he checked the back door and it was not locked; it opened when he checked it. In the morning he found a strange footprint outside the back door. Whatever it was he must have startled it, since dirt seems to have flown up as it moved quickly to its left. The witness took photos of the print and a plaster of Paris. It appears to have 3 "chicken" like claws in front and one in the back, but also a foot shape behind the claw with a heel. The witnesses have also heard the creature jump on their roof at least three times.
Source: http://www.skyscan.org/NewStgs4.htm
---
Date:  April  2009
Location:  
Time:  
Summary:  
Source:  
Related articles