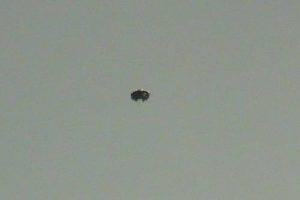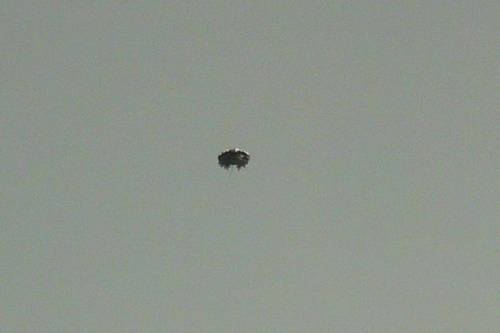 (Last Updated On: April 23, 2017)
Date:    June  2011  
Location:   Swan Lake, Manitoba, Canada
Time:   05:00 a.m.
Summary:  The witness and her son had moved into their brand new house in 1996, her son is 18 years old now and she now lives there alone. They had always heard strange noises in the home: footsteps, knocks, talking, and other things had happened over the years. That morning she had fallen asleep in the living room and awoke around 5 am. There was enough daylight to see ok. Standing there just looking at her was a little man. He was standing next to a chair about 5 feet away from her. Compared to the chair, she estimated his height at around 3 feet tall. He had his hands folded in front of him and was kind of dark gray in color. According to the witness, the weird part was that she seemed to know who he was, but just couldn't remember from where. She wasn't scared, and he didn't seem menacing at all, she just went back to sleep.
Source:  Your True Tales—August 2011
---
Date:    June  2011  
Location:   
Time:   
Summary:  
Source:  
Location: Chibolton, Hampshire, England
Date: June 2011                                             Time: afternoon
A six year old ran back to his mother, claiming to have spotted a male gray figure with no face, wearing a hat, walking around a wooded area near the playground close by. As they drove away, the child said he could still see the figure from the car window, walking across a nearby field, close to something metallic sticking out of the ground.
Source: http://www.paranormaldatabase.com/recent/index.php                 ?
---
Date:    June 1 2011  
Location:   Pembroke, New Hampshire
Time:   02:00:00
Summary:  One night i had an experience like nothing i have experienced before or since. my body went into paralysis, my eyes were close, and so was my mouth. there was a terribly painful vibrating sensation occurring throughout my body. i could not open my eyes or open my mouth to scream. then it was like i was floating outside of my bedroom window; being totally outside above the garage and looking down at the street in front of the house. just as soon as that happened, i was back in my bed. i thought it may have been a bizarre dream and i fell quickly back asleep. the same process happened: the painful vibrations, paralysis, eyes and mouth closed (i don't think i was able to breath, if not well). this time i went somewhere different. it was black all around me. all i remember seeing is this silver looking polling moving in and out of my abdomen. i felt this. then, i was right back in my bed, as if i was fighting this whole thing. i tried hard to get up and run down the hall to my mother's bedroom. i couldn't leave my bed as it felt like i was being pushed back down and held down. the same painful process of leaving happened again. this time i woke up in a tiny room on a two or three seated sofa. the room was neon purple (the ceiling, the walls), and the sofa was neon green. there were no doors or windows in the room, the only thing in the room besides myself and the sofa was a mirror (maybe five feet long). i was in this place the longest. after getting up off of the couch i walked over to the mirror and looked at myself. i appeared normal at first then began to see what looked like my facing melting. it was like seeing my eyes and nose and skin melt. i collapsed at that moment. my body went limp and i felt my skull hit the hard floor. everything was black and i could not move or breath. i laid there for awhile coming to terms with death. then, all of a sudden i was back in my bed and sprung out running down the hall with no restrictions while screaming "am i alive am i alive!? am i dead!? is this real!?". at this time in my life i was seeing shadow people in waking life and they visited me often in my sleep. i began being terrified of sleep. one night, a being appeared to me in my house. it was in a dream, i was sitting downstairs on a chair and this being sat across from me. it felt like pure evil. it had a reptilian like face (this was long before i was aware of these beings), big yellow eyes with vertical slit pupils, a deep booming and angry voice, and was wearing some kind of black robe. it was yelling at me, i think it was trying to tell me some very nasty things i don't really want to repeat. then it said "i should just kill you right now!". then it looked out into the hallway and back at me and gave an evil smile and said "but i will have someone else do that for me." i looked to the hallway and saw the same shadow person i have seen in waking life and in the dreams. this all happened when i was 14, i am not 24, i feel as though it's time i reached out about this. now i see many white orbs and this has increased since i began meditating, significantly. i did see the shadow person for the first time again in a long time but the white orbs are far more popular. the white orbs feel like the equal and opposite to what i experienced. please, i need answers and so far i've been failed to get any in depth insight into any of this. i feel alone from my peers in this matter and from my friends and family as they have not experienced these matters either. the meditating and praying have helped significantly and i feel as though i am experiencing the equal and opposite to what i did around that time in my life. i have a very deep and innate connection to the et phenomenon since i was young enough to be in kindergarten (this connection was not brought to me by any family or friends). and i wonder if this correlates to the intense high pitch sounds i would hear as a child with accompanied visuals that i am now experiencing again. i see these white orbs a lot not. i wish to be a part of this movement. after all of this, i wish to finally speak to someone who is involved in this as their life work. you have a very willing, passionate, dedicated, and experienced person here to work with. please help.
Source:  MUFON 82418
---
Date:    June  2011  
Location:   
Time:   
Summary:  
Source:  
Location: North Carolina, exact location not given
Date: June 2011                                             Time: late night
A six year old girl woke up in the middle of the night and came to the living room and saw a human- like entity looking at her through the window from the outside. She said it looked white/gray in color with big black eyes and it was waving at her. Her mother at times feels like she is being watched by something unseen.
Source: MUFON CMS
---
Date:    June  2011  
Location:   
Time:   
Summary:  
Source:  
Location: Kailua-Kona, Hawaii
Date: June 4 2011                                          Time: 09:00 a.m.
A family of five reported seeing a man floating in the air wearing a black aviator type suit. First the 2- year old yelled out, "A balloon, a balloon!" and the rest of them looked up and saw a thin man wearing a black suit. He appeared to be floating in the air. He was stationary. There were no wires attached to him nor was he wearing any wings. They contacted their local newspaper (West Hawaii Today) to see if anyone else reported seeing the floating man, but there was no response.
Source: NUFORC
---
Date:    June 6 2011  
Location:   North of Prescott, Ohio
Time:   23:30
Summary:  A man and his fiancée were driving around this night in a rural area when they came behind what appeared to be a slow moving vehicle with its hazards on. As they got closer more lights came on surrounding the object and appeared to pulsate. At first the man thought it was a tractor (due to the rural area) but as they got closer he listened to an engine and it was completely quiet aside from his
own car. They were roughly 20 yards away and could see something walking back and forth around it. As they watched they could see underneath it as if it were floating. When they got closer to the object it picked up speed and headed down the road so they turned off onto another road. As they reached the end of the road (a good 5 mile stretch) he looked in his rear view mirror and saw the object following behind them and quickly gaining speed. They turned off and sped home and that was the last they saw of it.
Source:  Mark Turner http://ufosnw.com/sighting_reports/2011/
---
Date:    June 17 2011  
Location:   Kinistino, Saskatchewan
Time:   22:00:00
Summary:  I had just gotten dropped off at my mothers on james smith reserve we lived 20 min walk from the village, my friend saw us pull up so he came outside to greet me. i had asked him what was going on inside he told me that my fathers fire fighter crew was inside having drinks with my parents. i didnt want to go inside well i was kind of mad that they were drinking so i stayed outside. my friend stayed with me. one of the crew members came out to use the washroom. he started peeing right off the front steps so i said to him " damn it (crew member) why cant you use the washroom like a normal person." he replied " washrooms being used" as i looked off into the distance i noticed a moving light so i said " hey whats that?" crew member said "its a plain" and went inside. i told my friend to look and it started moving faster and getting brighter and closer. within seconds it stopped right over our fire pit that was in the middle of a tear drop shape road that leaded to our house. it hovered for i don't know how long. i told my friend "are you seeing this" he didn't say anything so i looked at him and he was looking at the hovering light. i looked back and just stared at it and it shot out into outer space really fast. it didn't make any noise and the light was the size of a baseball. we went inside to tell of what we saw and right away the guy that was peeing outside asked where we went. i said " we just saw a light " crew member said i went out to pee again and you guys were gone." he predeceased to accuse us of getting close to each other like going for a walk to "be alone" i don't remember much after that. i don't even know if i told them what we saw. i asked my friend meany days later about what happened or if he remembered and said "yes but i don't want to talk about it can you just forget about it". i don't know why he refuses to talk about it, maybe he was scared i don't know. i still see him around town and we don't talk much but after that night our friendship seemed to grow further apart. if we were abducted wouldn't we be positioned differently i mean i remember the whole sighting but what bothers me is what (crew member) said. when i try to remember every detail it seems so-real like it didn't happen but it did i remember it. till this day it still bothers me i think about it before i go to bed sometimes and try to think of what else it could have been. there is no explanation. i cant think of one.
Source:  MUFON 83211
---
Date:    June  2011  
Location:   
Time:   
Summary:  
Source:  
Related articles