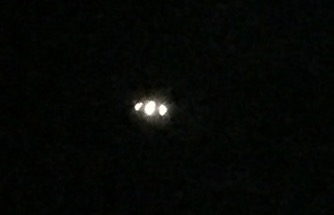 (Last Updated On: December 20, 2017)
Date:  January 2015
Location: Valley Forge Pennsylvania
Time: Night
Summary: The witness was driving home from work northwest along Gulph Road towards Phoenixville and away from King of Prussia when the object was first noticed. "I noticed three very bright lights just over the tree line in the distance," the witness stated. "I think I noticed them just about the time I passed the Washington Memorial Chapel. The lights were side-by-side." The witness first thought the lights were an airplane. "But as I drove closer I realized, whatever it was, was too bright and too low to be a plane. I actually started to think that maybe they had built a tower in the park with lights at the top of it, but I knew that wasn't logical because I would have seen this tower/monument by now."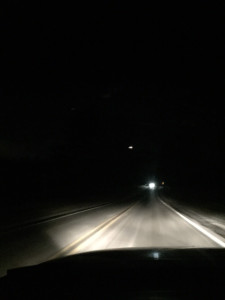 The witness then realized that the object might not be moving. "It was moving, but slowly. When I was finally back on a straight part of the road, I had decided that this was just too weird and started snapping pictures. As I got closer it was more apparent to me that this wasn't a plane or a helicopter. I considered pulling over, but had someone behind me. It was also very dark and 17 degrees outside." But after the witness passed the lights, he decided to look back and out the driver side window. "This is when I realized that it was literally just above the tree line and shaped like a triangle. Once I was past the lights I could distinguish the shape vividly." "After my experience, I was a little shaken up. I called my mom, who thought I was just pulling her leg. But after I sent her the pictures, she was convinced. She even went as far as to research sightings in Valley Forge." The witness knows the area well and what normally is flying in that space. "I have been living in the area for almost five years now and I visit the park often. I know this park in and out. I know what the planes flying overhead look like. And I've seen my fair share of helicopters and drones. This to me was just so weird and unexplainable. It took me almost a week to even send in my story. I'm open-minded about unexplainable events, but I personally do not come to conclusions without thinking about it first. Even if this was totally explainable, it was still weird and definitely a story worth sharing."
Source: Mutual UFO Network Case 62584
---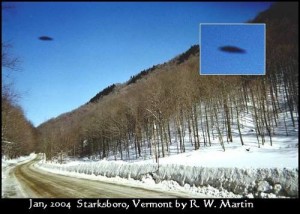 Date: January  2015
Location:  Starksboro Vermont
Time:  
Summary:  
Source: 
---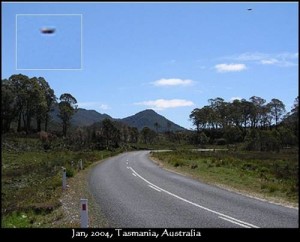 Date: January  2015
Location:  Tasmania, Australia.
Time:  
Summary:  
Source: 
---
Date: January, 2015
Location: New York
Time:
Summary:
Source:
---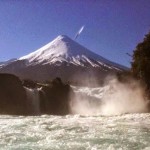 Date: January, 2015
Location: Osorno Volcano, Chile.
Time:
Summary: I was on a boat near the Petrohué Falls in Chile and took some pictures of the Osorno Volcano. One picture shows a burning cigar-shaped UFO and it appears to take a nose dive directly into the volcano.
Source:
---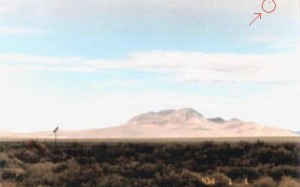 Date: January 1 2015
Location:  Red Mountain California
Time:  
Summary:  
Source: 
---
Date: January 1, 2015
Location: Melbourne, Australia
Time:
Summary:
Source:
---
Date: January 3 2015
Location:  Santa Monica California
Time:  
Summary:  
Source: 
---
Date: January 4, 2015
Location: Brazil
Time:
Summary:
Source:
---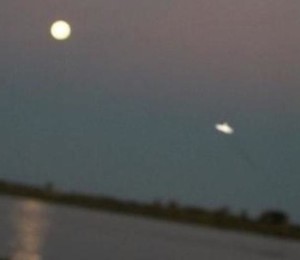 Date: January 5, 2015.
Location: Santa Fe, Argentina
Time:
Summary: "A UFO again surprised fishermen from the village Villa Ocampo, in the province of Santa Fe," says Fernandez Sofy "TN and people". In Villa Ocampo, Santa Fe, already witnessed on several occasions these "aliens" apparitions. On January 5, a UFO again surprised a group of native fishermen held in one arm of the Paraná River. People who were at the parador "Phoenix", to the coast of Rio, were extremely surprised with this phenomenon. Locals confirm that these types of occurrences are common in the area. A few months ago, a few kilometers in a town called "The Sombrerito" were found strangely mutilated animals with missing their jaws. The same farmers report having seen these increasingly often place at any time of luminous objects. [Translated]
Source:
---
Date: January 5, 2015
Location: Southern California
Time:
Summary: video deleted
Source:
---
Date: January 7, 2015
Location: Sydney Australia
Time:
Summary:
Source:
---
Date: January 9, 2015
Location: over Atlantic Ocean
Time:
Summary:
Source:
---
Date: January 10, 2015
Location: Edmonton Alberta
Time:  Approximately 8:30 p.m.
Summary: I think I saw what appeared to be 10-12 bright orange lights in sky southeast of Edmonton. I watched them fly around for about 2 minutes and when I went inside to get my camera, they were of course gone.
Source:
---
Date: January 11 2015
Location:  East Los Angeles, California
Time:  
Summary:  This Unidentified Arial Anomaly was witnessed on January 11 2015, Lee is a Teacher who was at the event we were speaking at where the sighting occurred, During the Break we went outside to attempt to meditate on a sightings and bellow the cloud haze lowered this anomaly into view that everyone at the event got to witness as well as everyone else on Whittier Blvd in East LA that day that pulled over to see what we were all watching, i mean if you saw a group of 40 people looking in aw in the sky wouldn't you stop and take a look too? This Anomaly appeared as a dark object that first flew south then made a turn towards the west, a directional change showing us that it had a possible intelligent flight path.
Source: UFO.net
---
Date: January 11, 2015
Location:  Edmonton Alberta
Time: Approximately 8:00 p.m.
Summary: I seen a strange light from a distance straight above my neighborhood in the sky. I live southwest of Ellerslie and 111 Street in Edmonton, Alberta. This bright light is located southeast of my house. At first I thought it was a star. I used my binoculars to get a better look at the object. It turned anti-clockwise in one spot and it has a shape like an upright funnel with bright colours.
Source: 
---
Date: January 13, 2015
Location: Over Massachusetts
Time:
Summary: Video Deleted
Source:
---
Date: January 14, 2015
Location: Caledon Ontario
Time:  9:00 p.m. – 11:00 p.m.
Summary: My daughter and I first noticed the object in the skies around Christmas time. It was much closer than and could be seen with the naked eye.It seems to have 3 flashing lights, red, green and orange or yellow. My daughter suggested it must be a drone, but I thought who would be flying a drone at that time of night.Also it continuously hoovers in the same spot until I finally retire for the night. It is there every night if the sky is clear, but I have noticed now it hovers at a much higher altitude, so I need my binoculars in order to see the flashing coloured lights.
Source:
---
Date: January 14, 2015
Location: Tulsa Oklahoma
Time:  2 a.m.
Summary: "Noticed some really bright solid green lights in the sky coming from the north airport area towards me," the witness stated. "They were so round and bright! Wondered what the heck was in the sky." "When it got close to my house I could see at least three really large and bright green lights in the front. It could have had more green lights. I did not count. It was close to tree top level. I could hear through my glass door it was really a loud noise it made. Sounded like a really loud lawnmower in the sky." "As it got close to house it turned to the east and I could see a bright flashing red light at the back of this thing. I live near the airport and see lights all the time on airplanes and helicopters. Never heard one that sounded like this or seen anything that had that many large green lights on the front of it. It continued on going to the southeast of me. Really strange! Those bright green lights are what caused me to watch it. Don't think it was an airplane. Maybe some new kind of craft or helicopter?"
Source: MUFON Case 62631
---
Date: January 14, 2015.
Location: Melbourne, Australia
Time:
Summary:
Source:
---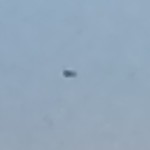 Date:  January 15, 2015
Location:  Hatch New Mexico
Time:  4:30 p.m.
Summary: The witness was driving at 4:30 p.m. on January 15, 2015, when the object was first seen. "I continued to monitor it as we drove and eventually took I-10 westbound and the entire time I was going through what it could possibly be," the witness stated.  "Would a helicopter hover hundreds of feet for approximately an hour? I don't know much about helicopters, so I don't know. Could it be a weather balloon? Maybe, but it seemed extremely large and completely black. I am so very curious about what it could be and I felt a frustration at not being able to identify it." The witness pulled over for gasoline along westbound I-10 for about 15 minutes. "When we came out of the gas station 10 minutes later, it was gone."
Source: MUFON Case 62646
---
Date: January 15, 2015
Location: Canada
Time:
Summary:
Source:
---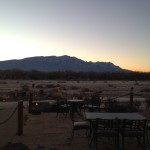 Date: January 15, 2015.
Location: Santa Ana Pueblo, New Mexico
Time: 7:05 p.m.
Summary: "I used an iPhone 4S, and took several photos of the sky around the hotel," the witness stated. "At no time did I see the lights (objects?) that show up on the attached picture…in other words, this was not visible to the naked eye, and only showed up when I checked the photos I had taken." "I am a licensed pilot, with instrument rating, and a former amateur astronomer, so I'm accustomed to observing the skies and noticing details. These lights were definitely not visible to the naked eye at the time the photo was taken. The lights did not appear in any other photo, either before or after the one being attached, so I doubt this was a malfunction of the camera in my phone." "There were also no other point light sources in the general area that might have been bright enough to cause reflections in the lens. I have no idea what these lights were, but thought it strange enough to report to you."
Source: MUFON Case 62729
---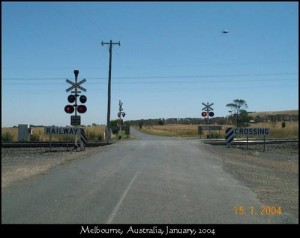 Date: January 15 2015
Location:  Beveridge, Australia
Time:  
Summary:  
Source: 
---
Date:
Location:
Time:
Summary:
Source:
---
Date:
Location:
Time:
Summary:
Source:
---
Date: January 16, 2015
Location: Edmonton Alberta
Time:  6:00 p.m.
Summary: I was pulling up to a 4 way stop in a residential area. Not looking up, but looking straight ahead into a field and clear sky. Something quickly became visible and took off crazy fast, then disappeared into the sky. I can't even begin to describe what I saw that night. It happened within seconds. Almost look like it was going up, not down.
Source:
---
Date: January 17, 2015
Location: Minnesota
Time:
Summary:
Source:
---
Date: January 17, 2015
Location: Sydney, Australia
Time:
Summary: Witness report: Summoned UFO in Sydney, Australia on 1/17/2015 As I filmed this I witnessed a very small high speed strobing orb flying around the harbor about 50 feet off the water. This orb or orbs in addition to the main one in the video fly through the screen at various points. Can somebody check this out and tell me if you're seeing the same thing at these time points? You will need to stop/start freeze frame as they are incredibly fast! Watch on a large screen if possible. (2:09 incredible speed left to right) (3:08 right bottom corner) (3:18 diagonal bottom right corner) (4:34 possible orb ejection out of main orb..unsure!) (4:38 bottom to top-center) (5:25 very high speed left to right diagonal) (5:32 orb flies from bottom left to top right in front of the 2 building erratically) That's about it. Let me know if you spot more. Thanks for your help. Patrick Ryan El Segundo, CA

Source: www.Latest-UFO-Sightings.net
---
Date: January 17, 2015
Location: San Antonio, Texas
Time:
Summary:
TRIANGLE U.F.O CRAFT Billy Martinez San Antonio 1-17-15…craft occupying air space in San Antonio airport without doubt!!! This is definitely in a no fly zone, craft had 'NO RUNNING LIGHTS' and was completely black. Triangle craft was about 10 to maybe 15′ in height. The consistent steady lights are consistent with known ET CRAFT. Lights do not alternate from color. They are 'ULTRAVIOLET' which is why to the naked eye they reflected no light. Only once recorded are you able to see lights. ET craft made absolutely 'zero noise'!!! I am in direct contact with them!!!
Source:
---
Date: January 19, 2015
Location: Edmonton Alberta
Time: 8:30 a.m.
Summary: I was walking to work, I looked west towards the sky, there was over-cast. I seen a tear-dropped shaped light in the sky. I tried to grab a picture on my phone, but it disappeared into the clouds before I could capture it. When it disappeared into the clouds, the smaller end of the tear-drop shape disappeared first, followed by the bulk of it.
Source:
---
Date: January 19, 2015
Location: above Massachusetts
Time:
Summary:
Source:
---
Date: January 20, 2015
Location: Memphis Tennessee.
Time:
Summary:
Source:
---
Date: January 20, 2015
Location: Sydney, Australia
Time:
Summary:
Source:
---
Date: January 23, 2015
Location: Miami, Florida
Time:
Summary:
Source:
---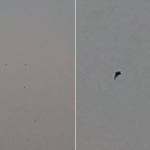 Date: January 23, 2015
Location: Midlands, United Kingdom
Time: around 4pm
Summary: Hi there I wonder if you can help me make sense of these pics i took outside my house in the Midlands, United Kingdom.. only today… it was still light, around 4pm and a little cloudy.. my ten year old daughter spotted these 'dots' first on our way out so it's certainly not my eyes.. The bigger one was floating and changing shape but not traveling or moving really.. just waning and flipping aimlessly.. almost like a limp bird in zero gravity, im sorry if it sounds absurd but its the best way to describe exactly what we saw.. The other dots on the left of them were completely motionless and consistently kept in the formation they were in the pic for some 20 mins that we saw til we stopped looking and continued on our travels.. Please find enclosed the three pics I took and a couple of close ups of those pics… please note on the 3rd pic with the houses in view (from a different angle) u can see some birds just above those houses and they look nothing like those dots just above them.. Anyway thnx in advance if you've read this far and I hope u can find a quite logical explanation for this encounter. Also you have to zoom right in and may find in uploading these pics it impedes the quality somewhat..
Source:
---
Date: January 23, 2015
Location: Cape Town, South Africa
Time:
Summary:
Source:
---
Date: January 23, 2015
Location: Tijuana, Mexico
Time:
Summary:
Source:
---
Date: January 24th 2015 
Location: Mandeville, Louisiana 
Time: 4:00 PM,
Summary: Driving east on I-12 when I noticed a small airplane making a very sharp turn at low altitude. When I looked for the plane a second time I noticed a chrome object in the sky stationary about 1,000 ft. above the next interstate exit. as I got closer the object had lowered a chrome teather about 300ft. long. the object had a small orb moving around the larger object. The larger object with the tether was not moving. I stopped at the exit and observed the object still about 800 to 1000 ft. above me. After about 5 minutes the object retracted the chrome teather and slowly moved to the east, then the object increased speed and was out of sight in less than 1 second. This took place at 4:00 PM, the skies clear on January 24th, 2015.
I called the national Weather service in slidell la. just 15 miles from the sighting to see if they were doing anything that might explain what I saw. I also contacted local airports to see if any pilots reported a sighting, and also call the New Orleans International Airport to see if they could validate the sighting on radar. the FAA has not returned my call as of 1/28/2015. I understand the principles of lift and airfoils. This was not a plain or a weather balloon. It defied gravity without wings are noise from engines. I have tried my best to explain this but so for it remains a UFO!

Source:
---
Date: January 24th 2015 
Location: West Palm Beach, Florida
Time:
Summary:
Source:
---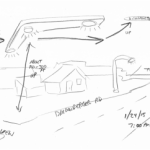 Date: January 24, 2015
Location: Turlock, California 
Time: 7 p.m.
Summary: A retired police officer reported watching a low flying boomerang-shaped UFO that moved over Daubenberger Road in Turlock, CA, about  on January 24, 2015, according to testimony in Case 62855 from the Mutual UFO Network (MUFON) witness reporting database. The witness and his wife were driving home at the time of the incident. "It is foggy tonight, but saw three white lights in a backwards triangle, possibly a boomerang shape," the witness stated. "Difficult to see in the fog/haze layer, about 100-200 feet above my truck moving slowly at first, then speeding up and quickly disappearing into the fog."
Source: MUFON Case 62855
---
Date: January 25, 2015
Location:
Time: 8:05 p.m.
Summary: An Ohio witness at Canal Winchester reported watching a 50-foot-tall, cylinder-shaped UFO nearly land in his back yard that was soon joined by a group of similar-shaped objects, according to testimony in Case 62937 from the Mutual UFO Network (MUFON) witness reporting database. The witness was leaving a relative's home after a family celebration when the first object was seen about 8:05 p.m. on January 25, 2015. "I walked out the front door of the house and saw a bright, multicolored group of lights speeding toward me," the witness stated. "I thought it must be an aircraft in trouble. I started screaming as the craft came into view seemingly instantly." The witness described the object. "It was shaped like a thin jar, but was easily 50 feet tall. It hovered very closely to the ground and the grass seemed to be pulled toward it instead of being pushed away. The grass wasn't wavering though." The object then emitted a sound that affected the witness. "All of a sudden a dull hum hit me and I couldn't breathe. Then at least 40 or so similar-looking, smaller craft burst into the scene where they seemed to be very oddly chasing the larger craft." The witness then observed the smaller crafts moving inside the larger craft.
"The larger craft sucked the smaller crafts inside and then zipped off with a loud zoom or whoosh. It kind of sounded like a really loud dog bark."
Source:
---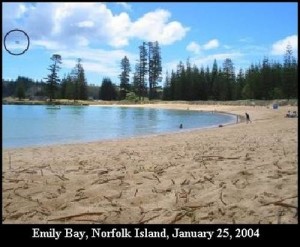 Date: January 25 2015
Location:  Norfolk Island, Australia.
Time:  
Summary:  
Source: 
---
Date: January 26th, 2015
Location: Independence Missouri
Time: 11:25 am
Summary: My daughter and I were travelling eastbound on I 70 when I spotted it. I pointed and said "Look, a ufo!" She looked up from her phone and saw the same thing I did. It was triangular and silver. I slowed down and we watched it for about ten seconds. It was going south when it changed direction to move east, then it just got brighter and just vanished. It was close enough that we could tell it wasn't normal technology that I'm familiar with. It turned on so perfectly without slanting just a quick turn.
Source:
---
Date: January 27, 2015
Location: San Antonio Texas
Time:
Summary: This day was clear no clouds in sight..I notice this bright glowing light traveling at high speeds..So i grabbed my camcorder for a closer observation..When zooming in a Metallic Orb can be observed to be traveling in a Southeastern direction..It appear to reflect the suns rays with a shadow underneath..When zooming out you can clearly see as it travel at high seeds.It seemed to be under some sort of controlled. .You can see it as it travels Horizontal and in a Constant Speed….I did not hear any noise coming from this U.F.O…In my opinion this is a UNIDENTIFIED FLYING OBJECT clearly no weather balloon/aircraft or satellite.
Source: SAUFOTX @ youtube
---
Date: January 27, 2015
Location: Naples, Italy
Time:
Summary:
Source:
---
Date: January 27th 2015 
Location: Bernards, New Jersey
Time: 6:50 PM
Summary: On January 27, 2015 at 6:50 PM I was driving west on Spring Valley Blvd in Basking Ridge, NJ in the direction of my home. Just under the low cloud cover, I observed a very large, black triangular object with flashing red, white and blue lights. It was moving at a very high speed and was not making the sounds that a low flying airplane would. I kept losing it among tall trees and houses, but I did follow it long enough (and saw it enough times) to see it make a sharp turn downward and to the left, all the while its lights flashing brightly and appearing to alternate in color from red to white to blue. I parked in front of my house and ran from my car just as the craft disappeared from view above and behind the trees of the Bonnie Brae School. The area was completely silent and there were no other witnesses. I looked for the craft to reappear and sadly was not able to get any photos of it. Due to the shape, the changing color of the rapidly flashing lights and the silent, sharp turns it took, I was completely sure that what I saw was not an airplane.
Source:
---
Date: January 27th 2015
Location: Chester, Maryland
Time: 9:00PM
Summary: I left my residence in Queenstown Maryland to go to Stevensville MD for dinner. I left my residence at 8:59PM and know this exactly because as I pulled out onto Highway 50 West, my watched beeped letting me know it was 9:00PM. I noticed a few bright lights in the sky but didn't pay much attention to them until I got to the 50W/301 split, The sky is more visible there without trees covering. While driving I noticed that the orbs would appear brighter and then all of a sudden dim. It was as if I couldn't keep my eyes off of them. Finally when 1 disappeared, I decided to try and get closer. I took the exit for Piney Narrows Road that goes under the Kent Narrows bridge and puts you on Main Street RT 18 in Chester. I took my first picture at 9:11PM. I stopped on the side of the road to catch better pictures, when I noticed they were increasing, I then posted on Facebook to see if anyone else was catching this besides me. I drove to another location farther down Main Street and stopped again, there I recorded a brief video. The video shows the main orb in the center, with one on each side and a slight flickering 4th orb on the right. Response to the Facebook post was mainly people wanting to see pictures, pictures that I had taken and was willing to share. I went through a bit of a time line updating what I saw on my post. There were 5 orbs at one point then dwindled down to one that hung around and then disappeared. I captured the final picture at 9:24PM.

Source:
---
Date: January 27, 2015
Location: Vero Beach, Florida.
Time: 9:10 – 9:15 pm
Summary:
These golden objects at the CE-5 event (see www.SiriusDisclosure.com for info on CE-5s) were viewed with very advanced night vision binoculars. There were NO boats or ships seen anywhere in the area of the objects and there were no jets or planes or other airborne objects anywhere near the objects before, during or after the event. There was no smoke which would be seen from flares. They emerged in this dimension suddenly and did not drift or move laterally in the direction of the wind, which was gusty at times. A flare with a small parachute would have visibly drifting significantly to the south during the long duration of the sighting. They were seen in the area of fast-moving and appearing UFOs that were not filmed but were seen the prior evening.
Source: Sirius Disclosure
---
Date: January 27, 2015
Location: Between London And Komoka Ontario
Time:  6:10 p.m.
Summary: I was driving west on Fanshawe Pk road from London to Komoka tonight at 6:10 when I noticed a large white light in the western sky. It wasn't moving. It wasn't a plane or a tower. After watching it for ten minutes (and recording some of it with my phone while driving) I called my parents to go out and look. I had to tend to a client, (it's now 6:30 p.m.) who I also pointed it out to, as it was very obvious in the sky. He was perplexed. We went inside and when I came out 40 minutes later, it was very low on the horizon and had turned orange. My parents also confirmed that they watched it outside.
Source:
---
Date: January 27th 2015
Location: Burbank, California
Time: 9pm
Summary: I was driving home from work. 9pm Tuesday, Jan 27th. I saw a bright round object seemingly at about the height of a helicopter, but with a very bright silver light in the sky headed from the Simi Valley area toward Burbank. I observed it all the way home and by the time I got home (I live within a mile of work in Burbank) it had become a stationary object, hovering flashing red and green lights in sequence. The lights were side by side. I called my daughter outside, my neighbor and my parents and we observed the object ascending and descending beyond the treeline, but lower than the Burbank foothills as I could see their silhouette above the form. When observed through binoculars, we all saw the same thing. A saucer-shaped, dull grey object which slightly reflected the flashing lights on its surface. We watched the object float side to side, and up and down several times for 2 hours. Then it simply disappeared.Blinked out.
Looking back, I think I must have been a bit overwhelmed. I started shivering, not because of the cold. I thought to myself several times, "I should get in my car and see if I can get closer", but for some reason, I never did. Which is very much unlike me. I tried calling a couple people to tell them to go outside and look but could not do it. I thought it was strange at the time, but I'm sure it was just a bit disorienting. I actually thought my actions were a bit more strange upon waking. But maybe it was shock or a bit of fear? Don't know.

Source:
---
Date: January 27th 2015
Location: Woodridge, Illinois
Time: 5:45pm
Summary: Woodridge, Illinois, Tuesday January 27 – 2015, at about 5:45pm, it was still daylight, and no other stars visible in the sky, this light was very bright (like it should not be there), the appearance was white/yellowish with no sharp edges. At the time, I was driving and when I turned facing west, it was right in front and it could not be missed. Parked on the side of the road and using my phone's compass, the position showed 250 degrees W.S.W. and an altitude which I estimated at about 30 to 35 degrees above the horizon. I was only able to be there for about a half an hour, in which the light moved closer to the horizon to an estimated 10 to 15 degrees, what it seemed to be fast, to be the effect of the earth's rotation. In that half hour the light did blink about 3 to 4 times in a weird way, and also paying a very close look there was a very small second light just above the main light, which it was difficult to know if it was part of the event or it was just a real star in its background. I last saw the light, because it eventually was blocked by trees. It really never made any sudden moves or anything drastic. The time when I last saw the light was about 6:15pm.

Source:
---
Date: January 28, 2015
Location: nuclear facility in Mexico
Time:
Summary:
Source:
---
Date: January 29, 2015
Location: High Point N.C
Time: 7:25 pm
Summary: This is crazy I just seen something as big as a building fly over
Source:
---
Date: January 30, 2015
Location: Lyon, France 
Time:
Summary:
Source:
---
Date: January 30 2015
Location: Edinburgh- Hillend and Straiton Loanhead, UK
Time:
Summary: My wife and I were travelling from Danderhall to Straiton on our way to Asda along Gilmerton Station Road when we noticed a bright green light above the peak of the hill that the ski slope is situated on. The light rapidly changed in color and intensity from Green to red and rushed directly toward where we were driving.  I got my wife to stop on the road and I got out to watch.  The craft made no noise and was silent as it approached and settled in the sky stationary above us but to high to see any details other than the lights on the craft were now multiple there were 2 red lights and 2 green.
The craft stopped in the sky for a few seconds and then started moving off back in the direction of hillend ski slope at greatly varying speeds and altitudes.  It was fascinating to watch – like  nothing I have ever seen before.  i did try to video it on my Wife's phone but its rubbish quality all you can see is a colored dot moving on the screen I wish I could have recorded at the same resolution of my eyes then there'd be no doubt what we saw was a UFO.  It was moving much faster than the conventional aircraft which could also be seen moving in the night sky which were very slow in comparison with it being an approach to Edinburgh Airport.  We watched as it moved up and down and back and forward at great speed colors changing occasionally from Red Green Blue and white in no specific pattern.  At one point it was heading to Arthur's seat and came back.  Then eventually it moved of toward the horizon past Hillend and out of my view.  My wife and I were amazed.  I went on the Internet As soon as i got home expecting it to be alive with reports of this spectacle but there was nothing, I cant believe that no one else has reported this so far.
Source:
---
Date: January 31 2015
Location: North Africa
Time: 2.36am
Summary:
Source:
---
Date: January 31 2015
Location:  Warrenton, Georgia
Time:  15:30:00
Summary:  Cloudless day, taking dog for walk with camera. walking north on street. white object seen in sky ~ first thought it was a weird shape cloud. used zoom lens on camera to observe. saw sections and took pictures. i also took a picture as i saw it without zoom. it moved slowly to the west. i watched till it went behind tree tops. was absolutely cloudless day….I checked the sky in all directions to make sure.

Source: 
---
Date: January  2015
Location:  
Time:  
Summary:  
Source: 
---
Related articles