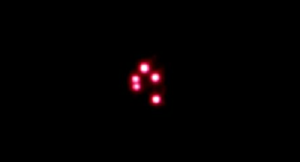 (Last Updated On: April 23, 2017)
Date: July  2015
Location:   
Time:   
Summary:   
Source: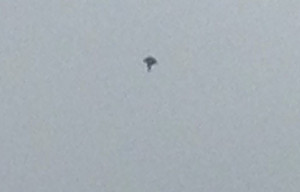 ---
Date: July 8, 2015
Location: Ponca City Oklahoma
Time: 4:30 p.m.
Summary: An Oklahoma witness at Ponca City reported watching and videotaping an odd-shaped object hovering in the daytime sky, according to testimony in Case 68054 from the Mutual UFO Network (MUFON) witness reporting database. The witness was in the middle of town in a Hastings parking lot about 4:30 p.m. on July 8, 2015, when he noticed someone looking up at something through binoculars. "I saw it easily," the witness stated."I pulled out my iPhone and took pictures and a short video. It was better seen with the naked eye. It finally faded into the clouds although it didn't appear to move. Several people outside the university center were looking at it too." The witness checked the local paper after the event and found no mention of anything. "It was dark gray and stood out from all the other clouds. I have no idea what it was – a strange single cloud, a weather balloon, a spaceship? It was shaped almost like cloud city on "Star Wars" …would love to hear someone else who witnessed it or if anyone can identify this unusual object. Never seen anything like this." 
The video can be seen on this page above or downloaded here. The case was investigated by MUFON Oklahoma State Director Richard Gardner and closed as an Unknown. "As you can see in the video and pictures this object is a dark shape with a pigs tail appendage in the center pointing downward," Gardner stated in his report."There was no sound that could be heard. He said it was approximately 1,500 feet in altitude and probably a little over a mile away in distance. It never appeared to move laterally in any direction, but after a short time seemed to be obscured by the low clouds and he lost sight of it. The wind speed at ground level was 5 mph and visibility was 4 miles. If it was a balloon or plastic bag of some sort it should've moved along to the south with the clouds that, according to a witness, were moving at a pretty good clip. Nothing was reported on the local news or paper in the days following. If someone can more readily identify this object I will reclassify if necessary. Right now I am classifying this event as an "UNKNOWN UAV" for the lack of any other explanation." Witness image. (Credit: MUFON)
Source: MUFON
---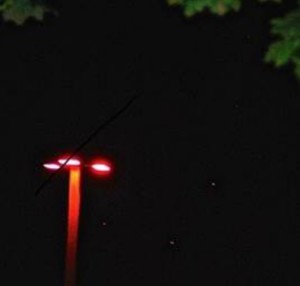 Date: July 11 2015
Location: Milwaukee, Wisconsin 
Time:
Summary: Observed moving east to west, in a dark night sky. A band I work with had just finished performing at a downtown outdoor festival. I was standing behind the stage area, talking with a musician, facing toward Lake Michigan, which was about 4 blocks away. I saw 4 reddish-orange spheres, moving slowly in the night sky, as if in unison, from the lake vicinity toward land, coming our direction. I showed the musician and he was captivated, like me, as we watched. They slowly disappeared behind a tall building
Source: ufocasebook.com
---
Date: July 12 2015
Location: Marseille France
Time:
Summary:
Source: Unknown lights filmed over Marseille, France 12-Jul-2015
---
Date: July 20 2015
Location:   Bagdad, Arizona
Time:   
Summary:  We were driving in wickenburg Az. The sun had set but there was still a hint of sun light. I seen 2 bright orange lights sitting on a cloud. I thought it was a airplanes. I was thinking they are to close together. One blinked and shut off the other blinked and then shut off. I asked my husband if he seen that he said "no we are not looking for ufos tonight we are training." I felt a sense of happiness but I wanted him to see what I just witnessed. So when the sun light was gone and it was dark I guess 15 minutes had passed. A orange red orb lit up the sky and he witnessed that. So we watched it for about 45 minutes turning off and on in various soy on the sky. Then it formed in a straight line the lights were turning on one by one and it got bright. By this time it was outside our window because we were already driving toward it. So it scared us and it disappeared for about 5 minutes. Then this in the picture happen. Still in line formation one shot off came back and then turn is light off. Then one by one they disappeared. We had a video but it was erased.
 
Source:  
---
Date: July 25 2015
Location:   San Diego, California
Time:   
Summary:   I was in the library parking lot adjacent to my apartment in San Diego California waiting on a tow truck my new car was acting really weird the keyless remote was malfunctioning when I press the button to open the locks the lights would come on the fuel door would open everything electric on the car would move, when I tried to start it the battery was dead this is why call the tow truck I spotted the UFO soon after the tow truck arrived. I had seen UFOs since I was a teenager so the first thing I thought was here is another UFO The object was moonlight white once it started to move to the west there seem to be a blackness at the very top blacker than black put me in mind of a black hole I called out to the tow truck driver "hey dude look as I pointed to the sky it's a UFO he look upwards but by the time he looked up the UFO had gone behind a cloud … Three seconds later 2F-16 fighter jets came buzzing pass following the same trajectory as the UFO it passed right by The UFO but it was behind the cloud I must also note the cloud that the UFO was hiding behind was the only cloud in the sky I didn't see the UFO anymore it never came from behind the clouds but it was apparent the F-16s was searching for the craft that I had just observed While the tow truck driver didn't see the UFO he commented that the hair on his arm was standing up because I had just pointed and motion with my finger the path The UFO had taken when the F-16 almost simultaneously followed a trajectory that mimic the motion I was making with my finger.
something happened the night before I had watch the movie starman I know that seen the movie before but for some reason it made a heavy impact that time while I was in the shower that morning I was singing a song about the star man I don't believe in coincidence I feel in my soul that the two events are connected somehow and I was meant to be in that parking lot that morning because there was no reason for my call to behave the way it did I Think it's important that I note the mechanics report about my car the battery was completely drained for a unexplainable reason the mechanic said that he'd never seen anything like that with a new battery and the battery was new the car was new electronically the car has not been the same sense it would turn off after I would start the car and a countdown would come on the display three minutes and when it reached zero I could start the car again I believe all these events that I have mentioned are connected and the whole truth and nothing but the truth that was not the first UFO I witnessed and it certainly wasn't the last
are we alone? Not!

Source:  UFOSTALKER
---
Date: July 25 2015
Location:   Vogošća, Federation of Bosnia and Herzegovina
Time:   
Summary:   I was driving car on road first i notice airplane than in other direction moves voyager that sight endure 3-4 seconds until hes hide himself with fogshield or some kind clocking device,..I know what i'm saw but em i crazy?

Source:  MUFON
---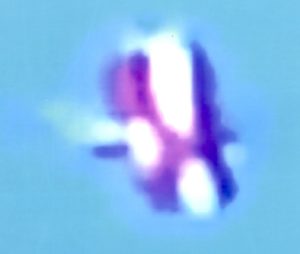 Date: July 26 2015
Location:   Upland, California
Time:   about 7:50pm
Summary:   This event occurred on july 26, 2015, about 7:50pm. a sunday. at approximately 7:35pm, my neighbor, from down the street, half a block away, and whose home backs up to the alley my property also backs up to, knows i'm interested in ufos, and so he called me on the phone to tell me he saw a ufo high up in the sky and slightly to the east. this placed it behind my home, as my backyard faces the east. the front of my home faces the west. so i went into my backyard and looked up in the sky for the ufo. i didn't see it. so i went back inside and called my neighbor back and asked him to go outside and see if he could still see it. if i recall correctly, i held on the phone while he did this and he returned and said it's still there. i believe i hung up and again went outside but still couldn't see it. so i called him back again and asked him to walk over and show me where it was. if memory serves me right he walked up the alley about a minute or so later and i met him there and he pointed it out to me. it was very faint and just looked like a stationary star. actually it was so faint that i could barely see it. he has excellent eyesight and i wear glasses so possibly that may have had something to do with it. he had things to do so he went back home. i raced inside and grabbed my panasonic pv-gs320 digital video camcorder and one of my tripods and returned to my backyard and set it up. now i could still see the object in the sky but i could never find it in the lcd monitor of my camcorder. after a few minutes of this i then could no longer see the ufo and so i was not a happy camper that i missed it. i grabbed my camcorder with the tripod still attached and turned and headed back to the house. i recall distinctly saying to myself something to the effect of darn i missed it. the time was now about 7:50pm. now i kept looking up at the sky to see if maybe the object had moved and was elsewhere in the sky and just as i got close to the eaves of my home's back wall i saw another new object that appeared up in the sky as it flew from the west over my house and came into view overhead. the weird thing is it was as if it was aware that i was looking at it since it stopped and hovered overhead in a zig zaggy type of motion. this gave me time to put my tripod on the ground and find this new object in the lcd monitor and so i was able to film it as it moved around overhead at approximately a 65 to 70 degree angle. at one point in the footage you can see where what appears to be a bug fly past on the left side. finally, after about 15 to 18 seconds of my filming it, the object appeared to fly off back to the west, in the direction from which it had originally come and disappeared beyond my roof. i say "appeared to fly" because it went of so fast that i'm not 100% sure what it did. i'll mention that the whole time it never made one sound. as soon as i saw the object i knew it was something out of the ordinary and i suspected it might be a drone but upon further examination it doesn't look like a drone. what was especially odd is there was some kind of appendage on the left side of the object that appeared to oscillate or flutter. at times as i filmed it i had to move the camcorder so i could keep the object on the lcd monitor. but it did jump (hover) around within the small region where it was. so some of the shakiness is probably due to my movement. i was exhilarated to have caught this new object on film. i have had three previous sightings. one in 1969 when i was eleven. one in 1976 when i lived in a dorm at ucla and one about 1985 in hollywood. but this time was the best as i was able to get a record of what i saw. i took a photo of the object when i looked at it on my tv and i blew it up as large as possible. i have had a lifelong interest in ufos (since i was around 6 or 7 years of age). i believe that something is going on but i classify all my sightings as ufos since they are unidentified.

Source:  MUFON 83222
---
Date: July  2015
Location:   
Time:   
Summary:   
Source:  
Related articles