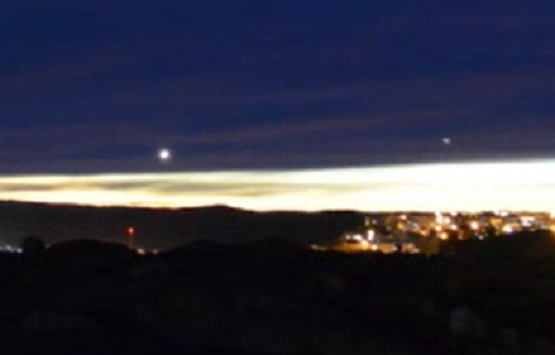 (Last Updated On: September 11, 2016)
Date: September  2015
Location:   Greensburg, Pennsylvania
Time:   
Summary:   A witness reported seeing a huge black bird with a wingspan estimated to be over 15 feet wide that wasn't flapping its wings, but just soaring through the sky. The sighting took place near the Cedar Street exit outside of Greensburg. This area has had a history of thunderbird reports. There were other reports of giant bird sightings from across the state during the year.
Source:   Stan Gordon
---
Date: September 1 2015
Location:   Springdale located about 18 miles NE of Pittsburgh, Pennsylvania
Time:   
Summary:   On September 1, 2015, a witness near Springdale located about 18 miles NE of Pittsburgh observed a very bright white light toward the west that evening. As the light got closer, an unusual loud sound was heard unlike that of jet or propeller aircraft. As the object passed low overhead, it appeared to be huge and was not any type of aircraft the witness was familiar with. The observer looked up at the bottom of a solid boomerang shaped object that had evenly spaced dim white spotlights that were all non-blinking along the edge of the underside of the object. The underbelly of the object had a greenish tinge. The object moved toward the east, then banked to the south and moved out of sight.
Source:   Stan Gordon
---
Date: September 2, 2015
Location: Hollydale Park Southgate California
Time:
Summary: I was sighting at the park attempting to contact ufo's when a high school cross country team stopped by as soon as I witnessed the first ufo resulting in them freaking out over witnessing the Ufo I was Filming.  3 objects one morphing, one was two fast to see and the last was emitting a beam behind it, only two of the objects where caught on film.  first object was east of us the last object was north of us

Source:
---
Date: September 3, 2015
Location: Eureka, CA
Time: night
Summary: A few nights ago, on Sept. 3, 2015, my wife and I saw an object that looks almost identical to the picture above, fly directly over our house in Eureka, CA. It was low, maybe 500 ft, and flew very slowly. It made a very loud, deep rumbling noise, sort of like a jet, but without the high pitched whine that I associate with most jets I've heard before. It was rectangular like a cell phone, but the corners were cut off and had small round orange lights where the corners would've been, and one big red flashing light in the middle. I ran in and grabbed my binoculars and got a pretty good look at it. It seemed to be a light colored grey, and had curved lines that ran front to back from the front orange lights to the rear ones on each side. It flew with the long sides of the rectangle oriented as it's leading and rear edges, and the shorter sides as the left and right sides of the object…basically, it was longer side to side than it was from front to back. We watched it slowly fly in a straight line for about two and a half minutes, until it was too far away to see over the roof of our neighbors house across the street. It was really unbelievable. Nobody else in the area has reported seeing this thing except us, which is really amazing as it was so loud that it shook our house slightly, Initially, I thought it was an extremely low flying jet, which is why I went outside in the first place.
Source: http://lightsinthetexassky.blogspot.com
---
Date: September 13, 2015
Location: Hebron Indiana
Time: 6:35 p.m.
Summary: An Indiana witness at Hebron reported watching a metallic, oval-shaped object that seemed to turn into a rectangle and soon disappeared, according to testimony in Case 70472 from the Mutual UFO Network (MUFON) witness reporting database. The witness was driving home at the time northbound along County Line Road near Hebron at 6:35 p.m. September 13, 2015, when the object was first seen. "I observed in the northwest sky a very bright, solid, metal-looking object that was very shiny, round and oval," the witness stated. "The sun was setting yellow and orange. The object was a very white, bright light which drew my attention. It stayed traveling on a southeast trajectory."  The witness continued to watch the object as it moved slowly towards the sunset from his perspective. "Not actually towards the sun per say. It then turned slowly and it appeared to be a distinct, rectangle flat with sharp lines and pointy corners and very shiny reflective surface –no longer a white light, but reflecting the colors of the sunset as if it was trying to blend into the background."
The object then suddenly was gone. "Then it just disappeared in the blink of an eye. It was gone. No trace. I scanned the entire horizon and no more object. I observed it for approximately 1.5 minutes. The sky was clear at sunset." Indiana Assistant State Director Ned Delaney investigated this case and closed it as an Unknown.
Source: SOURCE
---
Date: September 15 2015
Location:   Oscoda, Michigan
Time:   around 10 pm
Summary:   Around Mid September 2015 around 10 pm my Girlfriend and I were in a boat fishing the Ausable River mouth area when I observed two very bright what I believed to be stars. I mentioned to my girlfriend that I have never noticed those two stars before as I observe the skies often. I was quite taken by them and would look at them often for about 10 minutes when I noticed one of them started to move off towards the East. I was shocked and pointed the event out to my girlfriend who was also stunned and surprised. After about two minutes the second object also departed in the exact same direction. Seemed to accelerate out of sight within a minute or a minute and a half. We have never observed the objects again.

Source:  MUFON
---
Date: September 22 2015: Shavertown, Pennsylvania Alien Sighting
---
Date: September 26 2015
Location: Novato, California in the south west sky nearly directly above
Time: 10:00
Summary: 1 Silver white, spherical object about 20,000 feet stationary for over an hour
Source:
---
Date: September 26 2015: Hollydale Park Southgate California Daytime Sighting
---
Date: September  28 2015
Location:   Janesville, Wisconsin
Time:   
Summary:   COMING FROM PARK DRIVING HOME I SAW THEM UFOS I WAS AT 933 CENTER AVE JANESVILLE WIS, I WAS DRIVING UP THE BRIDGE THEN SAW THEM I'VE NEVER SAW ANYTHING LIKE THAT BEFORE THERE WERE SEVEN ROUND ORANGE PULSATING LIGHTS AND IN THE MIDDLE WAS A SMALL RED LIGHT THEY WERE FLYING SEPERATE AND THEN FOUR OF THEM WERE WENT INTO ONE STRAIGHT LINE THERE WERE SEVEN TOTAL I COULDN'T BELIEVE IT I JUMPED OUT OF MY VAN AND TOOK PICS THEY JUST KEPT FLYING TILL I COULDN'T SEE THEM ANY MORE THIS HAPPENED ABOUT A HALF MILE AWAY FROM AIR PORT

Source:  MUFON
---
Date: September  2015
Location:   
Time:   
Summary:   
Source:  
Related articles