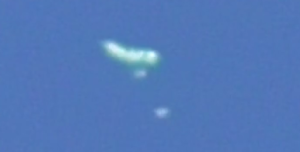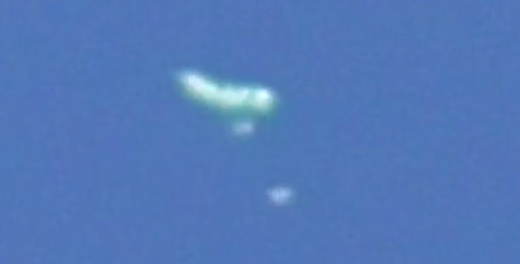 (Last Updated On: January 15, 2017)
Date:  February  2016
Location:  Kent, UK
Time:  
Summary:   multiple orbs in the sky
Source:  latest-ufo-sightings
---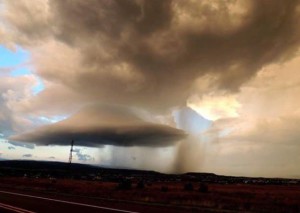 Date:  February  2016
Location:  Las Vegas, New Mexico
Time:  
Summary:   There is only one species I heard of that acts this cocky, and thats the Tall Whites. They look just like us when they are children, but will grow taller after 400 years. Only their eyes, skin color and walk gives them away. They are known to enter Vegas, Nevada…a different city that his one above, to have some fun. They also like to play mind games with humans to show their superiority. It boosts their ego and trust me…let them win. I believe this UFO is run by the Tall Whites, because few alien species have the audacity to fly so low over the ground and with such a poor cloud cloak over their ship.
Source:  www.ufosightingsdaily.com
---
Date:  February  2016
Location:  Edinburgh, Scotland
Time:  
Summary:  A shocked motorist has captured the lights from an apparent UFO on his dashcam. The video of the lights moving along the road was taken while the man was driving on the M8, close to Edinburgh. The bright lights appear to circle above the the Hermiston Gait roundabout before disappearing. Lee Frame, 32,who filmed the incident said he was certain what he saw was not a plane and told the Sun: 'The lights did not seem to be moving- they just seemed to be sat in the sky. 'I think it could have been a UFO. I just could not believe what I was seeing.'
Source:  http://www.dailymail.co.uk/news/article-3486214/Amazing-dashcam-footage-shows-UFO-hovering-busy-Scottish-motorway.html
---
Date:  February  2016
Location:  London, United Kingdom
Time:  
Summary:   We videoed this from our flat in ponders end, Enfield, London, UK. At first glance you might think this object was a star if you didn't know what your looking for, but it's not, which I could see when I videoed with my tablet and was able to zoom in fully then I noticed what it is. I was taking pics of it before from my mobile zooming then screen shooting then zooming again to see it up close. I showed people and some of them trying to tell me maybe its a helicopter, I told them I never seen a helicopter dismantle itself and reattach itself in mid air before have you? But a lot of people are more stunned at what we have filmed.
Source:  latest-ufo-sightings.net
---
Date:  February 1 2016
Location:  Los Angeles, California
Time:  
Summary:  
Source:  
---
Date:  February 3 2016
Location:  Smyrna, Tennessee
Time:  
Summary:   An interesting UFO fleet was sighting over the skies of Smyrna, Tennessee on February 3, 2016. My daughters and I were driving East on I-24 in Tennessee. The lights seemed to be hovering over the trees to the southeast of my location. We were driving, so it was hard to tell. I thought they were possibly helicopters from a nearby Air National Guard base. They seemed to remain stationary as we drove right under them. There were four bright points of white lights shaped in a crescent with a twinkling reddish/white in the center of the four brighter points of light. I have lived in this area most of my life and have never witnessed anything like this before. We continued on to our destination writing it off as what we thought it had to be, helicopters. But, curiosity got the best of me….
Source:  MUFON
---
Date:  February 3 2016
Location:   Lake Atitlan, Solola
Time:  morning
Summary:   This sighting was reported by my best friend's mother and two of her friends that were visiting from Mexico. She was on vacation in Lake Atitlan, Guatemala on the beginning of February 2,016. One morning she took a picture of the beautiful landscape. Some hours later she zoomed the picture with the purpose of seeing the volcanoes closely. She discovered a strange object in the sky. She took screenshots of the zoomed areas. Lake Atitlan in Guatemala has a reputation of being a center of energetic power since the time of the Maya. Is surrounded by 3 volcanoes and is believed that the lake itself is the crater of another volcano.

Source:  MUFON
---
Date:  February 5 2016
Location:  Cotulla, Texas
Time:  
Summary:   "I was Located near the intersection of Hwy 83s and FM 191… 3 miles west of Hwy 83 on Fm 191 to be exact. That intersection is About 2 miles south of Crystal City, TX. I have more videos of that night. This is the 5th time I personally see this same object and the second one I been able to record them."
Source:  
---
Date:  February 6 2016
Location:  Ellijay, Georgia
Time:  
Summary:  Was driving down the road into town and got a call from my cousin saying "we got a ufo here". I was meeting up with him and some friends to go see a movie. So I sped up and pulled in the gas station where he was. I got out of my truck and looked up and there was a bright object in the sky. And if you really looked close it had something orbiting the top of it. It looked like a star to begin with because it was twinkling but it was definitely something orbiting a larger object. We left after about 20 minutes.

Source:  
---
Date:  February 8 2016
Location:  Dulce in New Mexico
Time:  
Summary:  
Source:  
---
Date:  February 8 2016
Location:  Chattanooga, Tennessee
Time:   05:06
Summary:   Standing at the river here in Lupton City, Tennessee. This is the 4th time I have witnessed these crafts here in just the past week. They hover and maneuver and after some time, disappear in a flash as if using some sort of cloaking device. Today they are right beside Lookout Mountain in the Eastern direction. I think the mountain is what is attracting or where they are originating from within.
Source:  MUFON
---
Date:  February 8 2016
Location:  Chicago, Illinois
Time:  
Summary:   CHICAGO (FOX 32 News): Mark Hammergren knows that the truth is out there. An astronomer for the Adler Planetarium – and a confessed X Files fan – he's lived a life looking up into the stars. And when it comes to reported sightings of UFOs around the Chicago area, he's heard a tale or two. Mark often gets phone calls at the Adler, with people claiming to see unexplainable lights and objects in the sky – unexplainable until Mark starts investigating. Modern UFO sightings in the U.S. began nearly 70 years ago. During that time, no definitive proof has ever been uncovered. But that doesn't mean that the search is over, especially for astronomers. A quick Google search of UFOs in Chicago will yield a seemingly never ending trail of rumors, theories and speculation. And Mark will always be there to follow the trail. Because he's a man who knows the value of looking into the night sky. He knows, somewhere out there, the truth is waiting.
Source:  fox 32 chicago
---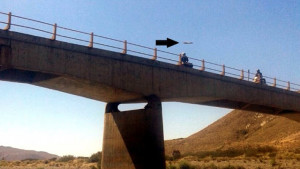 Date:  February 9 2016
Location:   La Rinconada, Argentina
Time:  
Summary:   Argentina: Seeing is Believing – Family Photographs an Alleged UFO at La Rinconada The members of a family from Cutral Co claim having been able to see an unidentified flying object (UFO) for fleeting seconds at La Rinconada, not far from Junín de los Andes. They took photographs of the event, which frightened them. The Cutral Co al Instante web portal conveyed the statements made by Verónica, one of the protagonists of the incredible story, who noted that [the family] was on its way to Junín and stopped at La Rinconada spend some time on the banks of the Collon Cura River. Verónica says that she took a photo of a group of bikers crossing the bridge when she saw the strange object in the sty. "I screamed. Everyone looked and we saw it some 50 meters away, for an instant, just when I took the photo. After that, it was no longer there," she explained. Their initial reaction was to run and get into the car. "We took off immediately. We shut everything because it truly frightened us," said the resident of Cutral Co, who shared the photo that went viral over the weekend through social media.
Source:  http://www.inexplicata.blogspot.ca
---
Date:  February 9 2016
Location:  Florida
Time:  06:30
Summary:   Noticed a bright light over the ocean at a distance suspended in high up in the air. Thought it was a plane but it didn't move. Kept oscillating bright lights at intervals. Then after about 30 minutes moved a little north and hovered some more. Woke up early to see the sunrise from my balcony. Sky was still dark. Noticed what I thought it was a plane moving very slowly but realized it was hovering up in the air. Noticed blinking red lights to the right of object but what coughs my attention was how bright the emanating lights where! It would turn brighter at intervals again and again for about half hour on the same spot. Over the ocean as high as a plane would be. Filmed about 6 minutes but my balcony is completely screened so the quality is poor and the object was at a great distance. After about a half hour the object moved to the left (north) and hovered some more. After 10 minutes got smaller and smaller and I lost sight of it. Sky was brighter as it left.
Source:  MUFON
---
Date:  February 10 2016
Location:  Air Force Base in Homestead, Florida
Time:  
Summary:  Swirls of light in the sky in early morning close to Air Force Base Leaving my home in the morning to work when I saw swirls of lights in the sky in a pack but scattered a bit from each others. Seemed like burning debree falling from the sky. But the flame looking objects stayed and swirled around and return to its original spot. There was more than 6 of them and then slowly faded away one by one. This was close to the Air Force Base in Homestead, Fl. This is the first time I see anything such as this
Source:  MUFON
---
Date:  February 10 2016
Location:  Commerce, California
Time:  
Summary:   I first observed the object eight months ago hovering from north to south in the city of Montebello, Ca. I came back to months later to same spot to shout a video of what I saw. The last month I saw it again this time it was hovering south to north over the city of Commerce and Montebello. I noticed it floating in the sky and thought it was a ballon but I could tell it was under control flight path. My first thought was a drone but the object had no lights blinking and was a purple color. It hovered right over me and kept moving at a slow pace. It hovered in a slow line over the city with no care in the world. Over planes were flying above it making their landing turn to LAX. When I first saw that it was a UFO I felt like I selected to see it. I am surprised no one reported it. I searched for UFO reports in Los Angeles for that day and nothing was reported but I did find the photos on line of the UFO spoted in Huntington Beach Ca and that is the same thing I saw. It was even a purple color like I saw both times. It just kept hovering until it vanished over the city. I got a picture of it with my cell phone but the picture quality is not that great.
Source:  MUFON
---
Date:  February  2016
Location:  
Time:  
Summary:   
Source:  
---
Date:  February 10 2016
Location:  Nuneaton, England 
Time:  around  8:43 pm.
Summary:    "we seemed to be almost under it as it was huge and close, but the video only picks up the occasional flashing light. We first spotted it because there were three lights in a line just hovering in the distance, but when we approached and were close there was another light (that occasionally disappeared) and it made the geometric shape of a rhombus."

Source:  latest ufo sightings world
---
Date:  February 10 2016
Location:  Truth or Consequences, New Mexico
Time:  
Summary:  1. I was talking to my wife in the living room (darkened room) with the curtains down. 2. I first noticed a bright light (yellow colored) that I thought was a newly constructed street light in the neighborhood towards the west. 3. I first thought it was a newly constructed street light. Then went I opened the curtains and looked out the window it appeared to be 5-7 aircraft with landing lights turned on traveling east in a straight line formation coming over the mountain range. 4. The first series of objects traveled east from the mountain range and quickly made it close to town. The objects would suddenly change formation from straight lines to triangles or other shapes. When the objects approached town they would suddenly stop and turn north and the light it was emitting would fade away. The lights they would emit would vary from a yellow (street light color) to a bright red. After that series of objects were gone several more objects were seen coming from the same mountain range traveling east. In total there were about 20 or more of these objects witnessed. The flight patterns would vary but objects would suddenly change flight patterns to form a shape. I would estimate all objects were 5000feet Above Ground Level or less. 5. I was completely shocked and excited. Shocked when I realized that it was not general aviation aircraft. Shocked that it was something never before seen. Excited because I know I witnessed something once in a life time. 6. Objects upon approaching town would stop and turn in a northerly direction. After turning north, objects would slowly fade away into the night sky.

Source:  
---
Date:  February 10 2016
Location:   Inverness, Colorado
Time:  night
Summary:  I was walking my dogs along highfield avenue when I saw this bright red light up in the night sky it was traveling across the sky quite slowly from west to east it was just a strange thing to see,it did not make a sound after about five mins it disappeared into some clouds it was like the afterburner of ajet fighter only in reverse

Source:  MUFON
---
Date:  February 11 2016
Location:   Cape Coral, Florida
Time:  
Summary:  Bright light like orb in the west, first there were 2, One disappeared the 2nd traveled north very slow then turned west and in a flash was gone. I could see it speed off in flight path.
Source:  
---
Date:  February 12 2016
Location:  Crystal River, Florida
Time:  
Summary:  We were outside our camp site at a location off of Rock Crusher RD on 2/12 at approximately 6:15PM. I looked up to notice 3 orange lights composing an equilateral triangle slowly moving from the Southwest in a North Eastern direction. I alerted two other people in my party who turned to also witness the lights. The object moved slowly and silently for about 45 seconds before disappearing beyond the tree line. My wife noticed a complete shadow over our campsite before turning to see the lights. Trees made it difficult to observe the space between the three lights; however, they appeared to move in a completely uniformed pattern. The lights were solid orange with hazy perimeters and did not resemble regulated lights common to civilian aircraft. The lights had a separation of more than 10 trees each indicting to me that they were either separate objects or one very large object. The immediate consensus was that they were not normal.

Source:  
---
Date:  February 12 2016
Location:  NJ
Time:  8:30 p.m.
Summary:   The witness was driving home from a nearby campus at 8:30 p.m. on February 12, 2016, traveling along a back road above five miles from a military base. "In the sky I saw three bright lights to my left, overtop of the trees that line the side of the road next to a farm," the witness stated."I approached going about 45 mph. I thought it was weird how low that plane seemed to be, but I thought somehow it must be off in the distance. I realized this couldn't be because the three lights were too large." As the witness approached closer, he realized that the object was right above the tree line and did not appear to be moving – just hovering in its place. "I started to slow to a halt, as this was a back road and I was the only car on the road. I stopped at the bottom of the local farm's driveway, at the most only 40 feet away from the flying object. I was scared for a second because I knew they saw me, and they knew I was slowing down to get a better look." The witness got a good look at the object. "Through the tree line, I tried to identify the tail, which would have to be the back light, because the ship was facing the road at about a 45-degree angle, with the two bright lights on either side where I would have thought the wings would have been (triangular in shape) were facing toward me at an angle. It did not appear to be a normal plane, nor was it behaving like any plane I have ever heard of before." The sighting was very close to a military base. "This was about five miles outside of Joint Base MDL, on the Fort Dix side of the base. Even though I live so close to the base, planes are not that common above this road, at least not directly above; the air fields are not on this side of the base."The witness attempted to get a photo of the object. "This ship was about three to four stories off the ground, right above the tree line. I grabbed my phone to try and get a picture, but I started to turn around since I passed it slightly to get to the driveway, and I couldn't turn and use my phone at the same time. In the minute it took me to turn around, I could still see the brightness cast from the three lights. This is a back road with no other lights, which is how I knew it was still there. As soon as I had fully turned around to see it straight on again, it was gone in a second." The witness did not see the object move away. "I did not see it move or accelerate at any rate. It went from hovering in its place, to gone. I was in complete shock because I was still trying to convince myself that this was a small plane. I drove forward for maybe another 30 seconds before I stopped my car to search the sky. I saw faint lights way off in the distance. I searched the sky for any other lights to make sure that was it; it was cloudy tonight so I hadn't seen any stars or other planes moment before viewing these lights. I knew that those three lights were the lights I was seeing off in the distance. It had to have been at least 2-3 miles away, but most likely a few more. I felt like it only sped off because I had stopped so close to it and it did not want to be observed." The witness wondered what he had just seen. "I sat in my car for a few seconds still in disbelief, trying to come up with another explanation for what I saw, but I couldn't. No plane, or military plane comes off base and decides to hover over a random line of trees; I've never seen the military run any tests over us before, and I've lived here for over eight years once my Dad retired as a high ranking officer from the military. The whole sighting lasted under five minutes, and once the lights were barely visible I turned back around and drove the quarter-mile home." The witness first reported the event to his father. "I went straight in to find my Dad and ask him what that space ship could have been if it belonged to the military. He said maybe a drone, but it was the size of a small plane and hovered in the same spot for at least two minutes that I observed, but I have no idea how long it had been there before I came down the road."
Source:  MUFON  Case 74437
---
Date:  February 13 2016
Location:  East Bay, Nova Scotia 
Time:  between 3:25 am and 4:30 am.
Summary:  I was driving to Sydney on the 216 leaving my community of Eskasoni, Saw 2 star sized lights and thought nothing of it; til I got close towards them and at first they were just hovering and I found it weird so I slowed down and opened my window. They didn't make a noticeable noise but once I slowed down and was sort of stopped I could hear a slight buzz or hum then they started moving away from me and that's when I got nervous because there were 4 objects, 3 were in the East Bay, Bras dor Lake area and the other I followed and lost into Sydney. An hour later I came back and to my surprise they were still there and flying around above the Bras dor lake in front of the Ski Ben Eion resort. That's where I lost them because the light pollution from the ski resort was bright… I know what satellites look like and air planes they usually have a straight direction these were going everywhere but not incredible fast, one was even pretty slow and followed the others. There was a four all together two were like playing with each other one was following and the other leading… also they lit up like a helicopter or satellite but no red flashing like was sort of white and every time it flashed I could see a sort of bell/triangular outline. This happened between 3:25am and 4:30am.

Source:  
---
Date:  February 13 2016
Location:  Dixon, California
Time:  
Summary:  2 object stationary in sky, then both vanished  driving west on I80 near Travis afb
Source:  
---
Date:  February 13 2016
Location:  Câmpulung, Județul Argeș
Time:  
Summary:  In that night I was looking at the stars when ascendantly appear that ufo. It was shape of a pipe with some red external lights. After some minutes that stayed on the sky at approximately 2km of earth it start to descending with a line that make pass the clouds. Slowly disappear with some lightly smoke in the sky.

Source:  
---
Date:  February 13 2016
Location:  Campbellton, New Brunswick
Time:  
Summary:  Orange Sphere going across the sky fast
Source:   
---
Date:  February 14 2016
Location:  Prestwick
Time:  
Summary:  I had been out with a family member and we had been drinking alcohol but I came home around 1am to 1pm I was making coffee and something too eat when I noticed a flash in the sky I looked out my kitchen window and saw nothing but when I looked up at the sky I was a light moving. It was similar to a satellite trajectory but it then ejected 3 to 4 other lights and pulsed light in a rhythm. This continued for a few seconds and then the light reverted back to looking like a star/satellite state. I watched it for a long period of time however it continued a slow however it looked to be stationary. However this is not the first time I have seen this, I work at Prestwick airport and live very close by, but I have seen the same light patter three times now and I know as an aeronautical engineer that from the formation, duration and dimensions that this was not I any way a commercial or conventional military aircraft.

Source:  
---
Date:  February 14 2016
Location:  Kumbor,
Time:  
Summary:  I was sitting in my room around 3 AM when I noticed a sudden moving of light outside. I stepped out on the terrace and clearly saw a bright red ball. It was moving on slow speed and on very law altitude (I was able to compare its altitude with the the altitude of the houses on the hill on the opposite side of the bay). It seemed like a solid object, did not change its color or the speed but it was gradually ascending in a straight-line path. I tried to took some photos with my phone, using a flash light. I went inside to wake up my girlfriend and we both ran out on another terrace. That must have taken around 10- 15 seconds. The object was still on the sky, but this time visibly higher and it kept ascending at the same speed and at the same straight-line path. We kept staring at it for another 10 seconds until it seemed to disappeared in the clouds. It was very cloudy outside – the clouds were very low and it was impossible to see any celestial objects or planes in the sky. We also eliminated any helicopters/drones as this particular object was not making any sound or emit any signalization lights.

Source:  
---
Date:  February 14 2016
Location:  Denmark
Time:  
Summary:   A very interesting video has surfaced in what appears to be a cluster of objects hovering over the skies of Denmark. This UFO was reported by a 37 year old man who worked as a ships electrician. The sighting took place when he was taking a trip by boat together with a friend.
Source:  Latest UFO Sightings World
---
Date:  February 15 2016
Location:  Raymondville, Texas
Time:  
Summary:   A very interesting UFO sighting was recently reported by a handful of people over the skies of Texas.
Source:  Latest UFO Sightings World
---
Date:  February 19 2016
Location:  Broughton Gifford near Melksham
Time:  7.00pm
Summary:  was out having a bonfire when me and my neighbour looked up at the sky and saw a large bright white light slowly cross the sky. It was too big to be a plane at the height it was. To the west of the object the wiltshire police air ambulance was flying past on the way from melksham area to trowbridge they must have seen it too. After that about 20 mins passed and looking behind from the direction we was looking before seen 4 orange light in the direction of bath. 1 light was on its own high up in the sky and the other 3 was bunched together in a triangle formation they was there for about 5 mins before they disappeared did anyone else see these.
Source:  MUFON
---
Date:  February 19 2016
Location:  Ontario, Canada
Time:  
Summary:  In this video you can see two UFOs hovering then disappear in thin air over the skies of Ontario, Canada.

Source:  Latest UFO Sightings World
---
Date:  February 23 2016
Location:  hamilton, ontario, canada
Time:  around 5:50 pm
Summary:  Hello, on february 21, 2016 at around 5:50 pm i witnessed 3 ufo's hovering outside. the sighting happen in hamilton, ontario, canada it was a very cloudy day, and the sun was setting at the west. i was in my bedroom about to turn on my playstation 4 that is located along my bedroom wall next to a large modern window with the blinds pulled up, as i turned on my ps4 i looked outside to see 3 bright objects in the sky hovering beside each other in a strange formation. at first i thought i was looking at airplanes/helicopters with their headlights turned on but their was no movement, after a few seconds maybe 6-9 seconds one ufo at the very top started blinking randomly, few seconds later the middle ufo dissapered and reappeared in the same exact spot it was in, i called my mom over who was in the kitchen to show her and she did not know what it could be… after a few more seconds 2 ufo's started blinking but very slowly and stopped, the 3rd ufo is slightly hard to see in the video the 3rd ufo is almost like transparent slightly visible, so i pulled out my ipad air 2 and started recording. 3 seconds into the recording and the ufo's started disappearing one by one. after the ufo's disappeared into the clouds (which is what it looked like) i looked into the sky all around me inside my bedroom window to notice anything unusual and everything looked normal like always. i went back to review the video and noticed a 4th ufo along the right side above the tall middle tree, that 4th ufo must have appeared and disappeared at the same time the last ufo on the left side disappeared. i did not see the 4th ufo when i was recording the other 3 ufo's on the left side disappear on my ipad screen. i have no idea how high and how far away the ufo's were, possibly hovering 2-5k feet high… the ufo's looked very large. i did not hear any strange noises or any aircraft engines, cars were driving on the road so perhaps that is why. the color of the ufo's was a yellow/orange almost like car lights. i have footage of the event and i uploaded it on youtube, one person has said it was a drone but that is the most idiotic comment i have heard.
Source:  MUFON
---
Date:  February 23 2016
Location:  El Centro, California
Time:  
Summary:  I was at my back yard taking my dog out. I quit have the habit to look up and when I look up in seen the object. I thought it was a star but it started to move. When it was moving it move fast and stop and it started to move again and been doing it for a few times. I didn't felt scared but I thought that it was cool seeing the object. When it was moving it was slowly fading and it gust disappeared.

Source:  MUFON
---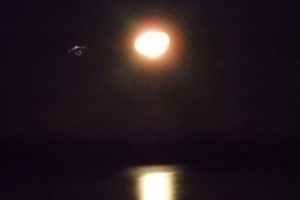 Date:  February 23 2016
Location:  Random Island in Clarenville, Newfoundland, Canada
Time:  
Summary:  A Canadian man has photographed what looks like a UFO over Random Island in Clarenville, Newfoundland, Canada. Chad Haines said he had never believed in UFO's or aliens but after witnessing the strange flying craft near his home back in February 2016 he can't explained as to what else it could have been. He was deleting some old images off his camera a few days before Christmas to make space for Christmas morning when he stumbled across the photos he had taken that night of February 23rd 2016 from his home looking across towards Random Island. Reviewing the photos again he still couldn't think of any explanation as to what he saw in the sky that night. Chad said "It was out there for two or three hours" He explained that the craft stayed in the same spot before it moved up and down and quickly shot off out of sight. He believes it wasn't a plane and it was far too big to be a drone. "I couldn't believe it" he said. 
Source:  SOURCE
---
Date:  February 24 2016
Location:   near the Irazú Volcano National Park, Costa Rica
Time:  11:06
Summary:   A Costa Rican witness at Cartago claimed to have seen and photographed a saucer-shaped UFO near the Irazú Volcano National Park. According to the report, the witness was with his girlfriend outside in the park area under good weather condition with sunlight and no clouds when the encounter happened at 11:06 in the morning of February 24, 2016. The reporting witness notes that the volcano is about 3,400 meters (11,260 feet) above sea level. Their location was close to the biosphere, and so they were above the clouds. The witness points out that they are like on an airplane, watching the sky so clear at 11 in the morning. He adds that part of the sky is light black. The witness snapped some photos of the landscape and the volcano itself. He saw the clouds like a white sea, but there were some clouds close to the mountains in different forms, so he began to snap photos in that area. While he was checking the pictures after going home, he noticed a black circle over the mountains. It appears to be a circular saucer with two little antennas – one on the top and another on its tail. He says that the object isn't in the other pictures, which he took in a burst and only seconds apart of the picture that captured the UFO.
Source:  MUFON Case 74756
---
Date:  February 25 2016
Location: Las Vegas, Nevada 
Time:  night 
Summary:  It was a great night for the night vision camera. I began filming a light to the south before it was fully dark. Initially, I wasn't sure what it was but know to film just in case. It turned out to be an interesting capture because it ended up being a minimum of four lights which ultimately disappeared below a nearby rooftop. The second set of lights were to the north and I knew immediately that they were special and began filming them because I have filmed similar lights many times before in the same location. What's so interesting about them is the formations they were flying in and how slowly they were moving. The most interesting thing of all is that this time I know their destination because the camera followed them to Nellis Air Force Base. They also flew to a very strange area I have filmed on many occasions. It is a location where hundreds of lights seemingly appear out of thin air. I could visually see the lights to the south but the lights to the north did not reveal themselves visually. Finally, in both the north and south videos you will also see airplanes flying through the scene. The aircraft that were flying in the video from the north are very likely military because they appeared to be flying in restricted airspace. You can tell when you are looking at an airplane because the flashing beacon is much stronger and more pronounced.
Source:  latest-ufo-sightings
---
Date:  February 26 2016
Location:   Longmont, Colorado
Time:  
Summary:   "Found this on one on my surveillance camera. I have no idea… winter, no birds, insects or bats. My house faces north and south… field behind me. The light went from west to east."


Source:  Latest UFO Sightings World
---
Date:  February 26 2016
Location:  Pennsylvania
Time:  sunrise
Summary:   Triangular craft observed in the sky at sunrise, moving west to east, right above the tree line. As I was getting ready for work, I had let my cat out a few minutes earlier. I heard him meow at my back door to come back in. As I opened the door I looked up and to my right (the sunrise was just starting to peak) and I saw an object traveling west to east right above the sheds in the back yard. This caught my attention because there are never planes taking this flight path, and it was low enough catch my attention, but did not emit any sound. Because of the position of my back door in reference to a barn a few yards a way, as it traveled right to left I lost sight of it as it flew over the barn next door. I think it was roughly 1,000 ft off the ground, (clearing the tree line) and the size was a little larger than a Cessna-maybe fit 4 people. There were 3 white lights positioned in a triangular shape with multiple lights inside the body. The whole event last about 10-15 seconds before it went out of my vision range. It all happened so fast, I am interested in knowing if anyone else reported a sighting that morning.

Source:  MUFON
---
Date:  February 27 2016
Location:  Barra de Carrasco – Canal, Montevideo
Time:  
Summary:   I just recorded something that I don't know what it is… I was filming my self when I was rehearsing a business pitch outside in my backyard, and I didn't hear the noise at the time, but when I watch the film I was shocked, how I can't hear that noise, and at the same time that the sharp noise sounds 2 black things flying in a very ducking fast speed was caught on camera. But the most strange thing, is that something small and bright thing appears on my garden in a fraction of a second, in the same ducking direction after this black things ducking. I slow down the video to a 1% and still…things going fast I am not saying this is a UFO or something paranormal, but it is a really really strange thing… Birds don't fly that fast!

Source:  MUFON
---
Date:  February 29 2016
Location:  Cape Canaveral, Florida
Time:  
Summary:   After the scrubbed launch because of a "boat within the safety zone" and an apparent try to re-launch I witnessed a small red (maroon) object on a trajectory similar to the shuttle paths. It did not blink as would a plane's left wing light. This occurred after the mission was scrubbed. I saw, from my backyard in Edgewater, a maroon object at high altitude going NE in a straight line EXCEPT that it would suddenly accelerate to a new forward position in an instant. It did this several times. I have watched many launches but never saw anything like this.

Source:  MUFON
---
Date:  February 29 2016
Location:  Stara Zagora, Bulgaria
Time:  
Summary:    I was walking down Ivan Vazov street, and looked in the direction of the football field, it's a construction site at the moment for some large store.  I looked at the sky and saw those lights, yellow-orange, pretty big (maybe 5-10 times bigger than the biggest star), slowly appearing and disappearing, as if the object was rotating, or just switching the lights on/off. I dont know if it was a single object with lights or multiple objects. Overall I observed about 4 cycles of the lights slowly appearing and slowly disappearing. At some point the object started moving slowly. I shot a video with my 5 megapixel phone camera. Then the light slowly faded and never appeared again. I waited for a couple of minutes and walked away. I immediately thought it is a UFO, as I've seen something similar in the area a few years ago (tho it was a single light of similar size and color), and my father has seen the same. I felt kind of calm and even disconnected while taking the video, but afterwards I felt pretty excited and a little scared. I was amazed and there were shivers running down my spine and trough my body.
Source:  MUFON
---
Date:  February 29 2016
Location:  Paris, Illinois
Time:  
Summary:  My husband wanted a picture of the flag at this farm we were passing because the strong winds made it look amazing. I took pictures and then later when reviewing saw the craft
Source:  MUFON
---
Date:  February 29 2016
Location:  Windsor Locks, Connecticut
Time:  
Summary:  During the last 10 days, twice while sitting in my living room looking towards the west, the first sighting was a bright star light object so bright that I took my binoculars out. The first time I saw this, the object was far off in the distance perhaps 20 miles away. Through my binoculars I saw a stationary white light hovering with a green and blue blinking light below the white light. I watched it to see if it would move and it did not move for 15 minutes. Suddenly it dared to the left then to the right about an inch which could have been miles because I was so far away. Then it began to move in my direction. Closer and steadily until it was just above the tree line and all I saw was the bright white light. It was moving about the speed of a car on a highway. I ran outside as it crossed over my house, barefoot in my pajamas. What amazed me was that it was so close yet it made absolutely NO noise. At this time it looked to be the size of a small aircraft or a tractor trailer. Then last night 2/29/2016 I saw one again. Same place in the sky, same size, this one had two bright lights and two blinking white lights, hovering for 10 minutes. Then from the northeast an airplane heading towards the Bradley airport area in Windsor locks appeared. I could hear the engines and it had the red and while blinking lights and was tve usually airplanes I see all the time for the last four years I've lived here. As the plane got closer to this hovering UFO., the UFO just disappeared! I reported this today to State, local and airpot police, who directed me to call my local Enfield police when it happens again!

Source:  MUFON
---
Date:  February 29 2016
Location:  Yellowstone National Park, Wyoming
Time:  
Summary:  In this video it appears to be some sort of light flying(meteor) across near Old Faithful.
Source:  Latest UFO Sightings World
---
Date:  February  2016
Location:  
Time:  
Summary:  
Source:  
Related articles