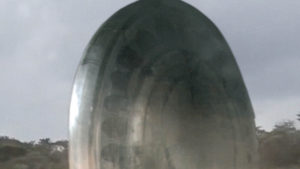 (Last Updated On: January 17, 2018)
Date:  Summer 2016
Location:  east Long Island, NY
Time:  night
Summary:  I'm from east Long Island, NY and single. One night last summer I was lying in bed unable to sleep when a very bright white light entered the room. Then several humanoids appeared my bedroom and stood by my bed. These beings were about 4-foot tall, wide in the torso, with large heads, large black eyes, no ears, or hair with dark bluish-grey skin. Their hands were very wide with thick fingers and nails. They wore white robes down to the floor. They asked to come with them and I followed them down to the street. There I saw a group of women, maybe 2 dozen or so, slowly walking down the street. All appeared to be in a trance and were going in the direction of the beach. I also felt drawn to the water. When I got there, I observed 4 brightly lit disc-shaped objects hovering over the surface. A tall beautiful female with pale skin and wearing a long flowing black hooded robe appeared in front of me. I was called by this being and asked to conduct a 'test.' I soon found myself standing by the foot of my bed with the stocky beings attempting to stick me with a long needle. It was inserted into my upper chest and an opaque yellow liquid was extruded from me. I remember waking mid-morning with a terrible headache. I have no idea why this occurred. I couldn't find any marks, but I do experience intense dizzy spells and have problems eating some days. JN
Source:  Phantoms and Monsters: Pulse of the Paranormal.
---
Date:   Summer  2016
Location:  Wilkes Barre Pennsylvania
Time:  Day
Summary:  "It was a warm sunny day, I decided to go on a quad ride by myself as I usually do, when time allows. As a business owner, this is my way to relax, seems like my only hobby for a man of 50 years young. It must be said, when I'm traveling on my quad, I go very slowly, no hurry to get to my destination or to spook any wildlife. After an hour of this journey, I'm traveling on an old railroad bed, once heavily used for coal mining that has been removed for some time. This is not a typical path, but a wide dirt road. Two jeeps could pass each other with no problems. To set the location, on the outskirts of the city in the mountains. A beautiful place in Pennsylvania. Anyway, as I came around the bend, I must have startled a huge bird taking a drink from a large puddle on the path. These puddles in this area remain year round. I never saw the bird struggle to take off, when I saw it, it was already flying away from me, its wings were out already and souring. Even though I traveled in stealth mode, my quad was still loud enough to hear, just enough time for the bird to take off. As soon as my brain realized what I was seeing, I hammered on the throttle to keep up. It was no more than 50 feet in front of me and 4 feet off the ground, as I am sitting. It was a very warm and sunny day with the sun over my right shoulder. I could see this bird was jet black with feathers, like a crow or raven. It was so black, that the sun brought out a bluish, purple tinting on the wings. I believe I have a tape measure eye, at least compared to most people. This bird had a 10 to 12 foot wing span and a pretty thick body. My vantage point bearing down on it from behind was unreal. This was no turkey vulture, I've seen many, even up close. I am no bird expert at all, but I am fascinated by hawks. Just love to watch them when I'm out. This was something I felt did not belong and most importantly did not want to be seen, unlike other birds. Obviously I didn't see the head, but as it was incredibly large. To put it into perspective, in a dream state, you would think you could ride this beast, and this is only from seeing it fleeing just in front of me. When I think about the wings, I would say that I only weight 165 pounds, and if I needed wings to fly, they would have been that large. As I tried to gain pace with the bird, I knew I would not be able, because from where that bird was drinking, the puddles ahead would slow me down for sure. I shortly stopped to watch this bird traverse the now winding trail. It had still remained about 4 feet off the ground, and it seemed as if it never moved its wings or even trying to gain altitude. There was no desperate flapping of the wings, like a vulture or any bird I can think of. It was literally gliding through the forest on that seemingly small path at this point, almost like a plane. After it was out of sight, I knew the path up ahead would split, one going down the mountain and one going up. It is certain to me that the bird glided down the mountain path to gain the altitude it needed. I tried to get another vantage point to see it again but failed. To me, I can't ever see a bird that size being able to utilize the woods for any kind of shelter, there's no way it could fly in there, unless it walks on the ground a lot. And why wouldn't something that large be seen flying around? This incident occurred almost a year and a half, but still haunts me. I can't seem to shake it. Since then, my quad rides have been in one direction only, towards my sighting. I come to find out birds are extremely territorial, and if that's true I hope to get proof of it some day."
Source:  Cryptozoology News
---
Date:  Summer 2016
Location:  Chesterland, Ohio
Time:  3:45 AM
Summary:  Summer 2016 – Chesterland, Ohio, USA: "I had a very similar encounter with the winged creature myself and even posted the story of what happened to a group on Facebook that talks about things. I'm 32 years old and had never seen anything supernatural or alien in my life until last summer. I had always been and still am very much a skeptic, and to this day I try to convince myself that what I saw was actually a really big hawk or something…but I know I'm lying to myself. It was around 3:45 AM, I'm driving west on 322 towards Chesterland, Ohio. I'm driving a Freight-liner box truck with a load of newspapers. In the summer time at night, there's always a layer of fog hanging down around the ground, and the moon was bright and the stars were out. Going about 50 mph through the hills I see this dark figure in the moonlight that was coming right at me. It looked HUGE so I slammed the brakes and actually ducked down instinctively because I was driving right towards it at windshield level. I heard a big THUD as the figure had gone over the cab and smacked right into the flat aluminium box right behind the cab at probably 40 mph. I kept my foot on the brake and came to a stop on the side of the road probably about 75 yards from where the impact happened. Wondering if it had smashed in the top of the box and thinking maybe I could see what it was I hit, I got out looked around. The box wasn't smashed in so I walked around to the back of the truck and that's when I saw it in the moonlight almost as clear as day. This things was HUGE. I thought for sure it was dead, but all of a sudden it rolled over and that's when I saw it's "bat-like" wings, not bird shaped. It rolled over and stood up on 2 legs and was at least 6 feet tall. The thing looked right at me with it's red/orange eyes and I was literally frozen in fear. I could not move at all. Then it spread it's huge wings out, jumped up and flew off. I ran back to the truck and took off towards Chesterland as fast as I could and spent the rest of the night on edge and trying to rationalize what I had just saw. The closest thing I could describe it to is the Jeepers Creepers monster, but I wasn't that close to it that I could see facial features and much detail. Just the 6 foot tall bat winged man with orange-red eyes. I do that route for work every week and every time I go through that stretch on 322 I get uneasy. It freaks me out almost 6 months later."
Source:  Youtube Comments, Ryan Winkelman
---
Date:  June 1 2016
Location:  Blackpool UK
Time:  02:02
Summary:   So I was looking out my bedroom window looking at the stars that's when I saw a quad rotor looking thing with red lights on each arm of the craft then when I started to look at it it darted off where I could no longer see it, it was VERY quick, est about 0 – mph 1.2 seconds went from hovering to darting off then it circled and flew away, not come back and I'm damn scared that was way to quick to be a man made craft
Source:  www.uk-ufo.co.uk
---
Date:  June 1 2016
Location:  Barnegat Light is in Ocean County, New Jersey
Time:  night
Summary:  The reporting witness and her boyfriend were outside barbecuing on a clear night on June 1, 2016. "My boyfriend observed the object pass over the tree top with multiple colors, triangle shape, lights all around outside, very little to no noise," the witness stated. The two quickly saw a second object. "The second object was the same, but only three lights – one on each corner, a little to no noise.Both objects headed west. Right over our heads. Thought was either a UFO or a new type of government craft. Did not have camera. Happened so fast." 
Source:  MUFON 76757
---
Date:  June 3 2016
Location:  Charter Township of Clinton, Michigan
Time:  
Summary:  well a couple of friends and i were watching over a yard sale display over night in a park across the street from were i live. i went home for a minute to get some more coffee. on my way back i just looked up (more so in an easterly direction) maybe 100 feet above the ground and noticed a bright white circulur shaped with a thin line encircling the light. it stayed there for a second or two and then just vanished.

Source:  MUFON
---
Date:  June 3 2016
Location:  Newark UK
Time:  19.25
Summary:  I went into back garden for a quick cigarette, looked up and saw four bright lights moving across sky, I thought it might be a meteor shower but they were all travelling at same speed and same direction until one started to dodge in between others, after that they all started to dart in a left to right movement, cloud then obscured and lost track. They were travelling in northerly direction.Very strange, I've very often seen satellites going over but nothing like this.
Source:  www.uk-ufo.co.uk
---
Date:  June 3 2016
Location:  North Carolina
Time:  
Summary:  We were driving home from our vacation in Florida. Just after dinner, around 8 pm, we were passing through North Carolina. I was cruising along around 70 mph when I noticed a large camper in my rear view mirror. I moved to the right lane and thought nothing more of the vehicle as it passed me on the left. The interior was lit up, and all the blinds were down. I saw several silhouettes of people as the camper pulled ahead of and in front of my vehicle. As the camper began to pull away, someone stood up in the back, close to the rear door. All of a sudden, a pair of wings unfolded from the man's shoulder blade area. They were wide and membranous, with claws at a couple of points along the top edge. They reminded me of pterodactyl wings or thin bat wings. I could see enough light through them to make out the wing bones. That's not all. At the top of the man's head were two small curved horns. My first thought was gargoyle. I was shocked to say the least. My family was asleep at the time. The wings appeared to be real, pulsing and flexing as the man moved toward the front of the camper. As I wondered what to do next, the camper pulled off an exit and disappeared. To this day, I'd swear it was a being with real wings. 
Source:  TT
---
Date:  June 3 2016
Location:  Oklahoma City, Oklahoma
Time:  
Summary:  I was downtown Oklahoma City a little before 2 a.m. Sunday June 3rd, 2016. For some reason I happened to look up at the sky and see two star-like orbs following each other in the sky. The way they moved was strange. It was kind of like they were dancing around each other. The lights went around in circles, up, down, side to side and so forth. I observed this only for a few minutes. I had to cross the street and after that I looked back up only to see they were no longer there.

Source:  MUFON
---
Date:  June 3 2016
Location:  Detroit Michigan
Time:  
Summary:  Woman claims she recorded an object that appears to look like a saucer shape craft hovering over the sky of Detroit, Michigan. Check out this latest ufo sighting.
Source:  clickondetroit.com
---
Date:  June 4 2016
Location:  Ottawa/Gatineau Quebec,
Time:  7:30pm
Summary:  I didn't know where to report this to Mufon but given the weird UFOs I have seen in the sky in the same area over Quebec and the odd contrails I see in the same area now to add to that are clouds with so many different looks that I had to report this one at least. I have never seen anything like this ever and hope not to again. No I'm not crazy to report a cloud to Mufon. This wasn't your average 'gee that looks like a Bunny rabbit' kind of cloud or if you squint it looks like something familiar. This was a gigantic, took up 1/4 of the sky in front of me black/grey cloud cover that was in the shape of a perfect army helicopter. I mean this thing had dividers where the windows were, pontoons for landing, two antennas on the top of the copter/cloud plus a tail that looked like a giant fish tail. Yup I sound nuts alright, even to me, but this was just unbelievable. Of course I didn't have my camera which is going to tick me off til the day I die because this thing would make world news. You didn't have to look twice to see what it was formed like. I mean how can a cloud do that? It left nothing out as far as outlining a perfect, well almost, huge helicopter. Since I have seen several UFOs in this area I have reported before I have been watching clouds and a couple of my sightings including a triangle ship was hiding in the clouds in the middle of the day. Others appeared in different form about 7:30pm in the evening on a summers night, clear skies. But one thing looks common, they hide behind the clouds, or try to. I have seen what looks like headlights in darker clouds some nights, they are always equal distance.between a pair and there are several pairs around. They fade away after awhile but look like headlights. I mention all this because obviously clouds and UFOs go hand in hand, especially in this area. I have no idea what to make of this helicopter shaped cloud but something is up and I do believe it relates to UFOs. Coincidental a ginormous helicopter appears made of clouds? Commmmmmeeeeee on. There wasn't anywhere else to report this and of course no reports in media about this. I mean it was stunning.

Source:  MUFON
---
Date:  June 4 2016
Location:  Orange, California 
Time:  after 11:30pm
Summary:  I was up late, working in my garage when I heard a military helicopter flying by. I ran outside to see it because we're in a flight path where planes dont fly over after 11:30pm and it's strange when anything flies by in the middle of the night. When I got outside, I was looking for the helicopter when a bright round light flies from above my house towards the east- almost as fast as a shooting star, which is what I thought it was, however, the helicopter I first heard was following it but keeping it's distance. The object had flown far enough to where a neighborhood tree blocked me from seeing it. Just when I was about to settle on it being a shooting star – it darted north, then curved towards the south west. Right then, the helicopter that was following it, stopped following and a small amber light shot across the horizon from north to south almost like it was meeting up or going after that light. It was amazing. We saw something similar on Feb. 27, 2014 at a lower altitude above our house.

Source:  MUFON
---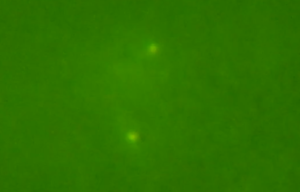 Date:  June 4 2016
Location:  Joshua Tree, California
Time:  
Summary:  Attending Contact in the Desert at Joshua Tree. My boyfriend and I signed up for possible sightings of UFO with Night Vision Glasses. Observed 4 balls of glowing light moving across the sky. My boyfriend and I were attending "Contact in the Desert" at Joshua Tree National Park. We are both highly educated, professional people with an interest in UFOs. He is a Management Consultant and I am an attorney and previous R.N. I am also a Private Pilot. We had signed up for the "Night Vision Experience" on Saturday evening. It involved looking at the Night Sky with Military Grade Night Vision Goggles. We got in line at approximately 9:15 pm at the outer edges of the retreat center. Our wait in line was approx. 45 minutes to an hour. While waiting, we could hear the Group Facilitator making comments as to what to look for and what not to look for: satellites, airplanes, helicopters etc. We could hear as people commented they saw "something" but they always turned out to be satellites or aircraft. As such, were NOT expecting to see any actual UFOs at all. When it was our turn, we put the Night Vision goggles on as instructed and started scanning. I saw a few satellites, discernible because of their smooth movement from horizon to horizon at a high altitude. I saw some aircraft, discernible by their blinking position lights: red on the left and green on the right. Being a pilot, I am aware what aircraft lights look like at night. Suddenly, one of the group yelled out that they had seen something. We swung our goggles to look in the northerly direction. I focused on a white, glowing object which looked like a ball of light with fuzzy edges coming over the horizon rather fast, traveling west to east and then slowly disappearing. Process of elimination set in: NOT a plane, helicopter bc no blinking lights. Fuzzy edges, ball shaped. NOT a satellite because too low on the horizon and moving too fast. These objects were large enough and bright enough to be seen with the naked eye. As we were watching this white object, the second object, this time blue in color, came out of the west and traveled rapidly to the east. Ball shaped, glowing, fuzzy edges. This one slowed down. The third object then came from the west, this time Green in color. Same shape, characteristics as above. This one slowed down also. The fourth, object, I'm uncertain about the color as people were now very excited and many thoughts were racing through my mind. Is this real? I looked at them with my naked eye and the goggles and yes, they were there. Now, the second, third and fourth object had slowed to a triangle formation. With the apex of the triangle facing 'up." They did not stop but kept moving to the east. At his point, the group facilitator said that we needed to give the people in line a chance to see because they "were dying to see." So we handed over the goggles and started walking back to the Center. We lost sight only because we were instructed to leave. By my guess, there were about 30 people with goggles who saw this take place and perhaps a few who saw with the naked eye.  Ever since that evening, my boyfriend and I have been processing this event. Yes, we are interested in UFOs and the nature of reality, consciousness etc.. We asked, did this predispose us to experiencing this? My answer is No. Remember, we were NOT expecting to see ANYTHING but satellites or airplanes. It was just a fun experience to sign up for. Since then, we have not stopped thinking about what we saw. We are both logical, sane people. Neither one of us has ever experienced anything like it in our lives. We cannot stop thinking about what we saw at Joshua Tree.
Source:  MUFON
---
Date:  June 4 2016
Location:  Spokane, Washington
Time:  
Summary:  I was standing outside smoking a cigarette, and what I thought was a street lamp turned out to be a dancing flame like orb in the west..scared the living the you know what outta me. it stood there and "danced" for at least and hour and i am immediately…I went back inside because it seem to be drawing closer towards my direction

Source:  MUFON
---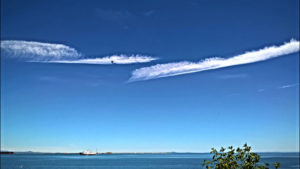 Date:  June 4 2016
Location:   Port Angeles Washington
Time:  
Summary:  The reporting witness was outside on the beach with a girlfriend when the object was first seen on June 4, 2016. "We observed a dark UFO emerge from a cloud over the harbor," the witness stated."We had been commenting on the oddness of the long, thin, spirally dense cloud on a clear day."The witness was photographing the cloud when the object emerged. "As if on cue, it 'posed' as it were, for one shot, and then retreated back within the cloud."
Source:  MUFON 76808
---
Date:  June 5 2016
Location:  Olympia, Washington
Time:  1:20 AM
Summary:  Early Sunday morning June 5, 2016 Olympia , WA very close to the corner of State Ave and Fir St – 1:20 AM I was at kitchen sink and noticed solid red light moving across the sky through the window. It appeared to be going South. It moved along at a good clip. I thought it was close to Tacoma and the Air Force base. It was unlike any normal air traffic we see here. It stopped at a point in the SE sky and had turned green. It then pulsated intensely with 4 points of green light. It was jumping around a lot. it never really stopped completely. It spiraled downward while turning blue and then I lost sight of it due to the tree line. While this was happening I ran in and woke my wife. She saw it in the SE sky.

Source:  MUFON
---
Date:   June 5 2016
Location:  Washington, Washington
Time:  11:16 UTC
Summary:  Was just taking pictures of Mars and noticed the object heading towards it. It was just luck that the unknown ended up in the picture with Mars….. then it just disappeared. I stood up and said to myself "where the heck did it go"
Source:  MUFON Case Number 76880
---
Date:  June 6 2016
Location:  Buffalo, New York
Time:  2:30AM
Summary:  I woke up around 2:30AM on Monday June 6th, 2016. I was facing my bedroom window and I saw what appeared to be a spherical object in the sky that was relatively close to the Big Dipper. It looked to be an extremely bright star in the sky. At the time I did not have my contact lens in and everything looked very blurry, but I could still see the object because of how bright it was. I put on my glasses and got up and walked to the window for a better view. The object was huge and it seemed to be flickering (not blinking) and it was moving in a spasmodic pattern across the sky. I observed it for over an hour, moving slowly from South to West in direction. It seemed to have disappeared and reappeared twice very quickly. There was not a cloud in the sky and it was high enough to not be obscured by any trees or houses. I took digital videos and photos on my cellphone.
Source: MUFON Case Number 76883
---
Date:  June  2016
Location:  
Time:  
Summary:  
Source:  
---
Date:  June 6 2016
Location:  M62 Eastbound between J27&28 Leeds
Time:  8.30am
Summary:  Saw something white flying very fast across the M62 @ J28 this morning – It was shaped like a 747 so at one side but thin the other and had no wings or attachments (Was not a drone) It dropped below the tree line on left side east bound carriage – it moved much faster than a drone or air fix plane and was too small to be an aircraft Due to distance I can't guess actual size but it was the size of a kids car – the type they sit in
Source:  www.uk-ufo.co.uk
---
Date:  June 7 2016
Location:  Boston, Massachusetts
Time:  04:33 UTC
Summary:  I was doing yard work, we were supposed to have cloudy weather & possible thunder storms, the sun was shining bright & I took 2 photos of the clouds simultaneously. It wasn't until I went into my house & looked at both photos to see a disc shaped object in the sky next to the sun. I Thought it may have been the moon, however in the 2nd photo it had moved south west, & was almost concealed behind the clouds, I realized then this wasn't the moon.

Source:  MUFON Case Number 76884
---
Date:  June 7 2016
Location:  St. Louis, Missouri 
Time:  
Summary:  A female companion and I were about to enter my automobile on a parking lot. She saw what appeared to be a flare hovering in the western sky as the sun was setting. As we watched, two jets flew nearby the object, one from the north, the other from the south. They each seemed to continue on their individual trajectories, though, and did not necessarily seem to be trailing the object. After a few minutes, the object began traversing the sky, appearing to ascend as it headed due east. It flew directly overhead. As it approached, we could distinguish that it was black and seemed somewhat triangular, as nearly as we could discern. We realized that the tiny black object was emitting a two-pronged oval shaped glare. Interestingly, as the object flew directly above us, I could continue to see that it was a tiny black object, but there were no longer any exhaust plumes. Gradually the object disappeared as it headed east. Neither of us is claiming that this was definitely an extraterrestrial craft, but it was certainly out of the ordinary. We could easily see that the object was black, and its exhaust plumes were yellowish and oval-shaped. Perhaps this is my imagination, but I had the oddest sensation that the object seemed somehow to linger with me. My companion did not get quite the same feeling, but became increasingly disturbed (but not exactly frightened) as the evening wore on, not less. I don't want to overly emphasize the feelings we had, because the imagination can play tricks, but we are absolutely sure about the physical details. This could well have been some sort of military or experimental craft. It was interesting that its flight path seemed to take it directly over our heads. As nearly as we could tell, the object was quite high up. We took photos, but they are very vague. Mine only shows a slight yellowish glow in the sky.

Source:  MUFON 
---
Date:  June 7 2016
Location:  Minneapolis, Minnesota
Time:  
Summary:  Very clear sky tonight. noticed what looked like a bright planet, but was movig slowly at first. itthen curved its flight in a smooth arch to the north, then resumed the flight lie it was on wet to east just north of minneapolis, very high altitude. no distinct shape observed through high powered binocs. flew toward wisconsin then appeared to climb in altitude and went dark.

Source:  MUFON 
---
Date:  June 7 2016
Location:  Canton, Georgia 
Time:   10PM EST (to at least 3 AM EST).
Summary:  I always stargaze when I go out at night and like to be aware of my surroundings. I live in a rural area so, we have a good view of the night sky. I know what stars belong where (constellations) and what is out of place. For some time now, I have seen a "star-like" stationary object in the night sky that obviously doesn't belong there and is not a star, planet, satellite, etc. For example, it may be in the eastern sky one night and in the southern sky the next time I see it, at the same time frame, and may appear closer or farther away from sighting to sighting. I decided to start documenting it to see if there are any others that are observing the same thing and will try to get pictures – but it really isn't going to show anything but a light. My most recent sighting was on June 7, 2016 at approximately 10PM EST (to at least 3 AM EST). I took my dog out for a walk and noticed a stationary orange/yellow immensely bright "star-like" object about 35 degrees from the horizon in the eastern sky. This object did not blink or twinkle like an object outside our atmosphere (like planets and stars)and was the largest object in the night sky by far. It appeared to be approximately "aspirin" sized from my vantage point. What is most notable about this sighting is that we are not in any kind of a air-traffic pattern, there are no small airports near my house where we'd be getting traffic from. However, all night there were small planes (or some kind of crafts, I couldn't tell because they were not lit up bright enough to see details) that would fly toward the light's direction, then once they got in front of it, would make a 45 degree turn and fly off. These sounded like an air boat, like the motor was a huge fan. This went on all night, I quit observing at around 3AM but heard the planes coming and going until at least 5 AM.

Source:  MUFON 
---
Date:  June 7 2016
Location:  Salmon Creek, Washington 
Time:  midnight
Summary:  In my backyard at midnight was looking up at the sky. a very bright light from the NW starts moving due south. Obviously a satellite but something was odd it seemed to be too bright and moving in direction that a satellite wouldn't move almost in a downward trajectory. It then gets brighter so I think in must be a comet. Then the light starts heading in an upward trajectory while getting brighter I can almost see the arc it made like the letter U but stretched out. It disappears into space. At this point i thought it was a comet that skipped off the atmosphere back into space but then a smaller orange light appears in the NW where I first saw the bright light and it is following the exact same trajectory. it also disappears into space but the comes back ten seconds later heading north this time. I run in to get the camera and come back out to see the orange light is now heading south again to where the bright light disappeared into space at which point it disappears into space for the last time. This happened in about a 10min window. It was too dark for my camera to get any images.

Source:  MUFON 
---
Date:  June 7 2016
Location:  Montana 
Time:  
Summary:  I live deep in the wilderness probably 1% of most remote in lower 48. I let my old dog out and wanted to make sure he did not wander as this is big cat and bear country. I observed a nice red sky then this white blob of liquid like light came out of nowhere and hovered over a nearby home. I thought this to be most unusual and grabbed my camera. I was less than 30 seconds getting the camera and got this one shot before the pulsating blob ejected into the sky in a millisecond. The horse below seemed unaffected but the blob seemed to have left a smoke type of trail.

Source:  MUFON 
---
Date:  June 8 2016
Location:   Lancaster, Texas
Time:  At about 0100 to 0115hrs
Summary:  I was making a delivery to a Chili's restaurant at the address above. I arrived at the location at 0025 hrs. At about 0100 to 0115 hrs I was outside looking towards the southern sky looking at what I was assuming Mars, a bright red star, about 20 to 30 degrees in the night sky. At that time I saw an object moving southeast, roughly bearing 120 degrees at a quick speed, I'd say 200 to 300 knots. The altitude was hard to determine, I'd say it was that of a traffic helicopter. But it past directly under the star I assumed was Mars. The object made no sound. It had three (3) large white lights on its underside. The lights were in a triangle pattern. The lights were bright, but not emanating a beam. At first sight a assumed the object was a fixed wing aircraft. It's size was larger than a private jet, but smaller than say a 737. It was making no sound at all. Fixed wing aircraft have red and green lights on the wings, this did not. And the lights were large, assuming the lights were at the leading edge or tip of the triangle I'd estimate they took up 20 percent of the underside of the object. It's difficult to estimate the overall size of the object because I could barely see it. It was three (3) lights in a triangle pattern. The thing that was most peculiar was the object was wavering, like heat rising. In fact I thought at first it was passing through an exhaust vent from the building. But there were no vents on that side of the building. Also, when the object passed under the star I assumed was Mars, the star was distorted momentarily. I saw the object for a good 30 seconds or more before it left my view of sight. I could see another aircraft higher in the sky, several thousand feet heading in a northeasterly direction, I assume towards DFW airport or Love Field. I was rather bewildered by the object, not frightened. I tried to rationalize what it could possibly be. I've seen B2 stealth bombers from my Air Force days, they are quiet but not silent like this was. And the distortion around the object was nothing like I'd ever seen. It did not change direction the entire time I saw it, not up or down, or left or right. Just in a straight southeastern direction. I do not have any photo evidence, my phone was not on my person at the time. No one else was there to see the object. I wish I had more for you.

Source:  MUFON 
---
Date:  June 8 2016
Location:  Middletown, Rhode Island
Time:  
Summary:  Taking a walk and a rainbow appeared in an odd shape maybe an orb. Light all around it.. Glowing shape.. Stayed there for about 10 minutes.. Then it was gone.

Source:  MUFON 
---
Date:  June 8 2016
Location: The Chestnut Tree in Wednesbury, West Midlands in the UK
Time:   around 10.55pm 
Summary:  I left my place of work at around 10.55pm (The Chestnut Tree in Wednesbury, West Midlands in the UK) and pulled out of the car park and turned right on the island, as I exited the roundabout, a grey metallic diamond looking object caught my eye. It wasn't flashing, nor did it have bright lights. It appeared to be pretty big, clear to the eye and appeared to be 150m or so away from where was visible before the skyline met with the trees/houses line and looked to be hovering, maybe at 50ft high. My first thought was that of an air balloon. But because it looked so strange I turned the car back around to go around the roundabout a second time to take a closer look. I briefly saw the same thing again hovering. But the moment I had seen it again for a few seconds, it disappeared. Very strange. At this point I pulled the car over to glance in the sky, to see other air craft that almost certainly appeared to be planes or helicopters. I had music on in the car so couldn't tell if any of the objects seen at that moment were making any noises or sounds that could determine what these other aircraft were. Once I got home, I googled grey diamond shape ufos, and startlingly enough, there is plenty of images/photos/recordings of very similar things I witnessed. Would love to hear back from mufon as to what this could have been, or satisfyingly enough to be told that it is either unexplainable or unidentifiable or if anyone else experienced/saw the same thing.

Source:  MUFON 
---
Date:  June 9 2016
Location:  Roswell, New Mexico
Time:  approximately 2:35 A.M.
Summary:  On the morning of June 9, 2016 at approximately 2:35 A.M. my wife, my wife's friend and I were coming home from Ruidoso, NM back to Roswell, NM. We were on US 380 (this is a divided highway) heading south toward Roswell and were approximately 17 miles away. I noticed a convoy of 20 or more vehicles coming toward us from the south heading north toward Ruidoso. This was highly unusual for this time of the morning as to the number of vehicles in one location and they all had their bright headlights on. As we got closer, I noticed that all of the vehicles had yellow, red and blue flashing lights. At first, I thought there had been a very bad accident but as we passed by, I realized it was a military convoy, escorting a lowboy tractor-trailer in the center of the convoy. As we started to pass the convoy, it was impossible to determine the size and shape of the object being carried on the lowboy. However, once we passed the convoy, it became clear that the object was a disc, approximately 40 feet in diameter. I was able to determine this due to the fact that on the back side of the object was a bank of bright LED lights creating a crest moon effect and the pattern of the lights extended across both lanes of the highway. Please keep in mind this highway leads to both Holloman AFB, NM and White Sands Missile Range. I did consider turning around and following the convoy but did wish to put my wife or her friend in harm's way. Also, I realize this was a stealth operation due to the time it was taking place, so as to avoid being noticed by many people and raising questions. If any of you witnessed this event, I would love to hear from you. If any of you know what this object could have been, please give me your thoughts. I can say this that the object in question was not a TR-7 UAV as it was too large. I thought long and hard about even posting this but I would love to know what it was I saw that night as it brought back many memories of those things I was involved with. God Bless, Cliff
Source:  Clifford Stone
---
Date:  June 9 2016
Location:  Krasnoyarsk, Krasnoyarskiy kray
Time:  
Summary:  UFO was recorded on a digital camera cherz night vision device. The viewing angle of the monocular about 17 degrees. The brightness of an object about + 3 star magnitude The direction of movement from south to north.

Source:  MUFON
---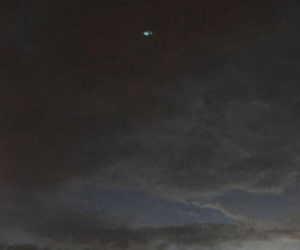 Date:  June 11 2016
Location:  Bin Ladin Signal near the police station Dubai United Arab Emirates
Time:  about 3 a.m.
Summary:  The witness was at "Bin Ladin Signal near the police station" about 3 a.m. on June 11, 2016, when the incident occurred. "The first thing I saw was the light," the witness stated. "I thought it was an airplane or star, but when I looked more, it moved very fast and from different directions the craft was three – and came together forming a triangle shape." The craft stayed in place for several minutes. "Then about 10 minutes later, the craft changed direction and flew different ways so I quickly try to record, but my mobile battery is not charged to record video, so I took some pictures with my phone before the battery died." The witness included three images with the MUFON report, which was filed on June 12, 2016. "During this process I can see some highway lights and stop. Then I was so scared to even go home. When I got home, I charged my mobile and zoomed in on the picture to understand the shape. I got home and I feel confused, so that is why I try to look for a site to report this."  The witness has seen unusual lights in the past. "Also, this is the second time I saw that at my company. I was doing over-time at night when a big light moved across my company around 1:30 a.m. I was scared and I stopped work instantly. So the following day I asked my manager to tell my boss to get CCRV cameras to install around the company, but since then I didn't see any, because I work inside the company."
Source:  MUFON Case 76996
---
Date:  June 11 2016
Location:  Egremont Cumbria in East.
Time:  Around dusk 10 pm
Summary:  I was looking at the sky in the east which was overcast and dark ?thundery clouds, when I saw 3 white lights in perfect alignment moving in a north northwest direction they were seperated wider than a planes lights which I thought was odd and travelling faster than a plane would and appeared to be only a couple of hundred meters up, I expected to here a sound soon after I first saw them but none came I called my family to come and see them as they past behind a large conifer in the garden, I waited to see them come out the other side of the tree but they did not. I didnt see them again, as it was hot and humid and ?electrically charged I thought it was a type of ball lightning and put it out there for comments.the whole sighting lasted no more than 5 secs and no less than 4 secs.
Source:  www.uk-ufo.co.uk
---
Date:  June 11 2016
Location:  Sabden, Lancashire
Time:  1:30 am
Summary:  We are writing to inform you about a sighting of a UFO. There were three of us that witnessed and were staying in a glass conservatory in Sabden, Lancashire, England, BB7 and the sighting was around 1:30 am. We saw the craft when it was dark outside, slightly cloudy and with no rain, with the house lights turned off. We first saw the UFO as it flew near Pendle Hill, coming towards us. It then appeared to fly over where we were. It also appeared to be very low down and very close to us. The UFO was a circular shape with 5-6 lights and a large white front light that appeared to be searching the area with a beam of light. The other lights were green and red, but solid lights. It moved in a forward direction, smoothly and quickly. The UFO was quite large and if you held a large plate at arm's length, it would just cover it up from view. The craft was above the trees and at a similar height as Pendle Hill. There was no aura or haze round it and it did not move up or down. After we saw the aircraft we were exploring possibilities of what the aircraft could be. We searched on the internet for an aircraft tracker and we found out that the only nearby plane was at Rossendale. We also heard no sound to conclude to it not being a helicopter.
Thank you for reading our concerns.
Source:  www.uk-ufo.co.uk
---
Date:  June 12 2016
Location:  Preston, Lancashire
Time:  23:34
Summary:   I was driving home last night after watching England vs Russia at the local pub and then I saw something extremely paranormal hovering approx. 350m above my neighbour hood. I pulled into a bus lane and stared at the craft. It seemed to be making a buzzing sound and red lights were flashing rapidly (as if some sort of signal was being sent). It was floating for about 5 minutes and then just shot off into the distance. Time- 23:34- 23:39 Height- 350m Noise level- High 
Source:  www.uk-ufo.co.uk
---
Date:  June 12 2016
Location:  North Poland – Węgorzewo
Time:  
Summary:  This amazing plasma orb UFO was recently recorded over the skies of North Poland! In the video you can how this object seems to fly across the sky and change in density. 
Source:  Grupa obserwacyjna
---
Date:  June 14 2016
Location:  Rochester Pennsylvania
Time:  6:34 p.m.
Summary:  The witness moved outside into the backyard at 6:34 p.m. on June 14, 2016, when she heard her husband calling out loud that he was seeing a UFO. "I came outside, but it had gone behind the big trees behind our house," the witness stated."We waited two-to-three minutes and then we could see it again." The witness described the object. "It was a white cigar shape, with left end round and the right end triangle shape – like a Q-tip, but bigger ends. It was horizontal. Going straight really slow, then stopped and hovered for a couple minutes, then moved again, hovered etc." But then the shape of the object seemed to change. "It appeared to be shapeshifting or morphing and changing shapes. It would appear round, then elongated, then like a triangle. A large jumbo jet flew by the UFO and it appeared slightly bigger than a jet, but I don't know if it's because it was closer than the plane, therefore it looked bigger. At one point the triangle shape to the right moved away from the object – maybe 100-200 feet – and disappeared. It was too far away to guess the actual size, but it appeared big at least 100 feet long." The witness wondered what the object was. "It looked too big to be a drone or helium balloons. Its weird shapeshifting ruled out it being a blimp. It was a windy day but stayed stationary when it stopped to hover. It was solid white and changing shape either from rotating and showing different sides or actual morphing. It is hard to explain the shape. The sun was behind me and it was not reflecting sunlight on the surface. If I held my arm straight out and compared it to my thumb. It was about one-inch long using my thumb as a reference. As wide as my thumb." The witness's husband retrieved binoculars. "But the object was too faraway and a little blurry from the morphing changing shapes to make out more details. No lights. Was heading south toward the Ohio River and Pittsburgh, PA. I watched it for about 10 minutes until it moved south and my view was obscured by more big trees. I live about 10 blocks or one mile from the confluence of the Ohio River and Beaver River."
Source:  MUFON 77094
---
Date:  June 15 2016
Location:  Congleton, Cheshire
Time:  11.59
Summary:  We were out walking the dog before bed, as we did most nights – and as we got to where Alexandria Way and Viking Way meet, right next to the leisure center – we saw what appeared to be a shooting star. The star slowed right down and became much closer, turning a shade of orange / red. Two more lights of the same colour appeared by it – one was doing 'figure of eight' motions – after a few seconds it stopped doing that movement and fell into a triangular formation with the other lights. The UFO flew dead North for 8 or so seconds, before it changed course East. The lights continued East for another 8 or so seconds before we lost visibility due to a ridge with trees where Westlow Mere is. This was not a plane, it was very low flying and flew an intelligent flight path. Growing up next to Manchester Airport – I'm well aware of how a normal aircraft would appear. There were no flashing lights as you'd expect. The experience left myself and the person who I was with both excited and terrified. The UFO was also completely silent.
Source:  www.uk-ufo.co.uk
---
Date:  June 16 2016
Location:  Bryce Canyon, Utah 
Time:  
Summary:  1. Bryce Canyon, taking pics at night. 2. I didn't notice it until I got home and was editing the pics. 3. I 1st thought it was a weird lens flare 4. row of lights moving and changed color
Source:  MUFON
---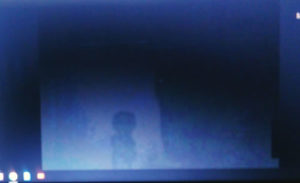 Date:  June 17 2016
Location:  Ellensburg, Washington
Time:  
Summary:  Taken by a friend I was video chatting with on Saturday night, My light was out and his was also on his side. My bathroom light was on, so I could see the computer, that is the light on the left. The widow and curtains are to the right. This whatever had to be right behind me. I have experienced some odd things, waking up to an old table with a 50 pound marble top moved. loud bangs, seeing shadows, my daughter said she saw a tall man once in front of the fireplace.
Source:  MUFON CMS
---
Date:  June 17 2016
Location:  south of Iowa City around Muscatine Iowa
Time:  around 10:50 pm
Summary: Last night around 10:50 pm "George" was driving home and experienced something really creepy. He was driving along hwy 22, just before Hon Geneva, when he saw a strange, tall man, dressed all in black step out from the ditch on to the side of the highway. As George passed him, the man stepped out behind his car, into the middle of his lane and stopped and watched him drive off. (As George described, the man cocked his head to the side while he watched him drive away and his arms weren't down against his sides, more curved as if he were holding basketballs under his wrists against his hips.. Maybe to appear stronger in stature.) He said his face was black too. Maybe painted or a mask, but he could not make out facial features. A bit shaken, he continued driving towards home when a second man (clothed the same way and same demeanor) stepped out from the ditch just before Sweetland Road. At this point George floored the gas and sped home. When he came in the door he was distraught. Listening to him tell me about his encounter scared me. I reported the men to the sheriff. Alan took George back out to look for the men but never saw them again. The sheriff called and asked to meet with George about this in the last month. There have been sightings of the same thing near Fairport. I am posting this because I want to warn all of you that live along the highway or drive along 22 at night to keep a look out. Not sure what they are up to but it's creepy! And there is a newspaper article about it as well: Mysterious "men in black" sightings reported along Muscatine Co. roadways. The other interesting thing is that I have a friend who told me a friend of hers had been driving a road between Iowa City and Solon (some years back) at night and had seen something standing alongside the road on the shoulder. Whatever she had seen had been big and had wings, and scaring her, she had driven on past, fast. Except about 3-4 miles down the road she looked up and saw the exact same creature standing again on the side of the road, also with wings–looking exactly like the first. It seems too coincidental to have that kind of happening in two areas around one place…if it's not a hoax, it's definitely creepy.
Source:  
---
Date:  June 19 2016
Location:  Volcano Popocatepetl, Mexico
Time:  
Summary:  This is extraordinary UFO footage we have ever seen! A fleet of UFOs appear out of nowhere and fly around the Mexican Volcano. There have been many UFOs around the Volcano for many years but this recent footage is something that just makes you wanna say WOW!
Source:  webcamsdemexico
---
Date:  June 19 2016
Location:  Yin Lai Court, Hong Kong, China
Time:  
Summary:  Hong Kong had an interesting evening as they had an unexpected other worldly visitor. There were countless UFO reports coming from all over the area of Yin Lai Court while a lucky few were able to record the craft. Some may say this could just be a drone hovering over the area OR some may say this could actually be something other worldly. See for yourselves and decide on the debate.
Source:  ejinsight.com
---
Date:  June 19 2016
Location:  Sun City West, Arizona
Time:  2318
Summary:  On the night of 6-19-16 at 2318 hours a UFO of the above description was observed through the front windshield of a parked Prius. I had just placed my lunch pail onto the back seat and had started the vehicle. I was about the take my foot off the brake pedal and was looking straight ahead. A large green UFO immediately came into view and crossed the exit lane travelling West about 20 paces North of Deer Valley Road. I later stepped off the distances from my location to the sighting and it was 100 paces from where the vehicle was parked. The craft was just above (3) short palm trees but became obscured behind a row of Eucalyptus trees. Upon sighting the UFO I sped down onto Deer Valley Road and jumped out of the Prius to further observe the craft. I observed the following as it headed down Deer Valley Road at the same elevation as originally observed. The rear of the UFO had (2) lights on the left and right, a white light above a red light the outside corners had a radius. The green light was like a green mirrored sphere however the light was moving like liquid mercury, most beautiful thing I've ever seen. The craft had a ring around the middle, not a narrow ring but a thick ring that was serrated like a quarter. The serrated outside edge had flat spaces between the serrations. The ring was a semi transparent and diffused white glow but not bright white light. The size of the craft could be judged because the road was like a measuring tape. The craft was slightly wider than the (2) way road. This craft proceeded down Deer Valley Road and disappeared from sight due to the low elevation and turning Northwest around 135th Ave. The video shows the eerie lights on (2) different stucco light columns as the UFO was moving. This is security camera on IR, a camera in the best location stopped working at 2316:22 hours for reasons unknown. I also observed a similar UFO on 6-25-16 at 2115 hours that was reported and can be found online under Green Glendale UFO. I did not report this sighting but observed this UFO with another person.

Source:  MUFON
---
Date:  June 20 2016
Location:  North of Port O'Connor, Texas
Time:  
Summary:  One UFO. Had a metal looking and shaped like the upper half of a motorcycle cylinder. Basically bullet shaped, not cartridge. Had spaced lights on each side, 2 whites on one side and 2 greens that changed to all being red when it left at a tremendous speed. in sky: 5 miles? I watched it through binoculars. It started out stationary, then gently moved around. All of a sudden, its lights turned all red and shot off to the maybe east north east. Was watching with binoculars. FYI, I am a retired medial professional.
Source:  UFO.net
---
Date:  June  2016
Location:  
Time:  
Summary:  
Source:  
---
Date:  June  2016
Location:  
Time:  
Summary:  
Source:  
---
Date:  June  2016
Location:  
Time:  
Summary:  
Source:  
---
Date:  June 25 2016
Location:  San Anselmo, California
Time:  
Summary:   Possibly triangular in shape. Really wish I had had my telescope to take a closer look. Noticed it at first through my bedroom skylight but went outside to get a clear look at it and it was really moving around. Just enough that it couldn't have been a star but not across the sky like a sat. One, silver color, looked like a very Bright star though three points were at times visible.
Source:  UFO.net
---
Date:  June 25 2016
Location:  Washington, Washington
Time:  approx. 10:30am
Summary:  10am departure from residence in Aberdeen to visit son and family in Tenino wa with stops in Olympia black lake area proceeding to Tenino via interstate 5 after. observed military helicopters (pair) in same area on outbound trip to Olympia (approx. 10:30am). my return trip to Aberdeen is when sighting occurred. visibility were restricted due to inclement weather, heavy to moderate rainfall. at time of observation of lights I had just passed the last exit's (overpass of hiway 12 and 8). moments after passing the area of Elma Wa something caught my attention in my drivers door mirror that caused me to turn my head and look. trailing behind, left of my vehicle as it/we were heading west was a bright blueish green light .. at that time it were paralleling the highway. there is a local airport for small planes at Elma near where the sighting first occurred. initially I thought it were a plane but the lights were constant and no flashing aviation lights were observed what so ever at any time. within a couple minutes it was directly adjacent to my drivers door window a few hundred yards south of my location at an elevation of from between 100 and 300 ft. unknown what the cloud ceiling was at the time but it remained under that. as my self and the other vehicles on the road were approaching the city of Montesano Wa the object veered north and crossed in front of my vehicle, between my own and the vehicle ahead which was at least 400 to 500 yards in front of me and was clearly visible for a matter of scant seconds. it was at this time I had the sense that there were more to it than merely a blue green light. there were discernable features but indistinct still due to weather? want to say, glass like, or silver, reflective. unknown as to whether my feeling I were looking at a light in the center of an inverted glass bowl were correct but that was my impression. the object passed directly in front of my vehicle at no less than 200ft and then was out of sight due to trees. in light of my statement earlier that weather is/was a factor it was indeed but, new vehicle, new glass/new windshield wipers, made for as clear a view as is possible from a motor vehicle.

Source:  MUFON 
---
Date:  June 26 2016
Location:  Ashland, Oregon 
Time:  
Summary:  I was sitting outside on my deck and a shiny silver, snake shape, and moved like a snake too, slithered across the blue sky in the late afternoon. It then disappeared! I thought, what did I just see?

Source:  MUFON 
---
Date:  June 26 2016
Location:  Freeport, Texas
Time:  5:59 pm
Summary:  My cousin sent me these photos. My cousin is a fishing boat captain in Surfside TX. He has been a captain for 15-20 years and has never seen anything like this. He observed this blue/green orb as he was headed back inshore from a fishing charter at 5:59 pm on 6-26-16. If you contact me, I will give you his phone number since he is the firsthand witness to this. What is odd to me is that the object is bright (glowing) but is back-lit by the sun (no reflection).

Source:  MUFON 
---
Date:  June 26 2016
Location:  Oxford, Iowa 
Time:  
Summary:  this all started about a week and a half ago .. I was out walking my dog and I always look up at the night sky and I notice a light moving and it was not like any I had seen before and so I watched it and it moved back and forth but over long distances. after about 15min I saw another light and it flew straight and then slowed brightened and when it brightened I felt a sharp pain in my head like something just stabbed my brain and then it disappeared. I went back home and felt very uneasy. Three days later I cld not shake the uneasy feeling especially at night I just keep feeling like something is there. But last night on the 26th of june I was letting my dog out again and looked up and the sky was beautiful and then I felt scared and went right inside I went to bed. what I am about to tell you I have no idea if it was a dream or really I can always tell the difference but with this I just don't know I feel crazy even writing this but here I go. I woke up and I cld not feel my bed below me my room was dimly lite and there was a being to my left I tried to scream but I could not I could not ever open my mouth or move my heart was pound and it kept going from my head to my feet with something that had a green beam of light it didn't hurt but felt warm. Everything about what I was wearing was the same as when I went to bed. and then the next thing I know I am laying back on my bed with covers off AND THEY R NEVER OFF and my heart is pound and everything is like what I was seeing . I don't know what happened or if it was even real but I do know that I have felt weird and like I am being watched. please help me feel sane again
Source:  MUFON 77325
---
Date:  June 26 2016
Location:  Carroll, Iowa
Time:  10:15
Summary:  left tracker at 1oth st, sighted approx. 15 degrees to southeast three inverted yellow lights one blue strobe approx. 20ft fore of center yellow light, approx. 10 ft aft white strobe. approx. 250 ft above buildings, trees and power lines, silent passed over my position to northeast.wife may have had a correlating paranormal incident minutes before my sighting, note.Note- no exhaust contrail-vapor trail or thermal wave in aft of object.

Source:  MUFON 77330
---
Date:  June 26 2016
Location:  Bonaparte, Iowa
Time:  
Summary:  Corey and I (Tye), were walking home after a night of Bigfoot in, we are field researchers for Bigfoot,there were a hedge of very tall bushes to our left and on the other side of the bushes is the Des Moines river, about 30 feet from the road where we were walking. We happened to look at the sky and over the bushes was falling this big blue sphere , it was glowing blue , no noise what so ever. It fell to the river. We ran to see where it was but there was no sign of it. We were standing there asking each other what that was when there was a flash of light above us in the sky. The flash was real quick and bright. As soon as the flash was gone I saw what looked like a flash light panning in our direction from across the Des Moines . There were no people out there, and besides if it was a person they would have had to be standing in the river , not possible. What was the strangest was that I witnessed a small black lizard thing run across the road from the direction of the river to the other side of the road. It reminded me of those lizards that run on 2legs. It was about 2 foot high. This all happened within 20 minutes. Also about 6 months ago we saw this triangular orange craft just hovering in the sky, it vanished and then reappeared hovering in the exact spot again. It hovered a good 10 minutes and then just disappeared. I have heard that the men in black have been spotted here in s.e. Iowa recently, now we know why. There are multiple people that have seen strange UFOs around this little river town. I have never witnessed anything like this before. We also always see flashes of lights that light up the road in that same area.There is a lot of strange activity here.

Source:  MUFON 77331
---
Date:  June 27 2016
Location:  Chelsea, Iowa 
Time:  08:31 pm
Summary:  My daughter and I went on a motorcycle ride and we saw a nice view of the sunset, so I decided to pull over and take a few pictures of the sunset. I got several shots, just so I can get the best photo. We didn't think nothing much of it, so we got on the motorcycle, took off and continued our ride. As the ride was over, we came home and I decided to go through the pictures to see how they turned out. As I zoomed in, to crop the photos, for the best angle, I noticed strange objects that I thought didn't belong in the pictures, so I zoomed even more, then I noticed there was more than one object and I thought it may be an UFO. As I'm going through all of the pictures, I can see that the objects in some pictures are closer and in some, are farther away from each other,this tells me that the objects were moving as I was taking the pictures. Because, from the time that I took the first picture, to the last picture, it was less than ten seconds, no more than 20 seconds. I took a total of nine photos. At first I was skeptical and thought it could be a camera lens reflection of the sun, but then my daughter got more curious so she did more research online and found a story similar to mine, where the photos appear to have the exact same shape/object that happen in Nicaragua, then I thought I had something, so I decided to contact you guys.

Source:  MUFON 77333
---
Date:  June 27 2016
Location:  Bennett, Colorado
Time:  2:58 pm
Summary:  Looked up from a chair on my back porch saw a bright white object. The sky was very blue and expecting to see anything it stood out. It was about 15,000 to 20,000 ft up. After observing for 2.30 mm it did several tight circles and south. While observing making sure i was seeing what i thought i was seeing the object abruptly headed south. I got up at of my chair that was facing NE took 6 steps to the SE end of my house. reacquiring the object it had gone about 50%to the south and was moving fast. This is when a 2nd object caught up to and passed it and went out of sight. I sat back in my chair, my dog began to get sick. After that i called it a day. We went inside and the clock said 4:58 pm, in my mind 5 min had past but it had been almost 2hrs.
Source:  MUFON
---
Date:  June 27 2016
Location:  LaGrange, Illinois
Time:  
Summary:  I was sitting in downtown lagrange when a friend pointed out these two objects that were flying that looked like something we'd never seen before. They were flying adjacent to each other and had the exact same movements no matter what. If one sharp turned left the other one would be right there with it the whole time and they were moving way faster then planes do. I thought i must be like really drunk and that we were imagining things but what really freaked me out was i hadn't taken a sip of anything all night we got in the car and then left and it eventually flew over lagrange road when we were driving down it so we lost sight of it at that moment.

Source:  MUFON 77328
---
Date:  June 27 2016
Location:  Queen Creek, Arizona
Time:  08:25
Summary:  San Tan Valley. I was on my patio watching a Storm coming from the West and glanced up and saw 3 Iridescent penny sized orbs. The orbs seemed to be approx 10,000 ft high and were traveling South at a high rate of speed (compared to a jet flying at that ht. There was no noise at all coming from these objects. I was amazed when I saw these since they were unlike anything I'd ever seen except, possibly, in a Sci Fi movie. They disappeared to the South as storms moved in from the East
Source:  MUFON 77326
---
Date:  June 27 2016
Location:  San Antonio, Texas
Time:  
Summary:  There were three floating lights In a triangular shape in the sky. The back right one veered off then the lights disappeared.

Source:  MUFON 77329
---
Date:  June 28 2016
Location:  Pike, New York 
Time:  
Summary:  Observed what appeared to be a satellite in orbit. Watched it travel about 75 degrees than stopped and shot back the opposite direction and stopped. Thank I saw probably another 6 star like objects separate off and fly randomly away in different directions. Some zig zaging some in straight paths. The main object also moving. Some came back within a few seconds and the others a few minutes. And than main object vanished

Source:  MUFON 77324
---
Date:  June 28 2016
Location:  Bear, Delaware
Time:  
Summary:  Took the dog out and looked up and saw this red and green thing sitting still in the sky about 100 yards to the west, grabbed my iPhone and got the first video then went back in and got my video cam and got the second one. I don't know what it was but it made no sound. While I was getting the video cam it moved from where I first saw it toward the north, then it moved slowly toward the north west dropped quickly down and did a 90 degree right turn and took off faster that anything I've ever seen. It went behind another building and did not reappear. There were two other guys watching it too so I know I'm not nuts. It had 2 or 3 large red lights which were on constantly, and 1 green flashing one. It seemed to be spinning slowly while it hovered. In the second video at about 1:16 I moved the video cam to a parking lot block to try to steady it, that was just before it started moving slowly NW.
Source:  MUFON 
---
Date:  June 28 2016
Location:  Bay, Arkansas
Time:  approx. 11:05pm
Summary:  I stepped out for a cigarette in my car port at approx. 11:05pm and looked up in the night sky when I noticed a bright light that slowly dimmed and as it dimmed another light brightened up then another as the second light dimmed. I then ran inside my house to get my wife and step-daughter to come see for themselves and they saw 1 light pulsate twice in one spot the objects seemed to move very slowly within the same general area but they were in a triangular position and looked to be a couple of miles apart, and when they dimmed you could still see them moving slowly when you blocked the street light shortly after this event I saw 2 airplanes 1 going west to east and another plane flying south to north but did not see the lights again when I was trying to get it recorded on my phone but this is like the 4th time this has happened in a year. This past fall in 2015 I actually saw a silhouette of a low flying object that had a cross-like shape with rounded edges flying from south to north that had absolutely no lights on it whatsoever and was only able to see this because of the dim light reflecting in the sky from the town nearby. As silly as all this may seem I no what an airplane looks like and these were not airplanes my thoughts were that this has got to be ufos whether government or extraterrestrial… Who knows. I know I've seen this before on 3 other occasions though out roughly about a year now.
Source:  MUFON 
---
Date:  June 30 2016
Location:  Port Hardy, British Columbia
Time:  round midnight.
Summary:  1. i was at my home 207 creekside apartments, i was lying down and starting a movie. it was around midnight. 2. i first noticed the object when i noticed light flooding in from my window it was at the back of the building where there is nothing but woods and is usually pitch black, unless the cops are looking for someone back there! 3. i thought the object was the pigs taking someone out and arresting them, and that the lights were their headlights. 4-5. i only noticed the light and a star like dot emitting a white light with the hint or red. then a buzzing-hum started that became a paralyzing feeling, when it was about to completely paralyze me i looked around the living room which was lite up and seen a tall slender grey alien by my front door. they than took me up and i found myself on a table. with something above me that illuminated me. i noticed the alien in my room was their he was standing to my left. i sat up which took a lot of effort, this seemed to startle them. i put my hand on the things shoulder scared asking what they were doing to me, when an alien to my right jabbed me with a long needle like object which caused an extreme pain whenever i tried to move throughout my whole body. i pushed the alien i had my hands on and it fell back onto a ledge or a table i could not see. then the pain in my body from the needle increased, and i blacked out. 6.I never seen them leave i found myself back on my couch the documentary of an hour was over and my ps3 which has an auto off had turned itself off

Source:  MUFON
---
Date:  June  2016
Location:  
Time:  
Summary:  
Source:  
Related articles