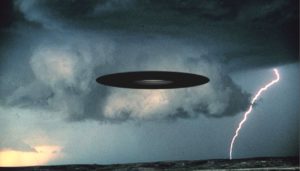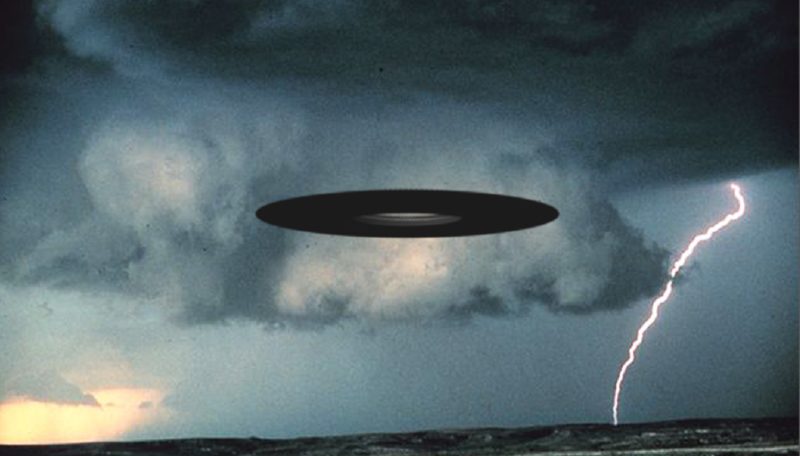 (Last Updated On: August 7, 2016)
Date:  May 1 2016
Location:  Porthcawl
Time:  02:30
Summary:  Looking up at the stars i noticed one star (as i thought) was moving slightly, then disappeared. Then a light shot across the sky making an S shape, very quickly and disappeared
Source:  www.uk-ufo.co.uk
---
Date:  May 3 2016
Location:  Otterburn
Time:  3pm
Summary:  At 3pm today I was travelling north from the throckley area in Newcastle when me and my passenger noticed probably in Northumberland (otterburn) what looked like a jet traveling vertical dead plum it went very quickly till about the height you see trans Atlantic flights I guess about 30-40k feet turned horizontal. Then east towards Newcastle and travelled faster across the sky than anything I've seen! Not a commercial flight!! Though it looked man made it flew like a shooting star it also had a constant trail from the rear but extremely quick?
I've tweeted RAF Boulmer but heard nothing yet
Source:  www.uk-ufo.co.uk
---
Date:  May 3 2016
Location:  Gosport
Time:  10.30pm
Summary:  Saw a bright yellow/orange bright light at approx. 10.30pm it was low in the sky and seemed to travel from Gosport to Fareham it was low in the sky silent and travelled at a remarkable speed we do not have anything that can travel this fast in our skys.
Source:  www.uk-ufo.co.uk
---
Date:  May 3 2016
Location:  Unionville, MO
Time:  3:15AM
Summary:   Over the last few years I have been conducting Bigfoot research. I have a large family of them here and interact with them quite often and try to record them and figure out why they do what they do. But the evening was just kind of off and my dogs were afraid of something outside. They have become so used to the Bigfoot family they do not even bark at them anymore. When I stepped out on my deck to give a listen and see if I could record it was dead silent. This never happens, there were no crickets, no tree frogs, no bullfrogs, none of the whippoorwills either .No neighbor dogs barking nor any cattle making noise and the Bigfoot did not respond to my calls and that is unusual as it is when they are headed on the way to where they go to sleep in the day. When they respond I usually take out a treat for them and leave it by the barn for them. While watching television I had caught some movement of something that moved fast between the house and the yard light. My roommate said he caught a glimpse of something light colored and really fast.The dogs were trembling and acting all out of sorts. That's when we armed up. I was looking out front and my roommate was next to the computer frozen like in a trance. He did not respond when I asked him if he saw anything. I touched his arm and he snapped out of it and said it looked at him. His arms were broke out in goosebumps and his hair on the back of the neck was standing up as was the hair on his arms. He does not scare easily especially after the many encounters he has had with Bigfoot. He said he saw a face in the window and it was not a Bigfoot and the eyes did not reflect any eyeshine like when the Bigfoot look in at us. The feeling was that there was something sinister out there. That's when I said "Screw it." I am a man and I will not be held hostage in my own home by anything! My feeling was that a direct challenge was how to best deal with this thing. I told "R" to keep my dogs safe and handed him an assault rifle. I stood out on the front porch with my .357 magnum in hand. I prayed that God would cast his blessings upon me and guide my hand. I called upon the power of Jesus to banish this demon and said I would fight it with every bit of my being. I figured if this was my time I would rather go out fighting like a man than cowering like a sheep. So the challenge was made as I filled my mind with anger as a way to protect myself. I came back in and after about 90 mins things returned to normal and the forest sounds had returned. My friend had first described this thing as looking kinda like a grey alien but different. It was light colored had large eyes with a slit for a pupil and the face had a wide mouth with thin lips. He described the nose area like on the face of Voldamort from the Harry Potter film. So we looked at what people call the reptilians and he found an image that was really close to what he saw for a few seconds. The following night the forest was normal again. I am not sure how many of these things there were but everything was quiet for at least 1/2 mile. 
Source:  MUFON 
---
Date:  May 3 2016
Location:  Bournemouth
Time:  10pm
Summary:  Was looking out to the night sky in a southerly direction and saw an orange/red light quickly appear stationary for a couple of seconds disappear then re-appear a few seconds later slightly east and continue to do this until there was a brighter almost flash as it seemed shoot off towards Southampton there was a satellite passing near by at the time and seemed to be at a similar height. I'm a massive aircraft enthusiast and can say for sure this was no plane, helicopter, quadcopter, glider, satellite, balloon, bird or anything we knowingly have on this planet! It wasn't in our atmosphere Keep your eyes in the skies!!!!
Source:  www.uk-ufo.co.uk
---
Date:  May 4 2016
Location:  Orange, California
Time:  11:30pm
Summary:  I was up late, working in my garage when I heard a military helicopter flying by. I ran outside to see it because we're in a flight path where planes dont fly over after 11:30pm and it's strange when anything flies by in the middle of the night. When I got outside, I was looking for the helicopter when a bright round light flies from above my house towards the east- almost as fast as a shooting star, which is what I thought it was, however, the helicopter I first heard was following it but keeping it's distance. The object had flown far enough to where a neighborhood tree blocked me from seeing it. Just when I was about to settle on it being a shooting star – it darted north, then curved towards the south west. Right then, the helicopter that was following it, stopped following and a small amber light shot across the horizon from north to south almost like it was meeting up or going after that light. It was amazing. We saw something similar on Feb. 27, 2014 at a lower altitude above our house.
Source:  MUFON
---
Date:  May 5 2016
Location:  Erie, Pennsylvania
Time:  
Summary:  I was with two friends, a male and female, in the female's studio on the 3rd floor, checking the lighting in preparation for a photo shoot the following evening. We finished and the female noticed that her husband had been staring out the window for a few minutes, so she went over to see what he was looking at, then called me over. I took a photo at 8:55pm as well as video through the window at this "star" that appeared to be morphing shape, changing color and pulsating brighter. We went outside and noticed another one of these "stars". My friends drove me home, I went inside to get my camera and took a few more videos/photos. I just went out again (May 10, 2016, at approximately 9:25pm) and noticed several of these objects as well as a plane and heard a helicopter nearby (I only live a few blocks from one of the local hospitals). I am wondering if this is just a trick of the eye. However, there was a gentleman that had got in touch with me I believe early last year, that had great video of the same type of phenomena.

Source:  MUFON
---
Date:  May 5 2016
Location:  North of Saxmundham, Suffolk
Time:  22:10
Summary:  Out with the dog in the garden, clear night sky, very quiet. Saw a bright white light travelling fast and very low, no trail, no noise, faster than commercial or military jets at a steady speed. Spotted for a few seconds only travelling North/North East, probably close to coast or over north sea.
Source:  www.uk-ufo.co.uk
---
Date:  May 6 2016
Location:  Louisville, Kentucky
Time:  night
Summary:  I was watching the night sky with a night vision device when i managed to capture a bright object/ ufo, and when the ufo got close to me it started to make a sound and it quits making the sound as soon as it got behind the tree line, i don't think it was a computer problem or anything like that because you can still hear the background noise when ufo is making the sound. The most intriguing of this event is that i never heard that noise while i was recording the ufo, i just noticed the sound when i was taking a look at the videos i recorded that night, i was going to delete it because it didn't seem interesting but that sound is just awesome.I have had incredible ufo sightings but this is the first one with sound. I still can't believe it.

Source:  MUFON
---
Date:  May 6 2016
Location:  Mudgee Australia
Time:  
Summary:  unidentified flying object flying near a plane over Mudgee in Australia. This was filmed with IR camera on 6th May 2016.
Source:  Latest UFO sightings
---
Date:  May 6 2016
Location:  Louisville, Kentucky 
Time:  
Summary:  I was watching the nigh sky with a night vision device when i managed to capture a bright object/ ufo, and when the ufo got close to me it started to make a sound and it quits making the sound as soon as it got behind the tree line, i don't think it was a computer problem or anything like that because you can still hear the background noise when ufo is making the sound. The most intriguing of this event is that i never heard that noise while i was recording the ufo, i just noticed the sound when i was taking a look at the videos i recorded that night, i was going to delete it because it didn't seem interesting but that sound is just awesome.I have had incredible ufo sightings but this is the first one with sound. I still can't believe it.

Source:  MUFON
---
Date:  May 7 2016
Location:  Huron, California
Time:  
Summary: This was recorded from my dash cam on May 7th 2016 about 3:00hrs. On I-5 around the 325 mile mark, heading south. I was traveling with three other trucks who also saw this craft.  I first saw a light sweep the sky on the right side of this video frame. One swept across the sky and a second one occurred a few seconds later. After the second light the first thing I thought was someone was shinning deer.
A couple more second passed and we saw bright white lights on what I thought was a plane moving from right to left out in the distance going across the highway. Maybe 2miles out in front of us, very low to the ground.  It crossed the interstate and climbed in attitude and started to circle heading east and than north, and than south returned to roughly the same place it crossed the interstate and crossed back going west, and than the object and lights disappeared. I kept watching out my passenger window to see if I could spot the lights, but I saw nothing. I turned back to watch the road ahead and talking on the CB with the other driver about the strange way that was flying. There was something odd about the way it maneuvered. I notice lights reflecting in my passenger window and thought it was from the oncoming traffic, and I glanced over to see what it was and saw this craft coming straight at me.  I thought it was going to crash into me at that point. It had three very bright white lights. Like large round spotlights across the font edge of the vehicle. When I say edge that's all I could make out as it didn't look to have body or height to it. As it approached It slowed and turned and banked almost in place at the same time, and came up over my truck. It made no sound, it had no wings, no marking lights, no fuselage, no tail, no Plane, no drone, no helicopter. We were traveling about 60 to 63 mph and as you see it was moving just a bit faster than we were going. It may have bee about 50 ft. above us.
Source:  Latest UFO sightings
---
Date:  May 7 2016
Location:  Miami, Florida
Time:  
Summary:  Witness called me about 10 minutes after the sighting. He said that he saw the object(s) moving from west to south, twinkling for a few miles, hovering, and then twinkling and moving again. The second one which was the largest appeared metallic, had a red light underneath, disappeared behind a light pole and then appeared again. He estimates that this object was over two stories tall and was bigger than a plane. The third object was lower down in the sky and went the opposite way. The witness often sees planes from the Opa Locka Airport, but on the day of the sighting, he had seen no planes at all until immediately after the sighting. He was able to take a picture with his cellphone which he said he would send to me. This witness has had several events that indicate that he may be an abductee.
Source:  MUFON 7855
---
Date:  May 9 2016
Location:  Janesville, Wisconsin
Time:  
Summary:  I was driving down the road after staying at a friends house for the day. As I was entering the highway, I noticed some lights heading east. Being an avid plane spotter, I parked my car on the roadside, grabbed my binoculars, and went outside. I then noticed another set of lights entering the airspace. I could tell this second formation was Air National Guard F-16Cs The other formation, however, was like no other plane I had seen before. And I have seen a lot of planes and known their characteristics! These matched none of those characteristics. At first I thought that they might have been an RC stunt plane, as I have seen some that can pull crazy loops and stuff. But who would be flying an RC at night? The objects were dagger or diamond shaped, and were executing maneuvers that resembled immelmans, pugachev's cobra, and others. Then apparently, the ANG F-16s lit their burners and flew at the objects. Then all of a sudden the objects changed to a heading north and flew off at very high speed. No landing occurred. This encounter left me awestruck at what the heck they could be.

Source:  
---
Date:  May 9 2016
Location:  Atlanta, Georgia
Time:  
Summary:  
Source:  MUFON
---
Date:  May 10 2016
Location:  Palmetto Bay, Florida
Time:  
Summary:  Observed in very clear skies, very bright red blue green constant lights moving from west to east slowly at about 3000 Ft. first Then moved up to Appx. 10,000 feet. Then again down to 3000 ft immediately.Then descended below the treeline for appx. 15 -20 seconds. Rose again and went east for 10 -20 seconds, then went due south really fast for maybe 2 seconds. Then back to the north in less then 1 second. It dropped down under the tree line again slowly. I did not see it again after that. I thought it might be a drone but the high illumination of the red blue green lights took me off guard. From my vantage point, this siting happened over the Kings Bay Yacht Club / Island condominiums area. This is my first report to anyone about a UFO sighting.

Source:  MUFON
---
Date:  May 10 2016
Location:  Phoenix, Arizona
Time:  5:15 pm
Summary:  I was walking down the street to a restaurant 15 mins away from my apartment when I witnessed this bright object in the evening sky. I could quickly eliminate options like helicopter, plane, jet, air balloon or an early star and knew it was an Unidentified Flying Object. It was quite big light on the sky for over 10 minutes. I remember that exactly because I left home for the restaurant at 5:15 pm and it was there not moving for all the time I walked. But was gone as neared the restaurant. I stayed to watch it but there was nothing after. I spotted 2 airplanes (maybe jet) as I was entering the restaurant. I tried clicking a picture but it wasn't to be seen in the picture because the setting sun was hitting the glare and nothing seemed visible in front of that.

Source:  MUFON
---
Date:  May 10 2016
Location:  Toronto, Ontario
Time:  
Summary:  When I was taking a picture of the CN tower, downtown Toronto, Canada, I was taking multiple pictures and i saw 4 (or more) bright linear lights zoom by, it went by quickly but my camera was able to take a picture of them. I don't know what the lights were, they were going parallel to each other and moved together in the same direction,, so maybe it could be a drone or a reflection of something? But it travelled so fast and quiet high in the air… And lost sight of the object because another building blocked the view.. I wasn't the only person who saw it either that's why I'm not exactly sure how to feel, but I do know that was something i would love to get an explanation for.

Source:  MUFON
---
Date:  May 11 2016
Location:  Glasgow, Kentucky 
Time:  about 5am
Summary:  I was watching tv about 5am. My roommate called me to come look out of the window at these lights. They appeared to be hovering just past the trees separating our property from the neighbor. We watched. They didn't move but would go from white and grow red. Not TURN red but grow red then back to white. They finally just disappeared. Drove up to look but saw nothing ( was still dark) Walking up in a few minutes with her for a better loo
Source:  MUFON
---
Date:  May 11 2016
Location:  Henderson, Tennessee
Time:  1948
Summary:  It was Wednesday at approximately 1948 when my two sons, 7 and 11 years old were outdide of my home playing. All of a sudden they ran in to get my wife and me to tell us they had just observed a "rocket" flying from the east towards the west and all of a sudden turned to go straight up through the clouds and went out of sight. They both told me that it appeared to be a rocket and was white in color. They both also stated that it seemed to have a flame behind it that left a trail of white smoke. When my wife and I had ran out all we could see was a trail (vapor trail) like a jet would leave in the sky that appeared to go straight up above our home. There were many commercial airliners in the sky during and after the event. I realize that this may have only been a rocket but I have never seen or heard of anything such as this in the area of west TN where I live. Also, my boys aren't the type to tell tales or fictional stories.

Source:  MUFON
---
Date:  May 11 2016
Location:  West Kirby, Wirral
Time:  21:38
Summary:  Two red lights hovering perfectly still over marine lake, West Kirby. Ascended vertically at speed, then descended. This was then repeated. During the second ascension, the lights turned from red to green. Object then flew across Dee estuary towards North Wales. Sighting lasted roughly 2 minutes.
Source:  MUFON
---
Date:  May 12 2016
Location:  Louth, Linc's.
Time:  23:00
Summary:  Bright, light blue flashing lights, about a mile away across the field low. First thought it was police lights on a road. The light were very bright, lighting a third of the sky. It started to move, but far to quickly to be a car, it moved the whole length of the massive field and down the side of it in seconds, then out of site but the light remained lighting up the sky for a few seconds after.. It was low to the ground with no apparent light source from above.
Source:  MUFON
---
Date:  May 13 2016
Location:  Fairbanks, Alaska
Time:  
Summary:  This interesting UFO video was recently uploaded on YouTube and you can see how this object blinks repetitively at the beginning. As it continues the UFO starts to shoot out an orb of some sort. Later continues to blink until it disappeared. What do you guys think it might be?
Source:  http://latestufosightingsworld.com/ufo-like-orb-fairbanks-alaska/
---
Date:  May 14 2016
Location:  Tamworth UK
Time:  1600
Summary:  I was parked up and sat in the car looking up at an aircraft through the sunroof. It was a very warm day so the sky was blue and clear. As my eyes watched the aircraft I could see 6 greenish coloured shapes too just behind it. They continued to move in a v shape formation. They were not as fast as the aircaft so this made me think they were way higher up. They eventually disappeared out of sight. Definitely not fighter jets as way too high for that. Not satellites either (I don't think) because why would they fly in such a formation? The aircraft I saw was at 20,000ft (I have FlightRadar24 app on phone) and these 6 things were way way above that. I took at picture on my iphone but as you can imagine nothing came out due to the zoom not being that good.
Source:  www.uk-ufo.co.uk
---
Date:  May  2016
Location:  
Time:  
Summary:  
Source:  
---
Date:  May 16 2016
Location:  Hawick UK
Time:  23:11
Summary:  Came to bed room window and looked out over the fields to see a triangular formation of lights and light flashes over the countryside never seen anything like it before we watched it for about twenty mins and It just sat there And didn't move I started typing this and lone behold looked up from typing this and look out of the window and its completely gone I have just looked again and it's back it's got me so confused now.
Source:  www.uk-ufo.co.uk
---
Date:  May 18 2016
Location:  New South Wales, Australia
Time:  
Summary:  An interesting UFO sighting appeared over the skies of South Wales, Australia. The flying saucer was hovering for over 40 Minutes as the family was recording the craft.
---
Date:  May 19 2016
Location:   Leeds Holbeck
Time:  19.40
Summary:  I was looking out of my living room window, and there was a silver shaped disc flying in our airspace around 19.40 it vanished behind a cloud within seconds.
Source:  www.uk-ufo.co.uk
---
Date:  May 20 2016
Location:  St. Augustine, Florida
Time:  
Summary:  I was looking out my back door when I saw some objects in the sky. They came out of the west and most headed NE, but 3 split off and 1 went N, 1 went NW & 1 went W. These objects appeared to fly in a military configuration. I took some photos, but the objects appear as just dots of light in the photos. I don't know how to upload them, so someone will need to help me. These objects were vertical, not horizontal. On most of them, the top 3/4 was red and the bottom 1/4 was white. When they got real low, they appeared to have a pinkish color to them. I was in the Army in Air Defense and these things are like nothing I have ever seen before. My wife also witnessed some of these objects in the sky.

Source:  MUFON
---
Date:  May 22 2016
Location:  Heald Green Cheshire
Time:  16.04
Summary:  Gazing up through my conservatory roof at the clear blue sky I as a small green light blinking. Clouds were moving over the Object but the object remained still. At 16.30 the object returned this time moving across the sky from west to east at speed. The object then appeared to stop and blink out of sight.
Source:  www.uk-ufo.co.uk
---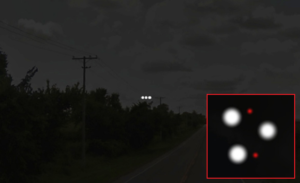 Date:  May 22 2016
Location:  Spring Grove Illinois
Time:  9:30 p.m.
Summary:  spotted a massive, illuminated triangular-shaped flying object on May 22, 2016, about 9:30 p.m. The object was in proximity at that time. While driving southbound along the Wilmot Road, the witness noticed the object at an estimated height of 200 feet above the ground. As he drove closer, he was able to get ~75-80 degrees from the horizon. To find a location to turn around, the witness continued driving in less than one minute. During that time, the mysterious object traveled northwest and was seen moving slightly and slowly angled. On the side of the road, the object became obscured behind trees. Later on, it visually lost. An entire encounter took less than two minutes.
Source:  MUFON Case 76537
---
Date:  May 23 2016
Location:  Leverington Common Rd Wisbech PE13 5EW
Time:  9.30pm to 9.45pm
Summary:  I was taking my dogs for their evening comfort break along Leverington Common Rd. It was not yet fully dark and being a Sunday night the road was quiet. As I looked up the road I saw a clump of orange lights coming into view over the trees. We are about 30 miles from Mildenhall and Lakenheath and we often see and hear really noisy military planes flying around in the sky. I stood and looked at these lights which were moving in a westerly direction towards Peterborough and they made no sound whatsoever. I thought it may have been a police helicopter but there were no flashing aviation lights on it. As it veered away slowly gaining height the
orange lights winked out one by one and as it was not totally dark yet I made out a black triangle shape as it made a lazy directional turn downwards and it then vanished into a cloud. You can imagine my surprise when I saw another clump of orange lights come from the same area of the sky as the first one and do exactly the same flight procedure ending with its orange clump of lights winking out one by one. It also banked and revealed a black triangular shape. I continued walking up the road and yet another clump of orange lights came into view from the same place and they too followed the same procedures. In all this happened five times, at intervals of about five minutes between each manifestation. The total silence of these lights was interesting but also they weren't moving smoothly. Rather it was the sort of motion I can only describe as being akin to rowing a boat, that is pull the oars, go forward slow down and pull the oars again. The dogs didn't react to the lights and when I got home I told my wife who said we have enough troubles with Brexit to worry about alien craft.My view is that if we were told about ET's assuming the things I saw were alien transport modules and not some sort of our own military craft the impact would be minuscule. Would it affect my pension, the cost of food and fuel, the immigration crisis, the underfunding of the NHS, street stabbings by sadly disturbed person, school exams and so forth? The answer is a big fat no. So there we are and there is likely a simple explanation. Maybe they were our own military craft returning to base for a tea break and a leak not necessarily in that order. In either event we couldn't do anything about an ET presence anyway so why worry. What will be will be. Best wishes, Karl
Source:  www.uk-ufo.co.uk
---
Date:  May 24 2016
Location:  Norfolk Kings Lynn
Time:   3:30am
Summary:  Really struggling to sleep eyes closed in and out of consciousness and generally a very confusing and not a nice experience so decided to get up and drink a fresh glass of water and stand outside and have a cigarette. Looked up in the sky and see two lights, thought nothing of them. Finished my cigarette and looked back up. Lights still in the same place. But slightly different to what you would normally see. The more I paid attention to them the more they stood out in the sky. So I thought to myself I'll record them or take a picture because of their distinctiveness and as soon as I thought that they started moving towards the sunrise, speeding up with a very gentle sound behind them. My first unusual sighting. Found it very strange how they were sitting there and as soon as I though to take some evidence they started to swiftly move away.
Source:  www.uk-ufo.co.uk
---
Date:  May 24 2016
Location:  Clendenin, West Virginia
Time:  9:30 p.m
Summary:   At first, they noticed a ball of light streaking in from the west. Seconds later, it abruptly stopped. The good thing, he was able to take a picture. For over a two-hour period, it stayed until it slowly moves towards the east. The witness started to see the sheer mass of the object after it cleared the western trees. According to the witness, three white lights underneath it were moving with it. The witness could see a triangular shape of the object as the moon brightened. He added that it was so big that it bears a resemblance to a mountain moving through the sky. Due to the uniqueness of the encounter, he chalked it as one of the most unexplainable things that he has ever seen. The videos did not throw a justice on it as it does not show the three lights underneath that connect the entire element. Also, the third light was not transparent. 
Source:  MUFON Case 76582
---
Date:  May 24 2016
Location:  Dodge City, Kansas 
Time:  
Summary: I was storm chasing and did not notice this with my naked eye, but after looking at picture, I noticed the object in front of tornado. I have picture to share, Raw file as well. Not sure what it is, I do not think it is lens artifact, water spot, plane, debris or bird. The object does not appear in frame right before or right after.
 
Source:  MUFON 
---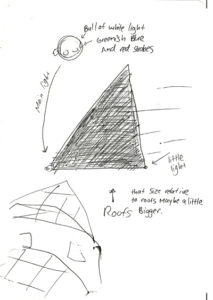 Date:  May 26 2016
Location:   Indian Land South Carolina
Time:  
Summary:  Witness illustration. (Credit: MUFON)  A South Carolina witness at Indian Land reported watching a "huge, black triangle" UFO that moved quickly away and made him upset, according to testimony in Case 76605 from the Mutual UFO Network (MUFON) witness reporting database. The witness was lying in bed listening to headphone and looking out a bedroom window and noticed a light on May 26, 2016. "I see a white light with red and blue lights blinking on it flying by," the witness stated."I thought it was just a plane, but what really caught my attention and made me get up and run to the window was how fast the object was moving. I have never seen a plane or anything for that matter move that fast before." The object also seemed very large. "Also what I thought was odd was how big the light was. At the size of the light and the distance, usually if it was a plane, you should be able to see some detail at that point. Like oh okay, I see the blue and red strobes on the wings. But nope, it was just a ball of light." The witness watched as the object moved behind trees, still moving very fast, and then emerged again from the trees. "I noticed a smaller white light following it at the exact same speed. Then all of a sudden just before it flew out of sight, I noticed the two lights were connected and that what I was actually looking at was a huge, black triangle craft with lights at the points." The sighting upset the witness. "This freaked me out pretty good and I think I almost had a panic attack. As soon as I lost sight of it I ran downstairs and outside to try and see it, but It was completely gone. Which is also weird because in the 20 seconds or so it took me to get downstairs, even if it was really far away it still should have been in sight. But it was gone. I was pretty freaked out after the more and more I thought about it, but also cool."
Source: MUFON  Case 76605
---
Date:  May 28 2016
Location:  Beckenham Kent BR3 3DP
Time:  12.50PM
Summary:  I was sitting in my SW facing garden with my wife when all of a sudden something came over the roof-top heading SW at such incredible speed it merely made a "whoosh" noise. It was travelling so fast neither of us were able to make out any definable shape or altitude but it seemed low and small – like a drone being propelled at missile speed. There was no conventional aircraft noise – only the sound of it cutting through the air. Neither of us have ever experienced anything like that before and we've lived here almost 20 years.
Source:   www.uk-ufo.co.uk
---
Date:  May 30 or 31 2016
Location:  San Antonio, Texas
Time:  5pm
Summary:  Memorial Day 2016 5pm in the afternoon. Had gone to the cemetery to put flowers on a grave. As we were about to get in the car to leave I observed a very white shiny object quietly floating across the sky towards me. The object stood out because the sky was very blue. I asked my daughter what it was and she didn't know. I grabbed my phone to start taking pictures/record this hard to make sense of situation. The object began hoovering over a tree as I took pictures and there appeared to be a lens on the front of the object. At one point a plane flew by not too far from the object and I wondered why the two "aircrafts" would be in the sky together….so close. Then the object started ascending up in the sky and just disappeared. This entire situation has left me a lot of questions. At first I wanted to believe it was a drone but then I looked up what a drone looks like and this looked nothing like a drone. I had always thought of UFO sightings to take place at night in a desolate area with no one else around to witness its existence! But this sighting took place in a completely opposite environment. I asked an employee at the cemetery what was flying over the grounds and initially he tried to convince me it was ballons that a family had released around the same time. That is until I showed him a picture and he reluctantly admitted this was no balloon….I forgot to mention my phone was almost fully charged when I started taking pics and recording and before I could finish my battery was completely drained. When I tried to turn the phone on to show the employee the pics …it took a lot of persistence before it would stay on. At the time of this incident it really never crossed my mind this object could be a UFO. I was very offended that someone would actually fly over a cemetery taking pictures of people during such a sad and personal time of their life. After I started researching other pictures similar to mine that had been classified as UFO I began to realize this is probably something way bigger then I'll ever completely understand or be able to get answers to. One picture I took came out fairly clear. The rest of the pics look like a bright white spec. In the video nothing showed so I randomly screen shot footage and enlarged the image to try and get a better picture.

Source:  MUFON
---
Date:  May 31 2016
Location:  New York, New York
Time:  
Summary:  I saw 2 orbs moving south in parallel. I snapped a photo with my cell phone while sitting at a stop light. After analyzing the photo on a large monitor I was able to count 6 objects . For whatever reason I did not see all of them with my naked eye ( only 2 ). The photo I submitted is the original unedited version. I recommend zooming in and cropping to see the objects clearly.

Source:  MUFON
---
Date:  May 31 2016
Location:  Liverpool
Time:   3.00am
Summary:   Lying in bed and from window spotted a large stationary white light for over 30mins. Several smaller lights moved around it parallel. A strange red formation like in shape of an arrow fell from the stationary one and sweeped across the sky then back again.
Source:  www.uk-ufo.co.uk
---
Date:  May 31 2016
Location:   Rochester, New York 
Time:  
Summary:  I was returning from taking my dog for a night walk and about to close my door. A light caught my eye (a very bright star that was not previously present – we have a small telescope and are amateurs and like to view planets). I went to grab my camera to take a picture but the moment I did the Bright star disappeared. The next night it happened again – and I called for my daughter to come see it but it was too late. So I had her look up if our Space station is in our area (we know the difference)and no it was not. It was a star that became in seconds very bright then traveled to the South but immediately disappeared when I ran into the house to get my camera. My feelings are that it wanted me to see it but not have validation of it. I only lost sight because it immediately dimmed down when I went to get my camera and called my daughter to come outside. Then it disappeared.

Source:  MUFON 
---
Date:  May  2016
Location:  
Time:  
Summary:  
Source:  
Related articles