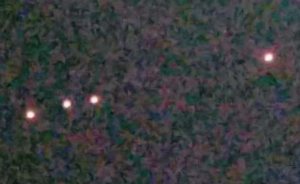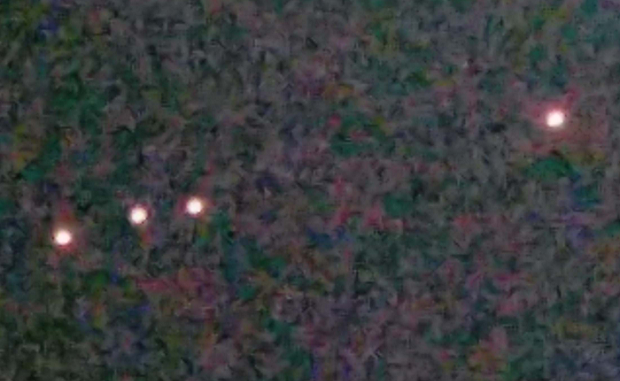 (Last Updated On: January 3, 2018)
Date:  February 1 2017
Location:  Sharon, South Carolina
Time:  8:14am
Summary:  We have a wildlife camera mounted to a tree facing the woods. it's set to take a 10 second video every 30 seconds when the motion detector is activated. a bird activated the camera and you can see a twig near the camera moving but there is a round light/orb near the horizon just a few feet away in the woods. it doesn't move or flash. there are silhouettes of branches in front of it and the sun is higher above to the right. there is nothing in the woods that would cause a reflection. the time is 8:14am in daylight. the orb is too large and bright to be a light from the sun or artificial source. it lights the ground and surrounding area. the woods are very thick in this area and we have not disturbed the location where we saw the image on the camera.

Source:  
---
Date:  February 1 2017
Location:  Fort Myers, Florida
Time:  1125 pm
Summary:  4 objects appeared, fifth came around 20 sec. later. 4 moved in formation. Then sep. moving south. Not drones. I came out of work at app. 1125 pm est on break. East side of parking lot. Saw first object through trees app. 20 degrees moving towards me. Thought it was work helicopter, then app. 5 sec later 3 more objects came behind first one. Hurried and snapped 2 pictures while walking towards middle of parking, heading east. Thought then it was drones but objects made no noise and started turning south while ascending to app. 250-300ft. Snapped another picture from middle of parking, looked to see if anyone else was out there, heard voices but didn't see anyone. Started recording video then and continued walking towards end/ back of the east parking area. That's when 5th object appeared still from east but this one was heading more sw, 4 object were now heading south, at this time heard what sounded like a shotgun. Stopped recording, got in car pulled on work road and started driving down back side of work heading south, objects were now about 500 to 750 feet up, there was low clouds moving through area at this time, 5th object was still catching up to other 4, i was looking out left side driver window, trying to get to darker area of work, object moved higher into clouds. There was no erratic movement, thought maybe they might have been chinese lanterns. They moved smooth and when they turned south still maintained straight line movement but gradual ascension. Didn't get opportunity to record again, whole episode lasted between 5 to 10 minutes, about 1/8th of a mile east is open grazing field areas, maybe 1/4 mile is cow fields, all east and south of where i work. Airport is further east, about 2 miles. Wasn't windy out, light breeze, about 42 degrees f. Went back into work, showed coworkers pictures and video, asked what they thought, all said not drones or lanterns, or plane or helicopter,

Source:  MUFON
---
Date:  February 1 2017
Location:  Corby / Northamptonshire/ England
Time:  16:20
Summary:   My preschool daughter pointed out of the window to show me what I thought was initially a flock of seagulls, but some of them were reflecting light and were kind of moving in a circular motion (a bit like the recent video of flying objects recorded at the Mexican border). I don't know what it was but they were for sure some forms of flying objects, which were still visible when they entered a cloud. I am not a saucer fanatic or even believer as such, but that freaked me out. I don't know what I would prefer less aliens or some sort of new military invention… Witness Name: Julia L.
Source:  www.uk-ufo.co.uk
---
Date:  February 1 2017
Location:  Azusa, California
Time:  19:30
Summary:  I was standing outside grabbing a smoke and noticed what looked like a garbage bag caught in an updraft. it ascended from the new and moved east slowly. it was reflecting white, but was transparent at the same time. it was right in front of my field of view, so i couldn't not notice it. there wasn't any wind though, so i followed it's path trying to figure out what it was. because it was night and the object was behind buildings and trees, i couldn't get a grasp on size. for me though, it's if you hold your fingers apart half an inch and then extend your arm in front of you. it was pretty visible. it seemed to travel in a wide, slow curve moving se then east. it produced no noise and was very fluid and smooth. when it started to move east, it changed shape. it was clear. and very fast but again, fluid. it turned into 3 wide ovals circling each other. it changed from white transparent to a dull red orange, though i'm not sure it wasn't just the reflection of street lights on it. the ovals moved clockwise horizontally at a consistent speed. slow enough to see the smoothness of the spheres. it looked like a shiny metallic surface. it never stopped moving, but it picked up speed after this, moving east and up. and it went up ultimately, until it looked like a plane. but it still had a red orange glow which suggests it's own light source. it got smaller and smaller till i couldn't see it anymore. hmm. for time i'd say the ascent in plastic bag/cloud form took about 40 seconds or more and when it changed shape it took off shortly after. so 20-30 seconds from change to it moving faster. when it started going up higher, that took roughly 15 seconds and then it was gone. still can't wrap my head around seeing this, but man… i got lucky.

Source:  MUFON
---
Date:  February 2 2017
Location:  Sintra, Lisbon
Time:  19:34:00 
Summary:  I was in my couch when my girlfriend send me a text by facebook telling me that she and her mother saw a really bright white light hovering and moving slowly. i was surprised wen she tell me that and then a told her to take some pictures and a little video and i notice that there isn't a single star in the night sky and i've been researching online and i find a story of military escorting a man with a camera on the lagoa azul serra de sintra portugal. i tried ti take a closer look at the pictures and video she send me but it´s so far away that i can see the shape of the object
Source:  MUFON
---
Date:  February 3 2017
Location:  Utah 
Time:  23:03
Summary:  In utan, rt 191, near mile marker 88 looking north. light was very quickly pulsing various colors. nothing else in the sky looked like this. after watching it for a moment, it appeared to travel east.. so i thought it was a plane, however, then it stopped and reversed direction. then it zoomed straight up and a high speed. then it went diagonally toward the west. then it kept doing exactly that, zigging and zagging in all different directions. i looked at this light through an infrared night vision binocular and could see that this object appeared to be a ball of swirling energy, but also, i could see a few other objects in the sky in proximity to this light that appeared to sparkle for lack of a better work. we observed this for about 20 minutes or so until it zoomed straight up into the clouds and didn't reappear. my feeling at first was excitement, then fear. that's what made me look at my phone to see what time it was and actually made a note in my phone of the exact time just in case something odd happened. i was frightened but couldn't take my eyes off of it. i tried several different means of recording it but only my cell phone was able to record it.

Source:  MUFON
---
Date:  February 3 2017
Location:  Winsford Cheshire West
Time:  01.40
Summary:  I sitting by the back door looking at the night sky as I often do & a small green light appeared in the sky from the right of me so it'd be south going eastwards. It was very fast went straight then right left and straight again. It was this side of the clouds as I could see the white of the clouds behind it. I'm pretty rural and its dark where I am. No one else seemed to be awake either. Witness Name: Phyl Mitchell
Source:  www.uk-ufo.co.uk
---
Date:  February 3 2017
Location:  La Vergne, Tennessee
Time:  09:15
Summary:  1. i was leaving to take my child to daycare and go to work after. 2. the sky was all grey and dark grey and then there was this one white/golden light. 3. at first i thought it was a plane and then just a light on a radio tower or some sort of tower. then realized the light or object was to high to be part of a tower and missing the other running lights to be a plane. also the object was brighter than a planes lights. the time was around 9:15 am or so. 4. i was sitting at the red light waiting to turn. i just sat and watched it for about 2 or maybe 3 mins. it never moved or dimmed in the sky at all just glowed. 5. i at first tried to dismiss the object as nothing. i am always watching to i try to make sure i know that i am calling a ufo a ufo. less than a min after seeing the object i was sure of what i was seeing. 6. at this point i was sure of what i was seeing. my wife called and when i turned to answer the phone and in less then the two to three seconds it took for me to answer it was no longer there sitting in the sky. the white/golden object was gone and the sky way empty.

Source:  MUFON
---
Date:  February  2017
Location:  
Time:  
Summary:  
Source:  
---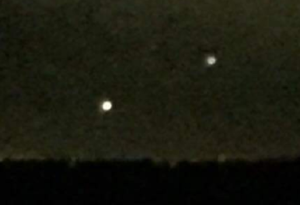 Date:  February 4 2017
Location:  Ashburn Rd. Whitby, Ontario
Time:  9 -10 p.m
Summary:  : Observed 5-6 pulsing lights moving slowly back and forth low in sky 30+km away from position. At approximately 9 -10 p.m on February 4th 2017 on Ashburn Rd. In Whitby,Ontario we first observed 4 lights, 3 of which in rough triangle formation viewed head on to west of position while driving. Stopped to observe objects and took approx. 1.30 min video. Observed objects hovering and moving lazily in no specific flight path. Objects(5-6) appeared to pulse and glow with orange/yellow light ONLY when hovering.Would dim considerably when moving. Two objects appeared to "exchange" light or energy with one dimming and the other brightening in close proximity. Objects also appeared to "fly" in very close proximity on purpose with no apparent regard to their proximity. Objects would move from hovering position approx. North of first position and back and forth in an indeterminate manner almost "lazily". Observed this for approximately 1.5 hours. Dimmer lights appeared to travel north and back to original position. At first we thought the objects could be helicopters or planes but we observed them glowing and dimming and doing odd, lazy movements in sky approx. 50° to 60° over horizon. No spotlights seen. Objects appeared to have red and green lights when dim. Felt that objects were NOT normal aircraft due to odd behaviour. Was exhilarated at prospect of encountering unknown objects in sky never having seen anything like it before. Did not feel any particular negative feelings, just that we were seeing something unusual. Attempted to move to higher ground to observe objects more clearly. Watched them in two positions over approx. 1 hour. As far as we know we were the only people to observe this event. Never truly lost sight of objects and left after 1.5 hours as it was late and we were tired.
Source:  MUFON
---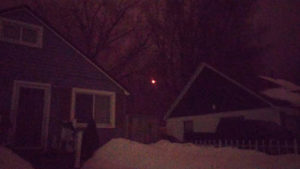 Date:  February 5 2017
Location:  Idaho Falls, Idaho
Time:  1:40 a.m.
Summary:  The witness was inside his home at 1:40 a.m. on February 5, 2017, when the incident began. "I was meditating in my room when my sister went outside before going to sleep when she saw the flame object through the window and went outside to see what it was," the reporting witness stated. "And that's when she saw the object that was coming towards our direction." Her sister then ran inside to report what she saw.​ ​"While I was getting ready to go outside, my two nephews were already outside. One of them turned on his phone camera to take video, but he said the phone kept giving him an error when trying to take video. He switched to take pictures and he managed to take four images of the object. When I got outside, one of my nephews told me to run to the backyard and over towards the northwest." The witness then saw the object as it was moving away. "It had a very intense red and orange color to it – very bright. My nephew – the one who took the images – he told me the object, before passing over the house, remained a sphere shape, but once it passed over the house it started to change shape. He said the closes thing that this can resemble is one of those light sabers from that movie "Star Wars." It had that same effect. It would stretch. It would go from a sphere to a cigar shape. And once it passed the house, it went back to just being a sphere. He said all around the object there was this wave-like pattern like fire." The witness also noticed the absence of sound. "Everything went super silent while the object passed by – no bird sounds, no wind sound, no car sounds, nothing. Just silence and this effect of sound cancelling was only when the object was passing over the house. Everything went back to normal once the object left."
Source:  MUFON CASE: 81932
---
Date:  February 5 2017
Location:  Chicago, Illinois
Time:  1740
Summary:  My husband put the car away at the kickoff of the superbowl football game.(in the garage)walking back to the house walking west he saw three orange lights coming east toward him. he hurriedly called me outside(side entrance to see them. it was february 5, at approximately 5:40 p.M. they were about 3 miles from my house in the western sky.Our house faces west. the moon was a little to my left in the southern dark sky. the large(bigger than the north star)deep orange orbs where in a row traveling east. the first orb passed the moon, then went up; and then disappeared from view. the second one seemed to be lingering, waiting for the third one. when it caught up, the second one passed the moon and disappeared where the first one did. the third was a little slower, passed the moon and disappeared. this all occurred in about 30 seconds.

Source:  MUFON
---
Date:  February 5 2017
Location:  Chicago, Illinois 
Time:  1740
Summary:  Approximately 1740 hours on sunday,february 5,2017, i saw 2 objects in the west sky flying close together. as i watched i saw a third object trying to catch up. the first two seemed to slow down to let the third catch up. they were going from west to east,south of my location.
they were reddish orange in color. as they flew east they seemed to gain altitude , and the color disappeared as if the color burned out. it took about a minute or less to leave my vision.
it was not an airplane!

Source:  MUFON
---
Date:  February 5 2017
Location:  Harrisonburg, Virginia
Time:  1415
Summary:  today around 1415 february 5 a friend and i were having a discussion and she observed the craft with two contrails behind it and remarked at the steep angle that it appeared to be taking. we both assumed it was a jet at high altitude. we looked away for a couple of minutes and when we looked back, both the craft and the con trails were gone. it was a very clear sky and we saw no evidence of con trails or planes. both of us very surprised and a bit disturbed as neither of us had a good explanation.

Source:  MUFON
---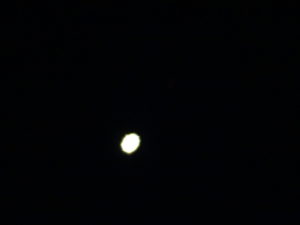 Date:  February 5 2017
Location: Brooklyn, New York 
Time:  18:20
Summary:  Recorded this video from my bathroom window on sunday at about 6:20-6:30pm (right before the super bowl) when i game started i stopped after the first quarter i returned and the object was gone

Source:  MUFON
---
Date:  February 6 2017
Location:  Burbank, California
Time:  08:20
Summary:  Driving my daughter to school this morning in mild rain- i saw a bold black "balloon" that from my view was the size of a big beach ball…I turned left when light turned green again the object kept floating towards my left size high above and then i saw it was no circle but a disk shape i tried grabbing my phone to record but by that 6 seconds the object was higher and much further away from my view and looked like a speck.

Source:  MUFON
---
Date:  February 6 2017
Location:  Arnold, Pennsylvania
Time:  2250
Summary:  At approx. 2250 hrs est i saw an intense orange glow in the northeast sky over arnold pa. it happened twice within 15 minutes and each time only lasted a matter of seconds.

Source:  MUFON
---
Date:  February 7 2017
Location:  Lake Mary, Florida
Time:  00:00
Summary:  Last night i was in my back yard looking up at the night sky. i saw what i thought was two stars. one of the stars started moving slowly. i thought it was weird so i called my roommate outside to see what she thought. we both watched as the star like object moved in one direction toward the clouds. it was bright enough to see the object stop and hover in one position for a few minutes, then come back out of the clouds in the same way it came in. after watching the object for about five more minutes it just disappeared. it didn't blink or have any red, green or white lights like a airplane and it did not move like a airplane. it was definitely weird.
Source:  MUFON
---
Date:  February 7 2017
Location:  Near Manchester Airport ,Wythenshawe, Manchester
Time:  2200
Summary:  I am used to seeing planes taking off and coming in to land but I saw a green and red object very high up hovering.I called my husband but when he arrived in the garden it had disappeared.Then it appeared again only much lower.May have been a drone?
Source:  www.uk-ufo.co.uk
---
Date:  February 7 2017
Location:  Lake Placid, Florida
Time:  20:06
Summary:  Went outside of my home around 7 p.M. made between 7 and 8 o'clock p.M. near my home and started looking at stars with a camera and several laser pointers. as usual i find a star with the laser pointer that decides to move sometimes they fly right over me other times they just take off in a no special direction they might change directions and keep flying the same way until they fly so far you can no longer see them. i have approximately 15 minutes of video several nights in a row of these objects they're here almost every single night. i am also close to an air force bombing range which is probably why they are here so often. i can fillmore see these objects just about every single night and leading to end the day or two after a full moon there is a lot of activity. i have also seen some strange aircraft that's probably military that i have never seen before and they usually fly over me after i'm make contact with the ufo. it seems like the aircraft is watching what i do and maybe taking pictures or they definitely know what i'm doing. they are definitely watching me i think there might be a portal somewhere close. usually i lose sight of the object when they fly out of range of my night vision camera or sometimes they just fade out disappear. these objects are either high altitude military drones or allen craft. i get excited when i see these things you now because it's just exciting i'm not scared or anything like that but you know most people didn't believe me until they saw the video. most of the time they just fly away on a few occasions they have flown right over my location and have hovered there for a long time and just never moved till i move myself or just gave up you know filming that night. i am colorblind but sometimes people tell me they change color. they dont do anything crazy. sometimes they grow real big and real bright and just fade out disappear in an instant or change direction or just shoot off like a rocket and disappear. i have made dvd recordings i was unable to download for this report but can email the video to anybody that wants them just send me your email.

Source:  MUFON
---
Date:  February 7 2017
Location:  Sacramento, California
Time:  05:50
Summary:  On the morning of 2/7/2017 at appx 0550 hrs i awoke suddenly. i needed to use the restroom. i walked from the bedroom, down the hallway and into the restroom, leaving the lights off and door open as i normally do.
at this moment i heard a jet engine take off from the east heading west. i then heard the jet closely overhead and the sound of a projectile being fired followed immediately by a second projectile. immediately following the second projectile i heard the sound of a second jet engine take off close by heading from east towards the west.I remember looking up toward the ceiling and it was dark in the restroom. where i live, we are proximal to mcclellan afb and beale afb.
i stayed in the restroom. my attention is drawn to the right of the shower. the light is now on and the bathroom door closed. i then heard a siren, kind of like an all clear buzzer/booming sound and a loud voice. i heard a voice that sounded very angry say the word "merqab". i looked over to the wall. i saw what appeared to be a transparent rectangle, i could see the outline. it was a charcoal color, like someone had taken a pen to draw an outline. i could make out a wave like motion. it was fully self contained. it disappeared after about 2 minutes. there is an air conditioning vent above the area but the heater was not on at that time.
i do not remember being aware of it disappearing but i do know that it was gone at a point and i noticed my dog suzy enter the restroom by pushing the door open with her head.I looked at her and kind of shook my head, looking into the mirror and said "ok", washed my hands, turned off the light.
i entered into the kitchen area and looked at the clock on the oven. it said 0605. i walked back to the bedroom and wrote down the series of events with dates and times and a brief description of events. i got back into bed but could not fall asleep. i got up after appx 3 hours of tossing. i have been told that my mood is marginally elevated today. my wife and i have begun noticing a strong ammonia smell from the living room area. i shampooed the carpet in there yesterday so there should not be this smell today. this has happened several times in the past but it was not associated with the carpet being shampooed. i have also been experiencing a low frequency tone/ringing in my ears today as well.
Source:  MUFON
---
Date:  February 7 2017
Location:  Ljungby
Time:  17:38
Summary:  At the time i was studying for a history test but i got bored so i started to listen to some rap beats. while i was listening i suddenly saw something that blinked and had many lights that were blue,red,and purple. at first i thought that it was a plane but when i ran to the window i saw that it couldn't be a plane instead it had a triangle or oval shape and i got a little panic, it was a very fast ufo. it kinda looked like if something chased it because it was so fast. i lost sight when it flyed away and at the same time my phone had 2% left so i filmed about 30 seconds. my family where downstairs and if i ran down they wouldn't believe in me and my breaths got heavier and i was a little choked.

Source:  MUFON
---
Date:  February 7 2017
Location:  Hammond, Indiana
Time:  16:30
Summary:  I witnessed a very large bird that was at appx 500 ft high and at 1000 yards and it measured 2 inches across which makes it 11 1/2 feet wide. it shocked me.

Source:  MUFON
---
Date:  February 7 2017
Location:  San Antonio, Texas
Time:  16:07
Summary:  Now i'm not sure if this is ufo but i saw circular lights coming out of beam from sun the i saw circular light following iss i thought it was the space station itself but found it strange when it vanished under clouds i took pictures could of been there camera to but still it seemed strange i got more photos but can't got them on your report

Source:  MUFON
---
Date:  February 7 2017
Location:  Orange City, Florida
Time:  23:20
Summary:  On, monday, 02-06-17, at 11:00pm i was working in my home/office for 9 to 10 hours on a project which had to get finished. i needed to stretch and get some fresh air so i went outside to walk around. in florida we do not get many ultra-clear nights due to humidity and temperature but this night was chilly approximately 52-53 degrees. i was overlooking the lake and was mesmerized by the number of stars that was visible, i immediately was able recognize constellations that are normally not visible. i stood there looking up for about 20 minutes when an object moving from the southeast to the northwest caught my eye. after i spotted it, i was in dismay because it looked identical to a tr-3b form the aurora project which is supposedly top secret classification. it was moving at a fast rate of speed as it took approximately 35-40 seconds to cross from one horizon to the other. due to the time that it took to travel in my field of vision i could clearly see the outline of the triangle craft that would black out the stars behind it. there was a light at each corner that was a bright pearl-like, almost white, appearance with much smaller reddish blinking lights (barely visible) on the tip of the corners. in the center of the belly of the craft was a larger reddish/orangish light, approximately 1/3 of the size of this craft. it was not as predominant obvious pearl-like lights but it was definitely there. the craft was maneuvering at an high altitude but low enough to observe the object without question, it was a little smaller than a golf ball which gave an extraordinary opportunity to view it in detail. i noticed at that time there were no other aircraft that was in view it was the only thing in the sky which is unusual for central florida.

Source:  MUFON
---
Date:  February 8 2017
Location:  Plymouth Coast
Time:  06:15
Summary:  Evening of 7 Feb 2017 whilst conducting training with an emergency service, colleagues reported seeing unusual white lights in the night sky off the coast of Plymouth that they could not attribute to aircraft, satellites, shooting stars or other known sources of light.
The following morning (8 Feb 2017) at the first hint of dawn in the same area I witnessed a single bright white light silently tracking across the sky at speed.
I witnessed the light for around 1 minute which gave me plenty of time to consider and analyse various possibilities:
1. Too low to be an aircraft and not be able to hear engines or see strobe light, wing lights etc. Just a single bright white light. The weather was calm and still so sound would easily have been heard if it was an aircraft.
2. Too fast moving to be a low flying aircraft or drone.
At one point the light extinguished as if it had entered some cloud but the sky was completely clear. The light then reappeared with the same intensity.
The light was tracking in a straight line from west to east and moving at significant speed. Witnessed by my girlfriend who was present at the time and ruled out the same aircraft possibilities as above.
I noticed as I got in my car and drove into view of Plymouth Sound that there were several warships anchored there. As a former naval man, I doubt the light was anything to do with the navy as it was too early in the morning and ships under training do not normally commence any kind of flying operations so close to land and at that time of the morning.
Source:  MUFON
---
Date:  February 10 2017
Location:  Fulford, Quebec 
Time:  23:00:00
Summary:  Contact me it will take me hours for me to explain i see a ufo triangle making no sound at all no jets no propellers nothing at all it had a bright light as the sun in the middle but it was translucent i was looking at the stars at the same time im looking at this triangle in the sky but it seem it lasted 2 minutes when it was over half hours i have to site down for hour hours and think about it and it is still not clear please help me out
Source:  MUFON
---
Date:  February 14 2017
Location:  Vacaville, California
Time:  06:30:00
Summary:  Ufo appeared with a sudden burst of energy that's when i grabbed my phone and started recording. west bound i-80 near vacaville, ca. object was in the west at about 8o degrees from the horizon. object was completely motionless and hovered for about one minute. the local news had claimed.. "navy strategic systems programs conducted scheduled trident ii (d5) missile test flights at sea from an ohio class ssbn, in the pacific test range off the coast of california," this does not seem correct to me as the "missile" barley moved and the "tail" did not change orientation at all
. video
Source:  MUFON 83216
---
Date:  February 15 2017
Location:  Newcastle Upon Tyne,Wallsend
Time:  9.00 p.m
Summary:  I was sitting in my sitting room with my partner having just sent my son up stairs to get ready for bed.I was looking out of the window and noticed a bright red circular light move from the left to right and come to a stand still in the sky.I turned to my partner and said did you see that? she replied what now.i said that look at that red light.As we looked i shouted to my son who is 9yrs old to go and have a look out of the front bedroom window and see if he could see what we were looking at.As i looked on the light moved upwards and then back down to where it was.My partner said its an aeroplane or a helicopter.I said planes dont move that way but i admit id did resemble a helicopters movement to some extent.but having seen many of those in flight this object was certainly different.I asked my partner to try and get a picture on her phone but she didnt bother and said i was mad and that it was an aeroplane.I continued to look on and then suddenly out of the right hand side a bright green light emerged as though it was going to seperate. This light blinked a couple of times and went back into the red light..the object started to move to the right slowly descending.I ran upstairs to see my son but he was looking in the opposite direction.i said not that way and showed him where i meant.My son watched as the object moved off into the distance but we could still see it clearly as it did not seem to lose size. There are local ship yards in our area and this is where the object seemed to be heading.There are cranes in that area which you can see clearly from our window lit up at night.one crane has a bright red light on top which you can make out clearly and this is where the object stopped and also appeared to be the same sort of height.the object then started to descend slowly and then speeded up as it dropped it shrank in size until it looked at ground level and vanished.I am interested in u.f.o phenomena and have had many sightings my self more so over the last few months some of which are in the same area but much different to each other.i feel that i need an answer to all of what i have seen an have often thought of being regressed if this is possible.
Source:  www.uk-ufo.co.uk
---
Date:  February 16 2017
Location:  Clenchwarton, Kings lynn, Norfolk
Time:  20:15 to 21:00
Summary:  Saw a large bright light in the western sky over Clenchwarton, the time was 20:15 continued to observe the light until 21:20. sometimes it moved very slowly and sometimes fast and sometimes disappeared for a few seconds. no other colour lights, just bright white. wasn't a lantern, wasn't a plane or helicopter, no sound!
Source:  www.uk-ufo.co.uk
---
Date:  February 18 2017
Location:  Banbury, , North Oxfordshire, UK
Time:  1830
Summary:  Heading North across CAVOK sky – Extremely high speed approx 4-5 x speed of a routine satellite – Approx 10 x diameter of a normal satellite and much larger than the ISS which does not orbit in that direction – No NAV lights or anti -collision beacon – Completely silent and altitude difficult to ascertain due to the speed and dimness of this very large craft but was at extreme height. It appeared to be generating its own light, however it seemed to be luminescent white. At first glimpse I thought satellite but after the analysis I've reported it is one possibility ruled out. It was definitely no aeroplane – It would have been easily Hypersonic with complete silent ability and generating no shock wave or sonic boom – No conventional lighting in operation. Sighting was visible for around 40 seconds. All stars were visible and bright.
Source:  www.uk-ufo.co.uk
---
Date:  February 19 2017
Location:  Mexborough
Time:  04.10
Summary:   I got up to use bathroom at around 4.00a.m. let don't put the lights on as this usually prevents me from going back to sleep. I live on a fairly busy main road but at that time there was no traffic. I have no idea why when I returned to the bedroom, I looked out of the bedroom window as I did so an unusual luminescent disc was travelling across the sky, just short of the horizon. I only witnessed it for around 5 seconds. But have been thinking about it all day . It was not a plane or helicopter the disc was iridescent white with purple tinge. If anyone can give me an alternative explanation of what I saw I'd be grateful. I have questioned whether it was my eyes playing tricks . I did wake to use the loo. So maybe I wasn't fully awake . But I believe I saw something I'm not able to explain
Source:  www.uk-ufo.co.uk
---
Date:  February 19 2017
Location:  Greenup Kentucky 
Time:  
Summary:  I was on a ridge off of the industrial parkway in Greenup with a friend when we noticed a noise that sounded similar to clapping a laughing right after that within seconds 3 similar shaped objects suddenly appear over a field a few hundred feet away they all glowed a off green color but it dissipated kinda like heat would. We could not come to a logical explanation of what it was one object landed and two other hovered one of the objects just vanished in no direction just disappeared and shortly after the second did the same when they disappeared it sounded like thunder or a bang we watched the other object on the ground we tried taking a picture but the phone went straight to static and as soon as I unlocked my phone the object took off directly straight up and it also sounded like a bang we left immediately towards I64 and by the time we came to the Grayson exit we had to pull over and have had severe nausea and a fever since then my friend went to the kings daughters and I haven't talked to her since then now as I've been typing this I've had diarrhea and a headache 
Source:  MUFON
---
Date:  February 20 2017
Location:  Kansas
Time:  
Summary:  Number of UFO(s), including the Color(s), Size(s) and Shape(s): one – lights blinking alternatively – then in a crazy pattern moved from one side of the highway to another in about 2 seconds, then quickly from side to side faster than we could follow – a sulfur smell was present, iron taste in mouth – a YouTube ad with a girl with a pale almost non-existent mouth started simultaneously playing on cell phone – she was dripping paint and saying "I'll bet you think this is sexual, but it's not." Distance of UFO(s) in sky: treeline and dipped into trees suddenly. Direction of Travel for UFO(s): moving around us as we traveled north of Lawrence, disappeared suddenly
Source:  ufo.net
---
Date:  February 20 2017
Location:  Heartsease, Norwich, UK
Time:  20:15
Summary:   I was driving from the heartsease estate to my Fathers on Plumstead Est. At first i saw it flying very slowly Eastward, thought it was a plane. As i drove round a bend on the Heartsease est i saw it very close up, motionless above (about 500 Metres) the houses. I was swerving, so i stopped the car Exactly opposite the houses and it was just sitting there motionless, no sound what so ever. It had many different coloured lights all over it. The way i could only describe it is the size of about 3 house roofs. The shape was undescribable, (The only way i could see it was like a giant Meccano set up, only bigger and better. No Not A Helicopter) I have never seen anything like it. I was just amazed at what i was seeing, it sat there all the 2 minutes that i was sitting there. I began to panic because it was as though it was watching me so i began to drive off still looking at it. As i drove away it started slowly going in the opposite direction, Then it was gone. I haven't spoke to anyone about this as they probably think i was stupid. But i know what i saw, definetly not a plane as i don't know anything that big and silent that just sits there above houses without making a sound. I now believe in UFO's. I did slightly believe in them before but now 100% positive. It was so close up, if i didn't see it myself i probably wouldn't believe it.
Source:  www.uk-ufo.co.uk
---
Date:  February 21 2017
Location:  Clermont, Florida
Time:   20:30:00
Summary:  In the following video, you can see the object traveling from the west from tamp, fl, go under a airplane, which i believed saw it and turn on it navigation lights. it then went east.The second video you can see the object, which doesn't produce any sound at all and no navigation light as it head towards orlando.

Source:  MUFON Case 82426
---
Date:  February 21 2017
Location:  Crewe Cheshire
Time:  20:45 approx
Summary:  I saw what I thought was a meteor flying across the dark sky so I stopped to watch. it was heading West to East as as I looked Southwards, but then instead of burning out like a meteor would it changed shape and slowed down slightly, it was self illuminated and took a 2 tentacle like shape, then it changed back to a ball and changed direction at right angles without slowing down. I estimate the speed to be at least 1000 mph
Source:  www.uk-ufo.co.uk
---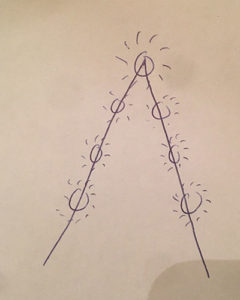 Date:  February 22 2017
Location:   Lancaster County Pennsylvania
Time:  between 8 and 8:30 p.m.
Summary:  The witness was driving along back roads between 8 and 8:30 p.m. on Wednesday, February 22, 2017, when the incident began. "Was at a stoplight when something caught my eye," the witness stated."I glanced over and noticed a line of bright lights. Didn't think much of it and looked away. I double took, however, and when I looked back, they were in a triangle formation." The witness was unsure what the object was. "I went through everything in my head. It was not a plane. There were no blinking lights, plus it was too low to the field to be a plane. I thought it might be a drone, but with it being so low it would've been a very, very, big drone. Nothing was blinking or illuminating off of it. There were no beams or anything like that." The object then began to move. "After I saw it, it moved again – not lightning fast, but quickly to a third point in the field and hovered again for a few seconds. At this point I realize the light had turned green, and I begin to drive away. But interested in trying to figure out what I saw. I looked back and slowed down and I found nothing there, nothing in the sky. There was nothing up higher. There's nothing in the field. It was gone. There was one very bright light at the top and three, maybe four, dimmer lights coming out of it in a triangle formation."
Source: MUFON Case 82286
---
Date:  February 24 2017
Location:  San Diego, California 
Time:  21:24:00 
Summary:  I'm an airline pilot last friday night we were descending on the profile descent into san diego i am the captain both me and the first officer observe to emerald light appeared have 5 sides in a forest down by the mexican border this emerald colored light was extremely bright was not a laser being being focused at the airplane as my first officer has fallen in the middle east with the air force in it than laser many times but this huge light look bigger than a house was seen about 20 miles away it it was like a super neon he's seen it for about three minutes as we are very busy and the descent both of us and never seen anything like this before both of us encountered sore eyes the next day and this is five days later i still have a little bit of pain in my eyes but this was not a laser being focused at the airplane this was a huge brilliant light like neither of us have ever seen both of us agreed we didn't know what it was or what could put out that much energy to her dies from 20 miles away and both of us agreed that it was not a laser pointed at us but this forest preserve look like it was very large size and this thing was out in the south corner of it i would like to get a picture but we're very busy at the time on the descent i've been flying for the airline for 32 years and i've never experienced anything like this and i can't tell you if this is man-made or this is something else but the power from the same must have been incredible to cause damage to our eyes like that my visions good the same as before just like i've looked at a welder thank you very much
Source:  MUFON 82416
---
Date:  February 25 2017
Location:   Phoenix, Arizona
Time:  
Summary:  We noticed that a helicopter was circling the area in at a rather high speed. my children went out to look and started snapping photos of the helicopter when they noticed what can only be described a large ball of energy. for some reason they snapped a photo but this object scared them and they ran in to get me. i was outside within 15 seconds and the object was no longer where they had pointed. upon asking questions i was shown this attached photo. can anyone explain what this is and has it been seen before? shortly after this photo was taken the helicopter left there area as well.
Source:  MUFON 
---
Date:  February 25 2017
Location:  North Las Vegas, Nevada
Time:  21:00:00
Summary:  i was driving north from las vegas nv., saturday night, feb 25th 2017 aprox time 9 pm. there were many cars on i-15, in both directions. i was headed toward valley of fire about 3 to 5 miles ahead. the sky was very dark, unable to see any stars, when i witnessed three lights ahead, hovering above i-15. there was one red blinking light on the top, one white solid light approximate 40 feet below it, and the seemed to be another white light from right to left crossing the path around the other lights. ive lived in the las vegas area many years and have seen about everything, i figured it was a helicopter or some kind of electric or construction area. i could see nothing approaching the overhead light, just pitch black sky. then nearly underneath the light i leaned forward on my steering wheel, and looked up, just as the red light flashed from above, i saw the complete silhouette of a very large flying saucer. i was shocked, this was the last thing i was expecting to see. the red flash slowly dissipated over the round edge of the disc as i passed under it. i don't think anyone else on the i-15 passing under it realized what it was. i pulled into the valley of fire exit a few minutes later and looked back, nothing in the sky but stars and a few clouds with a clear view. i don't know why the sky was so black at the sighting.

Source:  MUFON Case 82427
---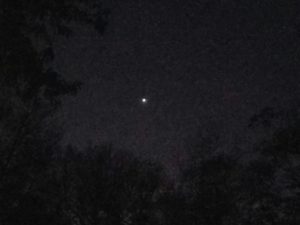 Date:  February 25 2017
Location:  New Caney, Texas
Time:  7:15pm
Summary:  Orb type object to the nw observed 2-25-17 at 7:15pm. object would slowly move from left to right and up and down. white glowing light would dim then brighten. i watched it for near an hour when it disappeared from my view.
Source:  MUFON Case 82424
---
Date:  February 26 2017
Location:  Gettysburg Pennsylvania 
Time:  4 a.m.
Summary:  The witness was outside on a front porch at 4 a.m. on February 26, 2017, smoking a cigarette, when the object was first noticed. "Direction of flight was southwest," the witness stated. "Speed would guess somewhere in the range of 800 mph and up. Traveling very low, but not so fast you couldn't keep track of it. Shape was a straight line with a slight curve. Was still dark, so I couldn't get a good look at it. Brightness was very, very bright, maybe as bright or brighter than one of those million-watt candle power flashlights. Length – if you would have held up a yard stick to it. It probably would have covered it." The witness guessed that the object was between 800 to 1,000 feet long. "Maneuvering: I saw this bright line of lights coming from the southeast heading directly over Gettysburg at least 800 to 1,000 feet up. I thought it was a jet or plane so kept watching it because of how very low it was and had all these lights in a row. It then turned slightly heading my direction, which was northerly, but just a few seconds in its turn, it turned right back toward a southwest direction toward Fairfield with no difficulties whatsoever, for the size of the craft." The witness did detect some sound associated with the craft. "Sound: a very low humming sound. At first I thought it could have been a large jet, but at that close of a distance and height, the engines would have been roaring and most definitely you would have been able to identify it as being a jet. Appearance: all I can say it was a basic line with a slight curve with at least 10 to 12 lights, all bright,bright white. No red, no blue, and none blinking."
Source:  MUFON Case 82360
---
Date:  February 26 2017
Location:  Knoxville, Tennessee 
Time:  16:05:00
Summary:  I was at work in knoxville, tn looking thru windows at sky facing south when i saw a silver disc come zooming by heading from ne to sw almost directly towards mcghee-tyson airport which is class b airspace at est. 350 mph and 3000-3500ft. a few minutes later saw an air liner descending from s to n on downwind leg of landing pattern for the airport at one third the speed of object. i am ex navy having served aboard helicopter carrier and do have a private pilot's license.
Source:  MUFON 
---
Date:  February  2017
Location:  
Time:  
Summary:  
Source:  
---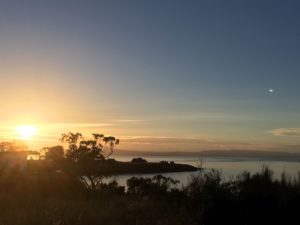 Date:  February 27 2017
Location:  Hobart, Tasmania 
Time:  07:00:00
Summary:  We were on vacation to tasmania, australia, when my aunt decided to take a photo at dawn near the place we were staying at. we only noticed the object in the picture after the fact, so cannot say it was witnessed in person.
Source:  MUFON Case 82430
---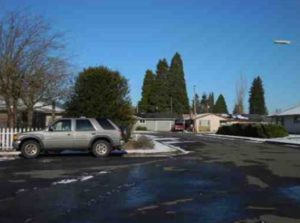 Date:  February 27 2017
Location:  Springfield, Oregon
Time:  Day
Summary:  I am looking for property in lane county, or thru online real estate sites. i came across this photo with an apparent cigar shaped craft in the upper right side. i noticed it on feb 27, 2016. i did not take the photo, i do not know who did or when it was taken. i have the address of the property listing, but cannot post address online here.
Source:  MUFON
---
Date:  February 27 2017
Location:  Boise, Idaho 
Time:  19:18:00
Summary:  We were driving home from our local ski resort. when we noticed an what we thought was an airplane but was actually one of the lights.After we noticed this we noticed 3 other lights in the sky that were in triangle formation. and were blinking rapidly. it seemed as one object was teleporting around very very rapidly. the object that was not in the formation was much brighter then the others. it seemed as if the objects were communicating with each other we heard nothing from them. i tried to capture a picture from my phone but the lights in the city were too bright for my camera. during the event i felt unusually excited about seeing them. we had turned around a small hill making the objects out of sight. when the spot was visible again they were gone.
Source:  MUFON Case 82423
---
Date:  February 27 2017
Location:  Balloch Loch Lomond
Time:  19.20
Summary:  Winged shaped shadow moving slowly away from the loch then it turned and flew overhead and away at tremendous speed and height . There was a constant faint orange circular glow from each wing tip but no flashing lights like planes have .
Source:  www.uk-ufo.co.uk
---
Date:  February 27 2017
Location:  New Milford, Connecticut
Time:  20:30:00
Summary:  I was finished in my home office for the day and began shutting down for the evening. to do this, i always close the room window during which i have to lift the window blinds to lock the window. while the blind was up, i noticed an elliptical, very bright white light through some tree branches in my front yard. i went outside the front door for a better look and to try to determine the location of the light and to listen for any noise that it may have (there was no discernible sound). during this whole period from initial sighting, the light was stationary so i went back inside to get my binoculars for a better look. i could tell that the light was actually some distance away. as near as i could tell it seemed to be hovering over one of the two schools just down the road from our house (about 1000 ft). i braced my arm on one of our cars to steady the image in the binoculars and when i did this i could tell that on the left side of the very bright white light there was a small red light on also continuously. after approximately 3 minutes, the light began very slowly moving west away from my location (this was almost imperceptible). i continued watching for at least another 10 minutes when it disappeared behind a mountain which is a little over a mile from my viewpoint. there were no perceptible course changes during this 10 minutes transit. after considering this for some time, i thought this may be a drone that someone was practicing night flying with but then i think the lights have to be strobe lights and not on continuously! plus it was fairly large to be a run of the mill hobby drone. there were no aircraft flying in the vicinity during the time of this sighting but after about another 5 minutes, a small plane flew over with a course from north west to south and after another minute or so, a jet aircraft (type unknown) flew over with a course from southwest to northeast. no other air traffic before i went inside.

Source:  MUFON 82413
---
Date:  February 28 2017
Location:  Medford, Oregon 
Time:  19:10:00
Summary:  on 2017-02-28  – There was 2 one was crescent shape and the other real bright the crescent shaped one diapered the other one hovered for a while it was in the distance over the west side of medford oregon
Source:  MUFON Case 82422
---
Date:  February 28 2017
Location:  Austin, Texas
Time:  19:20:00
Summary: I am not from this area, i was conversation with someone on an outside terrace and as i looked over i saw the object. for the first few moments it was moving slowly so it looked like a normal helicopter, but when i watched it more the object would suddenly change speed and direction, my second guess was a drone but they aren't allowed in town and the lights on the object were too bright for a drone. me and the man i was conversing with watched the object start moving back and forth while the light blinked, there was a less bright light on while said light was blinking. it was moving nw before it stopped and hovered for a couple of minutes before shooting off into the ne direction. Video
Source:  MUFON 82419
---
Date:  February 28 2017
Location:  Milwaukie, Oregon
Time:  20:01:00
Summary:  I was working cleaning out my garage when in the driveway area i noticed bright red object with green flashing lights moving very slowly from southeast almost appeared to stop then sped up slowly at first then increased in speed to maybe 300kts in less than two seconds without any noise at all. not a helicopter or plane. it took less than three seconds to fly out of my range of vision until obscured by trees; very odd.
Source:  MUFON Case 82428
---
Date:  February 28 2017
Location:  Lancaster, Ohio
Time:   23:15:00
Summary:  All i know is i was at work and me and my co workers sights thus strange object…And we were baffled…At first we thought it was a flag at the nearby cemetery and realized that the cemetery was further down the way….The object kept spinning and flashing lights occurred on and off…And as of now the lights have not gone away they still hover.
Source:  MUFON Case 82425
---
Date:  February  2017
Location:  
Time:  
Summary:  
Source:  
Related articles