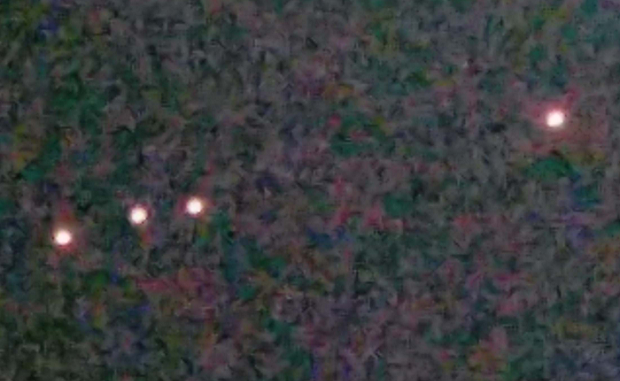 Date:  February 1 2017
Location:  Sharon, South Carolina
Time:  8:14am
Summary:  We have a wildlife camera mounted to a tree facing the woods. it's set to take a 10 second video every 30 seconds when the motion detector is activated. a bird activated the camera and you can see a twig near the camera moving but there is a round light/orb near the horizon just a few feet away in the woods. it doesn't move or flash. there are silhouettes of branches in front of it and the sun is higher above to the right. there is nothing in the woods that would cause a reflection. the time is 8:14am in daylight. the orb is too large and bright to be a light from the sun or artificial source. it lights the ground and surrounding area. the woods are very thick in this area and we have not disturbed the location where we saw the image on the camera.

Source:  
---
Date:  February 1 2017
Location:  Fort Myers, Florida
Time:  1125 pm
Summary:  4 objects appeared, fifth came around 20 sec. later. 4 moved in formation. Then sep. moving south. Not drones. I came out of work at app. 1125 pm est on break. East side of parking lot. Saw first object through trees app. 20 degrees moving towards me. Thought it was work helicopter, then app. 5 sec later 3 more objects came behind first one. Hurried and snapped 2 pictures while walking towards middle of parking, heading east. Thought then it was drones but objects made no noise and started turning south while ascending to app. 250-300ft. Snapped another picture from middle of parking, looked to see if anyone else was out there, heard voices but didn't see anyone. Started recording video then and continued walking towards end/ back of the east parking area. That's when 5th object appeared still from east but this one was heading more sw, 4 object were now heading south, at this time heard what sounded like a shotgun. Stopped recording, got in car pulled on work road and started driving down back side of work heading south, objects were now about 500 to 750 feet up, there was low clouds moving through area at this time, 5th object was still catching up to other 4, i was looking out left side driver window, trying to get to darker area of work, object moved higher into clouds. There was no erratic movement, thought maybe they might have been chinese lanterns. They moved smooth and when they turned south still maintained straight line movement but gradual ascension. Didn't get opportunity to record again, whole episode lasted between 5 to 10 minutes, about 1/8th of a mile east is open grazing field areas, maybe 1/4 mile is cow fields, all east and south of where i work. Airport is further east, about 2 miles. Wasn't windy out, light breeze, about 42 degrees f. Went back into work, showed coworkers pictures and video, asked what they thought, all said not drones or lanterns, or plane or helicopter,

Source:  MUFON
---
Date:  February 1 2017
Location:  Corby / Northamptonshire/ England
Time:  16:20
Summary:   My preschool daughter pointed out of the window to show me what I thought was initially a flock of seagulls, but some of them were reflecting light and were kind of moving in a circular motion (a bit like the recent video of flying objects recorded at the Mexican border). I don't know what it was but they were for sure some forms of flying objects, which were still visible when they entered a cloud. I am not a saucer fanatic or even believer as such, but that freaked me out. I don't know what I would prefer less aliens or some sort of new military invention… Witness Name: Julia L.
Source:  www.uk-ufo.co.uk
---
Date:  February 1 2017
Location:  Azusa, California
Time:  19:30
Summary:  I was standing outside grabbing a smoke and noticed what looked like a garbage bag caught in an updraft. it ascended from the new and moved east slowly. it was reflecting white, but was transparent at the same time. it was right in front of my field of view, so i couldn't not notice it. there wasn't any wind though, so i followed it's path trying to figure out what it was. because it was night and the object was behind buildings and trees, i couldn't get a grasp on size. for me though, it's if you hold your fingers apart half an inch and then extend your arm in front of you. it was pretty visible. it seemed to travel in a wide, slow curve moving se then east. it produced no noise and was very fluid and smooth. when it started to move east, it changed shape. it was clear. and very fast but again, fluid. it turned into 3 wide ovals circling each other. it changed from white transparent to a dull red orange, though i'm not sure it wasn't just the reflection of street lights on it. the ovals moved clockwise horizontally at a consistent speed. slow enough to see the smoothness of the spheres. it looked like a shiny metallic surface. it never stopped moving, but it picked up speed after this, moving east and up. and it went up ultimately, until it looked like a plane. but it still had a red orange glow which suggests it's own light source. it got smaller and smaller till i couldn't see it anymore. hmm. for time i'd say the ascent in plastic bag/cloud form took about 40 seconds or more and when it changed shape it took off shortly after. so 20-30 seconds from change to it moving faster. when it started going up higher, that took roughly 15 seconds and then it was gone. still can't wrap my head around seeing this, but man… i got lucky.

Source:  MUFON
---
Date:  February 3 2017
Location:  Utah 
Time:  23:03
Summary:  In utan, rt 191, near mile marker 88 looking north. light was very quickly pulsing various colors. nothing else in the sky looked like this. after watching it for a moment, it appeared to travel east.. so i thought it was a plane, however, then it stopped and reversed direction. then it zoomed straight up and a high speed. then it went diagonally toward the west. then it kept doing exactly that, zigging and zagging in all different directions. i looked at this light through an infrared night vision binocular and could see that this object appeared to be a ball of swirling energy, but also, i could see a few other objects in the sky in proximity to this light that appeared to sparkle for lack of a better work. we observed this for about 20 minutes or so until it zoomed straight up into the clouds and didn't reappear. my feeling at first was excitement, then fear. that's what made me look at my phone to see what time it was and actually made a note in my phone of the exact time just in case something odd happened. i was frightened but couldn't take my eyes off of it. i tried several different means of recording it but only my cell phone was able to record it.

Source:  MUFON
---
Date:  February 3 2017
Location:  Winsford Cheshire West
Time:  01.40
Summary:  I sitting by the back door looking at the night sky as I often do & a small green light appeared in the sky from the right of me so it'd be south going eastwards. It was very fast went straight then right left and straight again. It was this side of the clouds as I could see the white of the clouds behind it. I'm pretty rural and its dark where I am. No one else seemed to be awake either. Witness Name: Phyl Mitchell
Source:  www.uk-ufo.co.uk
---
Date:  February 3 2017
Location:  La Vergne, Tennessee
Time:  09:15
Summary:  1. i was leaving to take my child to daycare and go to work after. 2. the sky was all grey and dark grey and then there was this one white/golden light. 3. at first i thought it was a plane and then just a light on a radio tower or some sort of tower. then realized the light or object was to high to be part of a tower and missing the other running lights to be a plane. also the object was brighter than a planes lights. the time was around 9:15 am or so. 4. i was sitting at the red light waiting to turn. i just sat and watched it for about 2 or maybe 3 mins. it never moved or dimmed in the sky at all just glowed. 5. i at first tried to dismiss the object as nothing. i am always watching to i try to make sure i know that i am calling a ufo a ufo. less than a min after seeing the object i was sure of what i was seeing. 6. at this point i was sure of what i was seeing. my wife called and when i turned to answer the phone and in less then the two to three seconds it took for me to answer it was no longer there sitting in the sky. the white/golden object was gone and the sky way empty.

Source:  MUFON
---
Date:  February  2017
Location:  
Time:  
Summary:  
Source:  
---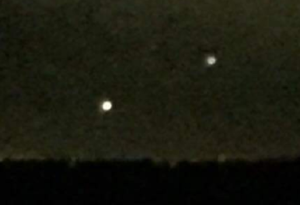 Date:  February 4 2017
Location:  Ashburn Rd. Whitby, Ontario
Time:  9 -10 p.m
Summary:  : Observed 5-6 pulsing lights moving slowly back and forth low in sky 30+km away from position. At approximately 9 -10 p.m on February 4th 2017 on Ashburn Rd. In Whitby,Ontario we first observed 4 lights, 3 of which in rough triangle formation viewed head on to west of position while driving. Stopped to observe objects and took approx. 1.30 min video. Observed objects hovering and moving lazily in no specific flight path. Objects(5-6) appeared to pulse and glow with orange/yellow light ONLY when hovering.Would dim considerably when moving. Two objects appeared to "exchange" light or energy with one dimming and the other brightening in close proximity. Objects also appeared to "fly" in very close proximity on purpose with no apparent regard to their proximity. Objects would move from hovering position approx. North of first position and back and forth in an indeterminate manner almost "lazily". Observed this for approximately 1.5 hours. Dimmer lights appeared to travel north and back to original position. At first we thought the objects could be helicopters or planes but we observed them glowing and dimming and doing odd, lazy movements in sky approx. 50° to 60° over horizon. No spotlights seen. Objects appeared to have red and green lights when dim. Felt that objects were NOT normal aircraft due to odd behaviour. Was exhilarated at prospect of encountering unknown objects in sky never having seen anything like it before. Did not feel any particular negative feelings, just that we were seeing something unusual. Attempted to move to higher ground to observe objects more clearly. Watched them in two positions over approx. 1 hour. As far as we know we were the only people to observe this event. Never truly lost sight of objects and left after 1.5 hours as it was late and we were tired.
Source:  MUFON
---
Date:  February 5 2017
Location:  Chicago, Illinois
Time:  1740
Summary:  My husband put the car away at the kickoff of the superbowl football game.(in the garage)walking back to the house walking west he saw three orange lights coming east toward him. he hurriedly called me outside(side entrance to see them. it was february 5, at approximately 5:40 p.M. they were about 3 miles from my house in the western sky.Our house faces west. the moon was a little to my left in the southern dark sky. the large(bigger than the north star)deep orange orbs where in a row traveling east. the first orb passed the moon, then went up; and then disappeared from view. the second one seemed to be lingering, waiting for the third one. when it caught up, the second one passed the moon and disappeared where the first one did. the third was a little slower, passed the moon and disappeared. this all occurred in about 30 seconds.

Source:  MUFON
---
Date:  February 5 2017
Location:  Chicago, Illinois 
Time:  1740
Summary:  Approximately 1740 hours on sunday,february 5,2017, i saw 2 objects in the west sky flying close together. as i watched i saw a third object trying to catch up. the first two seemed to slow down to let the third catch up. they were going from west to east,south of my location.
they were reddish orange in color. as they flew east they seemed to gain altitude , and the color disappeared as if the color burned out. it took about a minute or less to leave my vision.
it was not an airplane!

Source:  MUFON
---
Date:  February 5 2017
Location:  Harrisonburg, Virginia
Time:  1415
Summary:  today around 1415 february 5 a friend and i were having a discussion and she observed the craft with two contrails behind it and remarked at the steep angle that it appeared to be taking. we both assumed it was a jet at high altitude. we looked away for a couple of minutes and when we looked back, both the craft and the con trails were gone. it was a very clear sky and we saw no evidence of con trails or planes. both of us very surprised and a bit disturbed as neither of us had a good explanation.

Source:  MUFON
---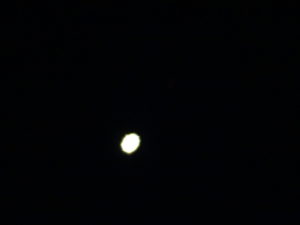 Date:  February 5 2017
Location: Brooklyn, New York 
Time:  18:20
Summary:  Recorded this video from my bathroom window on sunday at about 6:20-6:30pm (right before the super bowl) when i game started i stopped after the first quarter i returned and the object was gone

Source:  MUFON
---
Date:  February 6 2017
Location:  Burbank, California
Time:  08:20
Summary:  Driving my daughter to school this morning in mild rain- i saw a bold black "balloon" that from my view was the size of a big beach ball…I turned left when light turned green again the object kept floating towards my left size high above and then i saw it was no circle but a disk shape i tried grabbing my phone to record but by that 6 seconds the object was higher and much further away from my view and looked like a speck.

Source:  MUFON
---
Date:  February 6 2017
Location:  Arnold, Pennsylvania
Time:  2250
Summary:  At approx. 2250 hrs est i saw an intense orange glow in the northeast sky over arnold pa. it happened twice within 15 minutes and each time only lasted a matter of seconds.

Source:  MUFON
---
Date:  February 7 2017
Location:  Lake Mary, Florida
Time:  00:00
Summary:  Last night i was in my back yard looking up at the night sky. i saw what i thought was two stars. one of the stars started moving slowly. i thought it was weird so i called my roomate outside to see what she thought. we both watched as the star like object moved in one direction toward the clouds. it was bright enough to see the object stop and hover in one position for a few minutes, then come back out of the clouds in the same way it came in. after watching the object for about five more minutes it just disappeared. it didnt blink or have any red, green or white lights like a airplane and it did not move like a air plane. it was definitely weird.

Source:  MUFON
---
Date:  February 7 2017
Location:  Lake Placid, Florida
Time:  20:06
Summary:  Went outside of my home around 7 p.M. made between 7 and 8 o'clock p.M. near my home and started looking at stars with a camera and several laser pointers. as usual i find a star with the laser pointer that decides to move sometimes they fly right over me other times they just take off in a no special direction they might change directions and keep flying the same way until they fly so far you can no longer see them. i have approximately 15 minutes of video several nights in a row of these objects they're here almost every single night. i am also close to an air force bombing range which is probably why they are here so often. i can fillmore see these objects just about every single night and leading to end the day or two after a full moon there is a lot of activity. i have also seen some strange aircraft that's probably military that i have never seen before and they usually fly over me after i'm make contact with the ufo. it seems like the aircraft is watching what i do and maybe taking pictures or they definitely know what i'm doing. they are definitely watching me i think there might be a portal somewhere close. usually i lose sight of the object when they fly out of range of my night vision camera or sometimes they just fade out disappear. these objects are either high altitude military drones or allen craft. i get excited when i see these things you now because it's just exciting i'm not scared or anything like that but you know most people didn't believe me until they saw the video. most of the time they just fly away on a few occasions they have flown right over my location and have hovered there for a long time and just never moved till i move myself or just gave up you know filming that night. i am colorblind but sometimes people tell me they change color. they dont do anything crazy. sometimes they grow real big and real bright and just fade out disappear in an instant or change direction or just shoot off like a rocket and disappear. i have made dvd recordings i was unable to download for this report but can email the video to anybody that wants them just send me your email.

Source:  MUFON
---
Date:  February 7 2017
Location:  Sacramento, California
Time:  05:50
Summary:  On the morning of 2/7/2017 at appx 0550 hrs i awoke suddenly. i needed to use the restroom. i walked from the bedroom, down the hallway and into the restroom, leaving the lights off and door open as i normally do.
at this moment i heard a jet engine take off from the east heading west. i then heard the jet closely overhead and the sound of a projectile being fired followed immediately by a second projectile. immediately following the second projectile i heard the sound of a second jet engine take off close by heading from east towards the west.I remember looking up toward the ceiling and it was dark in the restroom. where i live, we are proximal to mcclellan afb and beale afb.
i stayed in the restroom. my attention is drawn to the right of the shower. the light is now on and the bathroom door closed. i then heard a siren, kind of like an all clear buzzer/booming sound and a loud voice. i heard a voice that sounded very angry say the word "merqab". i looked over to the wall. i saw what appeared to be a transparent rectangle, i could see the outline. it was a charcoal color, like someone had taken a pen to draw an outline. i could make out a wave like motion. it was fully self contained. it disappeared after about 2 minutes. there is an air conditioning vent above the area but the heater was not on at that time.
i do not remember being aware of it disappearing but i do know that it was gone at a point and i noticed my dog suzy enter the restroom by pushing the door open with her head.I looked at her and kind of shook my head, looking into the mirror and said "ok", washed my hands, turned off the light.
i entered into the kitchen area and looked at the clock on the oven. it said 0605. i walked back to the bedroom and wrote down the series of events with dates and times and a brief description of events. i got back into bed but could not fall asleep. i got up after appx 3 hours of tossing. i have been told that my mood is marginally elevated today. my wife and i have begun noticing a strong ammonia smell from the living room area. i shampooed the carpet in there yesterday so there should not be this smell today. this has happened several times in the past but it was not associated with the carpet being shampooed. i have also been experiencing a low frequency tone/ringing in my ears today as well.

Source:  MUFON
---
Date:  February 7 2017
Location:  Ljungby
Time:  17:38
Summary:  At the time i was studying for a history test but i got bored so i started to listen to some rap beats. while i was listening i suddenly saw something that blinked and had many lights that were blue,red,and purple. at first i thought that it was a plane but when i ran to the window i saw that it couldn't be a plane instead it had a triangle or oval shape and i got a little panic, it was a very fast ufo. it kinda looked like if something chased it because it was so fast. i lost sight when it flyed away and at the same time my phone had 2% left so i filmed about 30 seconds. my family where downstairs and if i ran down they wouldn't believe in me and my breaths got heavier and i was a little choked.

Source:  MUFON
---
Date:  February 7 2017
Location:  Hammond, Indiana
Time:  16:30
Summary:  I witnessed a very large bird that was at appx 500 ft high and at 1000 yards and it measured 2 inches across which makes it 11 1/2 feet wide. it shocked me.

Source:  MUFON
---
Date:  February 7 2017
Location:  San Antonio, Texas
Time:  16:07
Summary:  Now i'm not sure if this is ufo but i saw circular lights coming out of beam from sun the i saw circular light following iss i thought it was the space station itself but found it strange when it vanished under clouds i took pictures could of been there camera to but still it seemed strange i got more photos but can't got them on your report

Source:  MUFON
---
Date:  February 7 2017
Location:  Orange City, Florida
Time:  23:20
Summary:  On, monday, 02-06-17, at 11:00pm i was working in my home/office for 9 to 10 hours on a project which had to get finished. i needed to stretch and get some fresh air so i went outside to walk around. in florida we do not get many ultra-clear nights due to humidity and temperature but this night was chilly approximately 52-53 degrees. i was overlooking the lake and was mesmerized by the number of stars that was visible, i immediately was able recognize constellations that are normally not visible. i stood there looking up for about 20 minutes when an object moving from the southeast to the northwest caught my eye. after i spotted it, i was in dismay because it looked identical to a tr-3b form the aurora project which is supposedly top secret classification. it was moving at a fast rate of speed as it took approximately 35-40 seconds to cross from one horizon to the other. due to the time that it took to travel in my field of vision i could clearly see the outline of the triangle craft that would black out the stars behind it. there was a light at each corner that was a bright pearl-like, almost white, appearance with much smaller reddish blinking lights (barely visible) on the tip of the corners. in the center of the belly of the craft was a larger reddish/orangish light, approximately 1/3 of the size of this craft. it was not as predominant obvious pearl-like lights but it was definitely there. the craft was maneuvering at an high altitude but low enough to observe the object without question, it was a little smaller than a golf ball which gave an extraordinary opportunity to view it in detail. i noticed at that time there were no other aircraft that was in view it was the only thing in the sky which is unusual for central florida.

Source:  MUFON
---
Date:  February 8 2017
Location:  Plymouth Coast
Time:  06:15
Summary:  Evening of 7 Feb 2017 whilst conducting training with an emergency service, colleagues reported seeing unusual white lights in the night sky off the coast of Plymouth that they could not attribute to aircraft, satellites, shooting stars or other known sources of light.
The following morning (8 Feb 2017) at the first hint of dawn in the same area I witnessed a single bright white light silently tracking across the sky at speed.
I witnessed the light for around 1 minute which gave me plenty of time to consider and analyse various possibilities:
1. Too low to be an aircraft and not be able to hear engines or see strobe light, wing lights etc. Just a single bright white light. The weather was calm and still so sound would easily have been heard if it was an aircraft.
2. Too fast moving to be a low flying aircraft or drone.
At one point the light extinguished as if it had entered some cloud but the sky was completely clear. The light then reappeared with the same intensity.
The light was tracking in a straight line from west to east and moving at significant speed. Witnessed by my girlfriend who was present at the time and ruled out the same aircraft possibilities as above.
I noticed as I got in my car and drove into view of Plymouth Sound that there were several warships anchored there. As a former naval man, I doubt the light was anything to do with the navy as it was too early in the morning and ships under training do not normally commence any kind of flying operations so close to land and at that time of the morning.
Source:  MUFON
---
Date:  February 19 2017
Location:  Greenup Kentucky 
Time:  
Summary:  I was on a ridge off of the industrial parkway in Greenup with a friend when we noticed a noise that sounded similar to clapping a laughing right after that within seconds 3 similar shaped objects suddenly appear over a field a few hundred feet away they all glowed a off green color but it dissipated kinda like heat would. We could not come to a logical explanation of what it was one object landed and two other hovered one of the objects just vanished in no direction just disappeared and shortly after the second did the same when they disappeared it sounded like thunder or a bang we watched the other object on the ground we tried taking a picture but the phone went straight to static and as soon as I unlocked my phone the object took off directly straight up and it also sounded like a bang we left immediately towards I64 and by the time we came to the Grayson exit we had to pull over and have had severe nausea and a fever since then my friend went to the kings daughters and I haven't talked to her since then now as I've been typing this I've had diarrhea and a headache 
Source:  MUFON
---
Date:  February  2017
Location:  
Time:  
Summary:  
Source:  
Related articles